Alabama Arizona Arkansas British Columbia California Colorado Connecticut Europe Delaware Florida Georgia Illinois Indiana Iowa Kansas Kentucky Louisiana Maryland Michigan Mississippi Missouri Nebraska Nevada New Jersey New Mexico New York North Carolina Ohio Oklahoma Ontario Oregon Pennsylvania South Carolina Tennessee Texas Utah Virginia West Virginia Washington Wisconsin Wyoming

Texas Gate Guards, Outside Museum Displays and Air Parks
Addison: Cavanaugh Flight Museum - F-104, F-105, Mig-17, Mig-21, S-2, UH-1, Jetstar II October 2009 - The Museum has an excellent collection of aircraft inside and during the air show season takes some out to shows.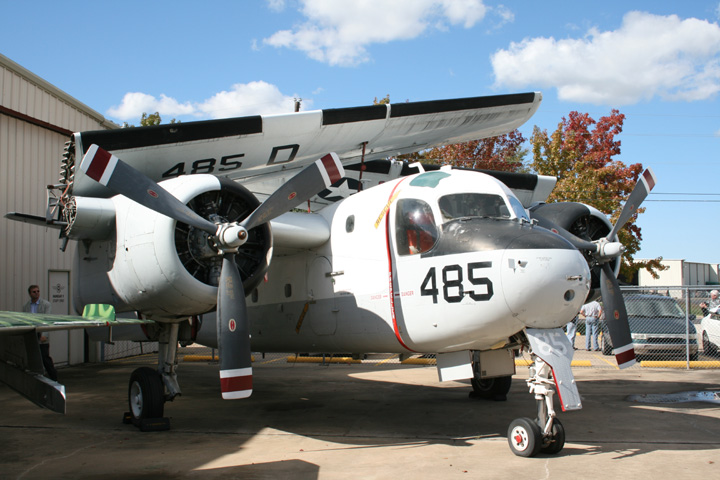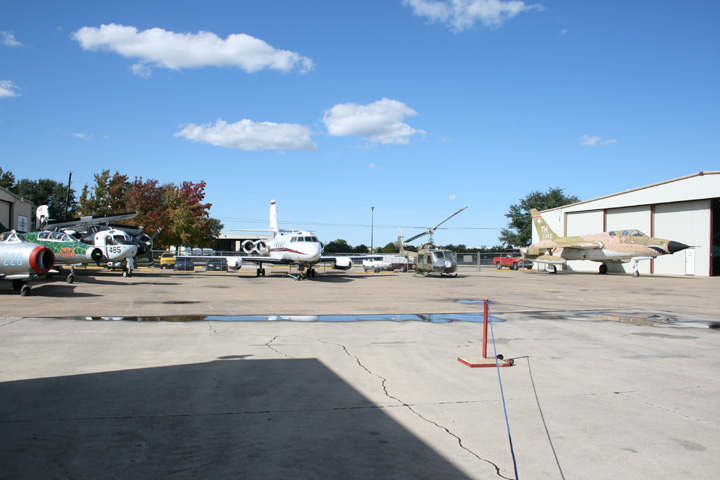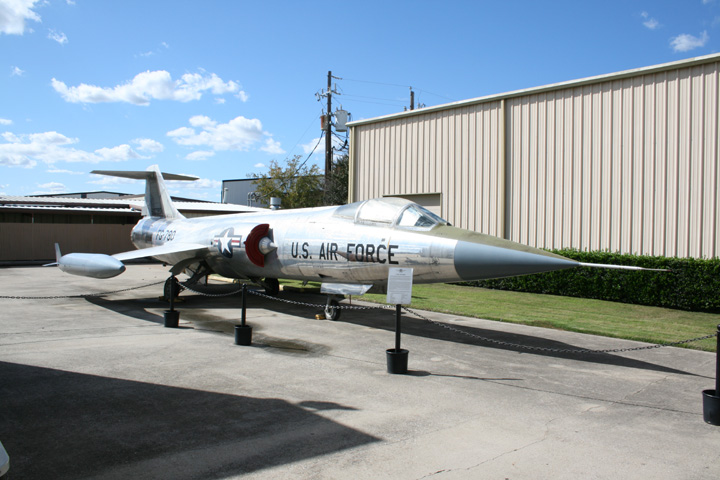 ---
Austin: Camp Mabry Army National Guard Base - AH-1, F-4, F-86, (2)UH-1 March 2009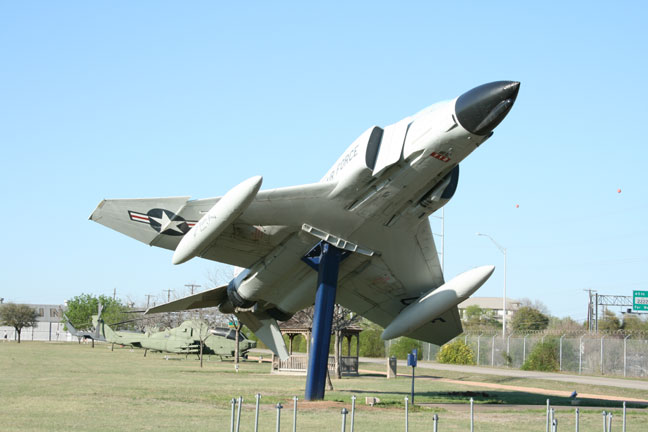 ---
Austin: VFW Post 3377 - F-4 November 2009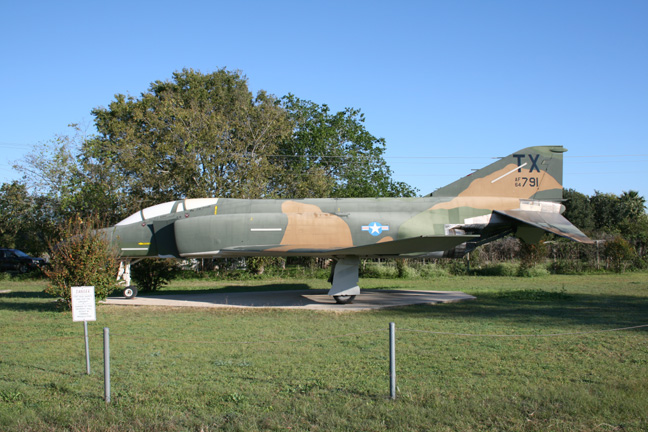 ---
Beaumont: Veterans Memorial Park - F-101 March 2009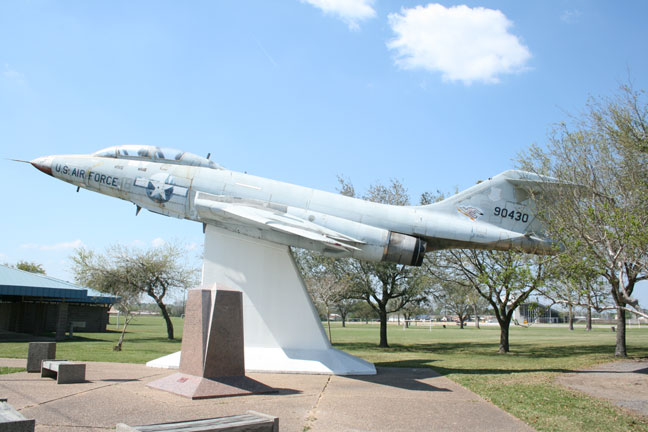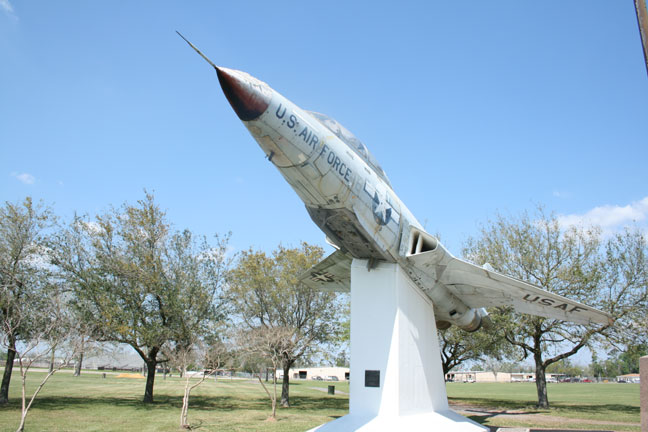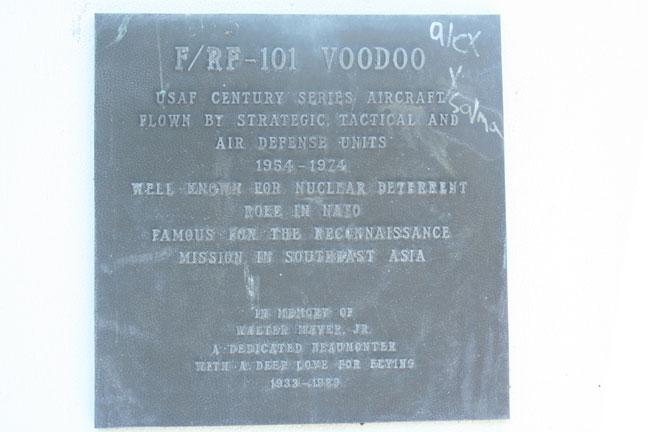 ---
Beeville: County Courthouse - A-4 November 2009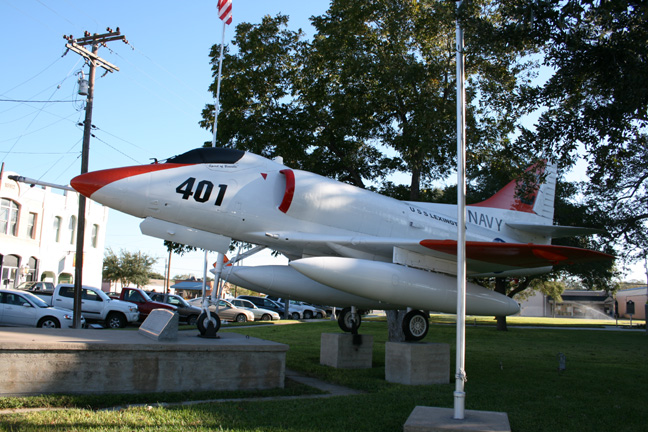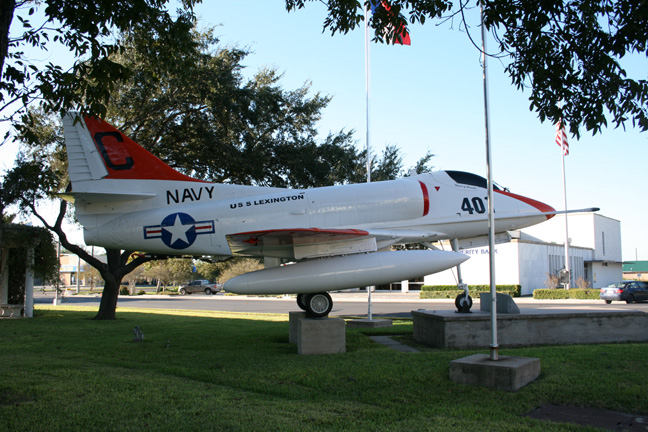 ---
Big Spring: Hangar 25 Air Museum AV-8B October 2010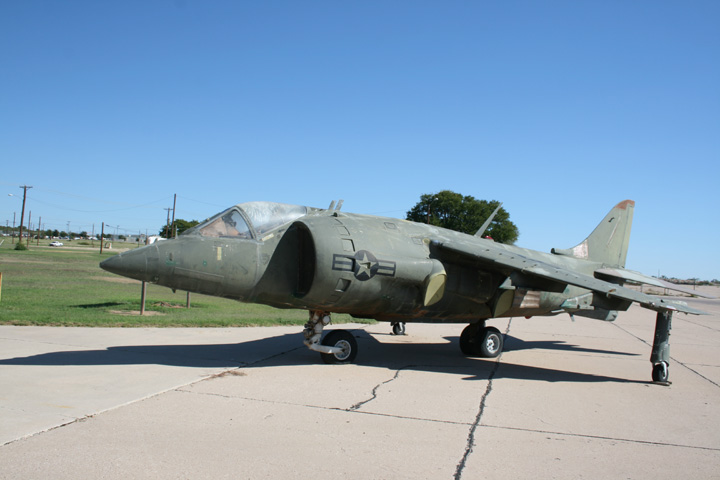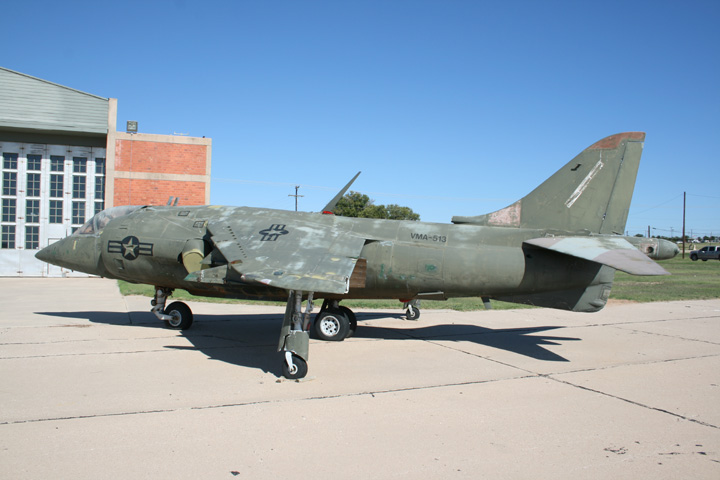 ---
Big Spring: Vietnam Memorial AH-1, F-4, UH-1 October 2010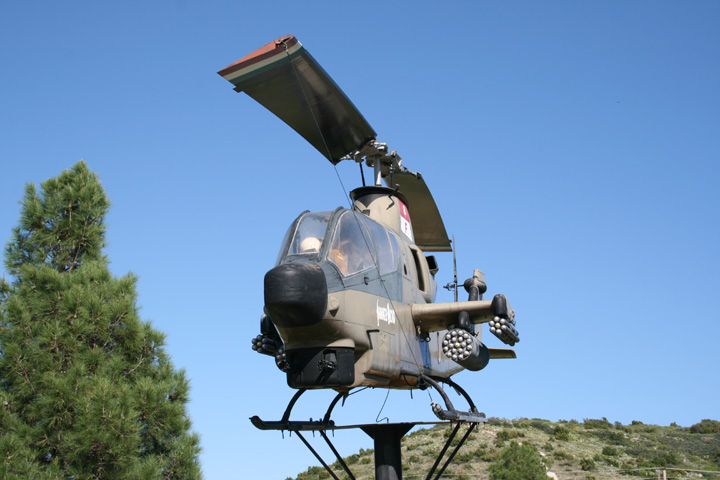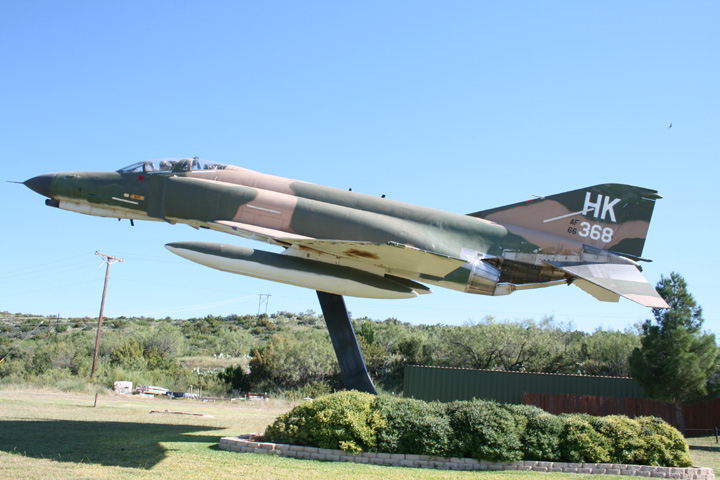 ---
Corpus Christi: USS Lexington - A-3, (3)A-4, A-6, A-7, AH-1, F2H, F-4, F9F-8T, F-14, F-18, GH-3N2S, (2)SNJ, TBM, T-2, T-28, T-34 October 2009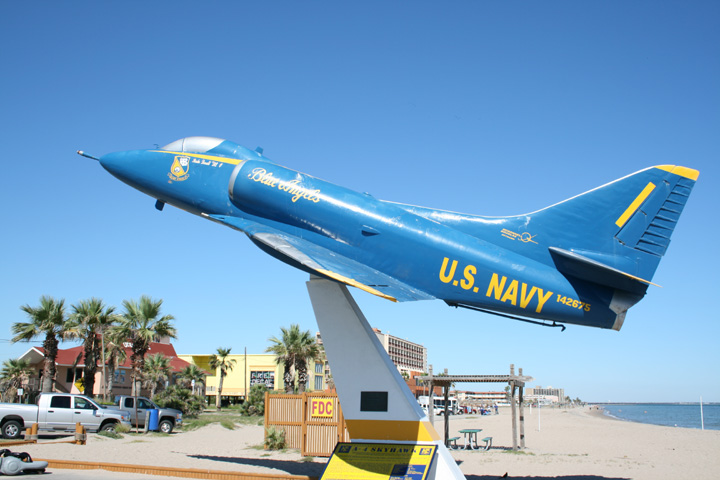 A-4 Gate Guard at the entrance to the USS Lexington.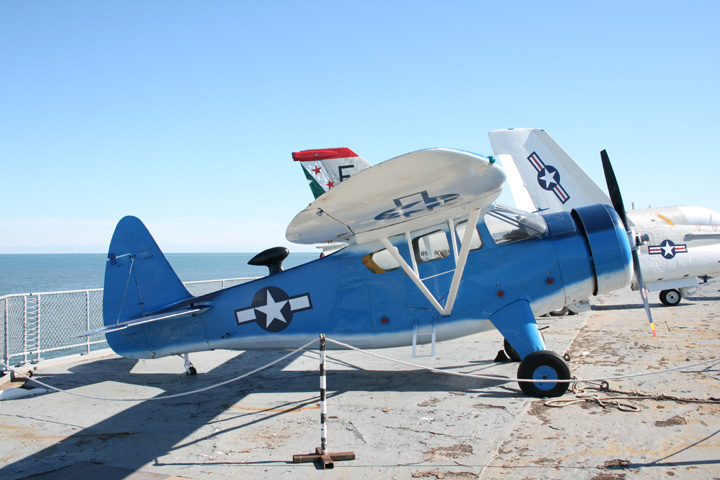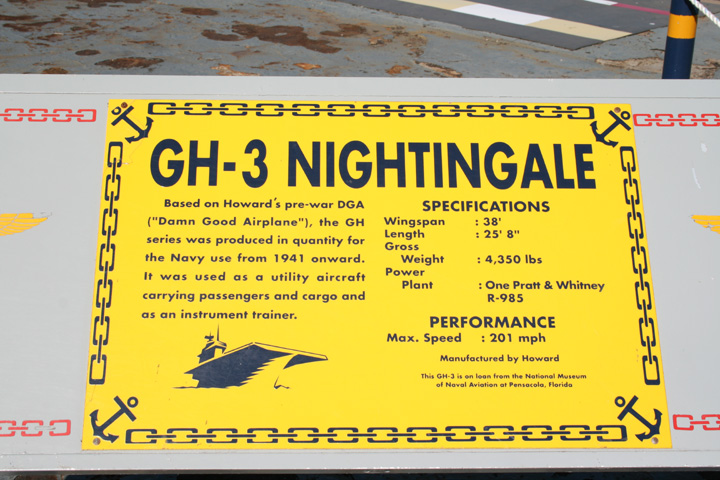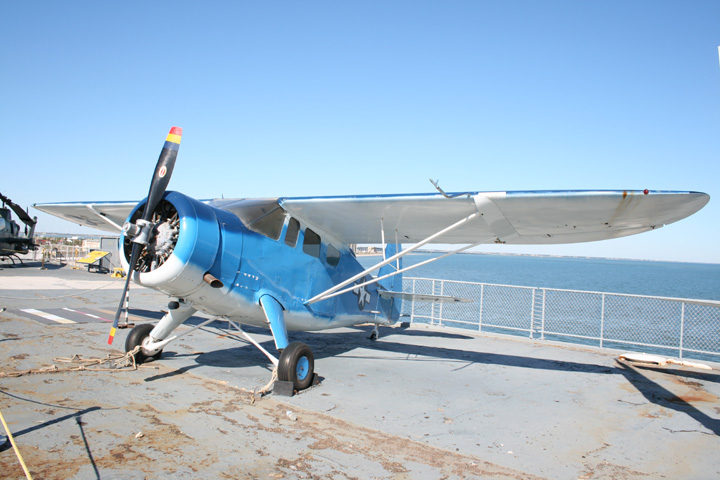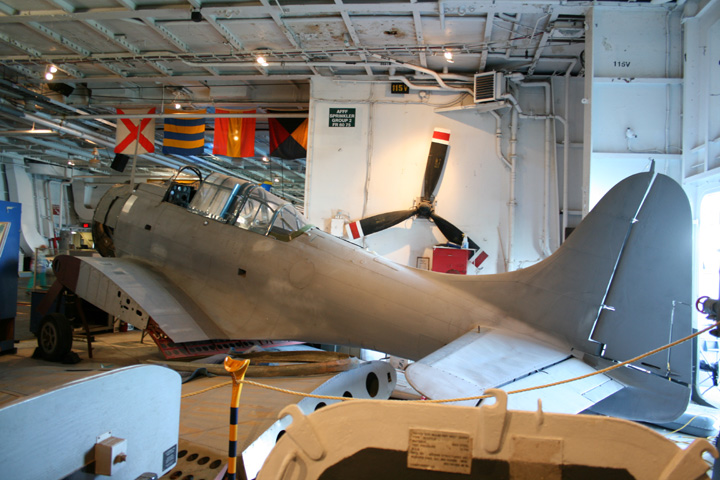 This Douglas SBD crashed and sank in Lake Michigan on July 24, 1943 in a training accident. It is being rebuilt by the volunteers on the Lexington.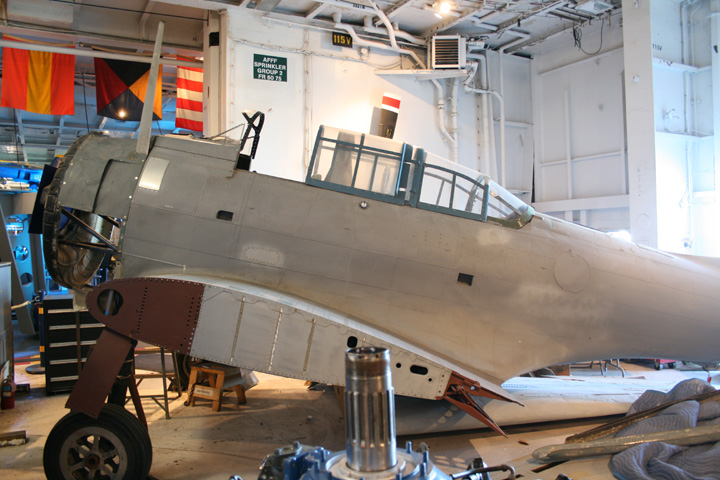 Note the Wright R-1820 engine in the foreground ready to be reinstalled.
---
Corsicana: Navarro College - F-4 October 2009 - This F-4 Phantom needs to have some work done on it. It is missing a nose wheel and the starboard side wing extension is not down. The aircraft does have nice paint.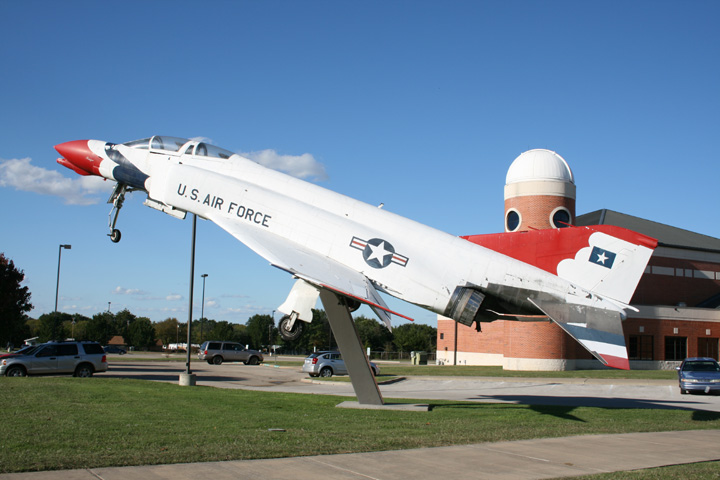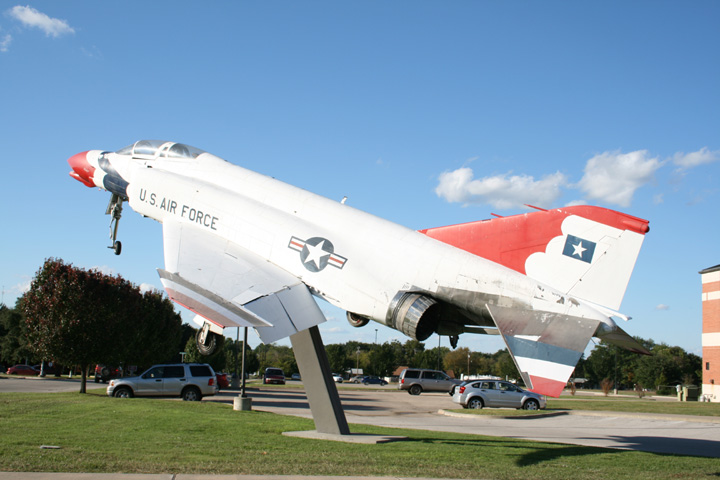 Wing extension is down but des not appear to be locked. One of the nose wheels is missing.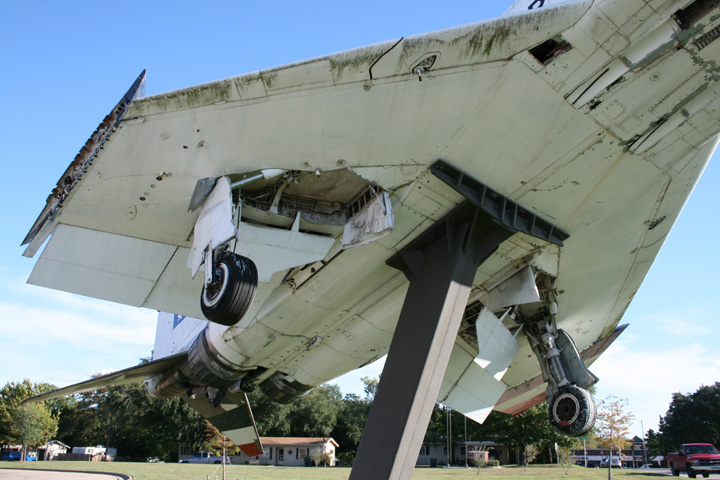 Notice on the starboard side the wing extension is folded up. This is not the case on the port side.
---
Dallas: Frontiers of Flight Museum - F-105, T-33, UH-1 April 2011 - The Thud had just arrived at the Museum early in 2011.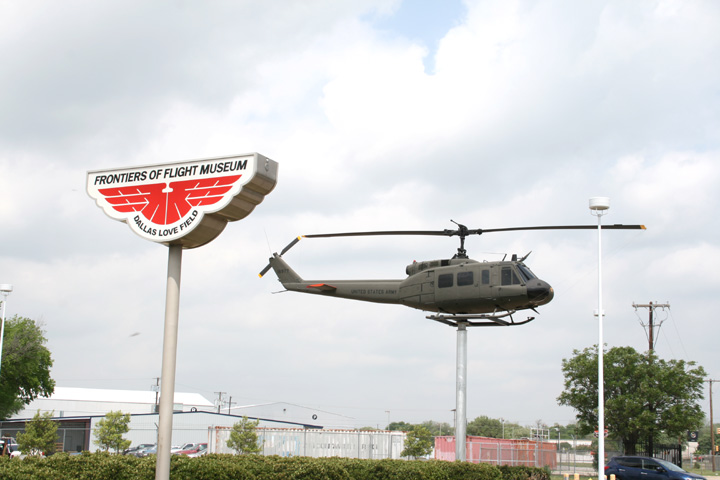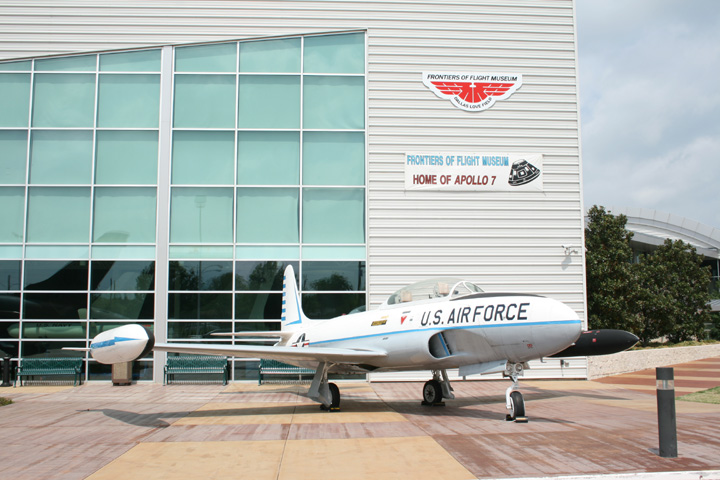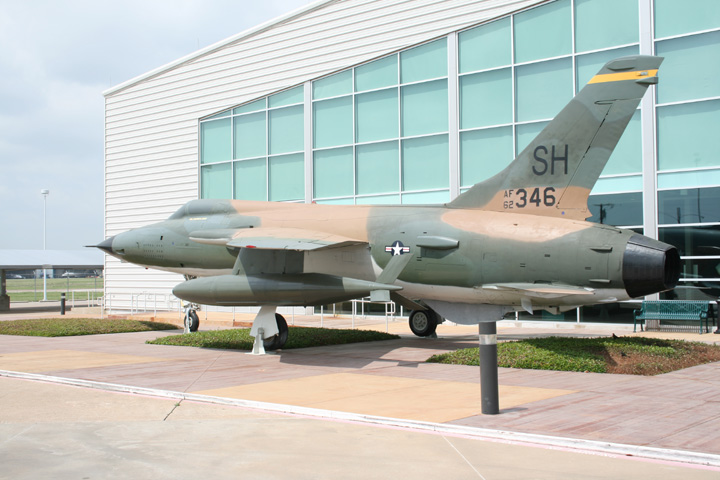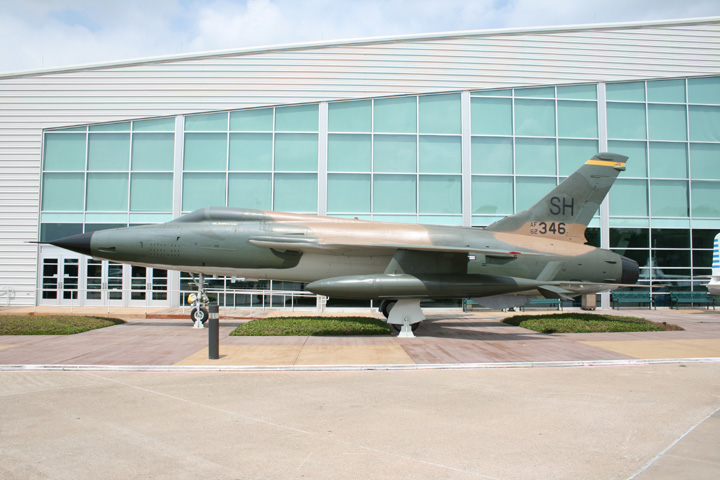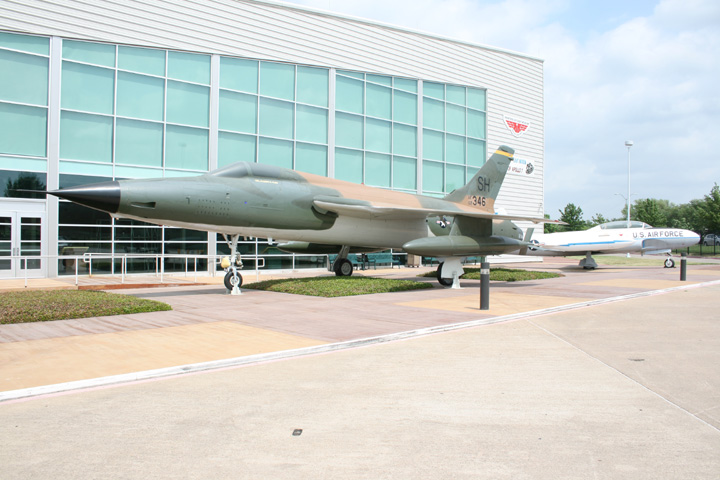 ---
Denison: Former Perrin AFB / Perrin AFB Museum - F-86L October 2010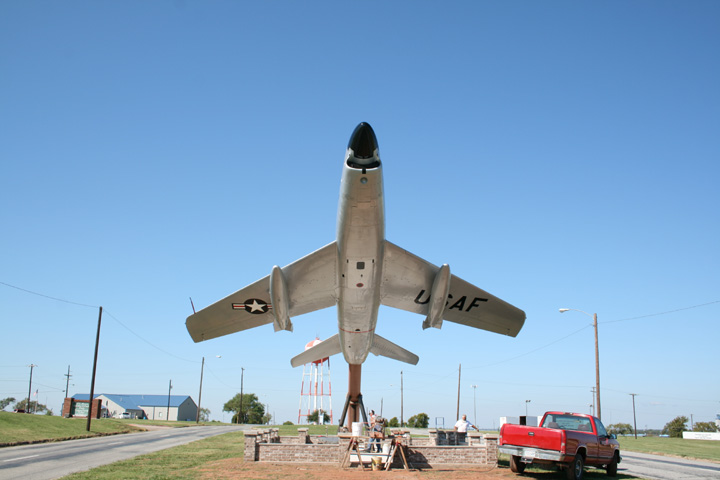 The day I was here contractors were working on putting in the brickwork around the Sabre which had just previously been put on display. The building with the blue roof is the Perrin AFB Museum which had also just previously moved into this new building. This boulevard was the main road into the former base and behind the water tower is the flight line.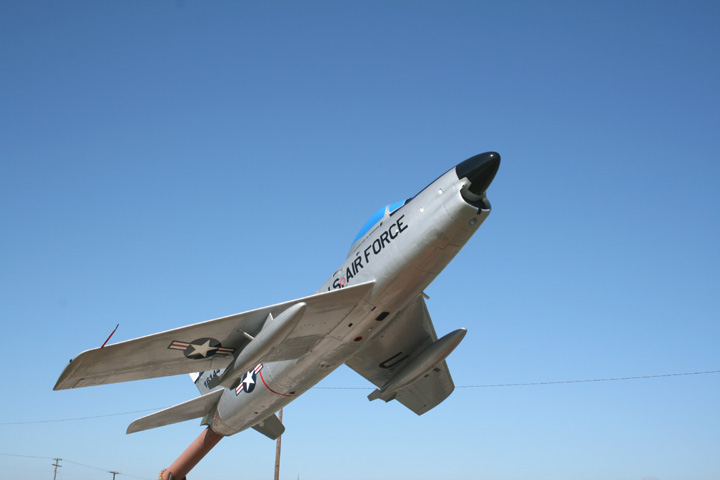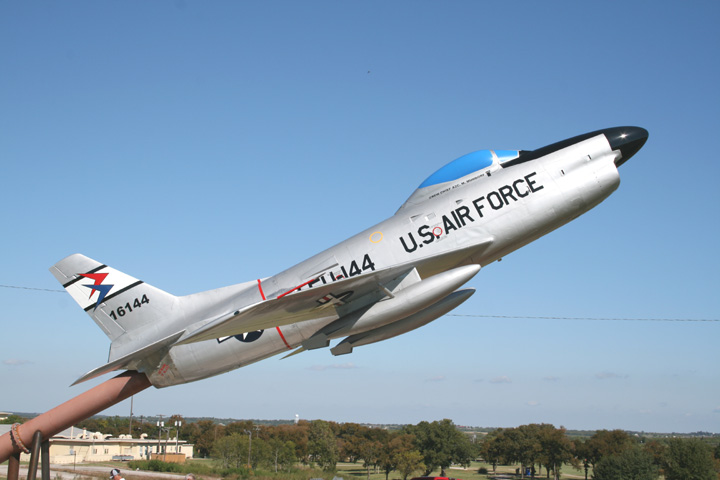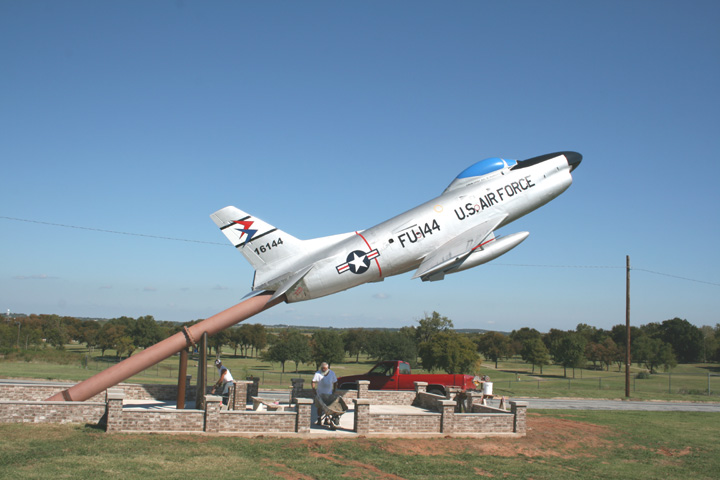 ---
El Paso: Ft Bliss, Biggs Field - OV-1D, RC-12D October 2008 Both of these photos were taken from inside a moving school bus passing through Biggs Field on the way to the Amigo Air Show, which was being held out on the northeast end of the main runway at the Field. The RC-12D has apparently taken the place of a C-47 that used to be on display in the same location.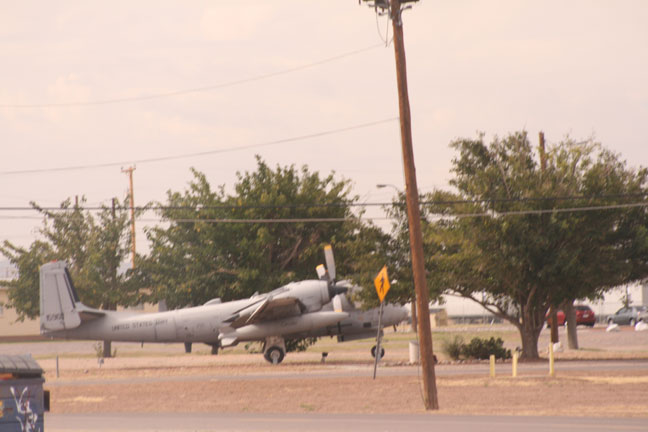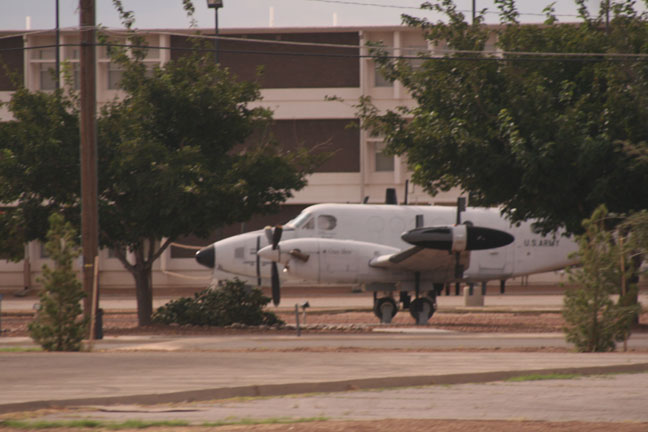 ---
El Paso: Ft. Bliss, Air Defense Artillery Museum - Cobra, Nike Ajax, Nike Hercules V-2; Training School - Hawk Missile Launcher January 2008
---
Fort Worth: Lockheed F-35 Manufacturing Plant - F-35 Antenna Testing Model October 2009 and April 2011 - Photo taken from I-820 from at least a half a mile away. This full scale model lets the Lockheed test engineers do outside testing on the various antennas that are embedded in the aircraft wings and fuselage. There are no external antennas on the F-35 to detract from its stealth characteristics.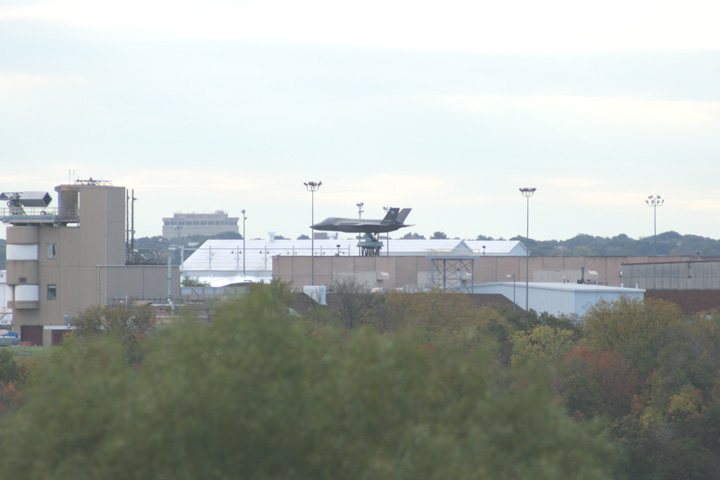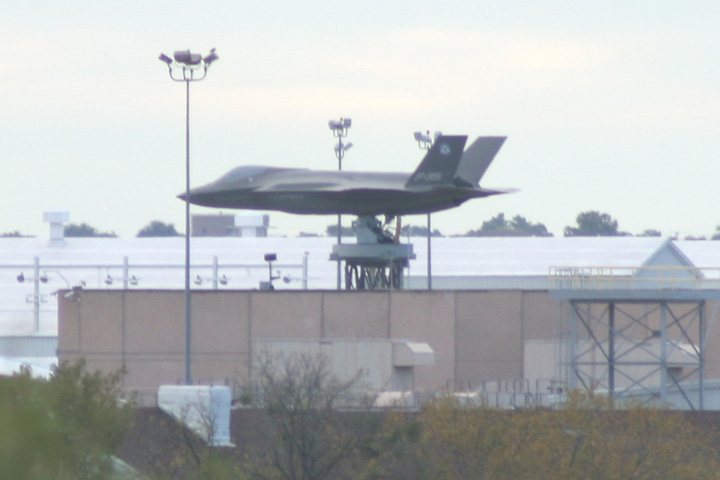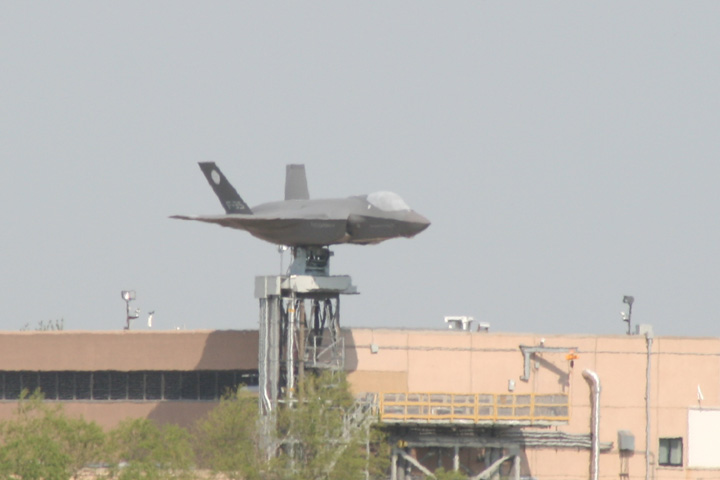 This was taken from NAS Ft. Worth Joint Reserve Base during Air Power Expo 2011.
---
Fort Worth: OV-10 Bronco Museum and Veteran's Memorial Air Park - (2)A-4, A-7, (2)F-4, F-5, F-8, F-14, F-105, F-111, O-2, (3)OV-10, T-37, TF-102 October 2009 - The OV-10 Bronco Museum was in the process of finishing up a move to the south side of Meacham Airport from its previous location at Vintage Flying Museum when I visited on October 30, 2009. President of the OV-10 Association Terry Tabor was kind enough to meet me and show me around the new facilities. When complete the museum building will not only house the OV-10 Bronco Museum, but the Forward Air Controllers and B-36 museums as well. Outside of the museum the Veteran's Memorial Air Park that is intended to feature aircraft that were used in the forward air controllers as much as possible. When complete the entire complex will cover one city block and be very accessible to the public from a main city street. All aircraft except the F-14 and F-105 had already been moved down from the previous display location and were being readied for movement into final display locations. At the time I was there the organization had 16 aircraft for the air park which is just about all that will be able to be located in the available space.
I want to thank Terry Tabor for taking several hours to personally show me around and explain the history of the aircraft and the OV-10 Bronco Association. More can be learned about the group at: OV-10 Bronco Association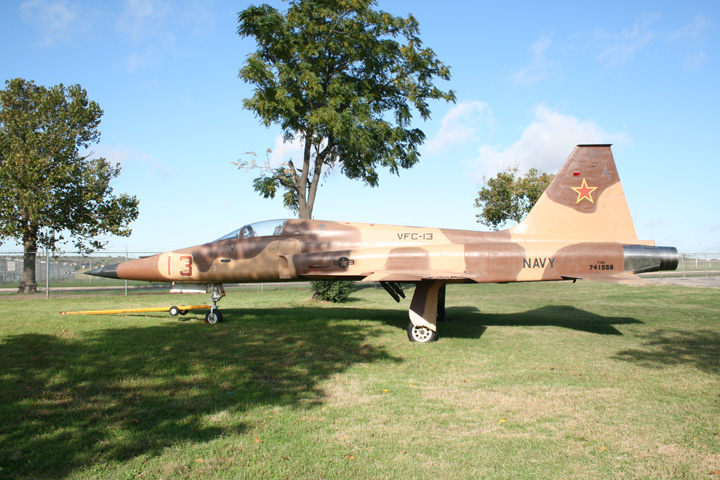 The last time many of us saw this F-5 it supposedly had an F-14 flying upside down over it in the opening scenes of the movie "Top Gun". It was one of two F-5's that were used in the making of the film. The other F-5 from the movie is in Glenville, NY at the Empire State Aerosciences Museum.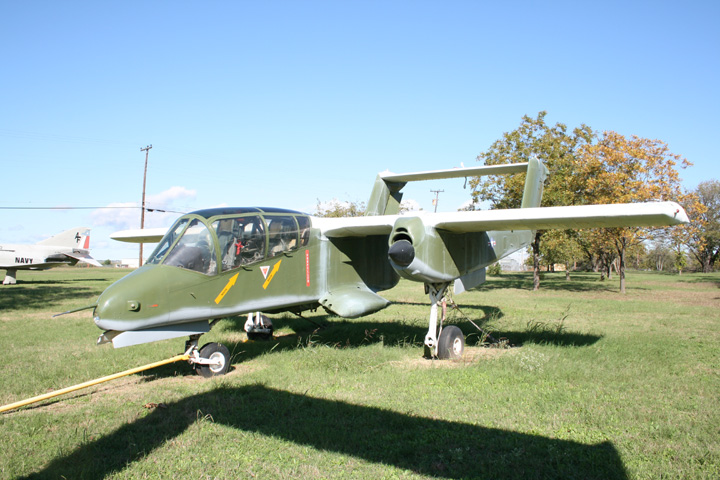 This is one of two OV-10s at the museum, this one in USMC markings.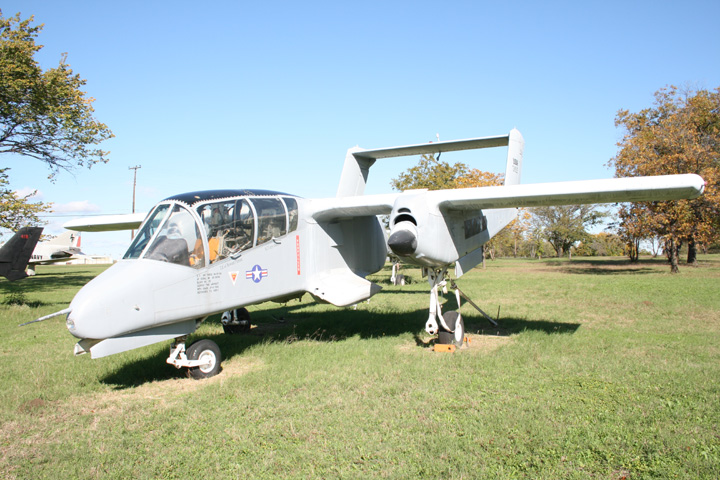 The second OV-10 in USAF colors.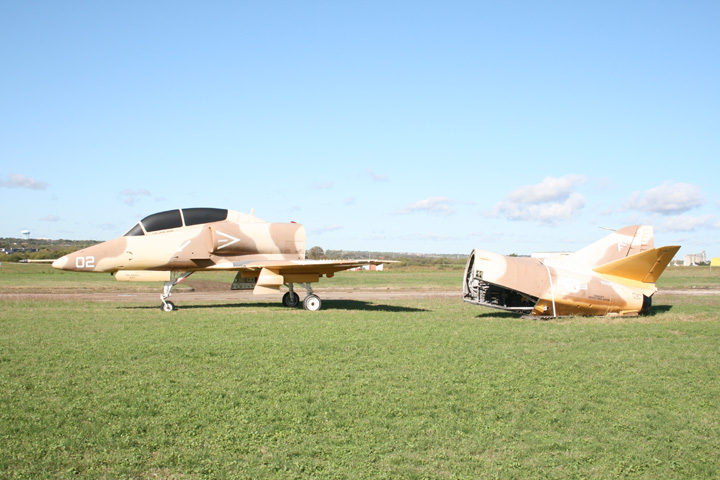 This is one of two A-4s the group has for display. It was expected to have the two parts back together by the end of the weekend I was there. This demonstrates how the back half of the aircraft comes off in order to replace an engine. Terry was estimating it would take about 6 persons to lift the rear section for reassembly.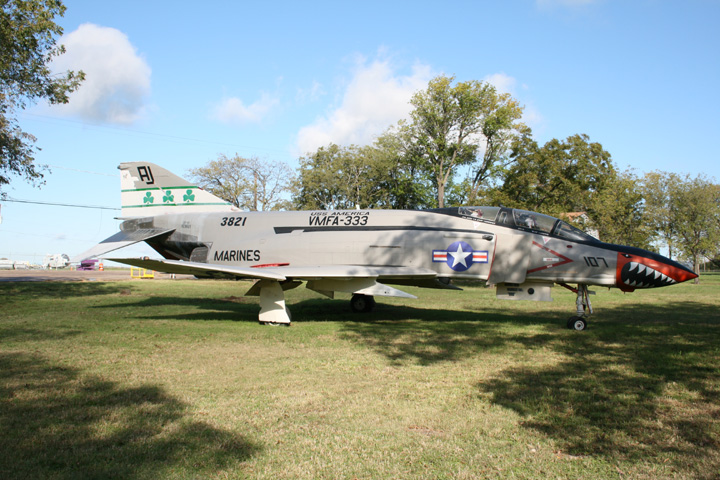 One of the two F-4 Phantoms that are on display.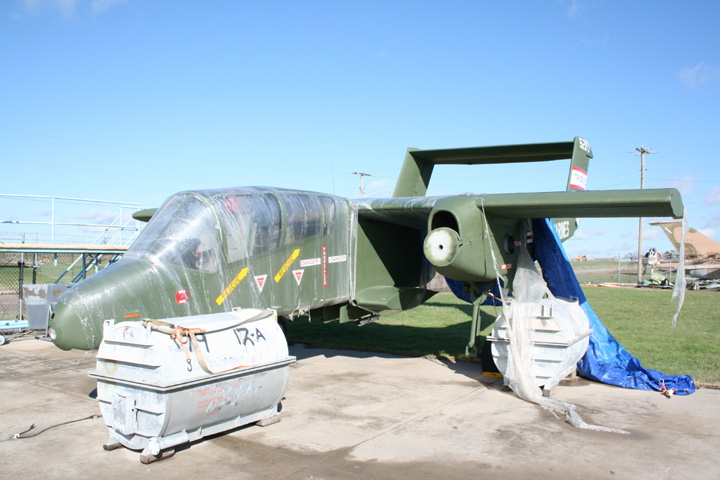 This is actually a wooden mockup that ended up in a junk yard and had to be retrieved by the group to save for posterity.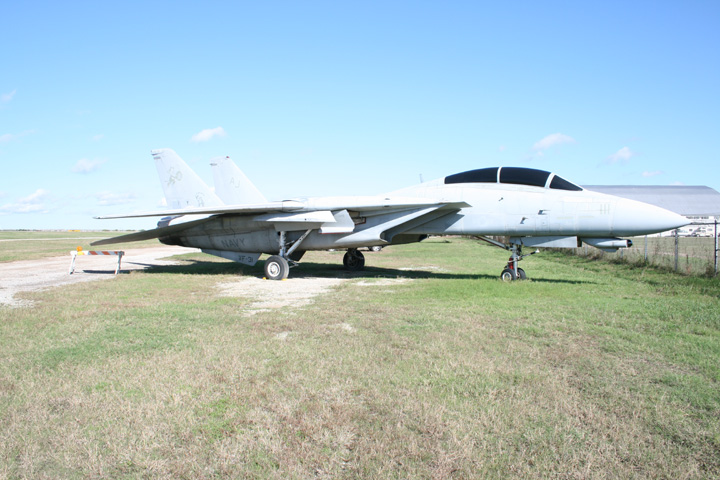 This is the last US Navy F-14 to fly. It achieved that feat by flying into Meacham Airport in the cargo hold of a USAF C-5 after the F-14s had been pulled from US Navy service. The nation of Iran still has a few flyable F-14s that were seen flying in 2009.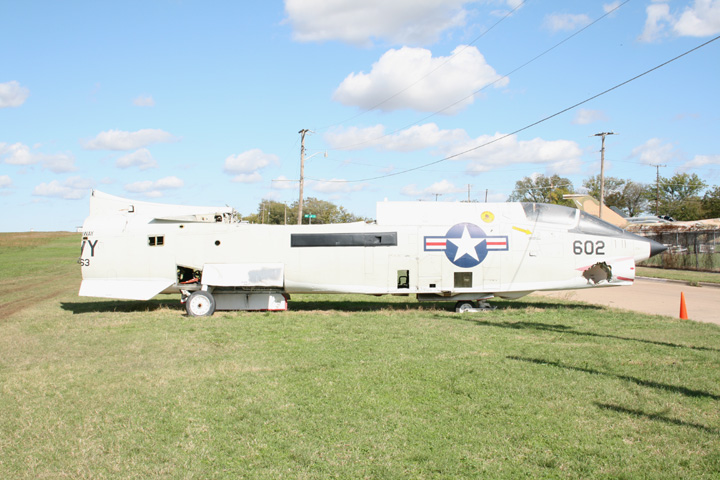 With Vought at Grand Prairie in the Dallas area, the OV-10 Association has been able to arrange for Vought Retirees to rebuild this F-8 Crusader to original print specifications. It will be pristine when complete.
---
Fort Worth: NAS Fort Worth Joint Reserve Base A-4, (2)F-4, F-16, (2)F-18, F-80, F-86, F-105, H-34, OH-58, UH-1 April 2011 - Photos were taken of the aircraft while entering and exiting from Air Power Expo 2011. Several of the photos were taken from a moving vehicle as due to the traffic flow there was no place to park and get out to take photos. Therefore a couple of the shots may be a touch out of focus But I think I got a photo of each aircraft along the main road into what used to be Carswell AFB. Being a Joint Reserve Base allows for aircraft from all the services to be on display.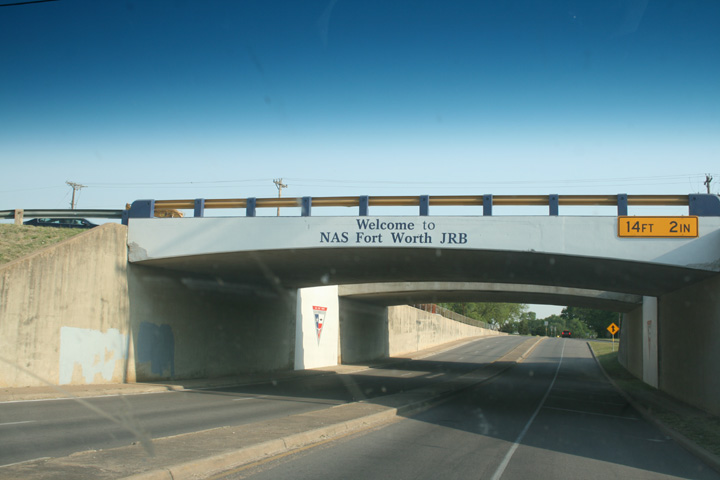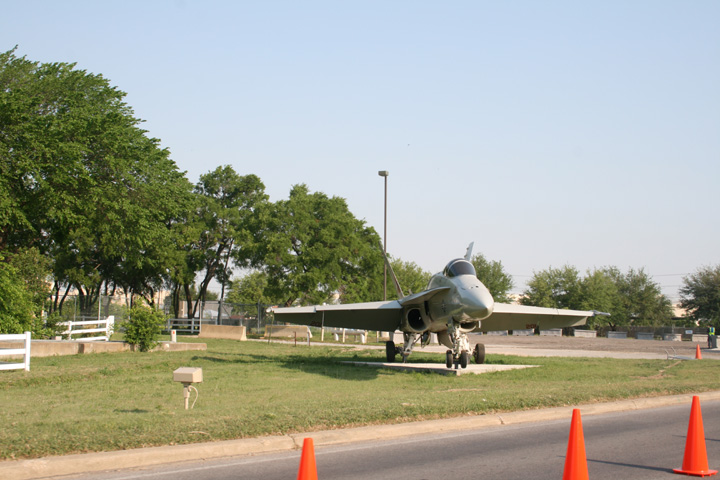 This is the gate guard at the front gate on the west side of the road going in.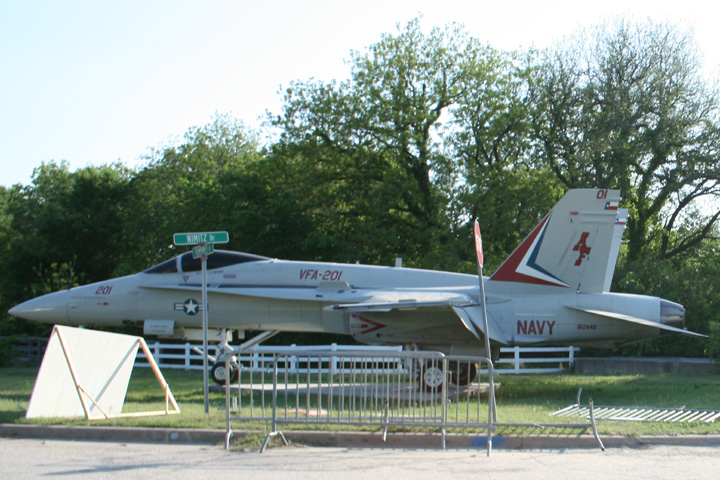 This is the same F-18 on the way out.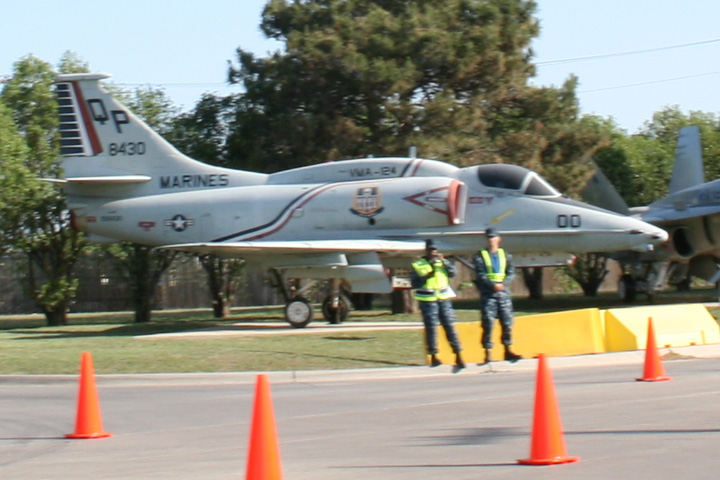 This is about the best we could do to get the A-4. Most of the rest of the picture has been cropped so we end up a little fuzzy.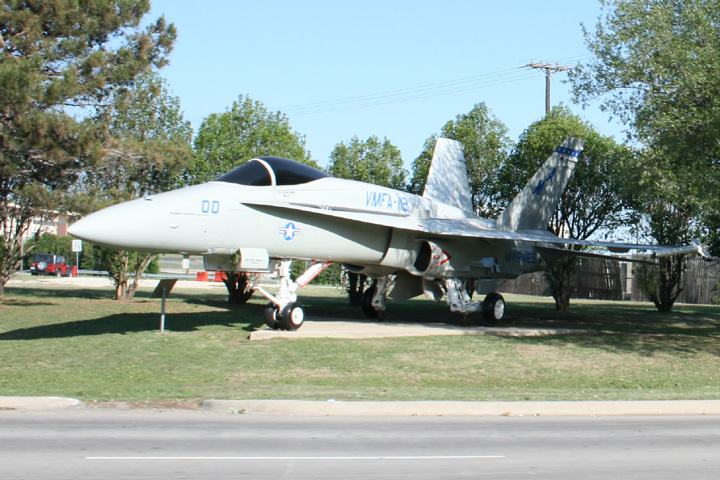 Another F-18.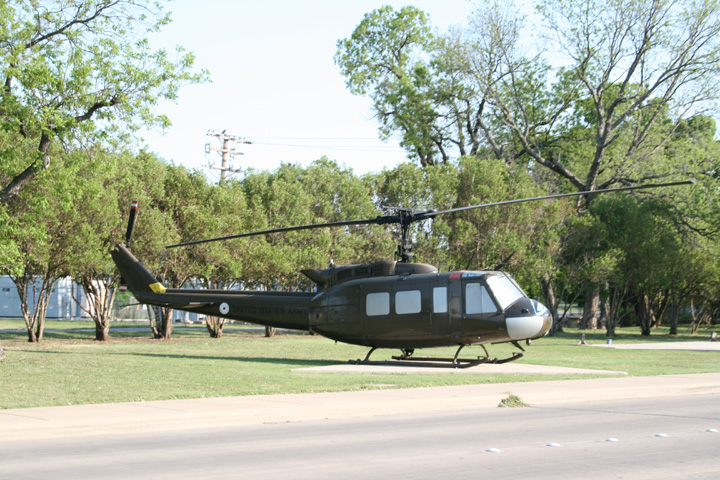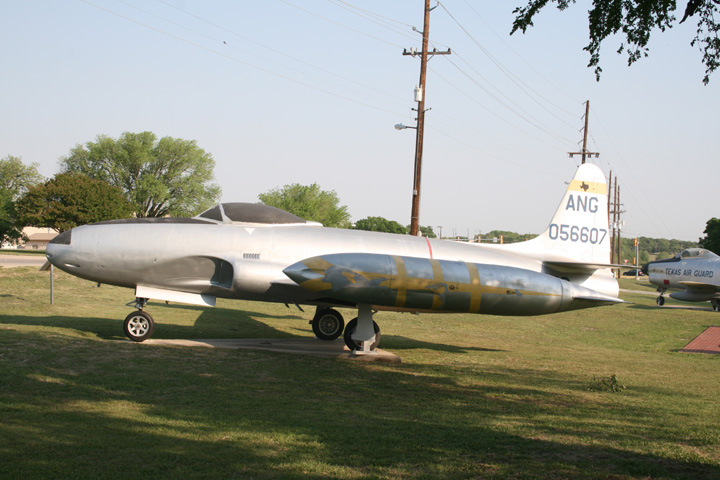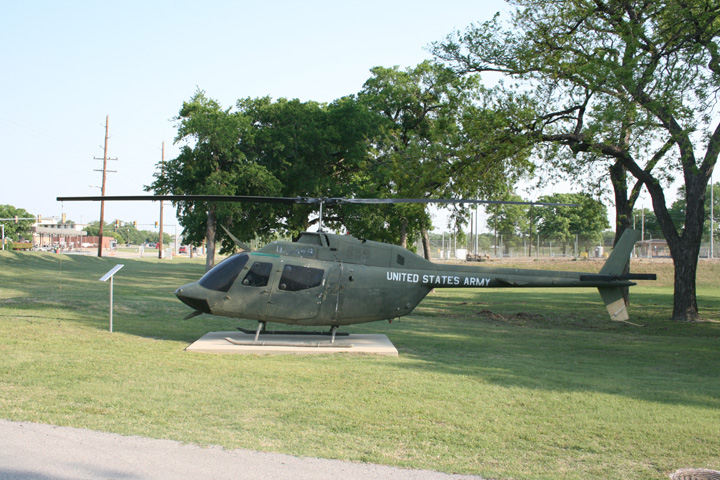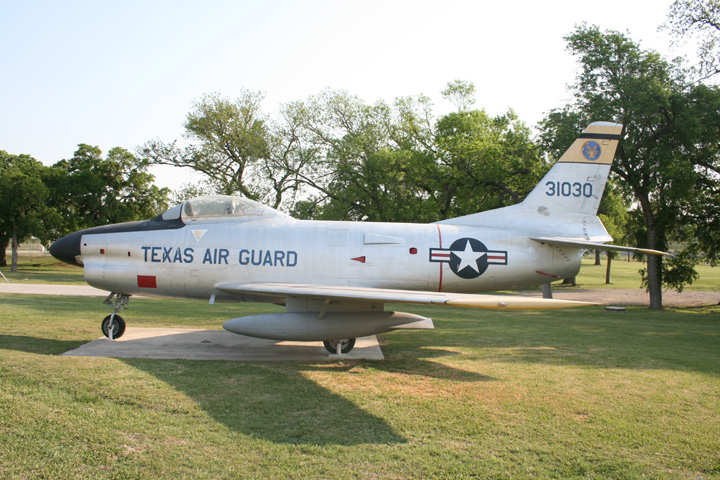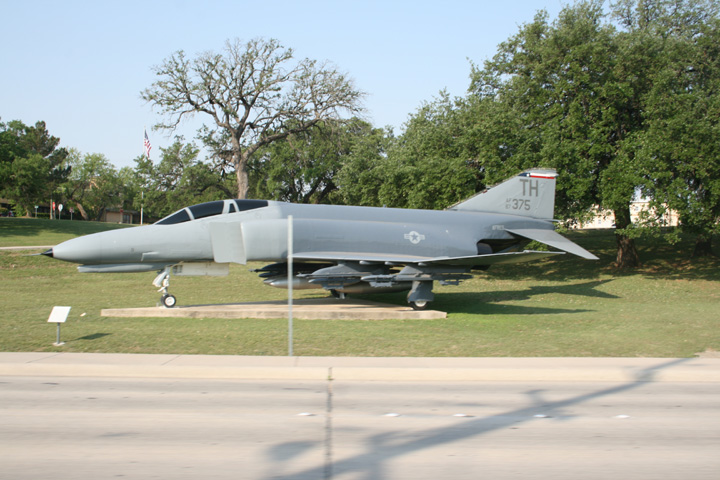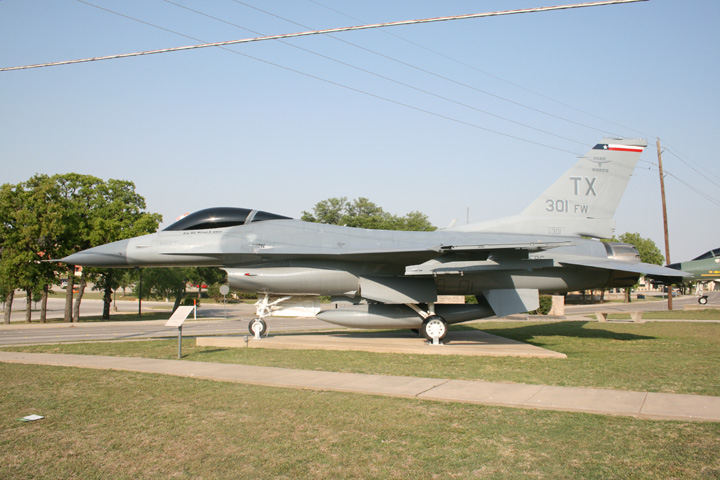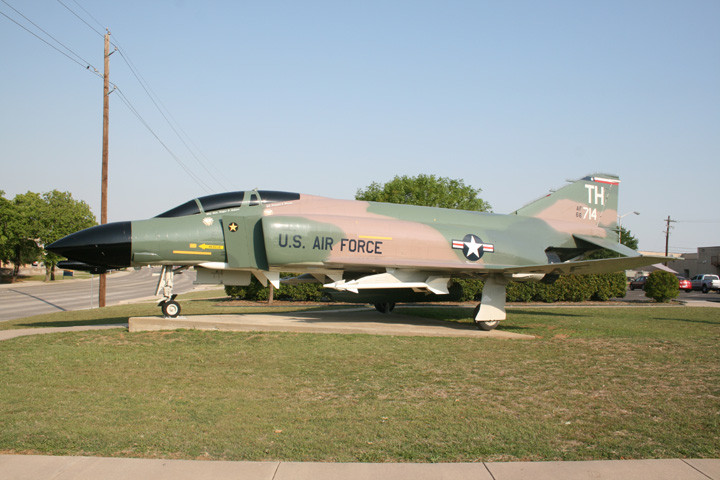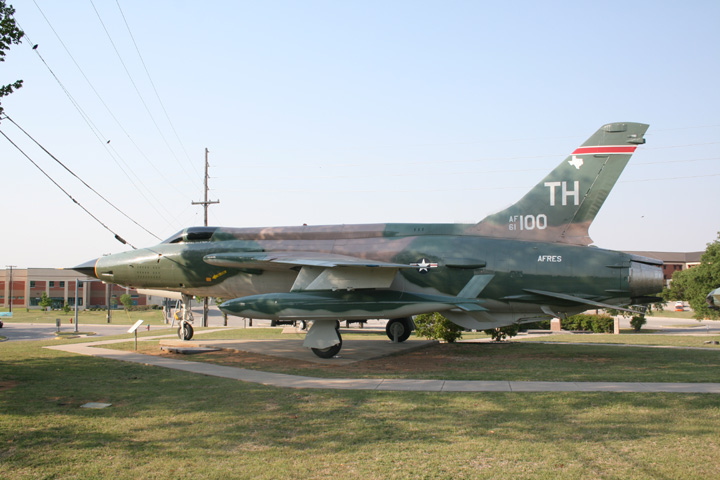 ---
Galveston: Lone Star Flight Museum - F-100 March 2009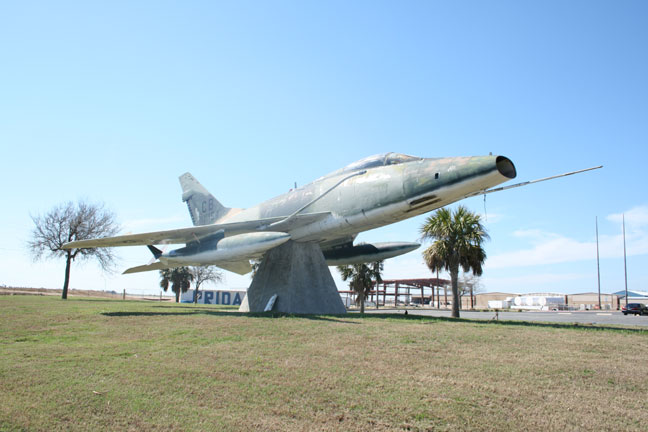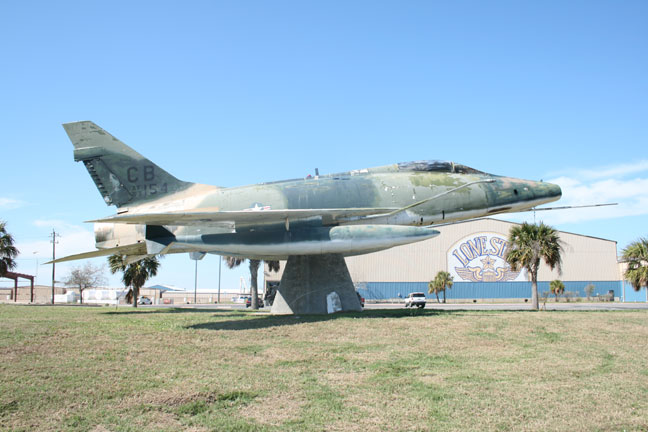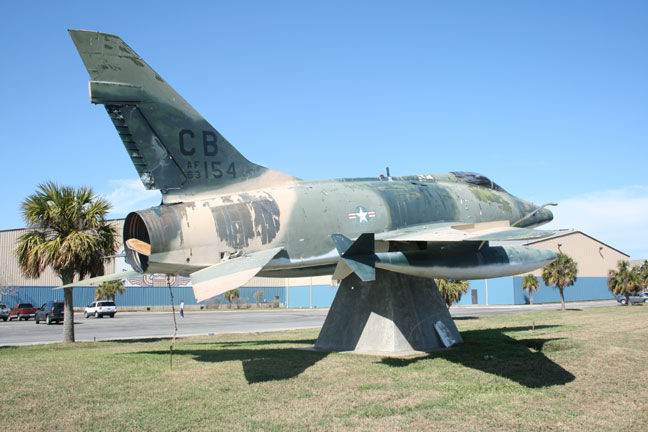 ---
Harwood: Tactical Paintball @ I-10 and FM Road & 94 (2) UH-1 November 2009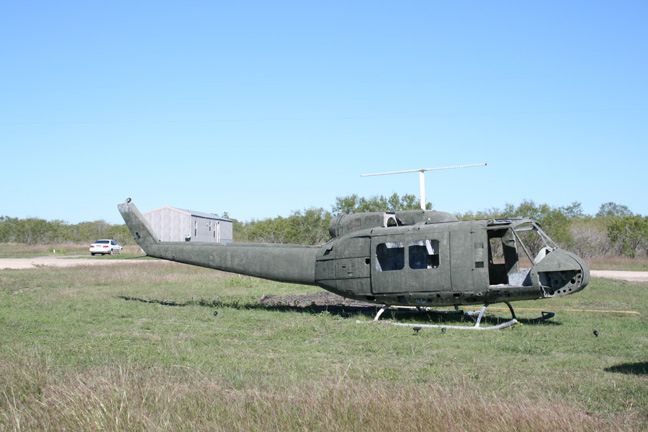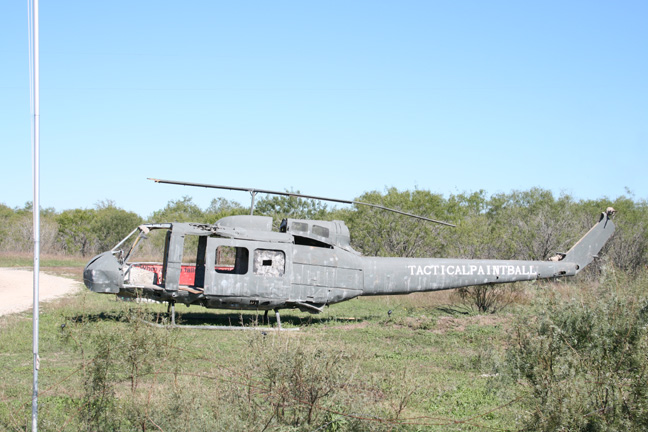 ---
Houston: Ellington Airport - KC-135 March 2009 - NASA has a facility at this location for its T-38s along with 2 WB-57s.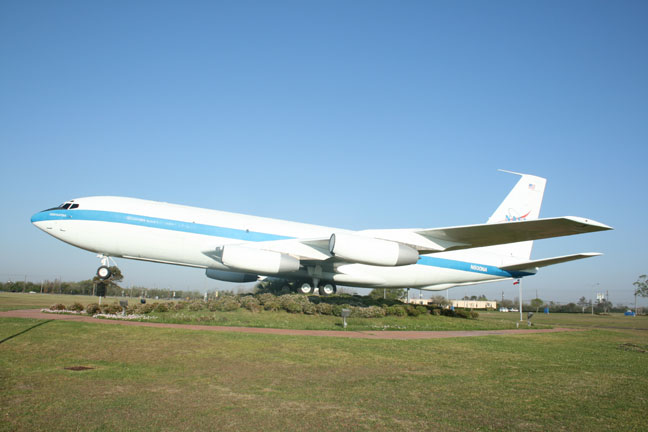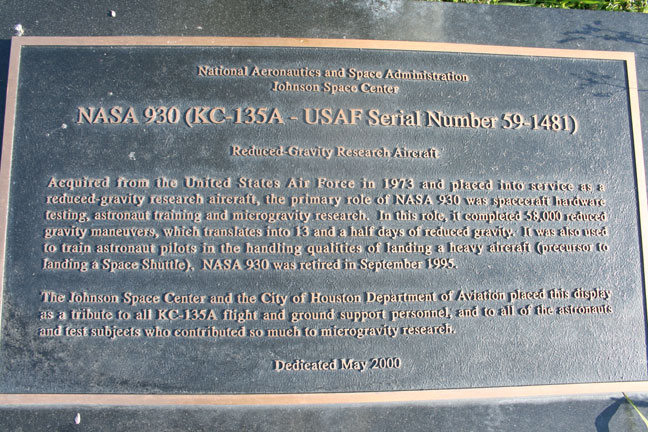 ---
Houston: Johnson Space Center - (2)T-38 March 2009 - This is the public entrance to the Space Center which is for tourists.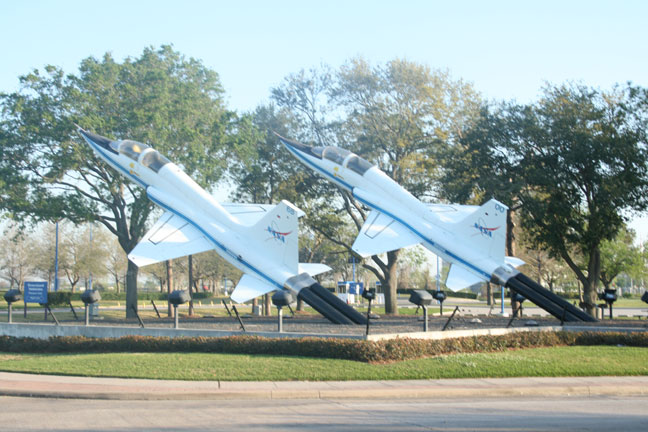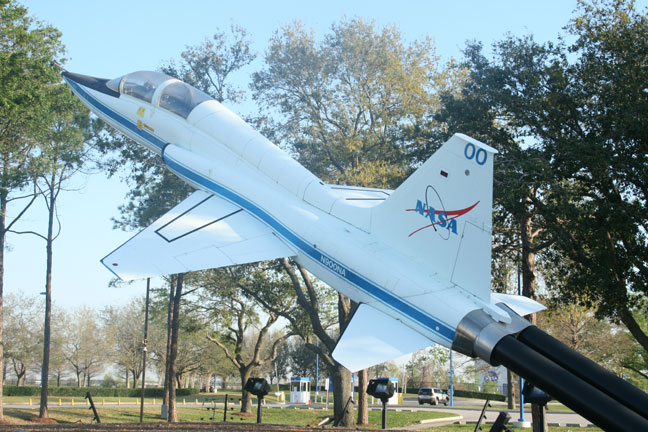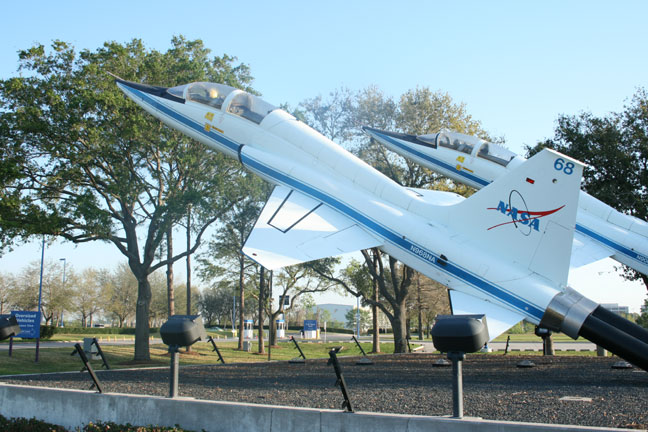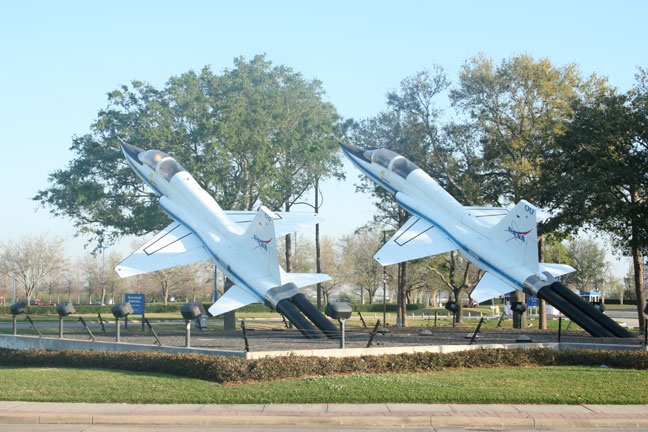 ---
Houston: American Legion Post 490 - F-84 March 2009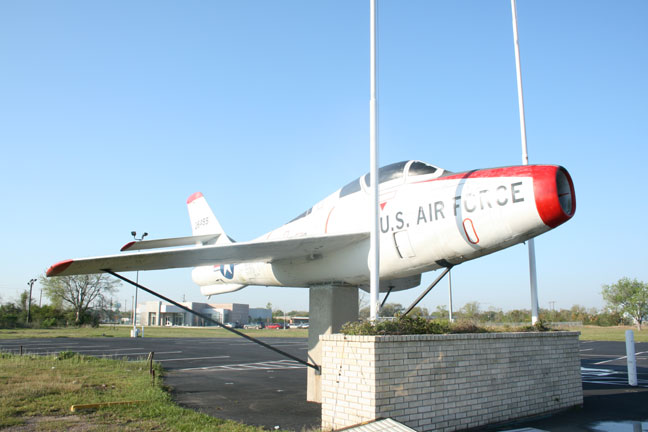 ---
Lubbock: Silent Wings Museum C-47 (R4D-6S) October 2010 - This C-47B built by Douglas at Oklahoma City, OK in 1942 was one of 148 that the US Navy took during WWII and used for anti-submarine patrols along the eastern seaboard. The anti-submarine mission is denoted by the 6S designation. I was unaware that this type aircraft was used for this mission.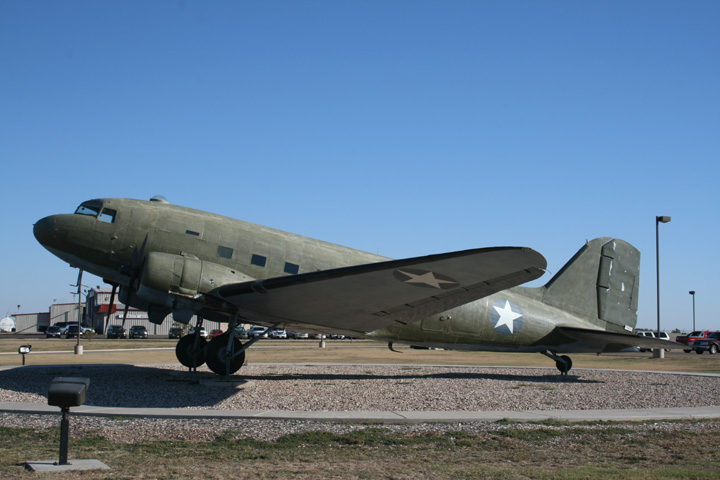 Lubbock: State School T-33 October 2010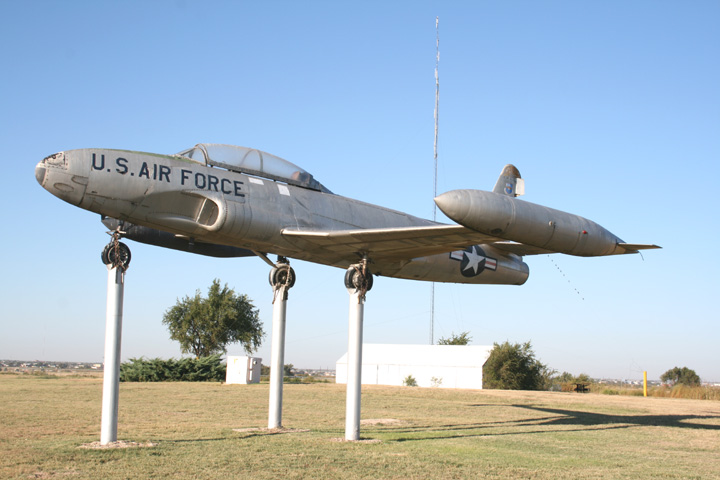 Lubbock: Science Spectrum Museum T-38 October 2010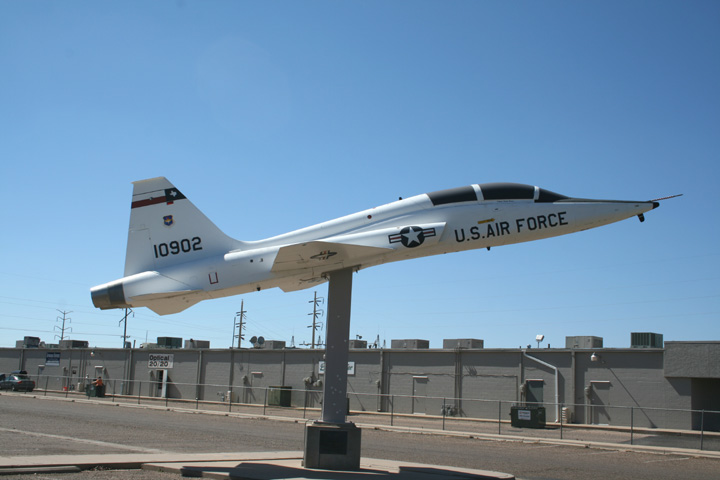 ---
Midland: Commemorative Air Force PV-2D May 2009 I had conversation with the folks at the CAF after I returned from my trip as to why this aircraft is sitting outside while there is plenty of hangar space right behind it. I was told this is actually on loan from the Naval Aviation Museum in Pensacola, FL and that there were plans to get it moved. In order for that to happen new tires have to be purchased and installed to be able to actually move the Harpoon.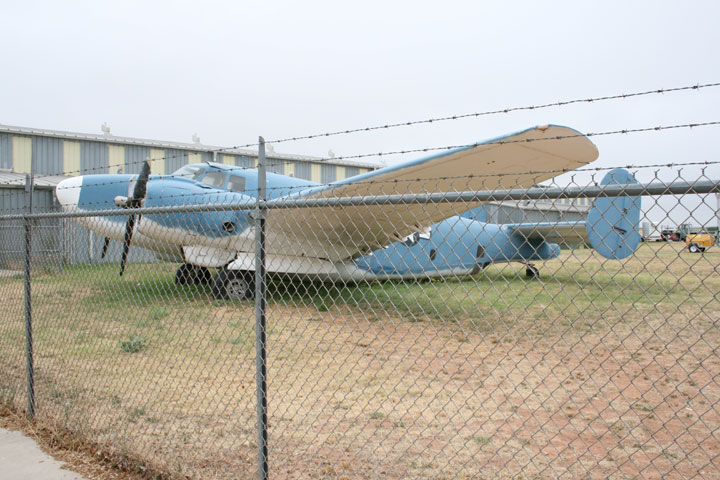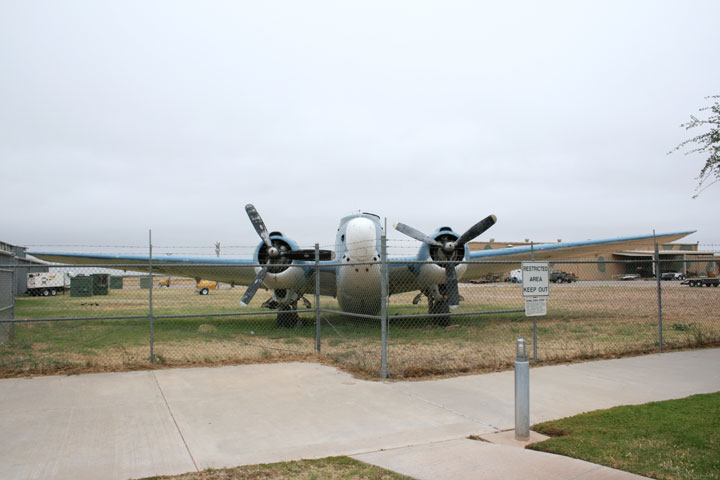 October 2010 - These photos were taken during the Annual CAF Airsho.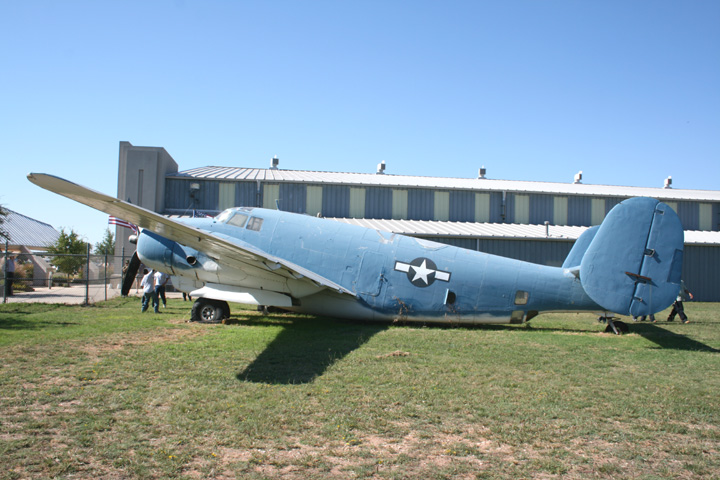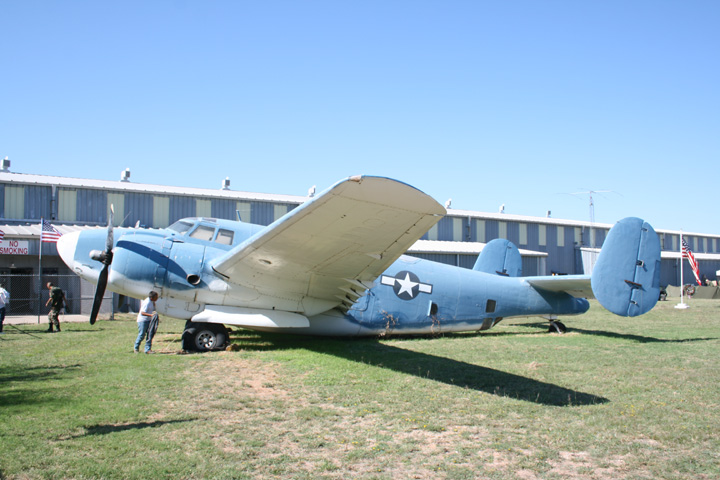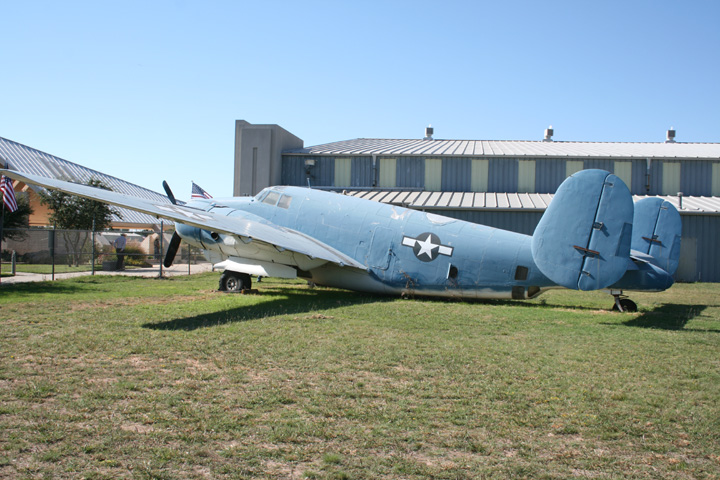 ---
Midland: Commemorative Air Force - Salute to Airmen in Vietnam AH-1, F-4, F-100, F-105, UH-1 May 2009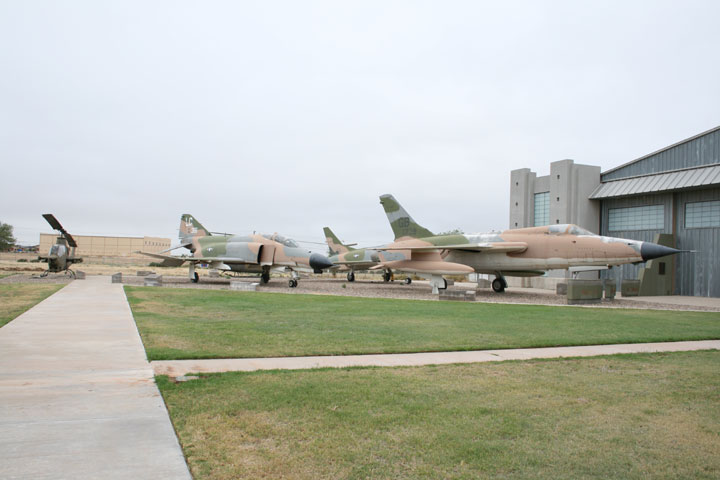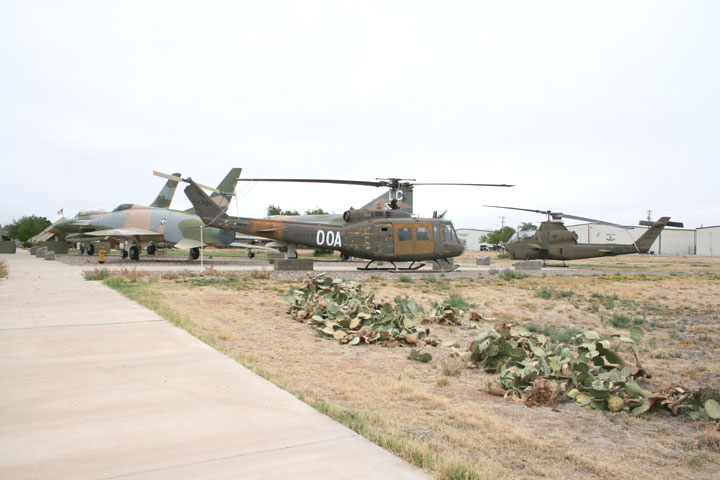 ---
Midland: Army National Guard at the airport UH-1 October 2010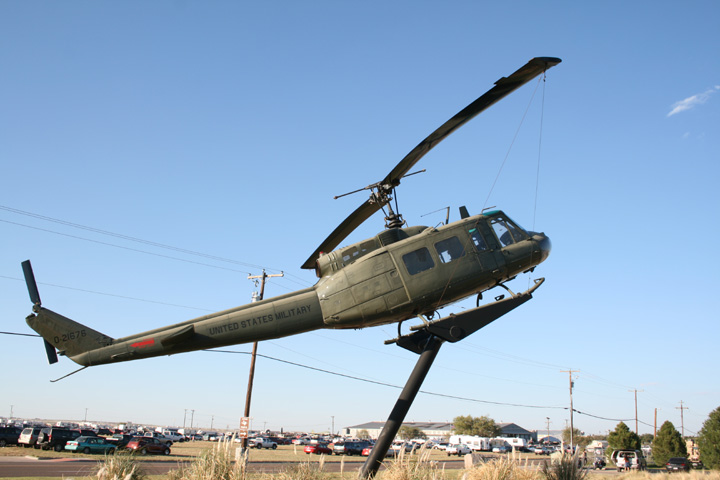 ---
Odessa: Airport T-33 October 2010 - Looks like these pilots are getting ready to eject.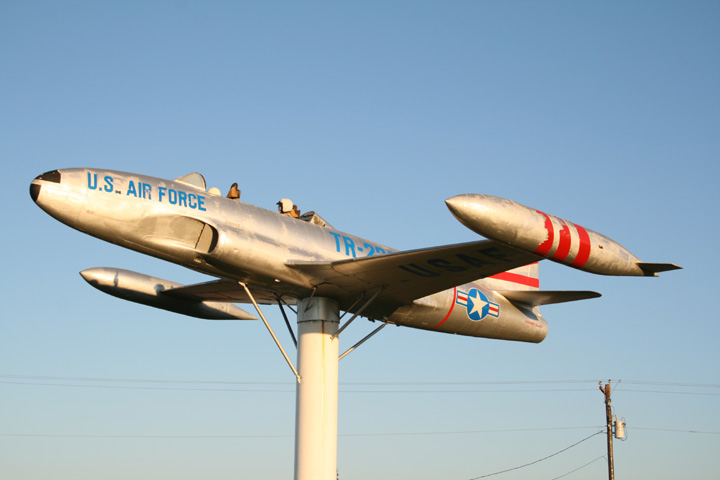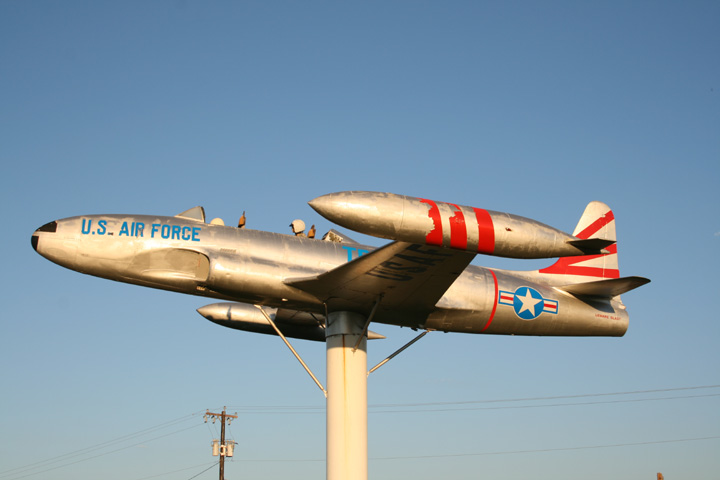 ---
Pasadena: American Legion Post 521 F-4 November 2009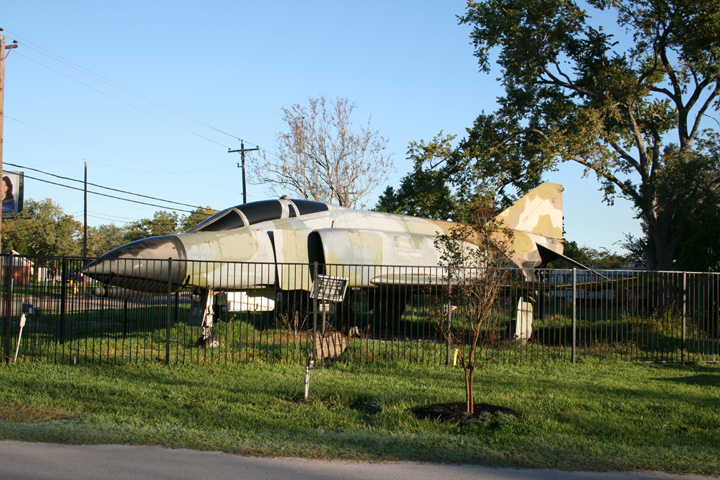 ---
San Angelo - High School T-33 October 2010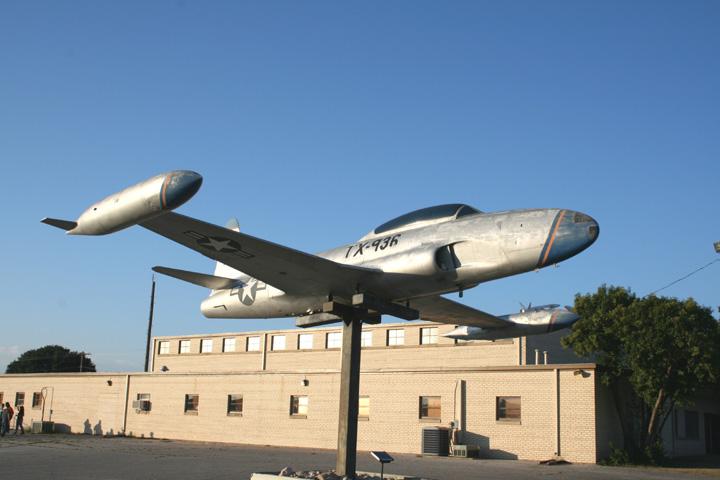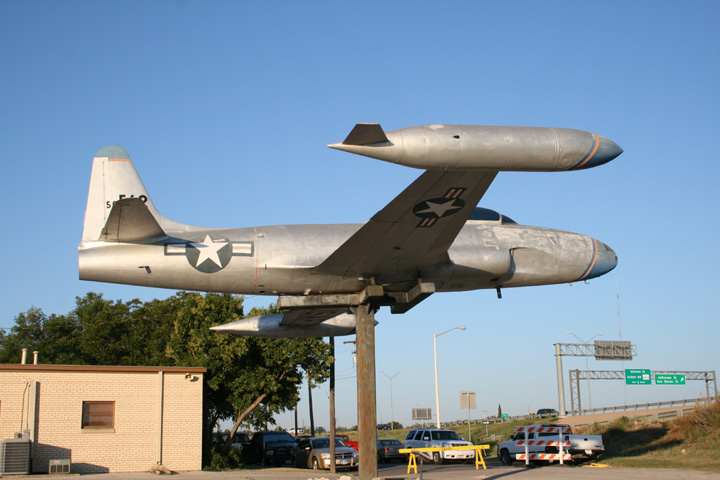 ---
San Angelo - Vietnam Veterans of America Memorial at Airport UH-1 October 2010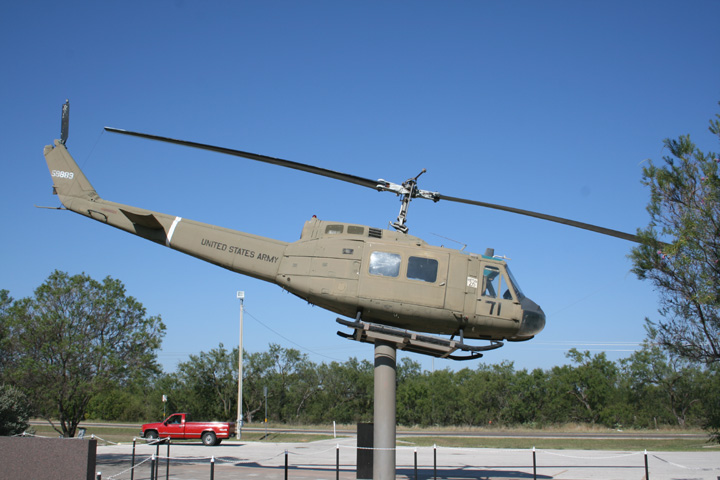 This is UH-1H S/N 65-09889.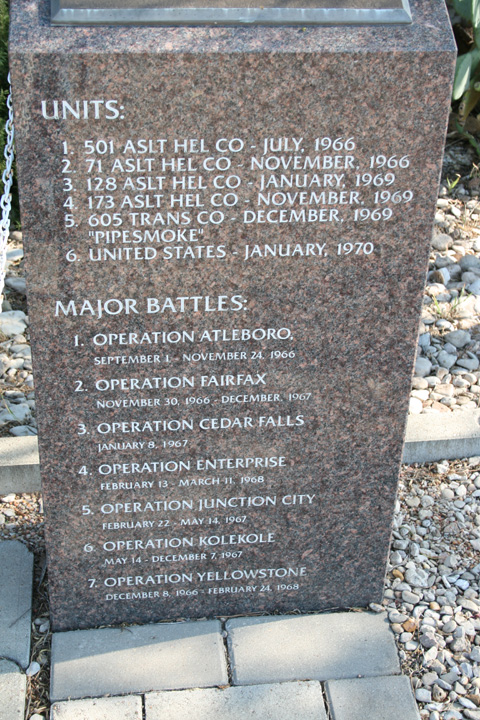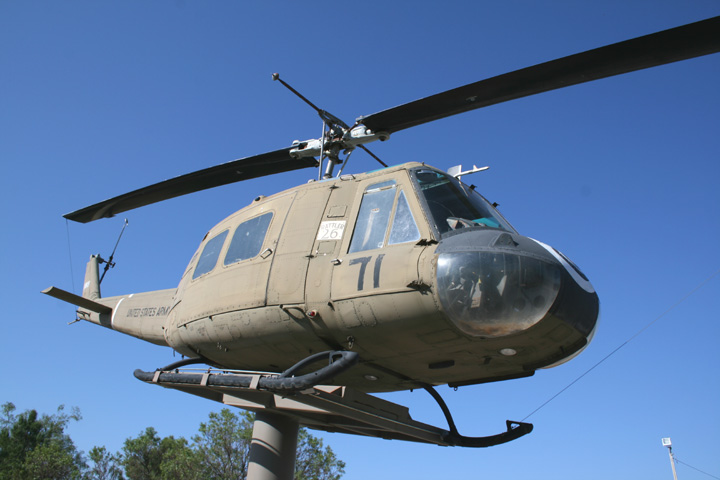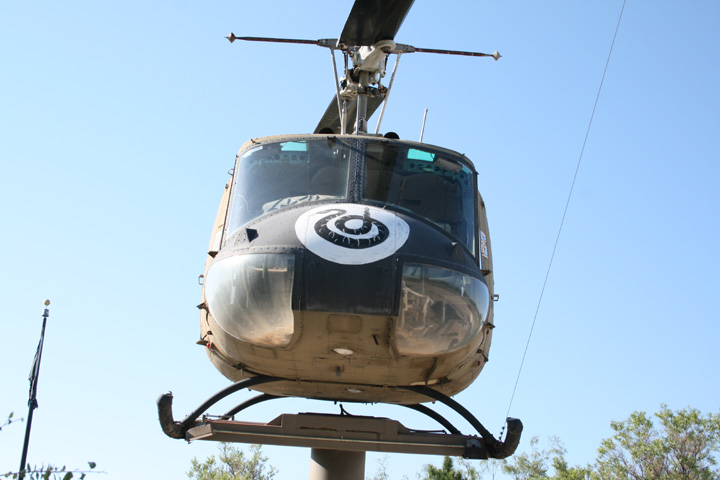 ---
Slayton: Texas Air Museum (Caprock Chapter) at airport AH-1, F9F, F-4, F-14, F-18, F-105, T-2, T-33 October 2010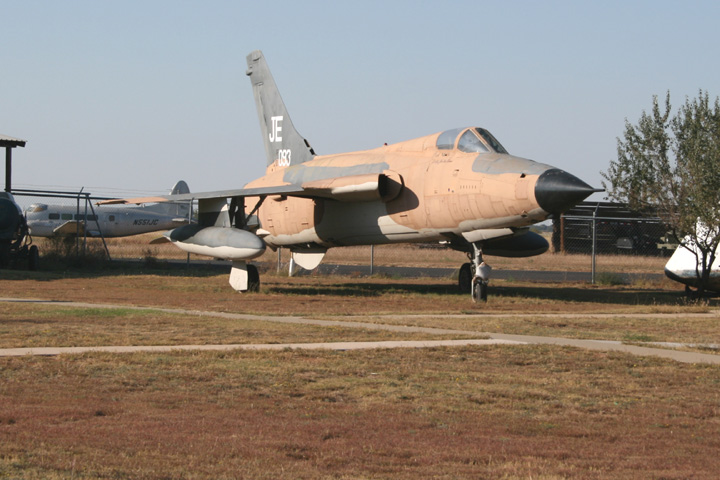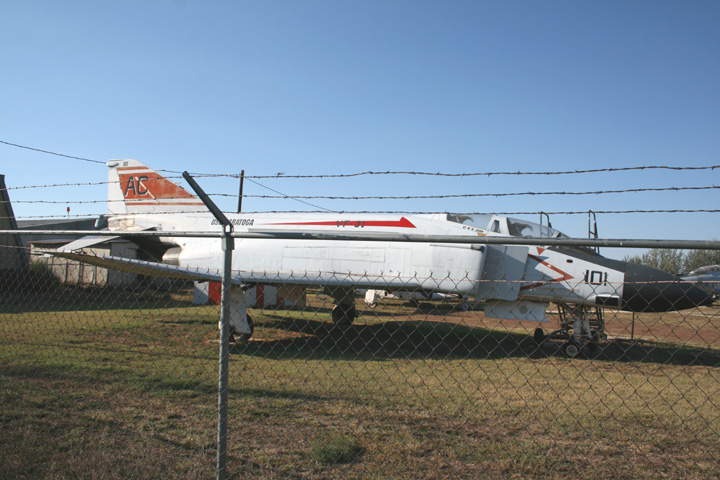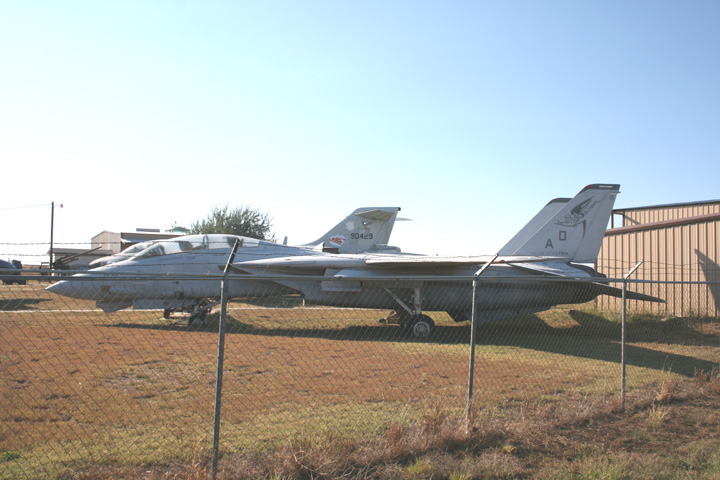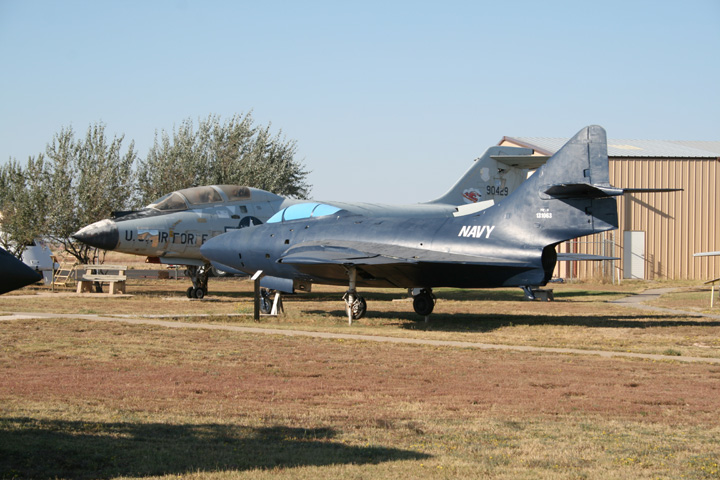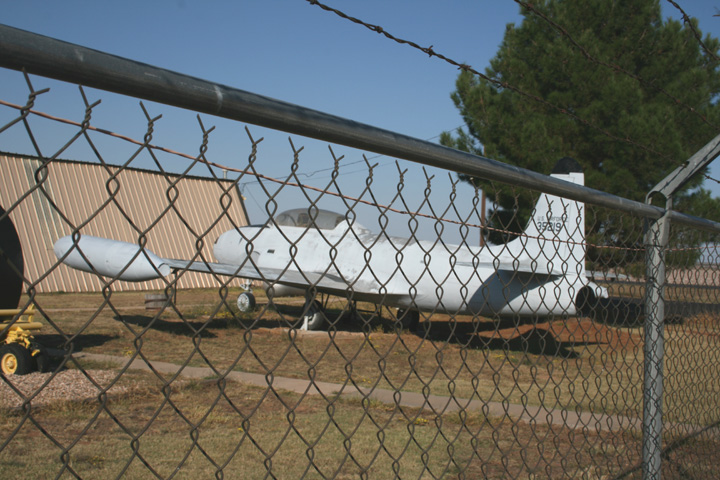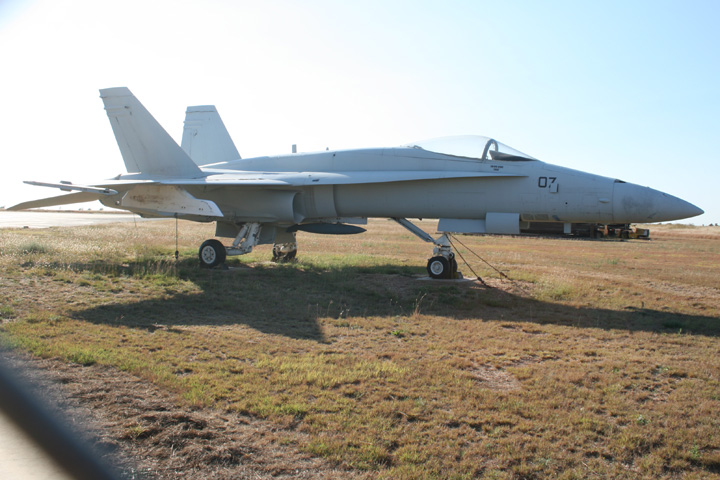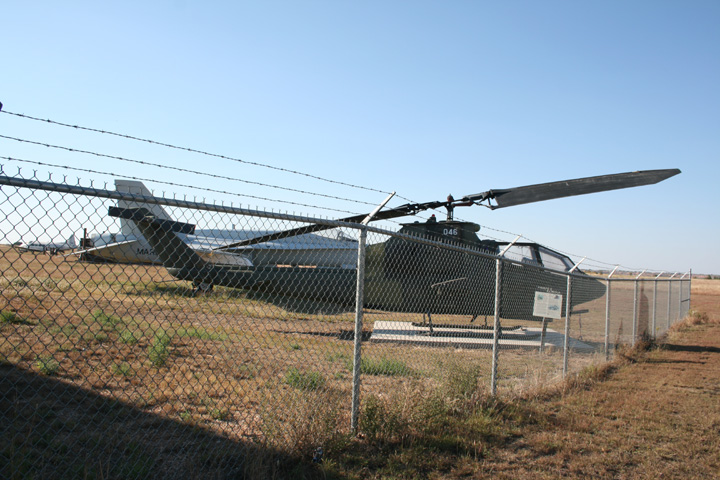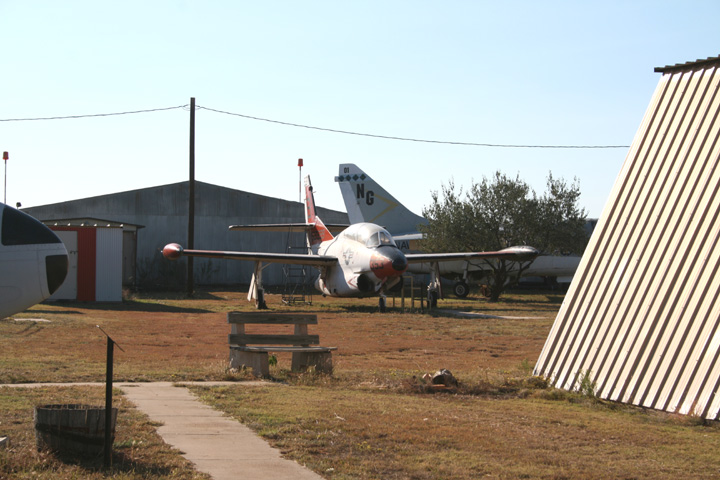 ---
Stanton: Sam's Surplus UH-1 October 2010 - This is at exit 156 on I-20 and is on the north west corner of the interchange. It can be seen plainly from the Interstate.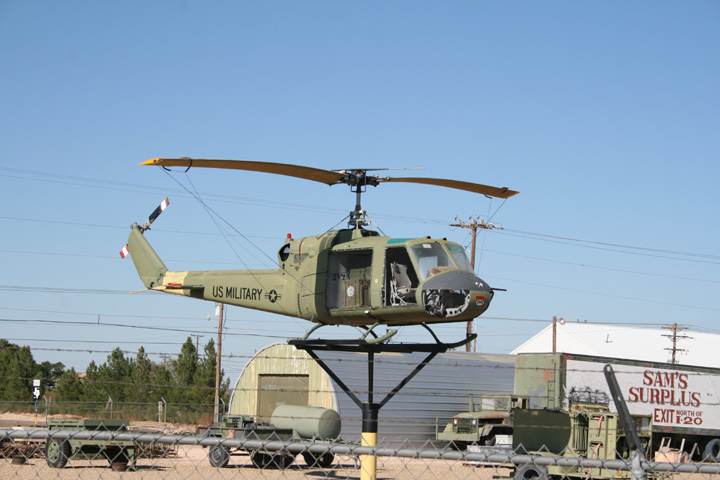 ---
Sweetwater: City Park T-33. UH-1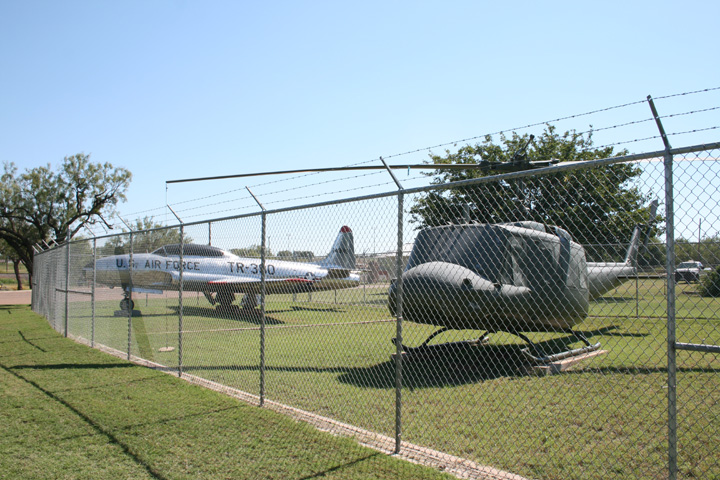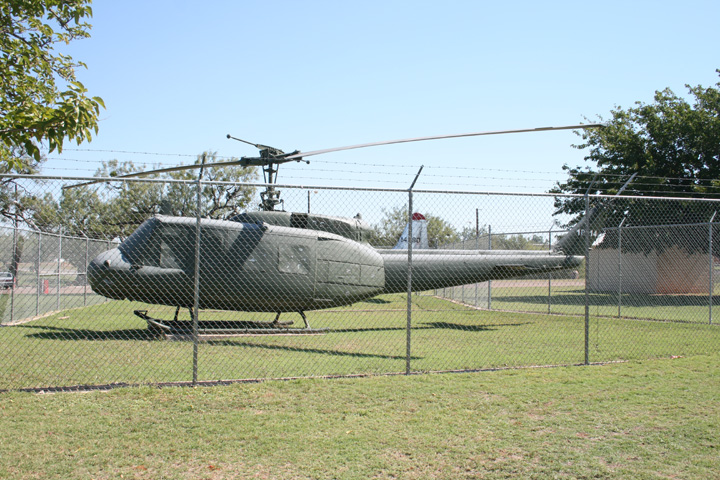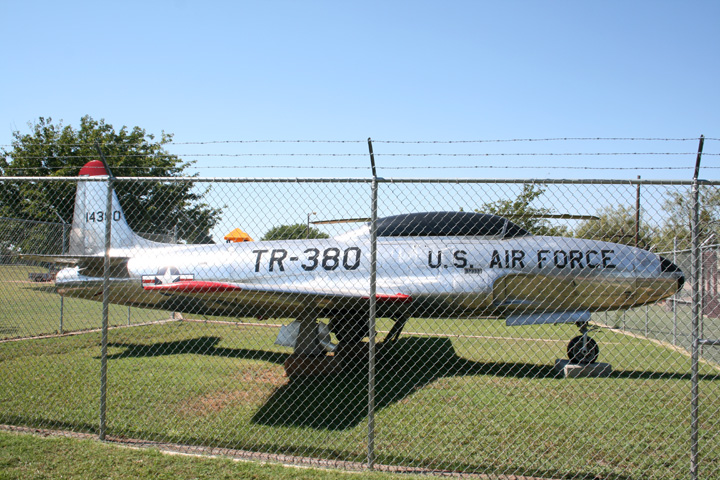 ---
Texarkana: Military Surplus Yard F-111 October 2010 - This is on the north side of I-30 at mile marker 213. It is very visible from the Interstate and is located along the frontage road.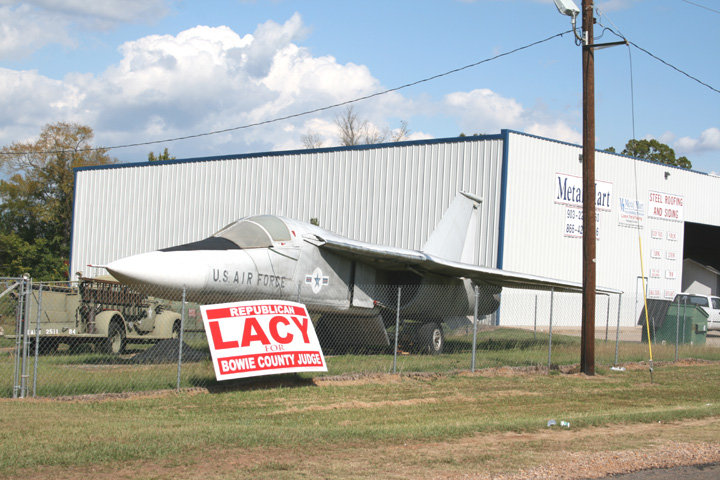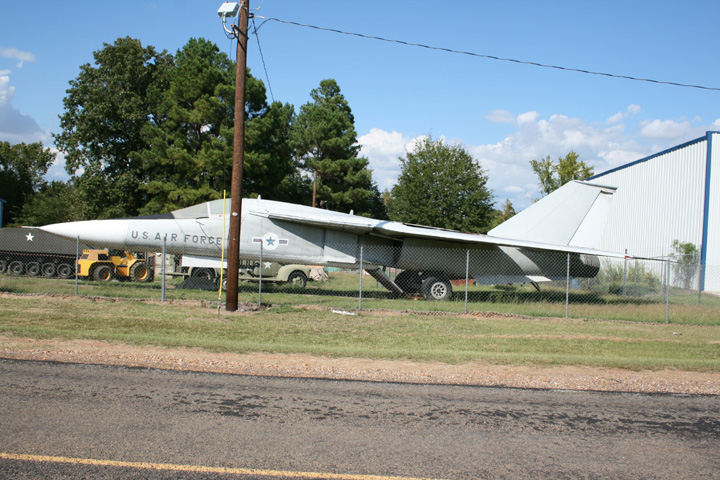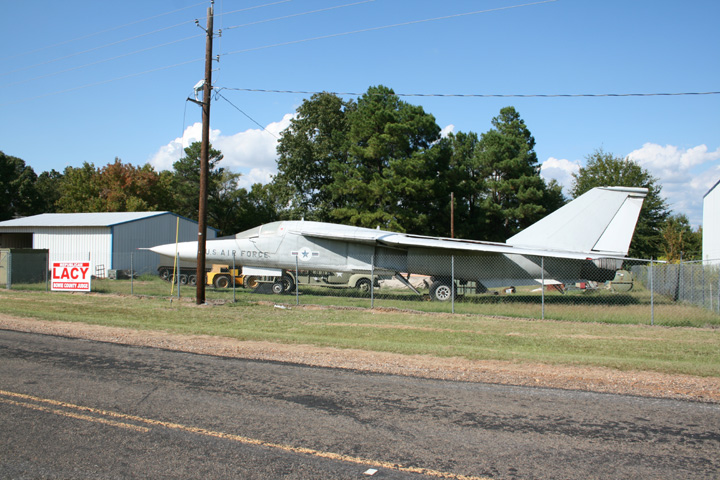 ---
Texas City: Bay Street City Park F-100 March 2009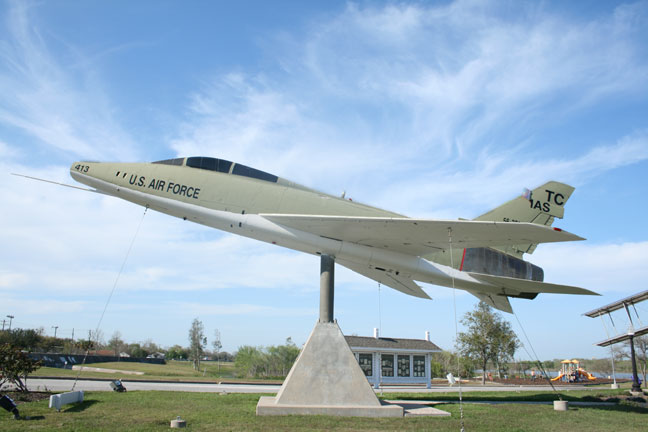 Alabama Arizona Arkansas British Columbia California Colorado Connecticut Europe Delaware Florida Georgia Illinois Indiana Iowa Kansas Kentucky Louisiana Maryland Michigan Mississippi Missouri Nebraska Nevada New Jersey New Mexico New York North Carolina Ohio Oklahoma Ontario Oregon Pennsylvania South Carolina Tennessee Texas Utah Virginia West Virginia Washington Wisconsin Wyoming