WWII Aircraft Manufacturing Sites-Home Canada Aircraft US Aircraft US Cross Reference US Airships US Engines USA Gliders Propellers Plant Photos US WWII Aircraft Costs WWII Aircraft Manufacturers' Literature US Aircraft Assembly Plant Numbers US Aircraft Modification Centers
WWII Aircraft Manufacturing Sites
The purpose of this grouping of related pages is to document which aviation company in WWII built what aircraft and at which location. We are still in the process of refining data and gathering information on aircraft and manufactures as it is found. The original source and backbone for WWII Aircraft Manufacturing Sites comes from the Special Studies -Buying Aircraft: Materiel Procurement for the Army Air Forces by Irving Brinton Holley, Jr. at the Center for Military History of the United States Army.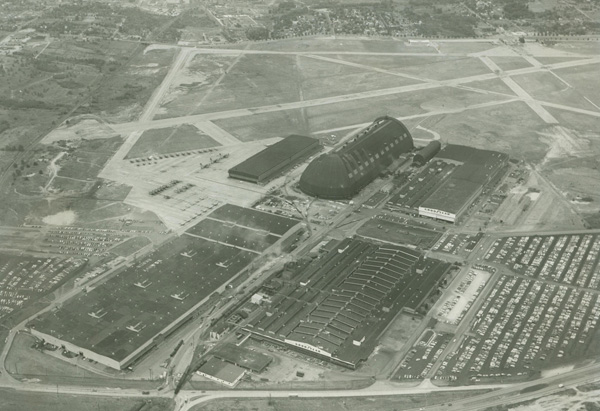 Goodyear at Akron Futon Airport - Both Corsairs and Airships were built at this site. Today it is owned by
Lockheed-Martin. The building to the left of the Airdock is where 3,940 Corsairs were assembled.
The bulk of the information presented is in regards to the manufacture of fixed wing aircraft in the United States where the aircraft companies are listed in alphabetical order. The corresponding cross reference shows details which company built what aircraft at which locations. This includes Canadian locations as the Canadian aircraft industry was not only building aircraft for the Common Wealth but license built American aircraft for use by both the USAAF and US Navy. Canadian built Helldivers were part of the US Navy aerial attack force that sank the Yamato.
Also included is information on engine, propeller, airship and glider manufacture, along with photos of some of the manufacturing plants as they still exist today. Below are some total numbers. For more information and detail see the individual pages.
| | | | | | | | |
| --- | --- | --- | --- | --- | --- | --- | --- |
| Year | 1940 | 1941 | 1942 | 1943 | 1944 | 1945 | Total |
| US Aircraft Production | 6,019 | 19,433 | 47,836 | 85,898 | 96,318 | 47,717 | 303,221 |
| US Engine Production | 22,667 | 58,181 | 138,089 | 227,116 | 256,911 | 109,650 | 812,614 |
| | | | | |
| --- | --- | --- | --- | --- |
| Company | Total Aircraft Built | USAAF | US Navy/USMC | Comments |
| North American | 41,839 | 41,839 | 0 | Records do not show any aircraft going to the US Navy. The SNJs and PBJs must have been contracted through the USAAF. |
| Douglas | 30,980 | 25,569 | 5,411 | |
| Consolidated-Vultee | 30,830 | 27,534 | 3,296 | |
| Curtiss | 26,637 | 19,703 | 6,934 | |
| Lockheed | 19,077 | 17,148 | 1,929 | |
| Boeing | 17,532 | 17,241 | 291 | |
| Grumman | 17,448 | 0 | 17,448 | |
| Republic | 15,663 | 15,663 | 0 | |
| Eastern (GM) | 13,449 | 0 | 13,449 | |
| Bell | 12,942 | 12,941 | 1 | |
| Martin | 8,983 | 7,711 | 1,272 | |
| Chance Vought | 7,896 | 0 | 7,896 | |
| Beech | 7,430 | 7,430 | 0 | |
| Ford | 6,792 | 6,792 | 0 | |
| Fairchild | 6,380 | 6,080 | 300 | |
| Piper | 5,941 | 5,611 | 330 | |
| Cessna | 5,359 | 5,359 | 0 | |
| Goodyear | 3,940 | 0 | 3,940 | |
| Aeronca | 2,434 | 2,434 | 0 | |
| Taylor | 1,940 | 1,940 | 0 | |
| Brewster | 1,897 | 0 | 1,897 | |
| Ryan Aeronautical Corp. | 1,586 | 1,440 | 146 | |
| Howard | 832 | 349 | 483 | |
| Globe Aircraft Corp. | 600 | 600 | 0 | |
| Naval Air Factory | 421 | 0 | 421 | |
| St. Louis Aircraft Corp. | 363 | 363 | 0 | |
| Columbia | 319 | 0 | 319 | |
| Timm | 260 | 0 | 260 | |
| Interstate | 259 | 259 | 0 | |
| Nash-Kelvinator Corp. | 201 | 201 | 0 | |
| Spartan Aircraft Corp | 201 | 0 | 291 | |
| Sikorsky Aircraft | 151 | 151 | 0 | |
| Bellanca | 39 | 39 | 0 | |
| McDonnell | 32 | 31 | 1 | |
| Fleetwings | 25 | 25 | 0 | |
| Rearwin Aircraft | 25 | 25 | 0 | |
| Culver | 19 | 19 | 0 | |
| Universal Aircraft | 19 | 19 | 0 | |
| Budd | 17 | 0 | 17 | |
| Fisher Body | 14 | 14 | 0 | |
| G&A Aircraft Corp. | 7 | 7 | 0 | |
| Kellett Autogiro Corp. | 7 | 7 | 0 | |
| Waco | 6 | 6 | 0 | |
| Higgins Aircraft, Inc | 2 | 2 | 0 | |
| Platt-LePage Aircraft Corp. | 2 | 2 | 0 | |
| Engineering and Research Corp. | 1 | 1 | 0 | |
| Hughes | 1 | 0 | 1 | |
WWII Aircraft Manufacturing Sites-Home
Canada Aircraft
US Aircraft
US Cross Reference
US Airships
US Engines
USA Gliders
Propellers
Plant Photos
US WWII Aircraft Costs
WWII Aircraft Manufacturers' Literature
US Aircraft Assembly Plant Numbers
US Aircraft Modification Centers