Fort Barrancas, FL Ft. Concho, TX Ft. Clatsop, OR Fort Greenville, OH Ft. Hawkins, GA Fort Jefferson, FL Fort Jefferson, OH Ft. Langley, BC Ft. Martin Scott, TX Fort Morgan, AL Fort Moultrie, SC Ft. Pitt, PA Ft. Recovery, OH Fort Sumter, SC Ft. Wayne, IN

Historic Forts
Included in this section are photo pages of Historic Forts I have visited. Forts built during the expansion of the westward movement of the United States and Canada for the most part turned out to be temporary structures not needed once the area had been settled and the frontier moved west. Others such as those built for the defense of the eastern and gulf coast were more permanent and used up through and during WWII. Others such as Ft. Recovery below were part of a half a dozen forts in what is now Ohio that were built a day's travel apart to protect supplies being moved from now Cincinnati to now Ft. Wayne, IN, which was a major Native American town. Each fort has a story to tell in the history of the US and Canada. Over 15,000 forts have been documented in North America. Most are long gone, but some still exist and connect with the past. As I travel around the country I stop, visit and learn. Hopefully I can pass on a little of what I have learned in the photos and commentary on each page.

Not included in this section but a fort nevertheless is Fort (Presidio) Bahia in Goliad, TX. It has been included in the Texas Independence Section and can be found at Goliad.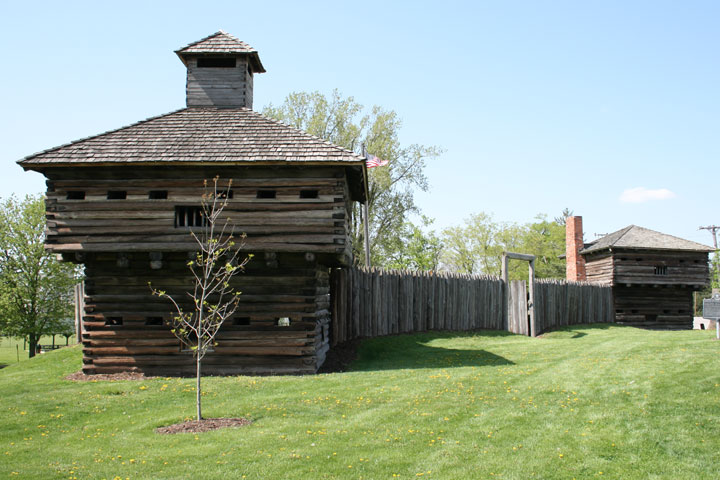 Fort Recovery, OH. This is the location of the worst defeat of the US Army and yet is unknown except to a few persons who have worked to tell the story at the associated museum. Driving by Fort Recover on a business trip in early 2005 got me interested in this particular fort that I had no idea existed on the Indiana-Ohio border. Going back later when it was open I became a patron of the Fort Recovery Museum. From there my interest spread to visiting and understanding how the forts of North America fit into its history. It has been a very slow and gradual process for me as I realize many of the forts have been rebuilt and are available to visit.
Fort Barrancas, FL Ft. Concho, TX Ft. Clatsop, OR Fort Greenville, OH Ft. Hawkins, GA Fort Jefferson, FL Fort Jefferson, OH Ft. Langley, BC Ft. Martin Scott, TX Fort Morgan, AL Fort Moultrie, SC Ft. Pitt, PA Ft. Recovery, OH Fort Sumter, SC Ft. Wayne, IN