2012 Airshows
Titusville (Tico), FL Urbana, OH B-25 Gathering B-25 Fly-Over at Doolittle Reunion, Dayton, OH MCAS Cherry Point, NC Shaw AFB, Sumter, SC Whiteman AFB, Knob Noster, MO Boeing Field, Seattle, WA Kokomo Air Show, Kokomo, IN CWH Airshow, Hamilton ON Indianapolis Air Show, Greenfield, IN Indianapolis Executive B-17 Texas Raiders Thunder over Michigan, Belleville, MI Gratiot Community Airshow, Alma, MI Marion Fly-In/Drive-In, Marion, IN Fort Wayne Air Show, Fort Wayne, IN Waukegan, IL Glendale Airport, Kokomo, IN Indianapolis Regional Airport, IN Indianapolis Metropolitan Airport, IN

There are many excellent websites available that have air show photos available. However, my research has shown that there are no other websites that are dedicated to purely focusing on all of the warbirds at an aerial event, as others will include civilian aerobatic and military aircraft or don't do warbirds at all. This site documents all of the warbirds that attend a show, fly-in, or open house with photos of each. This includes not only the bombers and fighters that normally get photographed, but the liaisons, trainers and transports also.
Epilogue for 2012:
In 2012 I was able to attend 20 different aviation events, ranging from fly-ins to full blown airshows.
Also in 2012 I added four military bases to my goal of seeing an airshow at all of the Military Air Bases and Stations in the US.
They were MCAS Cherry Point, Shaw AFB, Whiteman AFB and Ft. Wayne ANGB.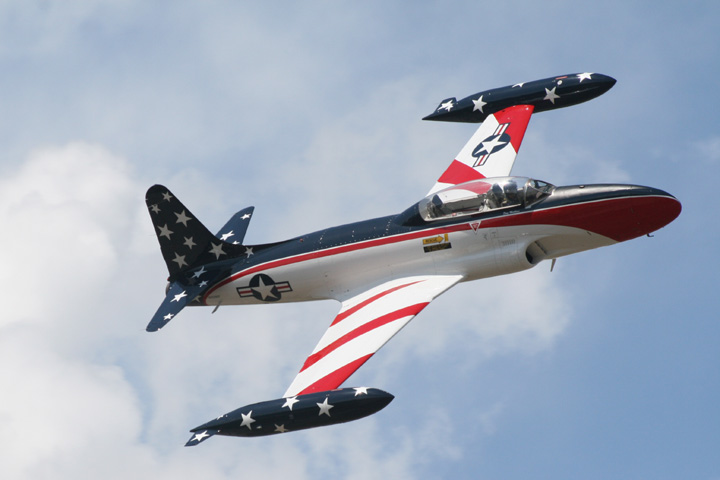 Tico Airshow - Doug Matthews in his T-33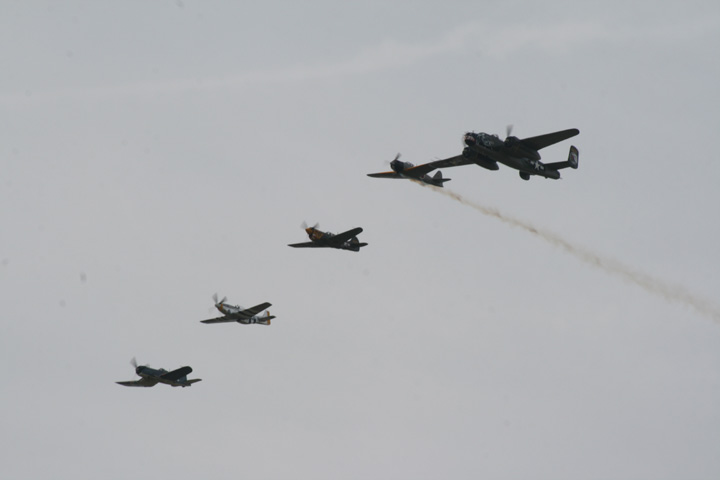 Texas Flying Legend's Museum Warbirds arrive at the Grimes Gathering of B-25s at Urbana, OH on Sunday, April 15, 2012.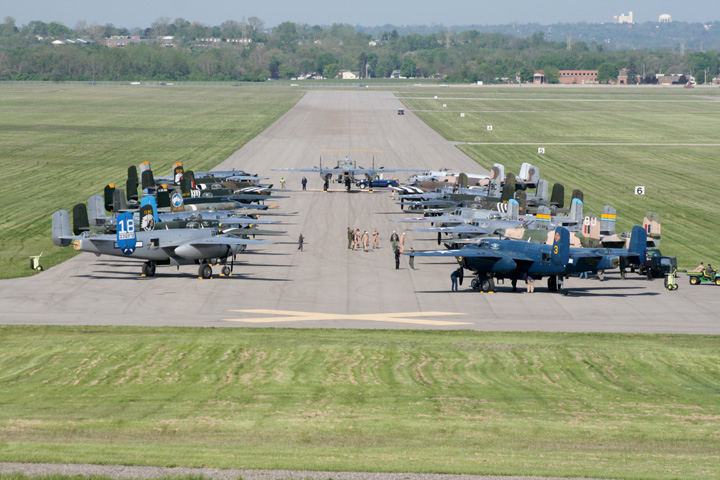 Twenty B-25s waiting at the end of runway 23 for take-off for the fly-overs at the 70th Anniversary of the Doolittle Raid on April 18, 2012 at the Air Force Museum.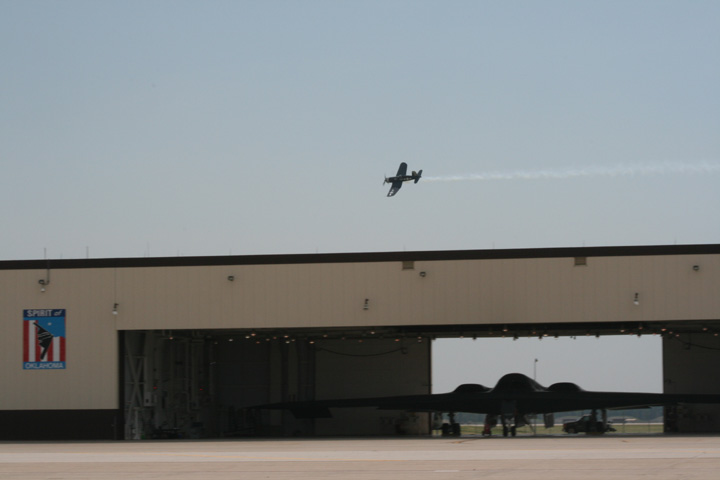 CAF Corsair with the B-2 Spirit of Oklahoma in its hangar. Whiteman AFB, May 19, 2012.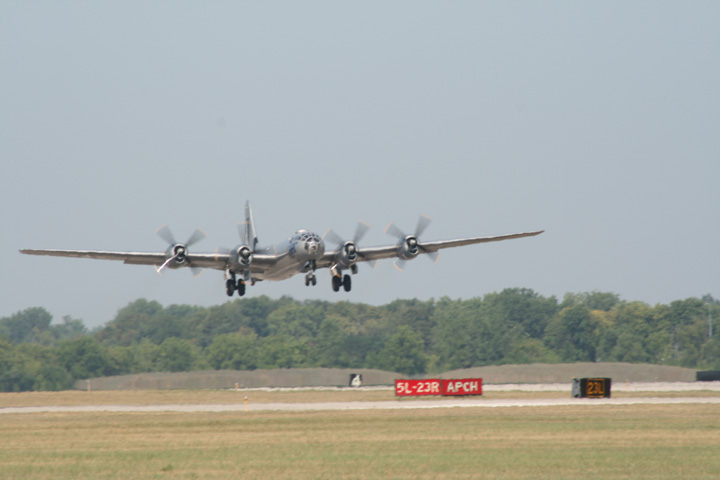 B-29 "Fifi" taking off at on Friday at Thunder Over Michigan Air show for a revenue ride. August 3, 2012.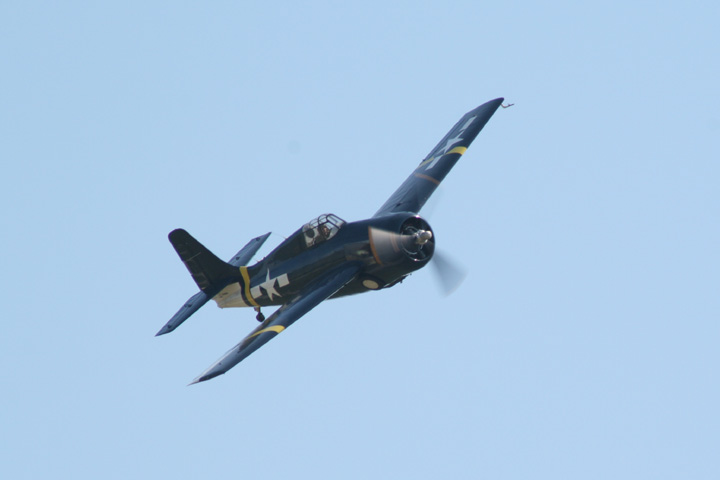 Mike Gillian in his Eastern Aircraft FM-2 making a photos pass at the Gratiot Community Airshow. August 25, 2012.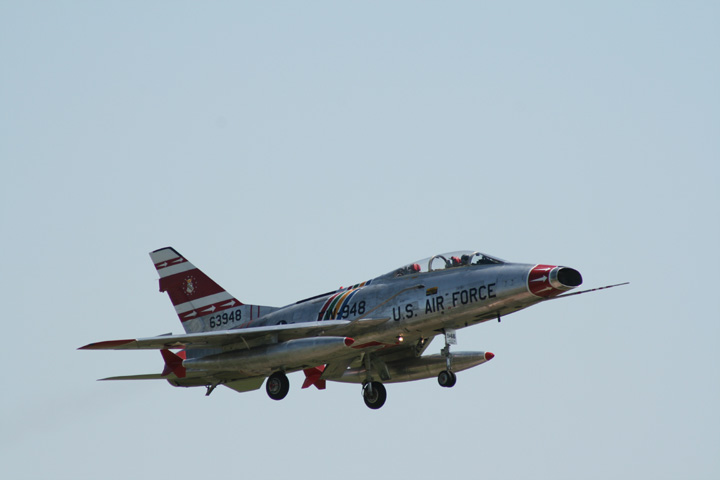 Dean Cutshall landing his F-100F on runway 23 after the practice show at the Fort Wayne, IN Airshow on Friday August 31, 2012.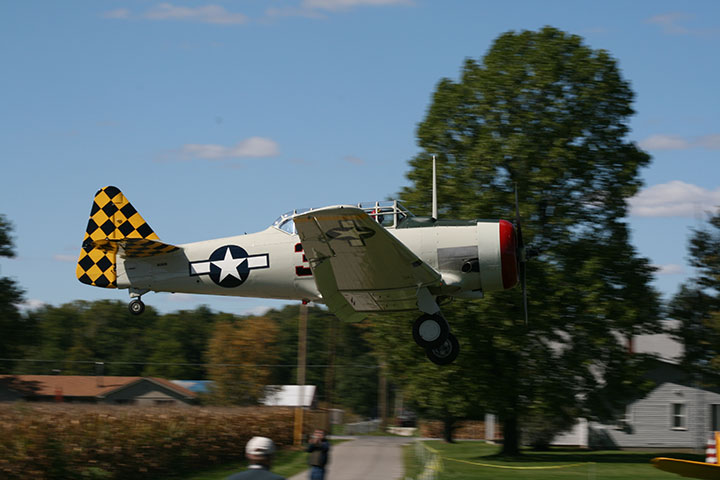 Laura Stants making a landing in the Nathan Davis-AT-6D at Glendale Days outside of Kokomo, IN on September 23, 2012.

Titusville (Tico), FL Urbana, OH B-25 Gathering B-25 Fly-Over at Doolittle Reunion, Dayton, OH MCAS Cherry Point, NC Shaw AFB, Sumter, SC Whiteman AFB, Knob Noster, MO Boeing Field, Seattle, WA Kokomo Air Show, Kokomo, IN CWH Airshow, Hamilton ON Indianapolis Air Show, Greenfield, IN Indianapolis Executive B-17 Texas Raiders Thunder over Michigan, Belleville, MI Gratiot Community Airshow, Alma, MI Marion Fly-In/Drive-In, Marion, IN Fort Wayne Air Show, Fort Wayne, IN Waukegan, IL Glendale Airport, Kokomo, IN Indianapolis Regional Airport, IN Indianapolis Metropolitan Airport, IN