2012 Airshows
Titusville (Tico), FL Urbana, OH B-25 Gathering B-25 Fly-Over at Doolittle Reunion, Dayton, OH MCAS Cherry Point, NC Shaw AFB, Sumter, SC Whiteman AFB, Knob Noster, MO Boeing Field, Seattle, WA Kokomo Air Show, Kokomo, IN CWH Airshow, Hamilton ON Indianapolis Air Show, Greenfield, IN Indianapolis Executive B-17 Texas Raiders Thunder over Michigan, Belleville, MI Gratiot Community Airshow, Alma, MI Marion Fly-In/Drive-In, Marion, IN Fort Wayne Air Show, Fort Wayne, IN Waukegan, IL Glendale Airport, Kokomo, IN Indianapolis Regional Airport, IN Indianapolis Metropolitan Airport, IN

Whiteman AFB Warbird Photo Review
Warbirds at Whiteman AFB, Knob Noster, MO - May 19-20, 2012 (Photos taken Saturday, May 19.)
This was show was the classic case of US Military Hurry Up and Wait, SNAFU, lack of coordination of between different commands and junior enlisted persons not be being backed up by and helped out by their officers. But in another way it is good to know that forty years after my service and thirty years after the termination of the draft and the initiation of an all volunteer military, some things remain constant.
I had been looking to visit Whiteman for quite some time just due to the fact it is out in the middle of nowhere and is the home base for all of the world's B-2 bombers. However, my enthusiasm was somewhat cooled by several issues that arose with the how the show was managed. First, after arriving over at the base around a half hour before the gates opened there was no signage directing those of wanting to visit the show which gate to go to. So I tried the front gate along with everyone else and then had to be sent about a mile away to the south gate. The base would have saved itself a lot of wasted effort by its security forces redirecting all of the air show attendees that were clogging up the front gate with some signs on where to go. Basics!!
For some reason the police at the south gate decided to let all of the cars in coming from the other direction in first, even though most of us in our line had been there longer and were actually blocking a state road for about a half a mile. In most cases, whether one gets in ahead of another at a show by a few minutes is trivial and doesn't matter. Not in this case!!
Whiteman had the strictest security at any military base I have ever been to, and I have been to quite a few recently, as I really enjoy visiting the military bases to see what they have to offer. The level of security is of course is the prerogative of the base commander and his/her security persons to decide what should and shouldn't be checked and how thoroughly. However, when the base does a show every other year and is not prepared for the early morning surge of spectators, then something is wrong. Getting to the parking lot and then to the security gate a few minutes behind someone else at Whiteman made the difference in whether you got right in right away or waited an hour like we did, or two hours like many others.
As usual the junior enlisted persons assigned to inspect our belongs and check us through the metal detectors were doing the best they could and were very professional. However, there were not enough of them and possibly metal detectors to handle the early morning surge. What I noticed was that there were no officers around to observe the fiasco and work on making changes and improvements. I truly don't think the senior command realizes that for all the work it did to put the show it was all for any good will it was trying to build up with the spectators was destroyed before any of us even got in the gate. Actually the line was so long that the shuttle buses were only able to travel about 200 feet before dropping persons off at the end of line. Even worse, persons that were in line at were getting back on the buses and going home rather than put up with the unwarranted long waits. As an air show enthusiast I consider it sad that many people who could have seen what the base had to offer left soon after arriving, no doubt disgusted they had even wasted their time coming out.
Due to the fact many did not get in at my entrance until 11:30 while arriving at a reasonable time in the morning they missed up to the first hour of flying as they were still standing in line. So while the Operations Staff spent a lot of time putting the air show together for all to see the Base Security had many of them outside waiting to be inspected resulting in the first hour of flight being a somewhat of a wasted effort by the Operations Section.
It is not my intention to slam air shows on this website and this is the first time, and hopefully the last I ever have to do it, as I want persons to see the shows and to go out and attend them. But this was so bad I could not let it pass, even in writing this three months after it happened.
Again the enlisted E-1s to E-5s were busting their butts with limited help and equipment trying to get us in as quickly as possible, while their officers and senior non-coms who should have been assessing the situation, making changes and providing assistance were no where to be found or seen. It would appear that nothing has changed in the military over the past 40 years. When you need an officer to help get the job done they are never to be found.
The whole reason that the Air Force holds open houses and air shows to showcase its capabilities. Maybe in this case it wanted to show it could make all of us wait in line, which it was very successful at. The real unfortunate thing is that if base management does not know there is a problem, which seems to be the case, and does not fix this, word is going to get around and less and less persons will come out to see the show. But I guess in retrospect for the few that do show up they will not have to wait very long in the security line.
The only thing missing in this whole fiasco was Kilroy.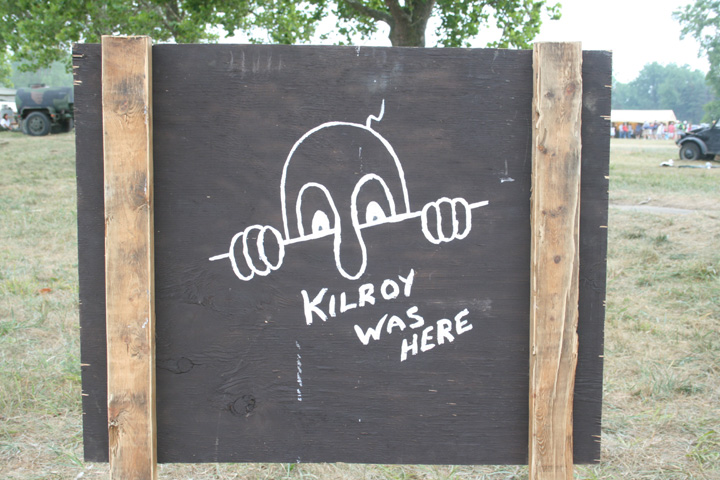 On to the show!!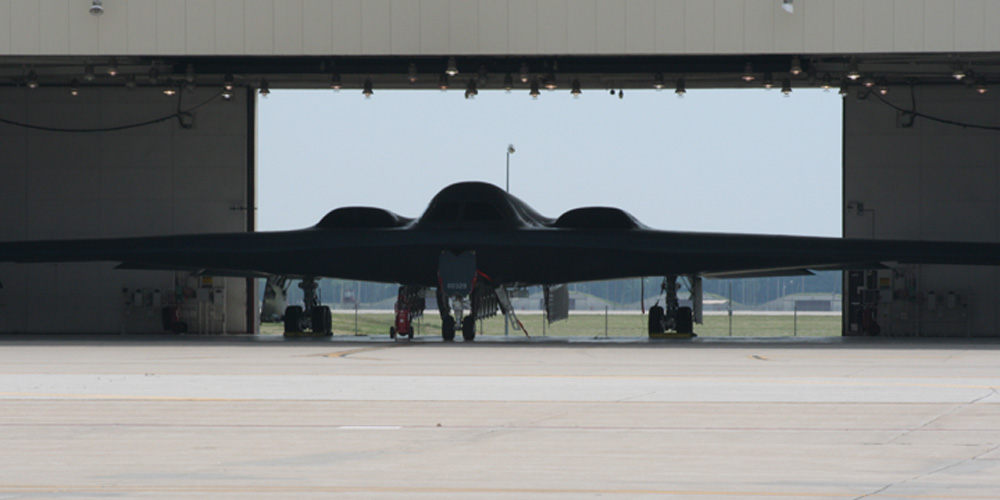 It just so happened that the hangar for The Spirit of Oklahoma was open for a little while on Saturday morning so one could actually get a photo of it inside.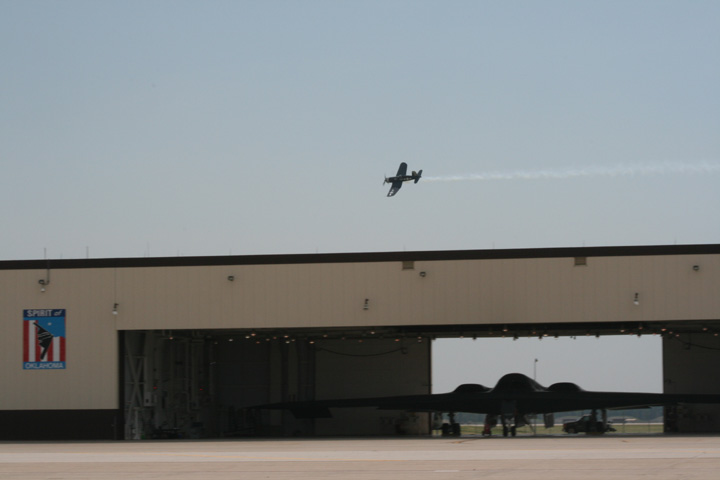 The old and the new. The classic F4U doing aerobatics with the the B-2 Spirit of Oklahoma in the foreground. Another problem with this air show is that the B-2 hangars stand between the crowd and the show line, blocking site to aircraft take-offs and landings and even low parts of aerobatic acts. There were times during the Corsair routine that it disappeared from sight behind the hangars.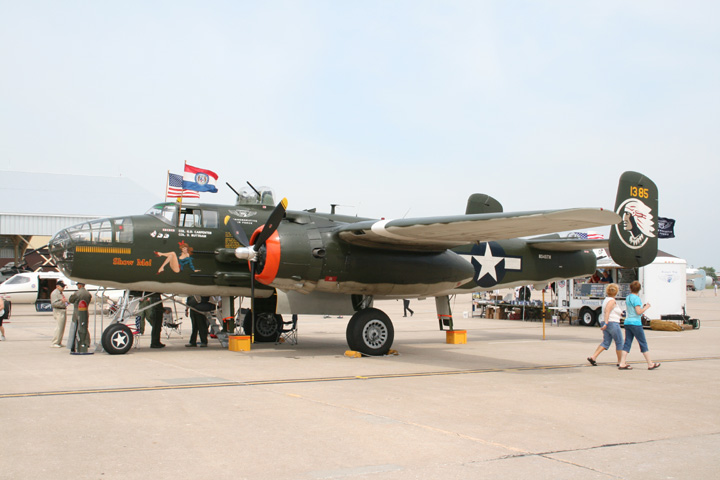 B-25 "Show Me" from the St. Louis area as on hand as a static display. The crew has nothing to do two hours after gates opened because of the debacle at the security gates.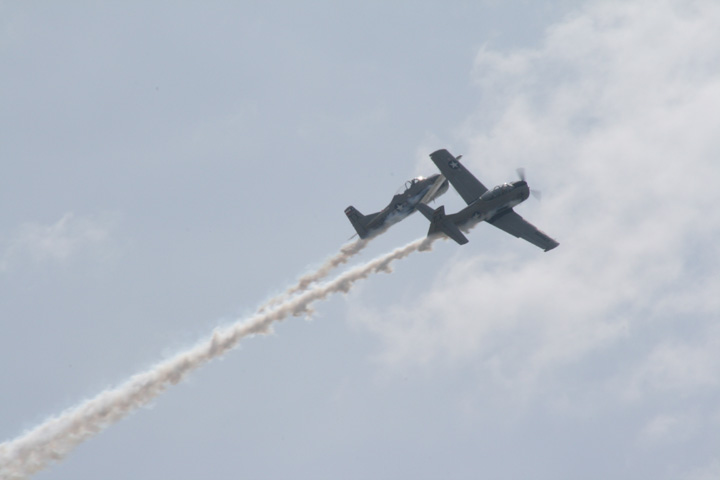 The Trojan Phlyers from Texas were on hand to do their warbird demonstration but not many knew who they were as they could not hear the narrator standing outside the flight line.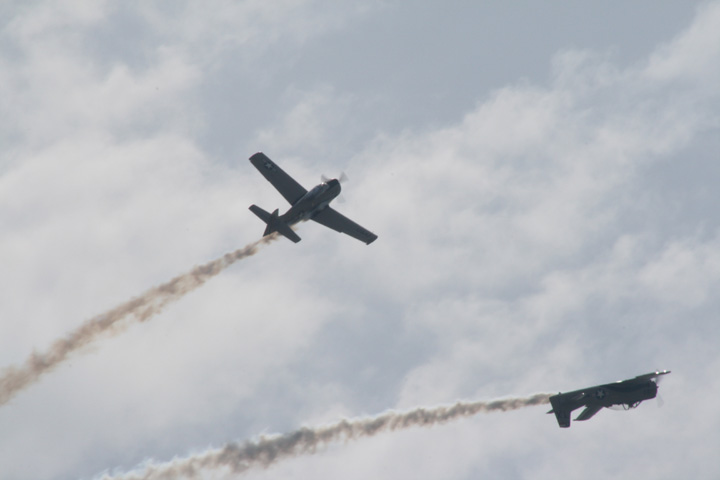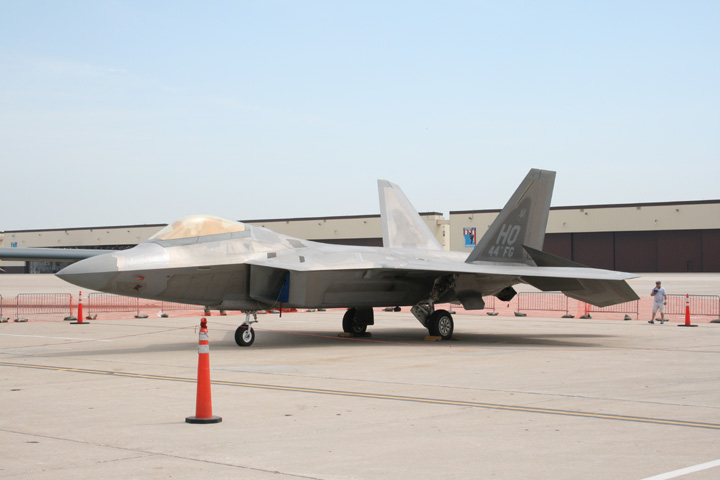 An F-22 from Holloman AFB in New Mexico was on static display. One other person besides me at the aircraft two hours after the gate opened.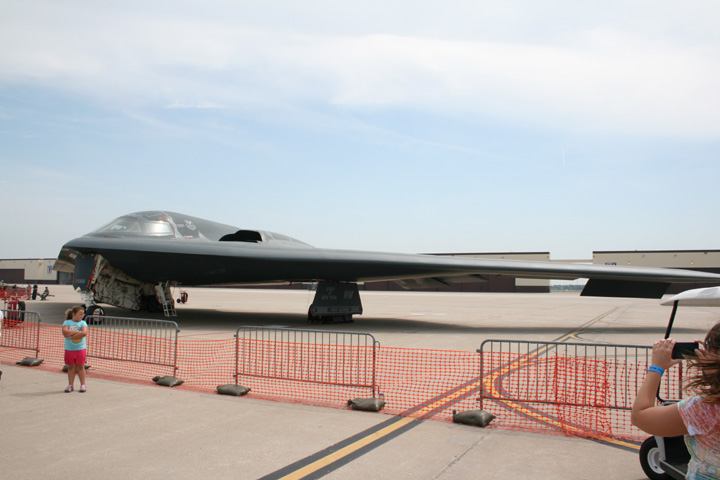 If you get there early enough and make it through the long security lines, you can get your picture taken by mother in front of the Sprit of New York without anyone else around. This photo was taken at 11:00 AM, local time. The young lady looks puzzled and is probably wondering where everyone is at, not realizing most persons are still standing in the security lines trying to get in.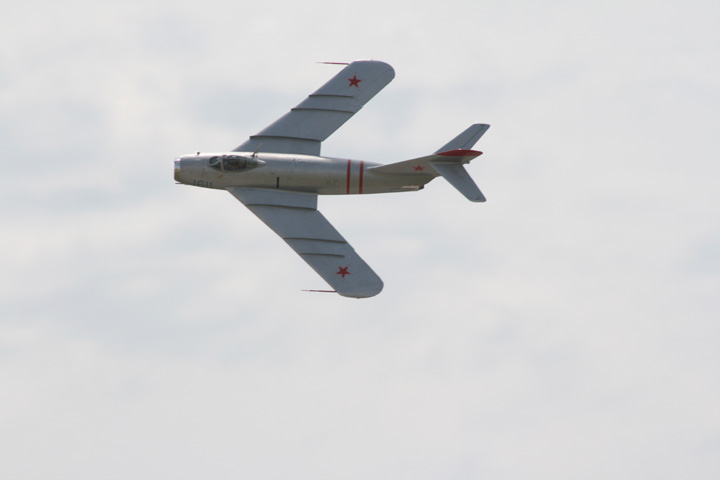 Fighter Jets, Inc., also from Texas was on hand with its Mig-17F.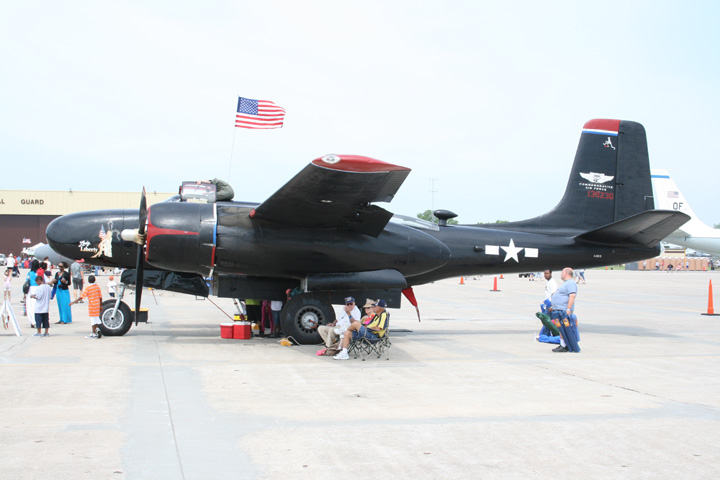 A-26 Lady Liberty was on display from Oklahoma City.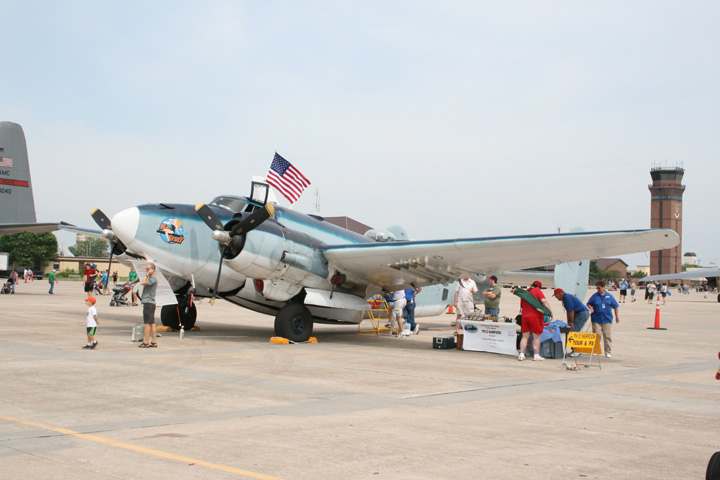 The Military Heritage Foundation from Indianapolis was on hand with PV-2 Hot Stuff.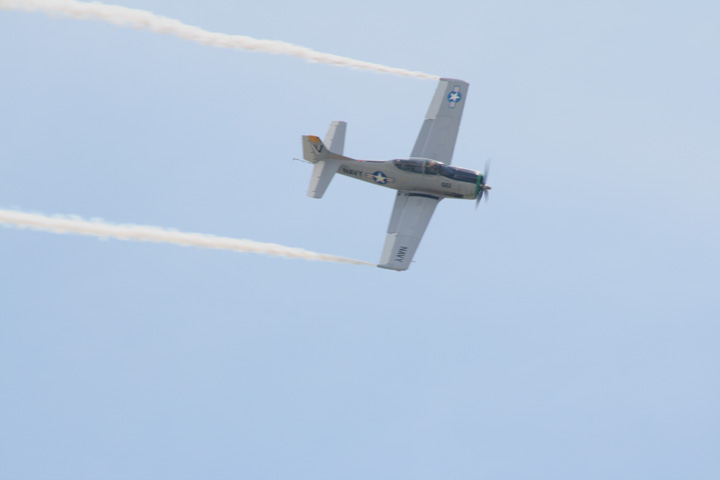 Herb with T-28 Ditto did an aerobatic routine.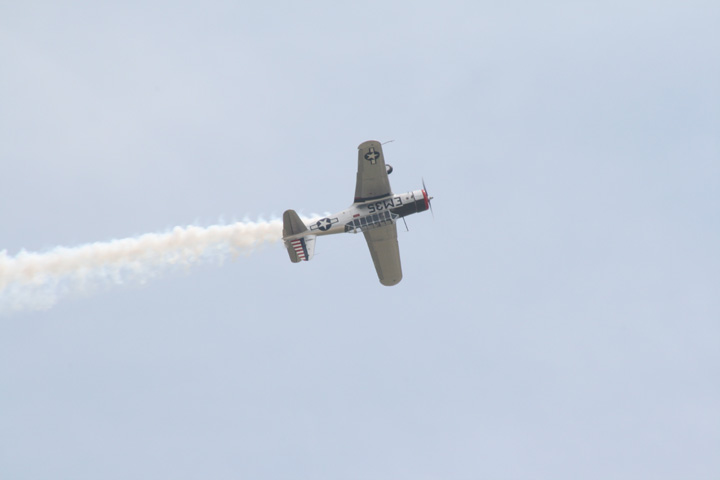 Valiant Echoes was great in the BT-13.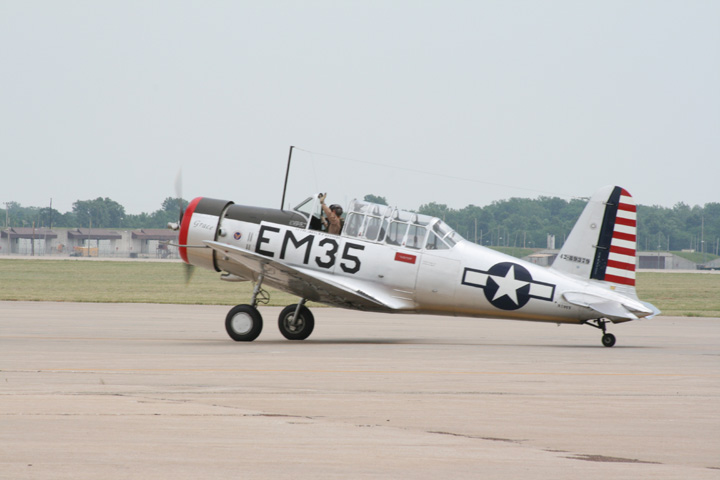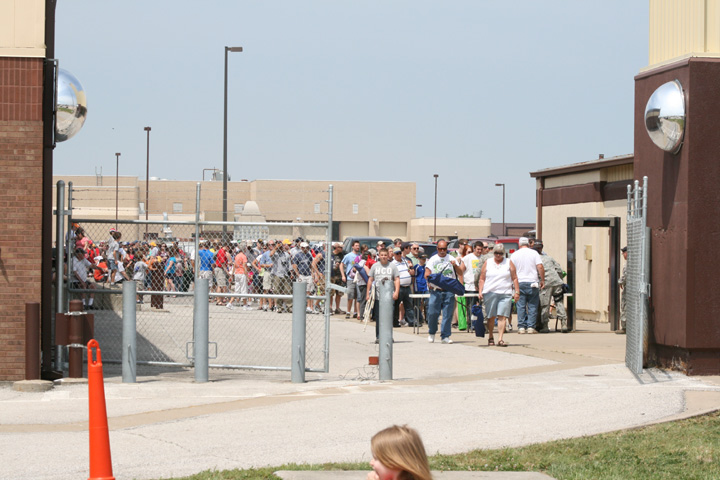 Why is this family not smiling? They should be as they have finally been able to get into the show. Maybe it was the long wait in the sun and they have missed some good flying. There are only two enlisted men checking personal items while there should have been at least six and more like eight doing this to get the waiting crowd through in a timely manner. The one that is watching the metal detector is a wasted resource as most of the time he doesn't have anything to do. Sort of like the Maytag repairman.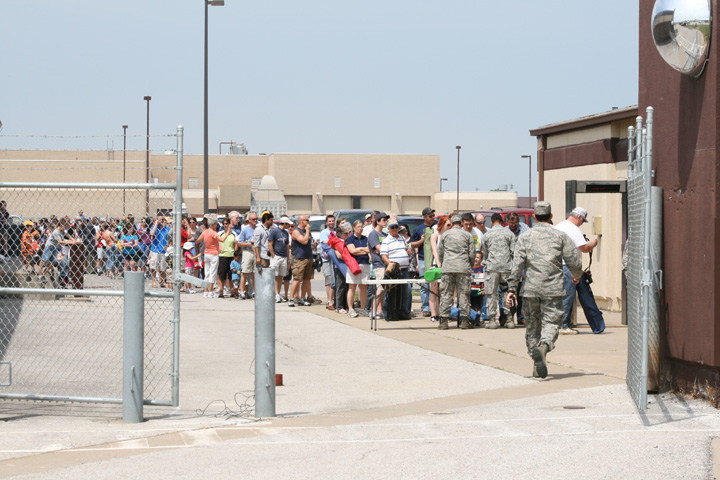 This photo was taken 11:41 local time. It took about 2 minutes to inspect a person's belongings and get them through the metal detector, so the people have some time to wait. I wonder how bad it is when there is a larger crowd with the Thunderbirds performing? There were not that many spectators at this event. If I remember correctly there were three gates, and this was the middle one. The south one I came through earlier in the day at this time had caught up and the security personal there had nothing to do. The OIC, if there was one, or NCOIC for security should have moved the underutilized resources from the south gate to this gate to help speed things up.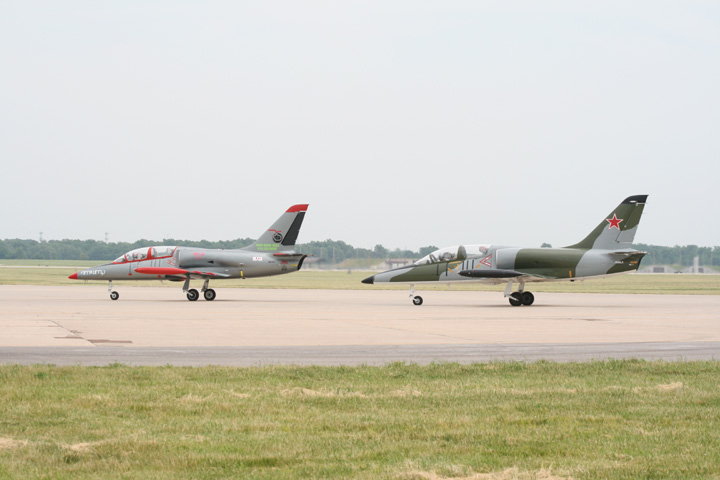 Red Steel performed in their L-39s.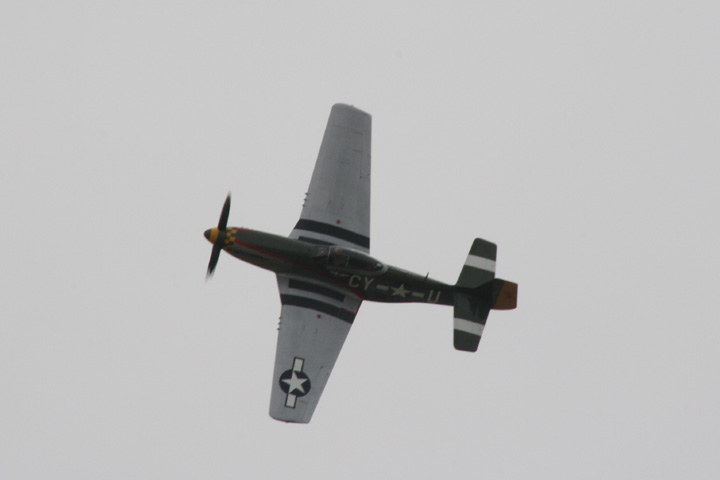 CAF P-51 Gunfighter was also on hand.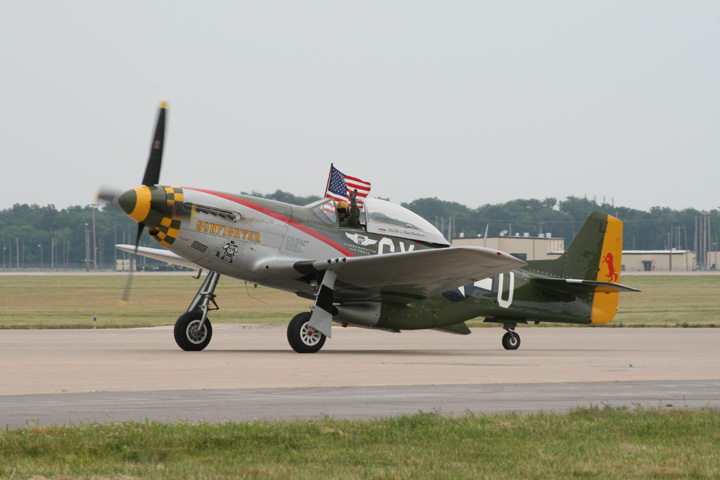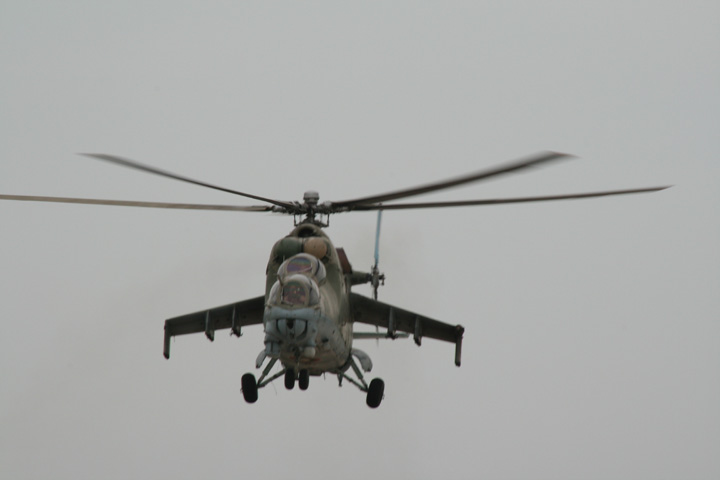 The Cold War Museum's Mi-24 Hind put on a rare demo. There was some social redeeming value to this show!!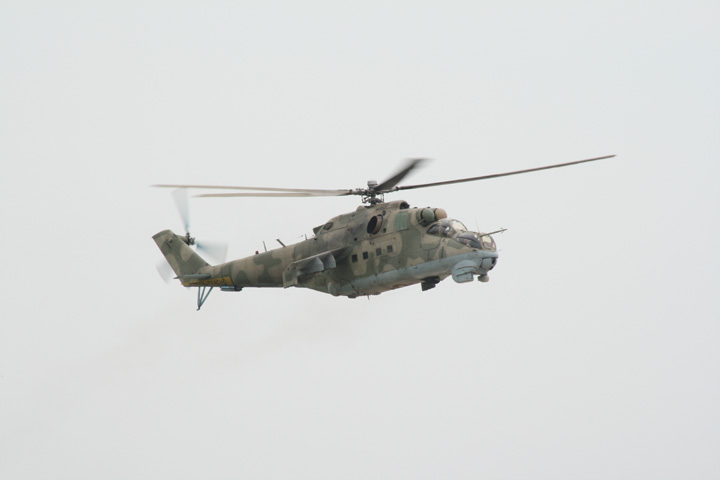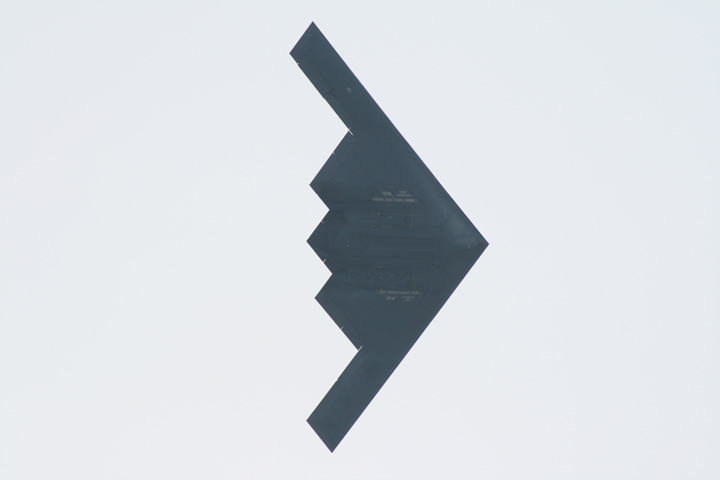 More social redeeming value. A B-2 making one of several passes before landing.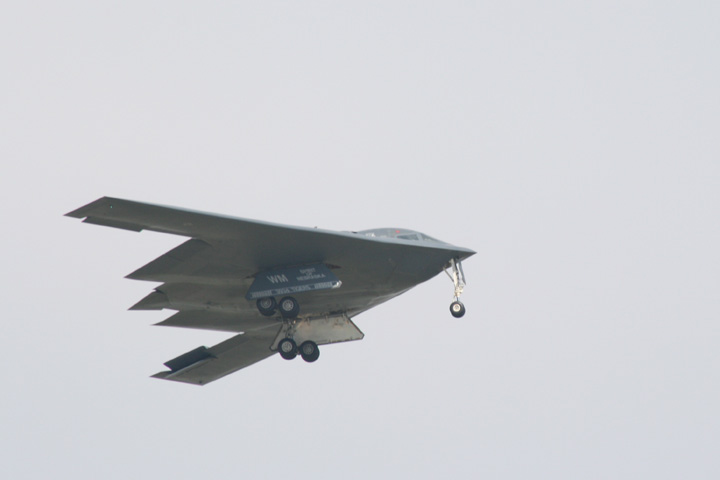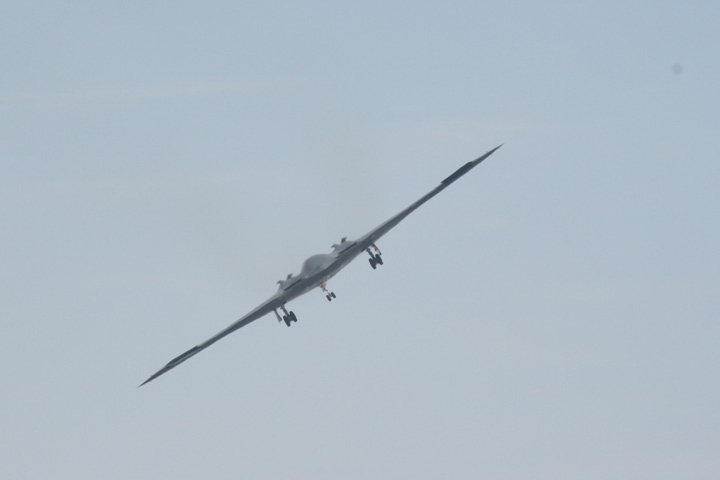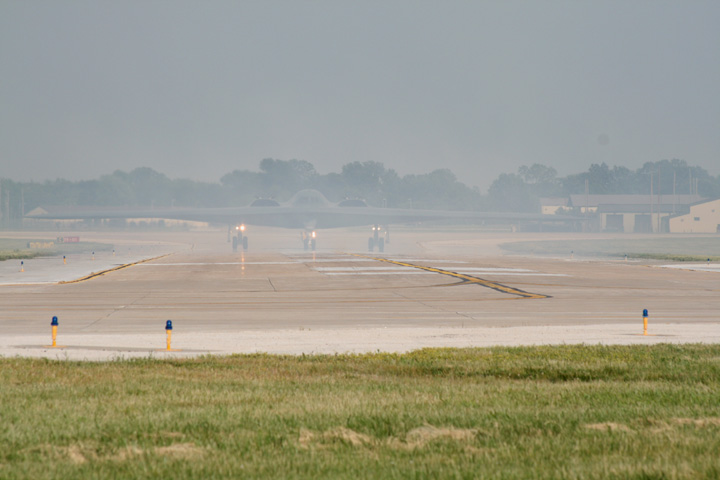 There was a stretch on the south end of the line where we were not blocked by the B-2 hangars and it was a good spot to photograph the aircraft coming in. During the B-2 fly-bys the show shot off some pyro. While normally that does not help the photographer, in this case I think it worked out with the B-2 coming in through the smoke.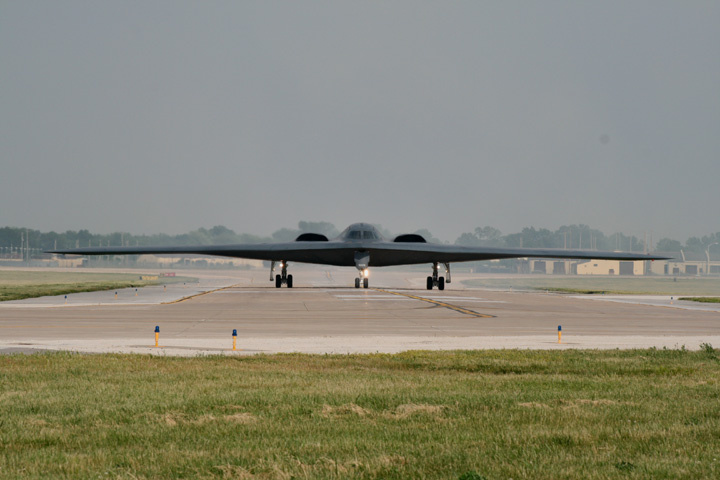 Coming straight at us.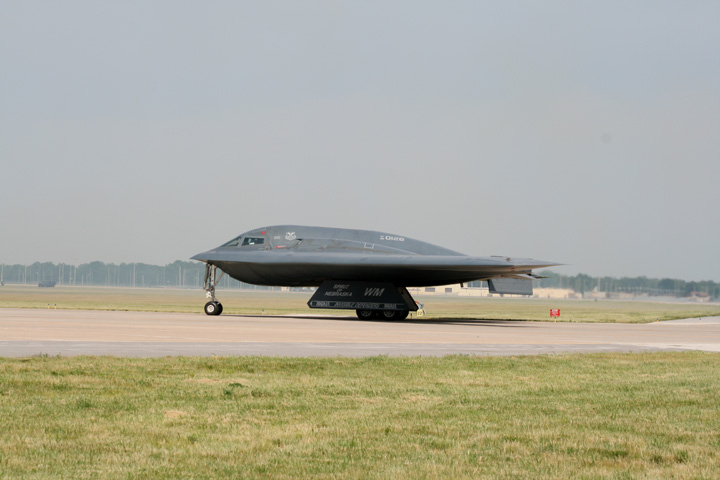 Sort of different looking from the side. Spirit of Nebraska.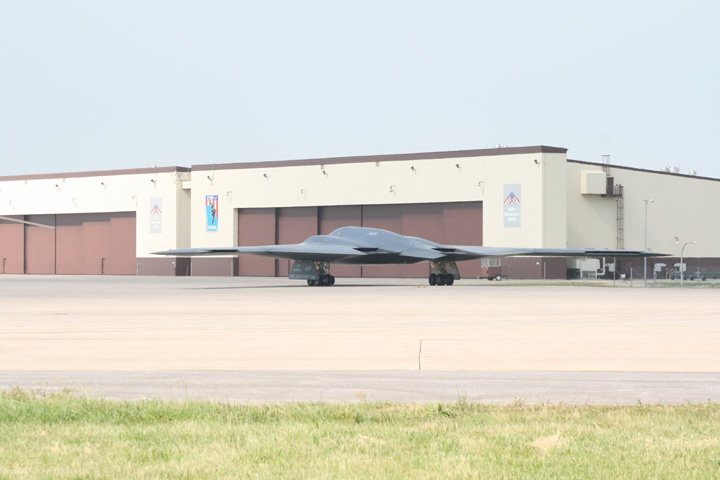 Back to the hangar.
Titusville (Tico), FL Urbana, OH B-25 Gathering B-25 Fly-Over at Doolittle Reunion, Dayton, OH MCAS Cherry Point, NC Shaw AFB, Sumter, SC Whiteman AFB, Knob Noster, MO Boeing Field, Seattle, WA Kokomo Air Show, Kokomo, IN CWH Airshow, Hamilton ON Indianapolis Air Show, Greenfield, IN Indianapolis Executive B-17 Texas Raiders Thunder over Michigan, Belleville, MI Gratiot Community Airshow, Alma, MI Marion Fly-In/Drive-In, Marion, IN Fort Wayne Air Show, Fort Wayne, IN Waukegan, IL Glendale Airport, Kokomo, IN Indianapolis Regional Airport, IN Indianapolis Metropolitan Airport, IN