2012 Airshows
Titusville (Tico), FL Urbana, OH B-25 Gathering B-25 Fly-Over at Doolittle Reunion, Dayton, OH MCAS Cherry Point, NC Shaw AFB, Sumter, SC Whiteman AFB, Knob Noster, MO Boeing Field, Seattle, WA Kokomo Air Show, Kokomo, IN CWH Airshow, Hamilton ON Indianapolis Air Show, Greenfield, IN Indianapolis Executive B-17 Texas Raiders Thunder over Michigan, Belleville, MI Gratiot Community Airshow, Alma, MI Marion Fly-In/Drive-In, Marion, IN Fort Wayne Air Show, Fort Wayne, IN Waukegan, IL Glendale Airport, Kokomo, IN Indianapolis Regional Airport, IN Indianapolis Metropolitan Airport, IN

Waukegan 2012 Airshow Warbird Photo Review
Warbirds at Waukegan Airport, IL - September 8, 2012
This was the fourth year in a row I have now attended this great one days show in Waukegan. There is always an excellent selection of warbird static and flying displays.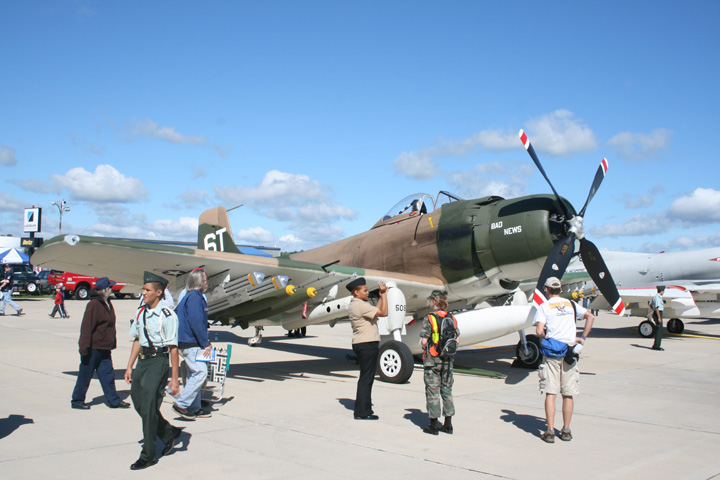 Many of the aircraft on the ramp this year were from the Warbird Heritage Foundation which is located right at the airport. This Skyraider is one of them.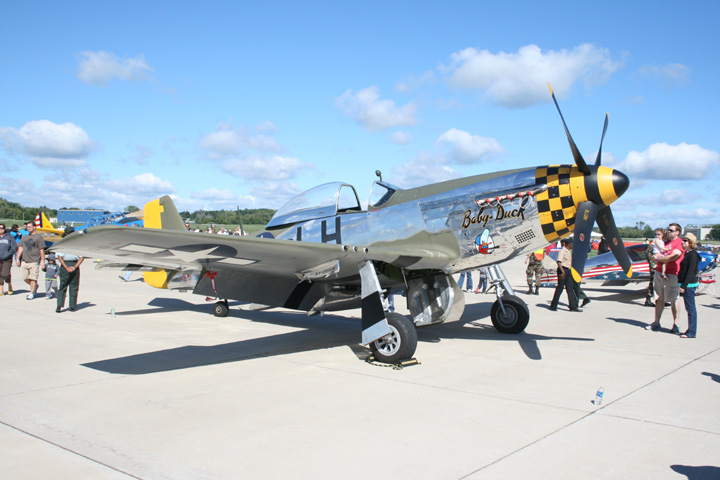 As is this Mustang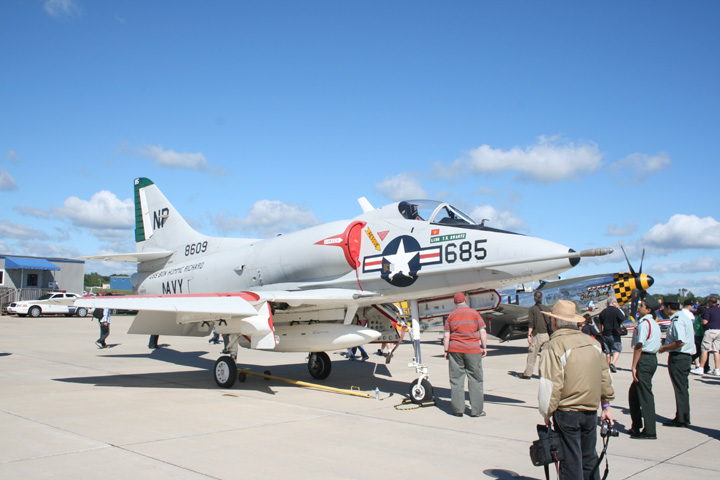 And the A-4 Skyhawk.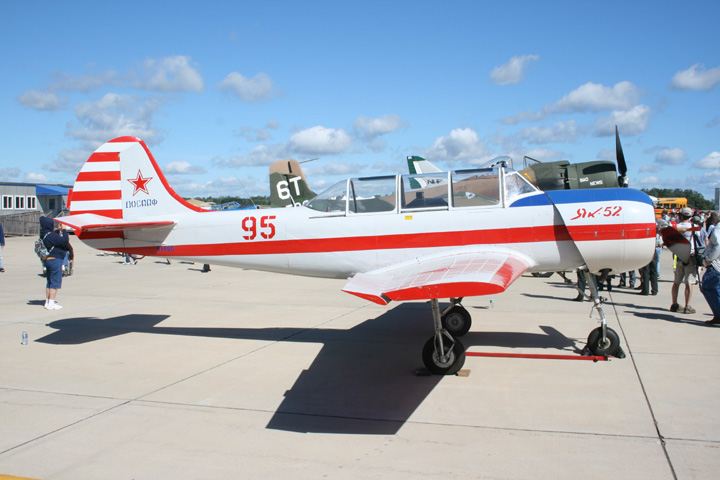 Grant Ferrell of Lake Forrest, IL had his 1983 Yak-52 on display.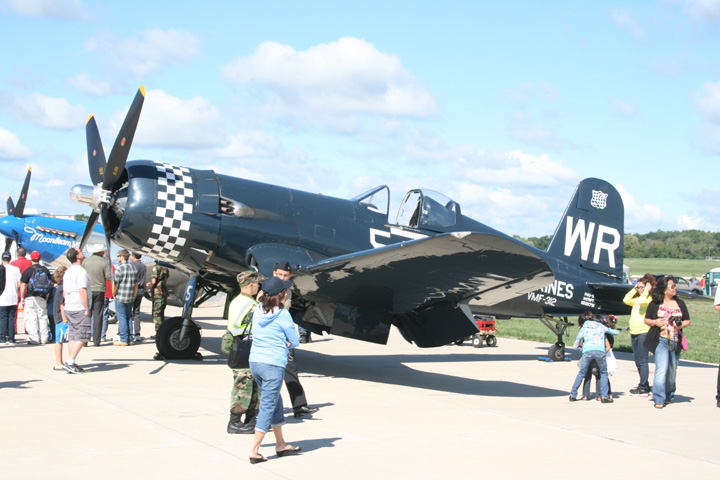 Fighters and Legends had its; F4U-5N on display and for flying.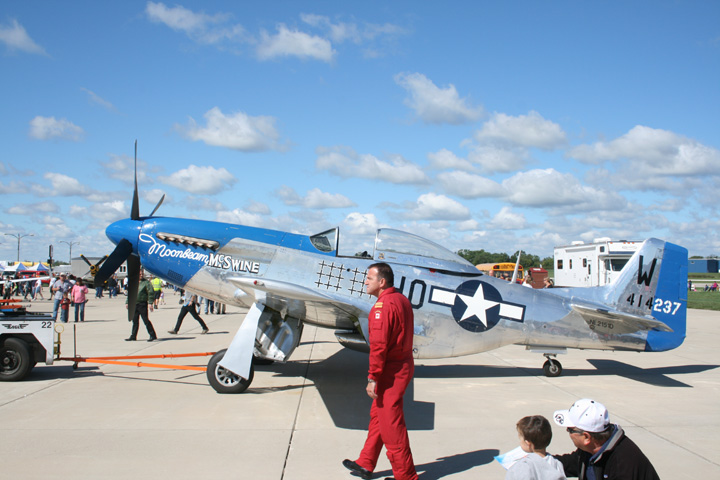 Moonbeam McSwine is being tugged out for an early morning ride. I would have to assume that this is the commander of the Snowbirds and he was going to be getting a courtesy ride from Valdo Leonch.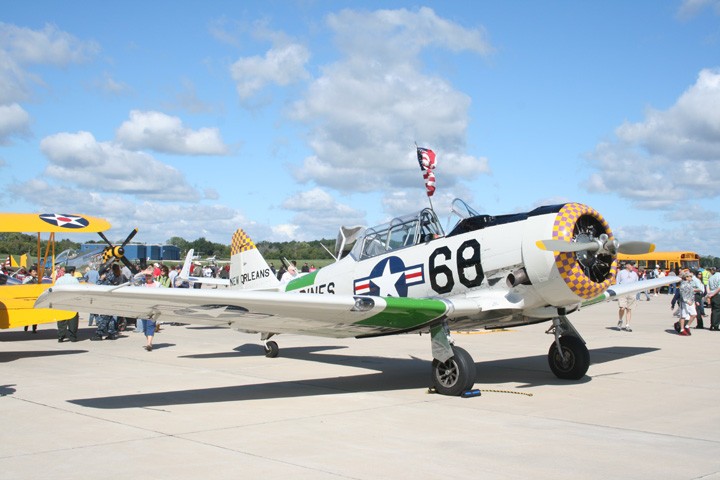 Tim and Michael Gillian's AT-6D.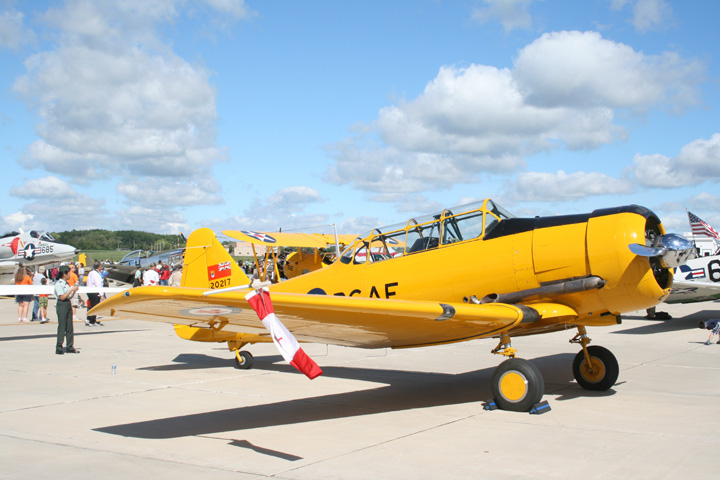 This Harvard Mark IV was built by the Canadian Car and Foundry Company of Canada and is owned by Victor Stottlemyer of Waukesha, WI.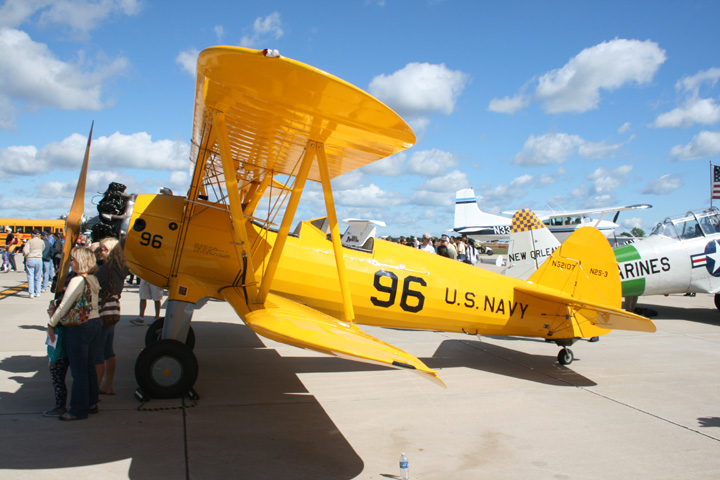 Another pristine example of the warbirds the Warbird Heritage Foundation has.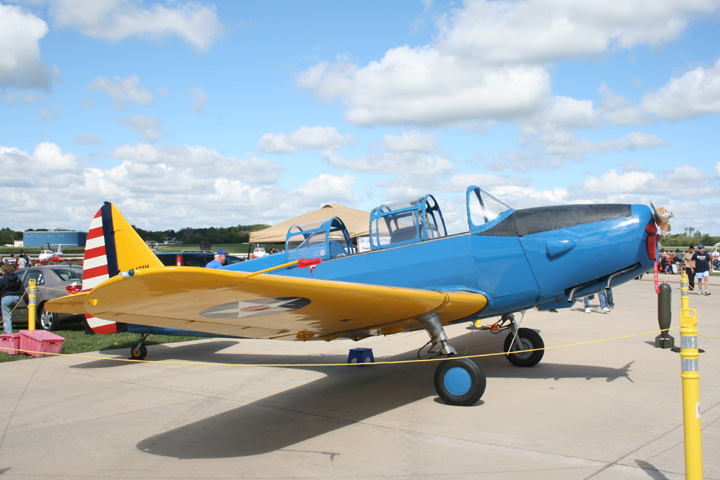 The Wisconsin Wing of the CAF had its Fairchild PT-26 and display it has for the past 4 years.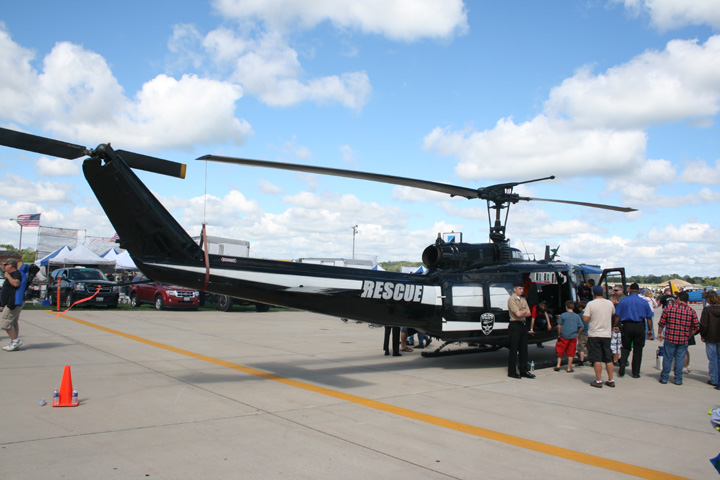 While not a Warbird per se, Bell Huey UH-1V 71-20315 is now operated by the Winthrop Harbor, IL Police Dept. and was on static display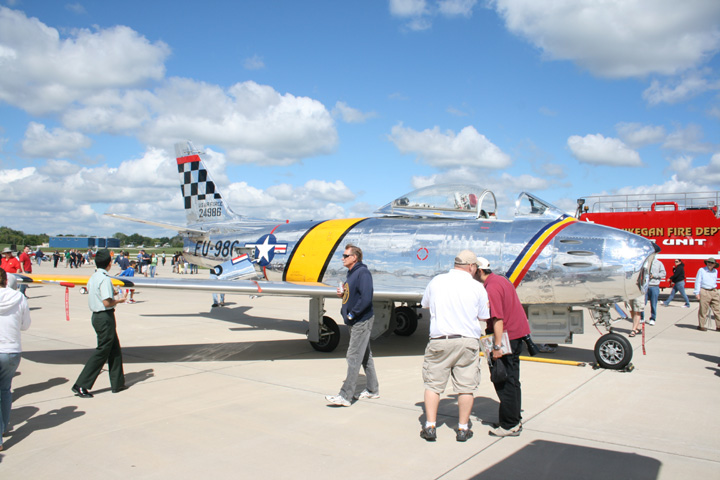 The F-86 is also part of the Warbird Heritage Foundation collection.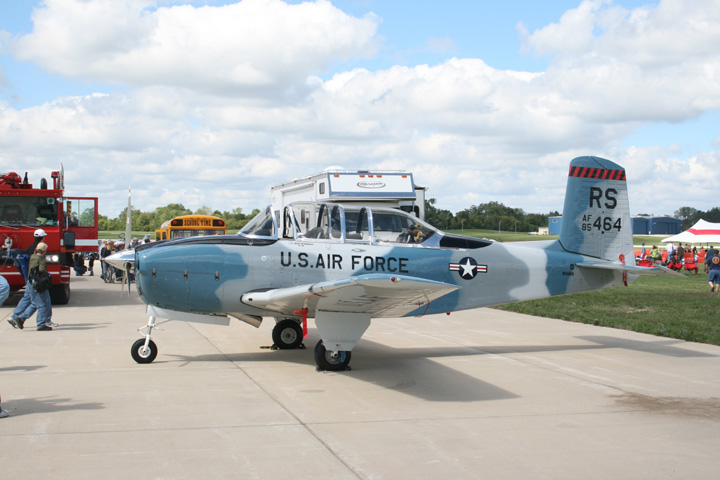 The T-34 came in from Indianapolis and belongs to David Rothenanger (R+10).I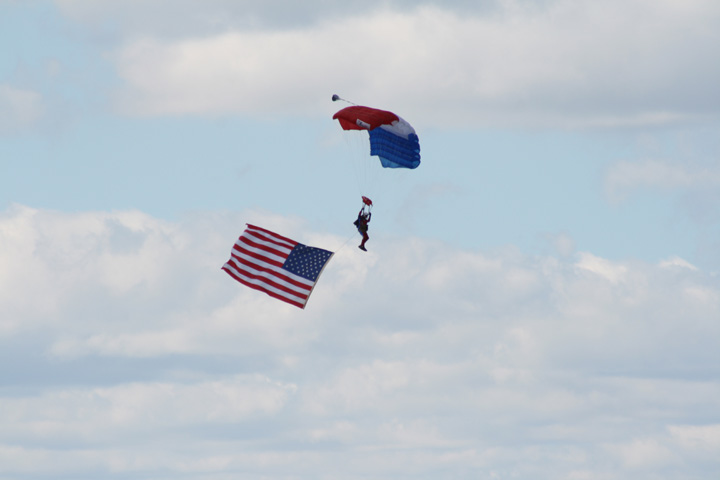 Show time the event opens with the flag jump.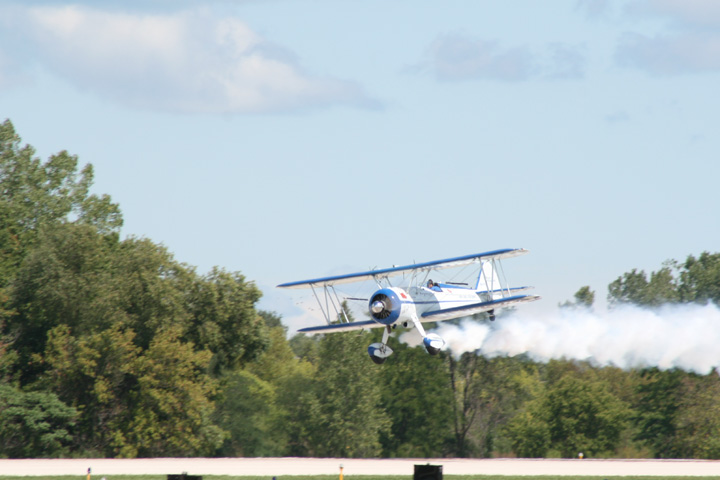 Dave Dacy performs here every year in his Super Stearman.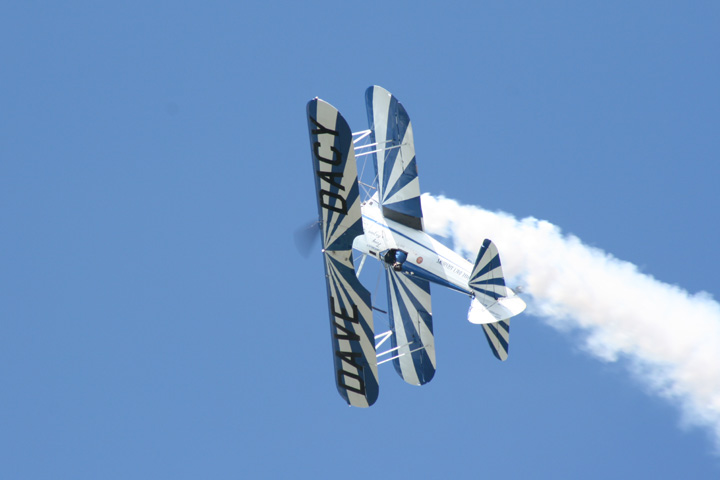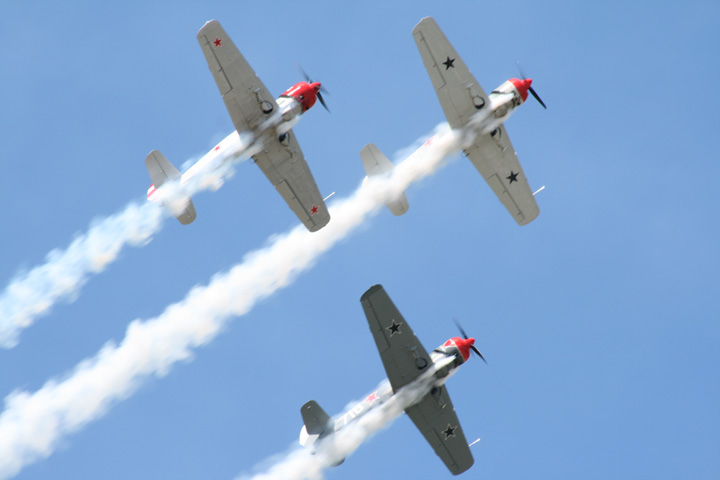 The Aerostars also perform every year at Waukegan.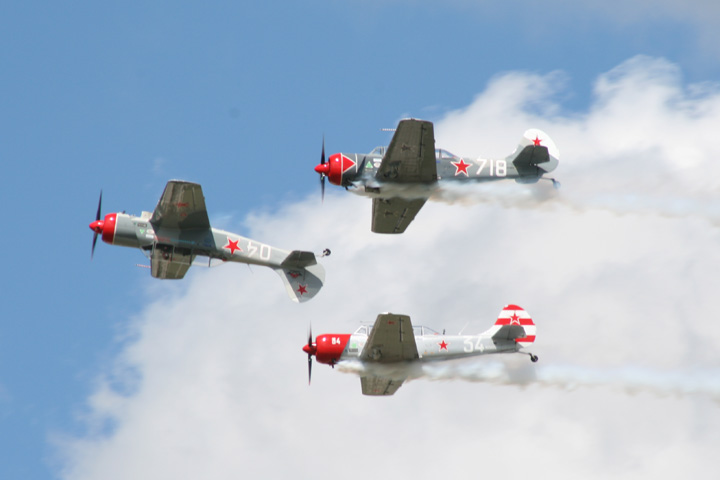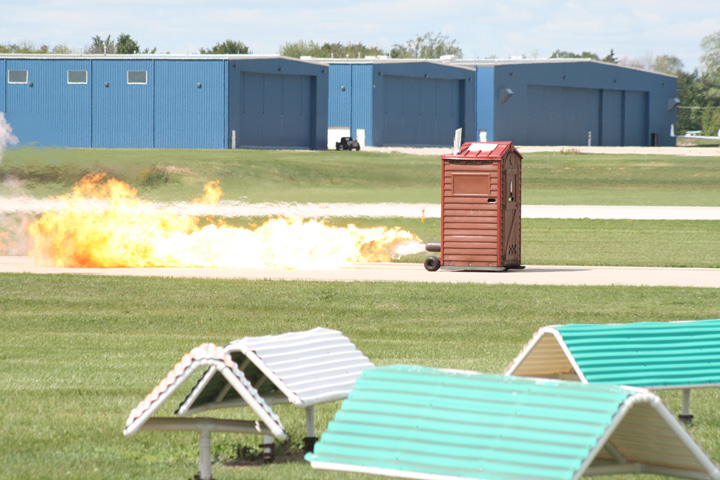 This year the jet outhouse and school bus were back.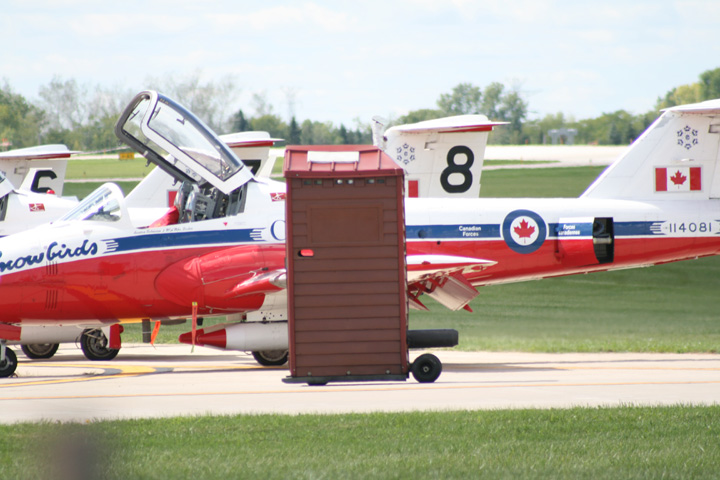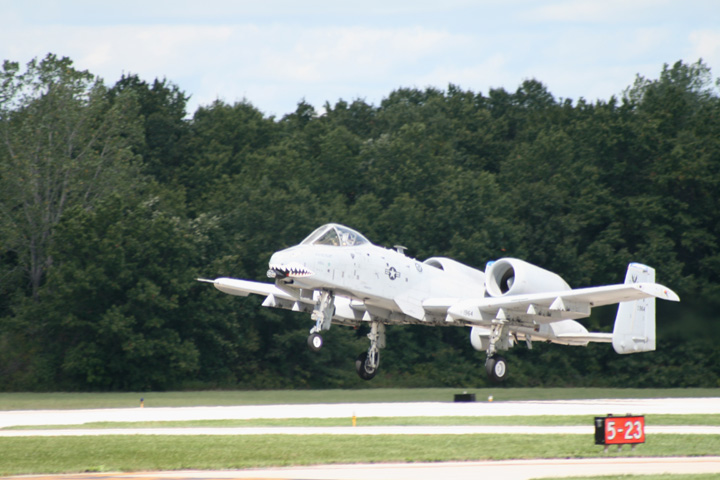 The first three years I was at Waukegan the A-10 demo team performed. This year the A-10 was a Heritage Flight only, but before that happened the A-10 gave us several low passes down the runway.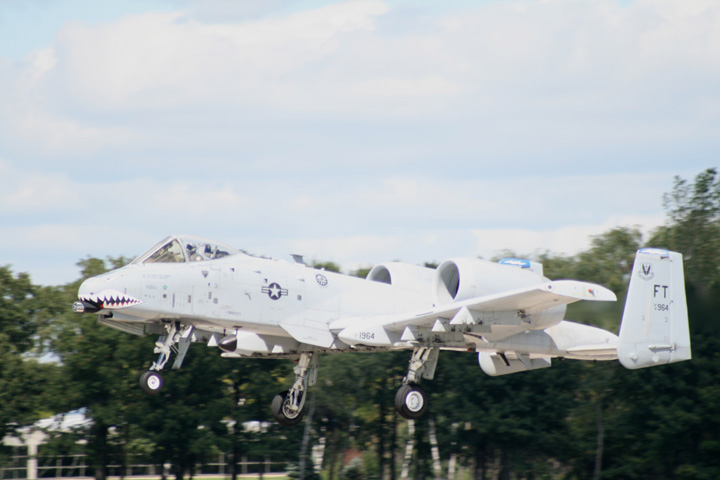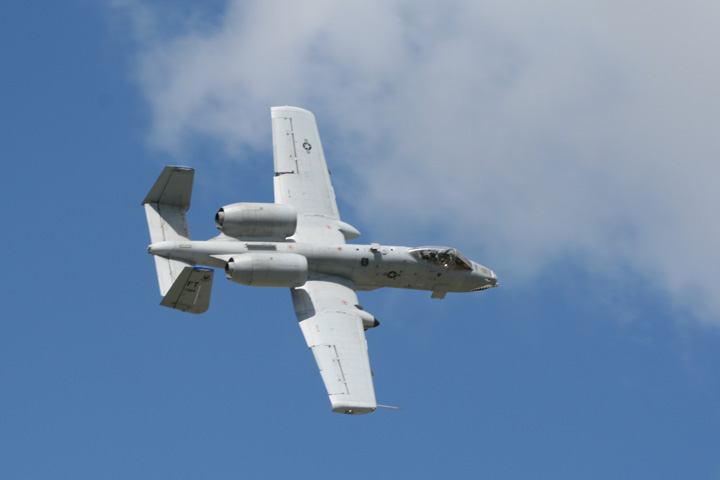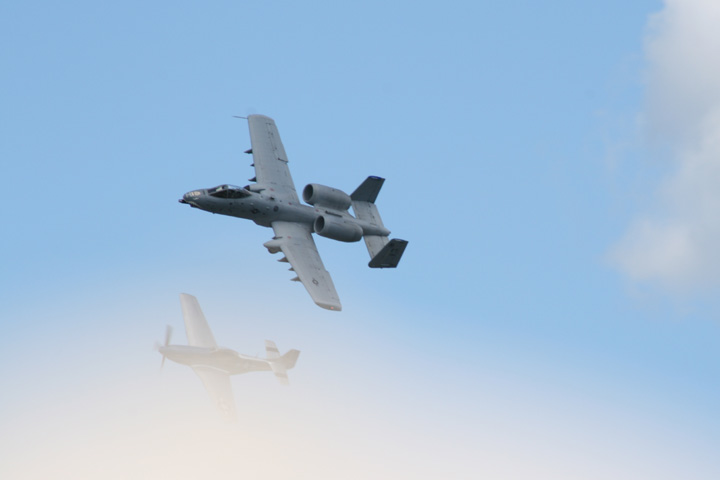 I was unaware until I started editing the photos I had this unique shot of the P-51 in the cloud for the Heritage Flight.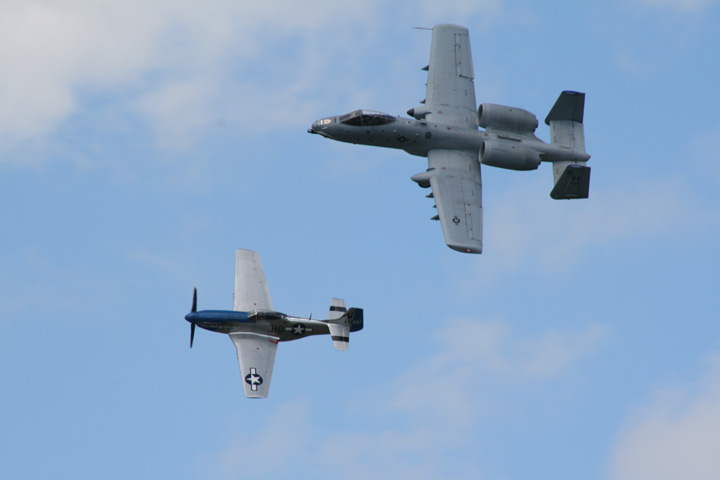 P-51 Moonbeam McSwine and the A-10 East Coast Demo team.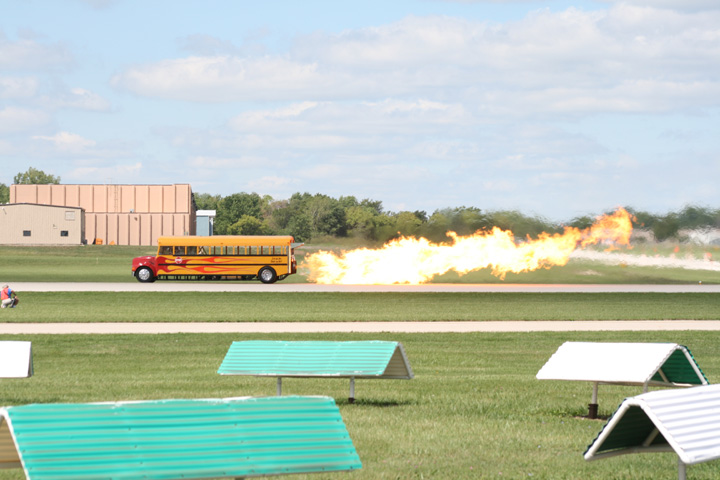 Time for the Jet School bus.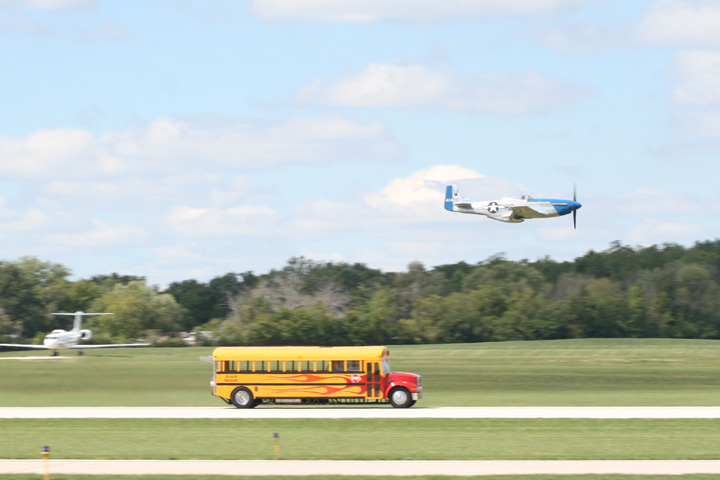 The Mustang beat the Jet School bus in a race.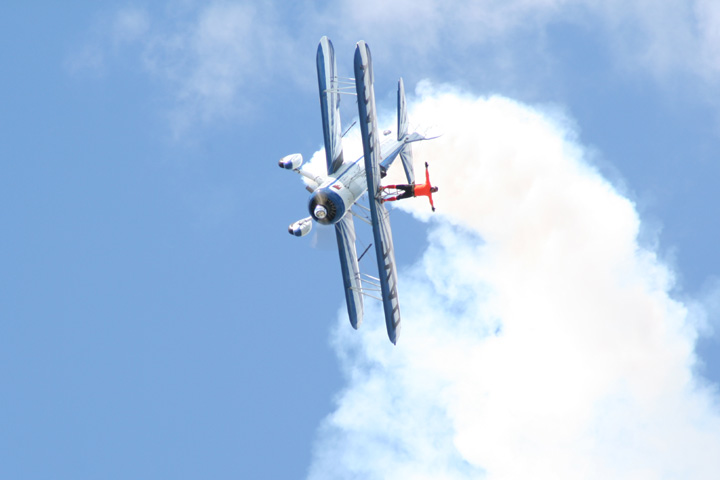 Another perennial at the show is wing walker Tony Kazan.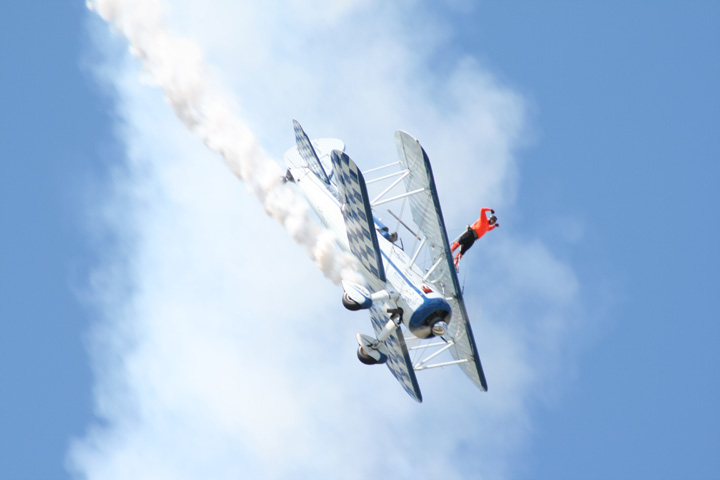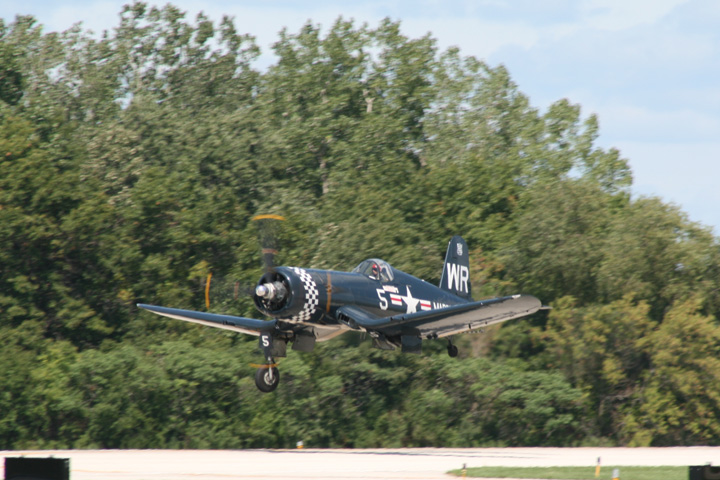 Dave Folk takes off in the Corsair for some aerobatics and Legacy Flight.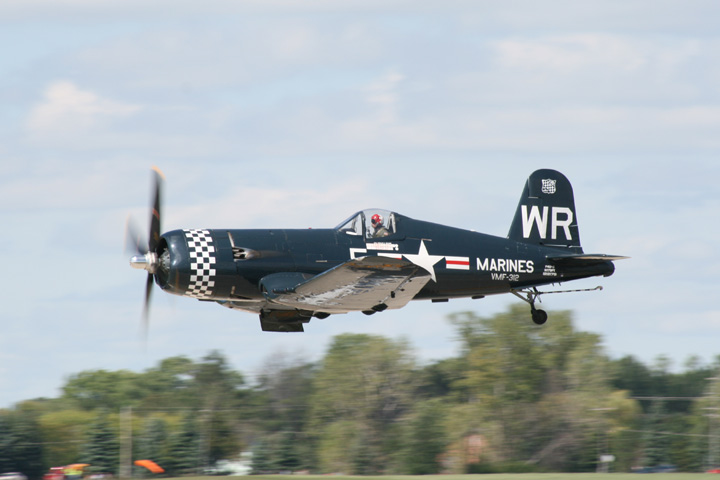 Dave can be identified by his signature red and white helmet.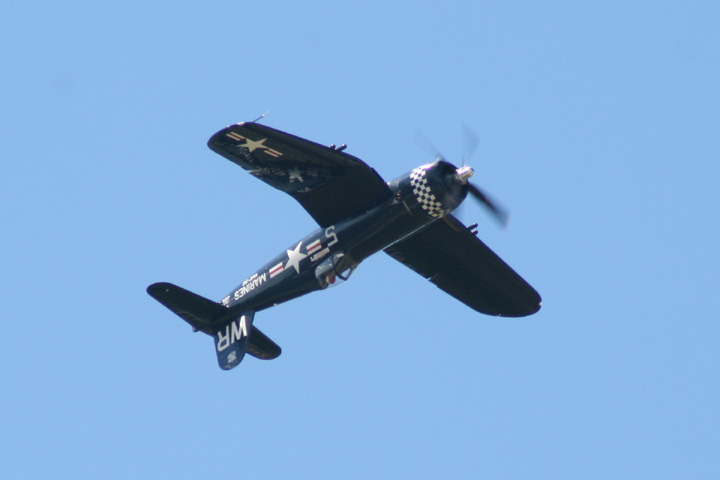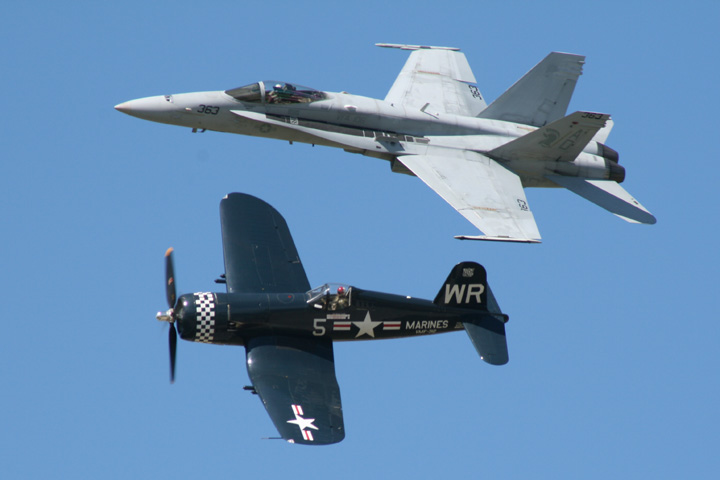 The Legacy flight of the Corsair and F-18 Hornet.
Titusville (Tico), FL Urbana, OH B-25 Gathering B-25 Fly-Over at Doolittle Reunion, Dayton, OH MCAS Cherry Point, NC Shaw AFB, Sumter, SC Whiteman AFB, Knob Noster, MO Boeing Field, Seattle, WA Kokomo Air Show, Kokomo, IN CWH Airshow, Hamilton ON Indianapolis Air Show, Greenfield, IN Indianapolis Executive B-17 Texas Raiders Thunder over Michigan, Belleville, MI Gratiot Community Airshow, Alma, MI Marion Fly-In/Drive-In, Marion, IN Fort Wayne Air Show, Fort Wayne, IN Waukegan, IL Glendale Airport, Kokomo, IN Indianapolis Regional Airport, IN Indianapolis Metropolitan Airport, IN