2012 Airshows
Titusville (Tico), FL Urbana, OH B-25 Gathering B-25 Fly-Over at Doolittle Reunion, Dayton, OH MCAS Cherry Point, NC Shaw AFB, Sumter, SC Whiteman AFB, Knob Noster, MO Boeing Field, Seattle, WA Kokomo Air Show, Kokomo, IN CWH Airshow, Hamilton ON Indianapolis Air Show, Greenfield, IN Indianapolis Executive B-17 Texas Raiders Thunder over Michigan, Belleville, MI Gratiot Community Airshow, Alma, MI Marion Fly-In/Drive-In, Marion, IN Fort Wayne Air Show, Fort Wayne, IN Waukegan, IL Glendale Airport, Kokomo, IN Indianapolis Regional Airport, IN Indianapolis Metropolitan Airport, IN

Thunder Over Michigan Airshow Warbird Photo Review
Warbirds at Willow Run Airport, Belleville, MI - August 3-5, 2012 (Photos taken 8-3 and 8-4)
There are two premier Warbird Airshows in North America, and Thunder over Michigan is one of the them. Unlike many airshows that started as warbird shows and have lost their way and sold out their souls to the flip-flops, Thunder over the years has remained true to showcasing the warbirds. It also understands Product and Presentation better than any show around. This year the Product was at least a dozen P-51s present, a rare A-36, two WWII battle re-enactments that are the best around, which were supported by low level air power, the B-29 Fifi doing a demo like I have never seen before and the Sea Harrier II also giving a superb show. The Presentation part of the equation is having the warbirds fly low in two continuous loops in front of the crowd, where they can be best seen, heard and photographed. What sets this show apart from any other show is what today is called the combined arms demonstration. Or the battle re-enactment as it is the only event that does this so well with so much hardware and air power.
Friday: Arrival day at the taxiway photo pit.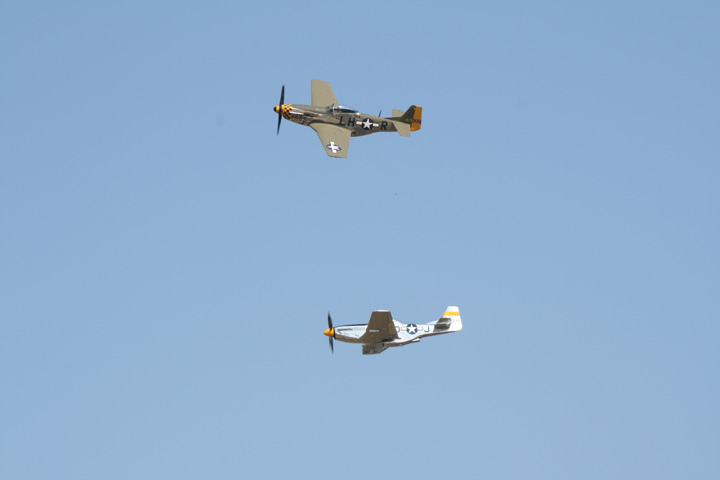 Limited tickets are available for this and the photo pit is right at the end of runway 23. Great for photos of incoming warbirds.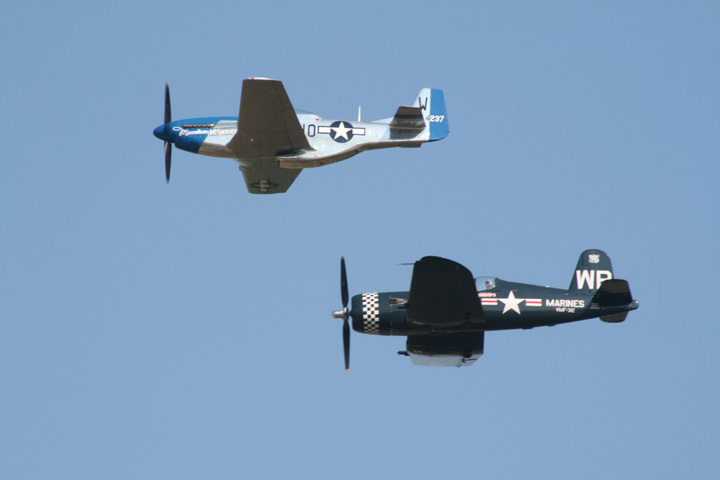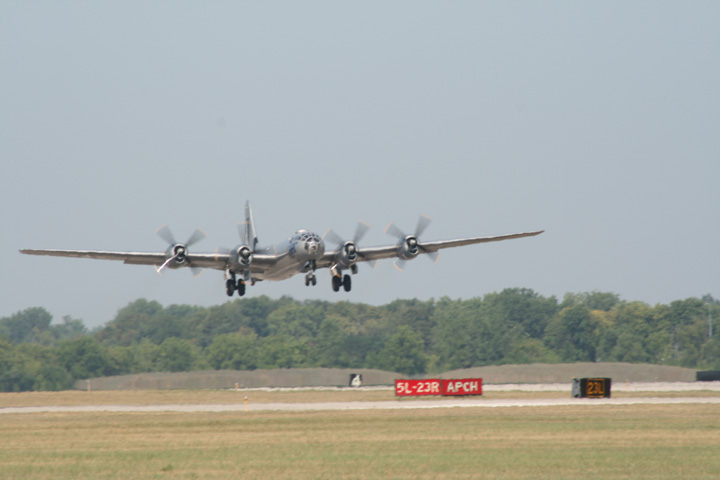 The B-29 "Fifi" on the take-off. She was operating from the west end of the field on Friday and took off on runway 9, allowing all of us to photograph her with the sun behind us in the morning.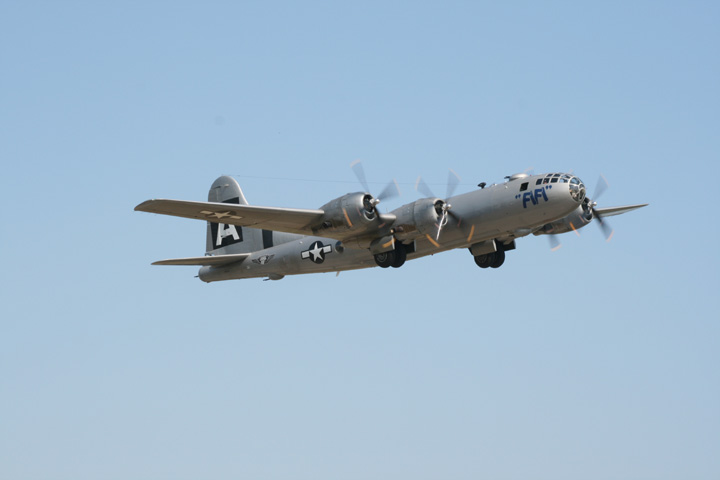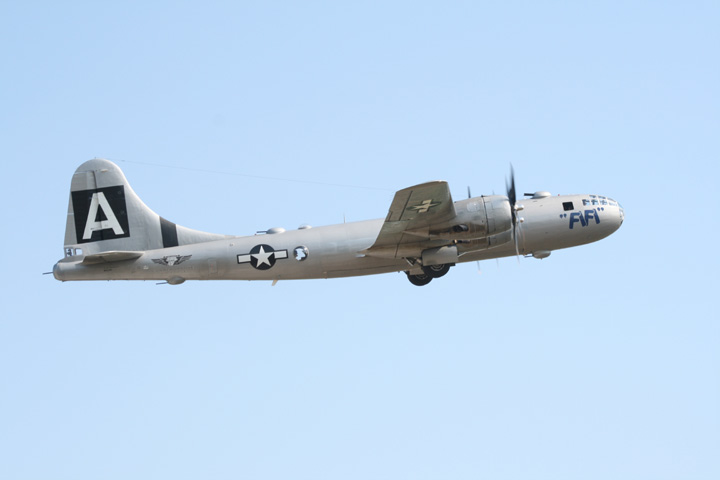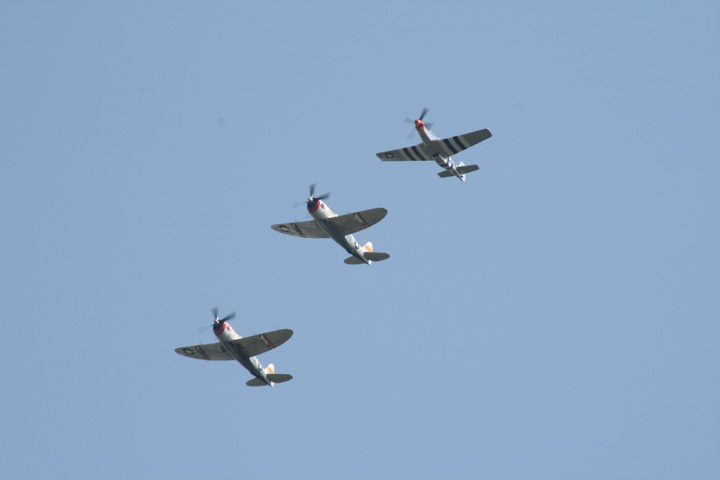 More arrivals.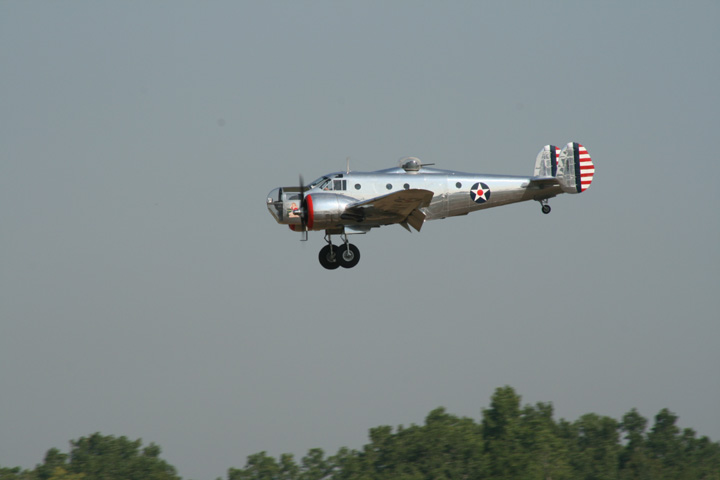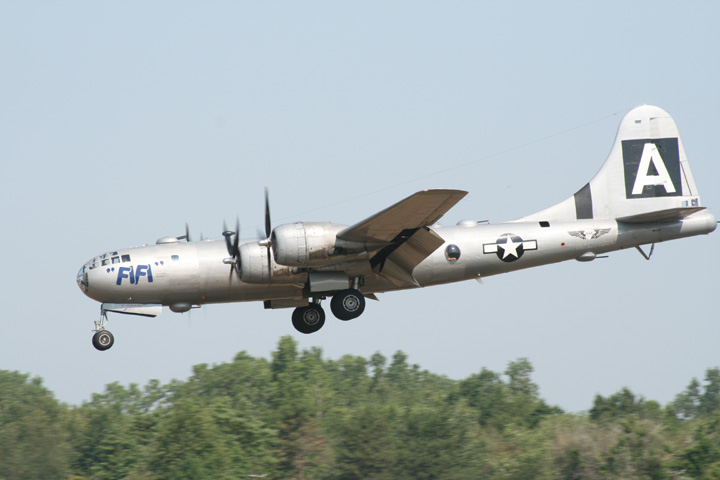 When she returned, "Fifi" landed on 23. Note her attitude of attack on final.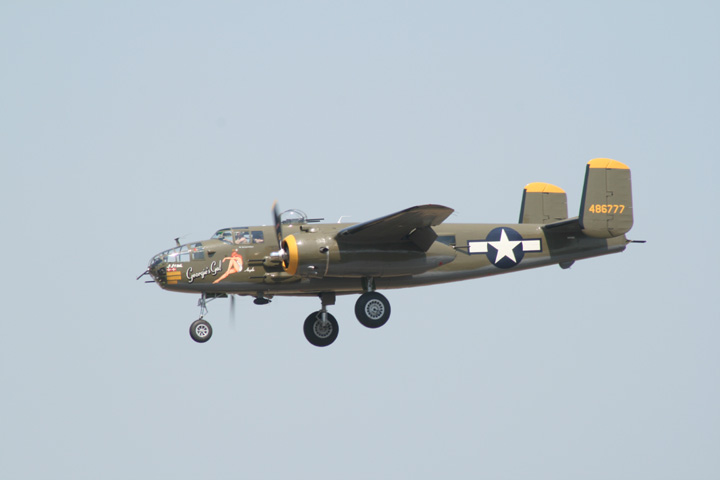 I think this was the first air show performance for "Georgie's Girl" flying now for the Liberty Aviation Museum in Port Clinton, OH. Previously she was "Martha Jean".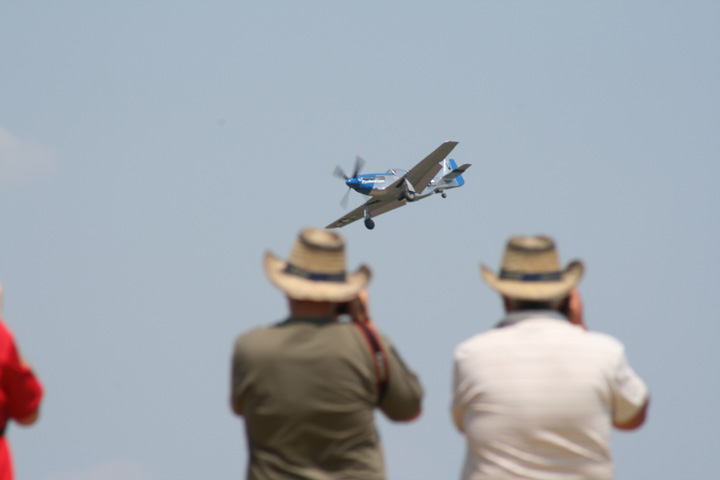 Vlado Lenoch doing a little wing wagging on final after doing his practice show.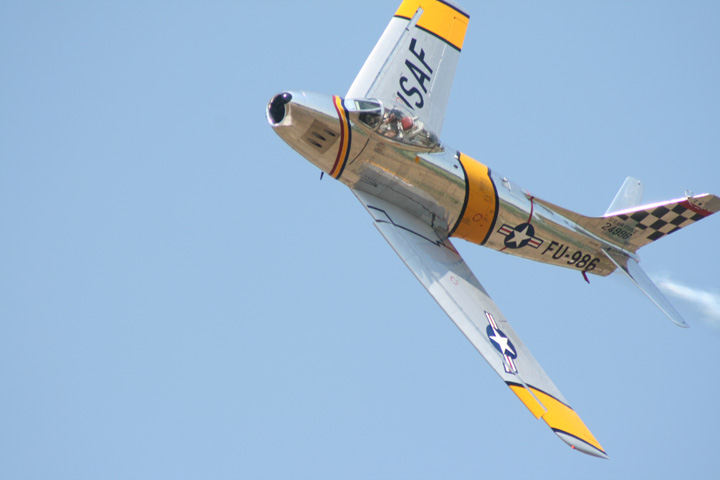 Paul Wood caught me by surprise on this photo pass. I was lucky to get this photo as fast as he was moving.
Saturday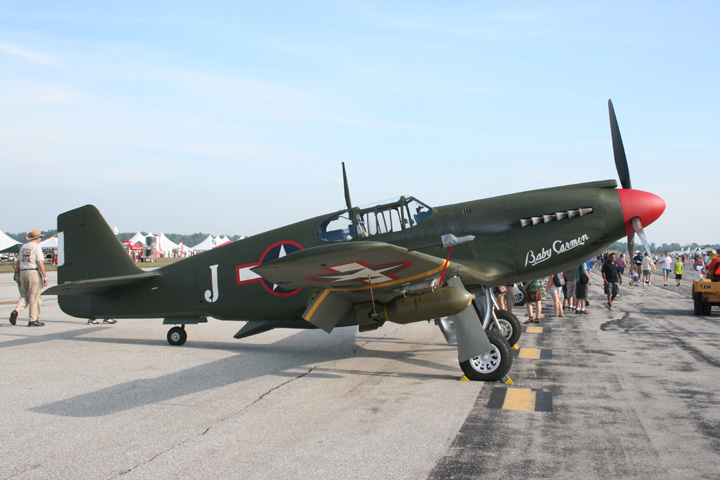 The A-36 Apache dive bomber on static. Unfortunately it did not fly in the show.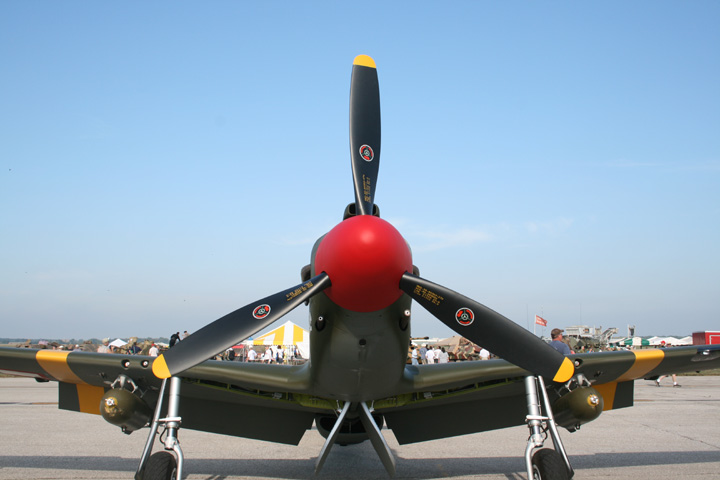 Note the two nose guns and the four in the wings.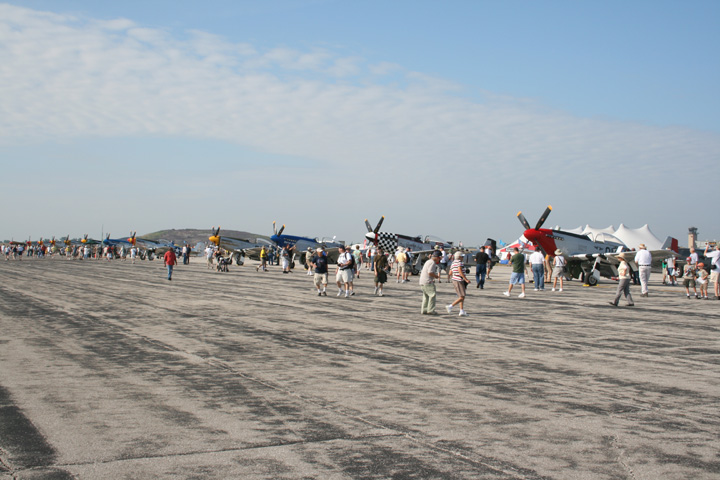 Eleven P-51s and an A-36.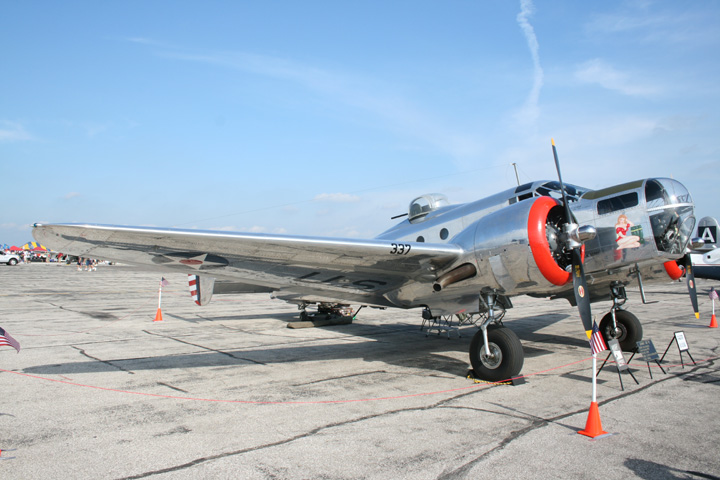 Darrel Berry from Camden, TN owns this superbly restored AT-11. I had never seen this before.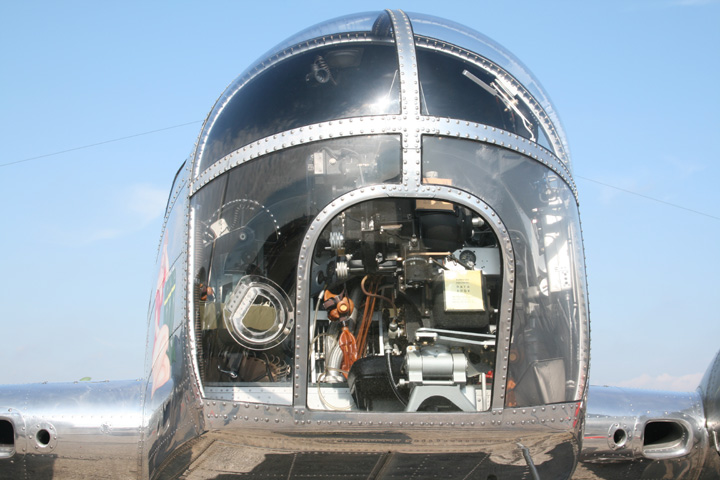 The Norden Bombsite has a complete installation.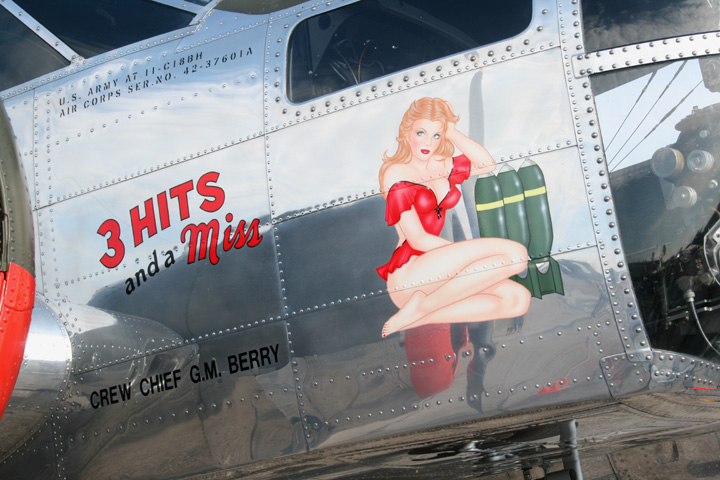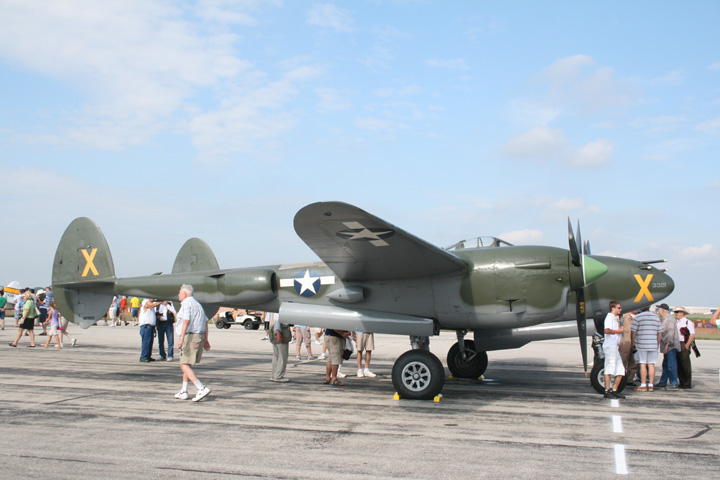 Lockheed P-38 Ruff Stuff.
The Battle- Part 1: 10:30AM to 11:00AM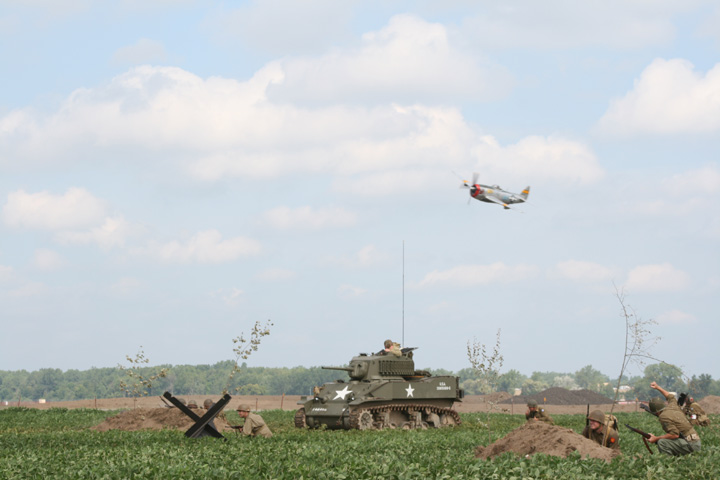 P-47s down low and fast supporting infantry and tanks. Combined arms.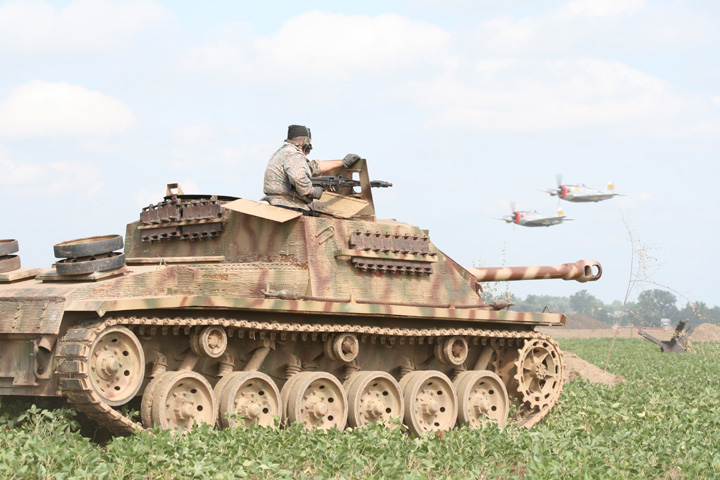 Down low and in perfect formation.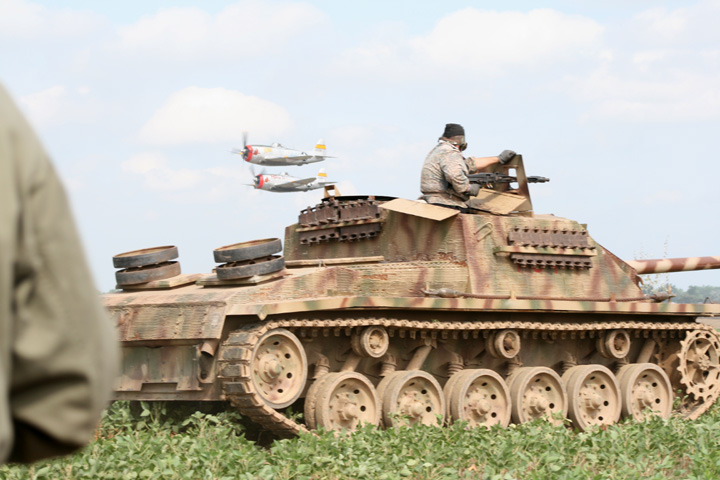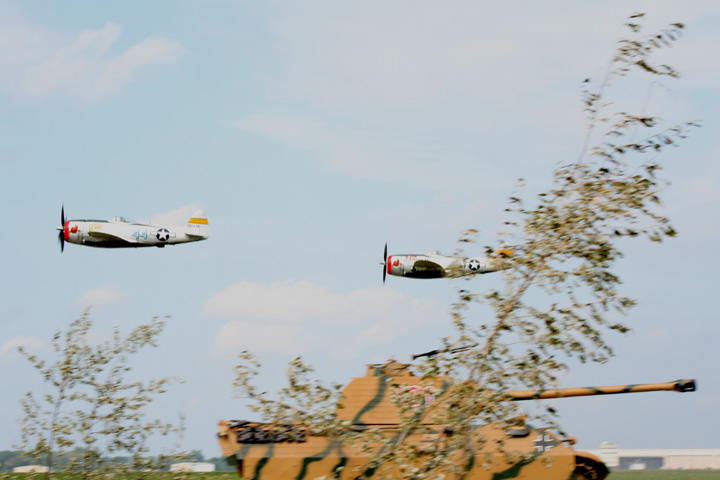 John Schoffner in the lead in "Wicked Wabbit" with Neal Melton right behind him in "Hun Hunter. It can't get much better than this. But it does, later in the day.

The show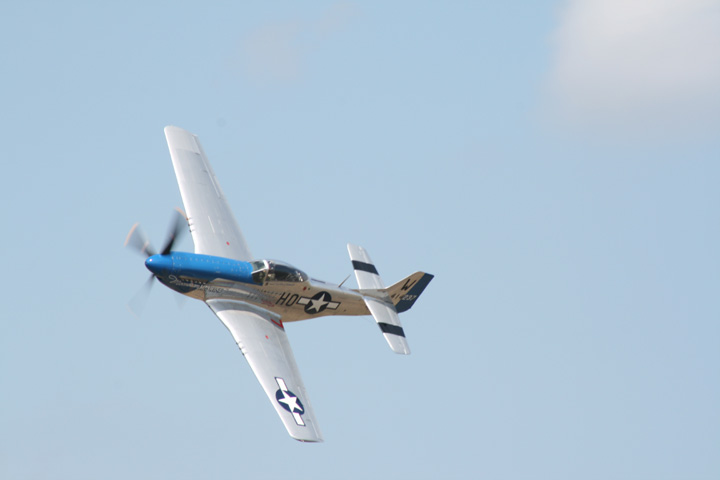 Vlado opened the air show at noon with his great demo.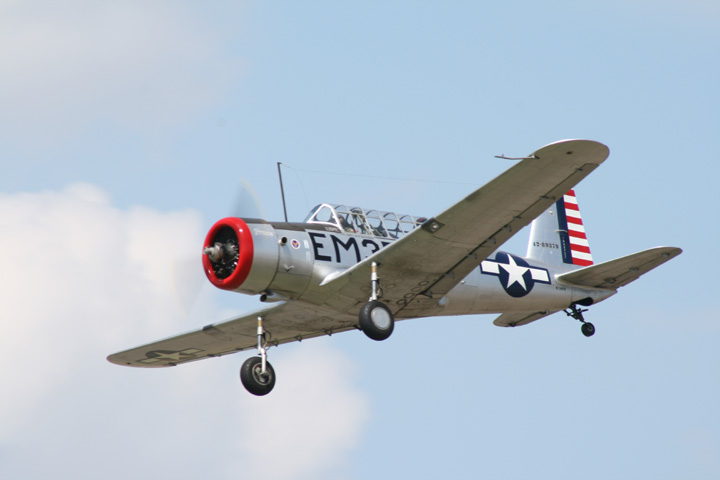 Michael Kennedy in "Grace" did a superb aerobatic routine that stayed both horizontally and vertically in front of the crowd with lots of smoke and noise. Great stuff!!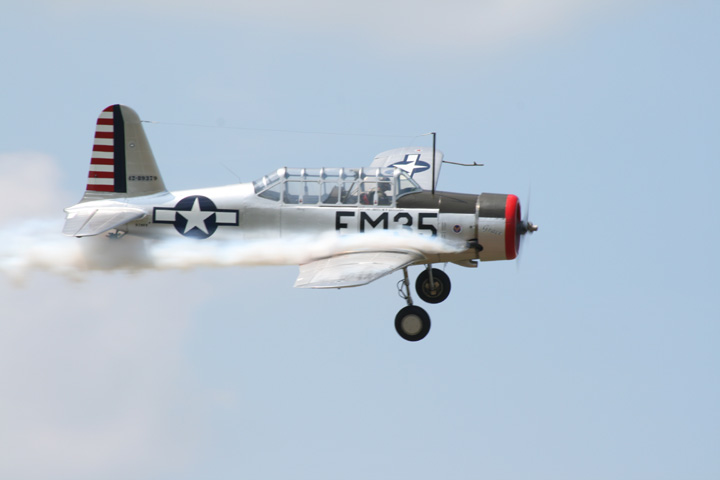 The two previous events that I saw Michael at were military bases where he had to fly the 1,500 foot show line. Here he could fly the 500 foot line which allowed all of us to see and hear him up close.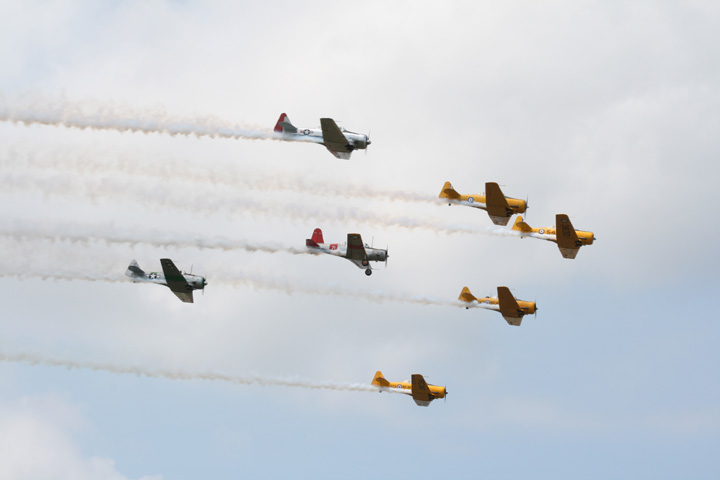 Canadian Harvards, a BT-13 and T-6s in formation.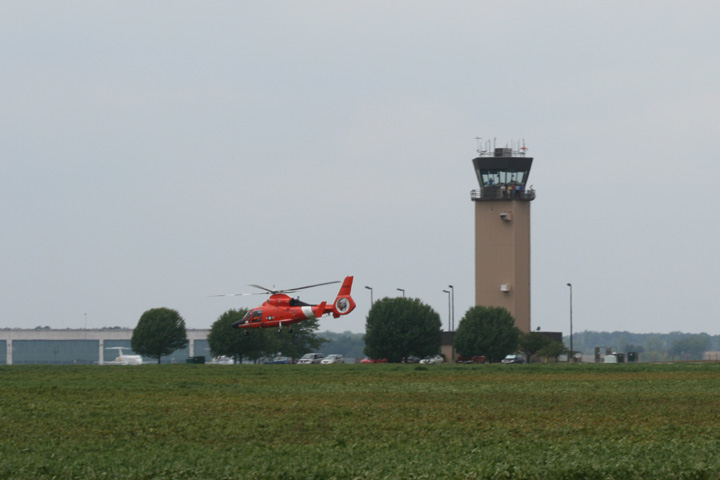 This was a non planned interesting part of the show. The Coast Guard Dolphin was supposed to do a simulated rescue routine but ended up making an emergency landing soon after this pass. In listening to air boss talk with the aircrew and their inbound locations, I was wondering why it was taking so long to get on site. Probably so was air boss. When they did arrive they did a pass at low speed, which is normally a high speed entrance pass. It turns out they were not making enough power and in this photo they did not plan to be this low. They were able to make their way around to the other side of the field and make a successful emergency landing, which closed the airport and shut down the airshow for about 10 minutes.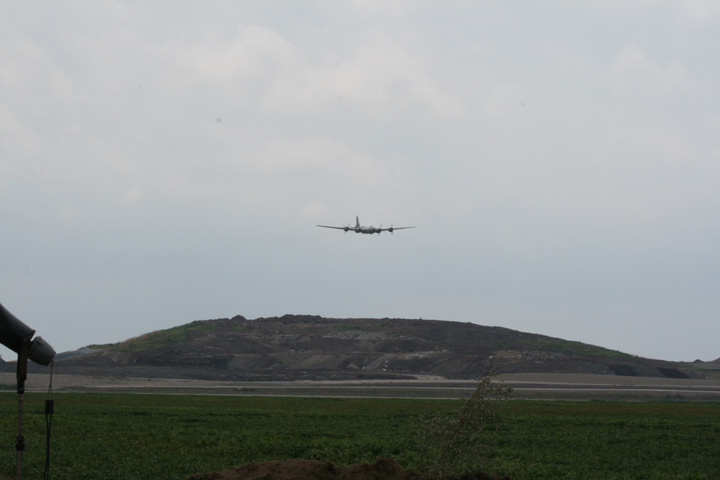 B-29 "Fifi" in bound for her initial low, high speed pass.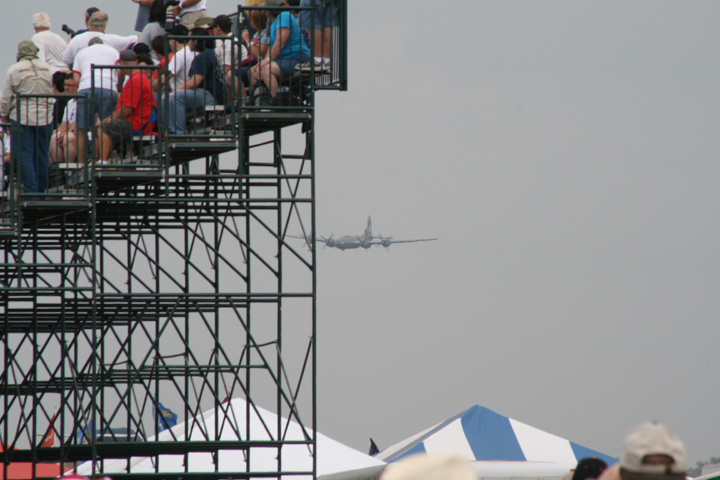 No race track for pattern for "Fifi" on this demo. She was out turning around and coming back in.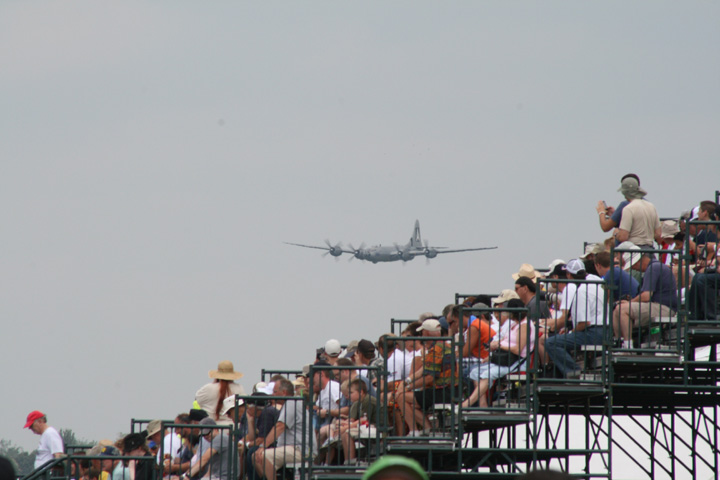 I have never seen her fly like she flew at Thunder. This was a true demonstration of her capability and performance.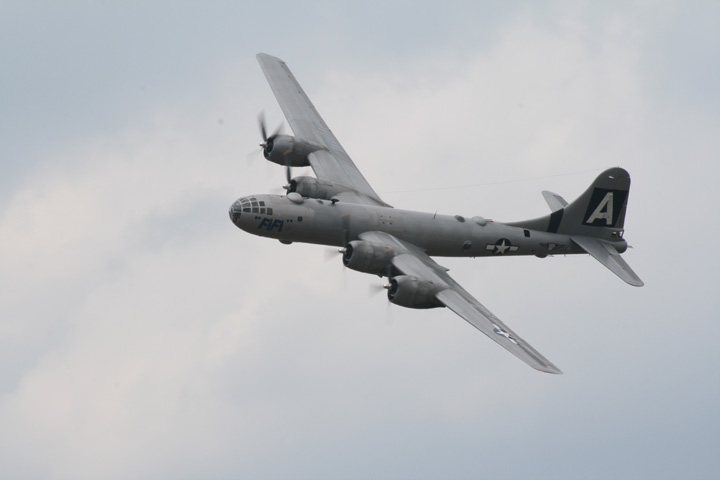 I have considered for sometime that the Lancaster was the most maneuverable four engine WWII bomber. I have had to seriously rethink that after this flight!! Wow!!!!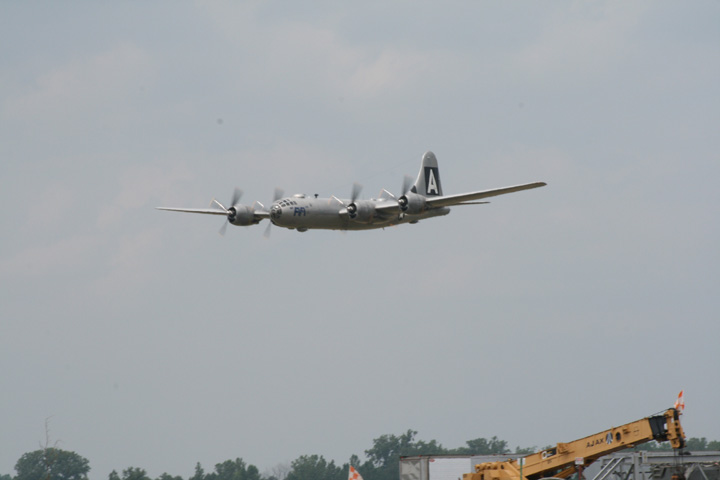 Commendations to the pilot and to the Thunder air boss for giving her a block of time and letting "Fifi" show her true capabilities.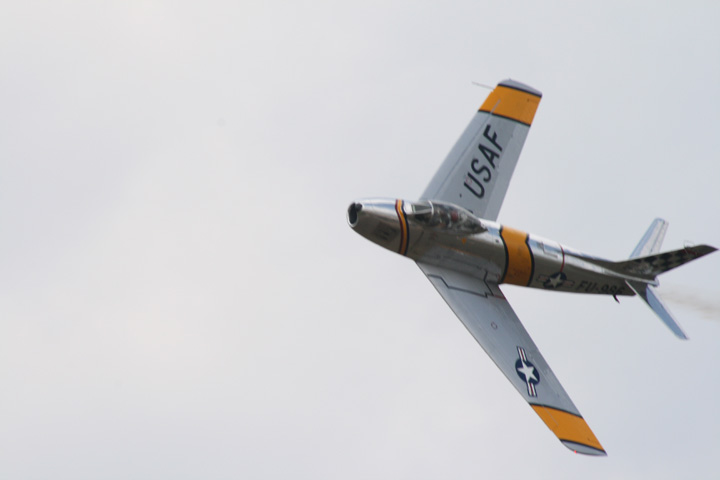 Paul Wood put on his superb F-86 demo as usual.
The Battle- Part 2: 2:00PM to 2:30PM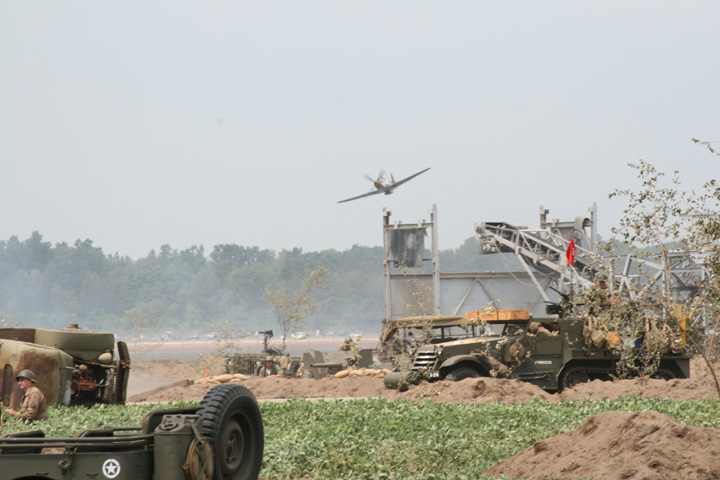 How does it get better than two P-47s supporting the ground forces? How about 11 P-51s flying in two patterns a low level and high speed. Mustang Mania!! It is this portion of the show that makes Thunder unique in from all other airshows and is its signature act.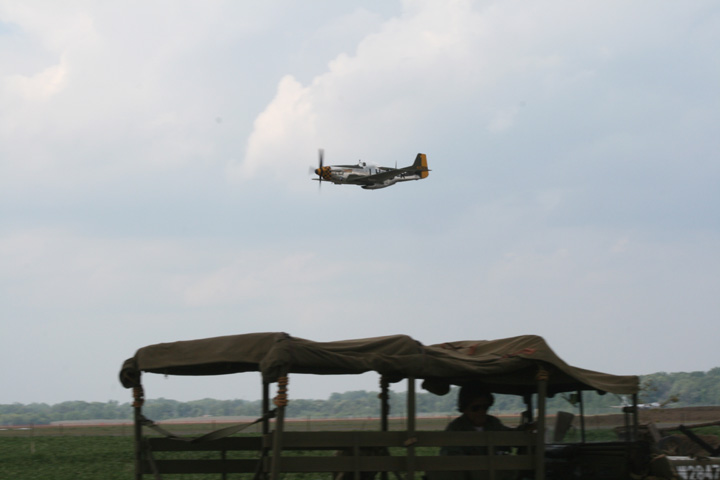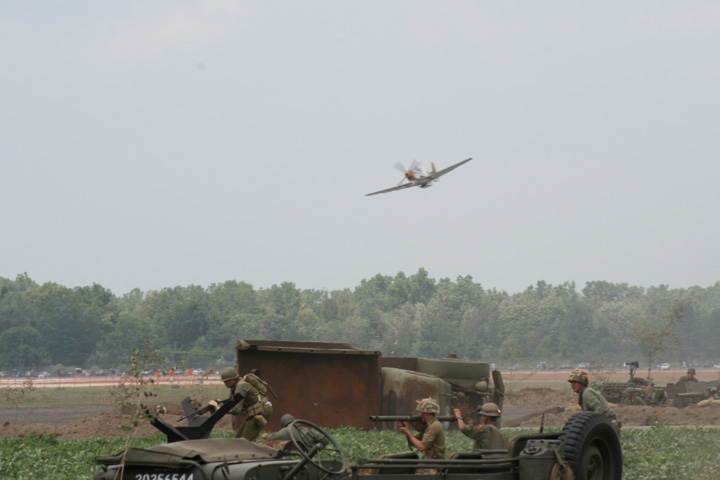 Bazookas firing along with tanks, machine guns, a BAR or two, rifles and cannons with the constant snarl of the Rolls-Royce Merlin in the P-51s over head made this a superb entertainment event.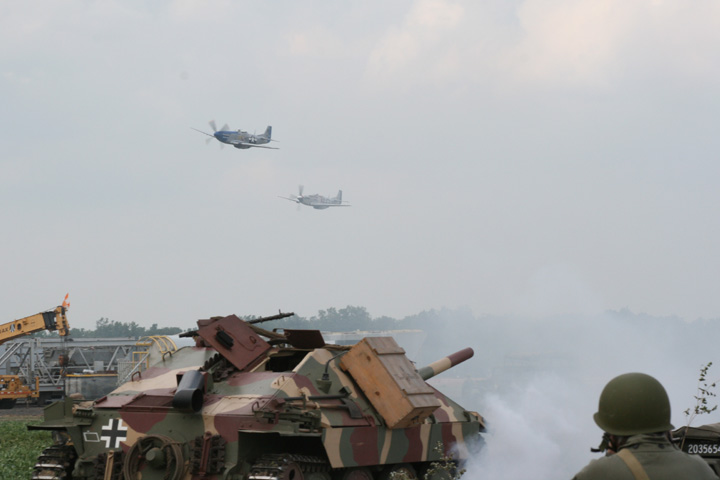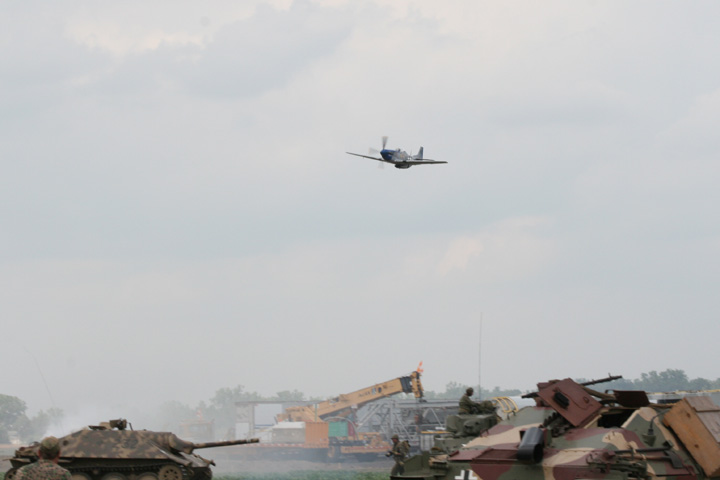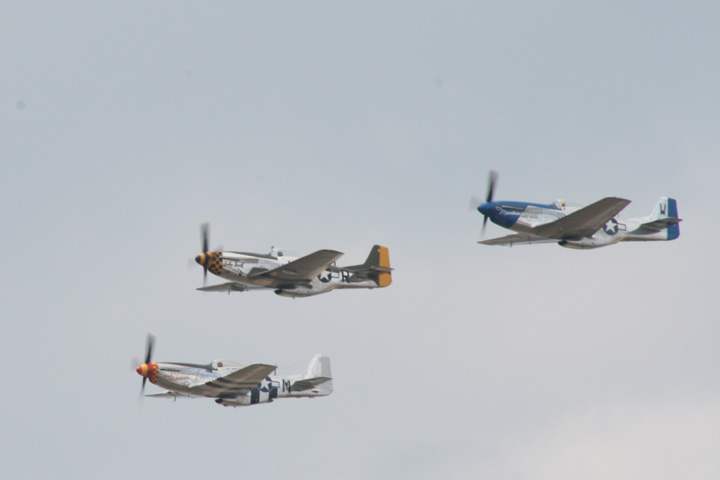 When it was over we were treated to multiple P-51 fly-bys.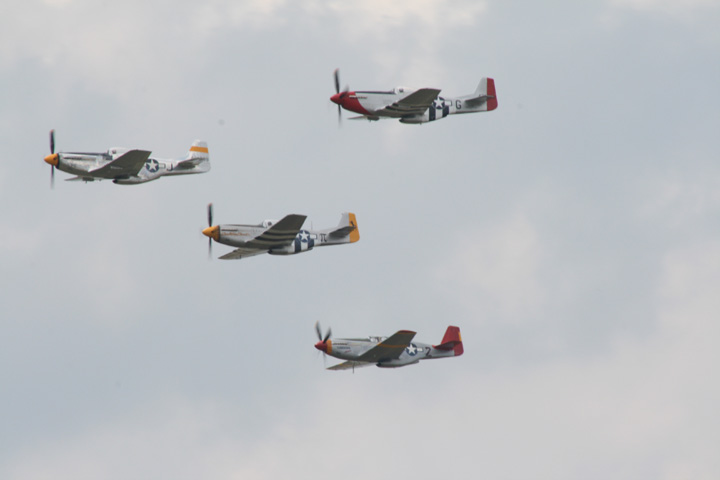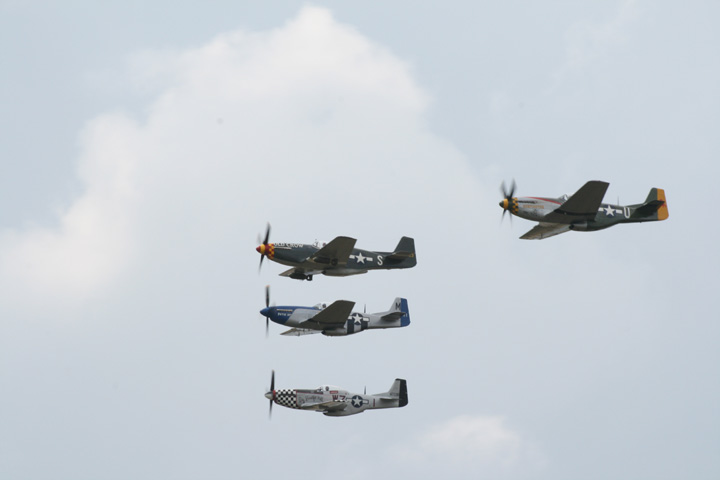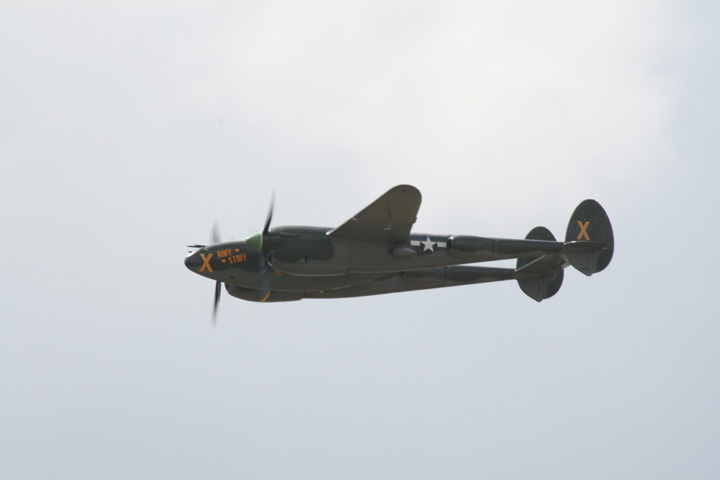 But it wasn't over yet as the P-38, P-47s, Corsair, B-17 and a couple of B-25s went up and did more low level passes for us.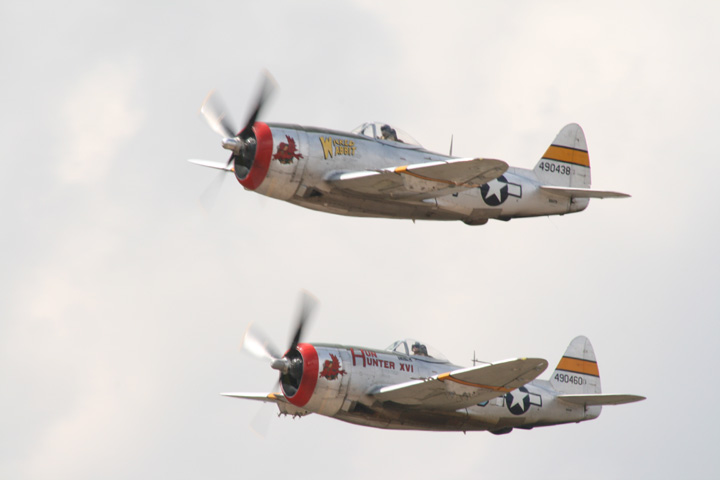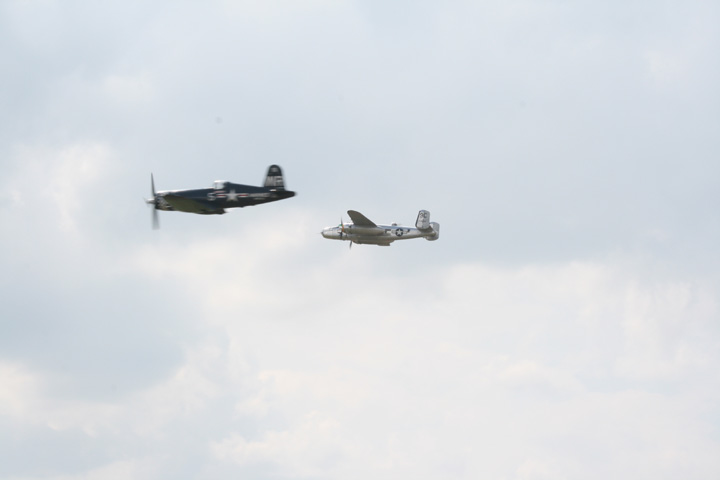 The Corsair was flying the 500 foot show line while B-25D Yankee Warrior flies the 1000 foot line. Looks like the focus was on the B-25.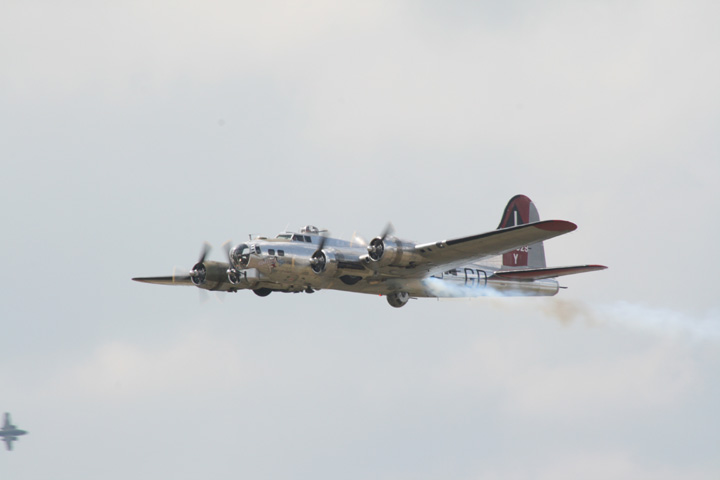 As Yankee Lady does a low pass back in the corner a B-25 is turning back towards show center.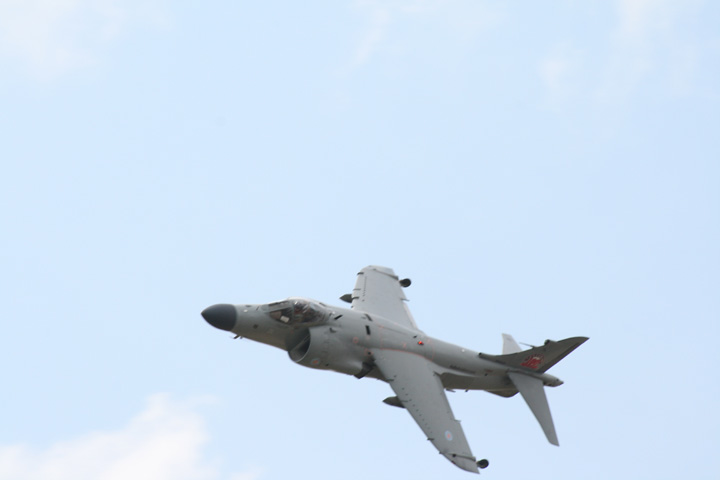 I had never seen Art Nails fly his Sea Harrier before and did not know what to expect. This was not your USMC average ho-hum Harrier demo. Another great surprise at Thunder as Art made this aircraft "talk". This was one of his high speed passes. We could hear the air rushing in to fill the vacuum after he came by. That was a first for me.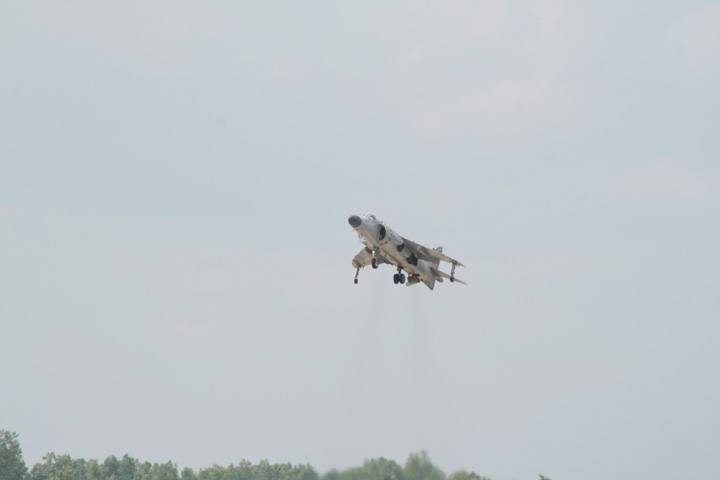 Here Art brings the Sea Harrier in for a hover, 360 degree rotation and landing.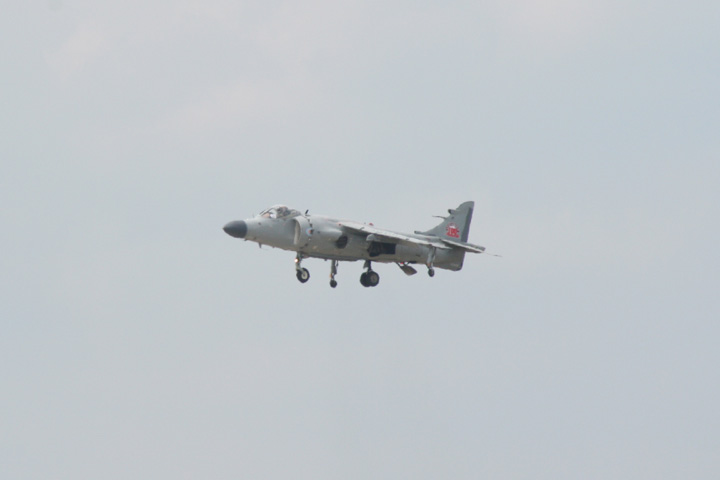 Rotating.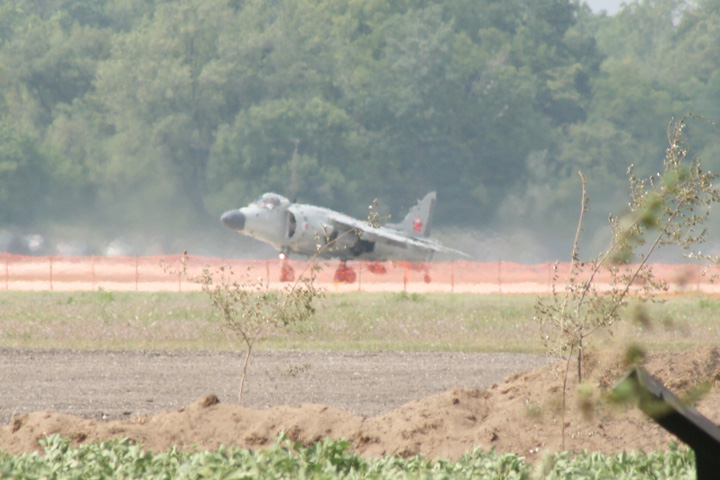 Landing.
Make sure to put Thunder on your list for 2013 if you can.
The still photos on this page do not give justice to some of the performances by the warbirds. You might want to check YouTube to see more. Some videos are better than others so be sure to check out several for each of the routines.
Titusville (Tico), FL Urbana, OH B-25 Gathering B-25 Fly-Over at Doolittle Reunion, Dayton, OH MCAS Cherry Point, NC Shaw AFB, Sumter, SC Whiteman AFB, Knob Noster, MO Boeing Field, Seattle, WA Kokomo Air Show, Kokomo, IN CWH Airshow, Hamilton ON Indianapolis Air Show, Greenfield, IN Indianapolis Executive B-17 Texas Raiders Thunder over Michigan, Belleville, MI Gratiot Community Airshow, Alma, MI Marion Fly-In/Drive-In, Marion, IN Fort Wayne Air Show, Fort Wayne, IN Waukegan, IL Glendale Airport, Kokomo, IN Indianapolis Regional Airport, IN Indianapolis Metropolitan Airport, IN