Alabama Arizona Arkansas British Columbia California Colorado Connecticut Europe Delaware Florida Georgia Illinois Indiana Iowa Kansas Kentucky Louisiana Maryland Michigan Mississippi Missouri Nebraska Nevada New Jersey New Mexico New York North Carolina Ohio Oklahoma Ontario Oregon Pennsylvania South Carolina Tennessee Texas Utah Virginia West Virginia Washington Wisconsin Wyoming

California Gate Guards, Outside Museum Displays and Air Parks
Alameda: High School A-4 May 2010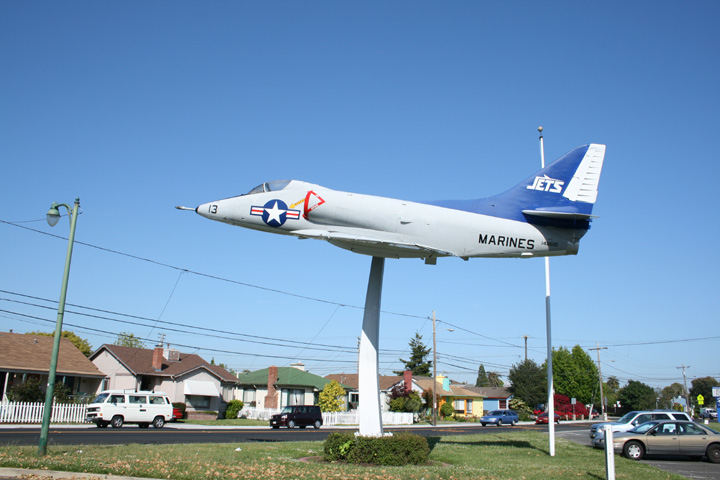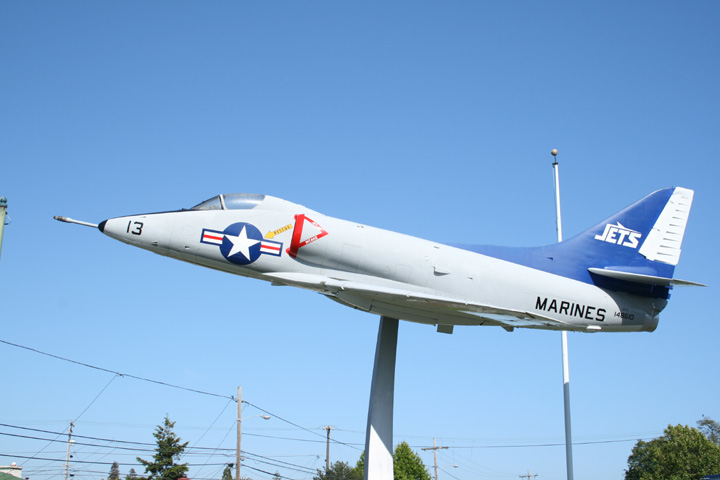 ---
Alameda: Former Main Gate to the NAS A-7 May 2010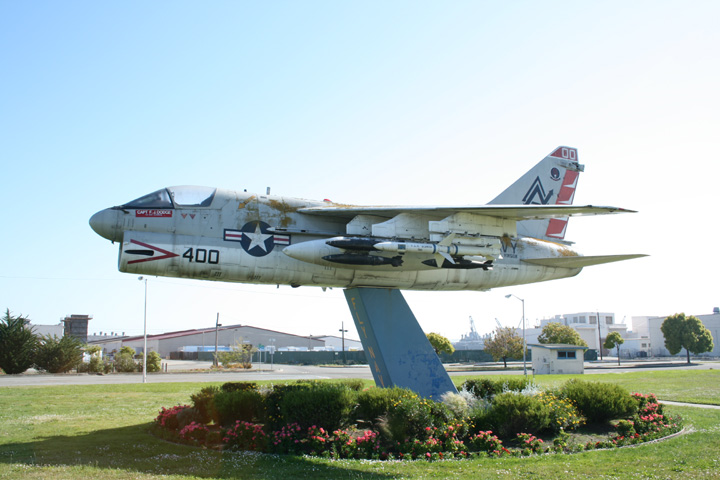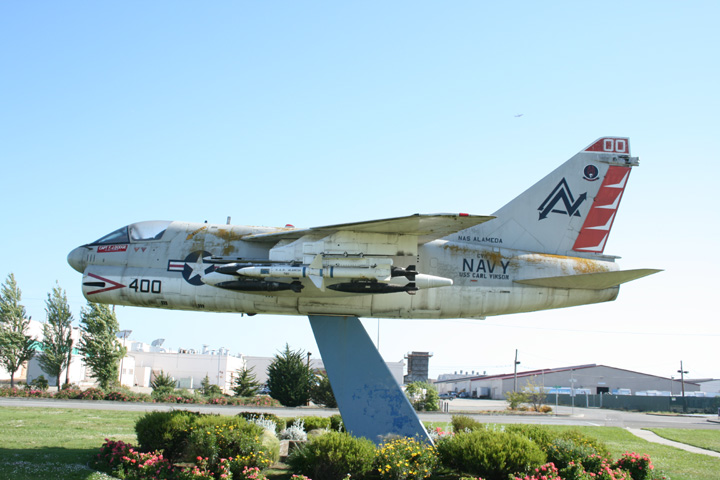 ---
Alameda: USS Hornet FM-2, F-4, F-14, S-2, S-3 May 2010 - There were only three aircraft on the flight deck but an FM-2 or F4F and S-2 were under restoration in the hangar deck.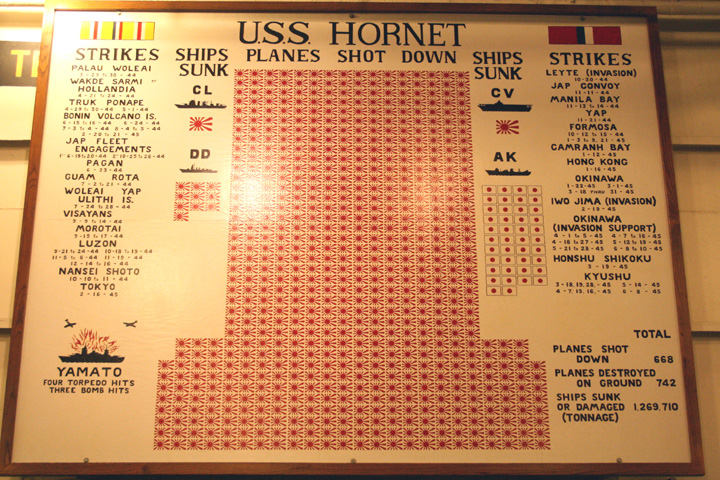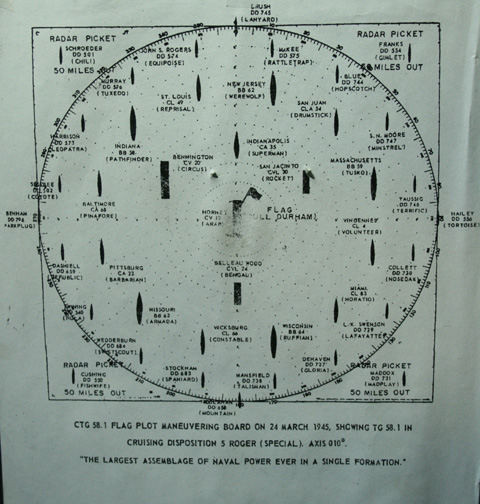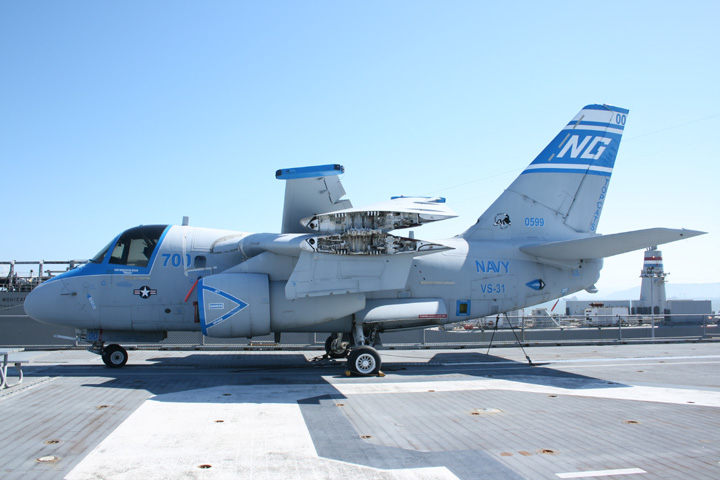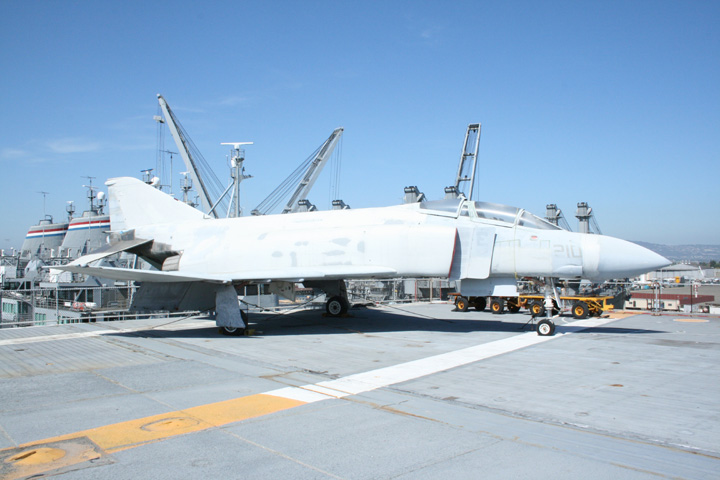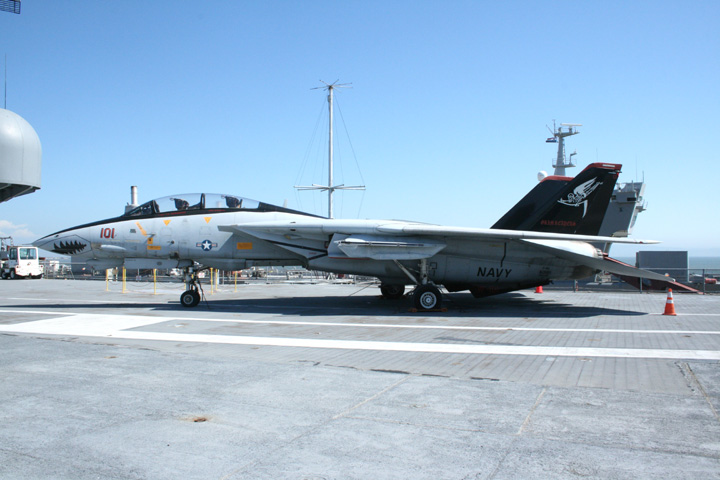 ---
Atwater: Castle Air Museum A-4, A-26, B-17, B-18, B-24, B-25, B-29, B-45, B-47, B-52, B-57, BT-13, C-45, C-46, C-47, C-60, C-119, C-123, C-131, CF-100, F-4, F-14, F-80, F-84F, F-86, F-89, F-100, F-101, F-102, F-104, F-105, F-106, F-111, HH-43, HU-16, KC-97, KC-135, O-2, RB-36, R5D, SR-71, T-6, T-33, T-34, U-3A, U-6A, Vulcan, WB-50 May 2009 - There is an excellent and well maintained collection of aircraft at the site of the former Castle AFB. Two rare former warbirds featured below are the North American B-45 and and RB-36H. The only other B-45 I know of is at the Air Force Museum in Dayton, OH.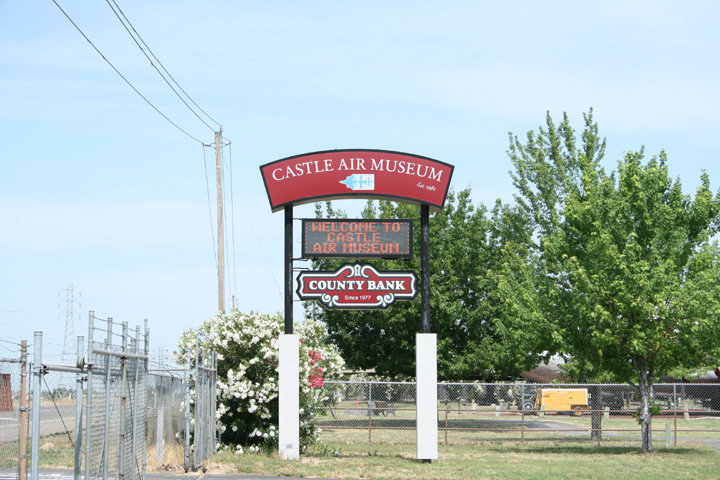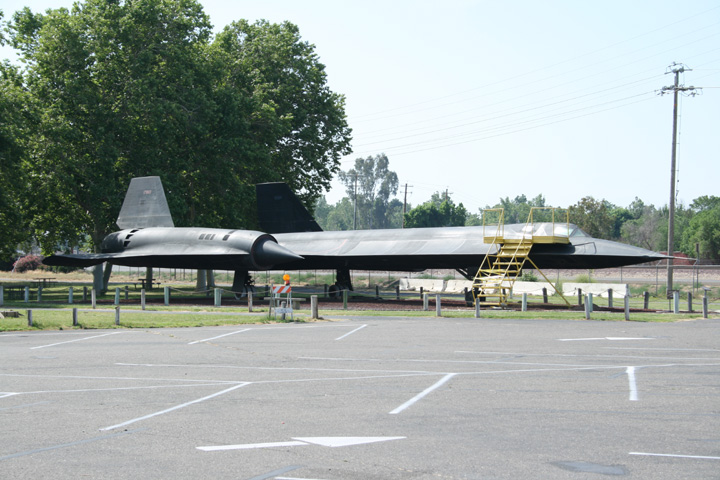 This SR-71 stands guard at the front gate.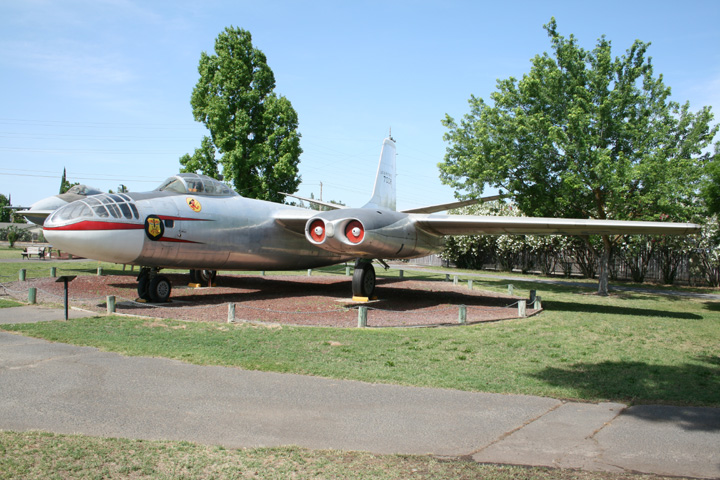 The rare B-45. It was the first multi-engine jet powered aircraft put into service by the US.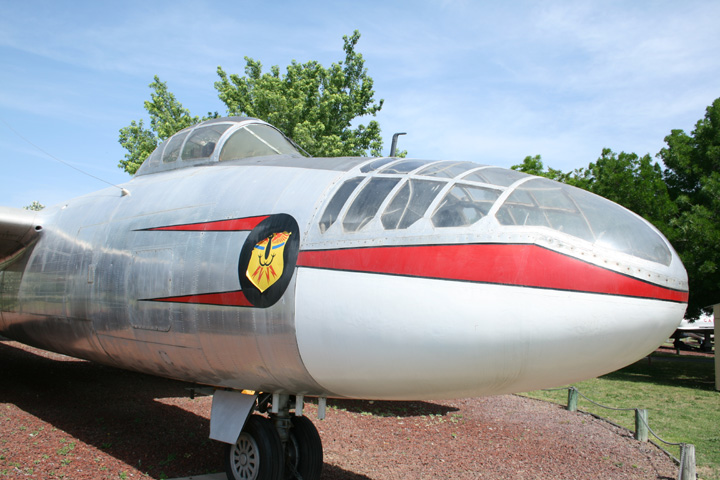 Note the nose location for the bombardier-navigator.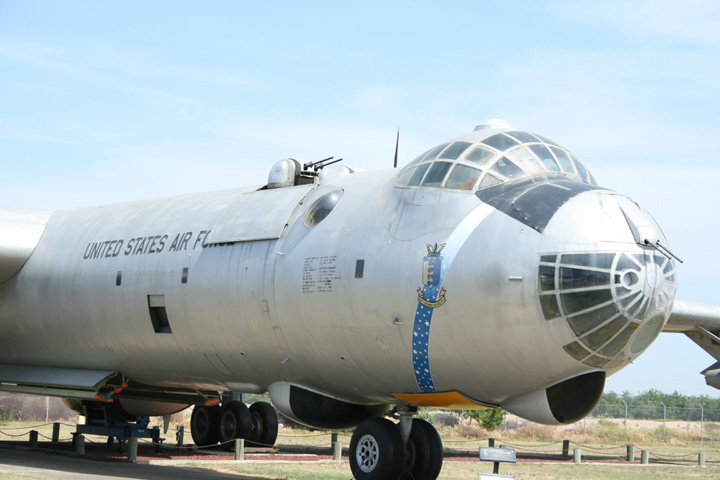 B-36s are rare commodities at aviation museums. This excellent RB-36H has the 20mm guns in the nose and the top turret opened up.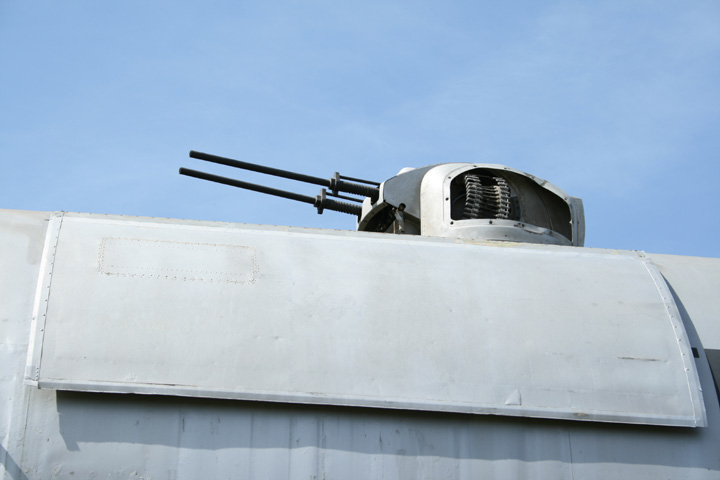 An excellent view of the 20mms and their ammunition feeds. In normal flight the turret retracts into the aircraft for better aerodynamics with the sliding doors covering the top of the aircraft. Armed with (16) 20mm cannons, during firing practice the recoil from the guns would shake loose electrical wiring and electronic tubes from their sockets, disabling aircraft controls and navigation equipment, leading to the crash of one B-36 in 1950.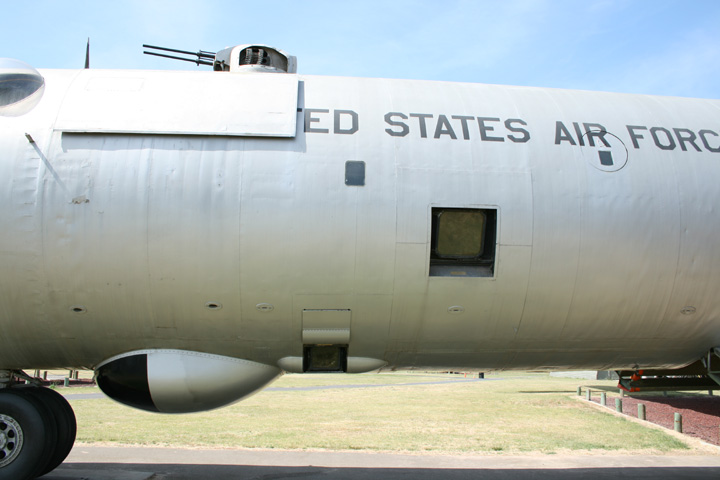 Another view showing a radar dome and opening for a camera.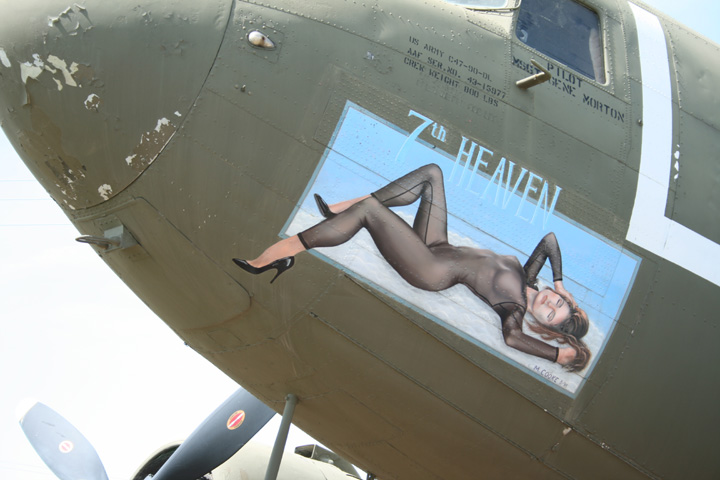 This nose art on the C-47 looked to be brand new.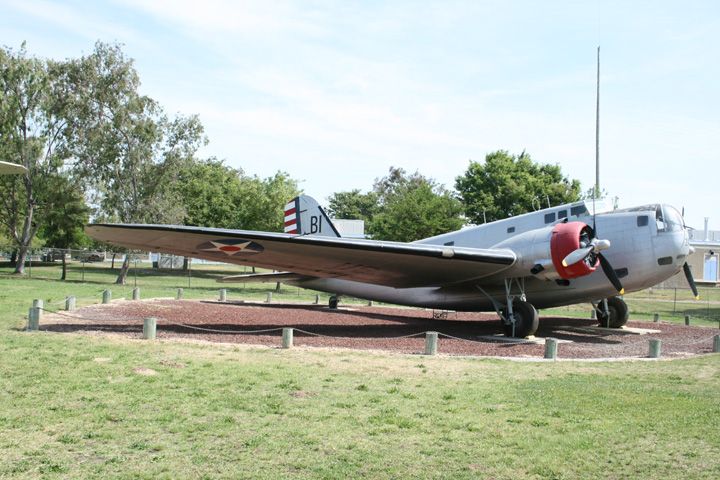 The Douglas B-18 Bolo is also rare at museums.
---
Boron: Saxon Aerospace Museum F-4 May 2010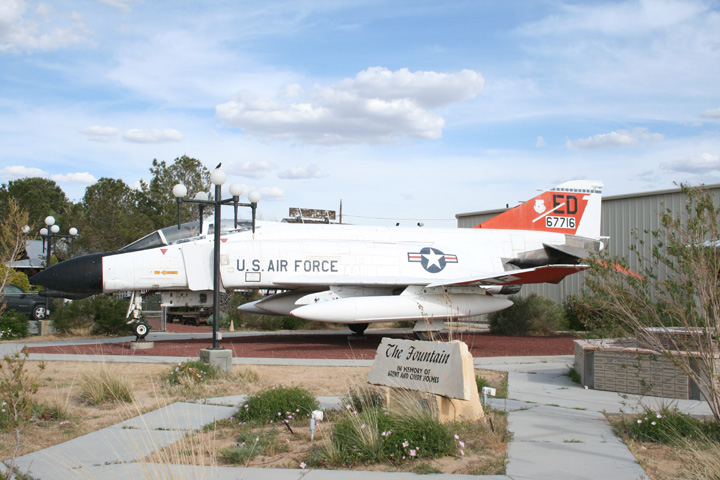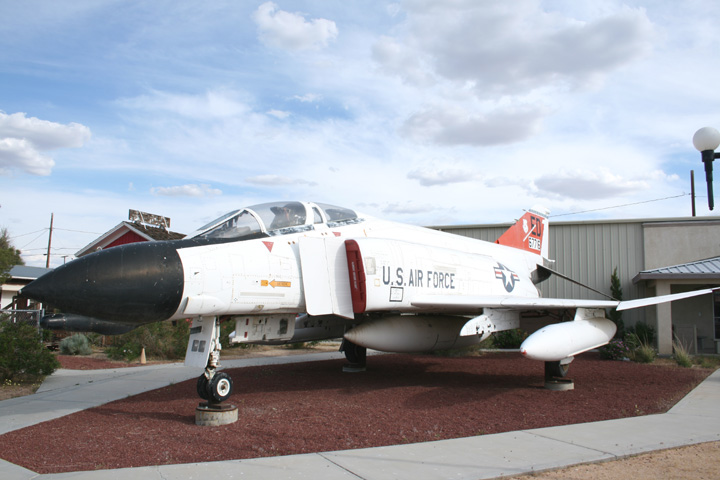 ---
Chino: Planes of Fame Air Museum (2)A-4, C-45, C-60, FJ-3, F7F, F-8, F-84, F-86, F-100, F-104, L-18, L-29, Mig-15, Mig-17, RF-84K, T-2, T-33, X-2 May 2013 - Some of the aircraft are in a small area awaiting restoration while others have been restored for static display.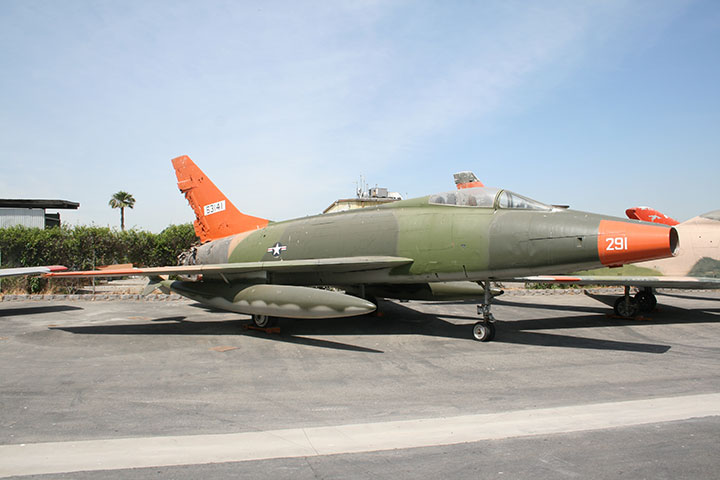 This former drone was able to land after taking some hits in the tails section. Interesting and different display.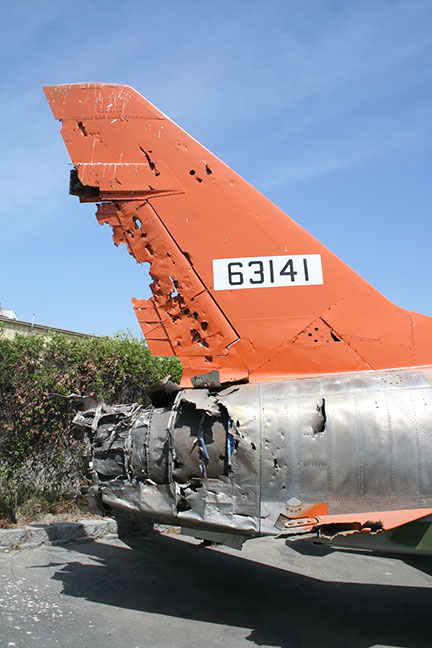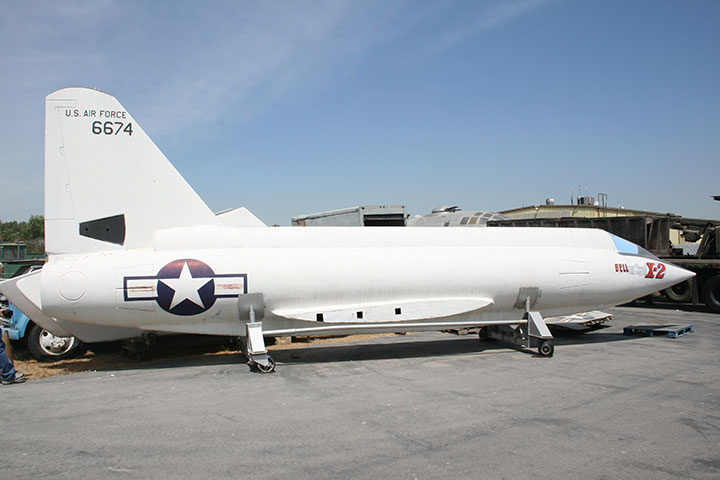 This Bell X-2 fuselage is awaiting the wings to complete the restoration.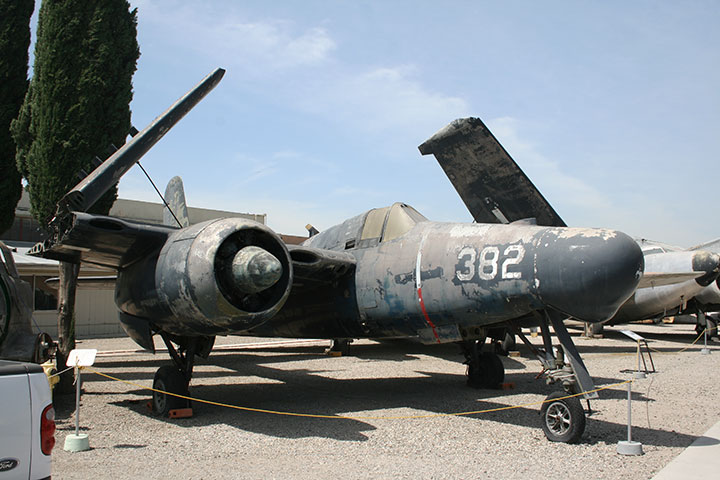 This Tigercat will make a nice restoration some day.
Chino: Planes of Fame Air Museum B-17, DC-3 May 2009 - Outside in front of the museum complex.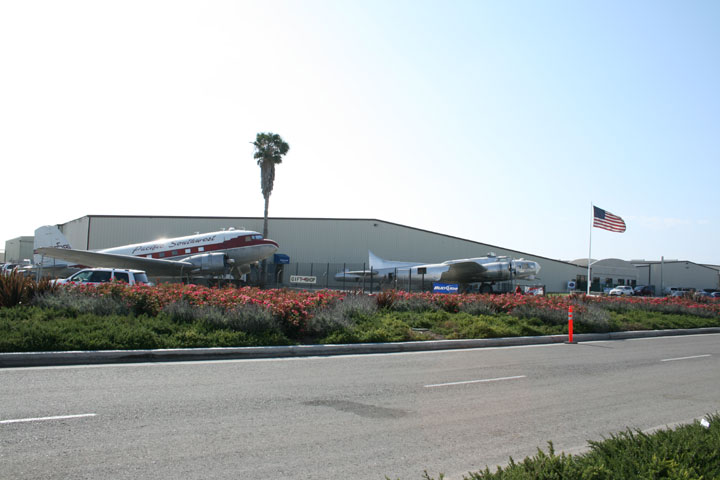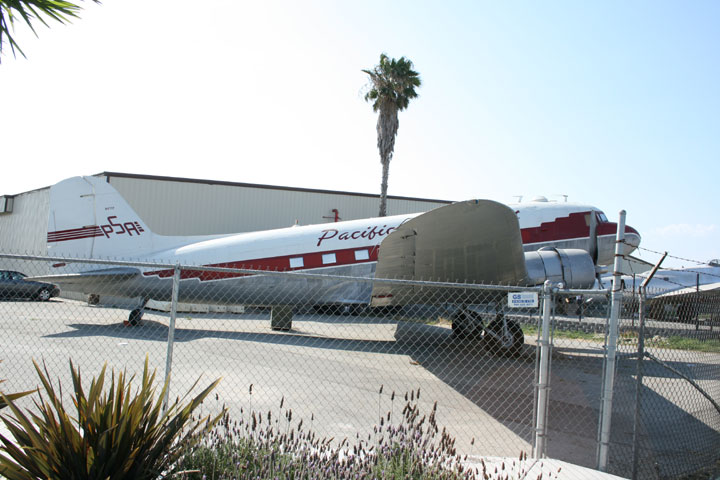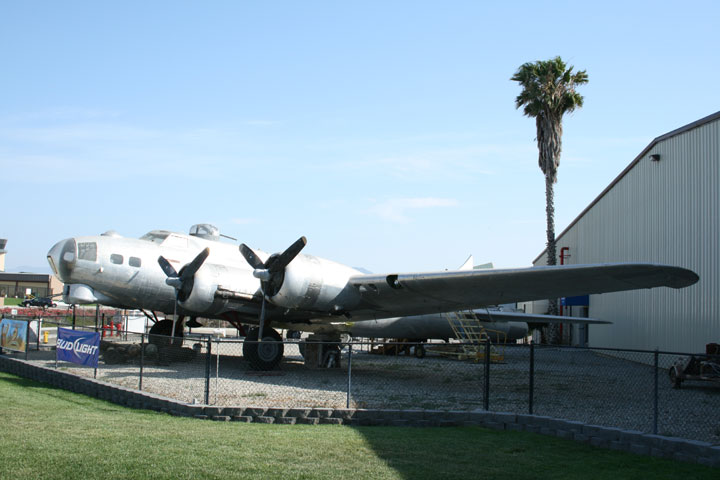 There is a project and fund raising campaign underway to return this B-17 to flying condition.
---
Chino: Yanks Air Museum C-131 May 2009 In May 2013 this was no longer on display out in front of the museum. DDJ 5-24-2013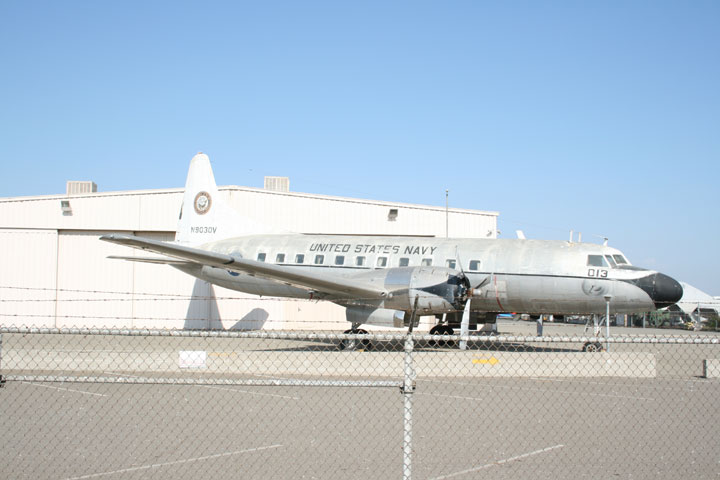 ---
Columbia: Airport S-2 May 2009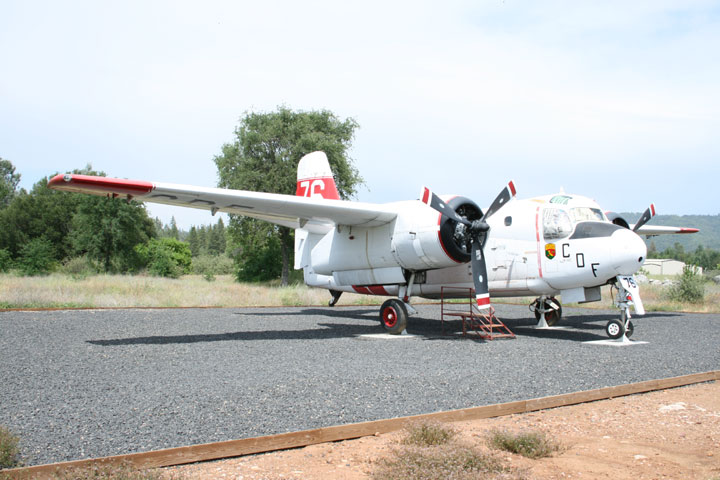 See a complete photo file on this aircraft at my Grumman Tracker Website: S2F Trackers-My Photo File
I wish to thank Airport Director and Manager Jim Thomas in assisting me in obtaining this and other photos. Old Tanker 76 is on the other side of an active runway from the airport operations so Jim was gracious enough to escort me to the aircraft and also explain its history to me.
---
Fairchild: Travis AFB Museum A-26, B-29, B-52, C-7, (2)C-45, C-47, C-56, C-118, C-119, C-123, C-124, C-131, C-133, F-84F, F-86L, F-100, F-101, F-102, F-104, F-105, HU-16, LC-126, O-2 May 2010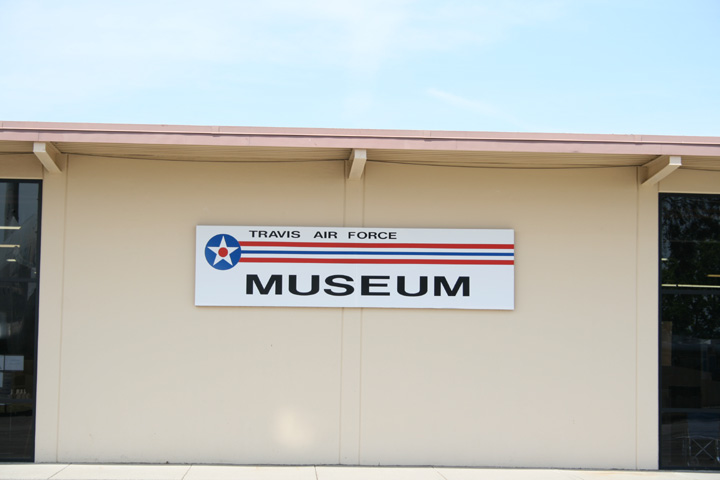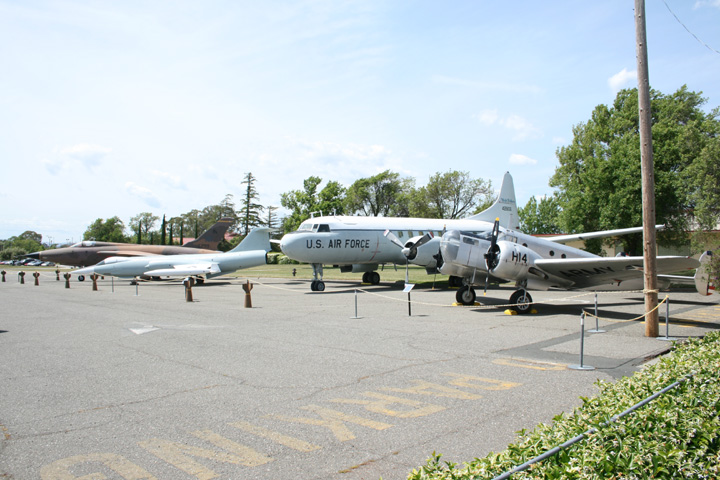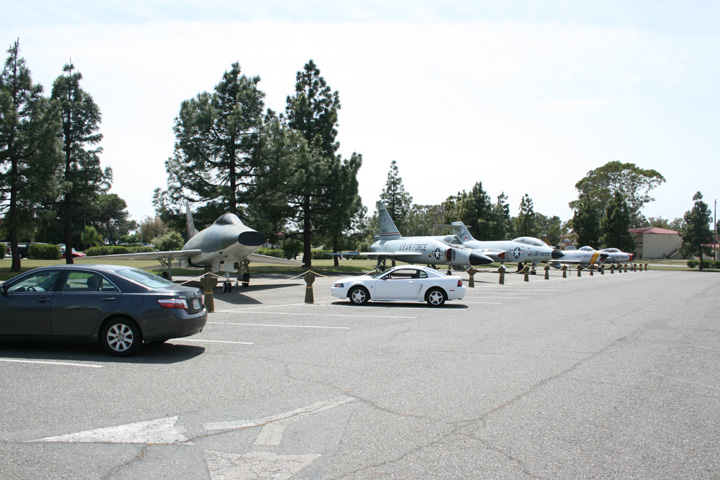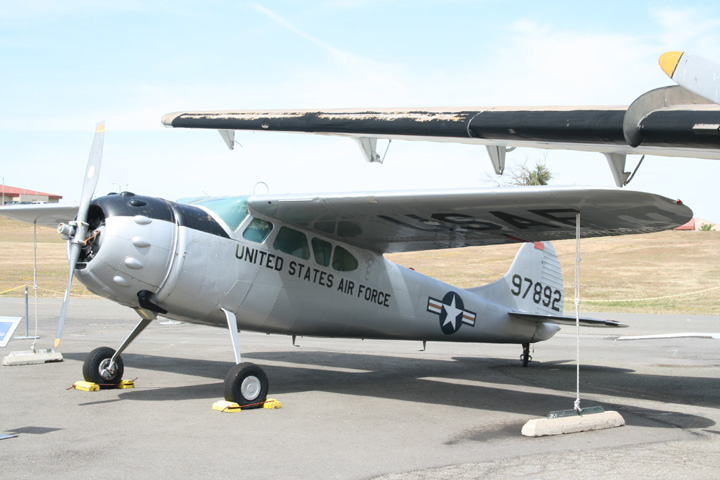 This LC-126 is the US Air Force version of the Cessna 195. This is very rare and is the first one I have seen.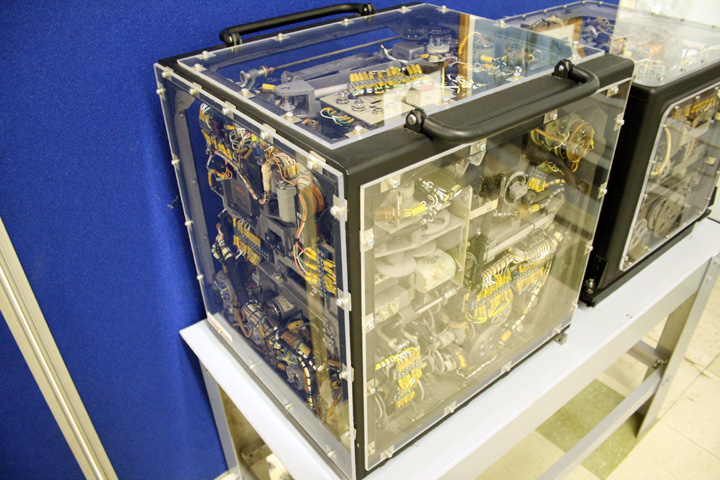 Inside the Museum is this electro-mechanical tracking computer. Back before the days of digital electronics analog computers of this type used gears and electrical motors to do the calculations.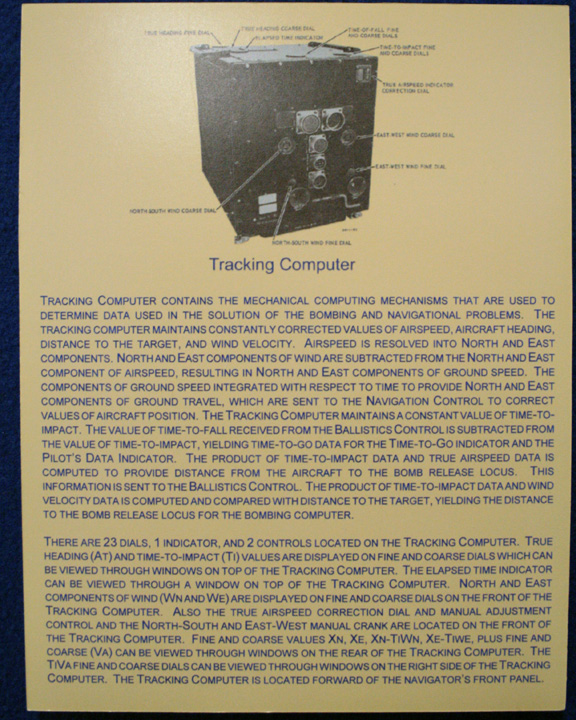 This is exactly how I thought it worked.
Travis AFB: Display at on base intersection C-141 May 2010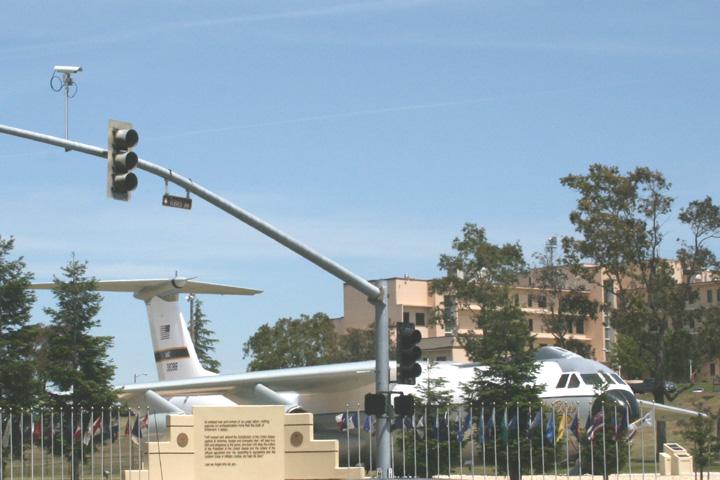 ---
Fresno: ARNG Base at Airport F-4, F-86A, F-86L, F-102, F-106, P-51, T-33 May 2010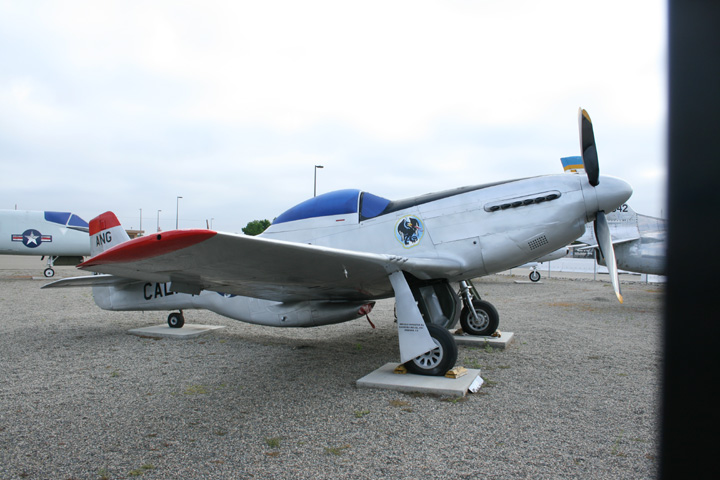 ---
Grass Valley: Airport F-104 May 2010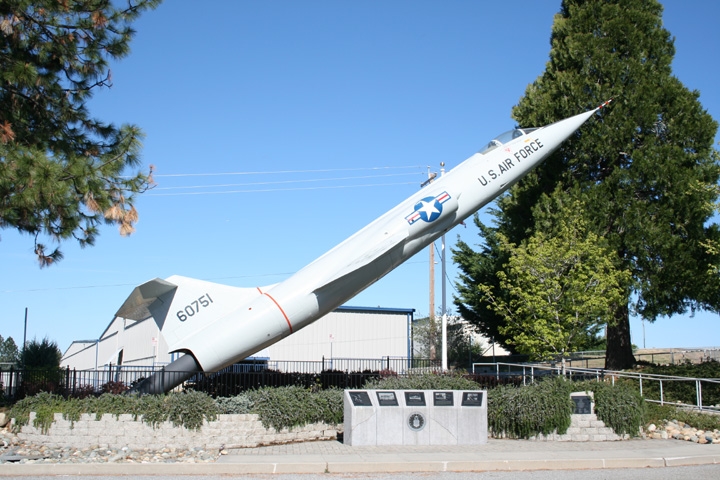 ---
Lancaster: Edwards AFB May 2009 Edwards AFB has multiple locations. Currently it can be toured by previous arrangements the first and third Friday's of the month.
Aircraft Display outside the front gate - F100, F-101, F-104, F-105, F-106, YC-16 This is accessible all of the time as it is outside the front gate.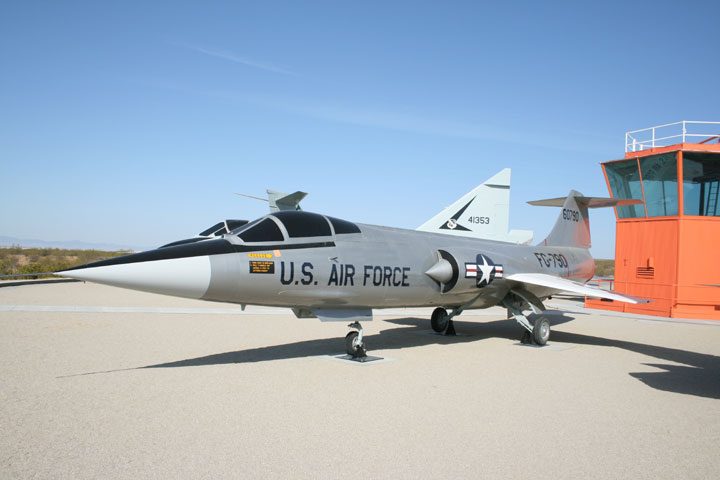 Museum - A-7, A-10, B-52, CH-34, F-4, F-84, F-111, HH-3, Meteor, SR-71, T-28, T-33 The museum is currently only available on the pre-arranged tour. There plans to eventually move it outside the gate where it would be accessible to the public at all times. The move of course depends on funding which may not be available for a while.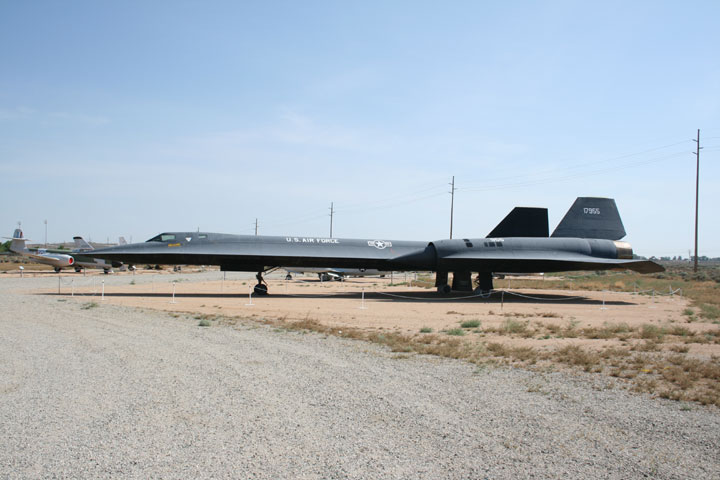 NASA Dryden Center - F-8, F-104, HL-10, SR-71, X-1E, X-15, X-29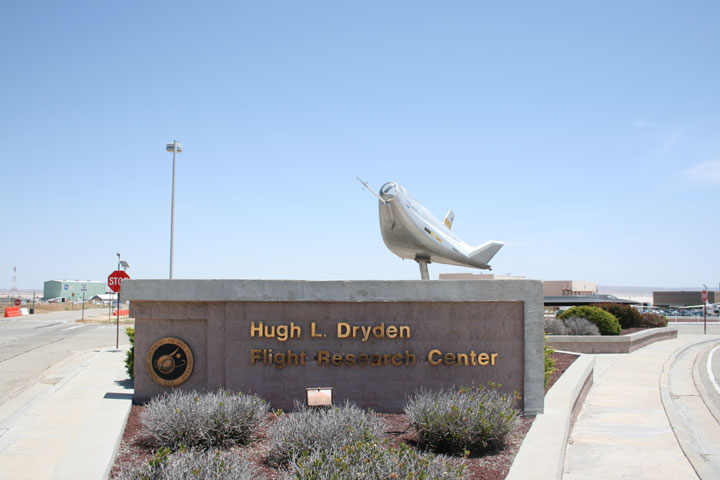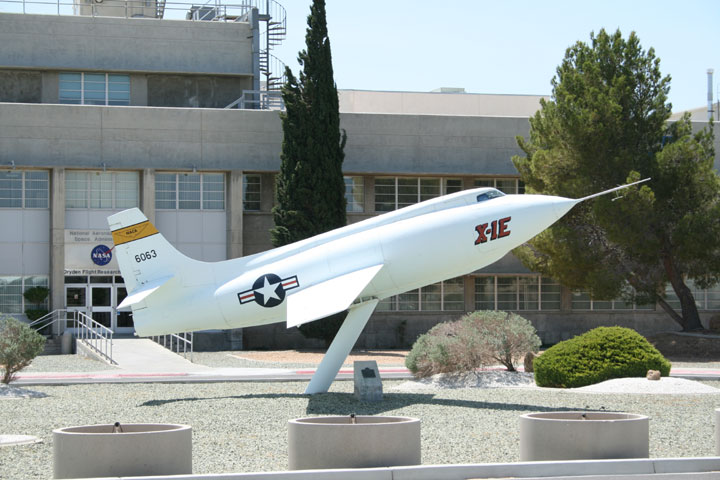 Various display aircraft around the base - F-4, F-16, F-86, P-59, T-38 These do not include all of the aircraft located around the base but only the ones that I could photograph as the tour bus passed the various displays. All of the following photos were taken from inside a moving bus.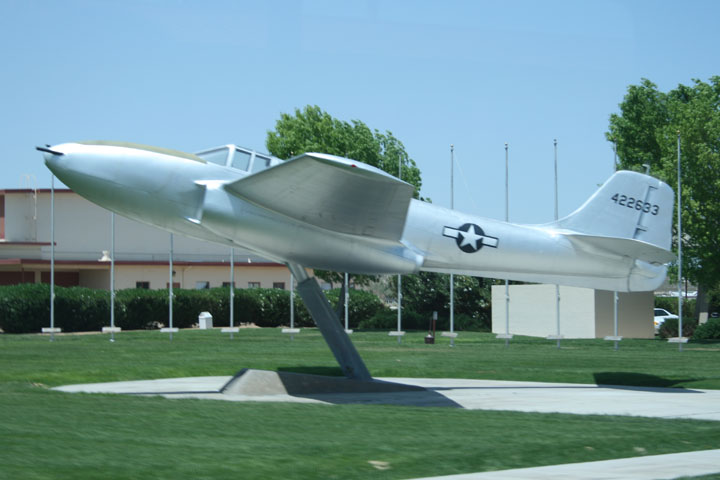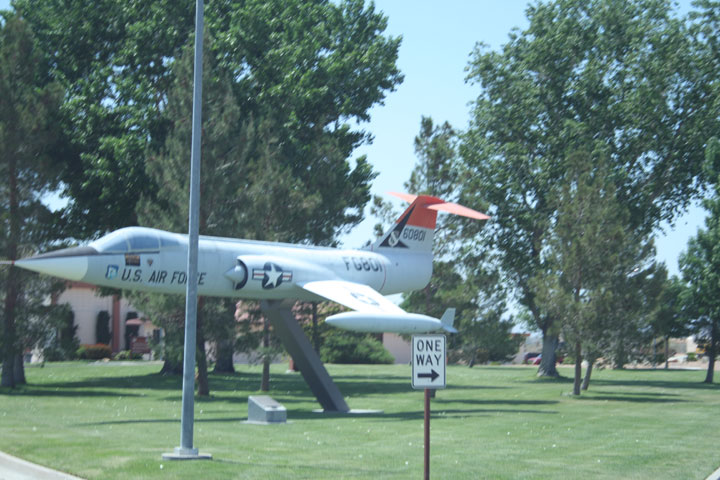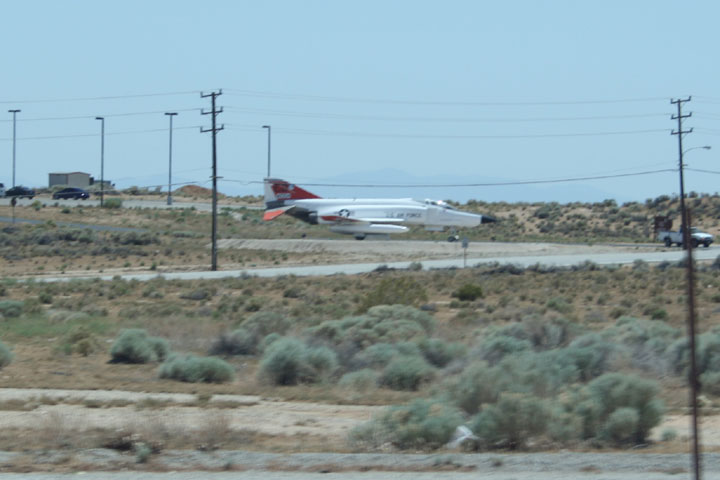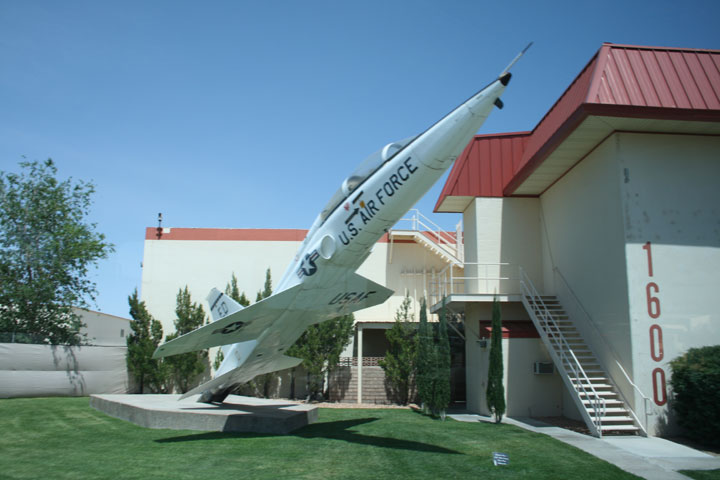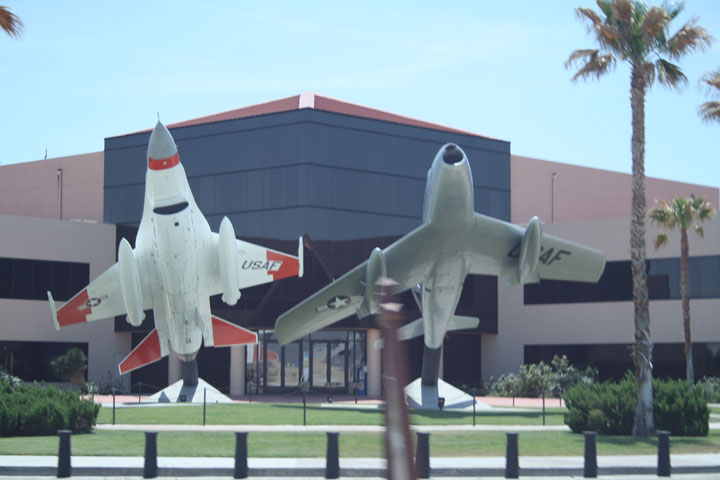 ---
Hemet: California Fire Air Attack Base at Airport, Lloyd M Venable Memorial Park S-2 May 2009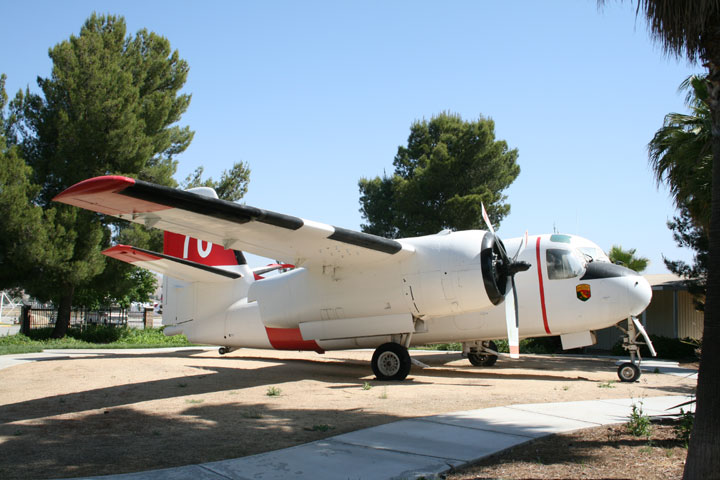 ---
Lancaster: Clear Channel Station Stadium F-18 May 2009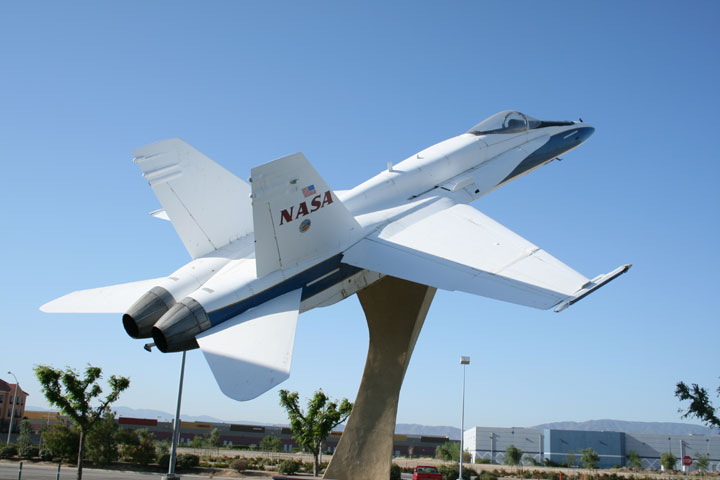 ---
Mojave: Airport Convair 990, EF-4C May 2009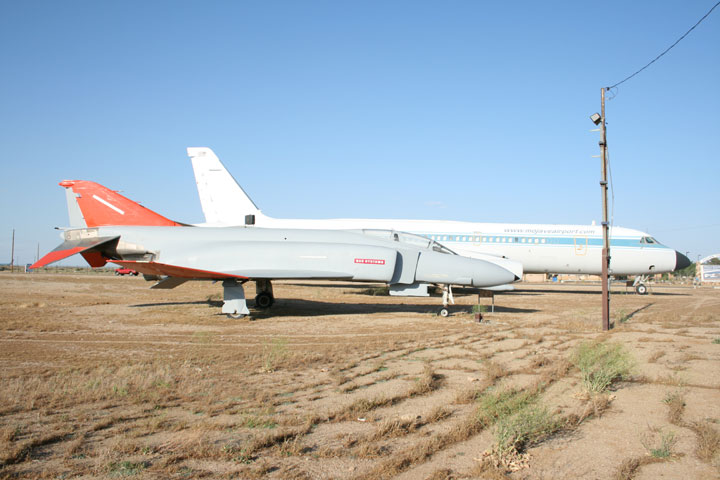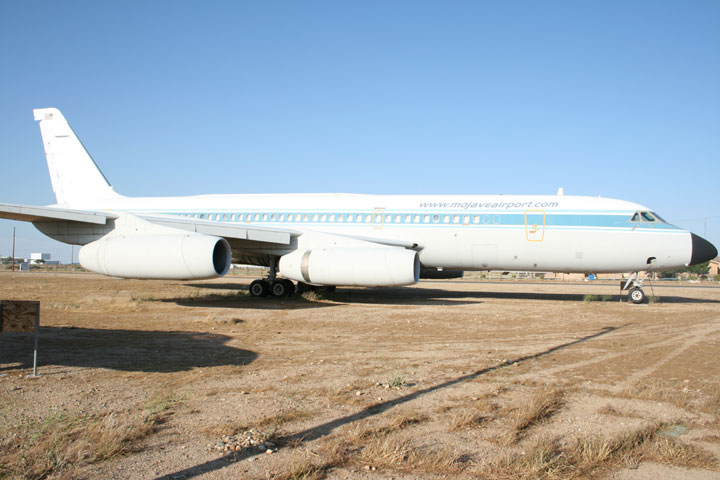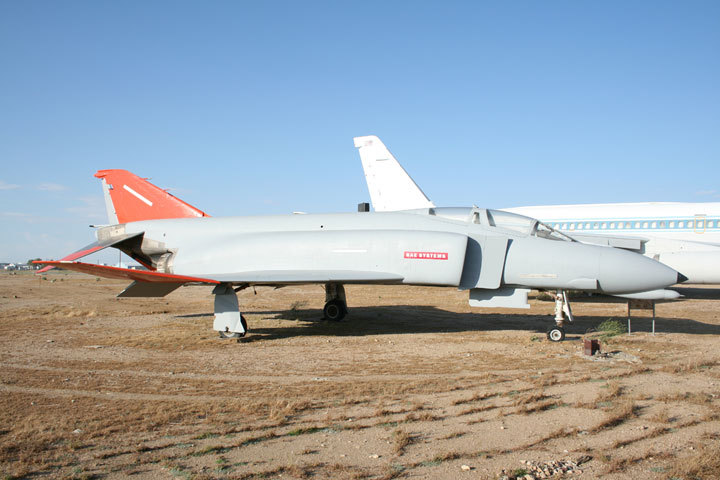 ---
Palm Springs: Palm Springs Air Museum May 2009
Aircraft in front of museum A-4, A-6, F-14, F-18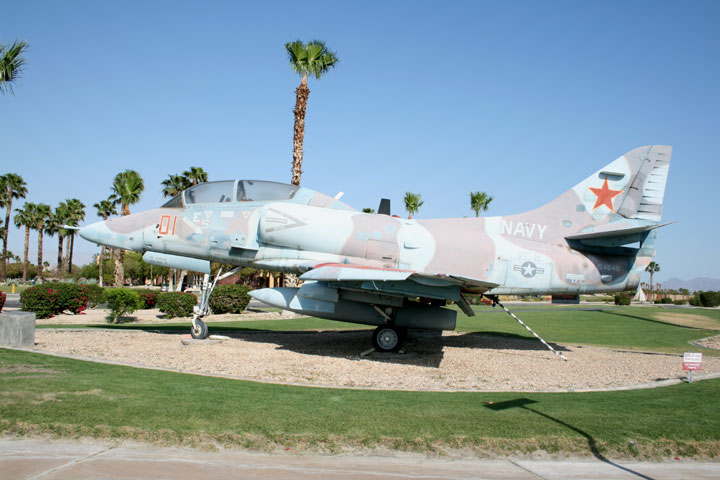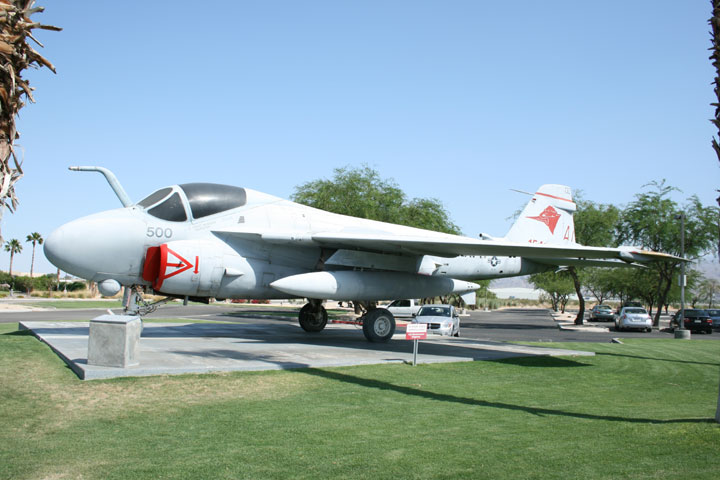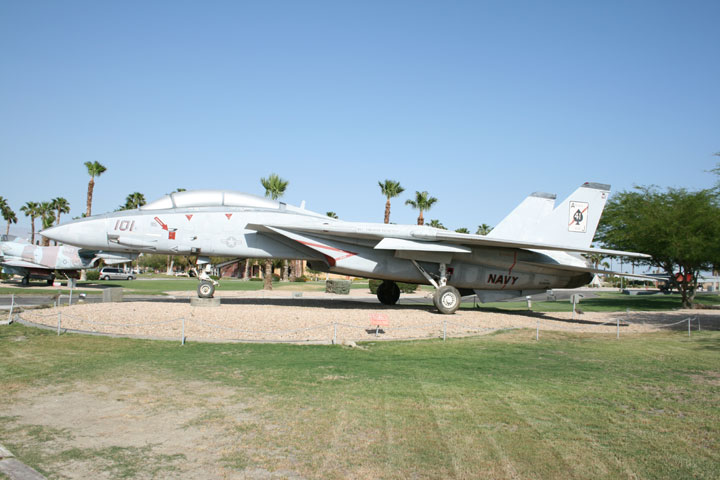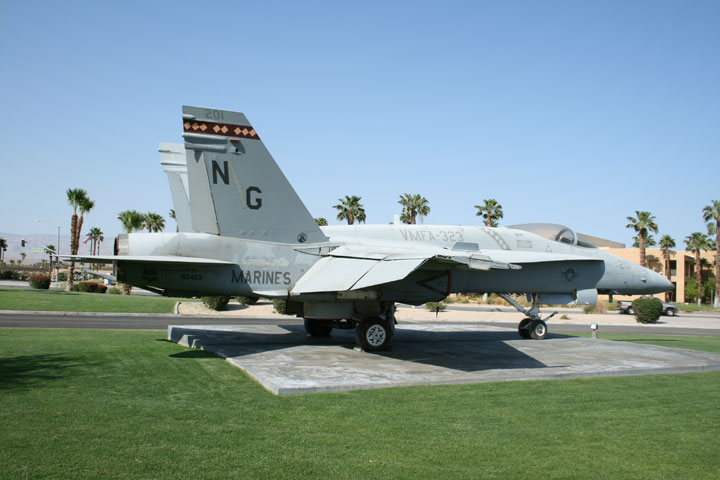 Aircraft in back of museum in 2010 that were not there in 2009: AH-1, PV-2, TBM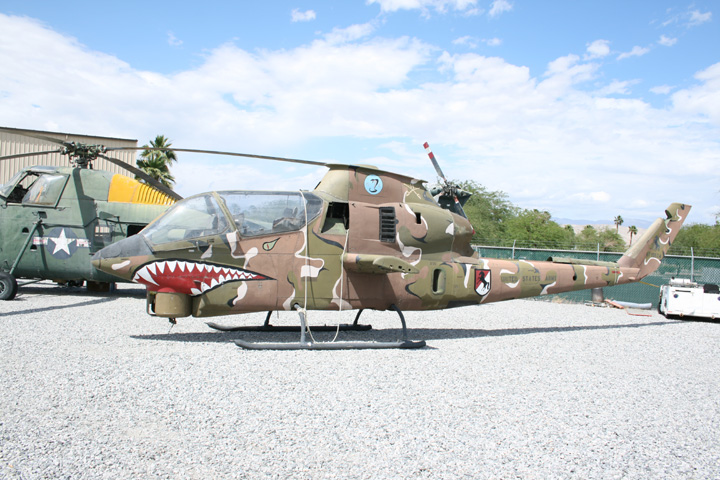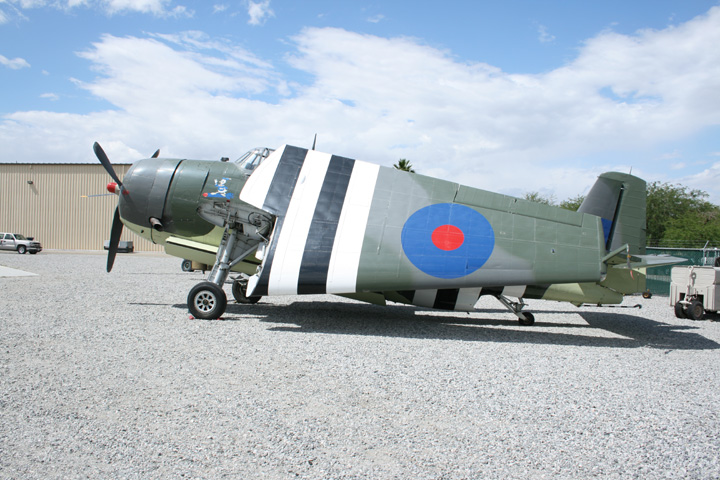 Aircraft in back of museum in 2009: C-1A, C-47, F-4, H-34, PBY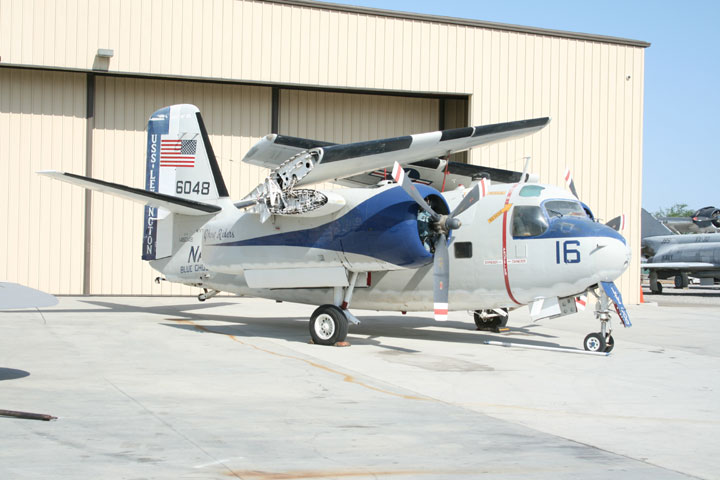 ---
Palmdale: Black Bird Park A-12, Drone, F-111, SR-71, U-2 May 2009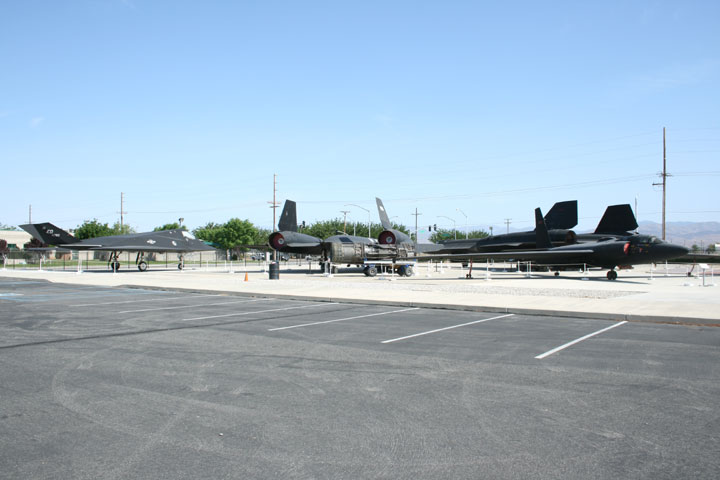 Taken from the parking lot this photo takes in the A-12, F-111A, SR-71 and U-2.
---
Palmdale: Joe Davies Air Park Lockheed Plant Plant 42 A-4, A-7, B-52, C-46, C-140, F-4, F-5, F-14, F-86, F-100, F-101, F-104, F-105, T-33, T-38, Triumph 143 May 2009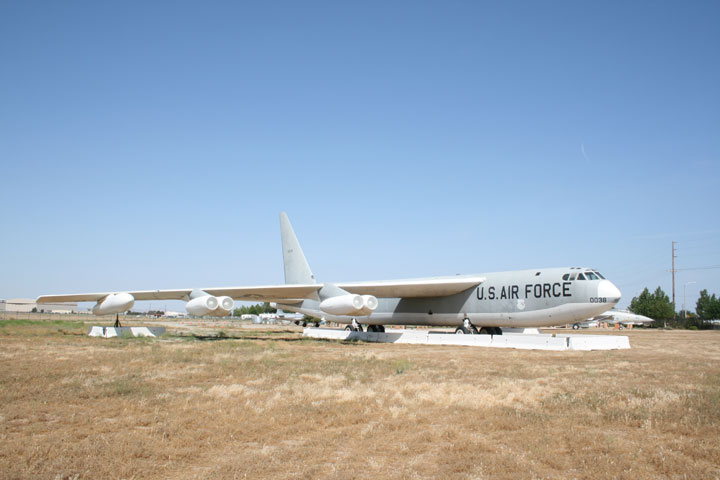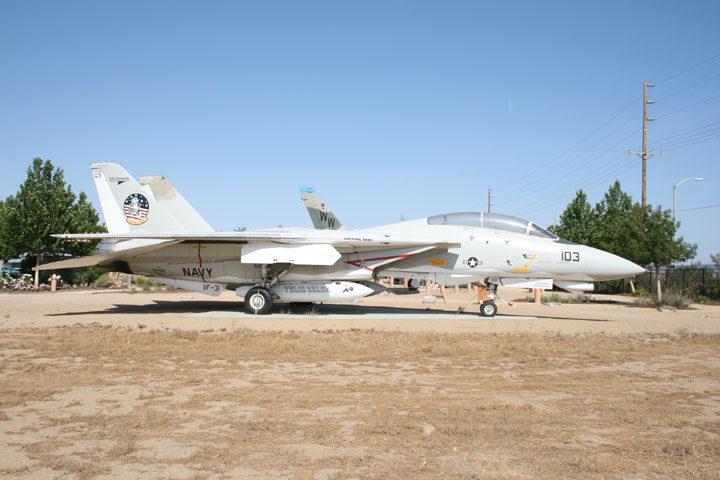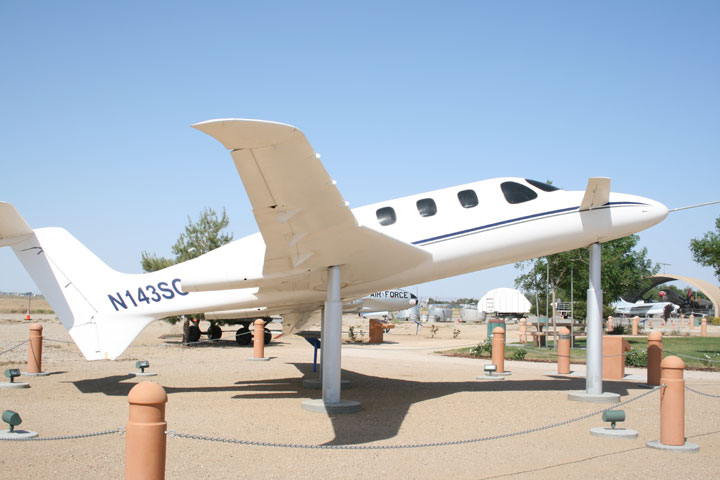 One of a kind Scaled Composites Triumph 143
---
Palmdale: Lockheed Plant Plant 10 F-16, F-104, T-33 May 2009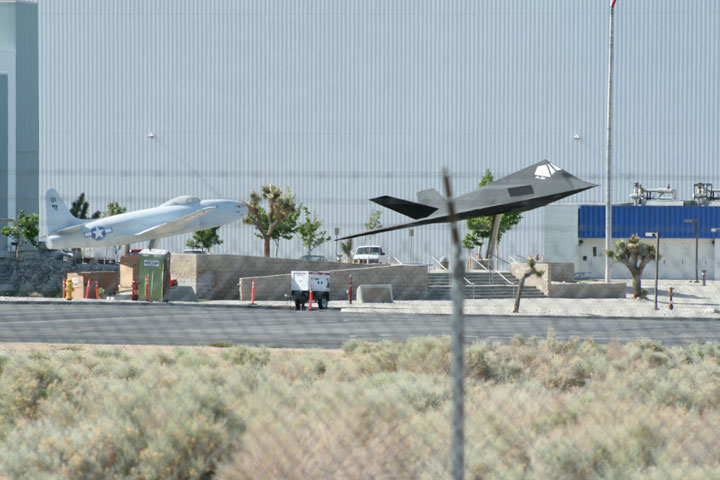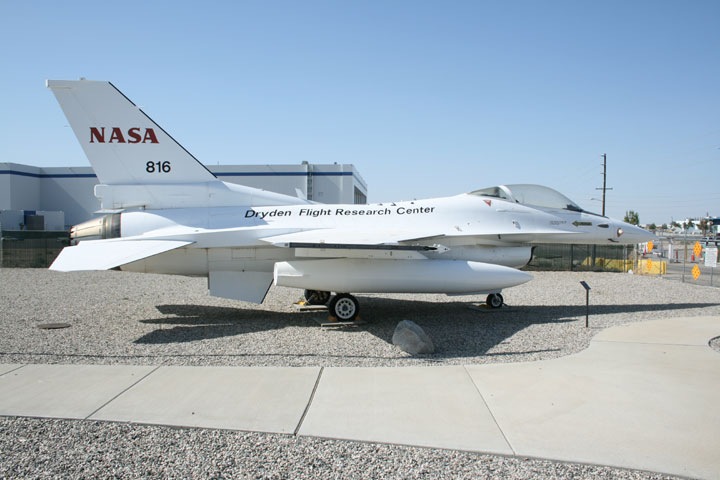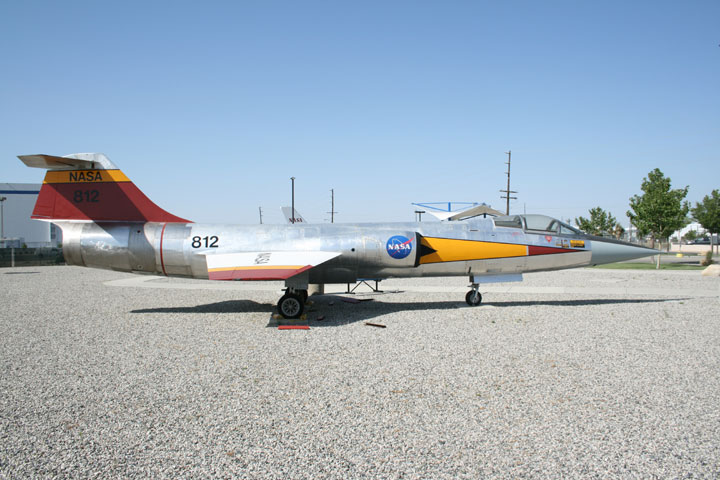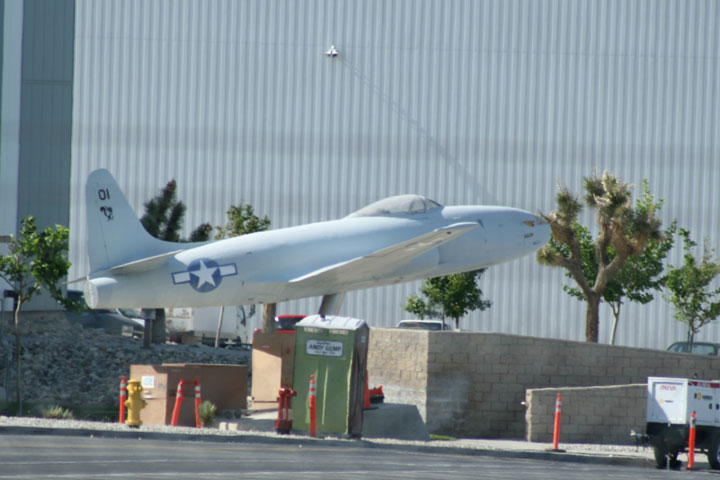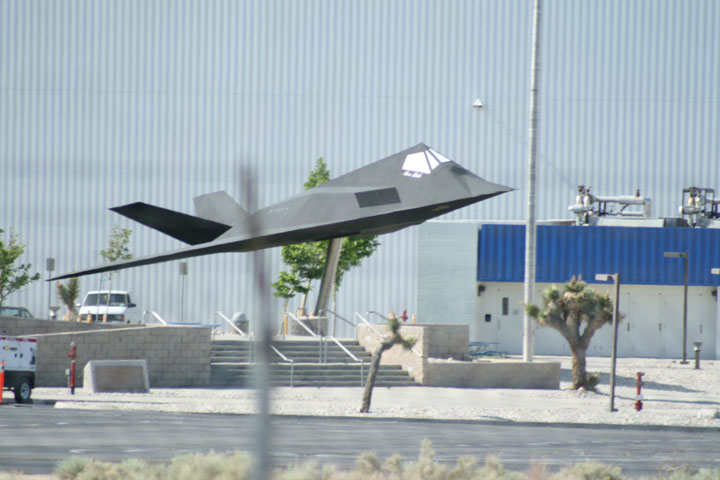 ---
Portersville: Airport A-4 May 2009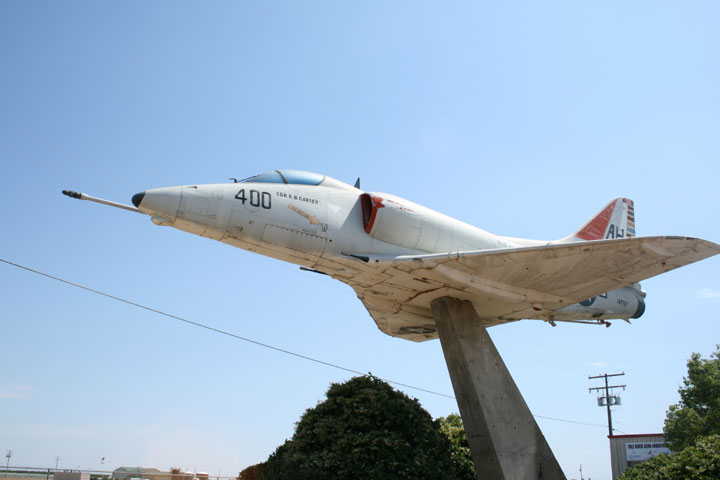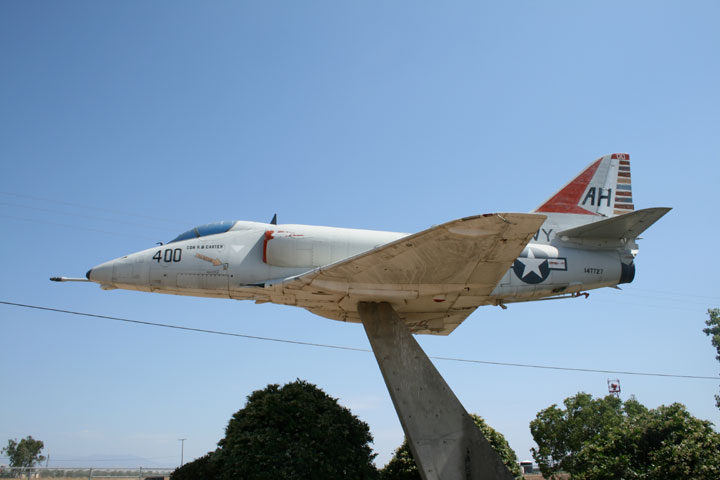 ---
Ridgecrest: Traffic Roundabout at China Lake Naval Weapons Center A-4 May 2010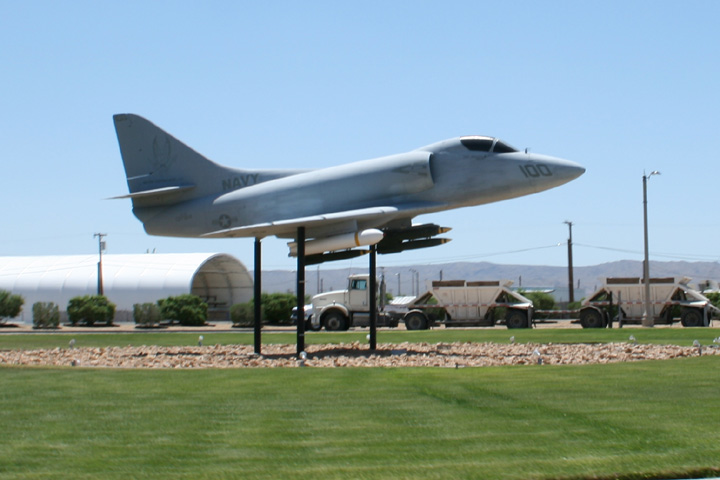 ---
Ridgecrest: Air Park at China Lake Naval Weapons Center A-4, A-6, A-7, F4D, F11F, FJ-1 May 2010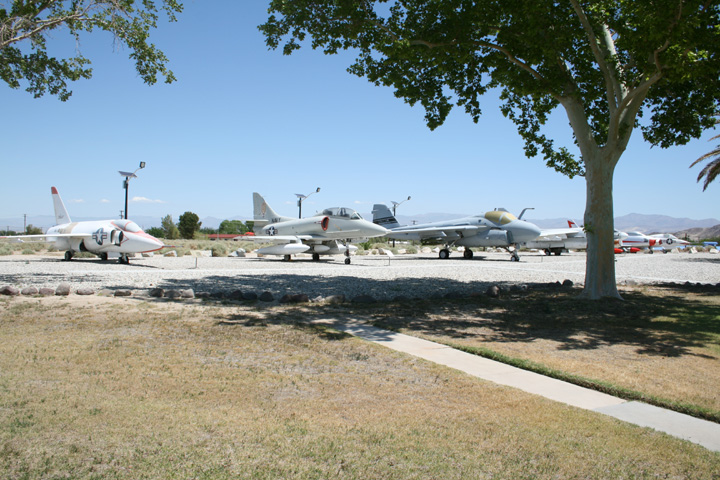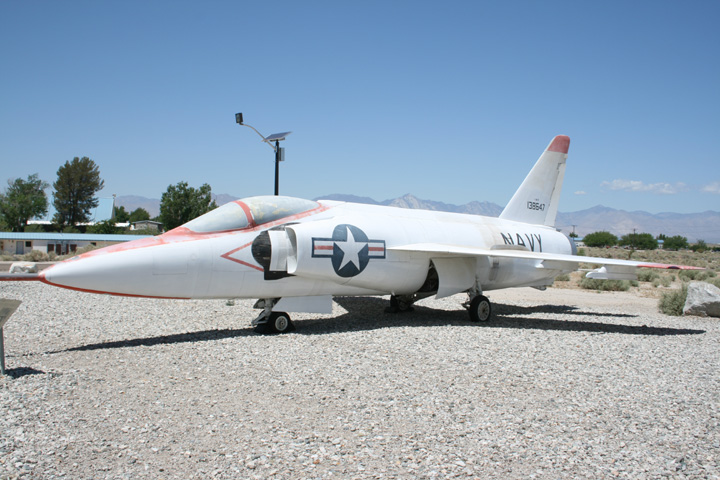 This particular Grumman F11F Tiger, Bureau Number 138647 set a world's altitude record of 74,939 feet on April 18, 1958. Then in the 70's it was the Gate Guard at the main gate a China Lake.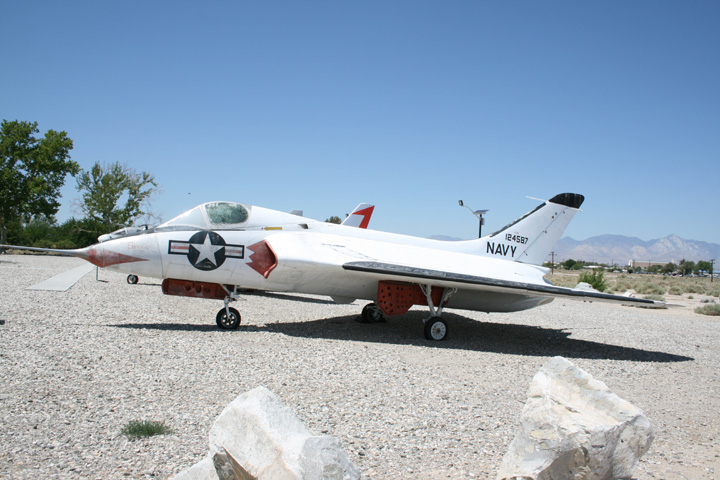 This Douglas F4D Skyray is also a world record holder and is one of the two prototypes built in 1950.. On October 3, 1953, over a 3km closed course, it set a world speed record of 725.944 mph.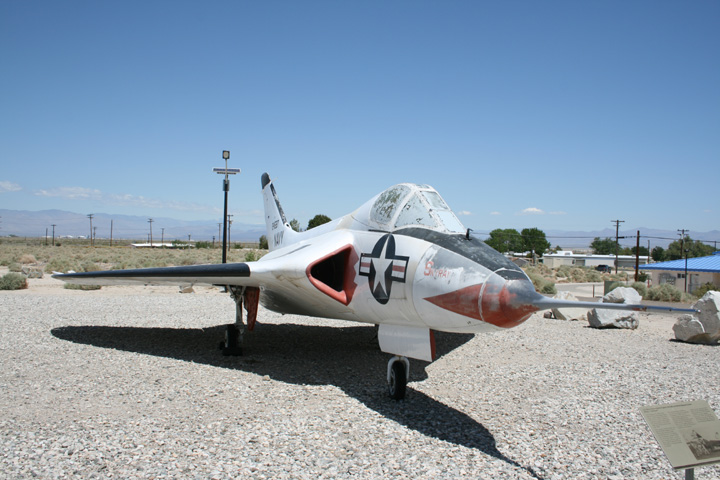 F4D 124587 then on October 16, 1953 set another world speed record on the 100 km closed course of 728.11 mph. 124587 is the only remaining Skyray prototype left.
---
Ridgecrest: Museum at China Lake Naval Weapons Center AD-4N, F-18A, Polaris AI May 2010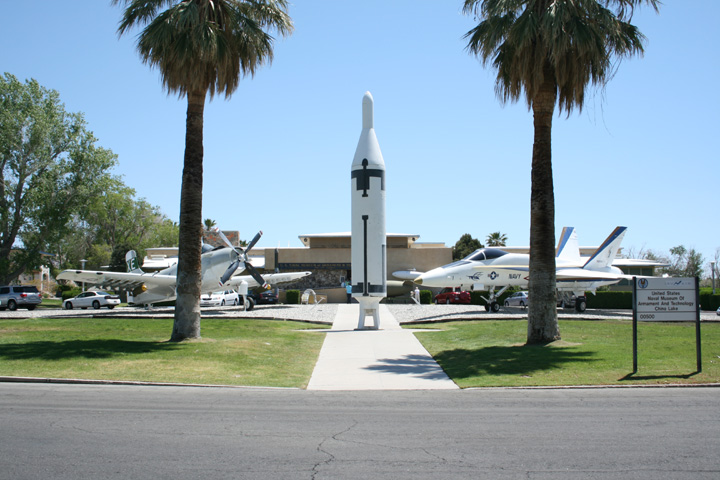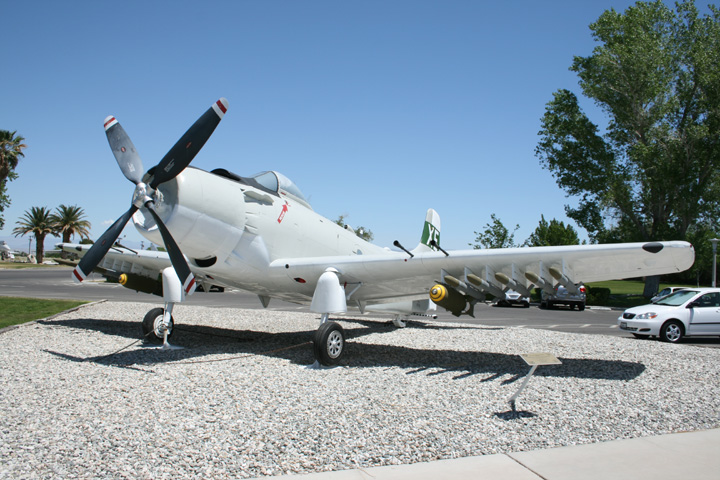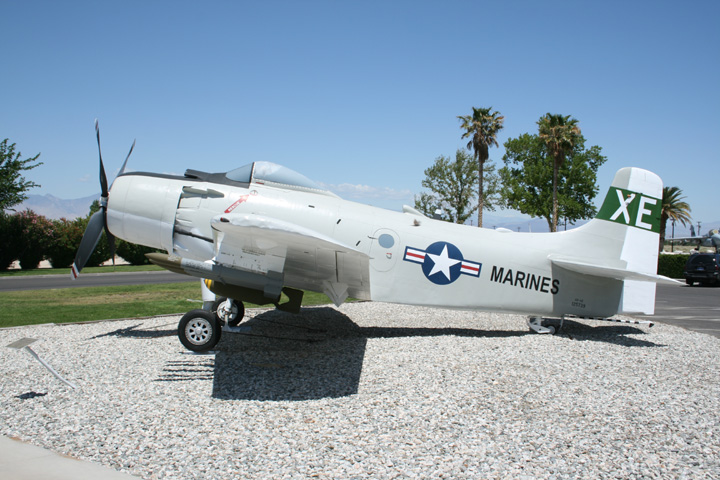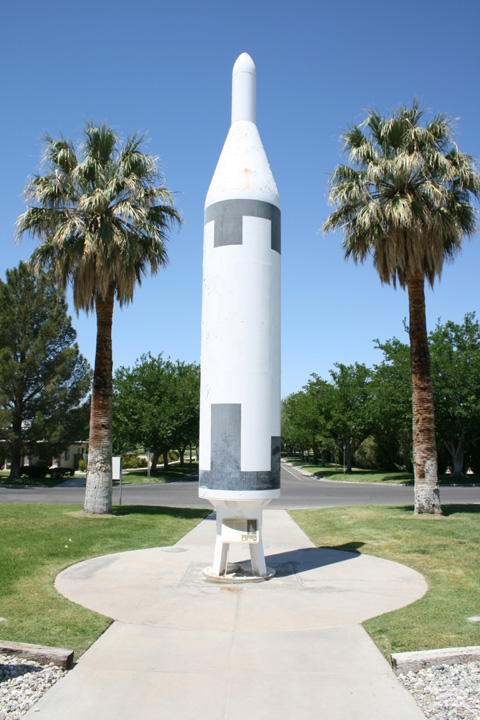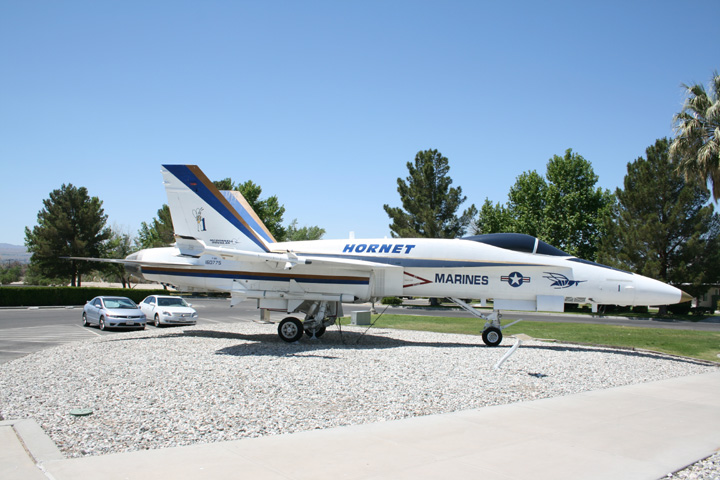 ---
Riverside: March Field Air Museum, P-38 Association Museum, Aircraft Display in front of the Museum May 2010
Outside on display: A-1, A-4, A-7, A-9, A-26, AH-1, AN-2, B-17, B-25, B-29, B-47, B-52, B-57, C-45, C-47, C-119, C-123, C-131, C-141, CT-39, D-21, (2)F-4. F-14, F-15, F-84C, F-84F, F-86, F-86L, F-89, F-100, F-101, F-102, F-104, (2)F-105, F-111, Gnat, HU-16, H-21, KC-97, KC-135, Mig-15, Mig-17, Mig-19, Mig-21, Mig-23, O-2, R50, SNJ, SR-71, T-33, T-37, U-9, UH-1, Val Replica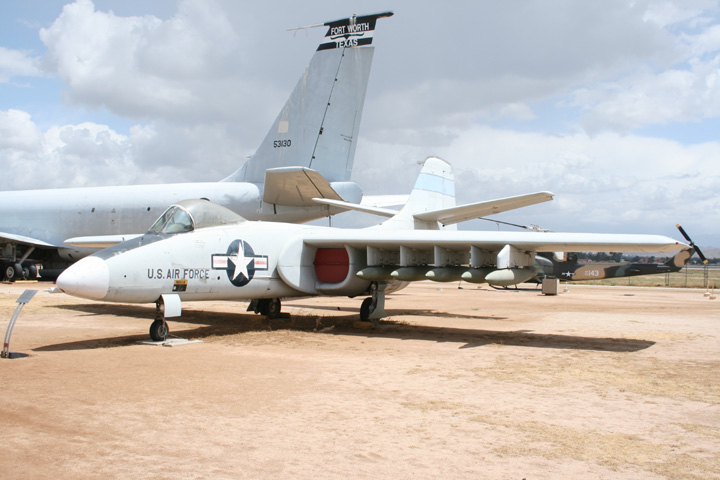 The rare, one of only two built, Northrop A-9.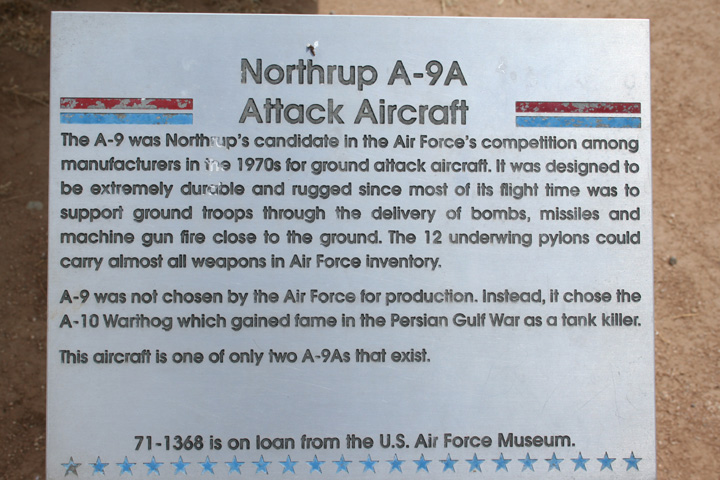 Note that the sign painter spelt Northrop incorrectly.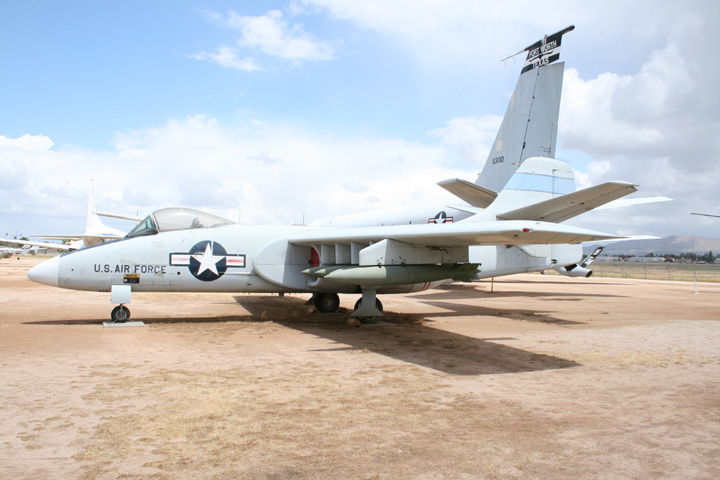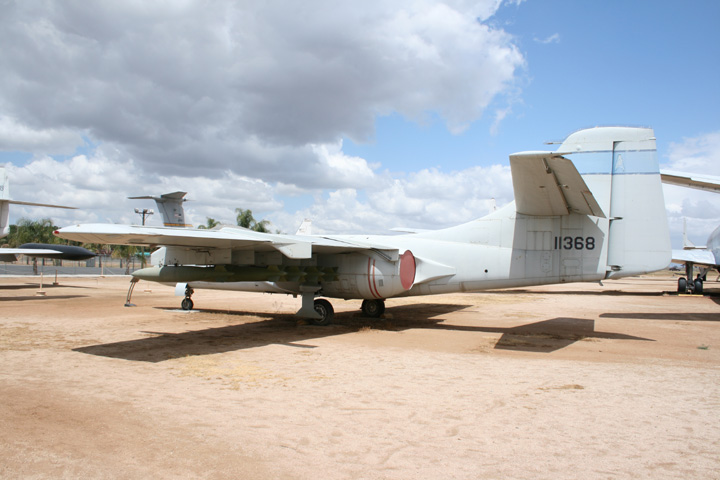 There are conflicting reports on where the second aircraft is. At one time it was at Castle AFB but it was not at the museum when I was there in May 2009 nor does the Museum there have it listed. Also Edwards AFB has been named as a location but it is not at the museum there. However, there are many displays located all over the base where it could be. Also Aerial Visuals does not have it listed on its database anywhere.

This photo gallery contains the outside display aircraft:
This photo gallery contains the outside display aircraft noseart:
Display at the front of the Museum: A-37, T-38, Minuteman II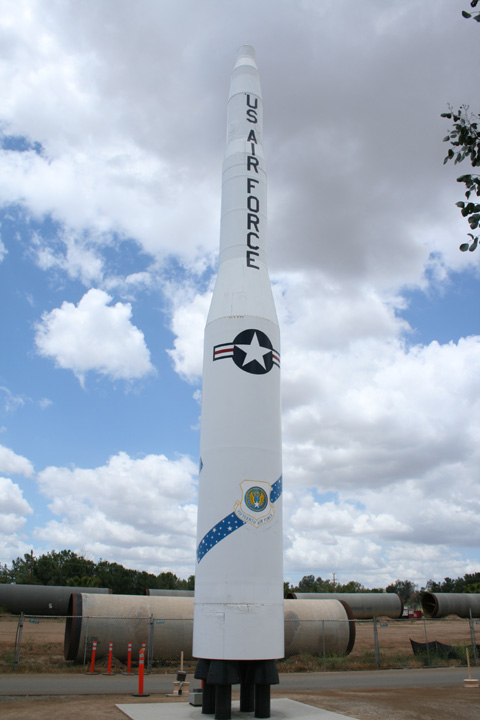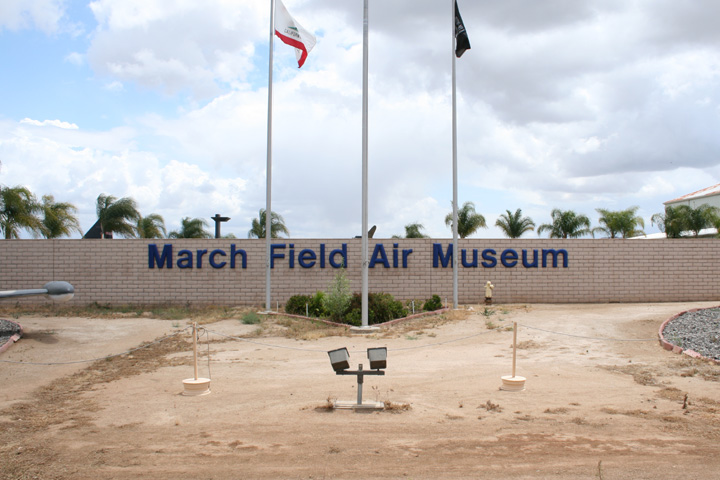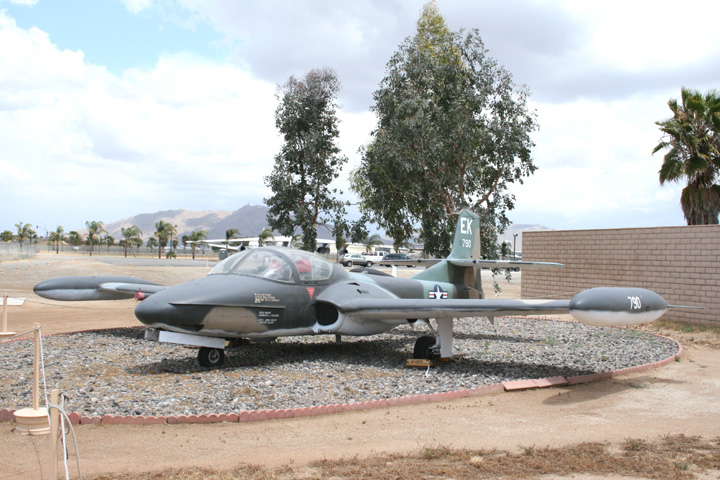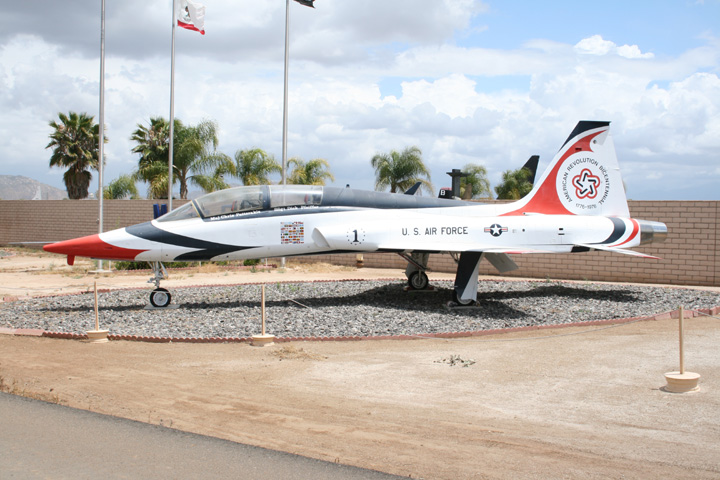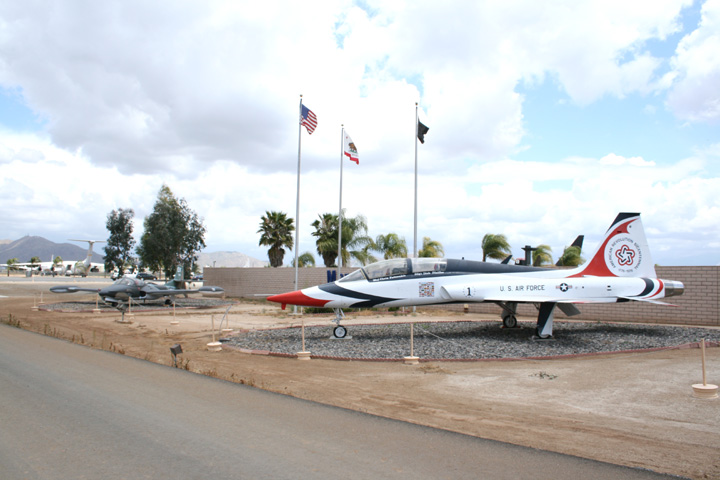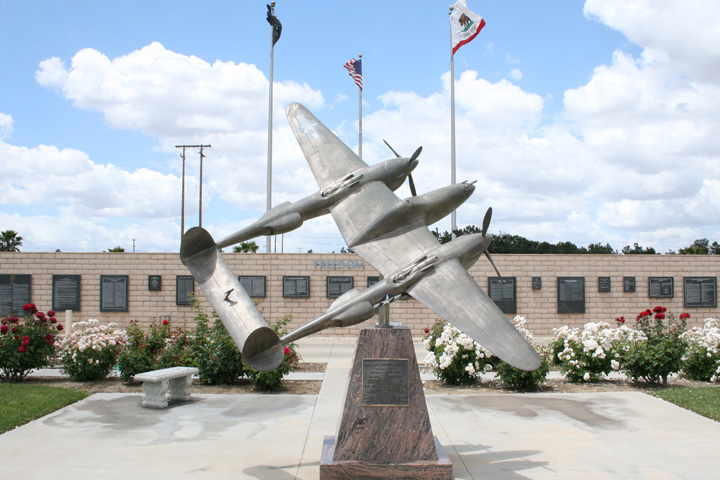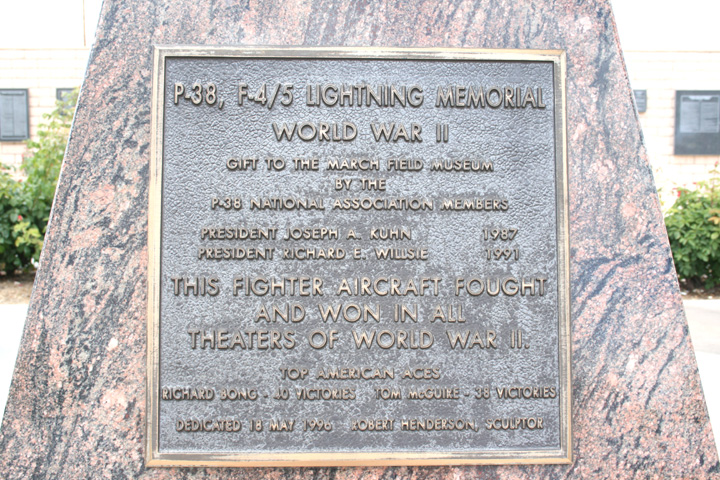 Inside the Museum on display: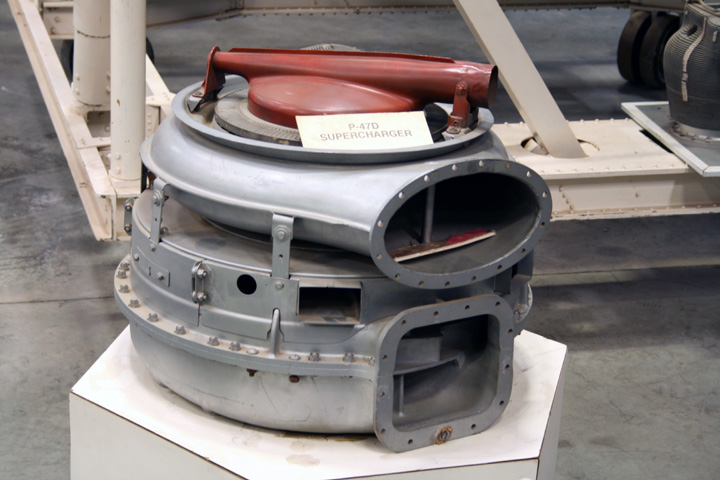 Turbo Charger from a Republic P-47.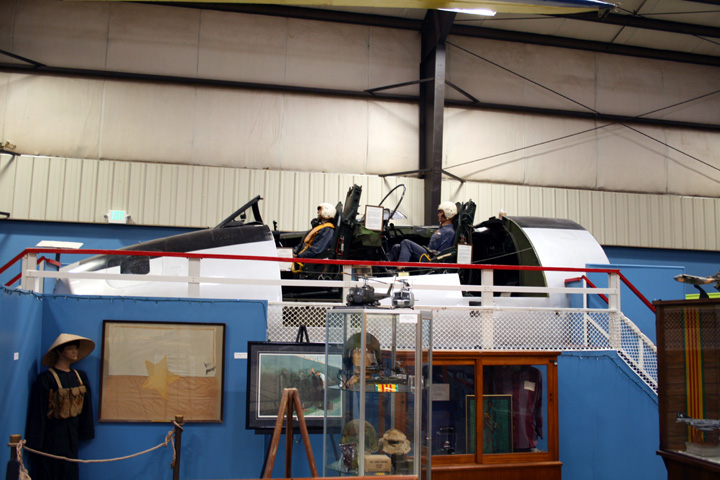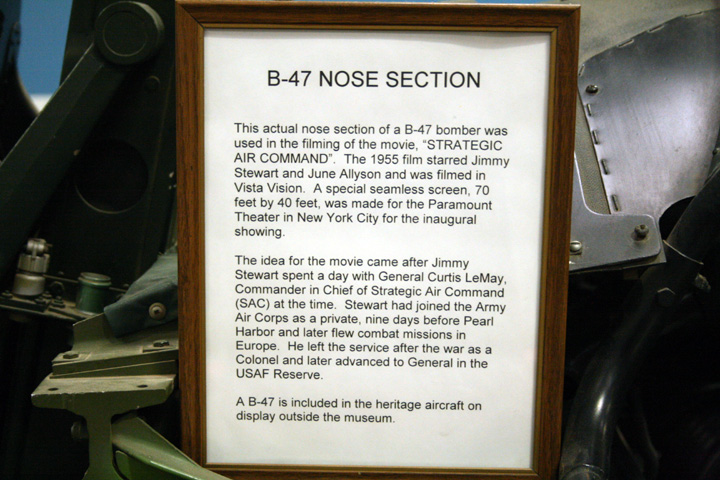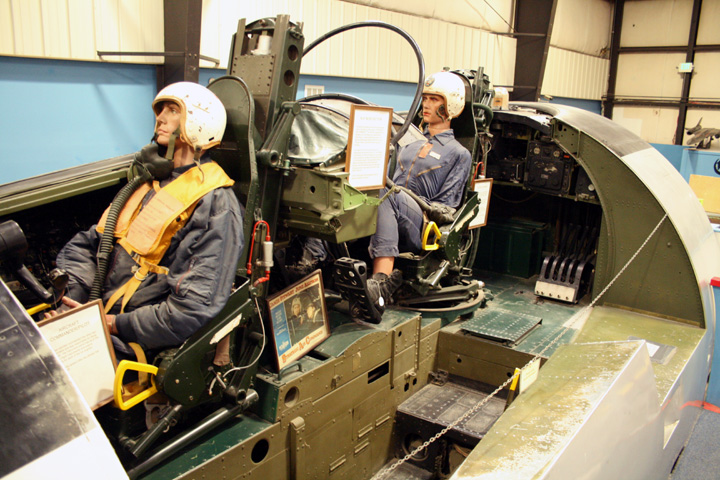 There is space on the side of the cockpit for crewmembers to use to move around in during flight.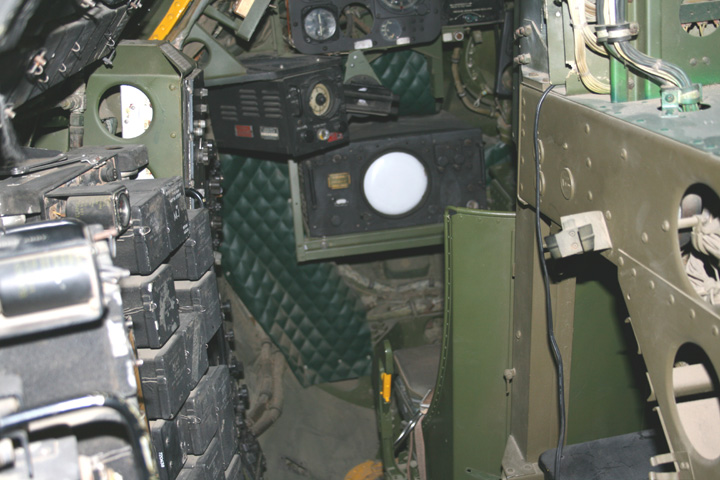 This is looking down into the bombardier/navigator's position in the nose. Part of his green seat can be seen behind the radar scope.
See the photo gallery below for more photos of this fascinating display.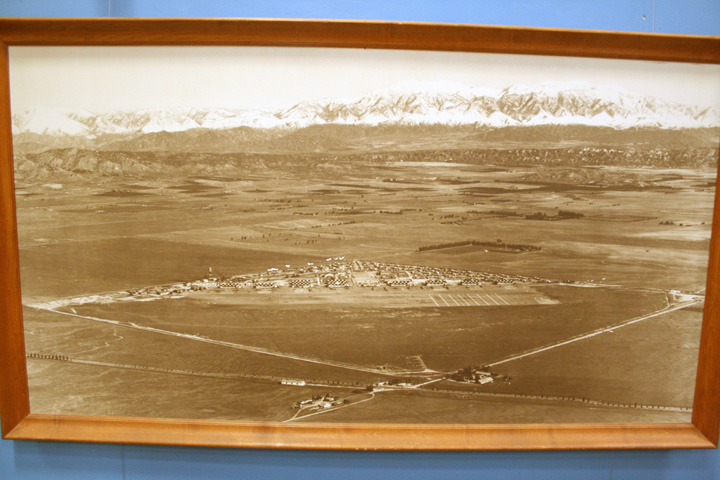 In 1940 there was nothing around March Field but farmers' fields. Today it is wall to wall people and civilization.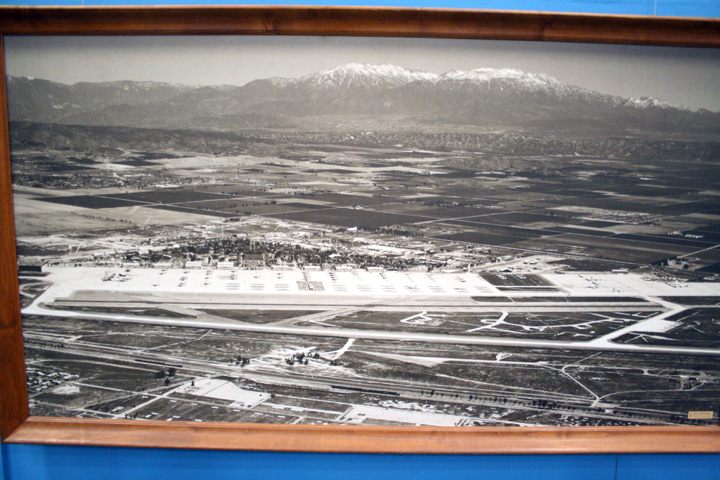 Runways are being added and there looks to be civilization creeping in. Bob Hope did his first USO show at March Field.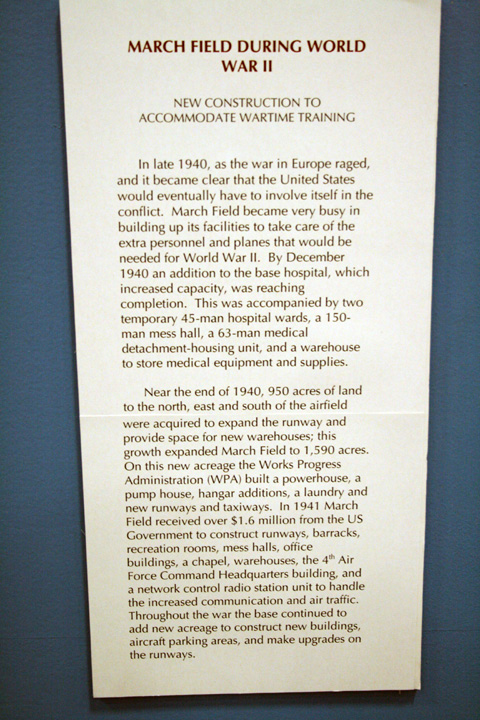 Inside the P-38 Association Museum on display: This is on the same grounds to the March Museum and admission paid when coming into the March facility gets one into the P-38 building at no extra cost. However, the P-38 building may only be open on weekends.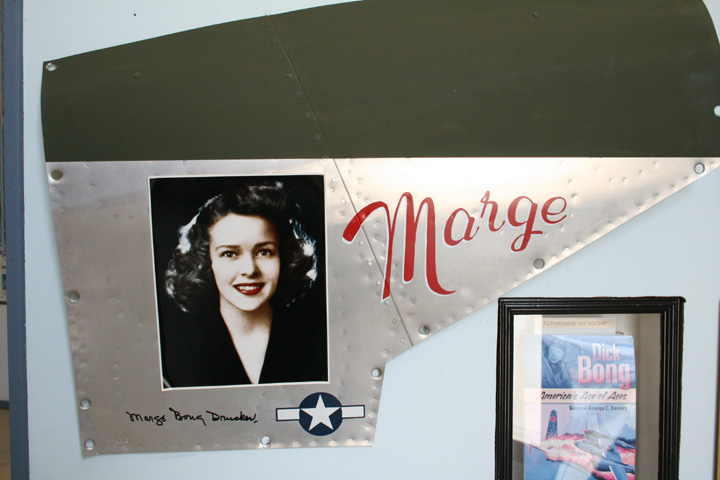 A replica of Dick Bong's P-38 nose art signed by his wife Marge Bong Drucker. Mrs. Drucker passed away at age79 in 2003 and in the later stages of her life returned to Superior WI, to work on the opening of the Richard I Bong Veterans Historical Center in that location.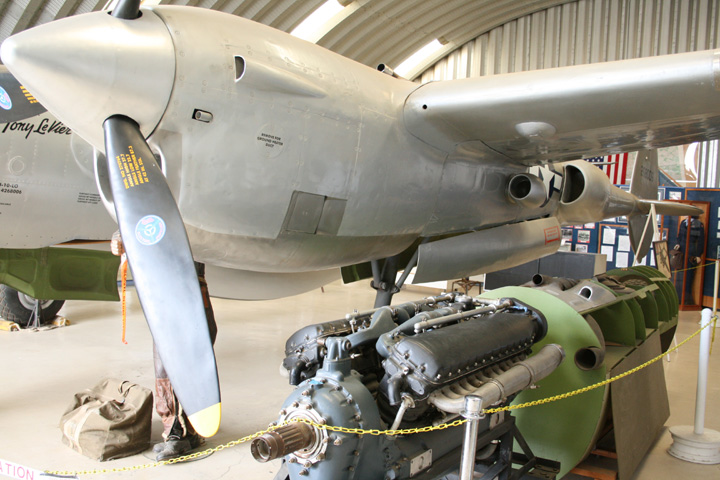 Inside the P-38 Museum is a full size replica of a Lightning along with the Allison V-1710 above.
---
Sacramento: The Aerospace Museum of California at McClellan Park A-1, A-4, A-7, A-10, C-45, C-47, C-119, C-131, EC-121, Falcon 10, F-4, F-15, F-80, F-84, (2)F-86, F-100, F-101, F-102, F-104, F-105, F-106, F-111, HH-3, Mig-17, Mig-21, S-2, T-6, T-28, T-33, T-39, May 2009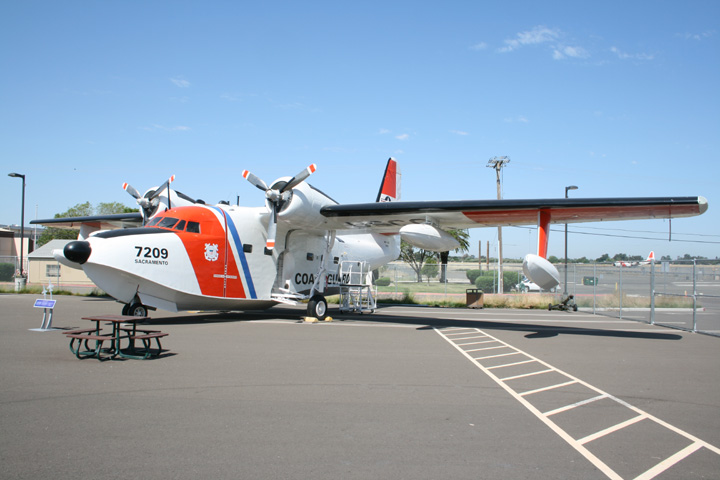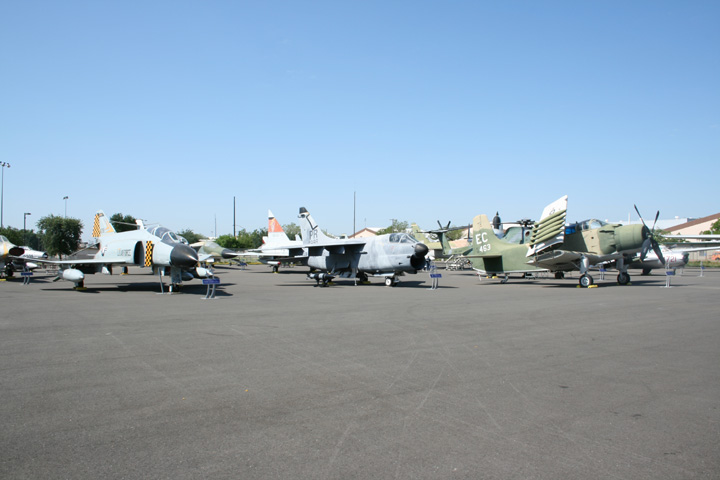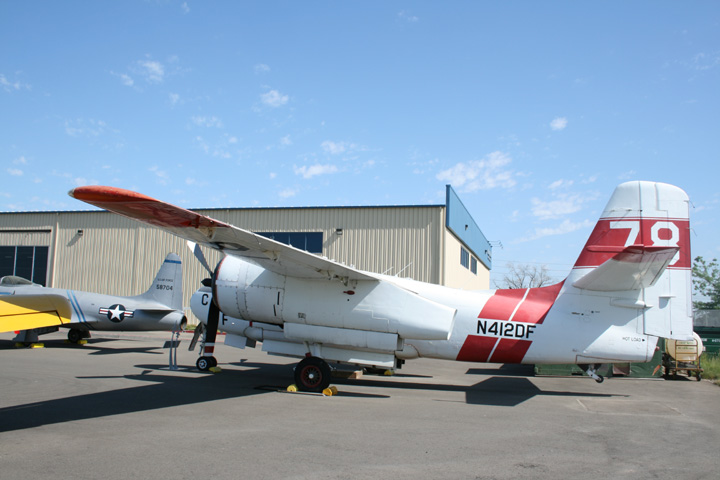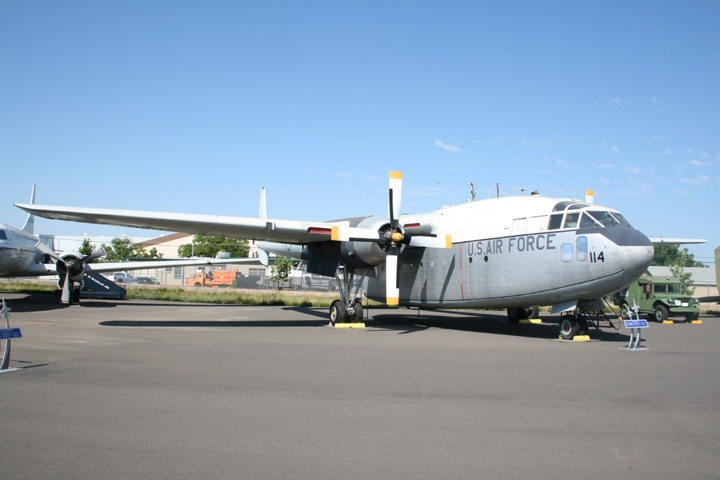 ---
San Diego: San Diego Air & Space Museum A-12, Sea Dart May 2009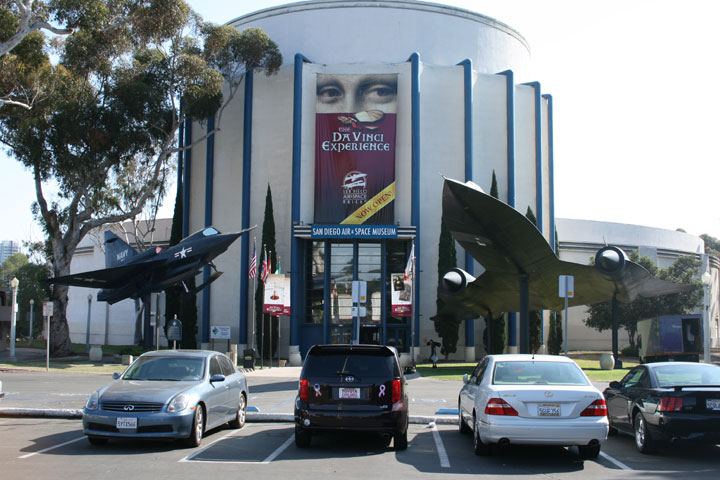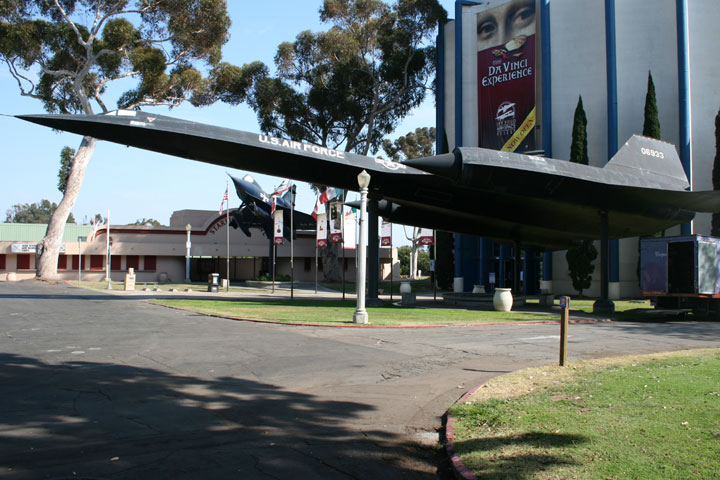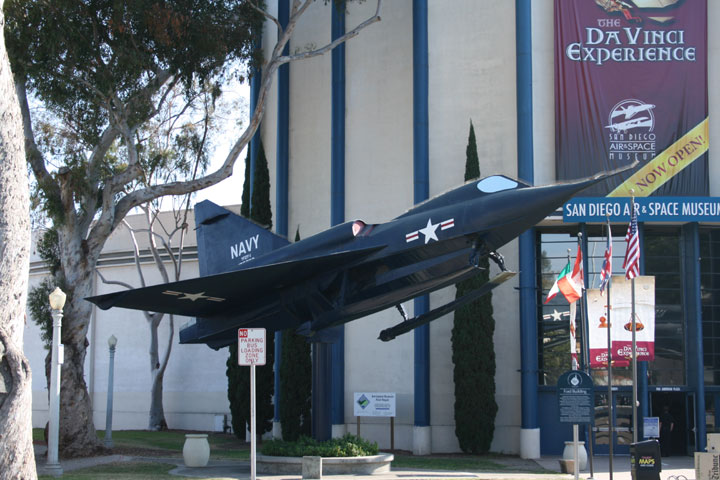 ---
San Diego: Flying Leatherneck Aviation Museum, Miramar Marine Air Station (4) A-4, A-6, AH-1, CH-34, CH-46, CH-53, FJ, F3D, F4U, F-4D, F9F, F9F-8P, (2)F-4, F-5, (2)F-8, F-18, HRS-3, HUP-2, OV-10, PBJ, SNJ, TBM, May 2009 - This is currently an outside display for the aircraft, with a small but well laid out in door museum. Plans are being laid to build a larger facility and move many of the aircraft inside.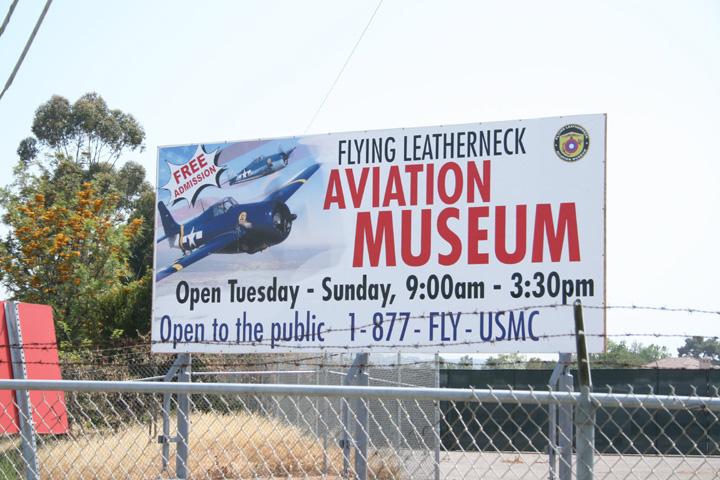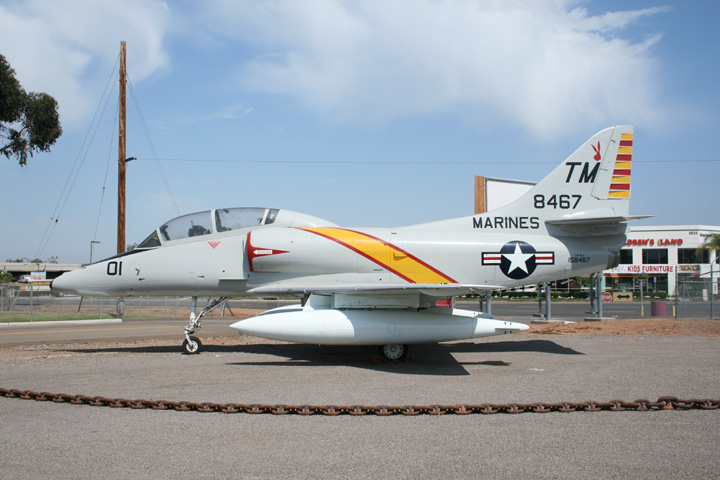 One of four Skyhawks on display at the museum.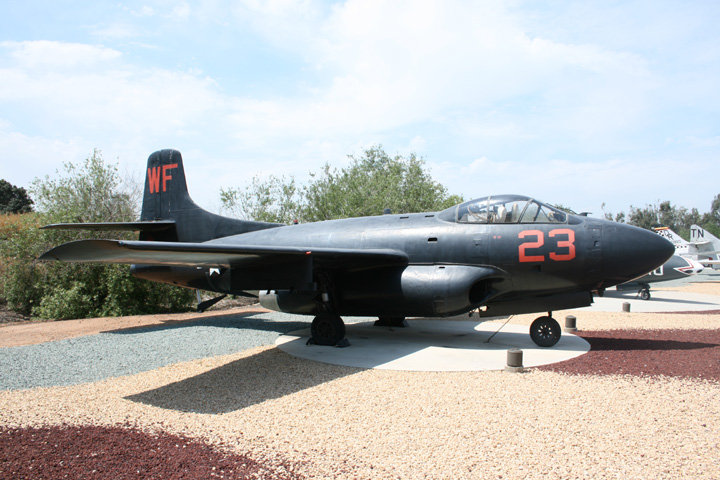 Very rare Douglas F3D Skyknight.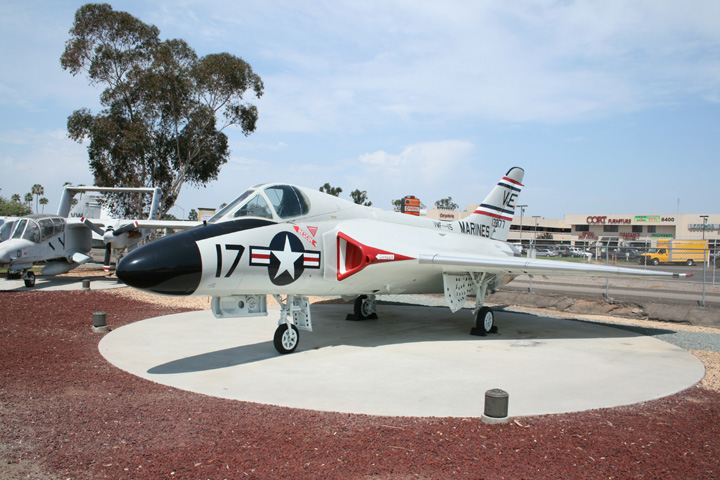 A just as rare F4D Skyray.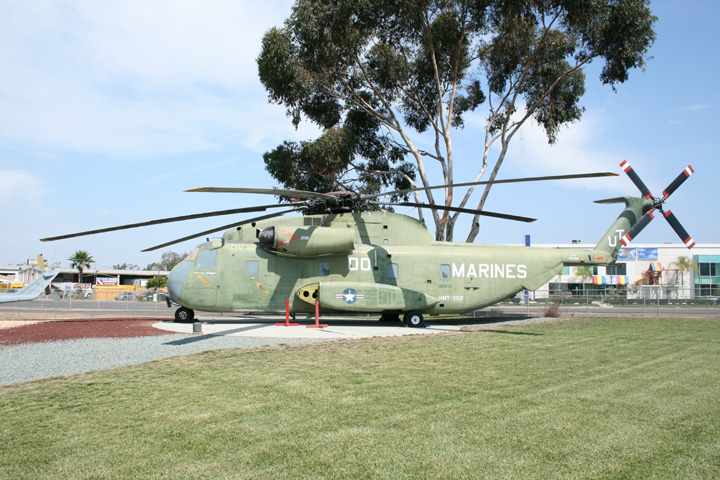 According to one of the docents at the museum, this was the last helicopter out of South Vietnam in 1975. He should know because he was on it at the time.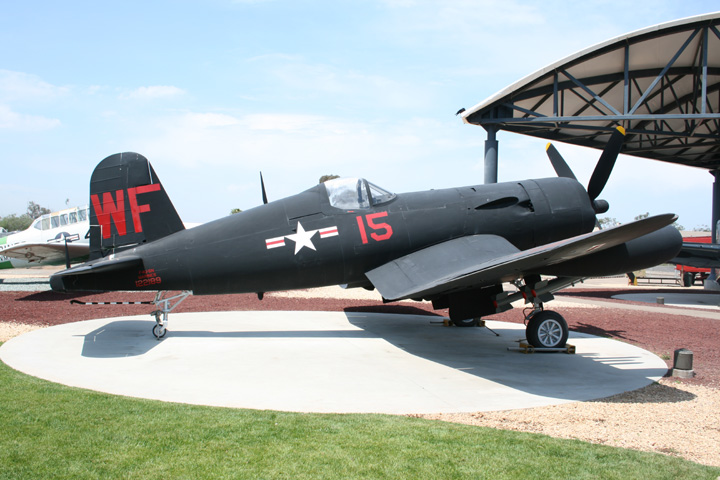 Nice F4U Corsair.
---
San Diego: USS Midway A-1, A-3, A-4, RA-5, A-6, A-7, C-1A, CH-46, E-2C, F9F, F9F-8P, F-4, F-8, F-14, F-18, S-3, SBD, SH-2, SH-3, SH-34, SNJ, T-2, TBM, UH-1 May 2009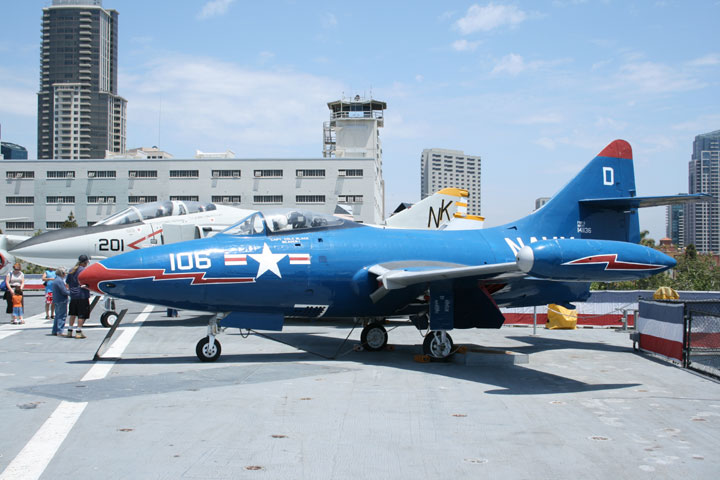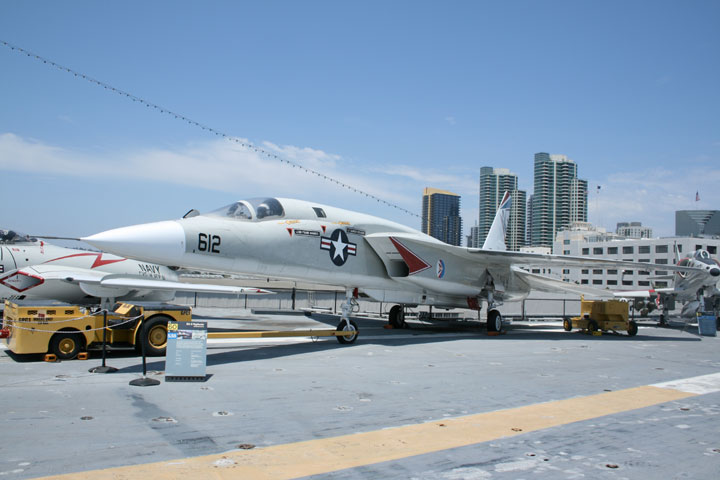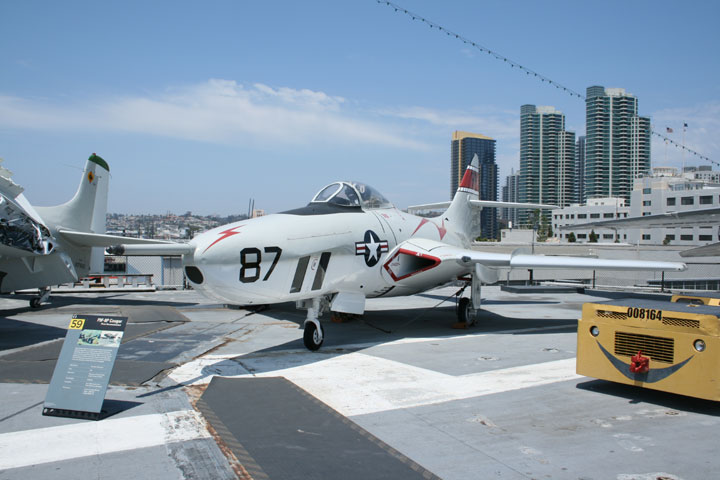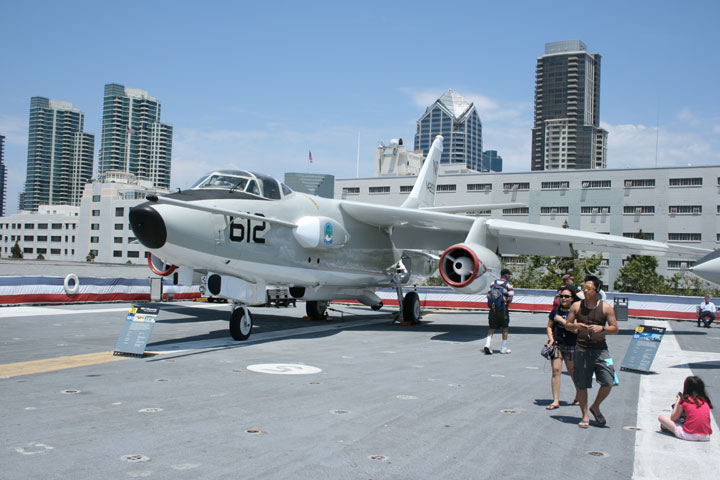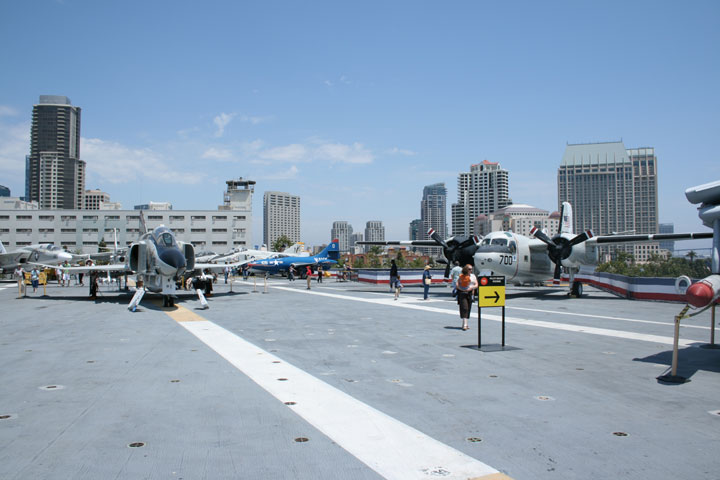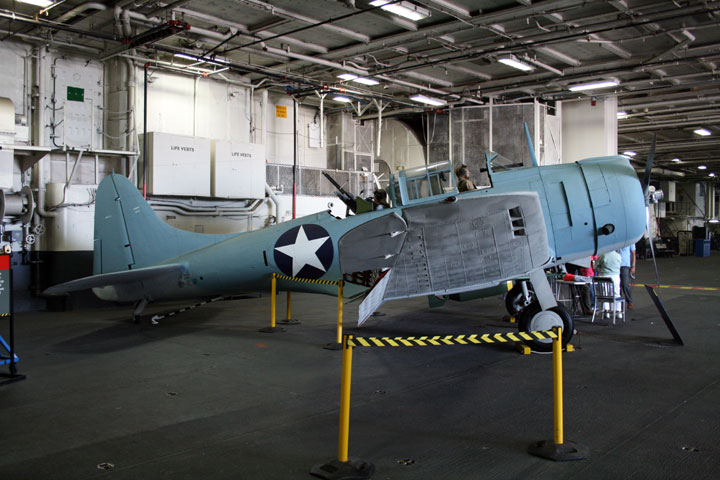 ---
Santa Monica: Donald Douglas Tribute south side of Santa Monica Airport DC-3 May 2010 - This display seemed to be rather new and is also the site of the new home of The Museum of Flying which closed and sold its aircraft many years ago.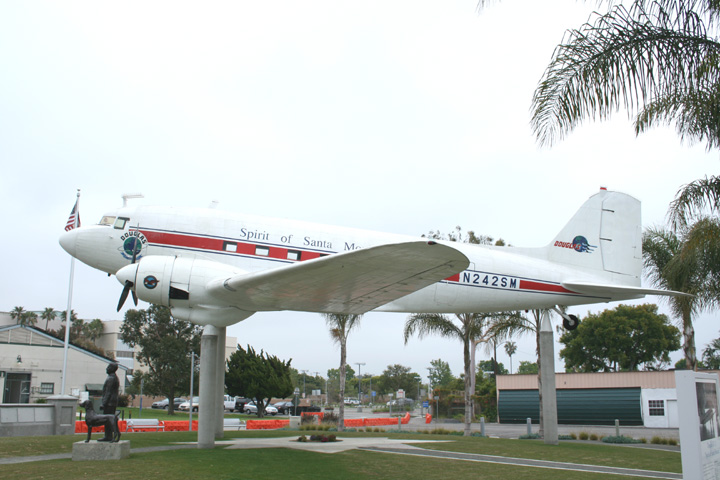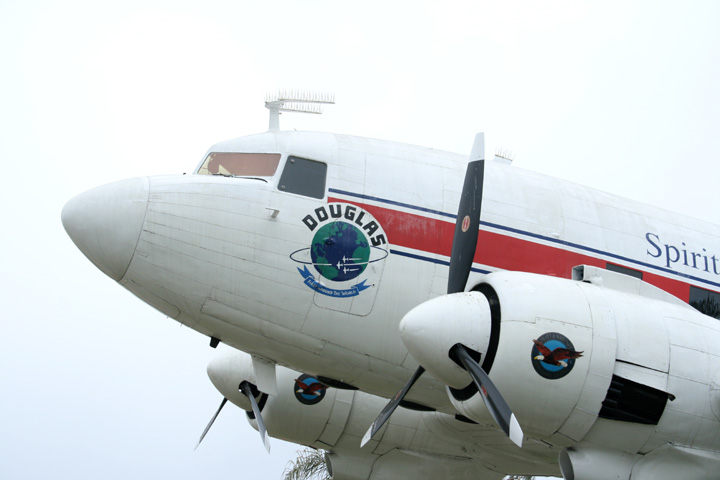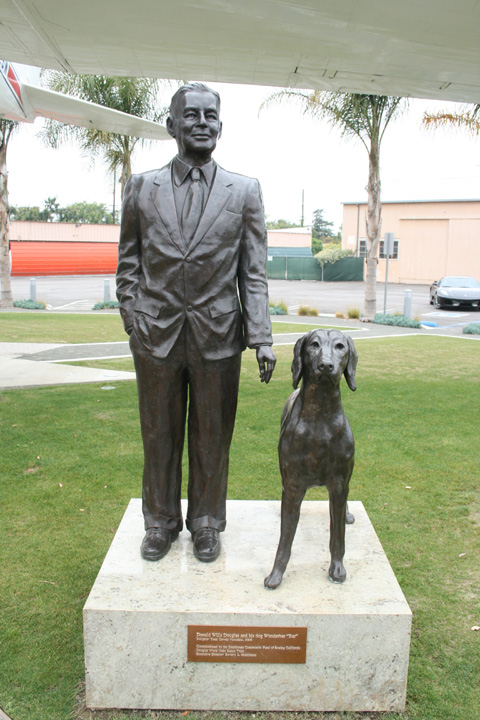 ---
Santa Rosa: Pacific Coast Air Museum at Charles Shultz Airport A-4, A-6, A-7, A-26, AV-8C, CH-34, D-21, F-4, F-5, F-8, F-14, F-16, F-84, F-86, F-105, F-106, HU-16, IL-14, S-2, T-33, T-37, T-38, UH-1 May 2010 - All of the aircraft are outside at the Museum. Since I was there it has aquired an F-15 that was a first responder on 9-11 out of Otis Air National Guard Base in MA.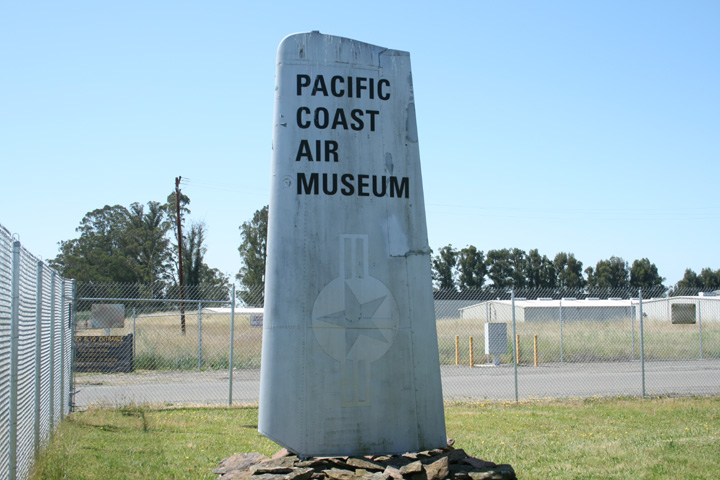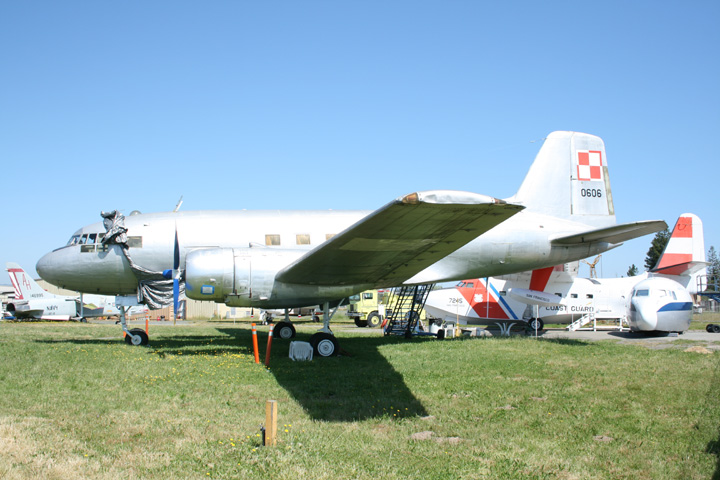 This IL-14 was was purchased by PACM from the US Government and flown to this location from Stead AFB in Reno, NV. It had been purchased to better understand Soviet air cargo capability but the end of the Cold War erased that need. This is the first one I have seen on display.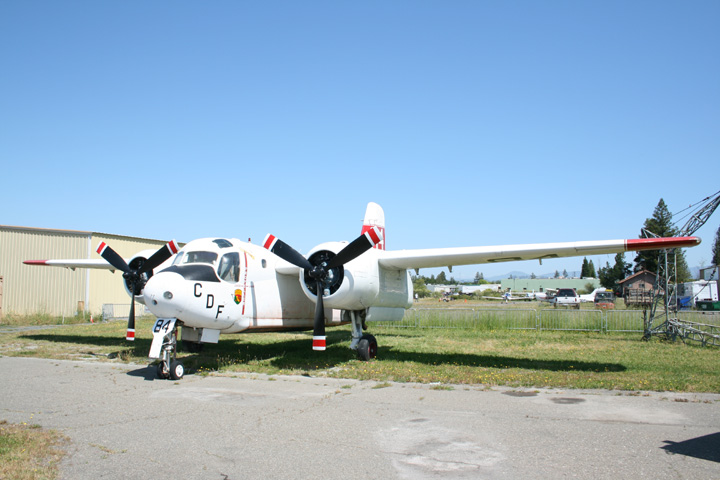 This S-2 is a veteran of not only the US Navy but of the CDF as an air tanker in California fighting forest fires.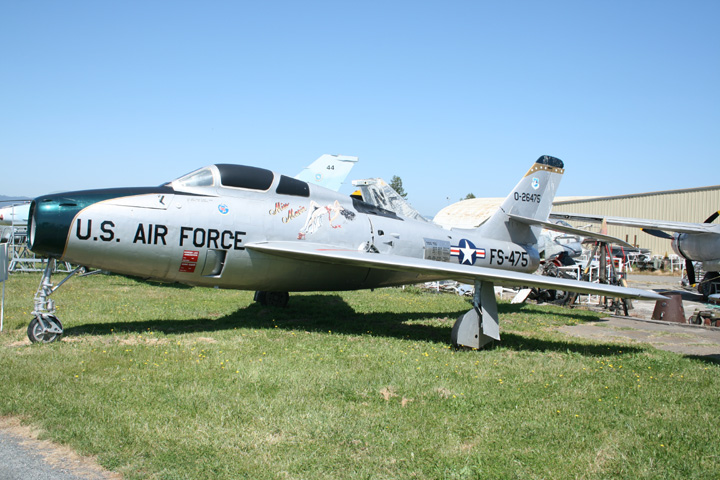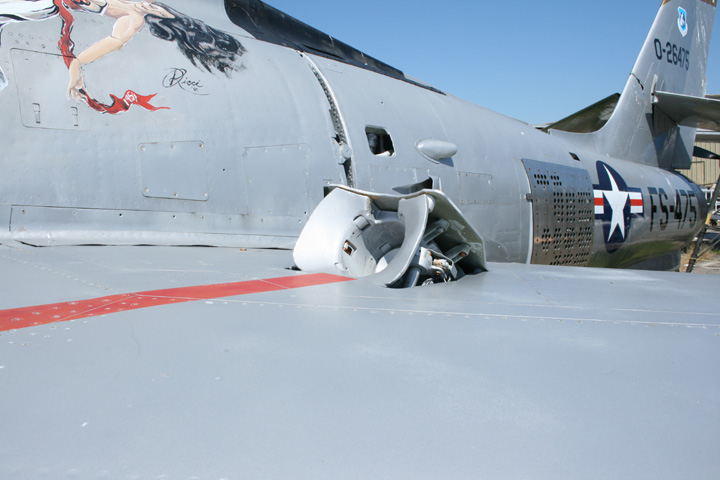 The refueling receptacle on the F-84.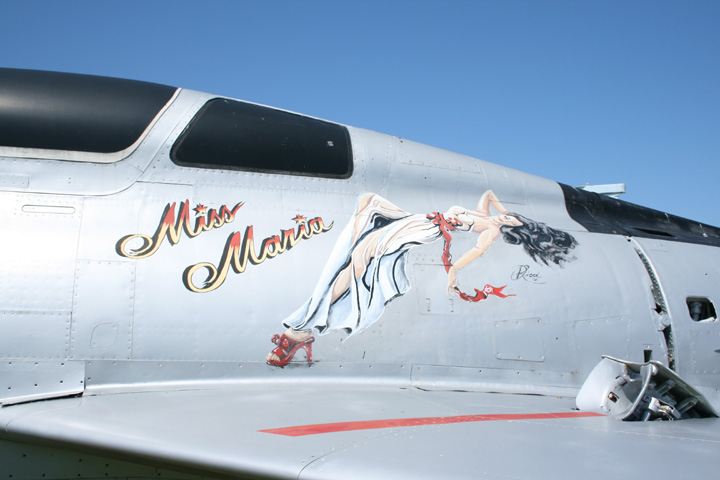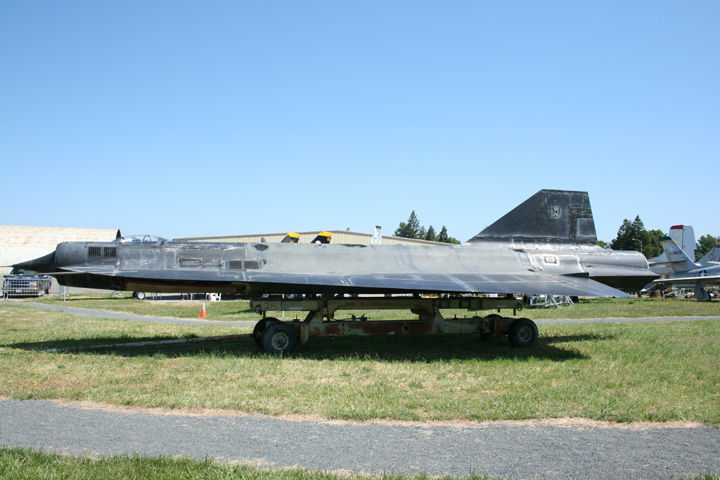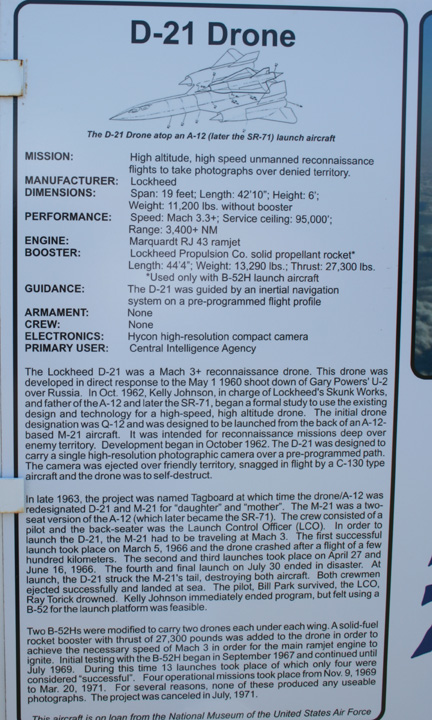 ---
Stockton: American Legion Post 632 at the Stockton Airport AH-1 May 2009 - This Cobra may not be in location for very much longer. The airport is undergoing extensive redevelopment. The only two WWII era buildings left are the Legion pictured behind the UH-1 and a old warehouse building to the north. The Legion is in what appears to be an old "Day Room" or "CQ" building. One can see the new construction in the right of the photo below. It is representative of the prefab concrete construction going up all around this location.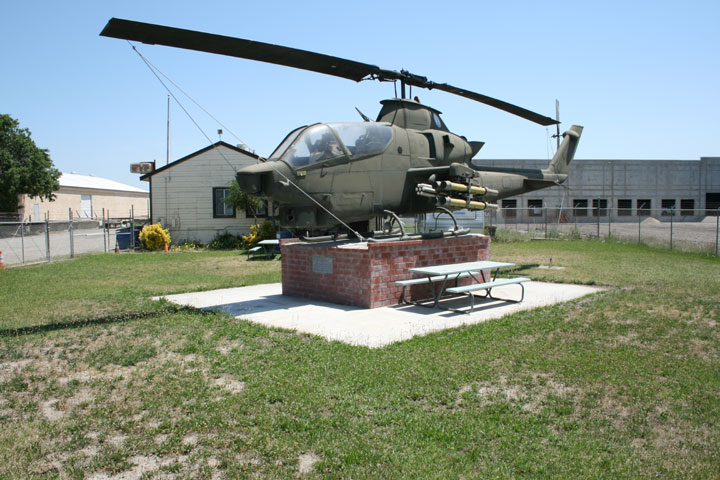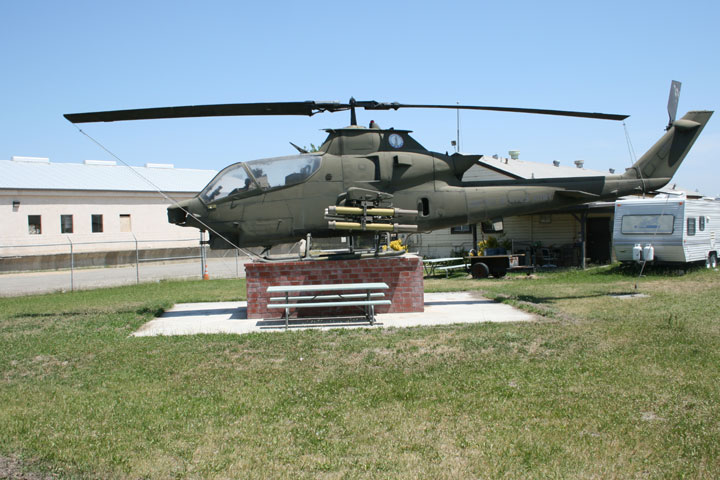 ---
Sutters Creek: Amador County Airport F-86 May 2009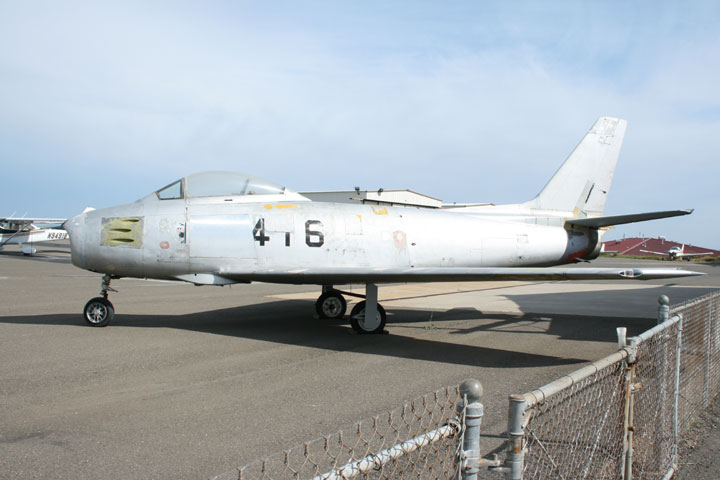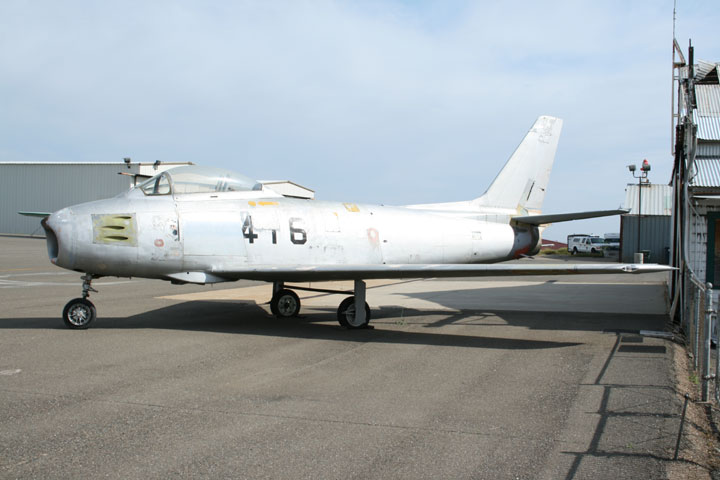 ---
Tulare: AMVETS Road Side Memorial Display B-17, F-4 May 2009 The F-4 was dedicated by Tulare County AMVETS Posts 56 and 65 on May 30, 1994.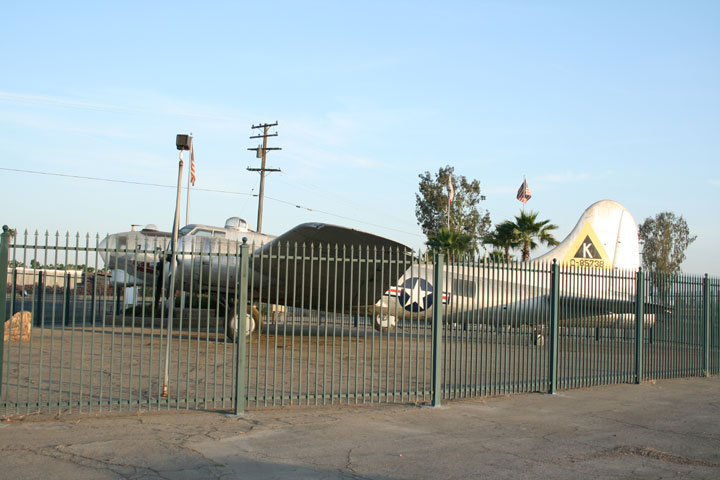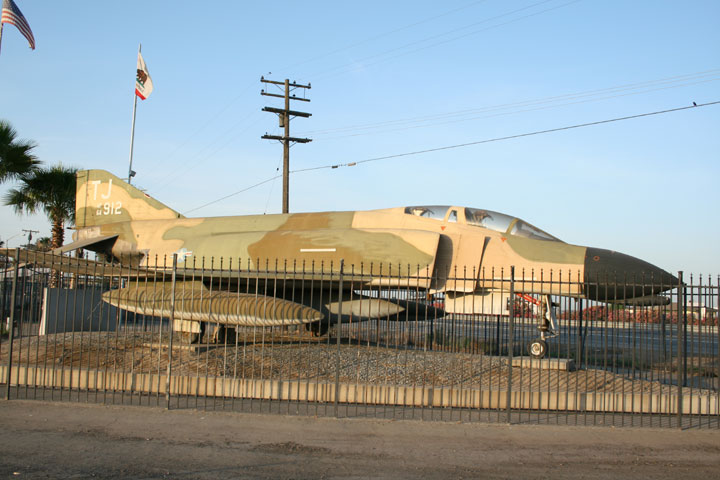 ---
Victorville: Airport F-86 May 2009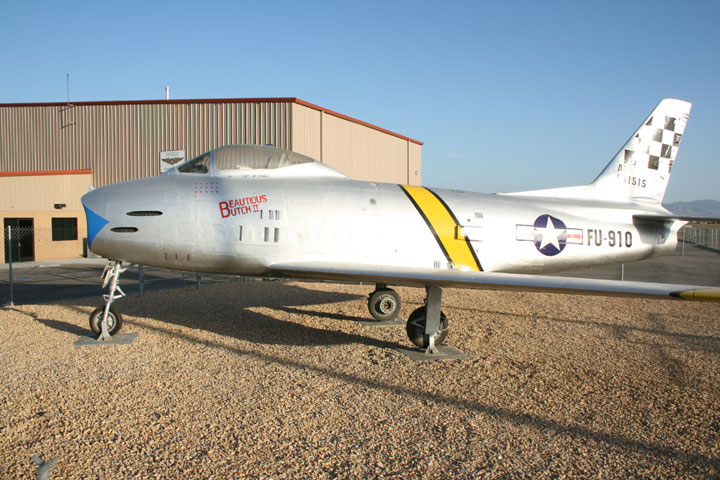 ---
Victorville: Academy for Academic Excellence T-38 May 2009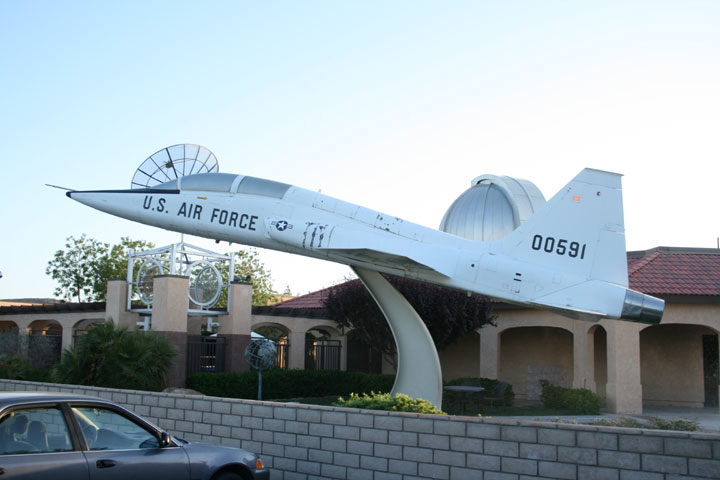 ---
Yuba City: Beale AFB Front Gate T-38 May 2010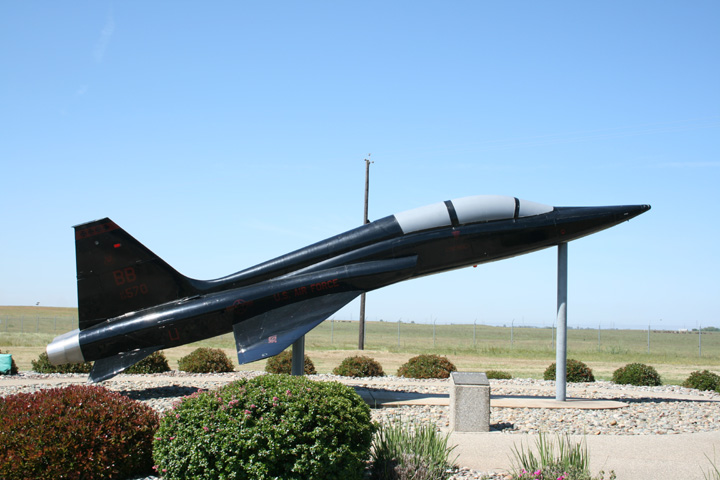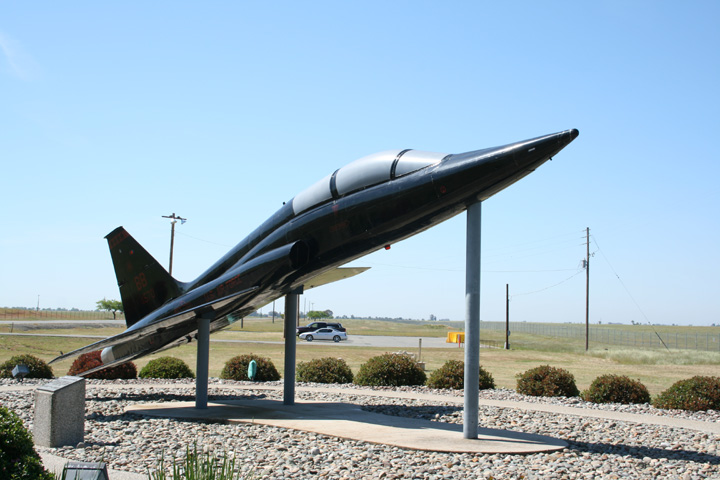 ---
Yuba City: Museum of Forgotten Warriors H-23, UH-1 May 2010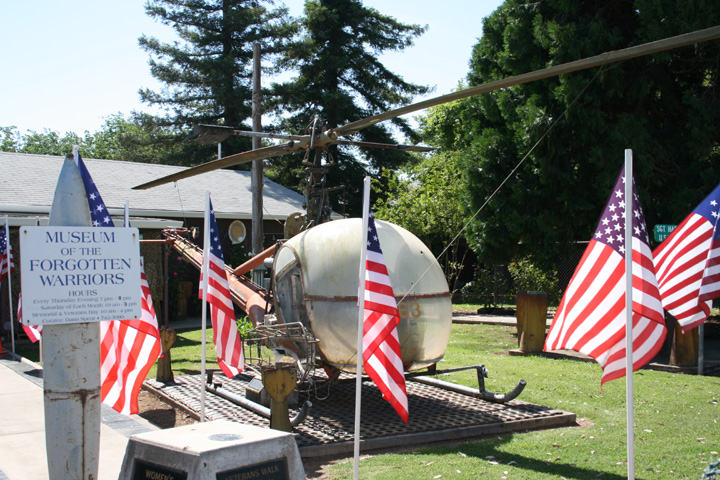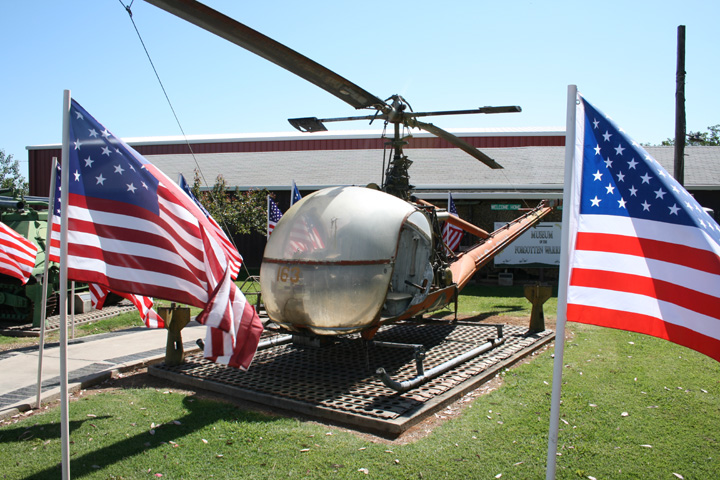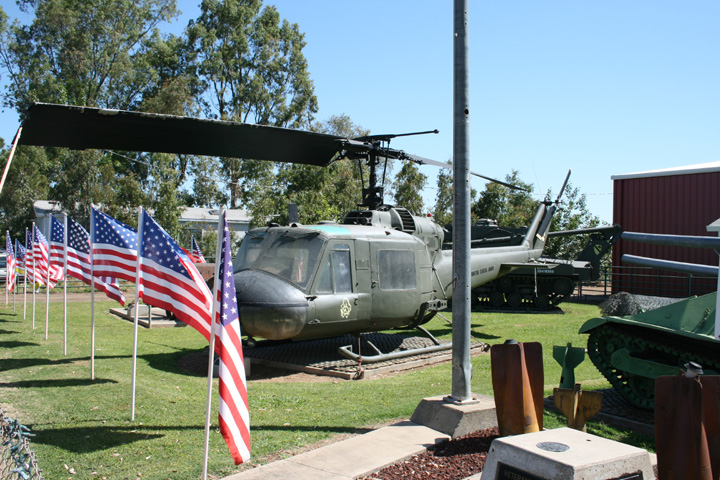 Alabama Arizona Arkansas British Columbia California Colorado Connecticut Europe Delaware Florida Georgia Illinois Indiana Iowa Kansas Kentucky Louisiana Maryland Michigan Mississippi Missouri Nebraska Nevada New Jersey New Mexico New York North Carolina Ohio Oklahoma Ontario Oregon Pennsylvania South Carolina Tennessee Texas Utah Virginia West Virginia Washington Wisconsin Wyoming