Alabama Arizona Arkansas British Columbia California Colorado Connecticut Europe Delaware Florida Georgia Illinois Indiana Iowa Kansas Kentucky Louisiana Maryland Michigan Mississippi Missouri Nebraska Nevada New Jersey New Mexico New York North Carolina Ohio Oklahoma Ontario Oregon Pennsylvania South Carolina Tennessee Texas Utah Virginia West Virginia Washington Wisconsin Wyoming
New Mexico Gate Guards, Outside Museum Displays and Air Parks
Alamogordo, Holloman AFB: F-4C, F-15A, P-80, F-84F, F-100D, F-104C, F-105D, F-117A, QF-106, T-38B, Sonic Wind 2004, Tomahawk Sled October 2008 This is the most extensive and well maintained of display aircraft we have seen at a military base, with the F-117A was just being recently added to the collection with its being taken out of service this year. Also part of the display are two sleds, as Holloman AFB has been the location of high acceleration and deceleration rocket sled testing that was initiated by Col. John Stapp in the 1950s, and which still continues today with a 10 mile long track. Included in my tour was a chance to visit the Heritage Center which contains information on the base since its inception as Alamogordo Army Air Base in WWII, the history of the 49th Fighter Group, 48th Fighter Wing, and the 7th, 8th, and 9th Fighter Squadrons, along with history on the rocket sled experiments.
The 49th FW is now transitioning to the new F-22 Raptor and will have a total of 40 aircraft when at full strength. Also located at Holloman are T-38s, QF-4 Phantoms, (which were flying when I was there), and German Panvania Tornados, which are operated by the German Air Force Training Command.. I wish to thank Mr. B. Arlan Ponder and SSgt. David K. Wagstaff of the 49th Fighter Wing Public Affairs for their time and assistance on obtaining these photos.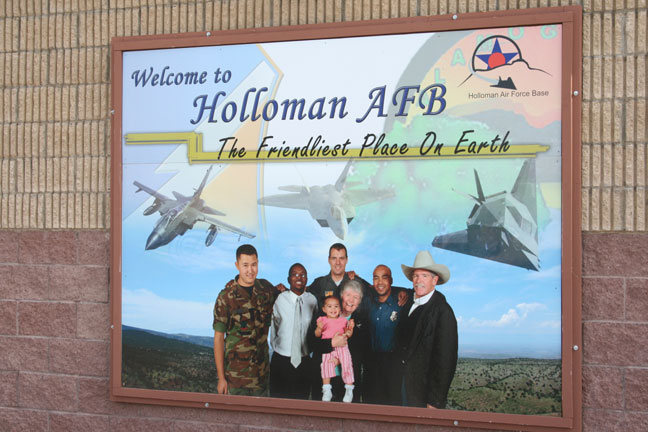 The sign at the Holloman Welcome Center reflecting the recently departed F-117A, but also showing the newly assigned F-22 Raptor and the German Tornado that also operates out of this New Mexico location.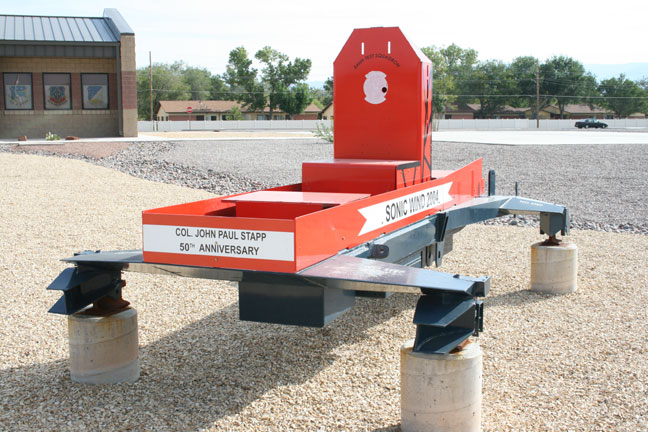 A recreation of the original Sonic Wind that Col. John Stapp rode multiple times at Holloman doing experiments on the effects of acceleration and deceleration on human beings.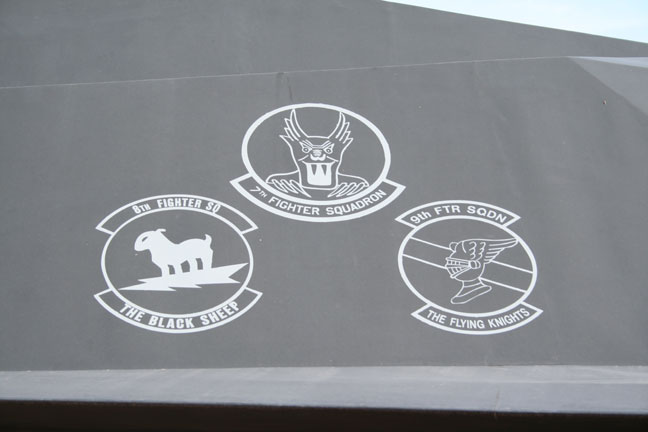 The three squadrons that are part of the 49th Fighter Wing at Holloman AFB, as designated on the F-117A. WWII ace and Medal of Honor winner Major Dick Bong flew with the 9th FS in the Pacific, which was part of the 49th Fighter Group, predecessor of the current 49 FW.
---
Alamogordo: International Space Museum and Hall of Fame Various Missiles and Rocket Sleds October 2008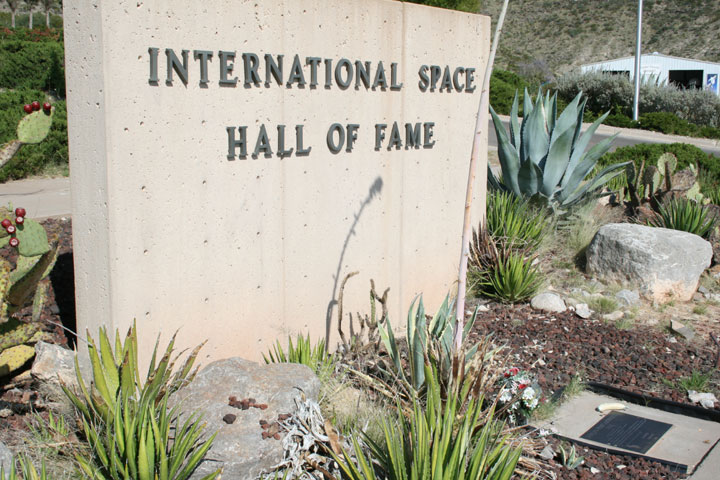 In the right lower corner is the grave site of Ham, the world's first Astrochimp. Ham was the chimp that beat the Mercury 7 astronauts into space.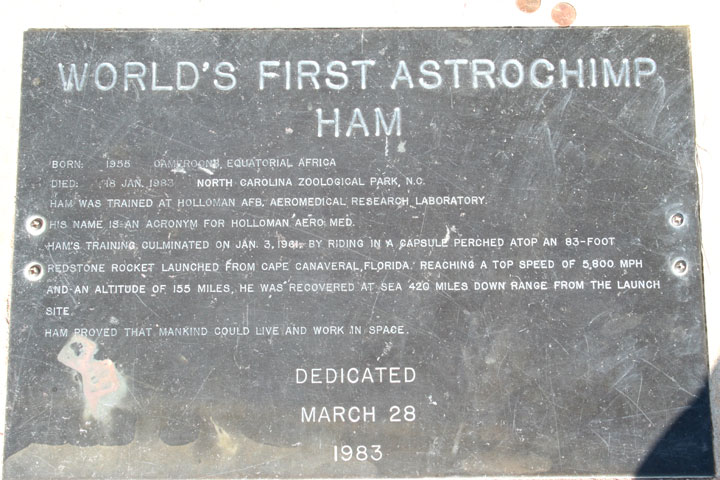 Ham is buried less than 100 miles from another famous animal, Smokey the Bear. Smokey is buried less than 100 miles NW of this location in a park in Capitan, New Mexico.
---
Albuquerque: National Nuclear Museum A-7, B-29, B-52, F-105, Atomic Cannon May 2010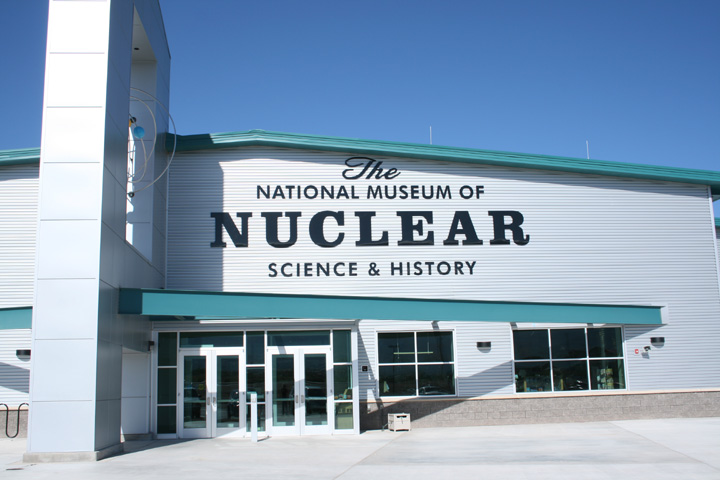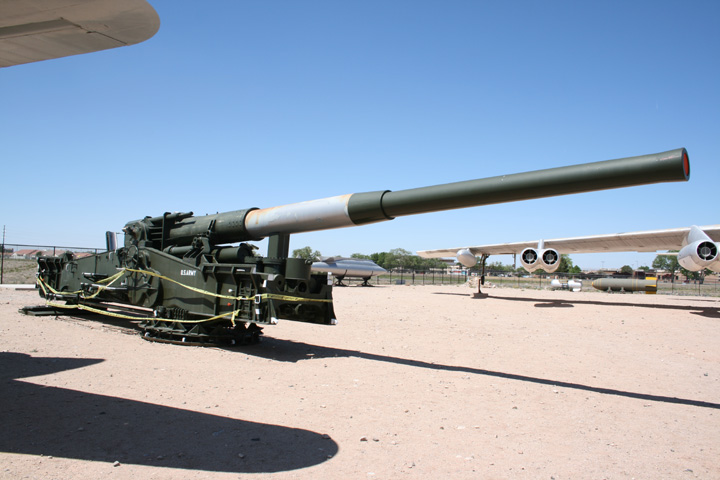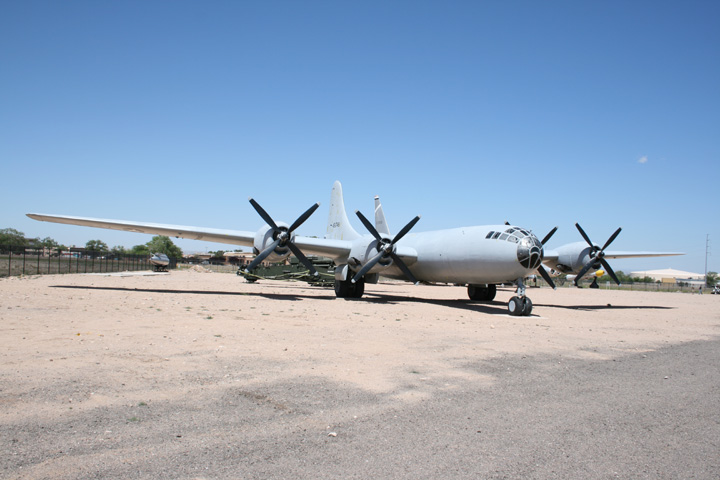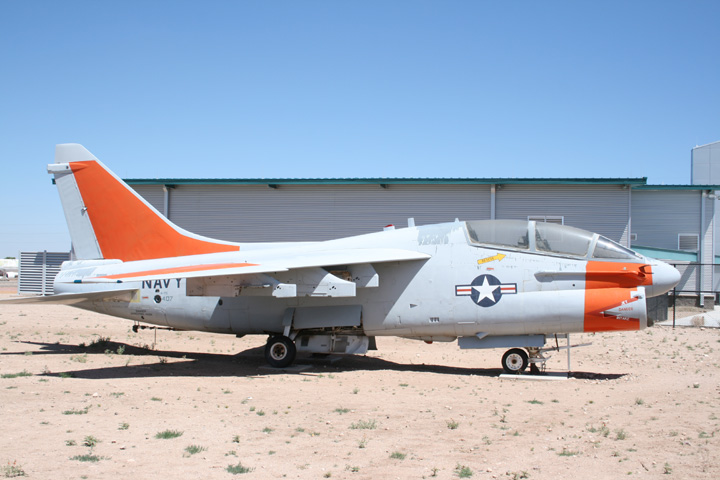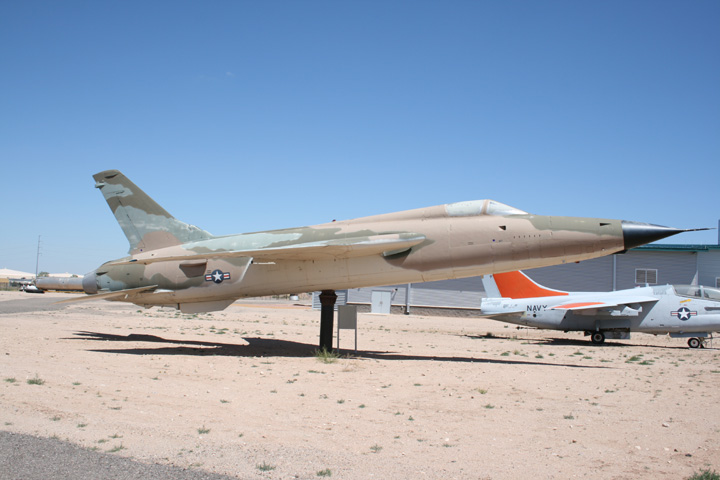 ---
Gallup: Airport T-38 May 2010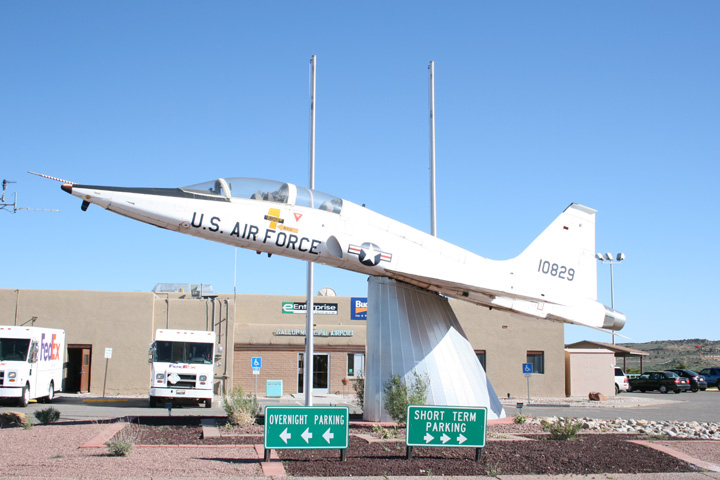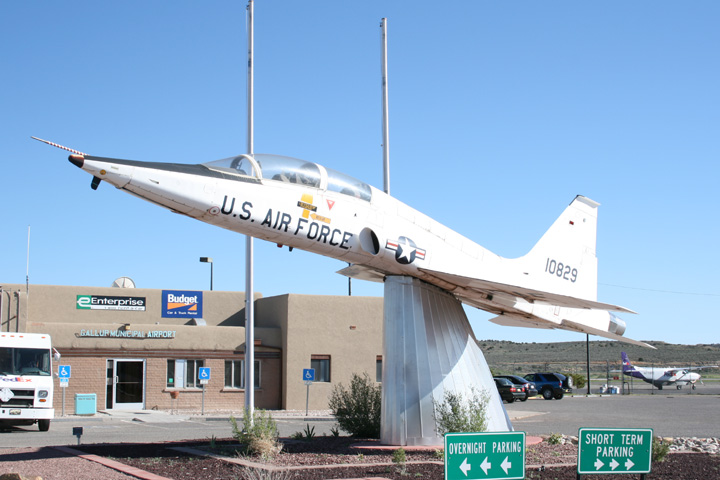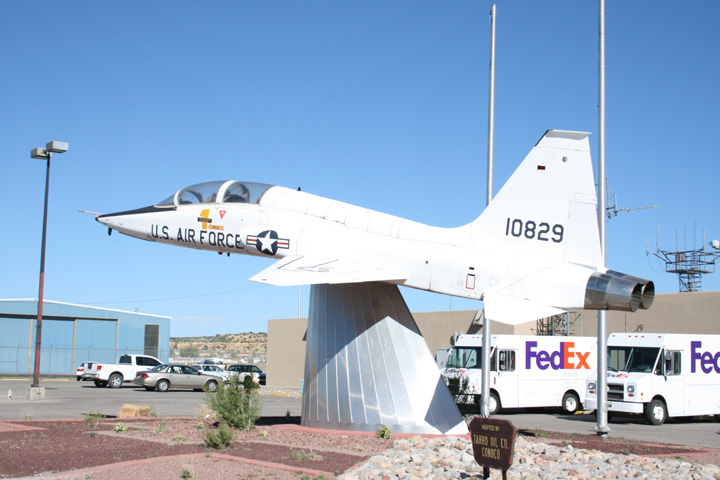 ---
Las Cruces: International Airport: F-100 January 2008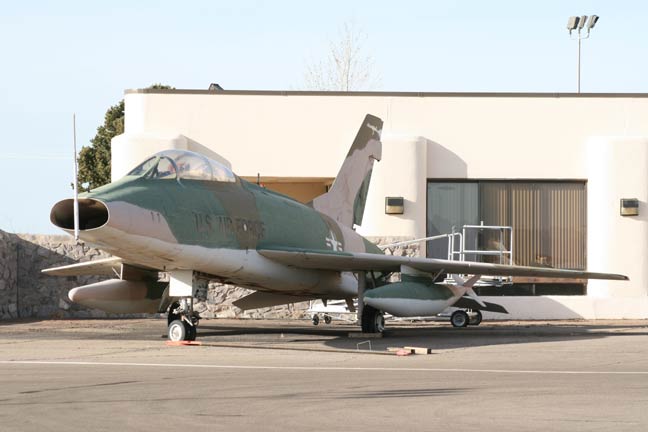 ---
San Agustin Pass, Elevation 2,710 Feet: Nike Hercules January 2008 This pass is east of Las Cruces as one travels towards Alamogordo and at the pass is a scenic viewpoint with a Nike Hercules Missile. The Nike Hercules is a true gate guard as one can look down into the Tularosa Basin which contains White Sands Missile Range, which during WWII was the Alamogordo Bombing Range, Holloman AFB, and the Trinity Site.
---
Santa Fe: Airport F-111 May 2010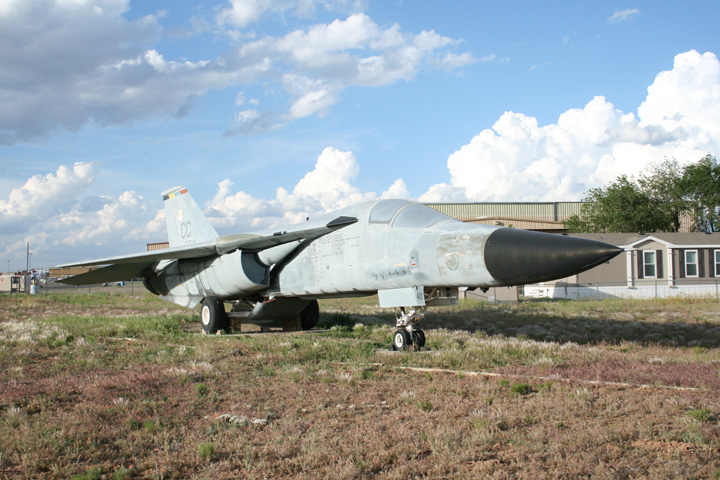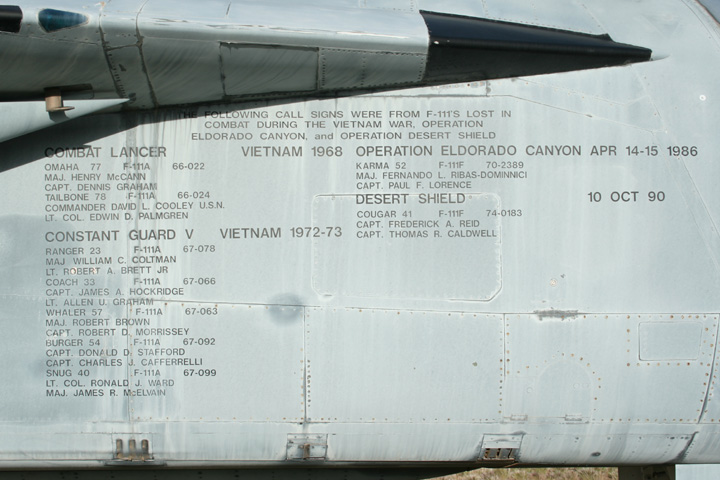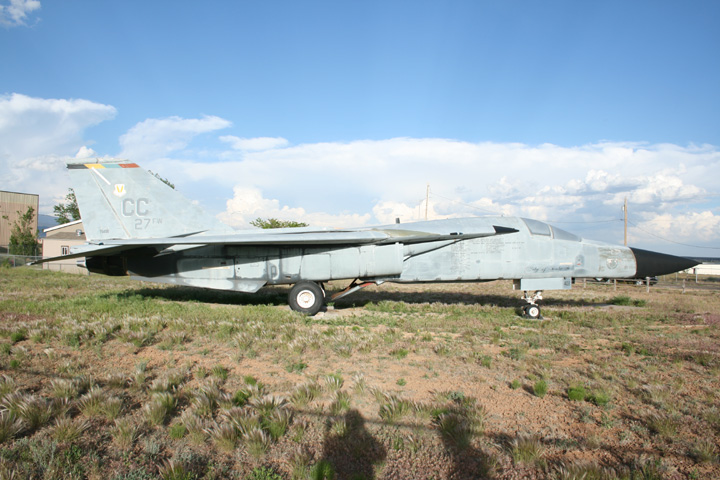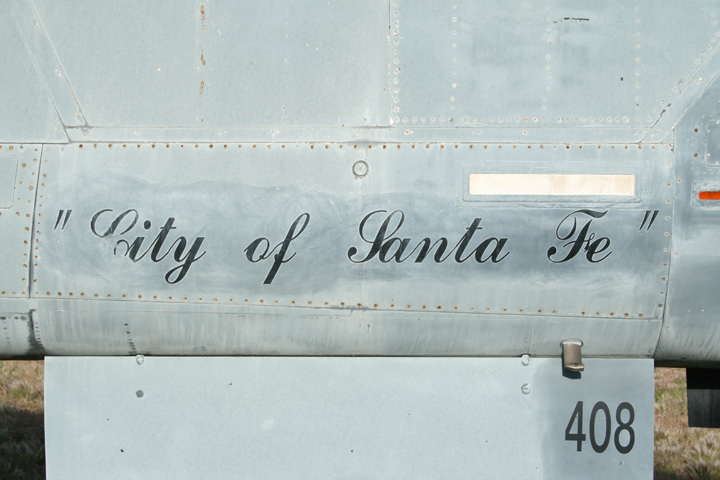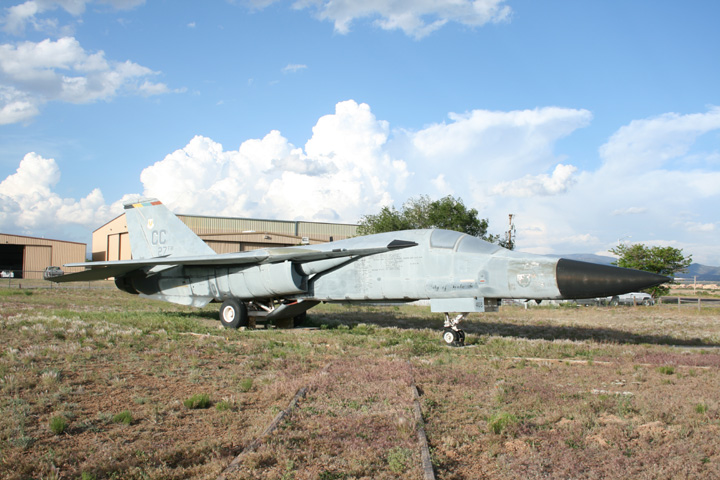 ---
White Sands Missile Range Museum: UH-1, VC-6A, Aeroshell "Flying Saucer" January 2008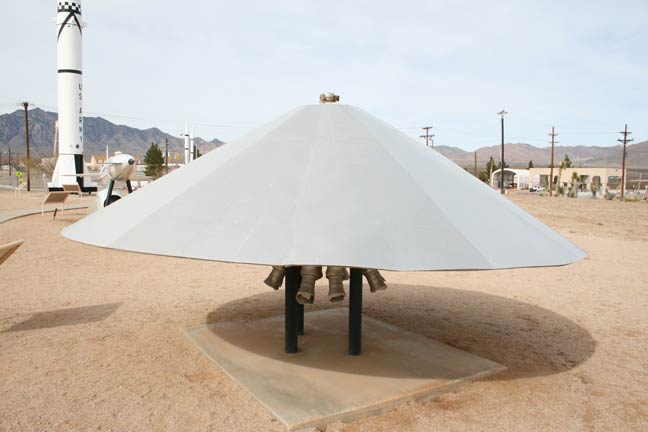 One of the reasons people kept seeing Flying Saucers in the Roswell area of New Mexico back in the 50s and 60s is that the Air Force was launching these rocket powered saucers from Roswell AFB and having them fly to White Sands.

Alabama Arizona Arkansas British Columbia California Colorado Connecticut Europe Delaware Florida Georgia Illinois Indiana Iowa Kansas Kentucky Louisiana Maryland Michigan Mississippi Missouri Nebraska Nevada New Jersey New Mexico New York North Carolina Ohio Oklahoma Ontario Oregon Pennsylvania South Carolina Tennessee Texas Utah Virginia West Virginia Washington Wisconsin Wyoming