Alabama Arizona Arkansas British Columbia California Colorado Europe Delaware Florida Georgia Illinois Indiana Iowa Kansas Kentucky Louisiana Alabama Arizona Arkansas British Columbia California Colorado Connecticut Europe Delaware Florida Georgia Illinois Indiana Iowa Kansas Kentucky Louisiana Maryland Michigan Mississippi Missouri Nebraska Nevada New Jersey New Mexico New York North Carolina Ohio Oklahoma Ontario Oregon Pennsylvania South Carolina Tennessee Texas Utah Virginia West Virginia Washington Wisconsin Wyoming

South Carolina Gate Guards, Outside Museum Displays and Air Parks
Chesnee: American Legion Post 48 AH-1 March 2015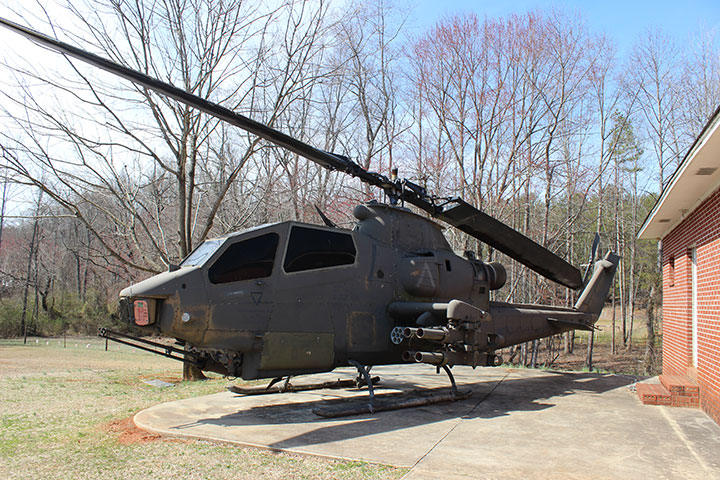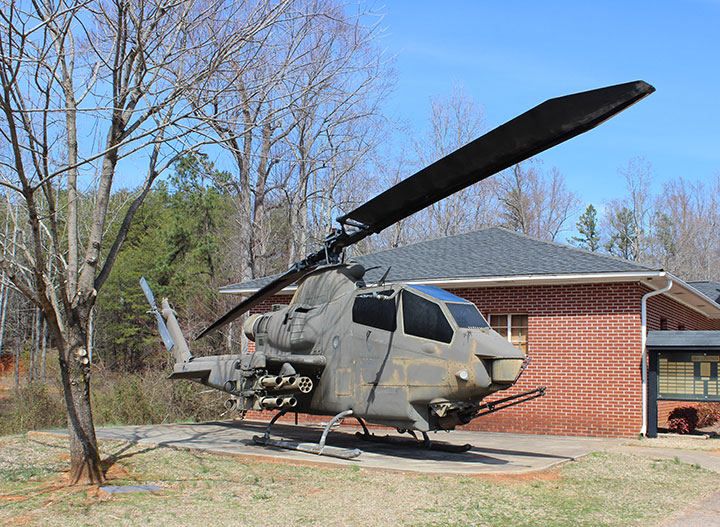 ---
Columbia: South Carolina Air National Guard Base Front Gate F-16 May 2012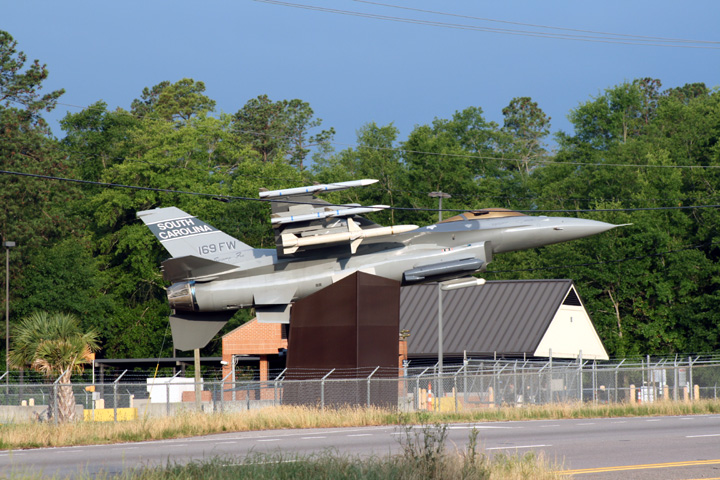 ---
Columbia: Fort Jackson - Basic Combat Training Museum UH-1B April 2014 - The white building in the background is the headquarters for Fort Jackson.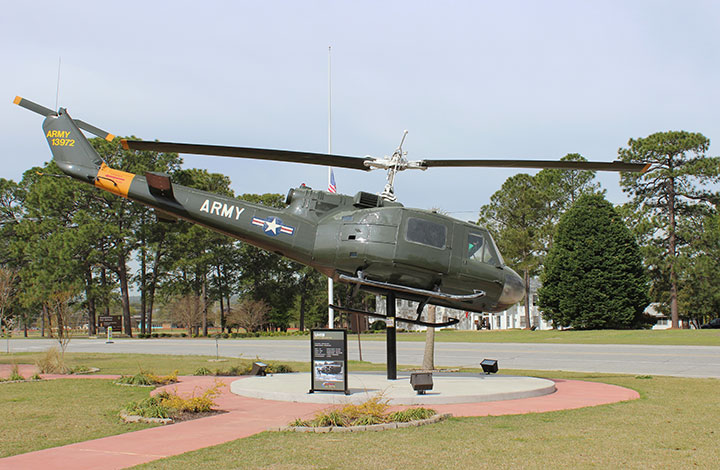 ---
Charleston: The Citadel AH-1, F-4, July 2012 - This was an interesting photo excursion after spending the day at Fort Sumter, The USS Yorktown and Fort Moultrie. Never having been to the Citadel I did not know what to expect. The military college is built around a central parade ground which has the F-4 in the NW corner and the AH-1 in the SW corner. Of interest to me was the uniform architecture of the buildings that make up the college and resemble a fort or obviously a citadel.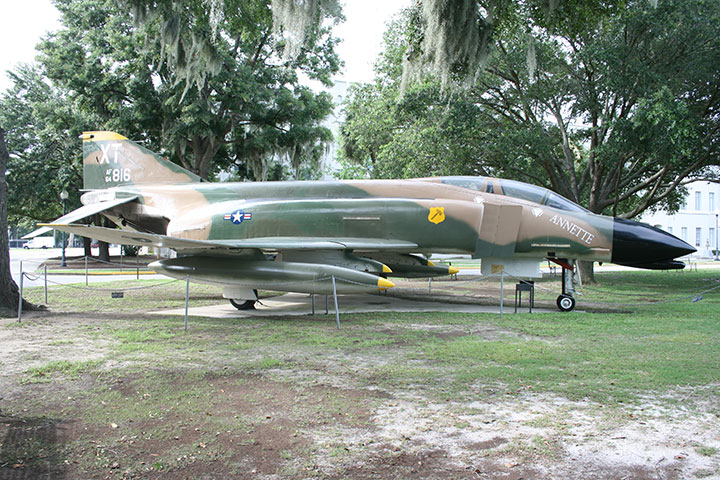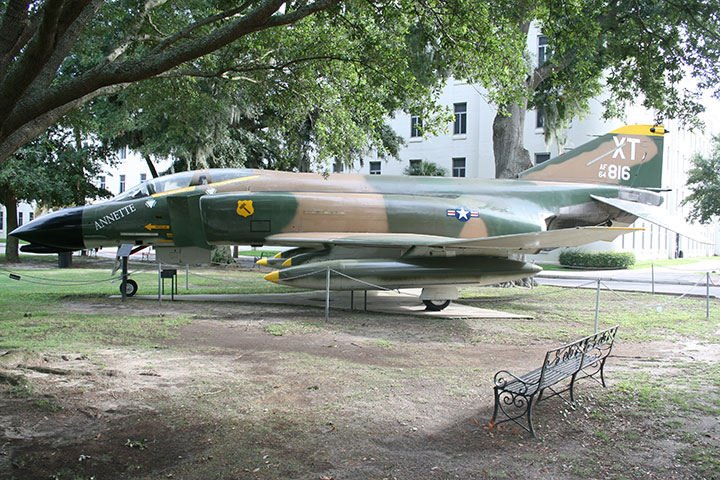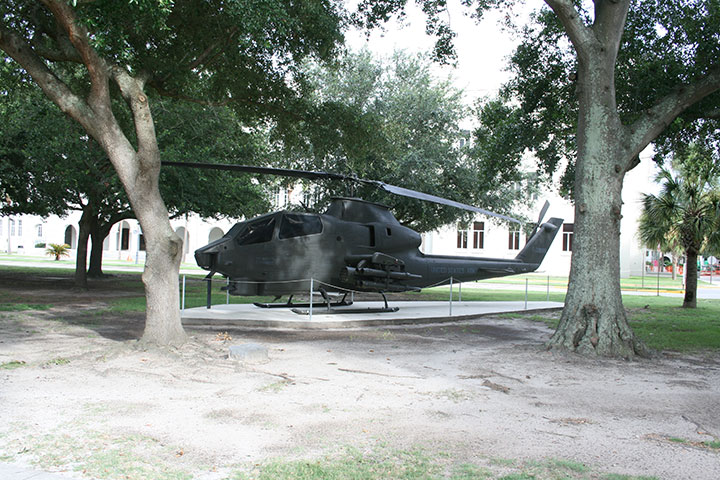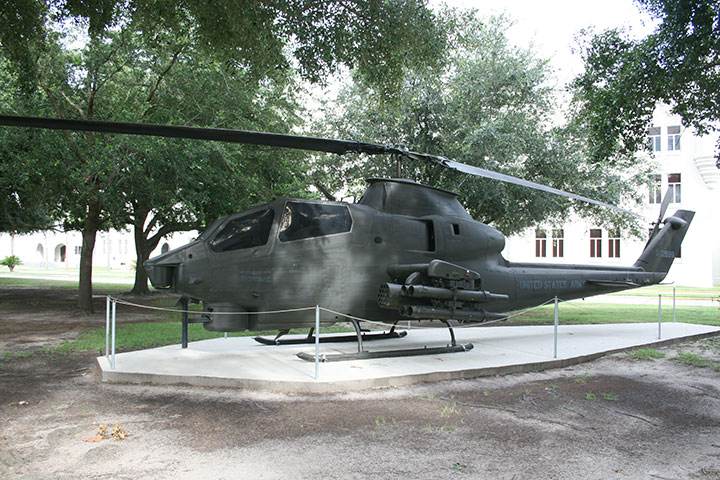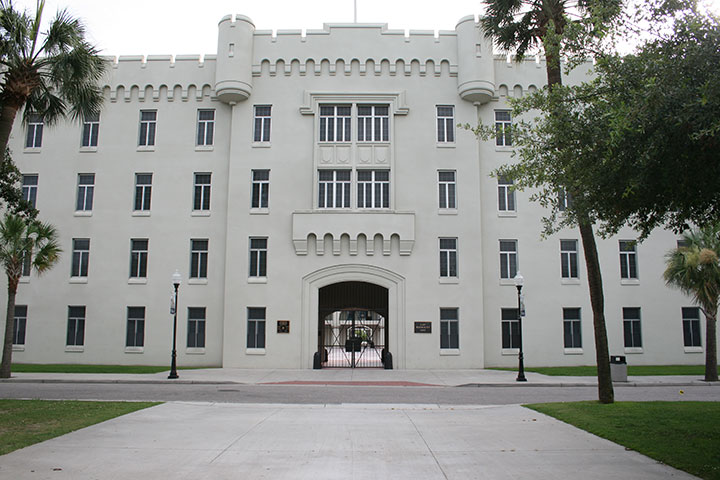 The Citadel does not have dorms. They are barracks which have a courtyard / parade ground in the center of each building as can be seen through the gate above. No doubt the cadets get to participate in formations, inspections, PT and all sorts of other military type harassment and/or discipline building, depending on how you look at it, in their own barracks courtyard. In looking at satellite photos of the college the barracks courtyards are painted or are tiled with red and white squares looking like a checkerboard.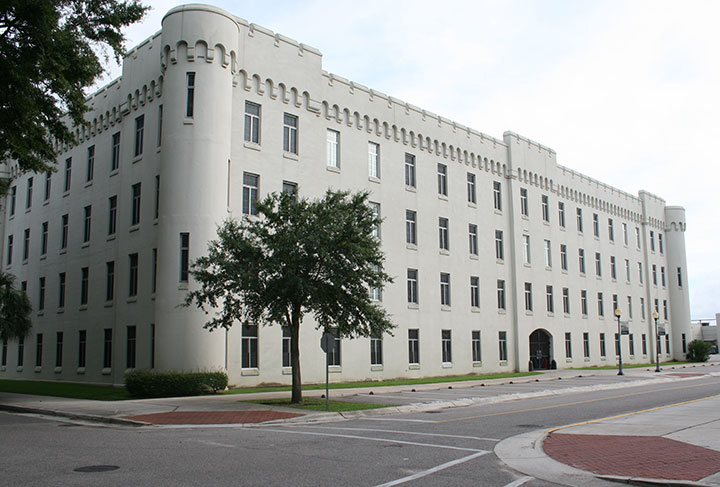 Another Barracks. I would assume that the freshman get the top floor and the seniors the bottom floor. As you move up in rank you then don't have to run up and down as many stairs.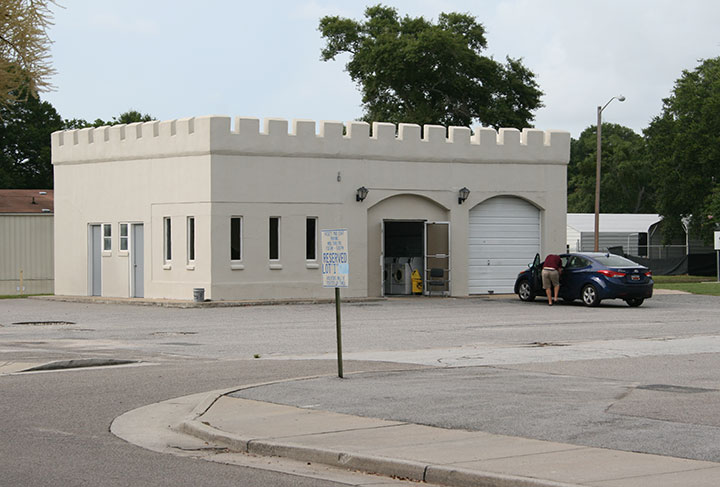 Even the laundromat is done in citadel type architecture!
---
Mount Pleasant: USS Yorktown Flight Deck A-4, A-6, A-7, E-1B, EA-3B, F-4, F-8, F-14, F-18, H-3, S-2 July 2012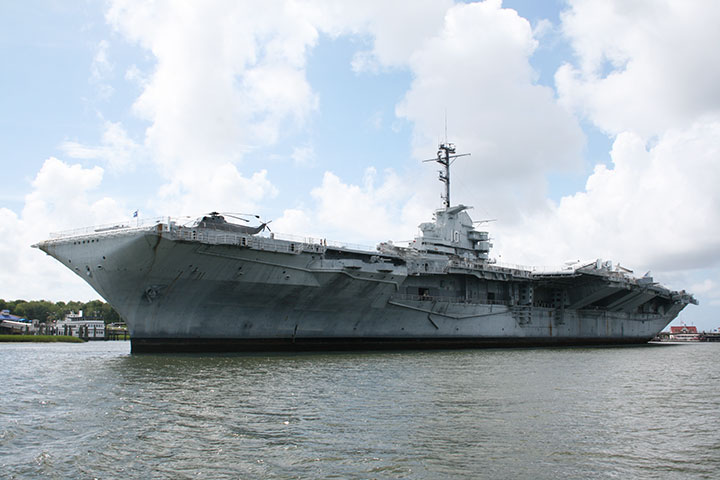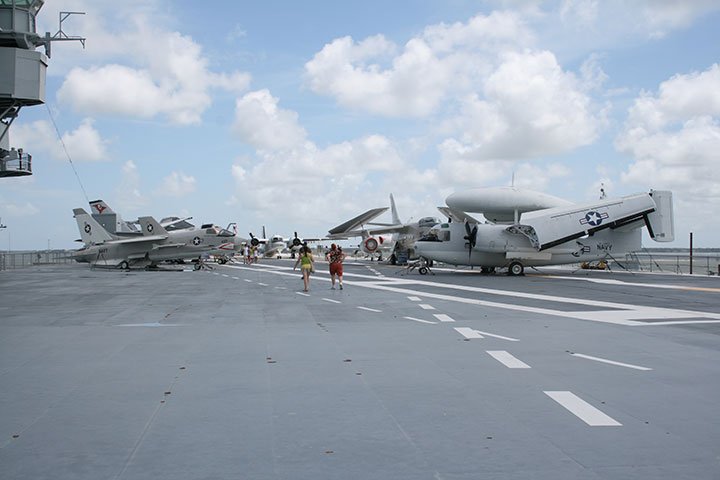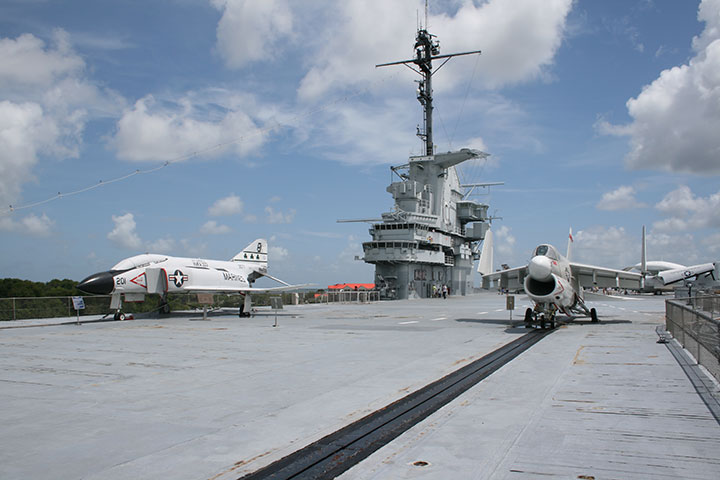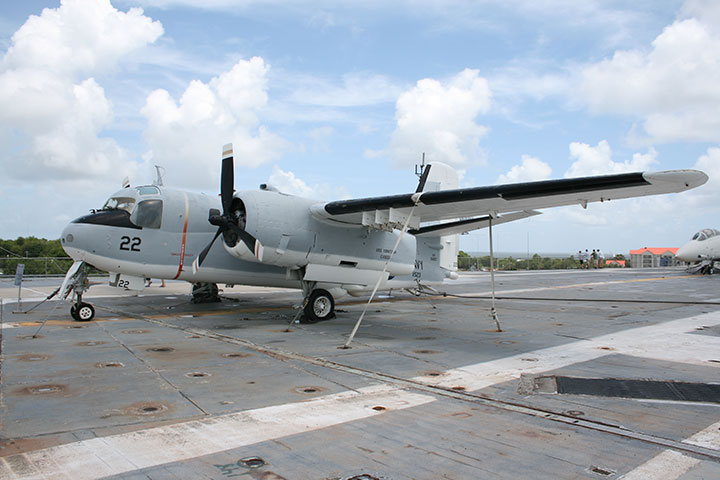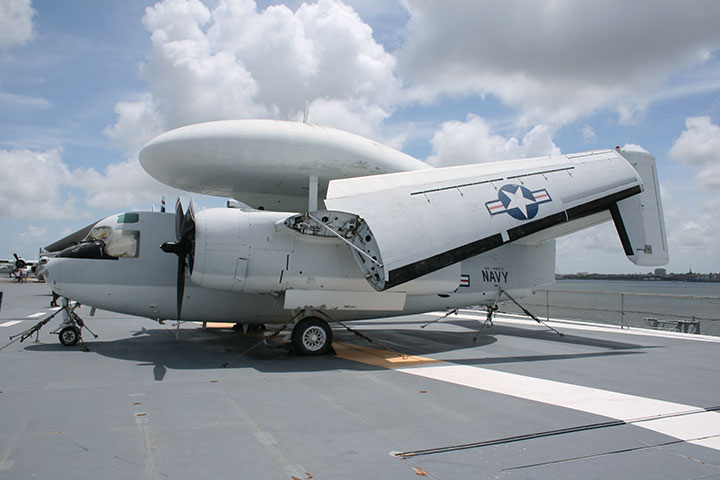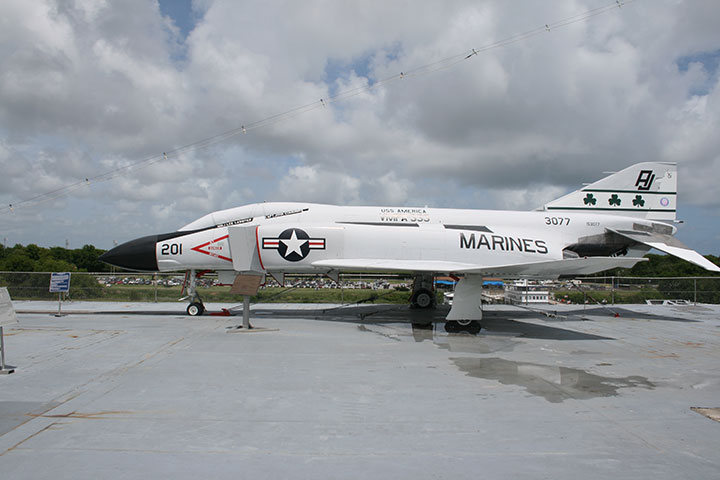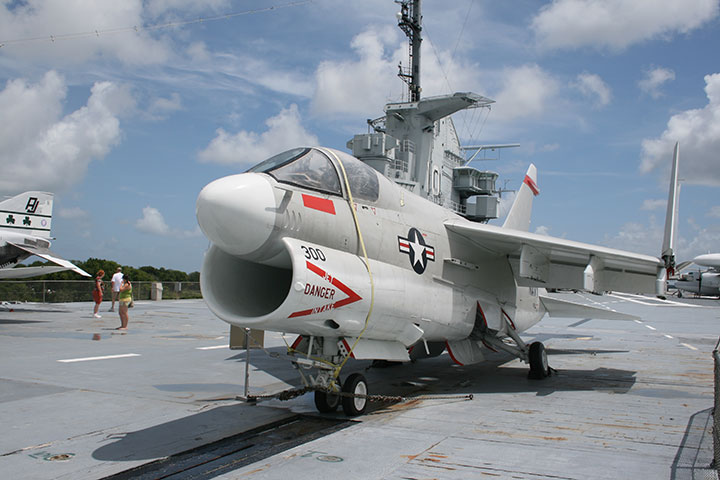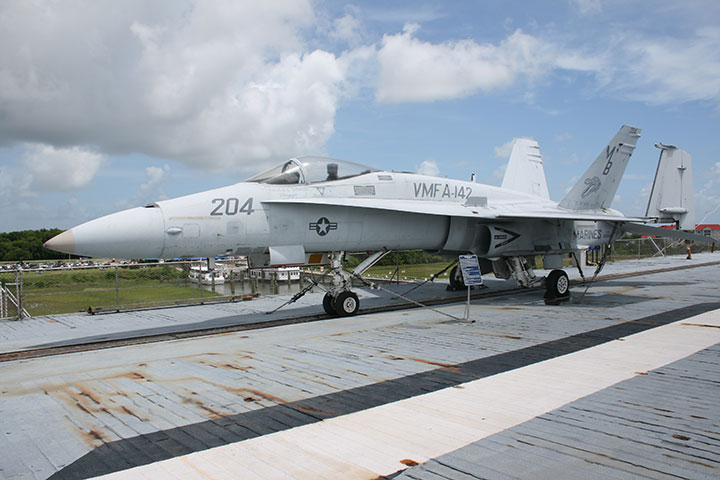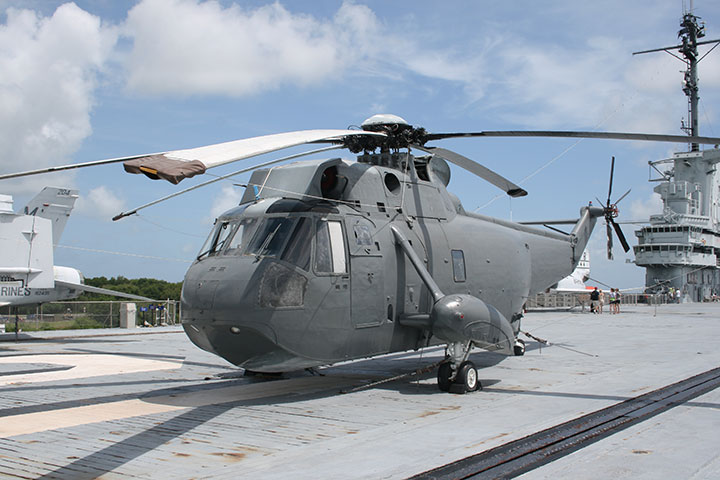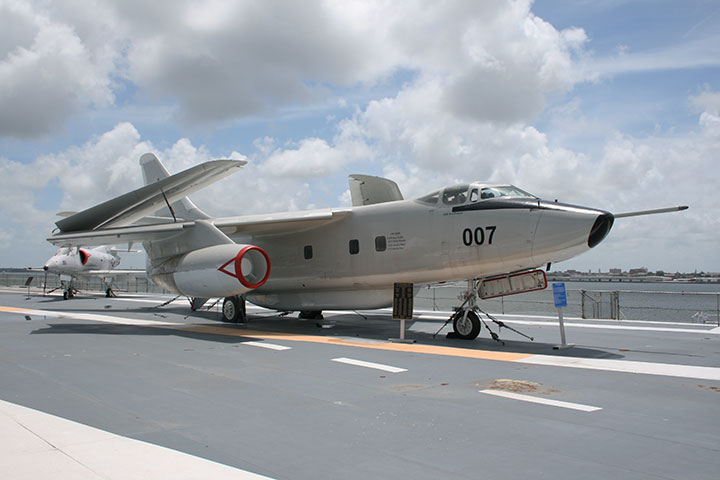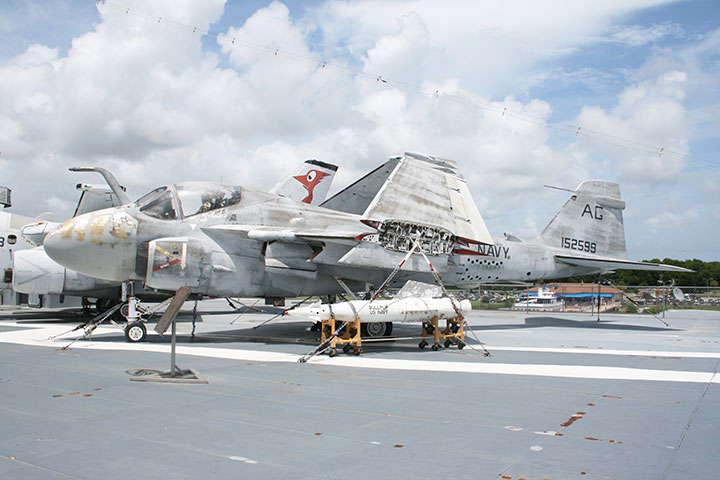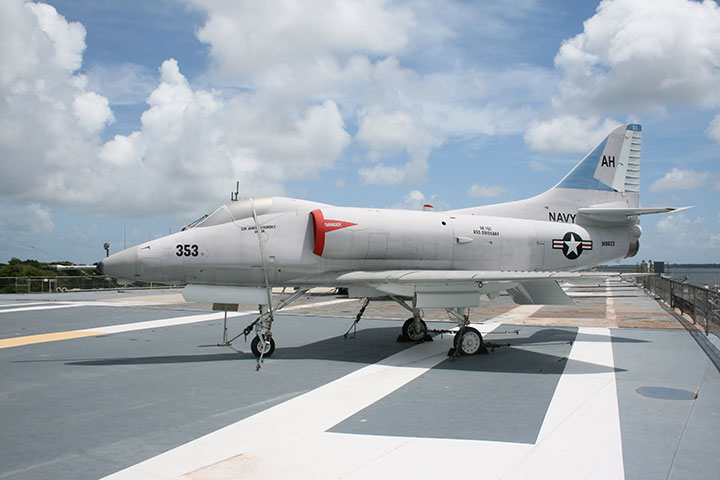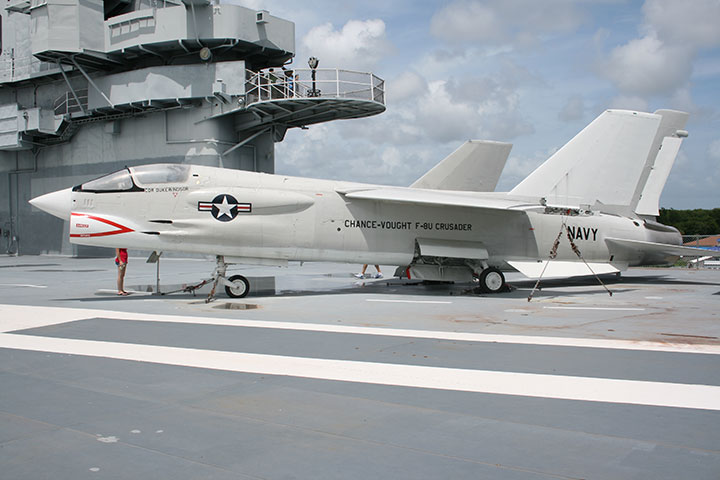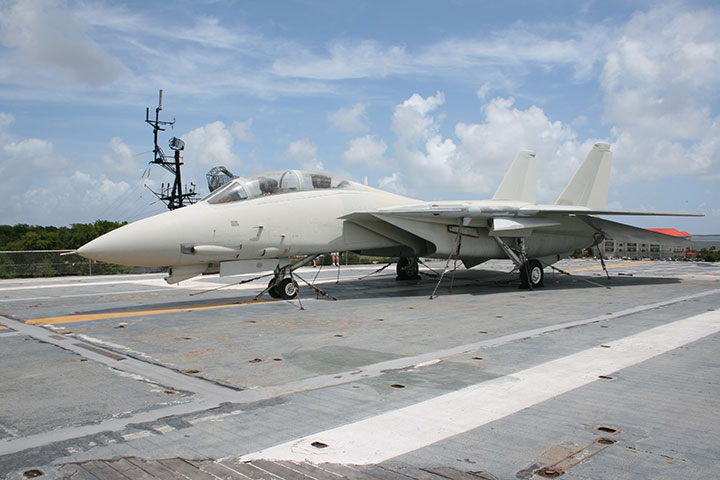 Hangar Deck A-1, B-25, F4F, F6F, F9F, FG-1D, N2S, QH-50, TBM - It was really, really hot and humid down here in the middle of July.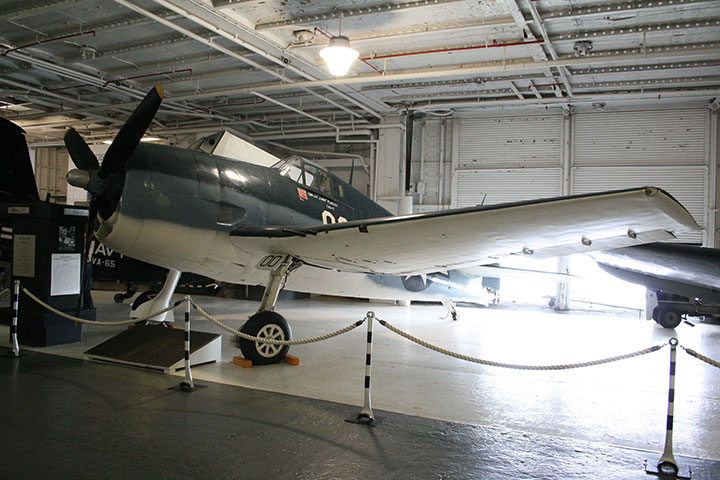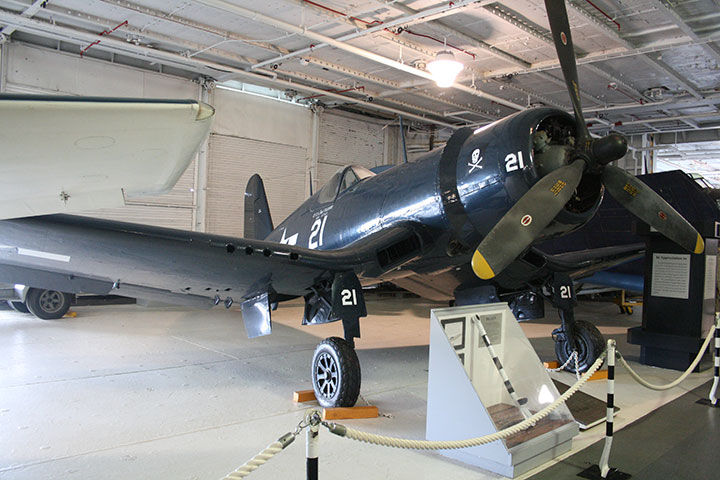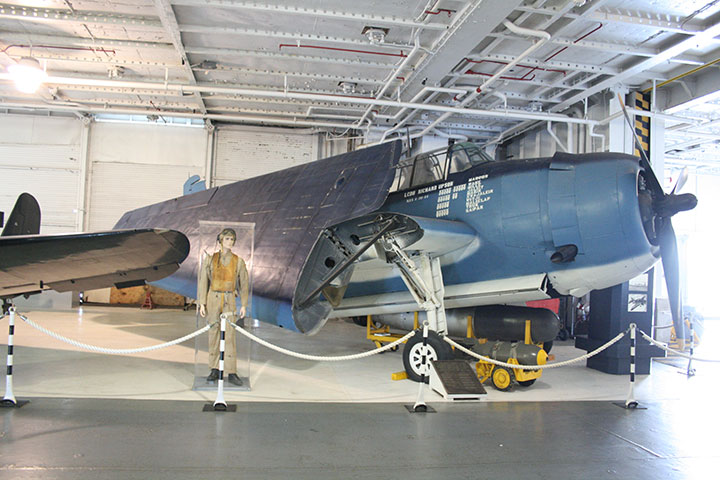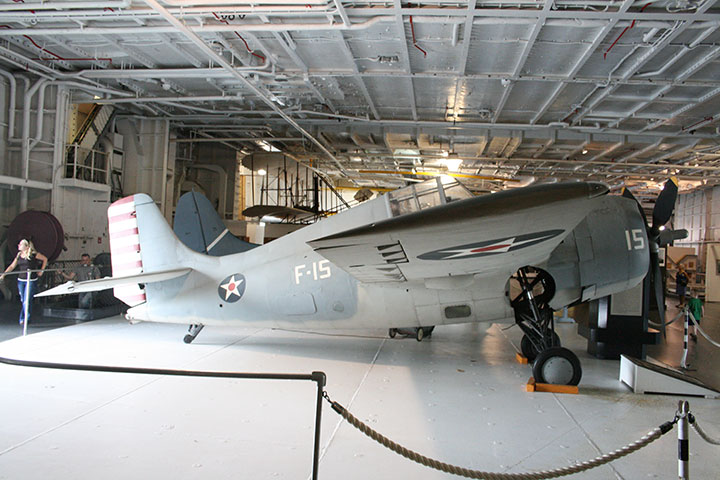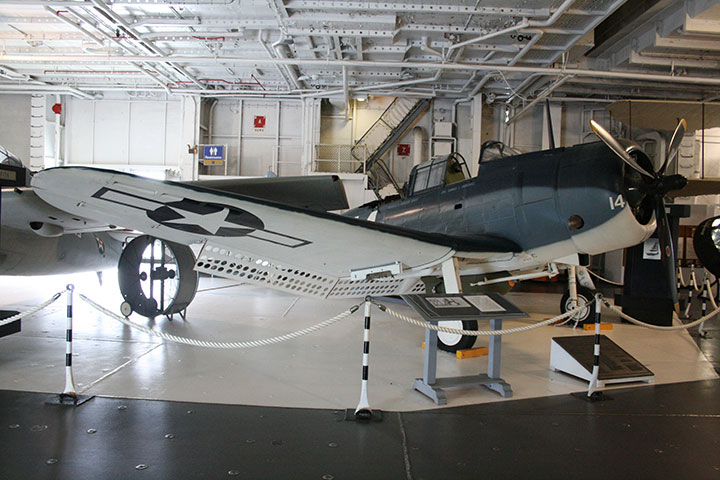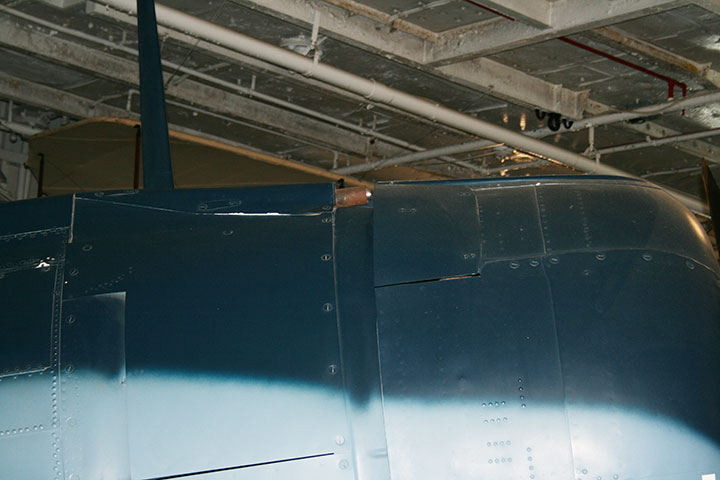 I don't remember seeing on other SBD's on display the cowl guns. This photo shows the starboard side .50 caliber machine gun. A second one is on the port side. These two .50caliber machine guns accounted for quite a few of the 138 Japanese aircraft accounted for in air to air combat in the Pacific during WWII. Some of the kills are the result of the rear gunner. During the Battle of Coral Sea and Midway SBDs were used as low altitude CAP and intercepted in coming attacking Japanese aircraft. Early in the war SBDs would also end up dog fighting Japanese Fighters out of self preservation due to the lack of fighters. The Dauntless was relativity maneuverable and flown by aggressive Naval Aviators it could hold its own with the enemy fighters it encountered. For more on this, see "The Dauntless Dive Bomber of WWII" by Barrett Tillman.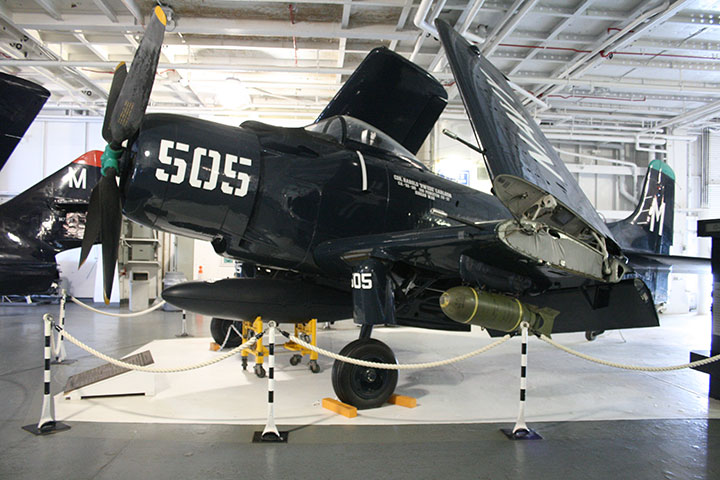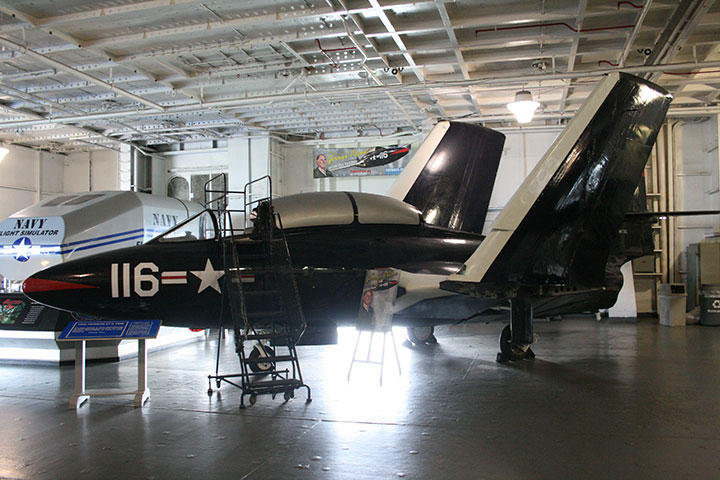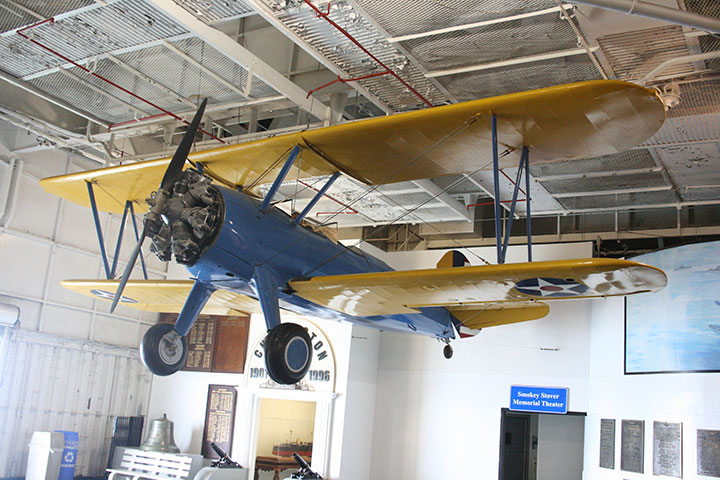 This B-25 was over the snack bar. Note that the nose is incorrect and for lack of a better term, funny looking. At least I have never seen one like this on a B-25. Also the flaps are down.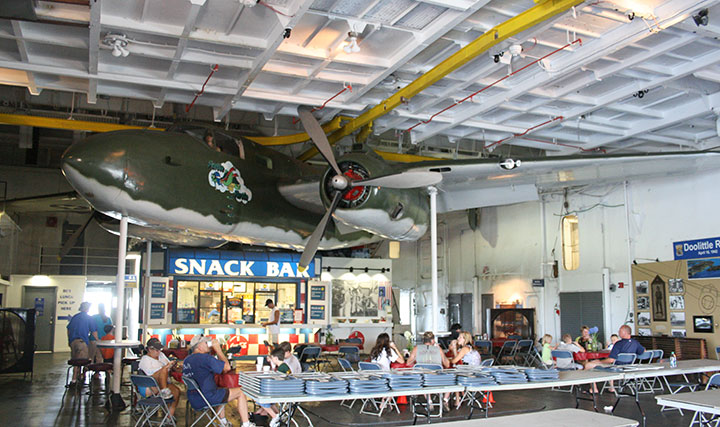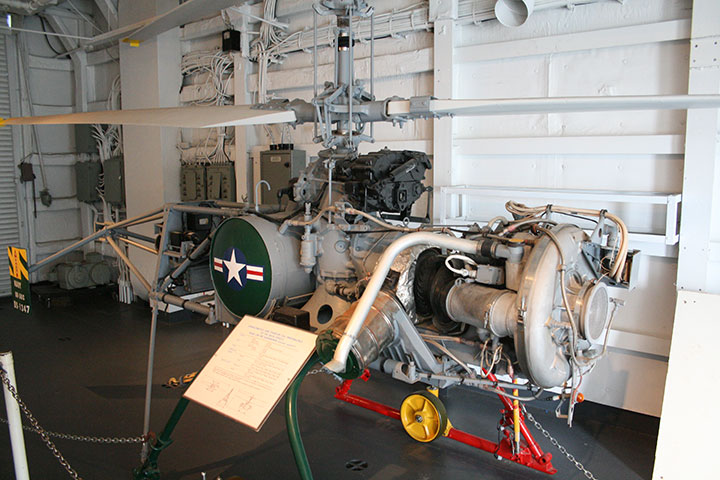 Hangar Deck 1.1 Inch Anti-Aircraft Gun Mount - I am including this because it is so rare as it was not very successful as outlined in one of the photos below and were taken of US Navy Ships and replaced by the 40mm Bofors. No doubt the 1.1 Inch guns were scrapped immediately for the needed metal during the war, which is why they are so rare today. This is only the second one I have seen and it is in excellent condition. You will see these in very early footage of WWII naval action in the Pacific.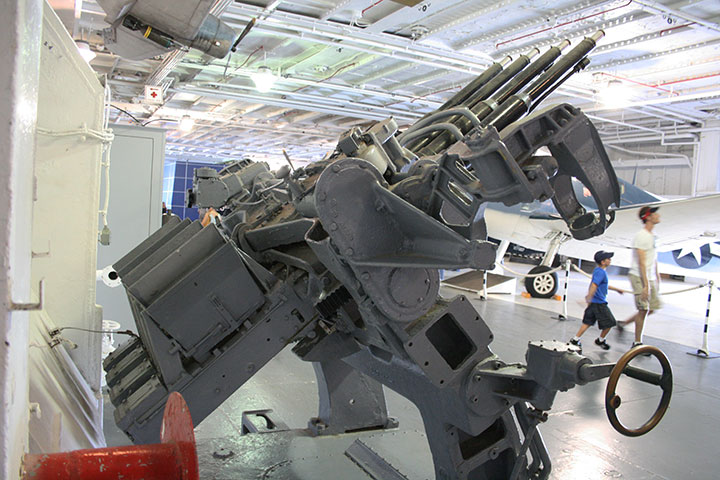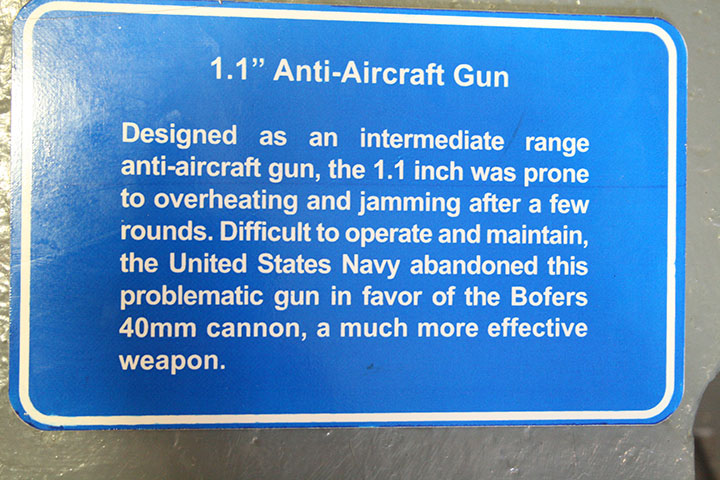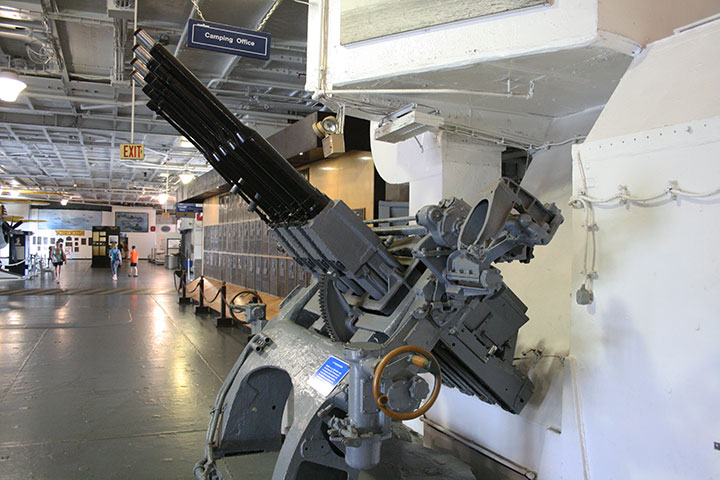 Hangar Deck 40mm Anti-Aircraft Gun Mount - This has been added due to its historical significance. Note the shrapnel damage on the lower gun mount.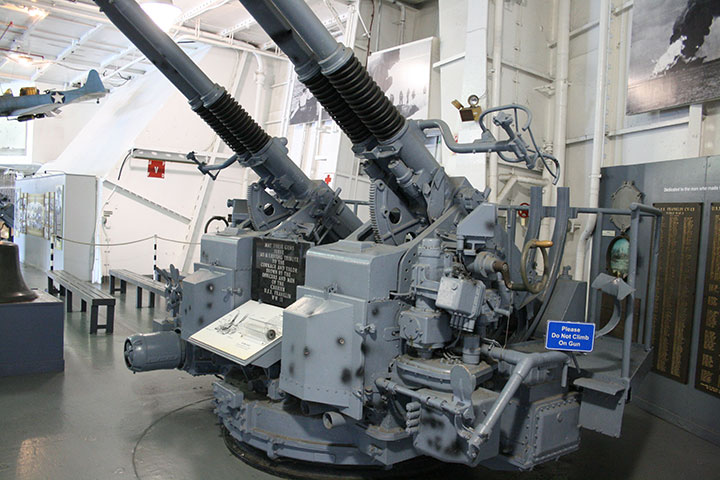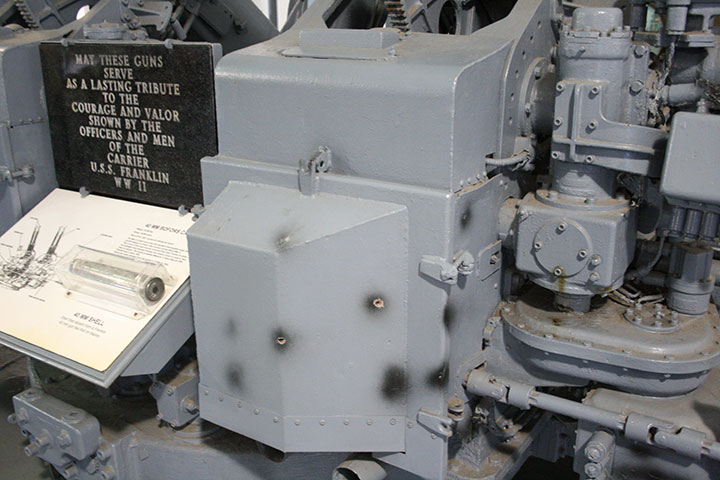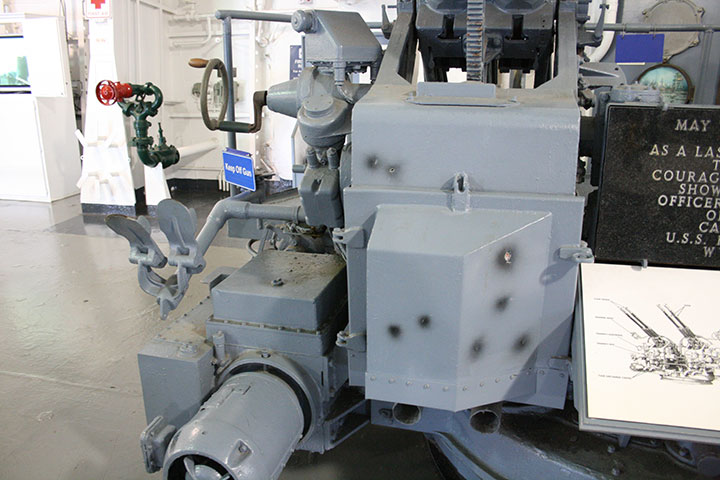 The following two photos were taken from inside the gift shop. One can search online for more information. There does not yet seem to be a resolution to this issue.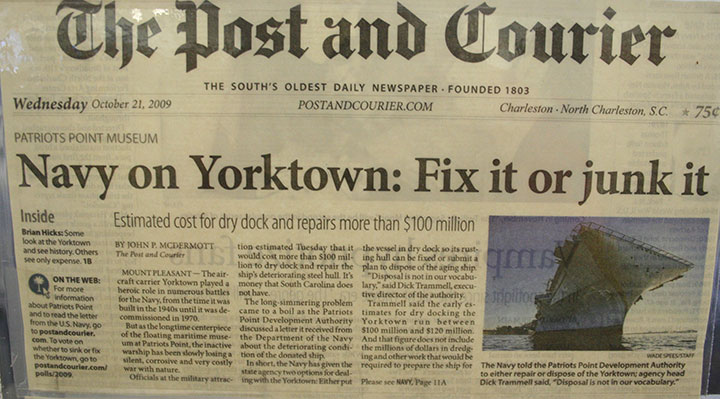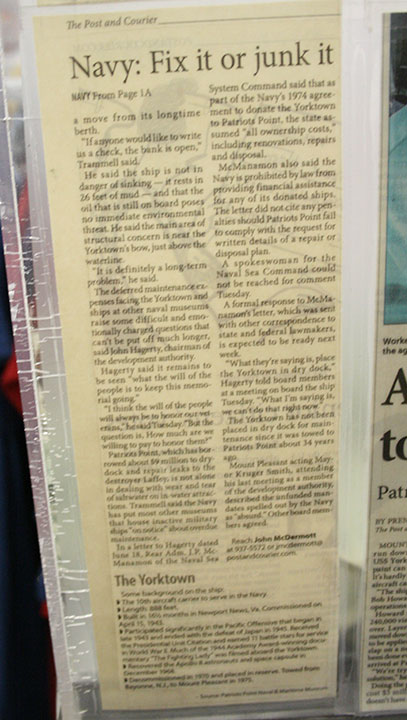 ---
Mount Pleasant: Vietnam Naval Support Base AH-1J, (2)UH-1, UH-34D, PBR July 2012 - This is adjacent to and part of the Patriot Park display. I was unaware that it was there until I located it by accident. It is an excellent full scale diorama of a Vietnam War Era Naval Support Base.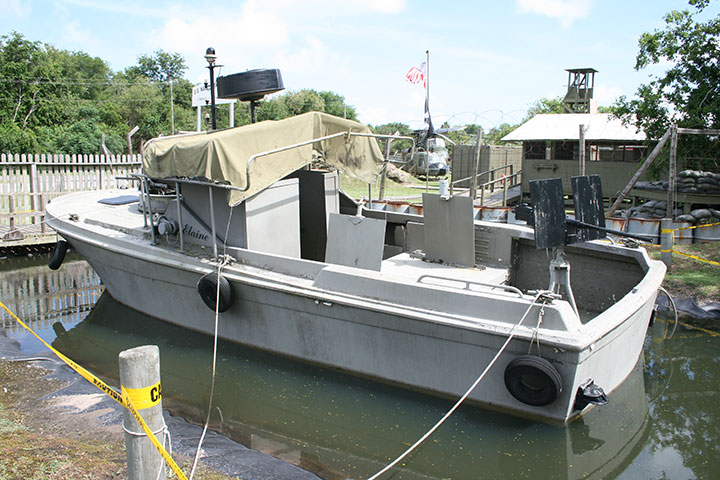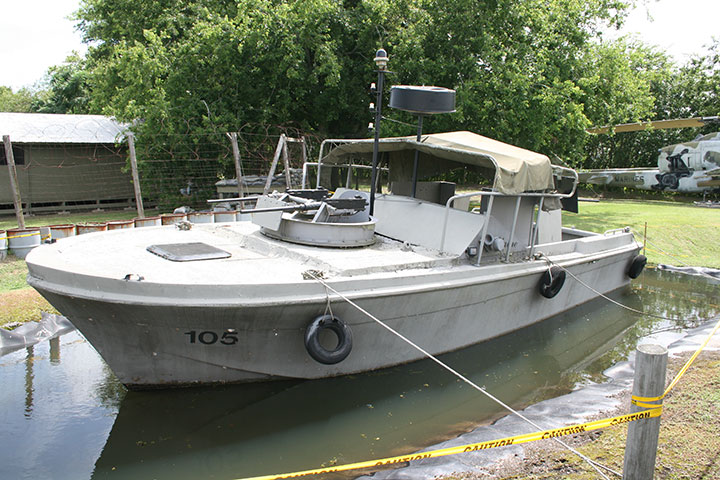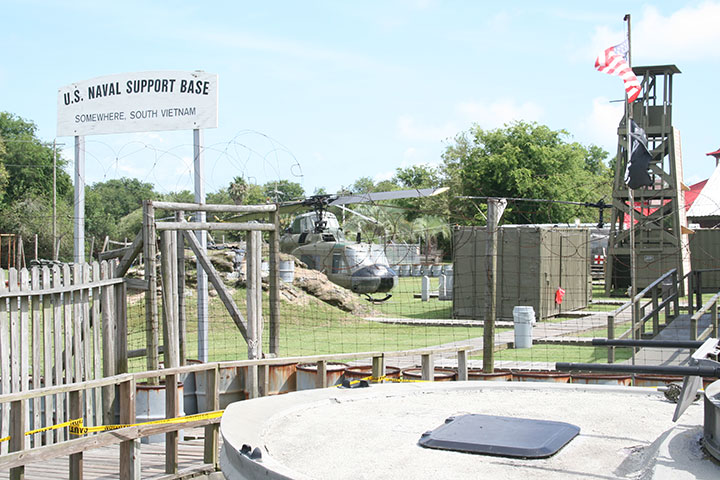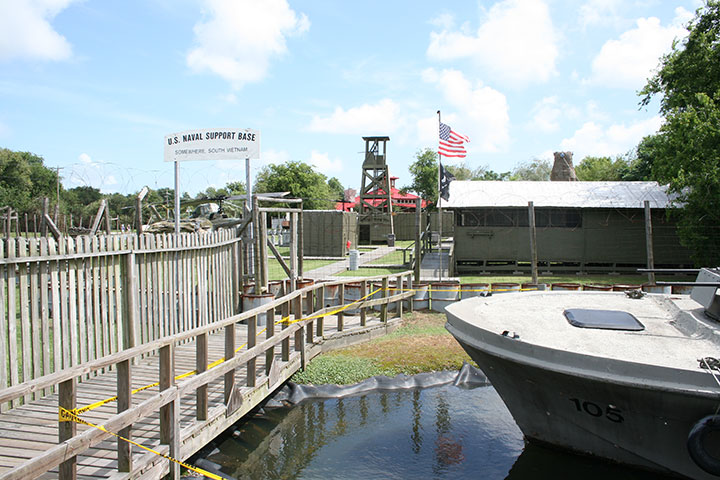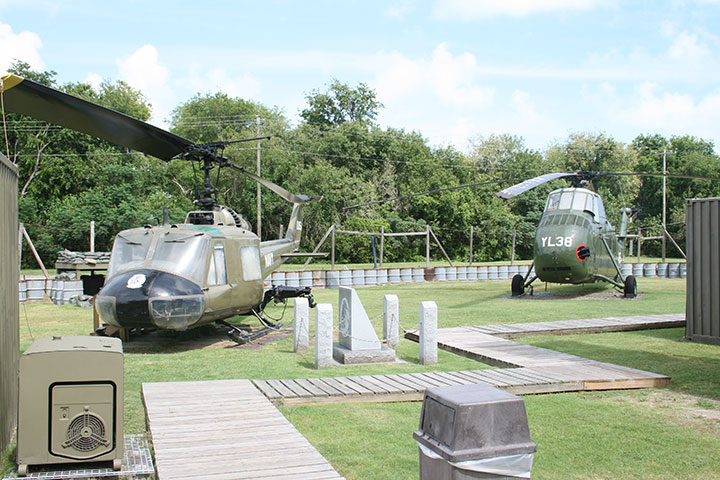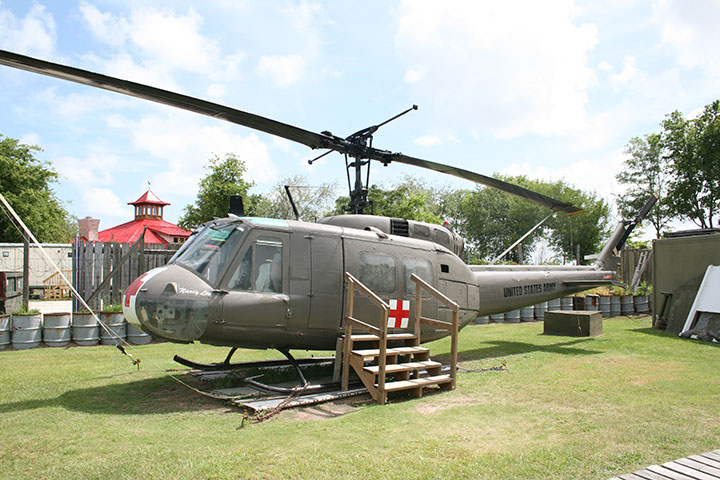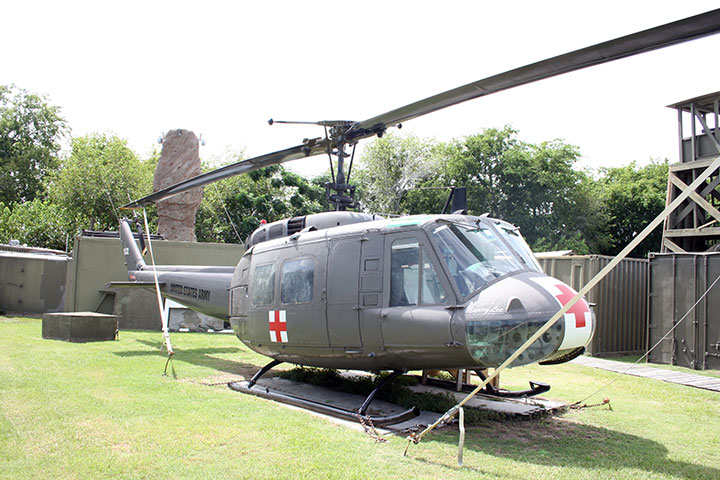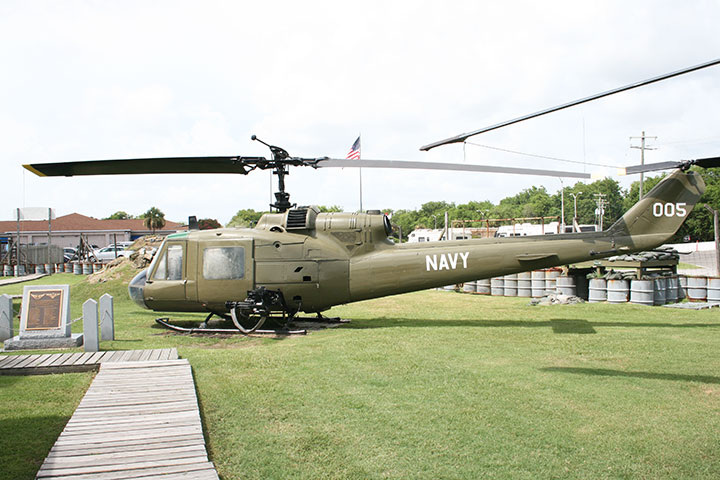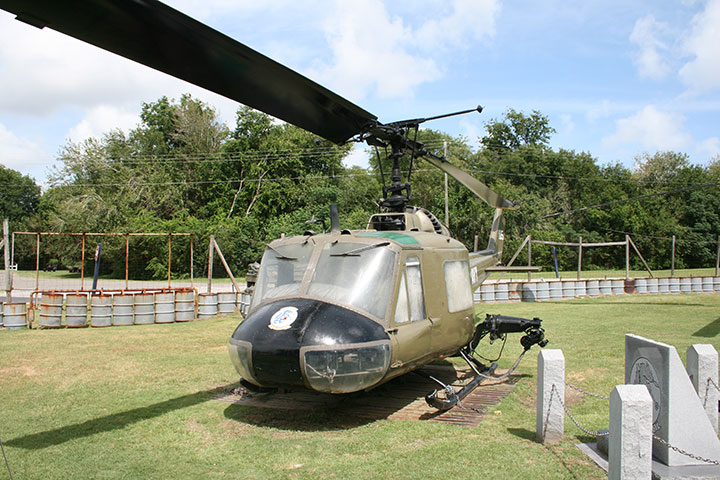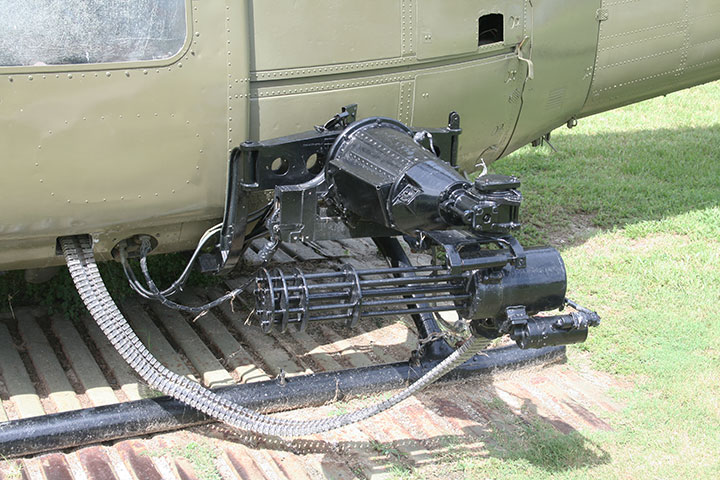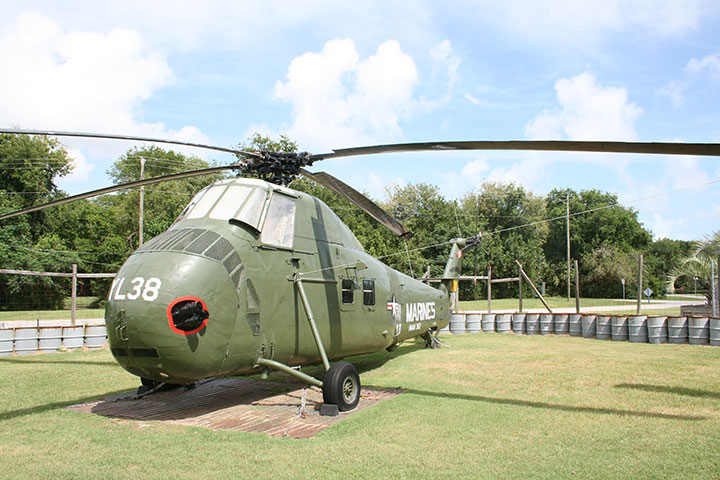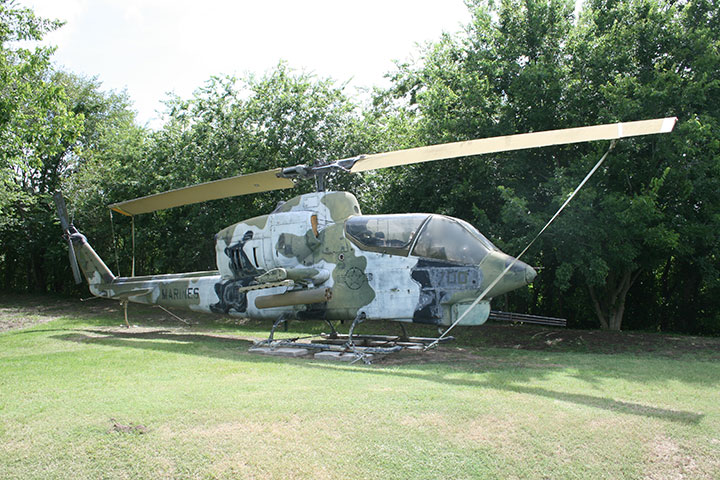 ---
Saint Matthews area: Front yard of a private residence T-33 April 2014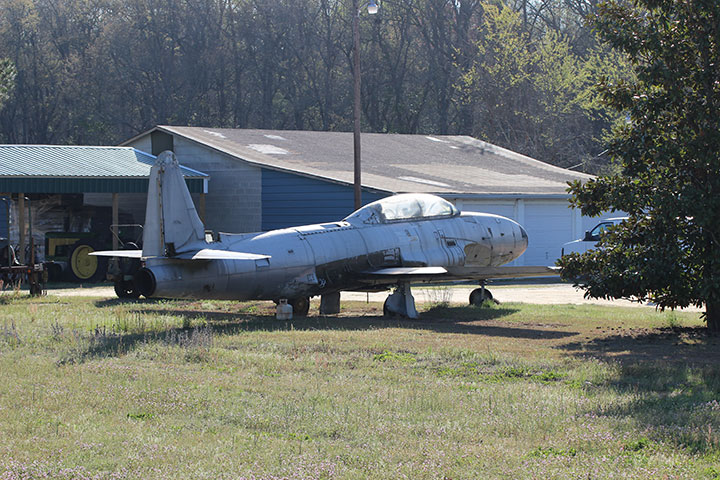 ---
Sumter: Shaw Air Force Base Front Gate A-10, B-66 F-4, F-101, O-2 May 2012 - These photos were taken from inside a moving vehicle during arrival for Shaw Air Expo 2012 so the quality is not the best. Don't try this at home, kids!!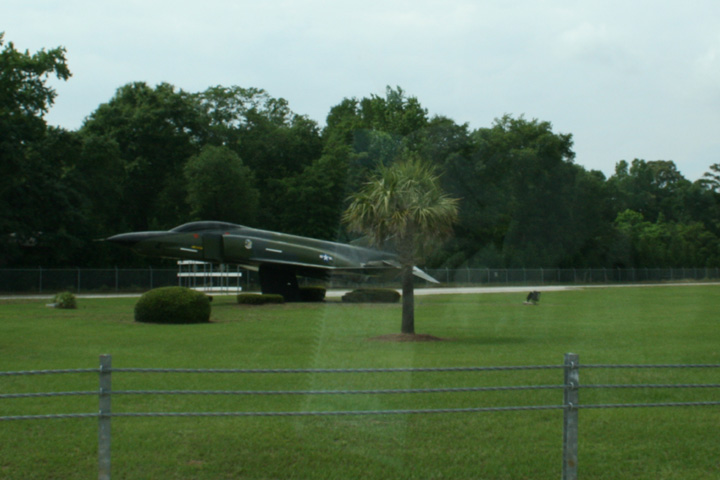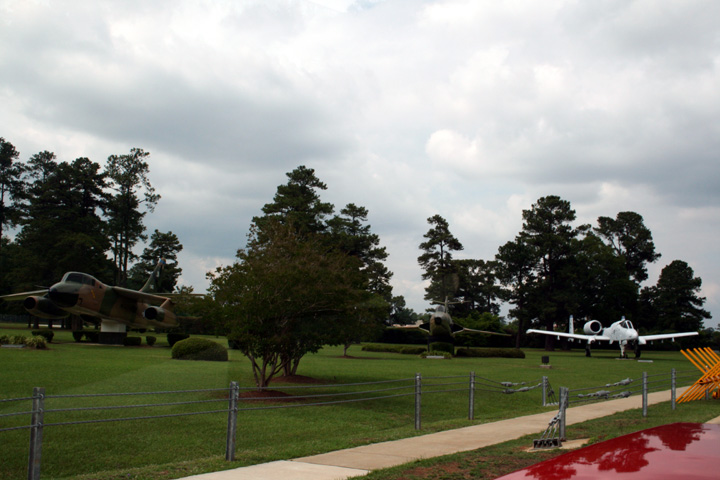 Sumter: Shaw Air Force Base Interior F-16, P-47(Plastic Replica) May 2012 - These photos were taken from inside a moving shuttle bus during arrival for Shaw Air Expo 2012.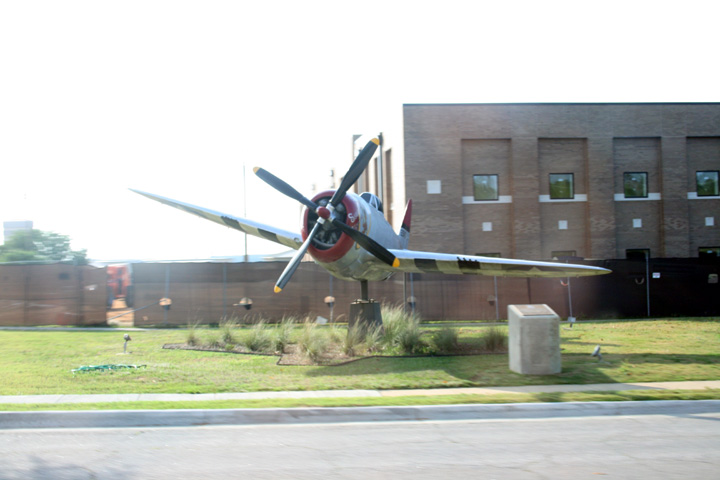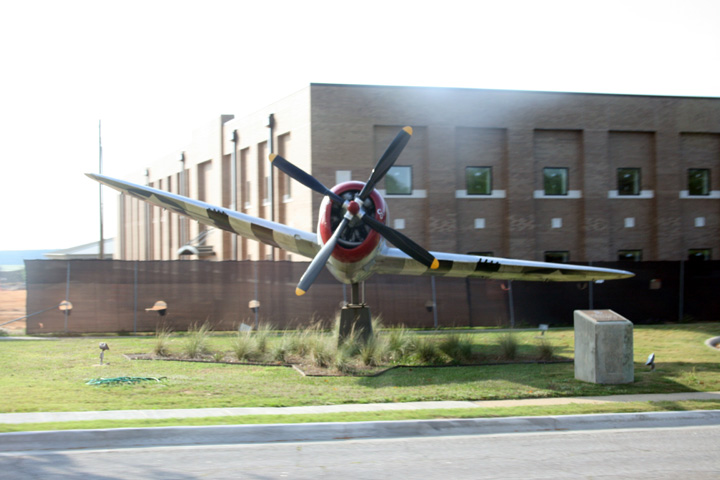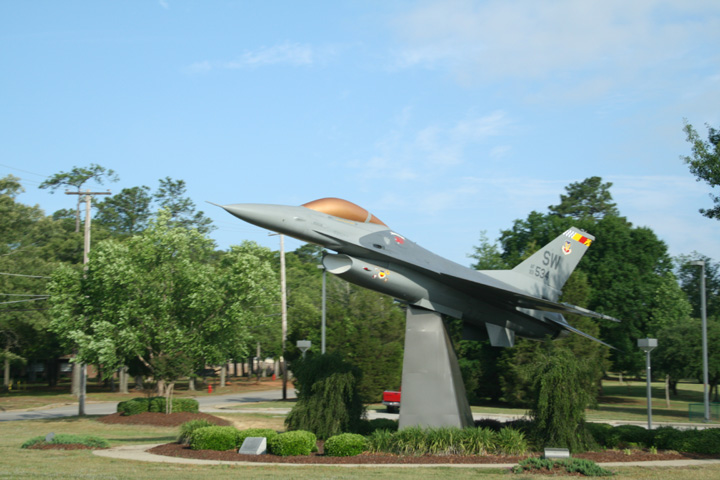 Alabama Arizona Arkansas British Columbia California Colorado Connecticut Europe Delaware Florida Georgia Illinois Indiana Iowa Kansas Kentucky Louisiana Maryland Michigan Mississippi Missouri Nebraska Nevada New Jersey New Mexico New York North Carolina Ohio Oklahoma Ontario Oregon Pennsylvania South Carolina Tennessee Texas Utah Virginia West Virginia Washington Wisconsin Wyoming