2009 Airshows
Branson, MO Barksdale AFB, LA Chino, CA Monticello, IN Indianapolis, IN Middletown, OH Kokomo, IN Geneseo, NY
Oshkosh, WI Van Wert, OH Selfridge ANGB, MI Huey Reunion, Peru, IN Marion, IN Urbana, OH Waukegan, IL
Scott AFB, IL Houston, TX Randolph AFB, TX
Geneseo, NY Airshow 2009
July 10-12, 2009 (Photos taken July 10-11)
This is one of the classic and most well regarded warbird shows in country, which this year celebrated its 30th anniversary with a theme of "Go Navy" which featured three F4U's, one FM-2, the world's only flying SB2C, a TBM, and a Grumman F6F Hellcat that came all the way from California to participate. Also on hand were a PBY, SeaFury, B-25, P-51, B-17, C-54 and several DC-3/C-47's along with a multitude of trainers and liaisons.

This was the first time I had been able to make the event since I was there in 1991 with the American Military Heritage Foundation's Lockheed PV-2 Harpoon "Hot Stuff". There is no doubt that I have been missing a very unique show over those years. While Geneseo is not the largest warbird show around, it definitely has a unique character of its own operating from a scenic grass airfield that is located among Western New York's dairy farms. In today's economic environment airshow producers are being restricted by the price of fuel on the number of aircraft and acts that they can invite. The 1941Historical Aircraft Group did an excellent job on the acquisition of the warbirds to provide a well balanced presentation of WWII US Navy aircraft this year. That combined with the ability to be as close to the sterile area as allowed to maintain safety requirements lets one experience the engine starts and aircraft ground movements not afforded at other shows.
The 1941 Historical Aircraft Group and the Geneseo Airport that is their home and both are looking to expand the warbird presence at this location. The 1941 HAG currently owns and operates C-47 W7 that was a lead ship on D Day in dropping the 82nd Airborne at Sainte Mere Eglise. It also operates a C-45 and has purchased the Douglas B-23 Dragon from the Commemorative Air Force in Midland, TX. This is the only one of its type remaining that can be restored to flying condition. Also on the requisition list of the 1941 HAG is either a flyable P-40 or P-51, or one that can be restored to flying condition. There is no doubt that this group and its associated air show have lots of good things planned for the future. Currently the group also operates B-17F "Memphis Belle" which is owned by The Military Aircraft Restoration Group out of Anaheim, CA.
I was also informed that the Military Aircraft Restoration Group my take on a bigger presence at the Geneseo Airport. Currently it has a partially restored A-20 Havoc being stored in the corner of the main hangar at this location. I was told that two mechanics were going to be sent in to compete the restoration and get it flyable. Along with this the Military Aircraft Restoration Group may also erect a hangar for it own use and bring several other warbirds it has in the east and Midwest to this one location.
Friday practice show and arrivals: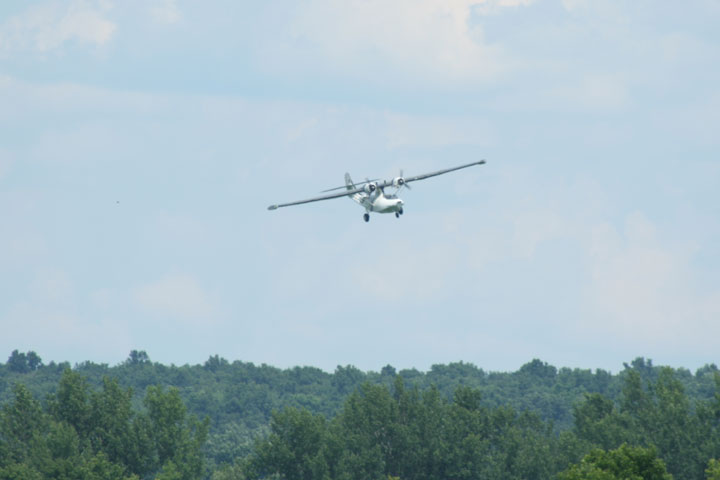 These first five photos capture the Canadian Warplane Heritage's PBY Canso making its landing on Friday afternoon at Geneseo.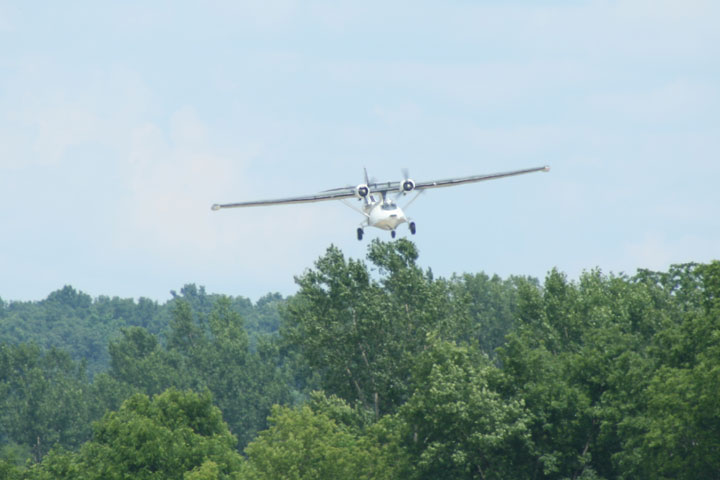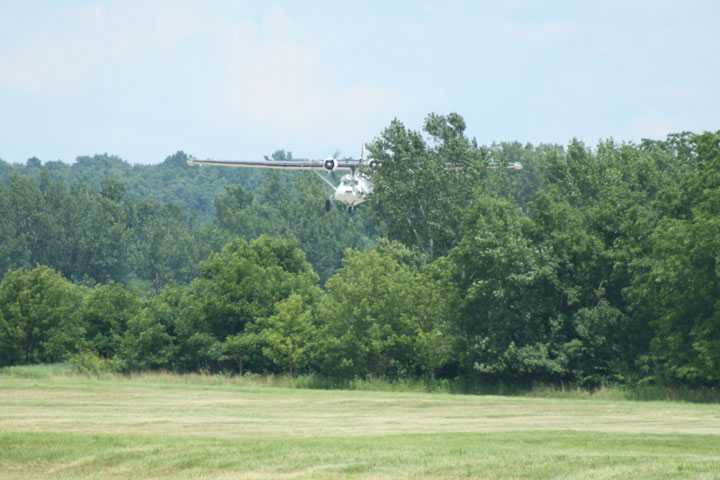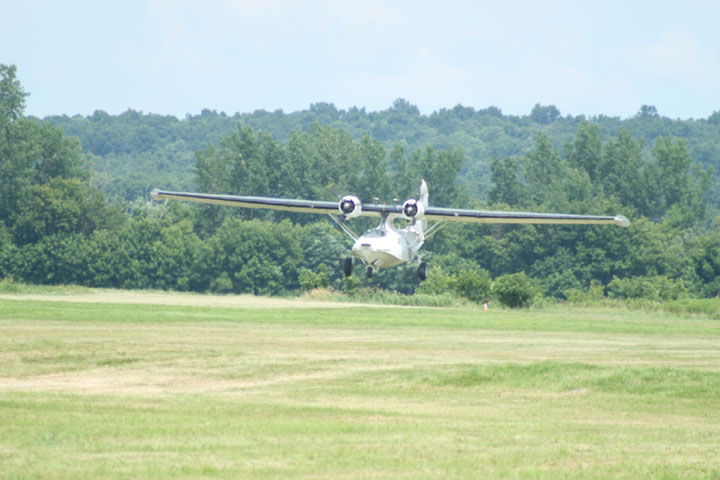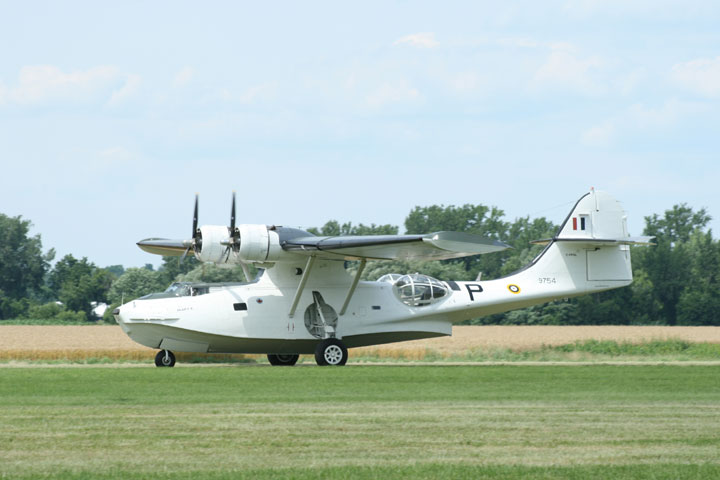 Geneseo airport is a grass strip and the show is billed at the "Greatest show on Turf".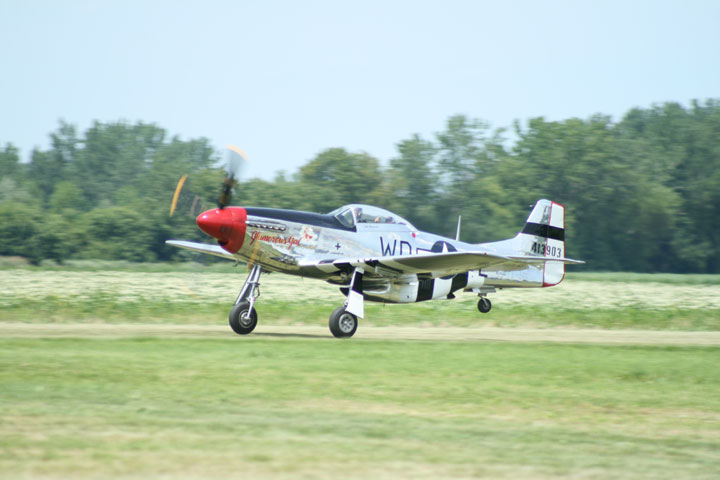 Dale "Snort" Snodgrass departs on Friday for the Heritage Flight.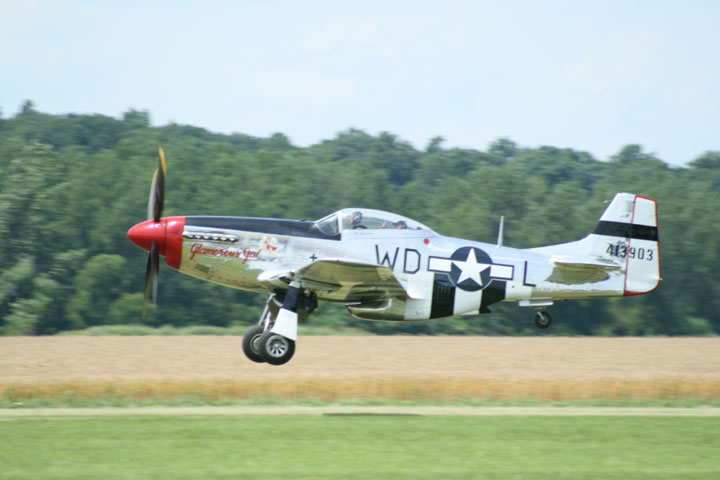 Dale is flying "Glamorous Gal" owned by Warbirds over Long Island.

Dale gave us a couple of photo passes before going to the hold zone during the F-15 Strike Eagle demo.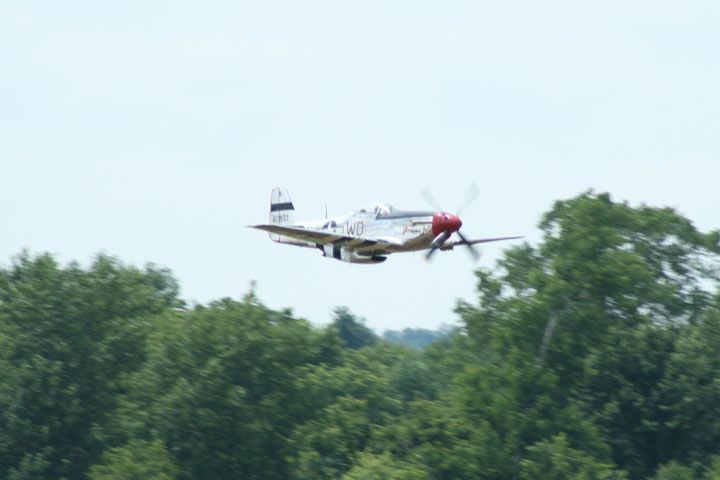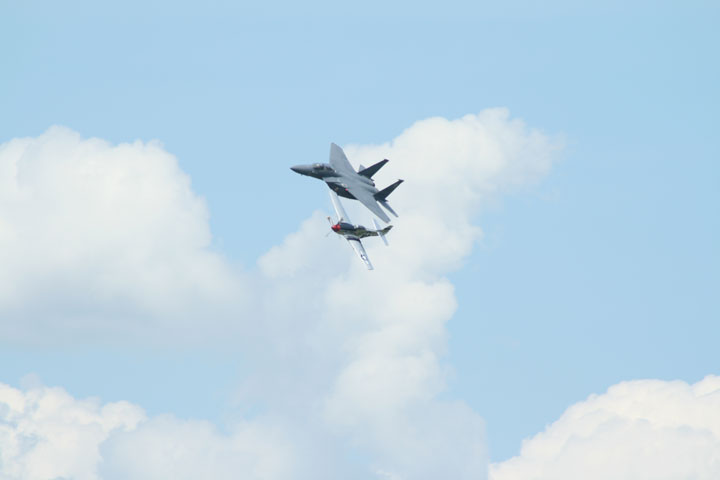 Inbound for the photo pass.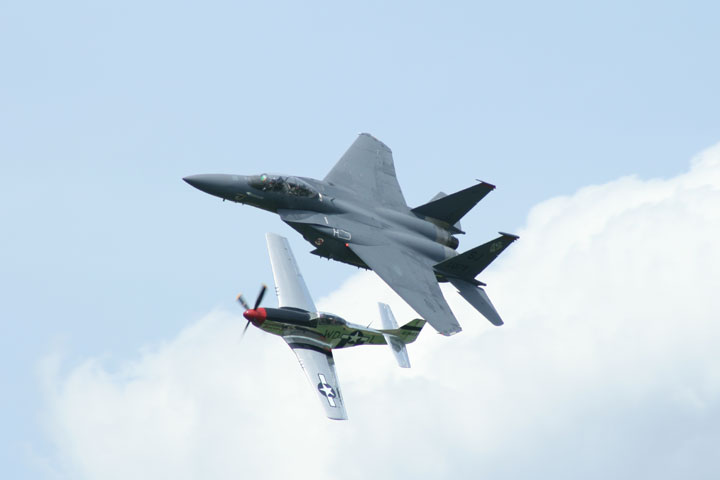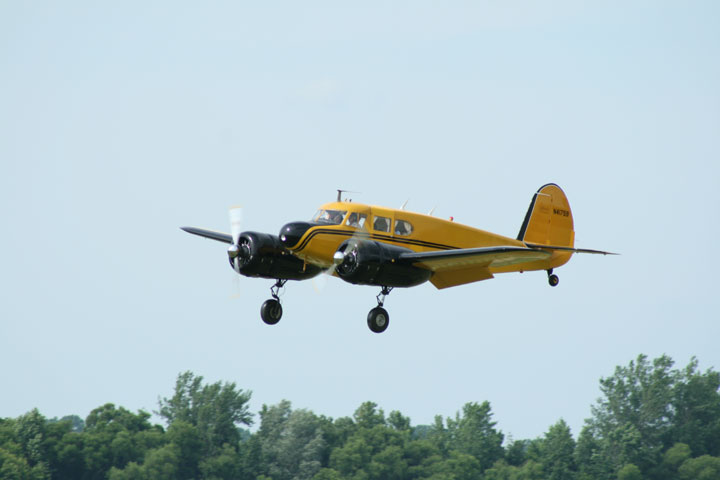 Thomas Huf from Kingsley, PA sets up for a landing in this 1944 Cessna T-50.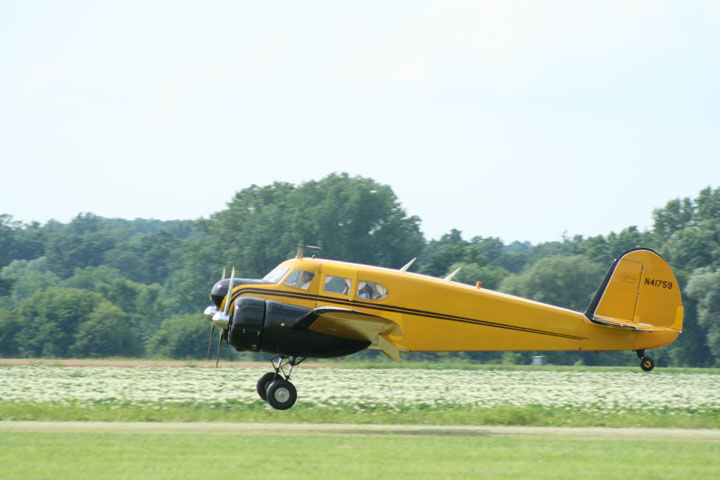 Thomas just getting ready to touch down. My understanding is this great looking Bobcat is a regular at the show.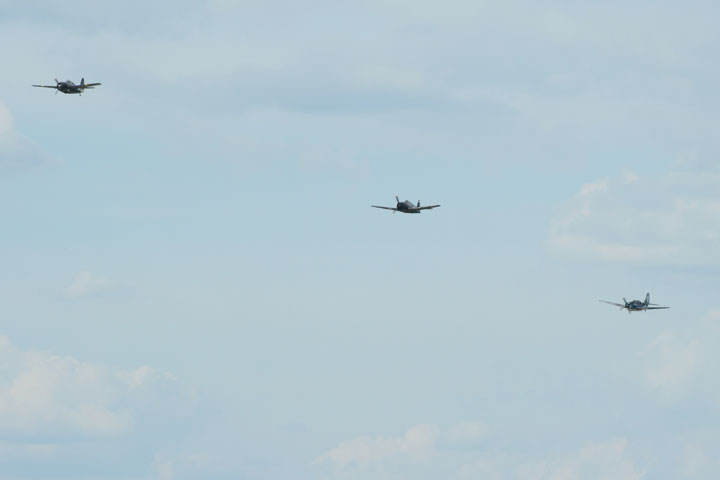 After the practice the FM-2, F6F, and SB2C went up to do some flying. Here they are in trail coming back to the airport. None of these aircraft flew after the rainstorm on Saturday so this is the only photo of all three up together.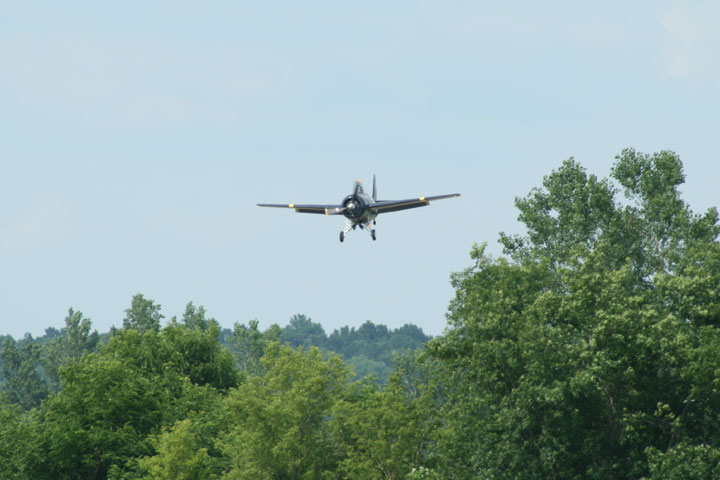 Mike Gillian from Downers Grove, IL on approach with his pristine Grumman FM-2.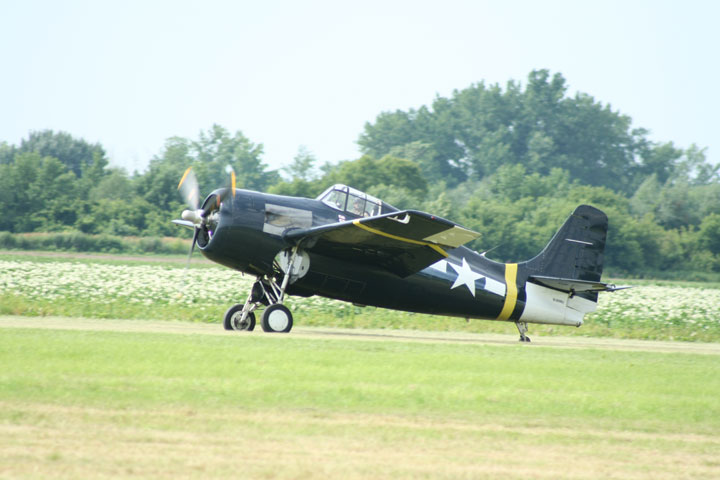 This was Mike's first year at the show.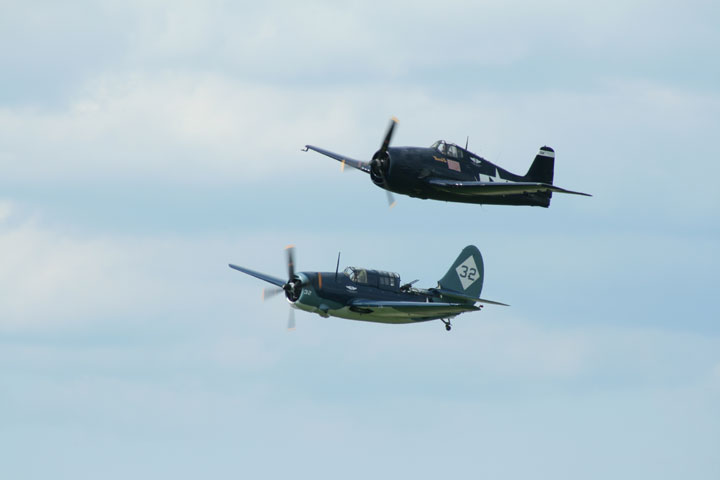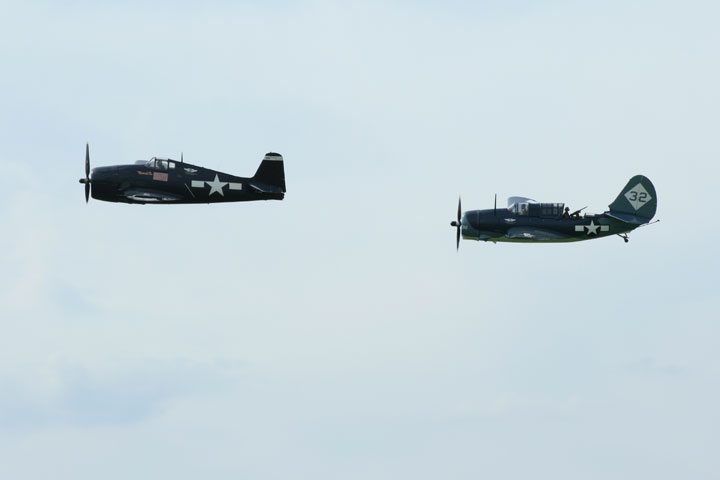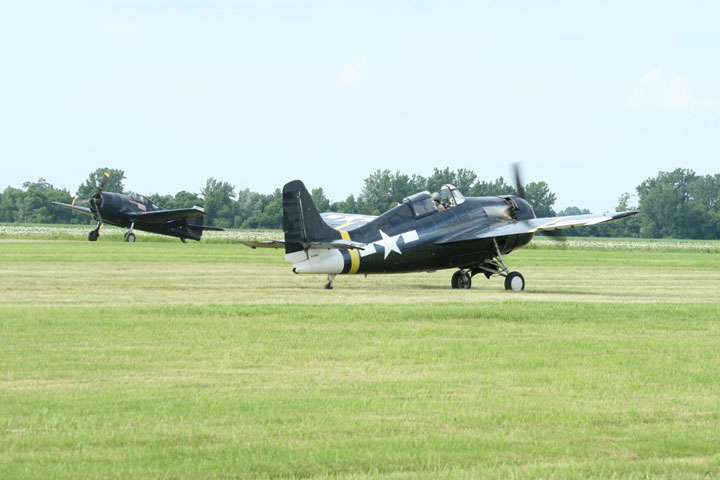 The FM-2 is taxiing in while the Hellcat lands.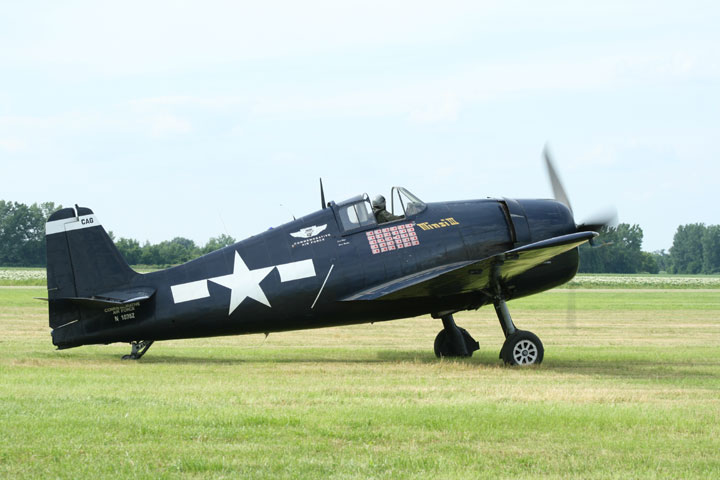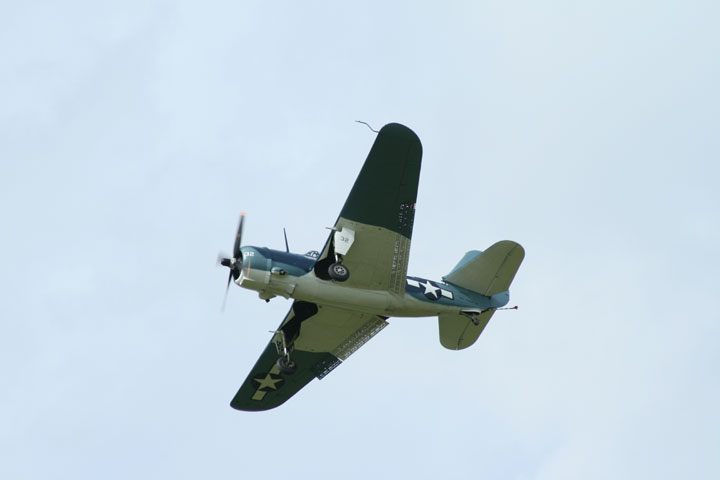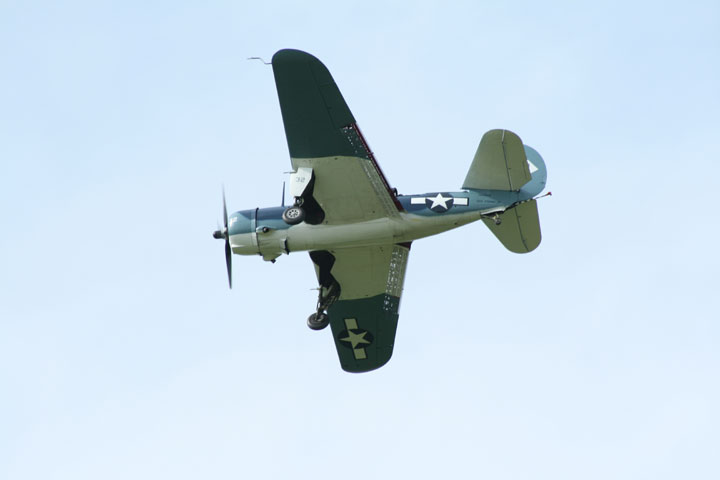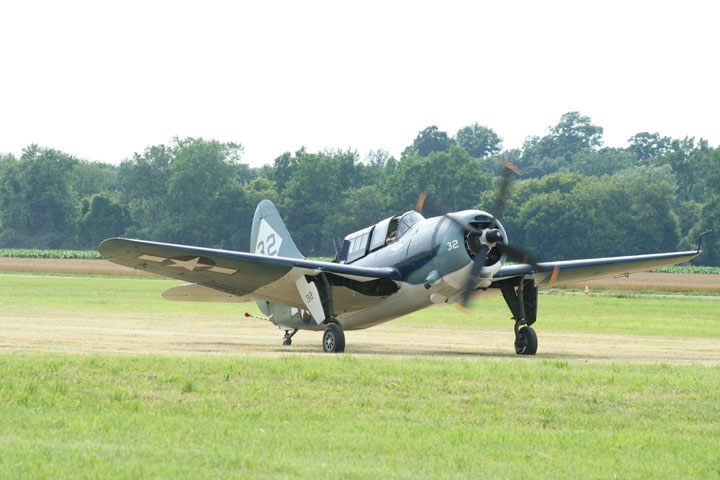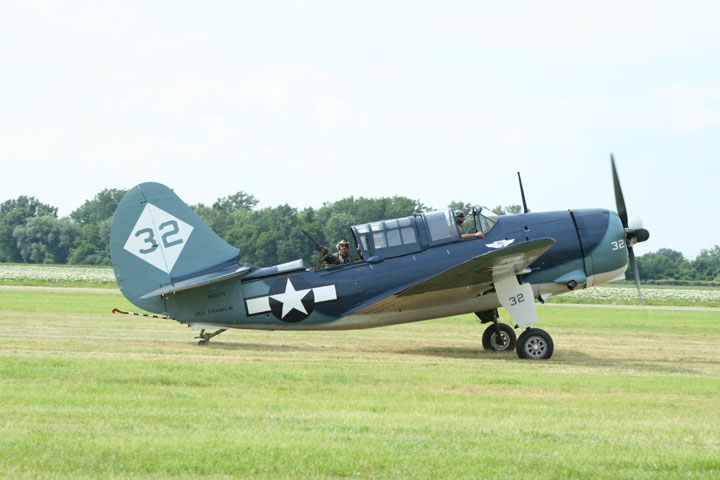 The world's only flying Helldiver.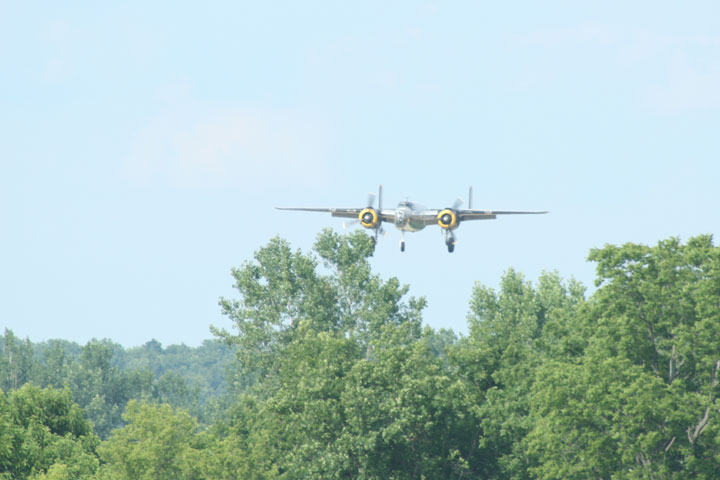 The B-25 "Miss Hap" on approach.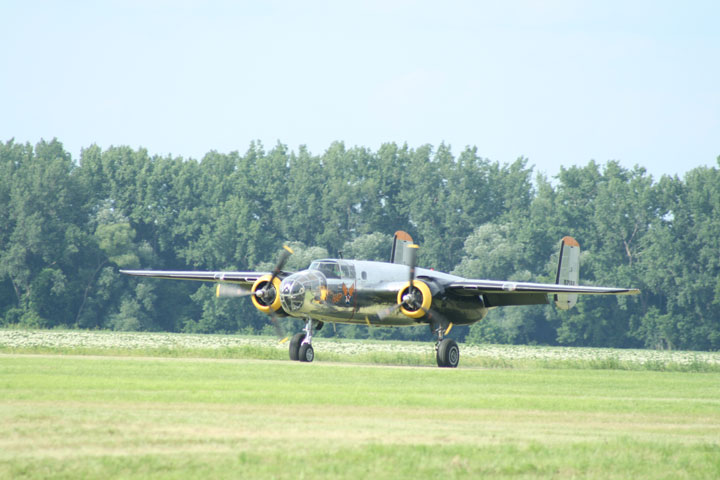 The American Air Power Museum from Long Island owns this great looking B-25.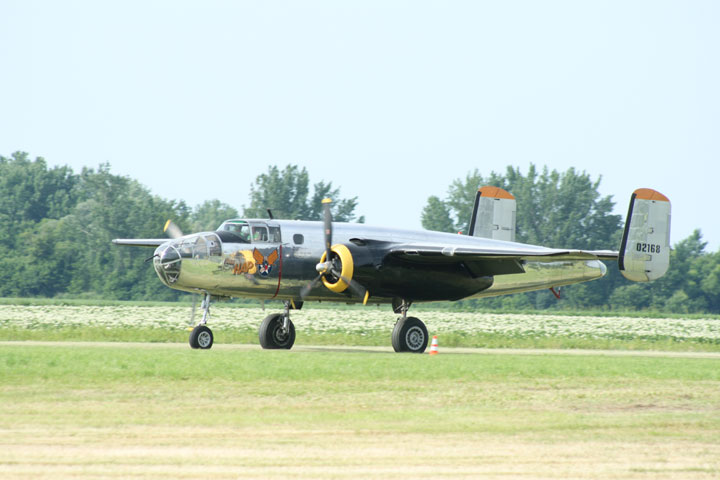 This was General Hap Arnold's personal aircraft during WWII.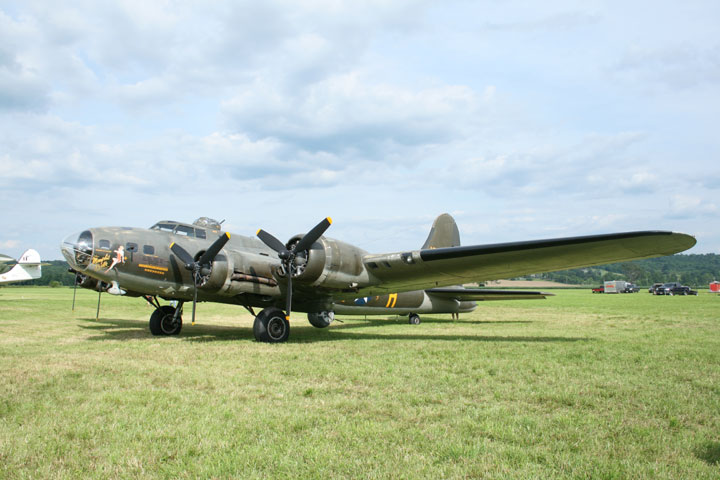 B-17F "Memphis Belle" was the featured aircraft in the movie of the same name.
Saturday show: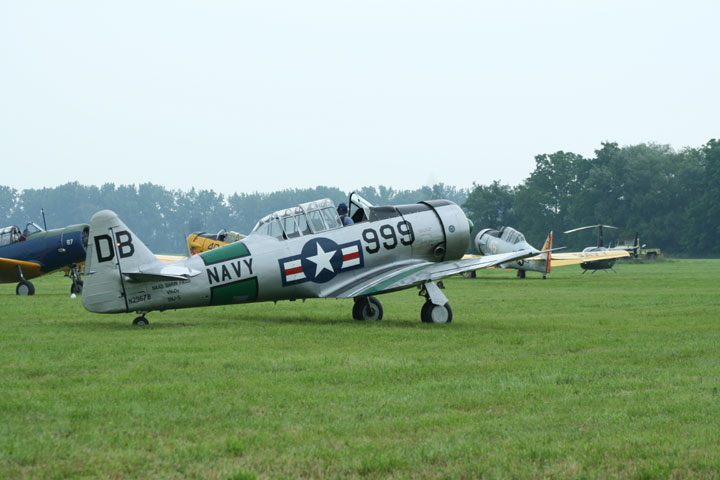 This was just before noon and the weather was rapidly deteriorating. Just as the Harvards and Texans along with a BT-13 were ready to take off for their fly-bys, the show was shut down due to two hours and twenty minutes of rain.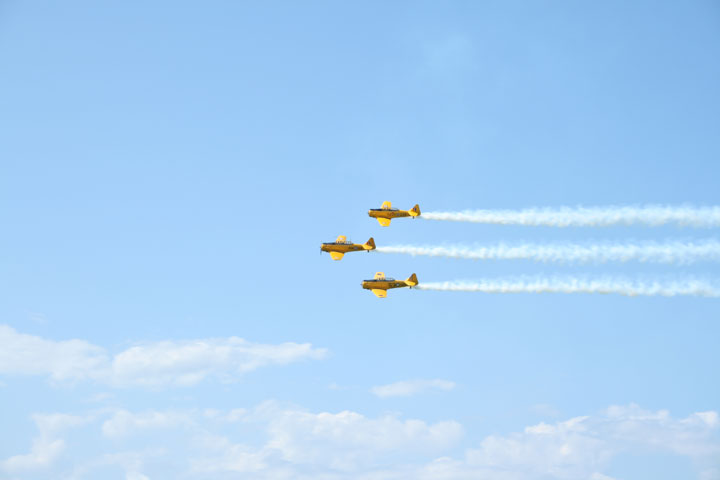 After the front went through the weather was great. The show continued with the Canadian Harvard Aerobatic Team.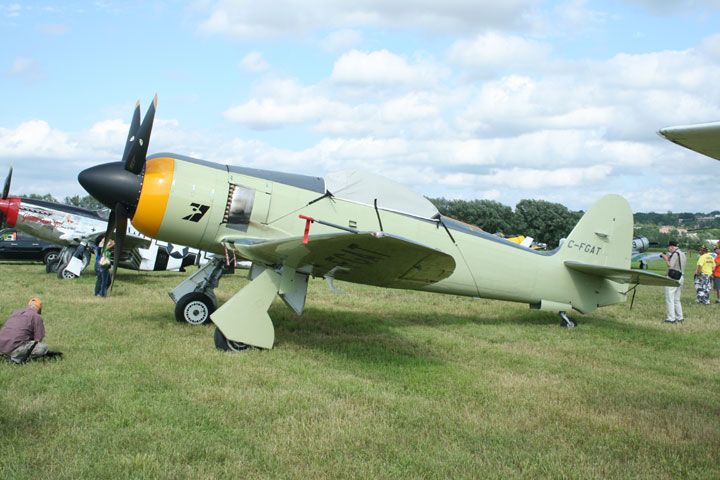 Canadian SeaFury.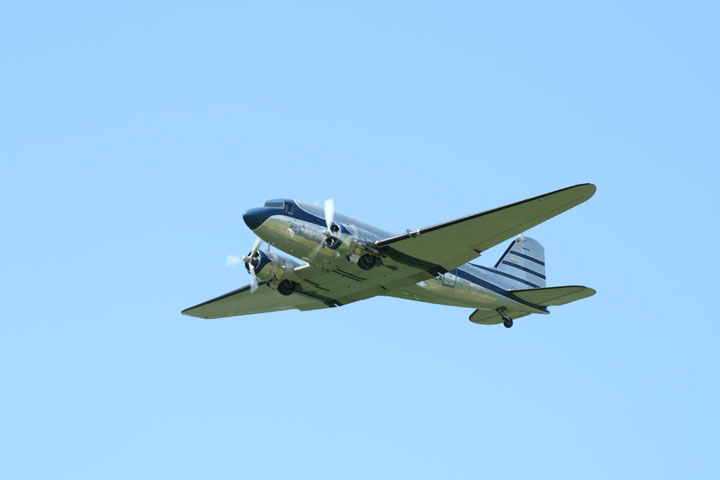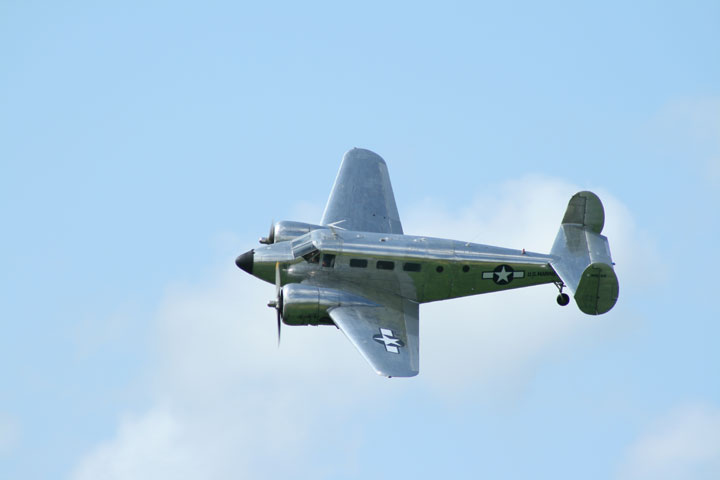 C-45 operated by the 1941 HAG.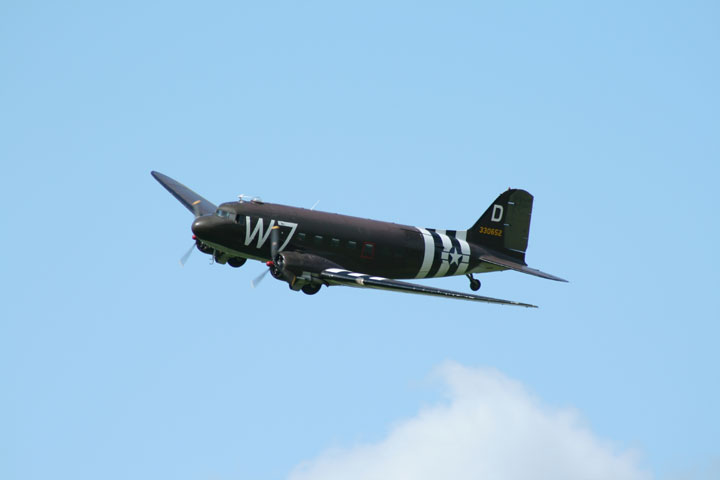 This C-47 is true WWII combat veteran.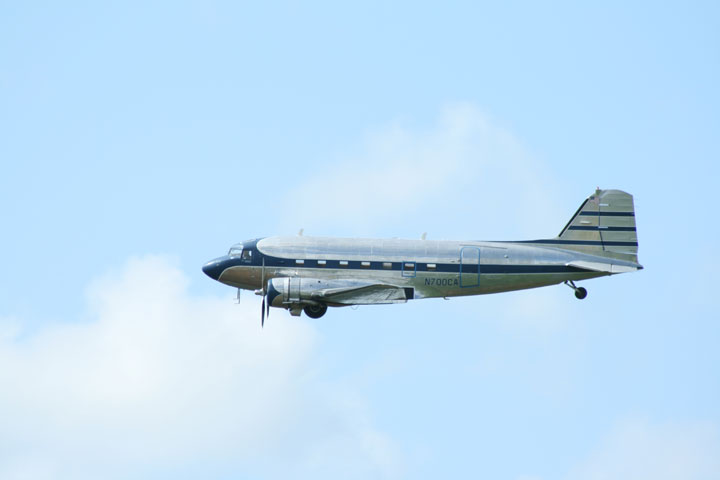 This 1943 DC-3/C-47 is owned by Champlain Air from Plattsburgh, NY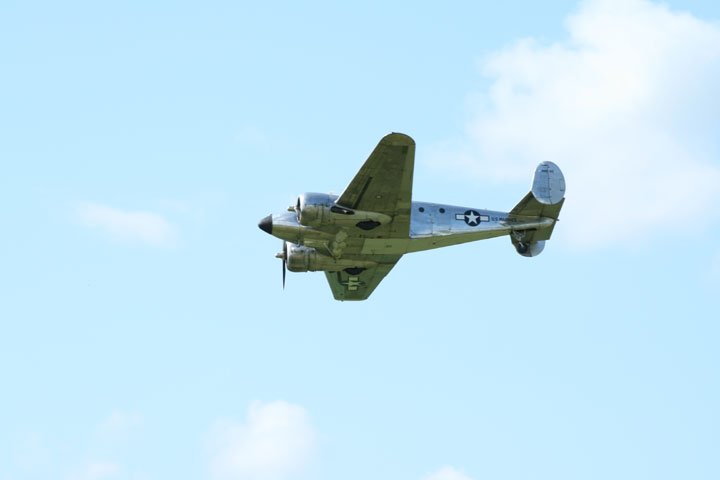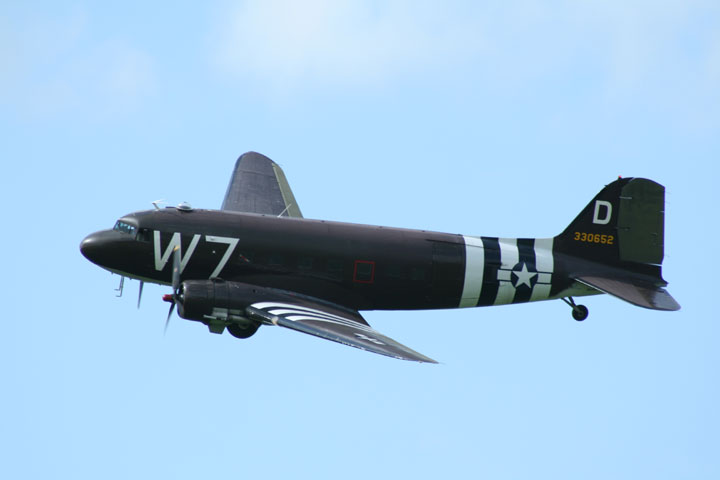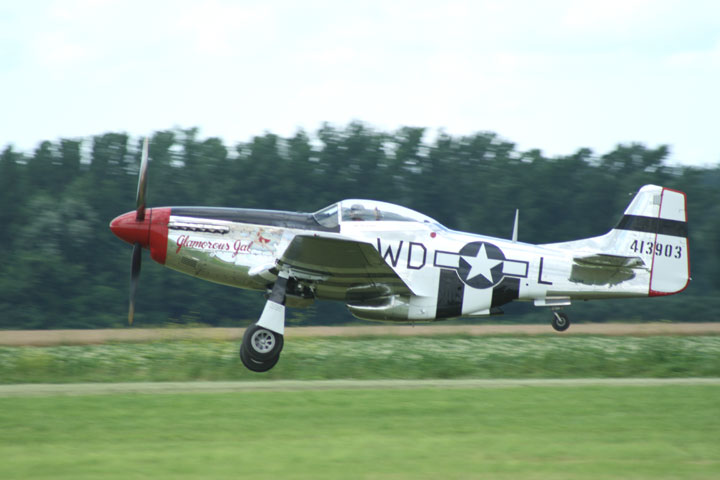 First of the last four aircraft on the takeoff roll for the day.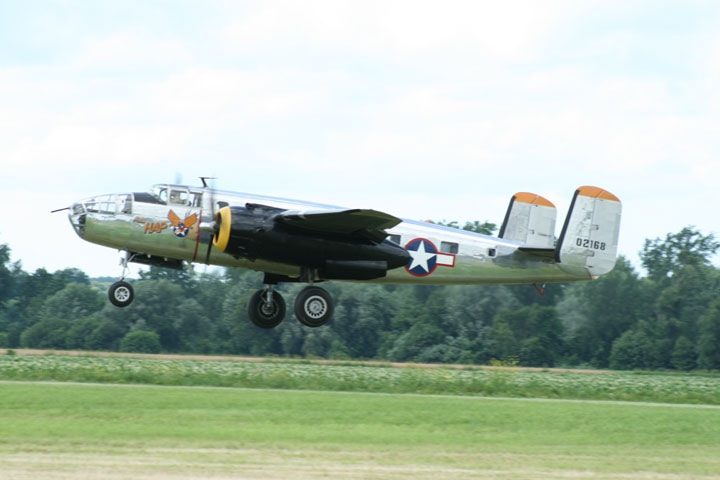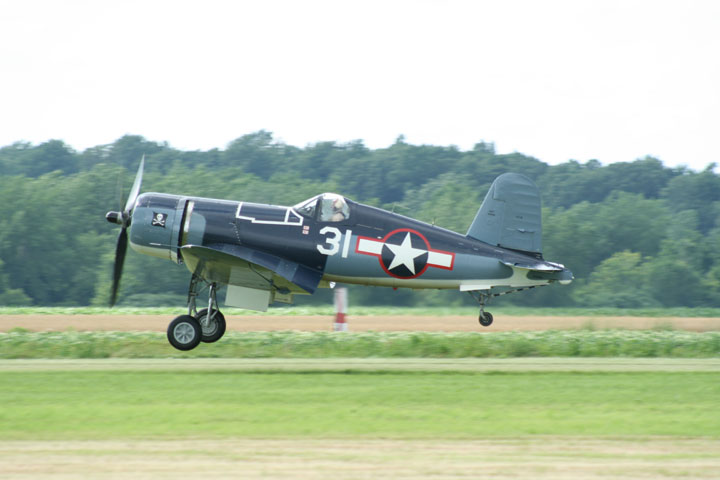 The Goodyear FG-1D is operated by the Fighter Factory of Virginia Beach, VA.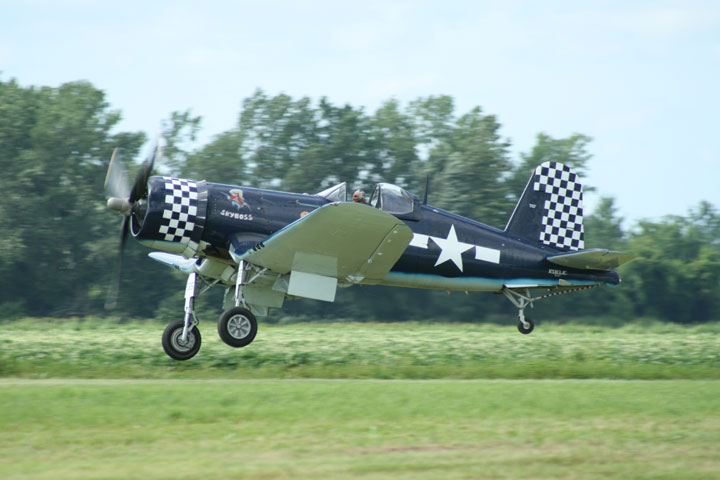 This Goodyear built FG1D is owned by the American Airpower Museum.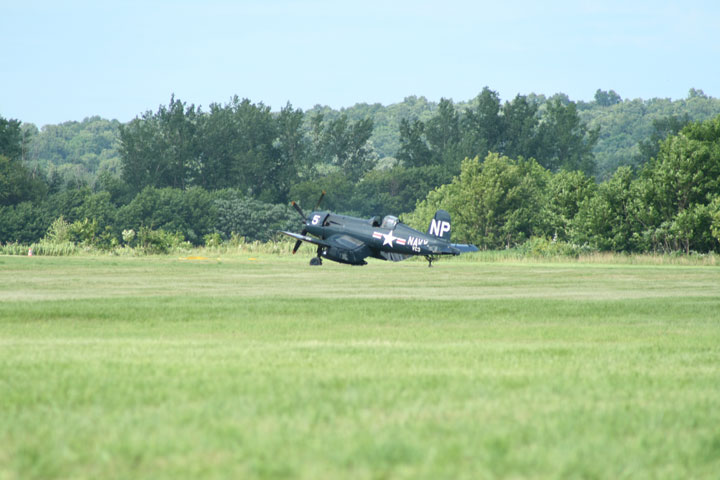 Unfortunately this Corsair was not able to participate on Saturday as it became stuck in the mud. It was pulled out right after the show. It is owned by the Collings Foundation.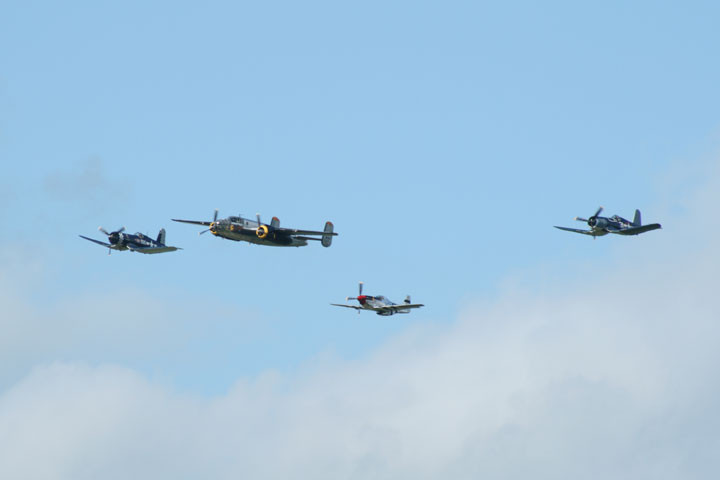 Four ship.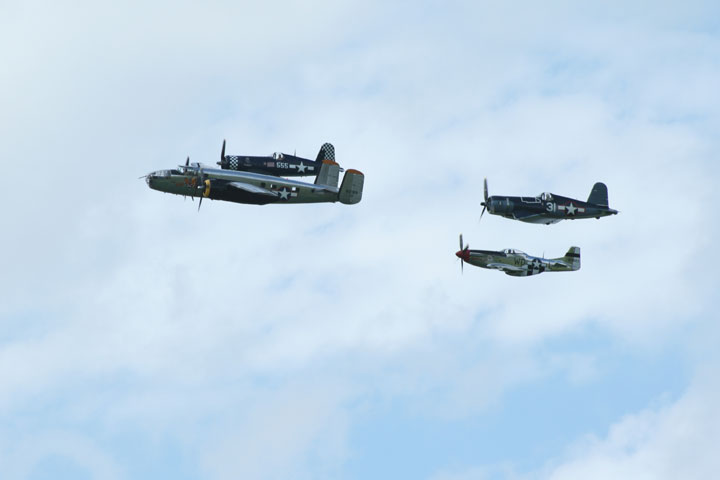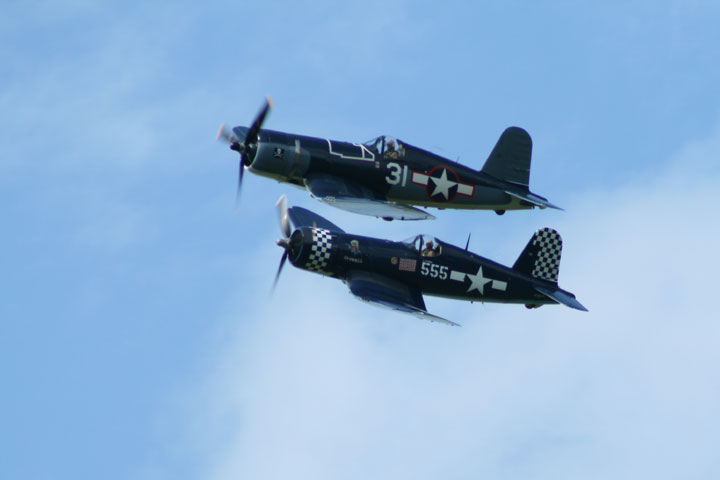 Two ship Corsair fly-by.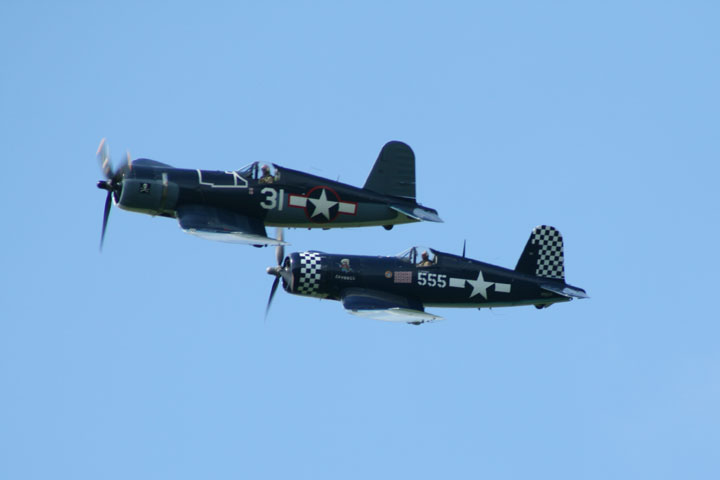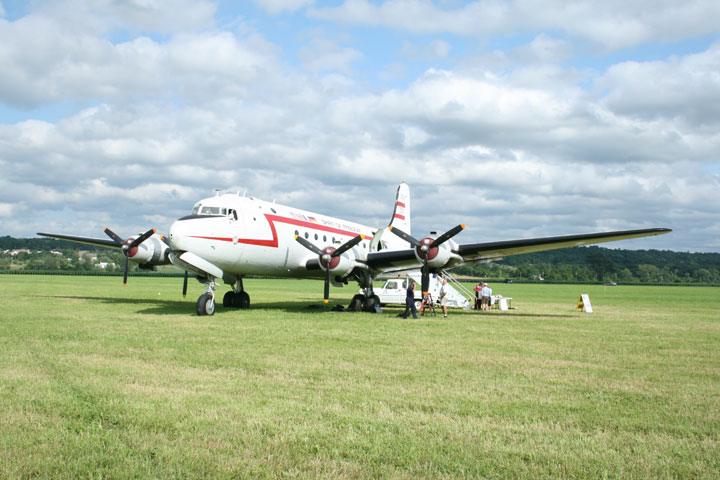 Tim Chopp and other hard working volunteers from the Berlin Airlift Historical Foundation brought in the C-54. Its interior museum gets better each time I tour it.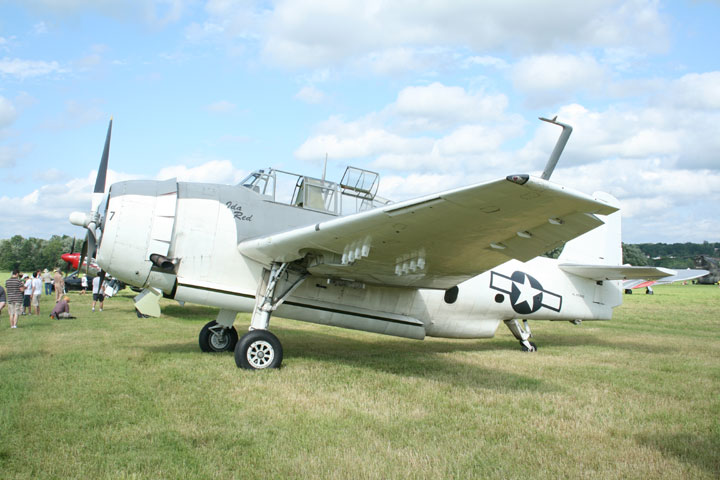 Dave Tinker's TBM.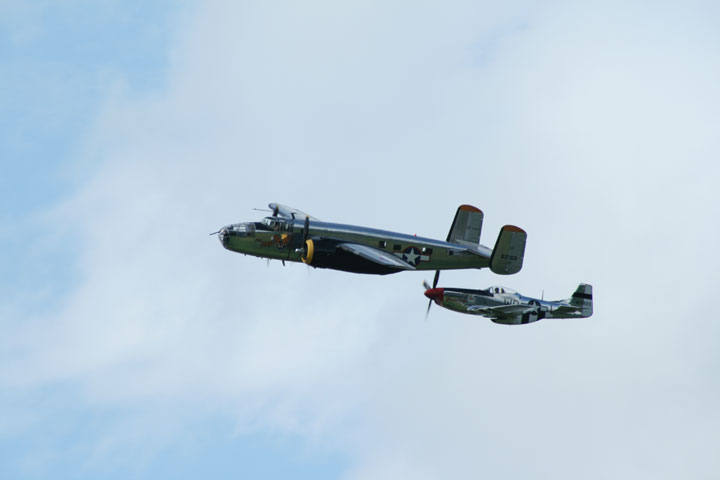 Branson, MO Barksdale AFB, LA Chino, CA Monticello, IN Indianapolis, IN Middletown, OH Kokomo, IN Geneseo, NY
Oshkosh, WI Van Wert, OH Selfridge ANGB, MI Huey Reunion, Peru, IN Marion, IN Urbana, OH Waukegan, IL
Scott AFB, IL Houston, TX Randolph AFB, TX