2009 Airshows
Branson, MO Barksdale AFB, LA Chino, CA Monticello, IN Indianapolis, IN Middletown, OH Kokomo, IN Geneseo, NY
Oshkosh, WI Van Wert, OH Selfridge ANGB, MI Huey Reunion, Peru, IN Marion, IN Urbana, OH Waukegan, IL
Scott AFB, IL Houston, TX Randolph AFB, TX
Chino, CA Airshow 2009
May 16-17, 2009 (Photos taken both days.)
Wow!! What a show. This show has been on my list for many years and I was not disappointed after driving out from Indiana to see it this. While there were trainers, liaisons, and cargo aircraft on display, this was a fighter and bomber show for the flying portion. Five F8F Bearcats in the air on Saturday, three F7F Tigercats flying, two Hellcats along with two B-25s and three TBM's were also all part of the flying. This year the show was dedicated Grumman aircraft with the really rare F3F and J2F being present and flying on Saturday. For the warbird finale and fly-by on Saturday there were 29 fighters and bombers in the air. Sunday due to attrition of the aircraft because of mechanical problems the number was reduced to 21, which is still not all that shabby. This show is on my list to hopefully get back to in 2010.
I took over 700 photos the two days I was there. I have tried with the 42 photos below to capture most of the aircraft that flew and the essence of the show.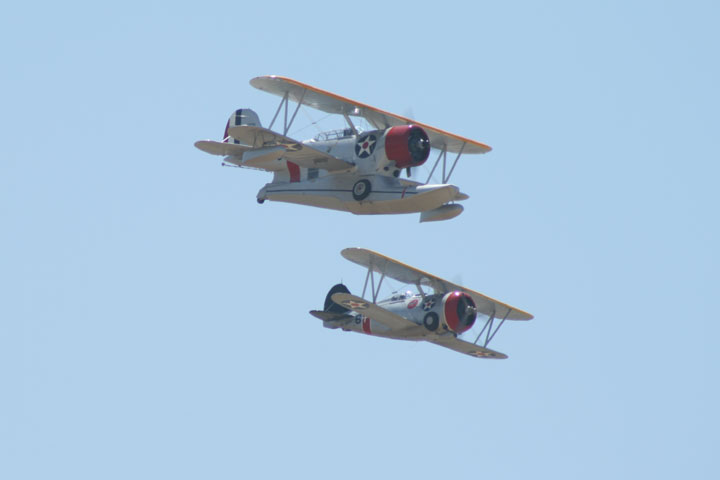 F3F and J2F.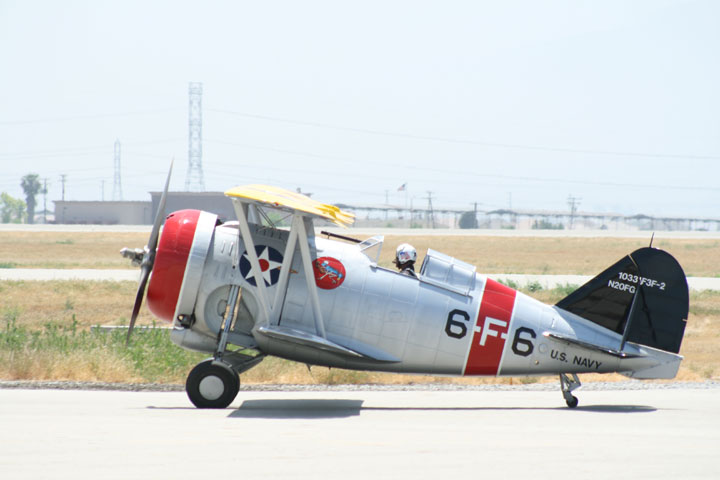 Grumman F3F taxiing back in on Saturday. It did not fly on Sunday.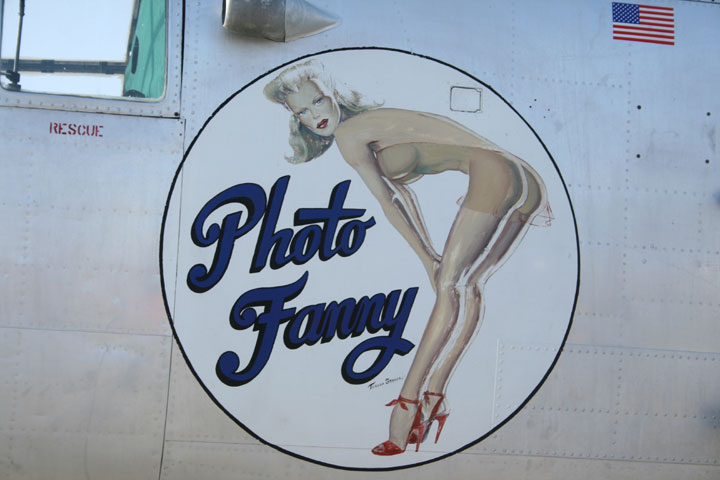 Nose art on one of the B-25s.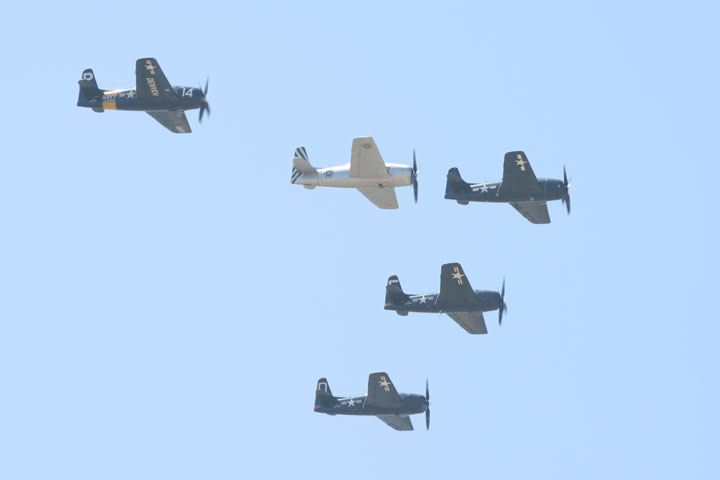 Five Bearcats.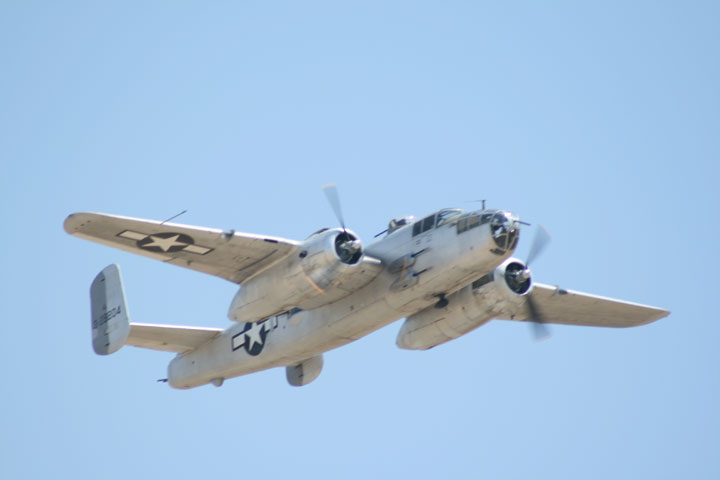 B-25 on take off.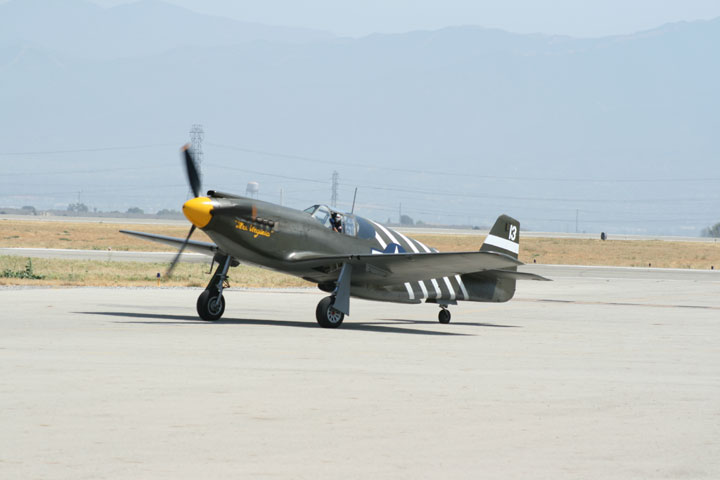 Home based P-51A from the Planes of Fame Air Museum taxiing back in on Saturday.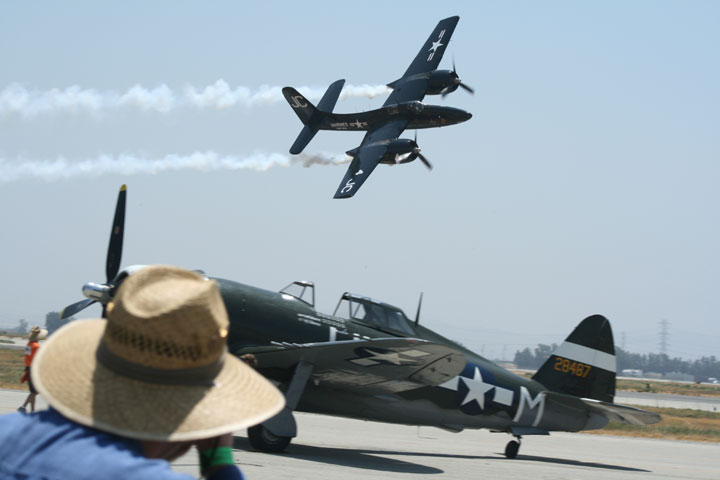 Low pass by F7F.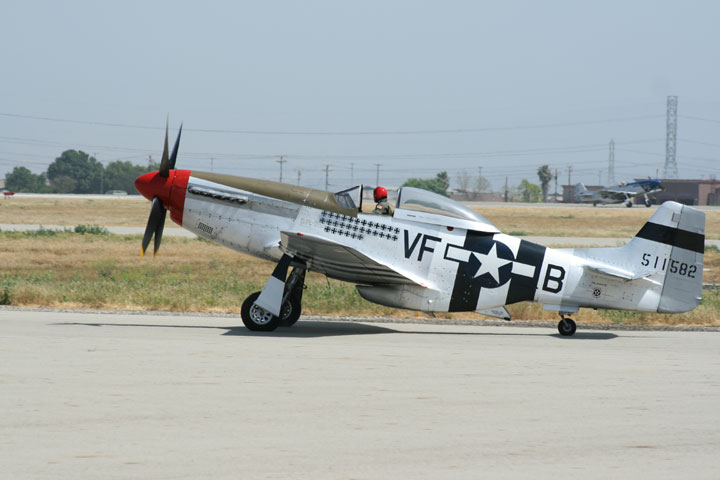 Planes of Fame P-51D returning to the ramp.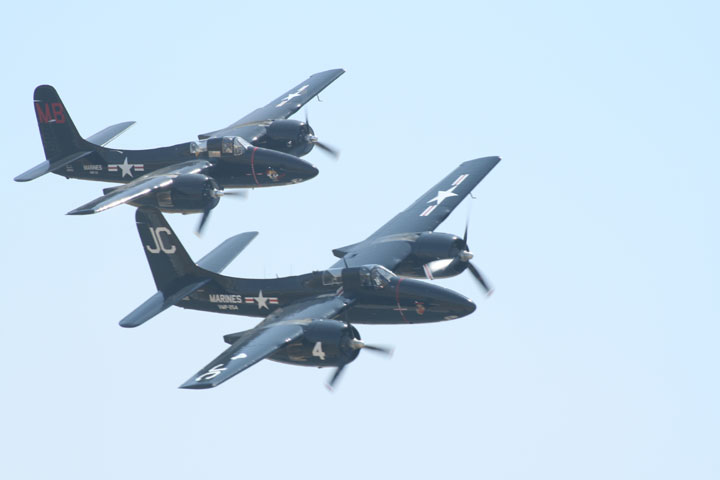 A nice tight formation of Tigercats.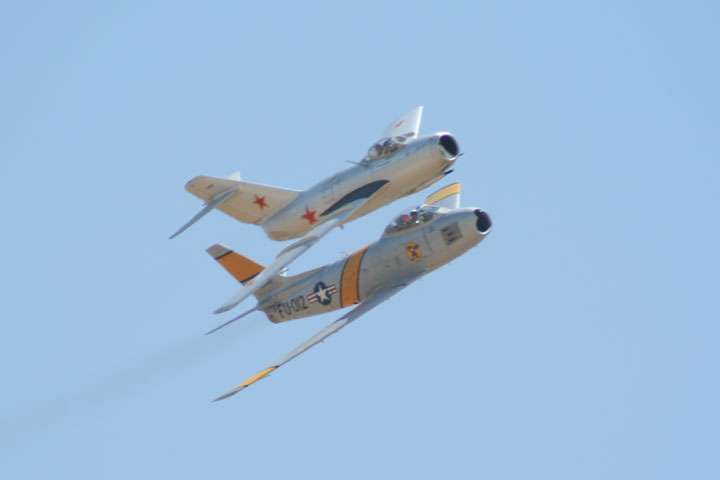 Mig-15 and F-86. Friendly Foes over Chino.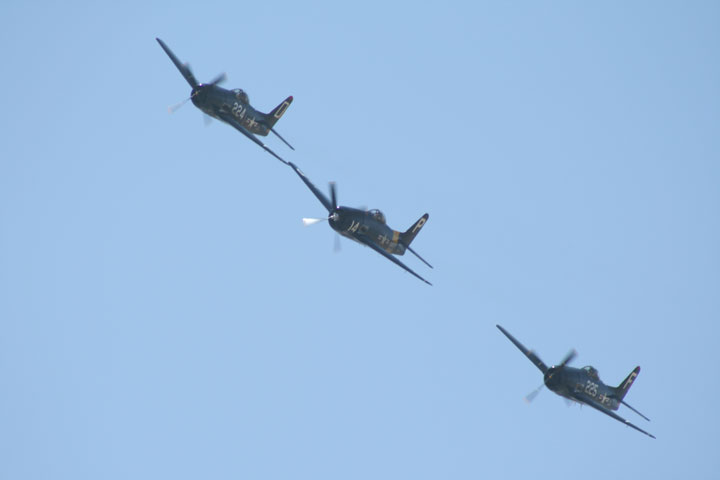 The Horsemen performed with three Bearcats. With the exception of the fourth F8F their formations and maneuvers were representative of the Blue Angels in the late forties when they flew these type aircraft.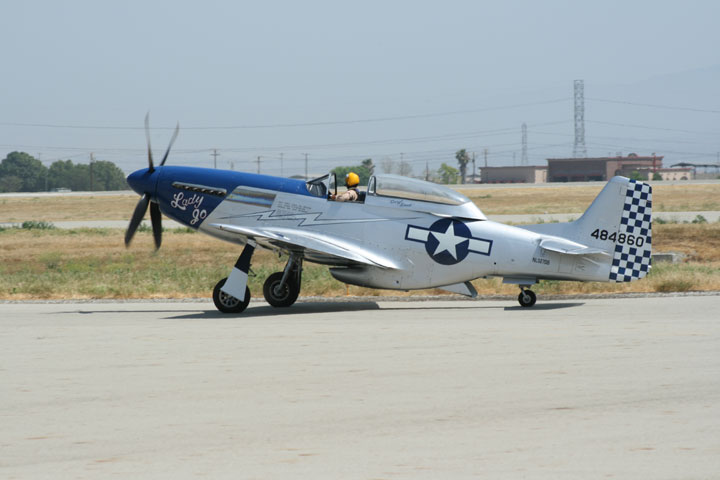 "Lady Jo", North American P-51D Mustang 44-84860.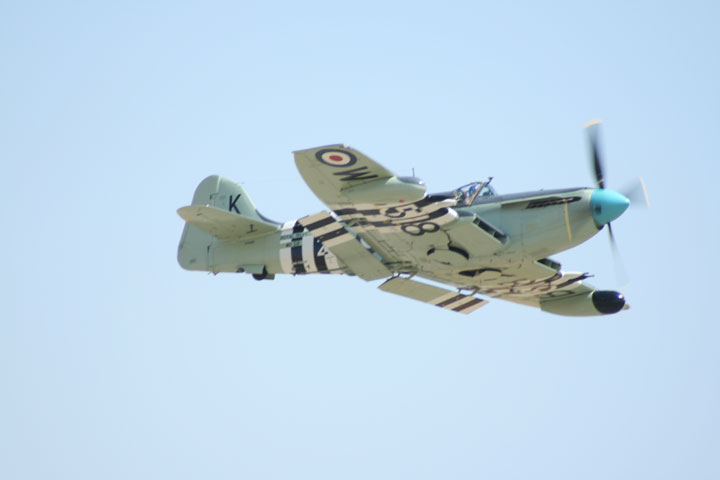 Fairey Firefly configured for take-off.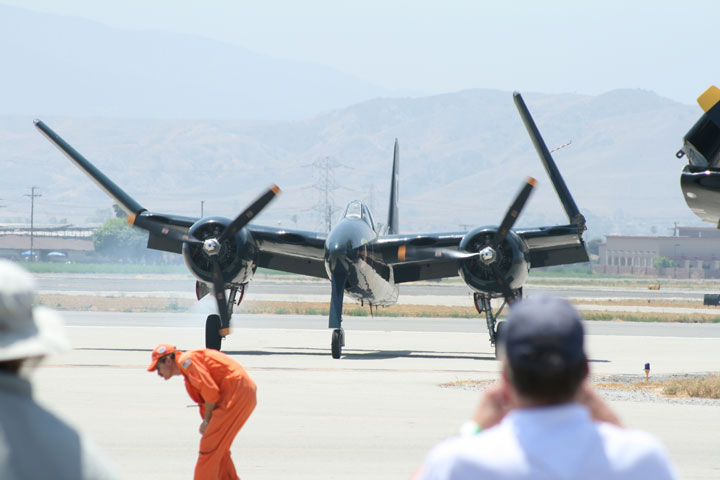 Wing Fold.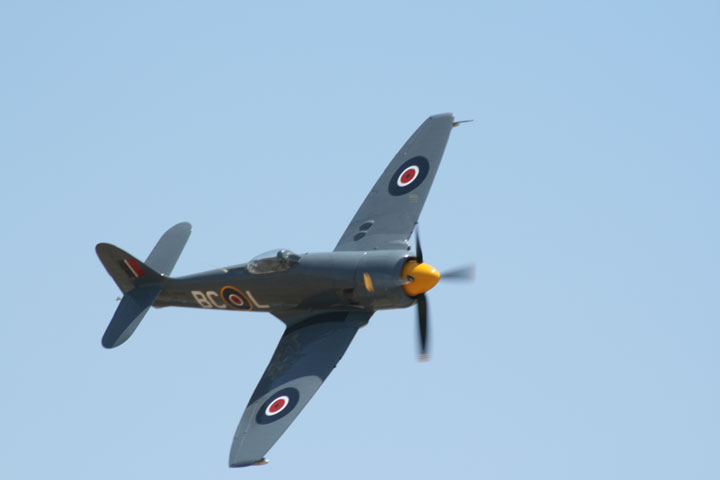 Hawker Sea Fury.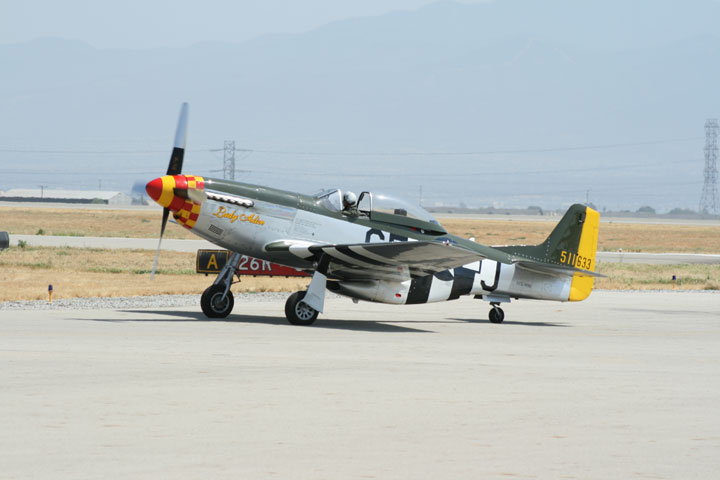 "Lady Alice", North American P-51D Mustang 45-11633.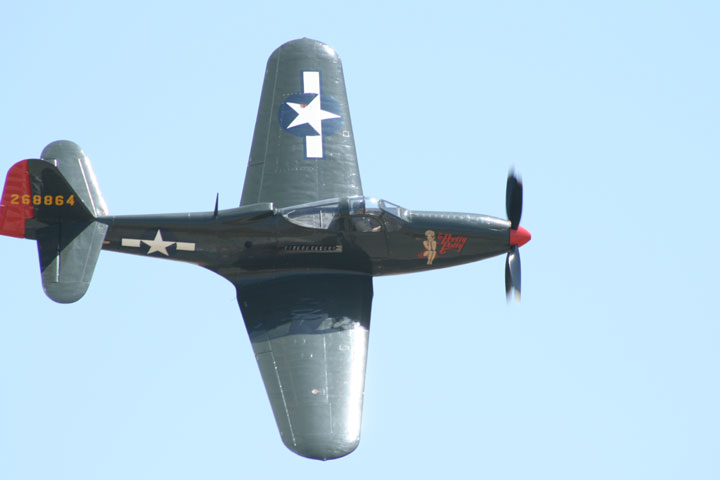 P-63 King Cobra from the Palm Springs Air Museum.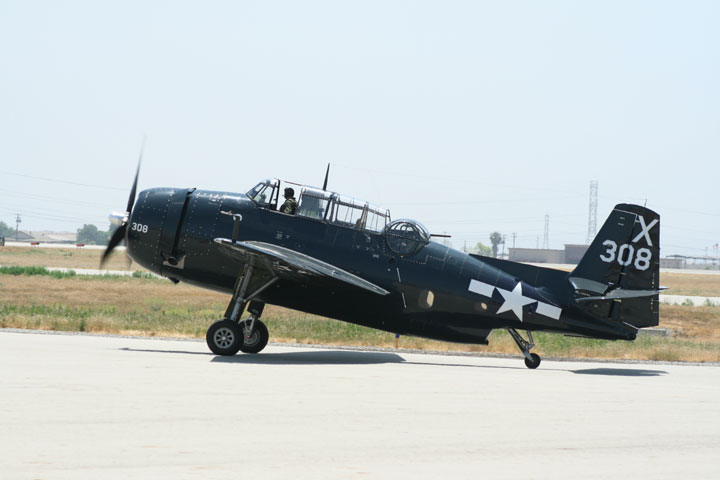 Grumman TBM Avenger in late and post WWII Sea Blue paint.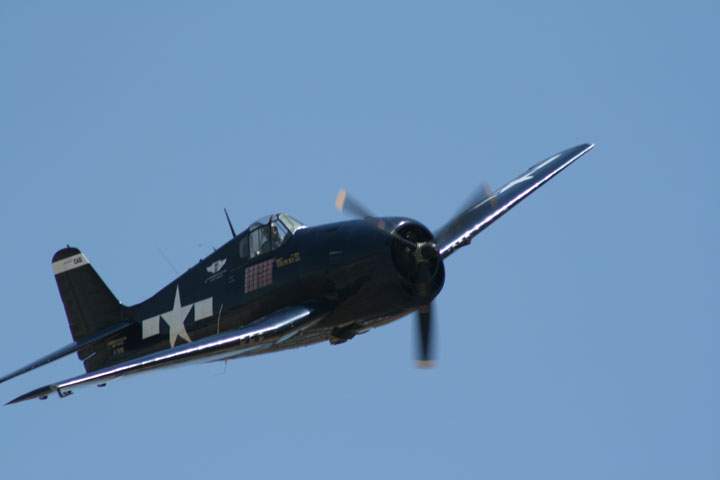 Grumman F6F Hellcat "coming around the corner".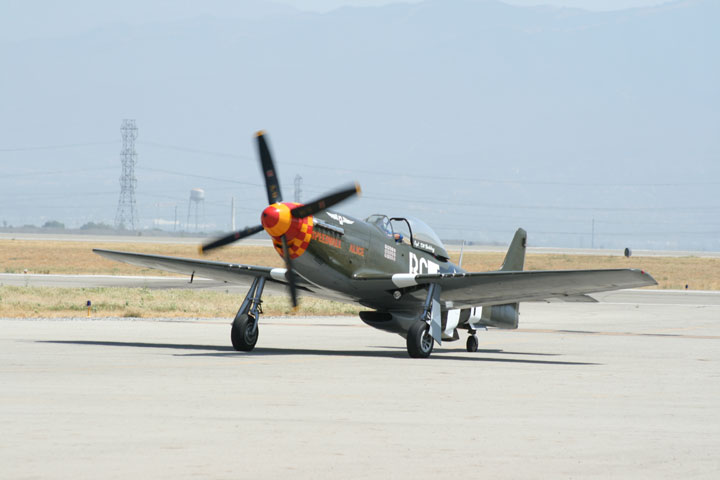 "Speedball Alice", North American P-51D Mustang coming back in after flying on Saturday.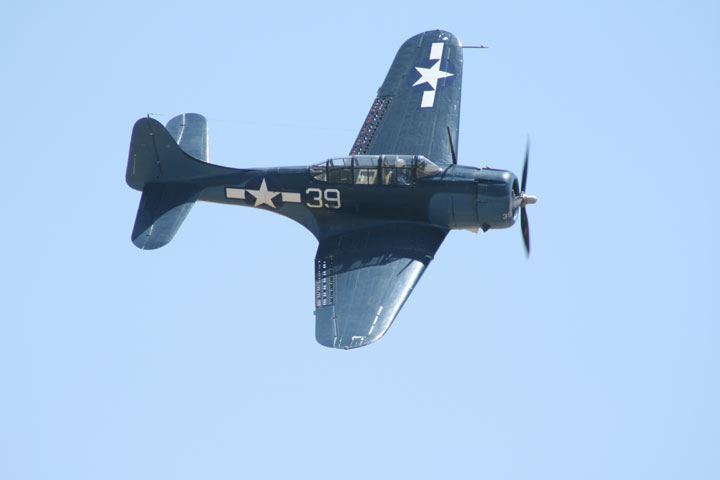 Douglas SBD making a nice banked photo pass.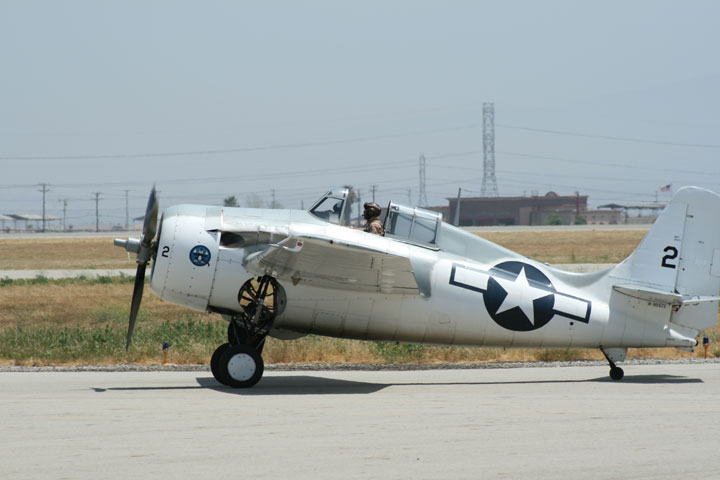 FM-2. Like several other aircraft at the show it only flew on Saturday. Mechanical breakdowns on these old warbirds was prevalent.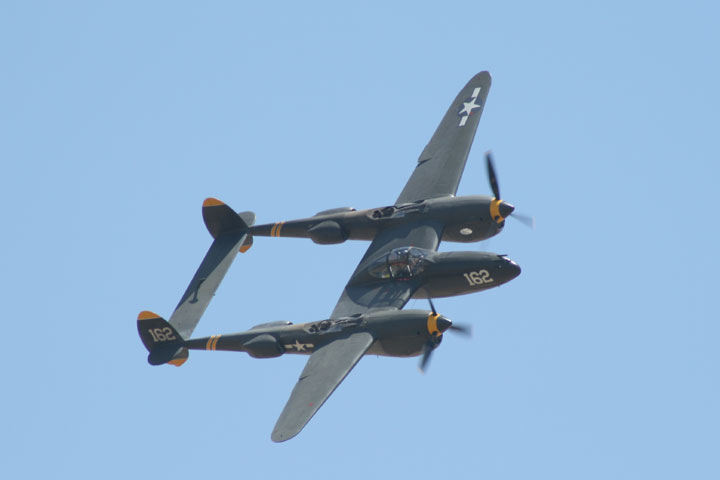 Lockheed P-38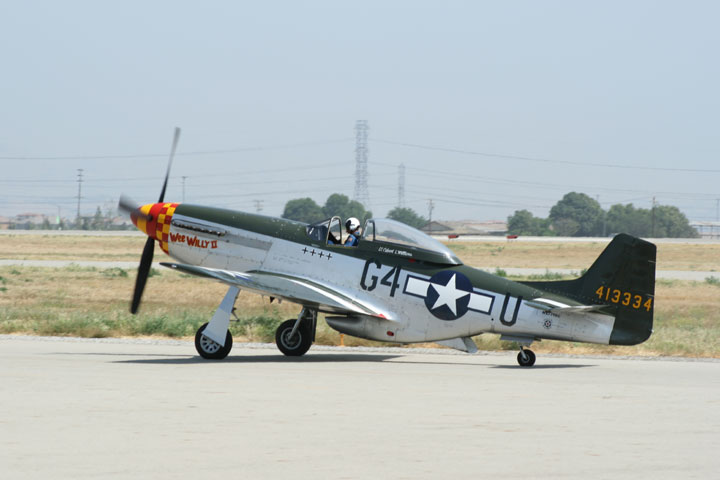 "Wee Willy II", North American P-51D Mustang 44-84961A operated by the Planes of Fame Museum.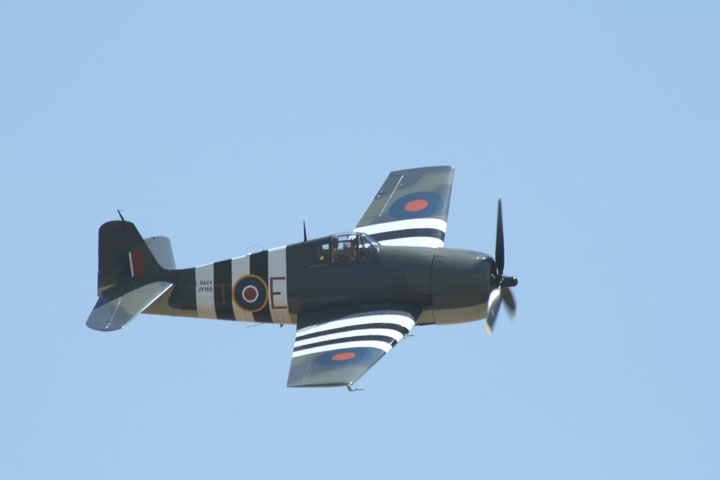 The second Hellcat at the show.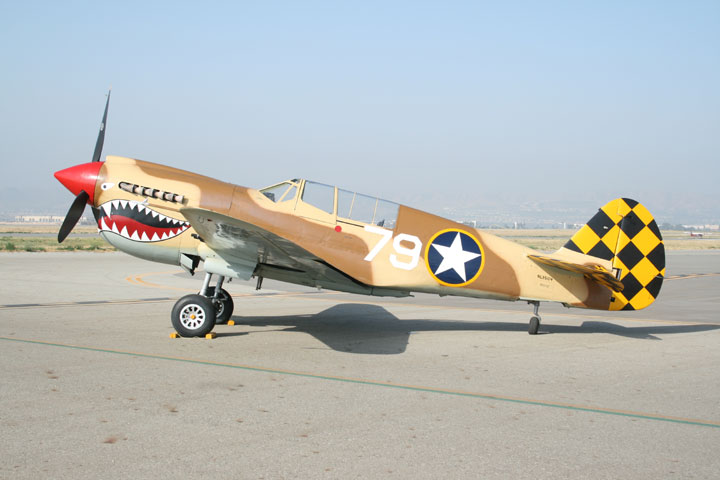 This P-40N is also part of the Plane of Fame Museum.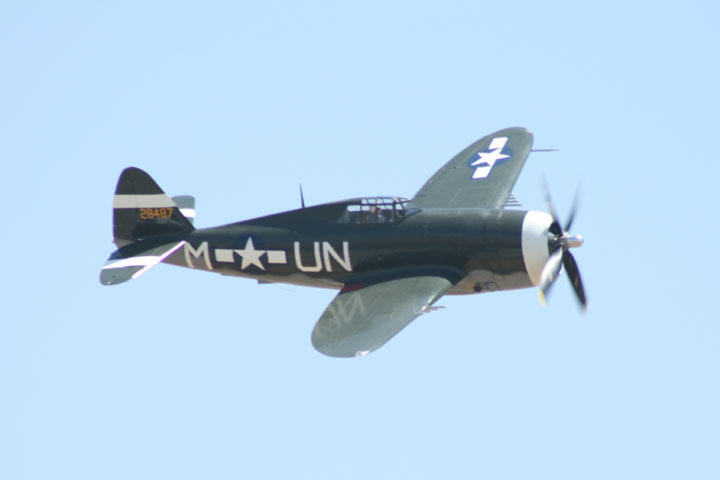 Republic P-47 Razorback. I believe this is the only one flying.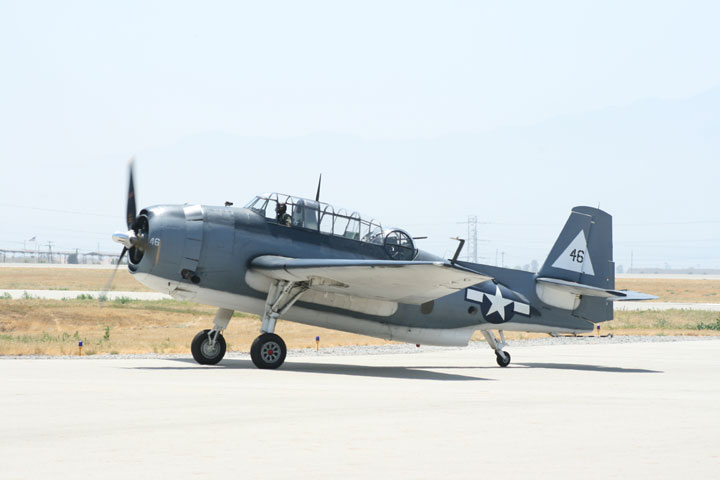 Grumman TBM-3E operated by the Air Museum. There were three Avengers on hand for the event.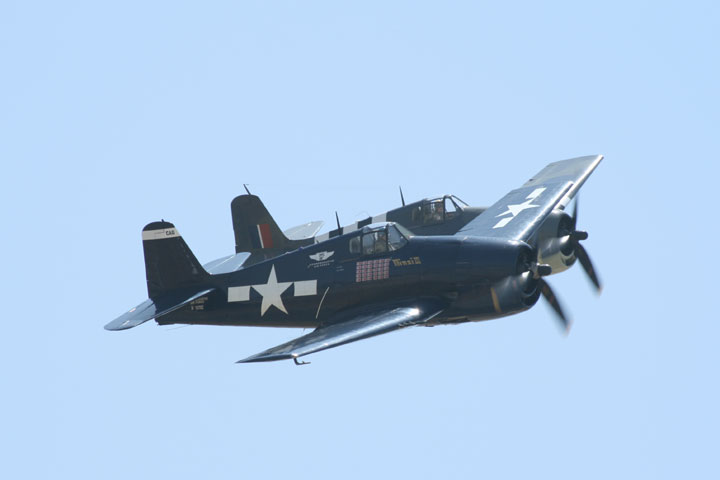 A pair of Hellcats in close formation.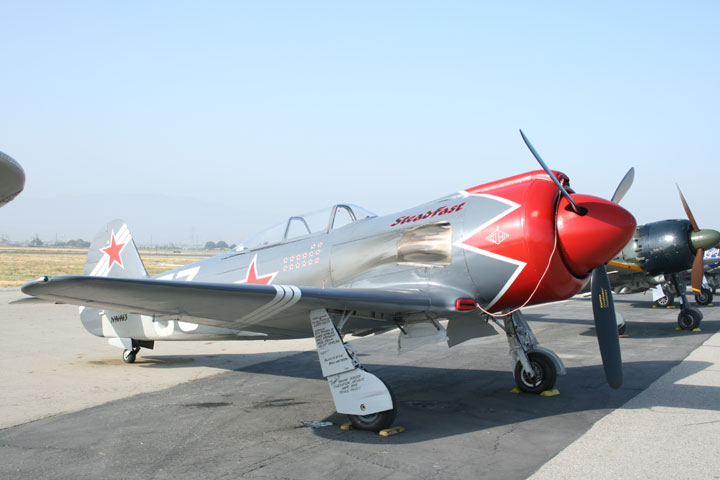 Yak-3U owned by William Whiteside Windsor, CA.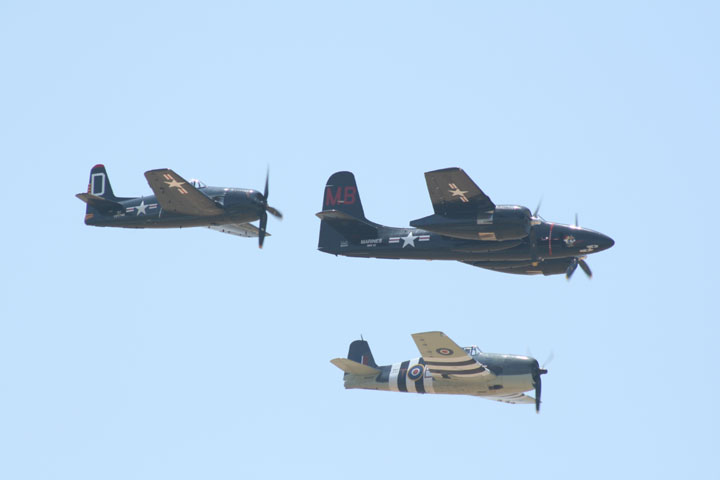 Grumman F6F, F7F and F8F.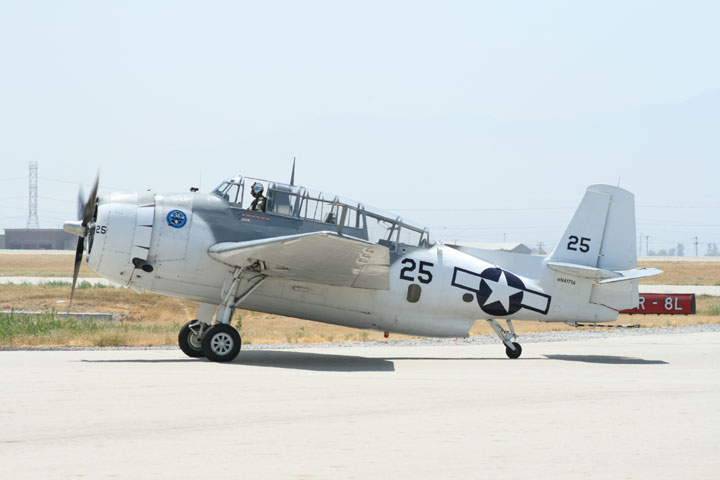 This TBM-3E is North Atlantic camouflage as used by the aircraft that operated off of baby flattops in the convoy protection role during WWII .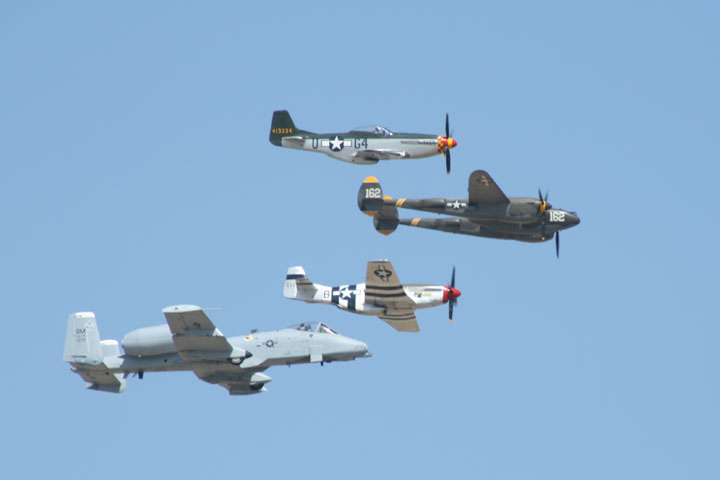 Four ship Heritage Flight.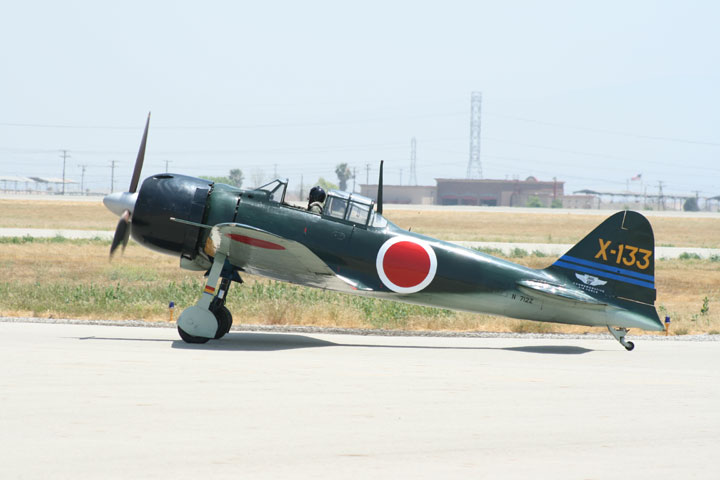 Mitsubishi A6M3 Zero operated by the CAF. This particular aircraft has a Pratt & Whitney 1830 engine in it.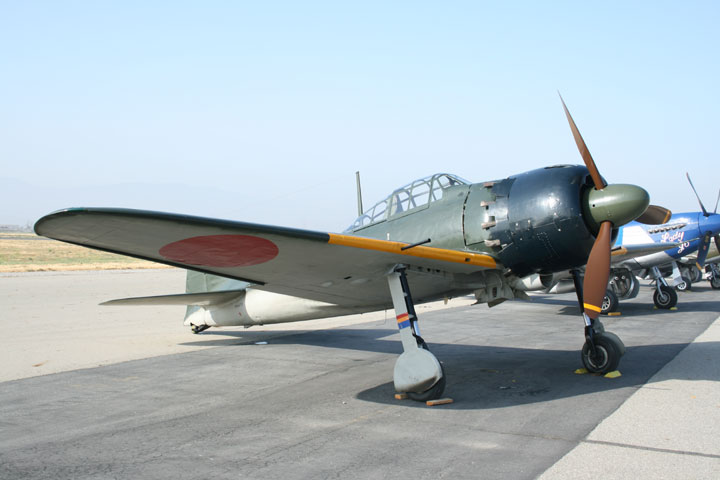 Mitsubishi A6M3 Zero operated by the Planes of Fame. It is my understanding this particular aircraft has a original type engine in it.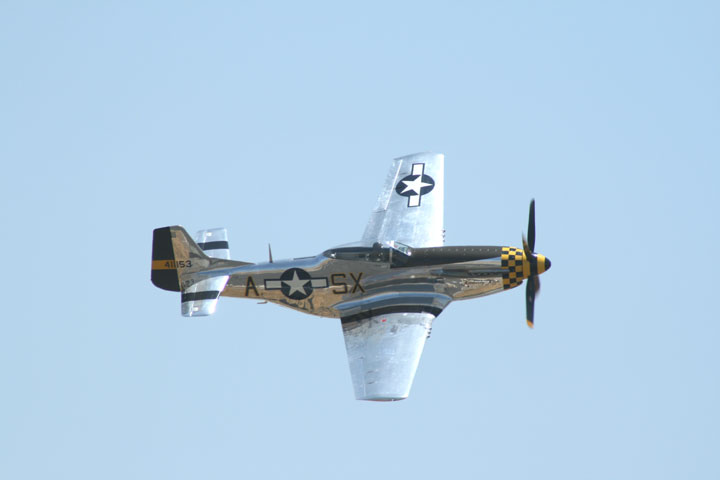 Another nice photo pass by this Mustang.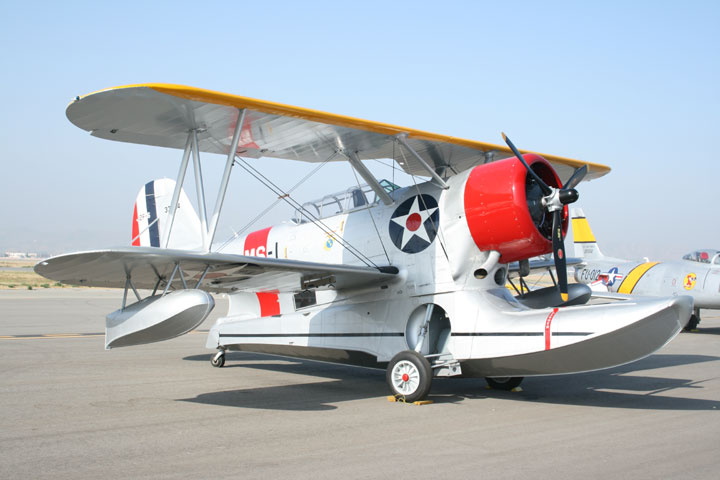 The very rare Grumman J2F Duck. It only flew on Saturday.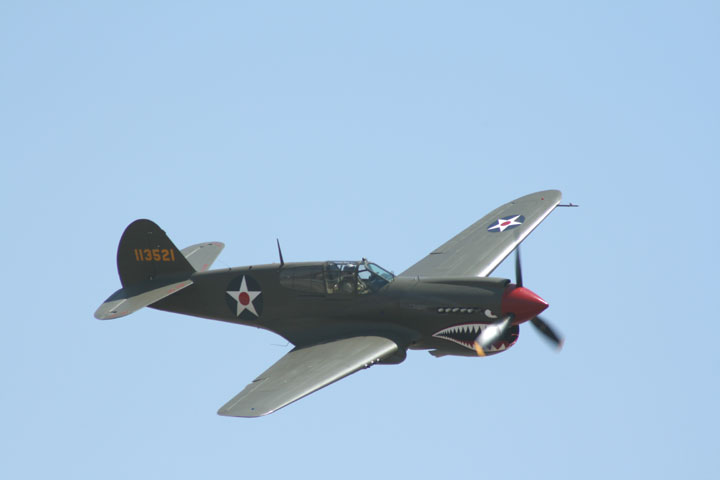 Nice P-40 low pass.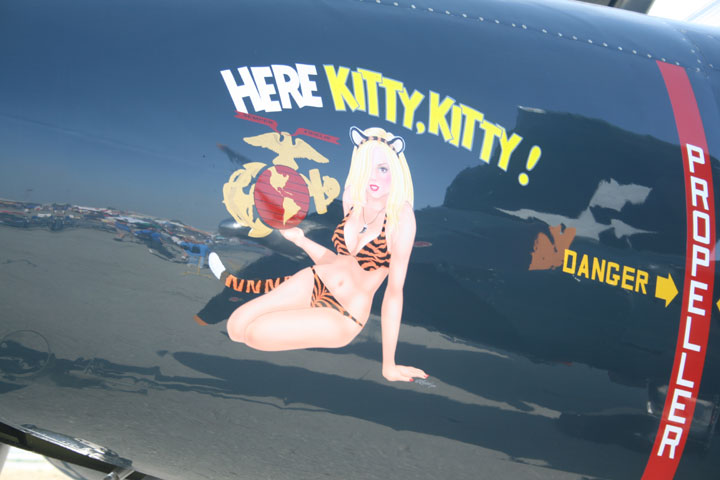 Nose art on a F7F Tigercat.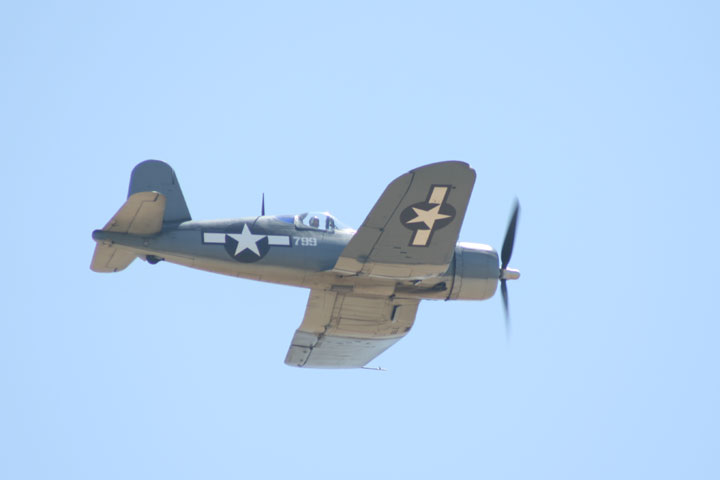 There was one F4U at the show in 2009.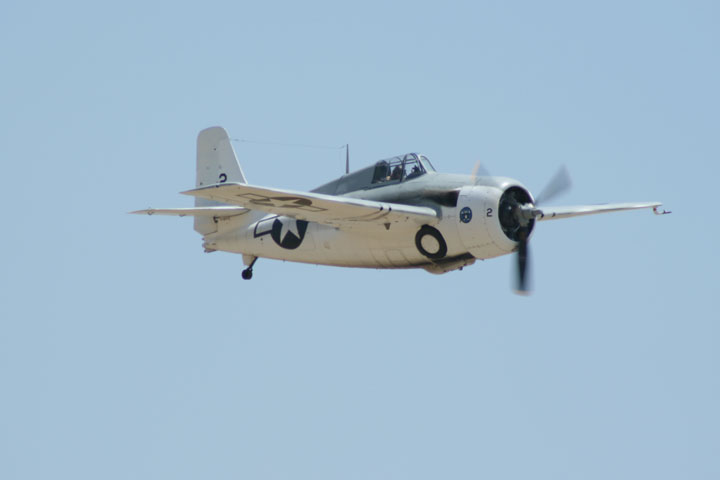 Thomas Camp of the Warbird Air Museum brought this FM-2 in from Boise, ID.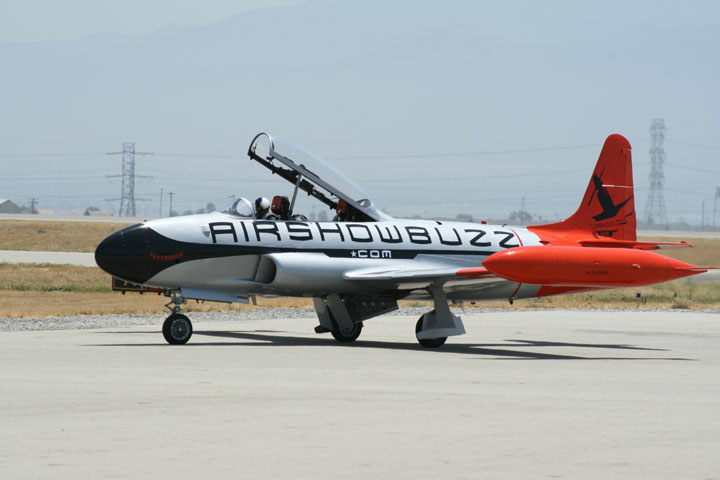 This is actually a Canadian built T-33.

Branson, MO Barksdale AFB, LA Chino, CA Monticello, IN Indianapolis, IN Middletown, OH Kokomo, IN Geneseo, NY
Oshkosh, WI Van Wert, OH Selfridge ANGB, MI Huey Reunion, Peru, IN Marion, IN Urbana, OH Waukegan, IL
Scott AFB, IL Houston, TX Randolph AFB, TX