2011 Airshows
Tyndall AFB, FL NAS Fort Worth JRB, TX Indianapolis Regional, IN Terre Haute, IN Open House Monticello, IN Open House Reading, PA WWII Weekend Cincinnati, OH B-29 Appearance Hamilton, ONT Kokomo, IN Indianapolis Metropolitan, IN Polk City, FL Willow Run, MI Indianapolis Regional, IN Indianapolis Executive, IN Grissom Aeroplex Huey Homecoming, IN Selfridge ANGB, MI Mattoon, IL Marion, IN Waukegan, IL Janesville, WI NAS Oceana, VA Watervliet, MI

Watervliet, MI Warbird Fly-in 2011 Photo Review
Warbirds at Watervliet Airport, MI - October 9, 2011

What a way to end the air show season, but with this great warbird fly-in, which had on hand one F4U-4 Corsair, ten T-6/SNJs, five PT-17s, one BT-13, one Yak-52 and one L-39C fly-by. All of this was at a picturesque 2,600 foot grass field in the fruit growing area of the south west Michigan which had weather that was perfect as can been seen from the photos below. Actually it was almost too warm, which for October in any part of Michigan that time of year. is a rare treat. The warbirds arrived on Sunday after spending Saturday at a northern Indiana airport doing formation training and the airport flying club served up a real nice lunch at a reasonable price which added to the quality of the event. I always try to find warbird fly-ins such as this as they are in a lot of cases better than the big paid airshows as there are usually different and more warbirds that attend, as it is a social function for the pilots to get together. Watervliet in 2011 was an outstanding example of this.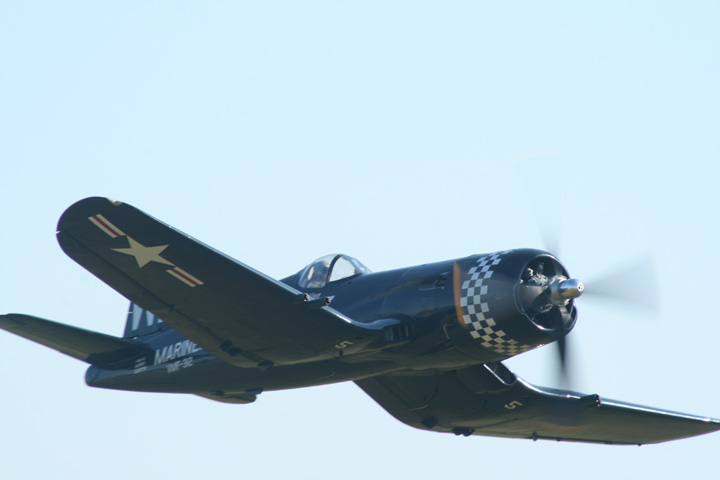 Mike Schiffer in the Flying Legend's Vought F4U Corsair making an entrance pass.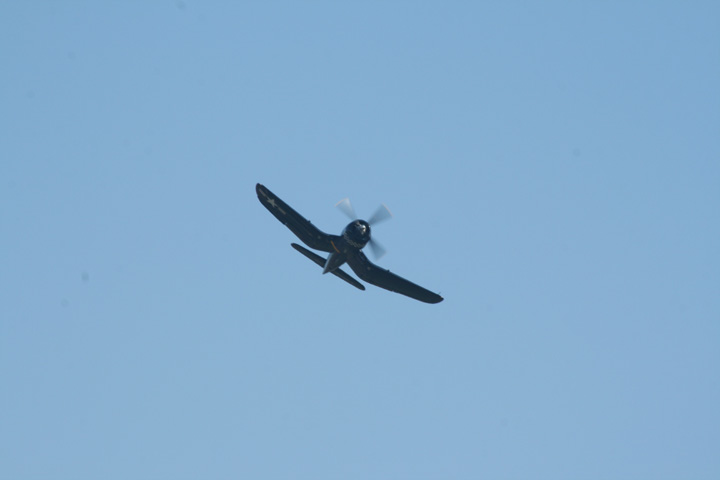 The Corsair went back around with this being the start of the landing break.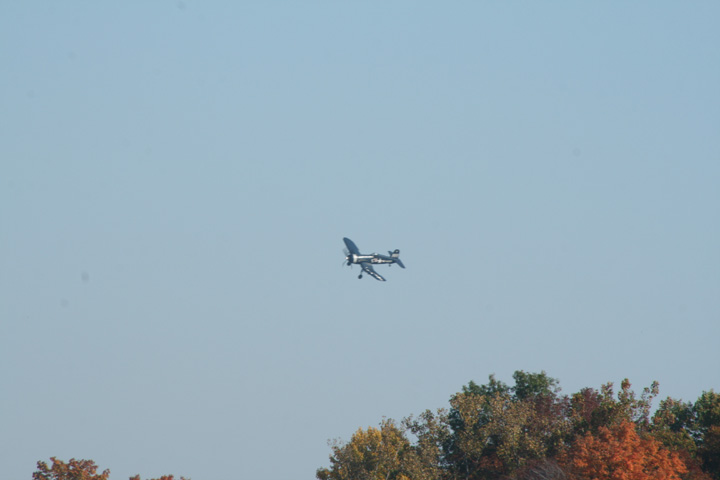 According to the airport description the trees are 60 feet tall.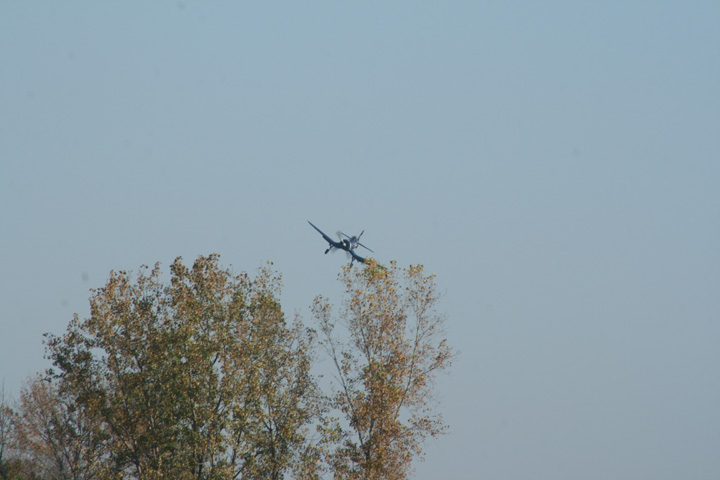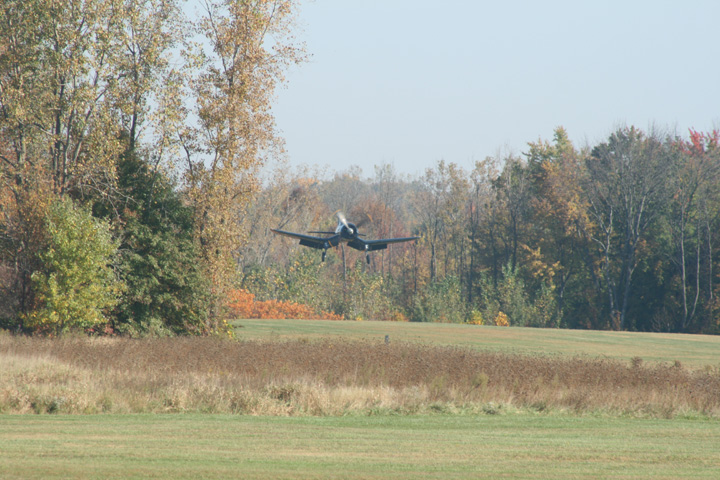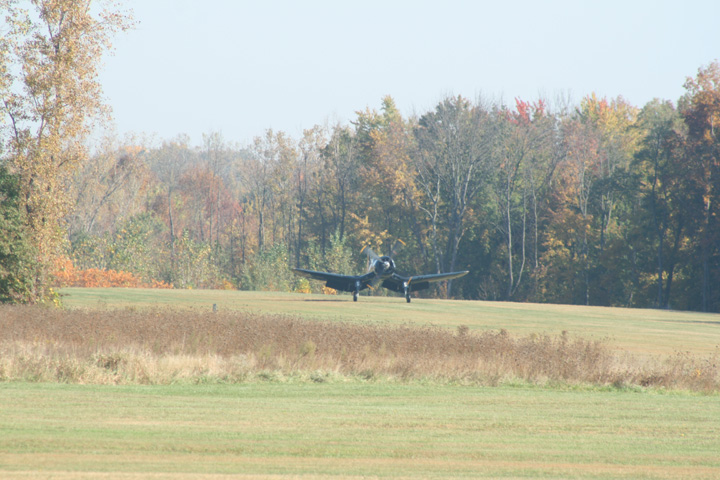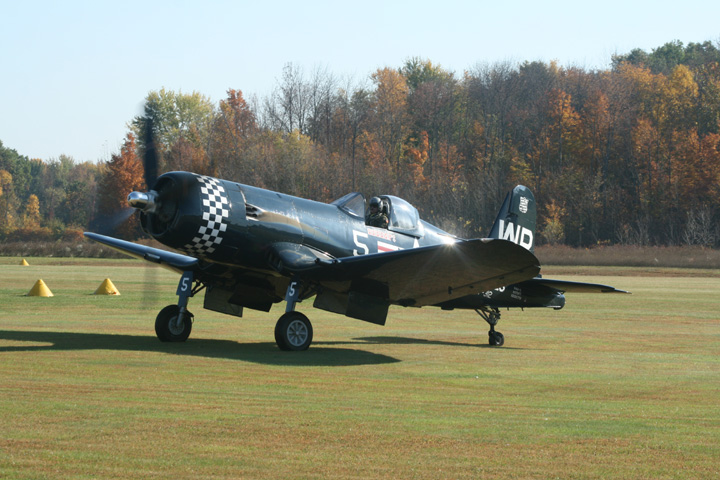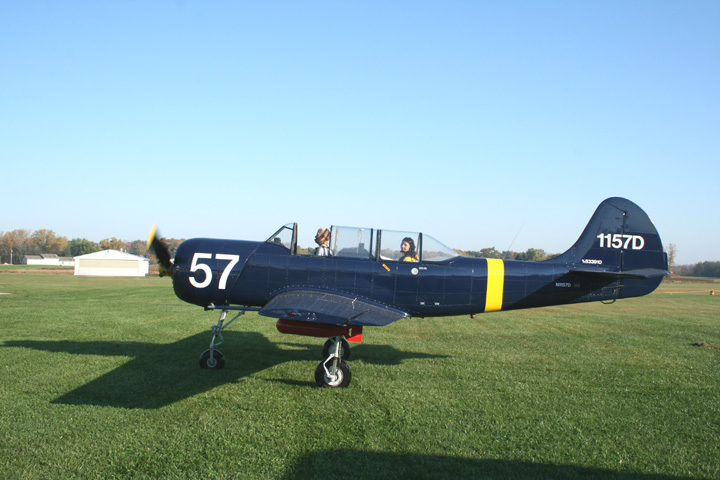 Carl Schels from Rhinelander, WI taxies in his Yak-52.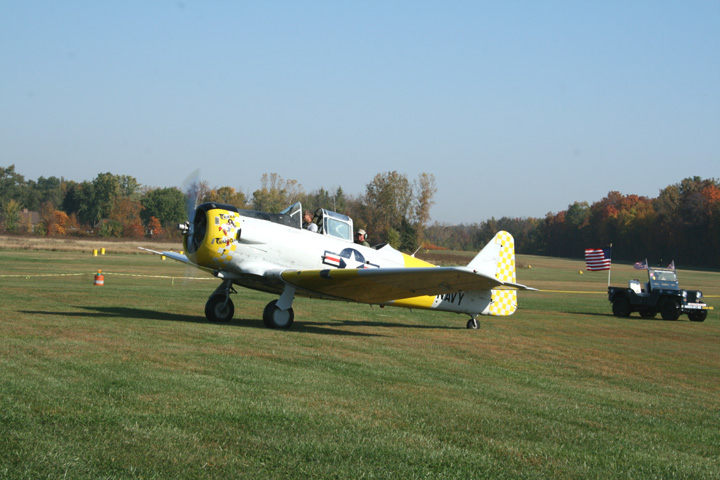 The "Texas Twister" from Terre Haute, IN arrives. After arriving in Indiana earlier this year from California she has been at several airshows in IN, IL, MI and WI.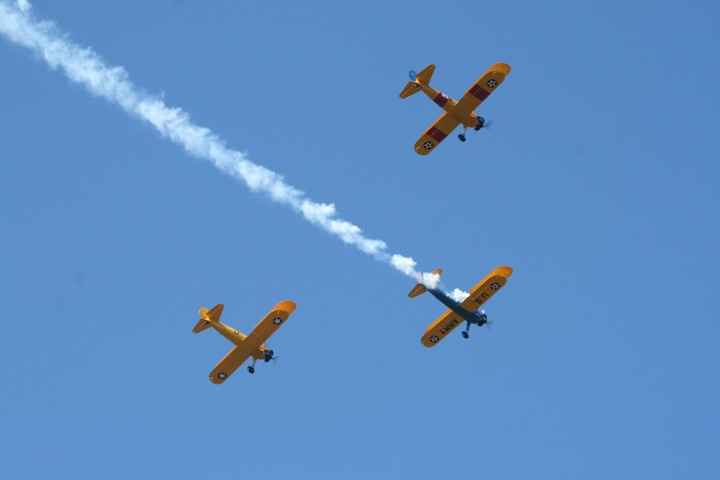 First overhead pass by three Boeing PT-17s.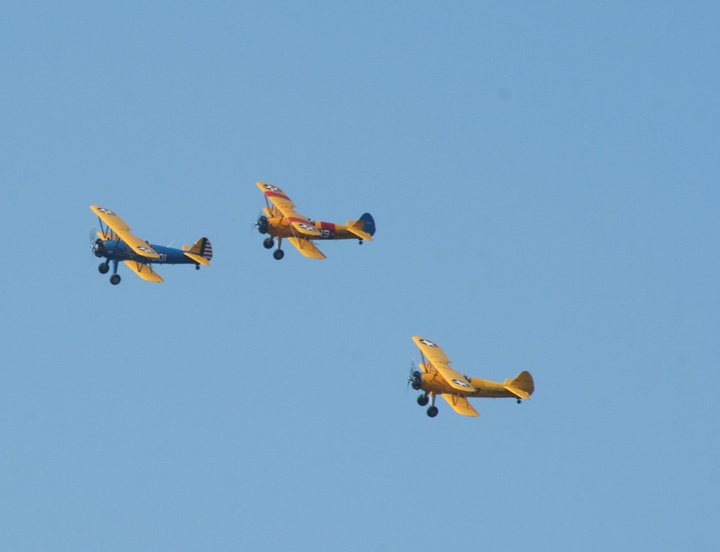 This is the first time in a long time I have seen a PT-17 formation.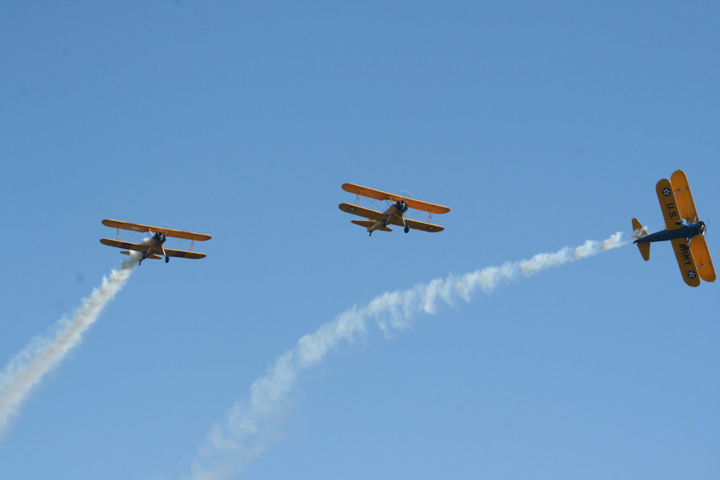 After coming back around they did a fighter break. I don't think I have seen this before with PT-17s.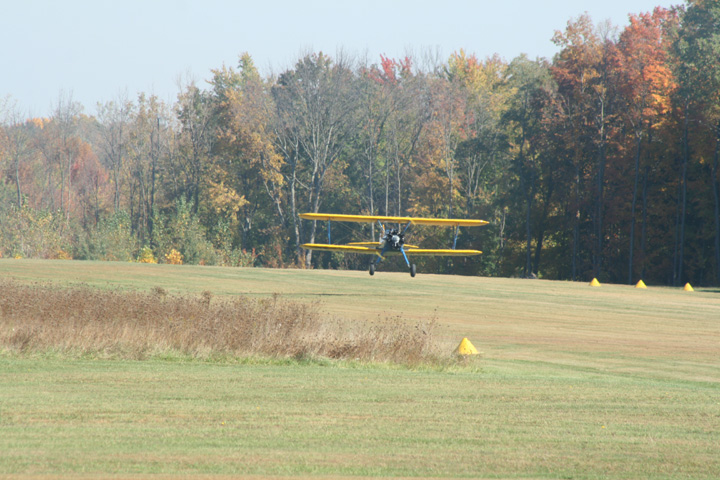 One of the PT-17s making a landing on the 2,600 ft grass runway.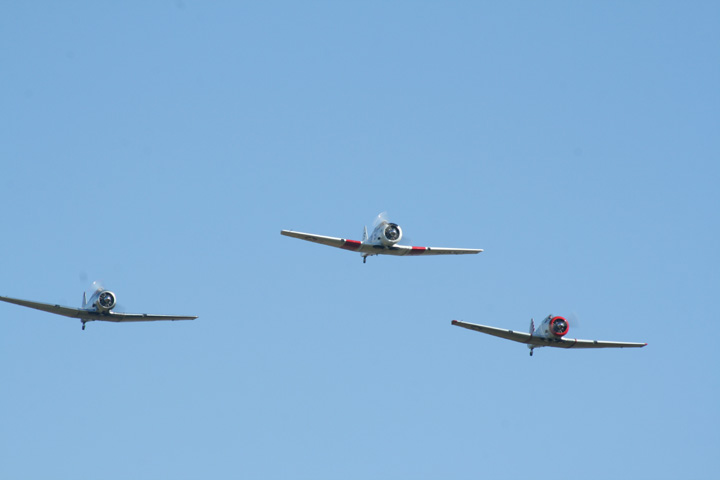 Three of the several T-6's also arrived in formation and did a break to land.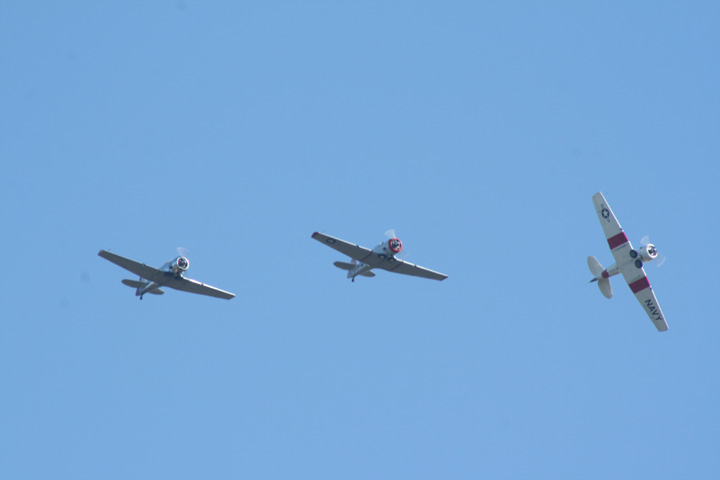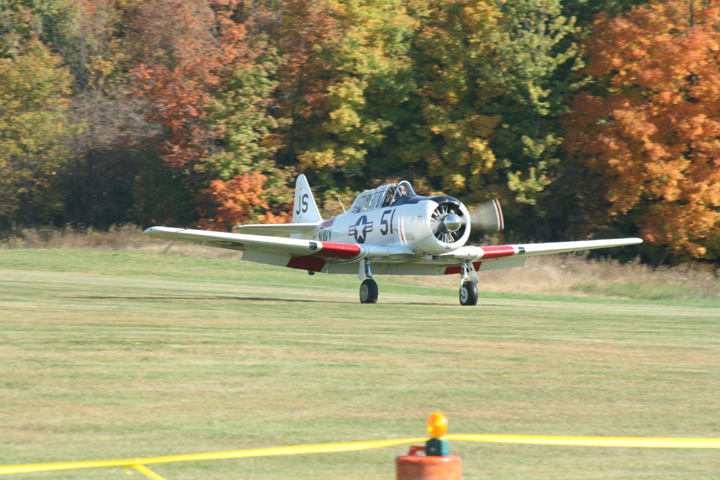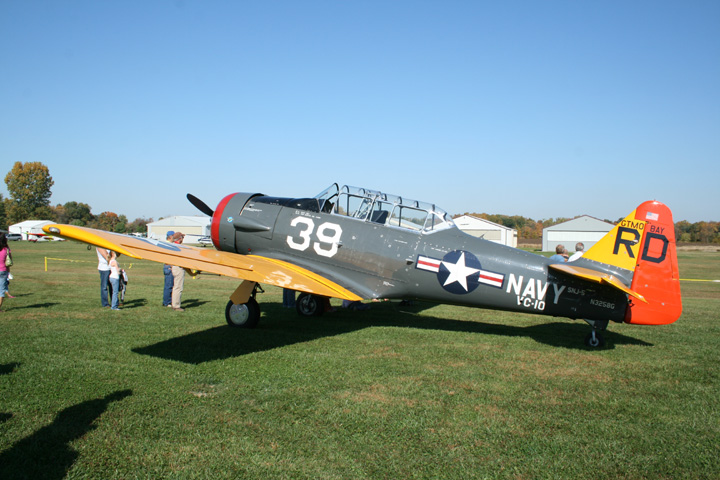 Dave Folk from Kalamazoo, MI had his Texan on display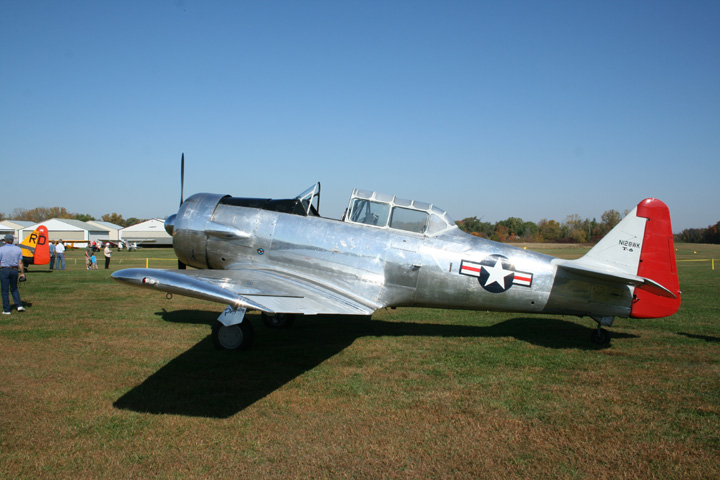 Robert Pingston from Morricen, MI had this T-6 on display.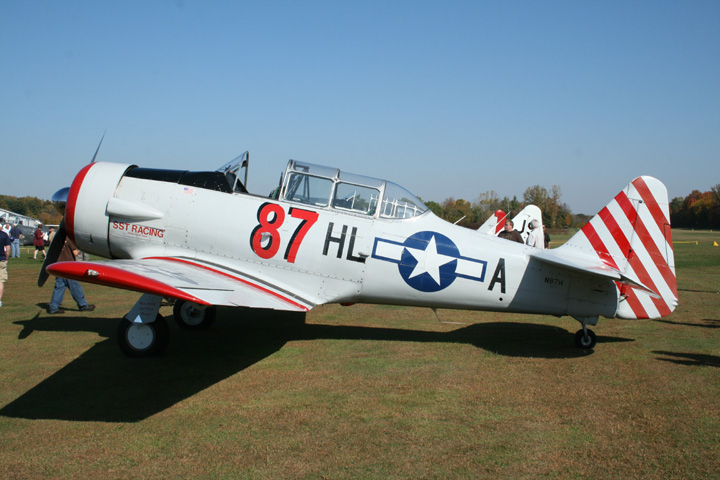 Gem Flyers of Downers Grove, IL brought this T-6D in to the event.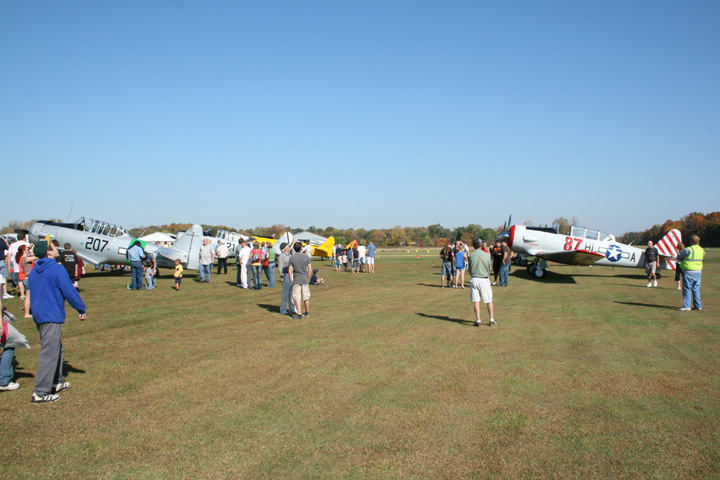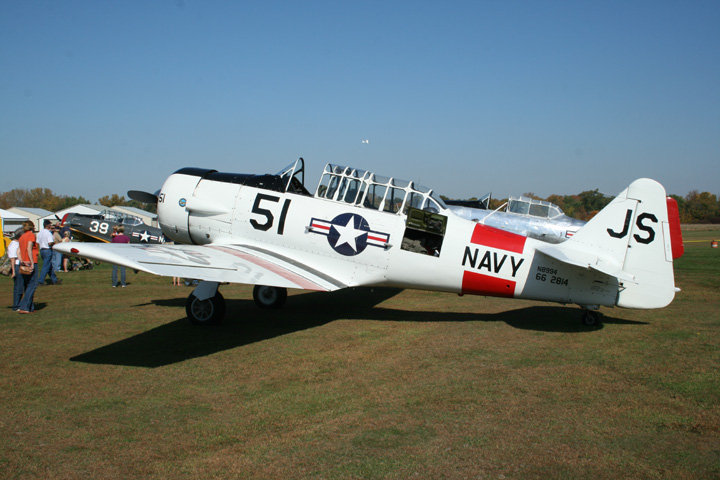 This is actually a registered as a North American Harvard 2 to Todd Winemiller from Blanchester, OH.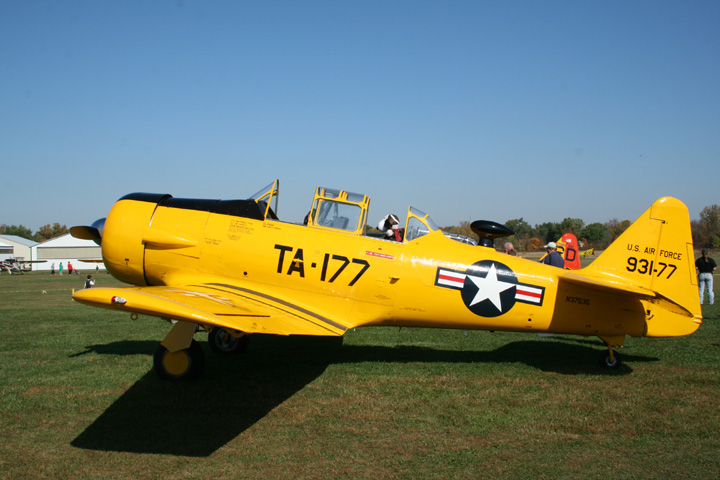 This T-6G was a long way from home. The owner is Lou Feldvary from Northfield, VT. Lou knew where the good fly-in and weather was going to be.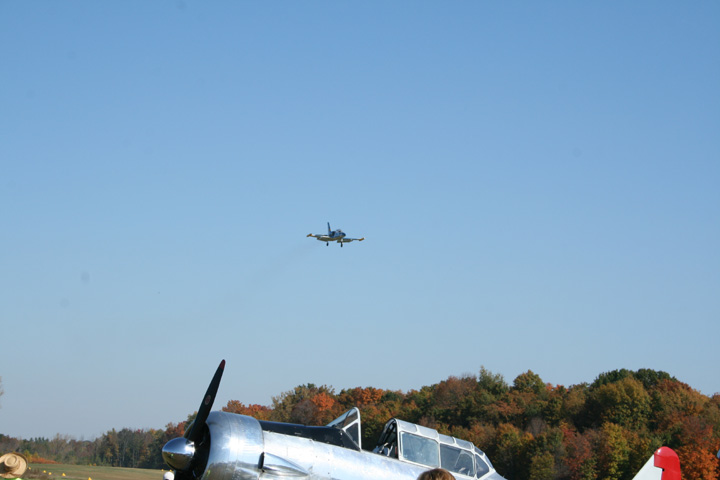 Just when you think no more aircraft will be flying this L-39 showed up for a couple of passes.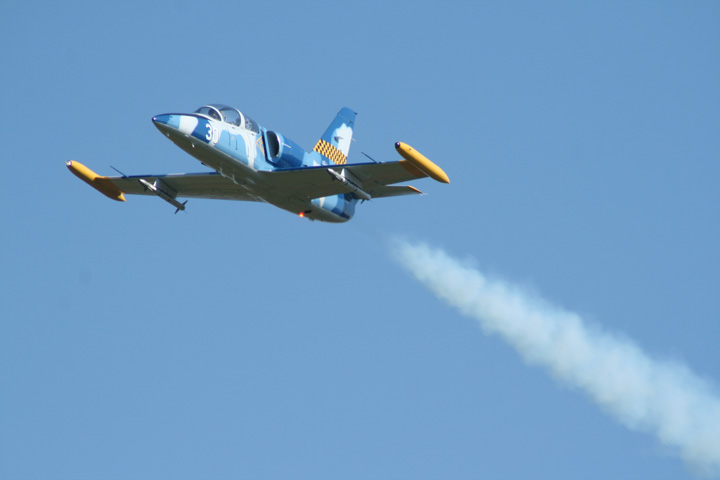 Ron Stanley from Brighton, MI makes a pass in his L-39C awarded "Best L-39" at Oshkosh 2011.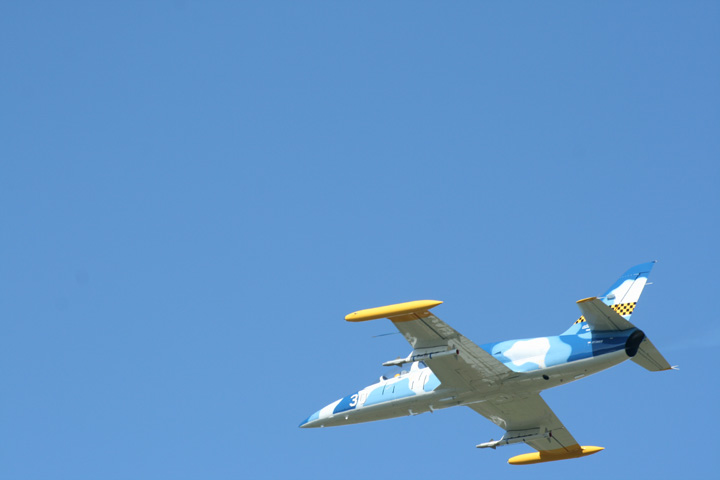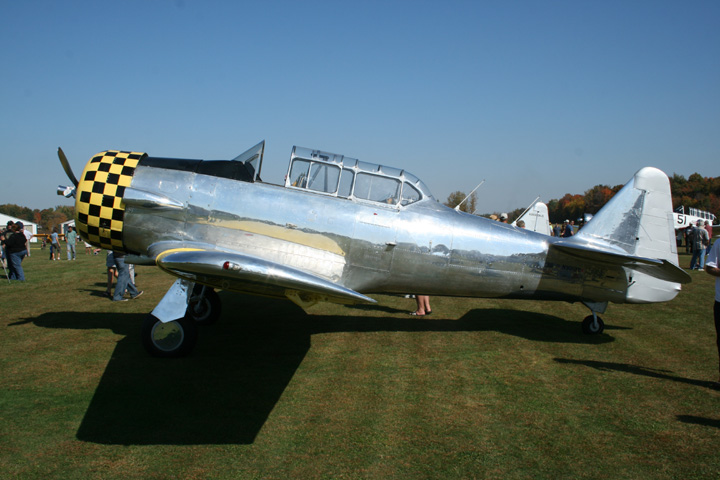 This T-6G belongs to Killa Katchka, Inc of West Bloomfield, MI.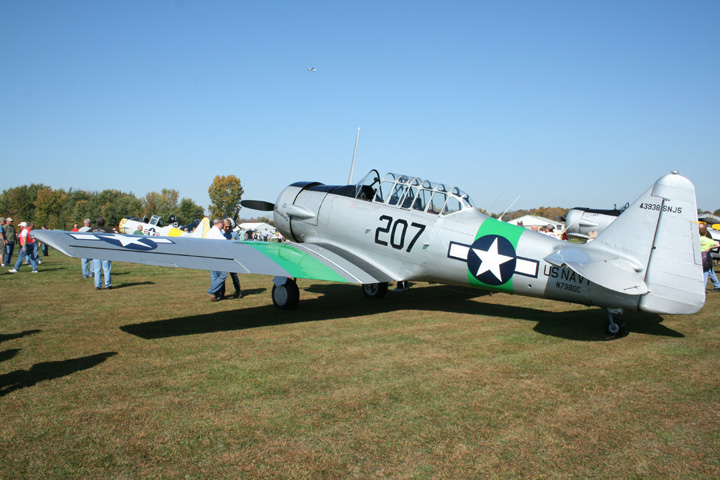 This SNJ-5 belongs to John Feldvary from Jackson, MI.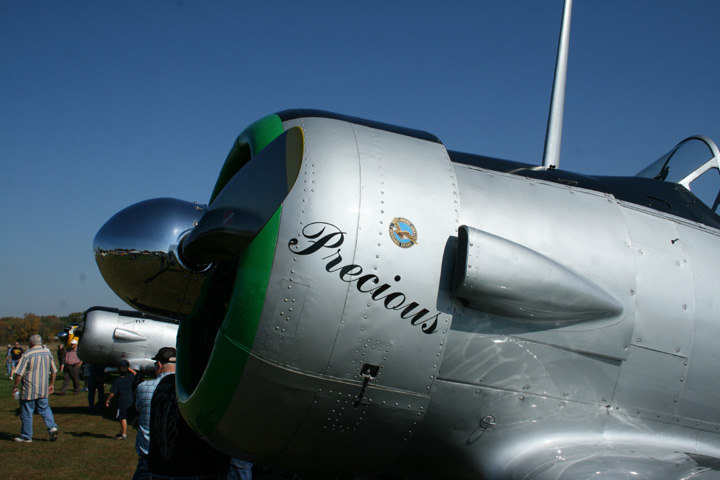 John Feldvary's SNJ goes by the name of "Precious".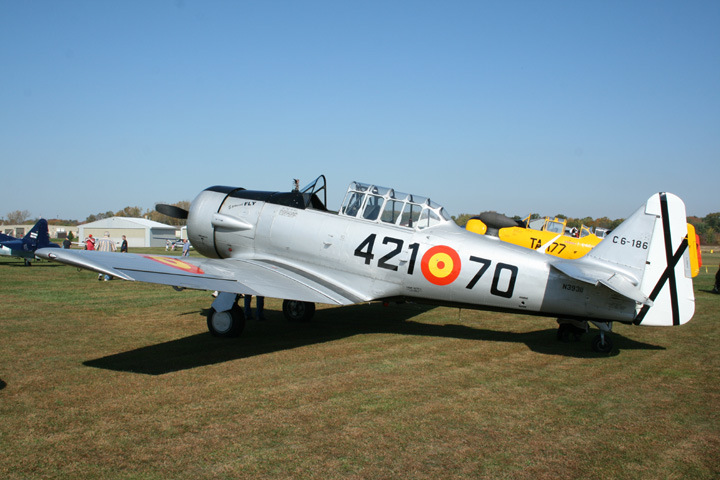 From Ovid, MI this T-6G was brought in by Aas, LLC and is goes by the name of "Spanish Fly".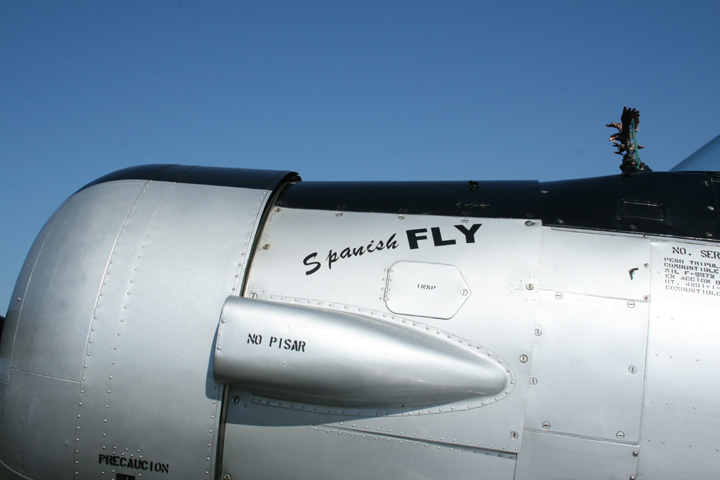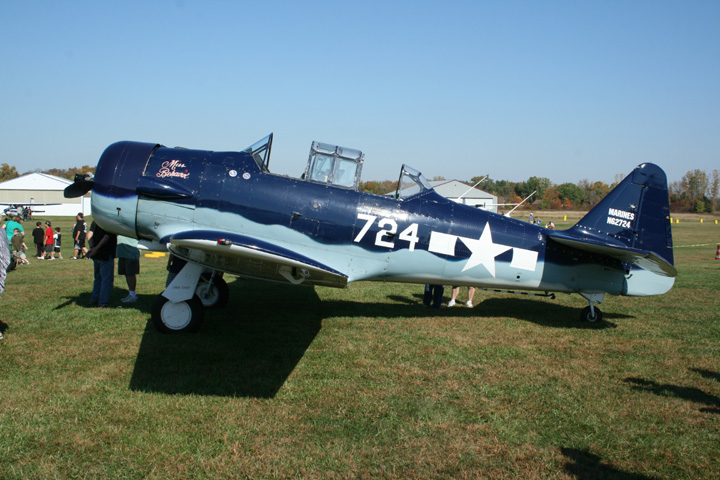 "Miss Behavin!" is an SNJ-5 that made the short trip over from St. Joseph, MI and is owned by Gaipa Aircraft.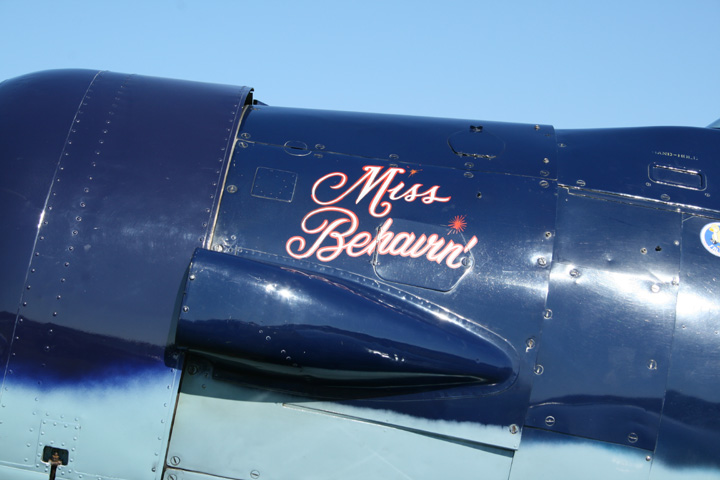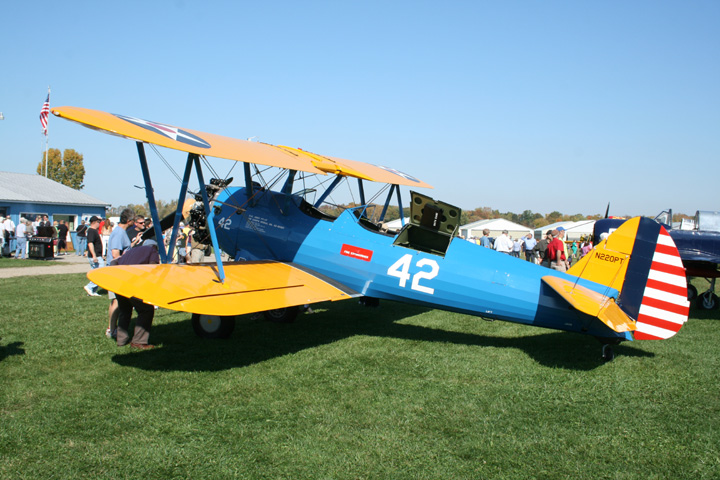 John Stine from Bridgeman, MI had this PT-17 on display.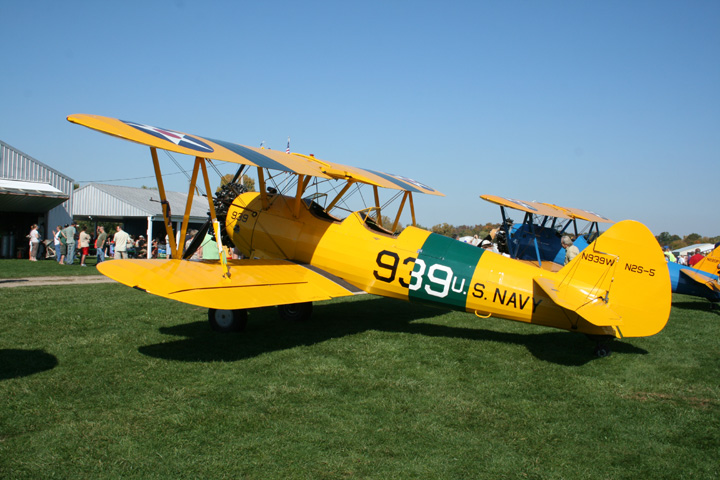 Allan Wright from Kalamazoo, MI also had his Boeing PT-17 at Watervliet.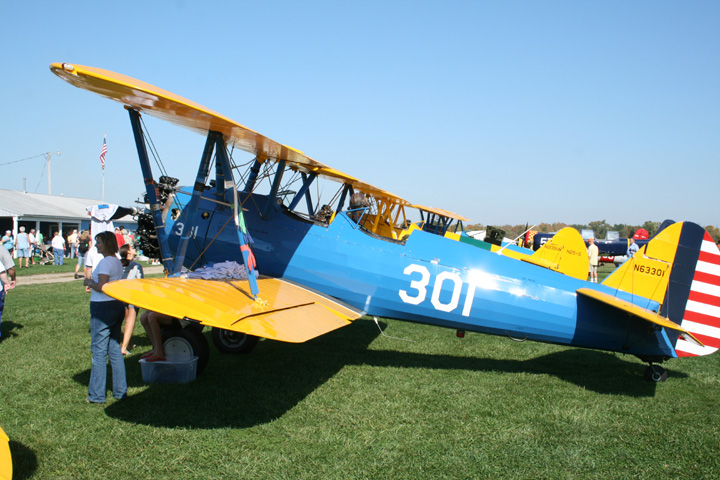 Marshall Aviation Enterprises from Elkhart, IN brought this PT-17 to the event.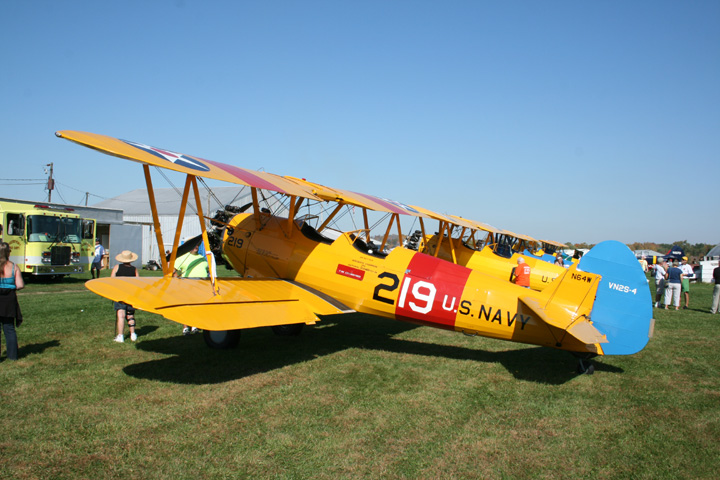 This came from Shipshewana, IN and is owned by Ralph Lutes.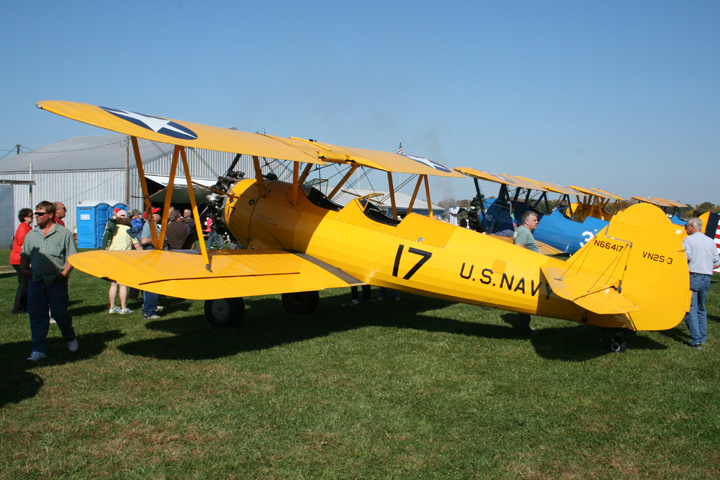 Thomas Lowe of Crystal Lake, IL owned the fifth PT-17 at the field. One can see them lined up all in one row.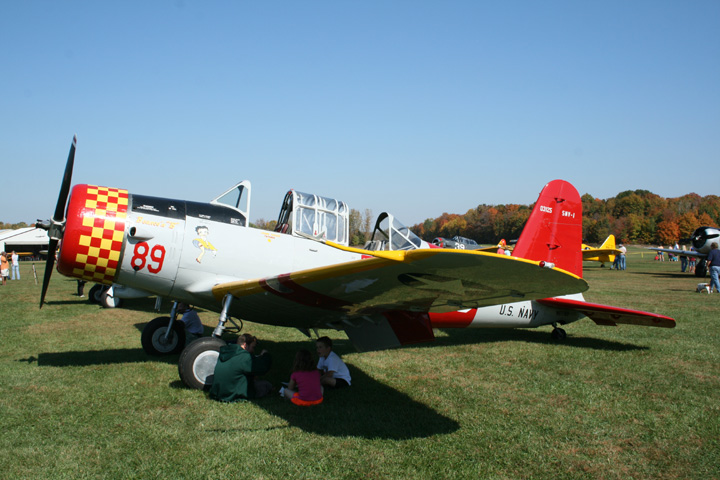 BT-13 "Bounce'n"B"" was on hand and is owned by Delaware Corporation Skyways.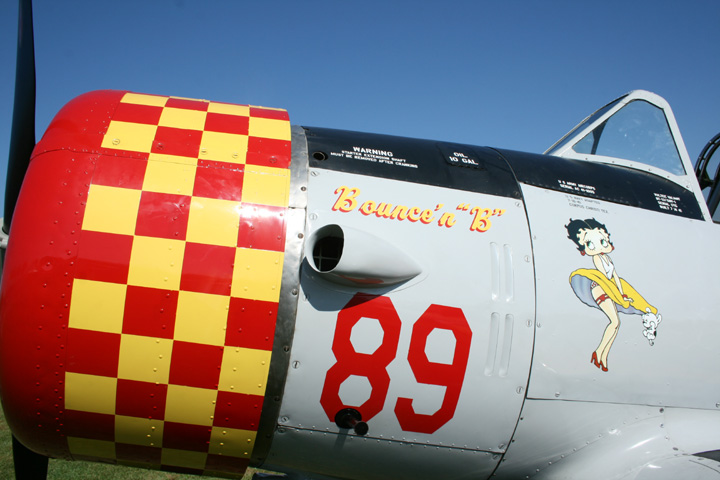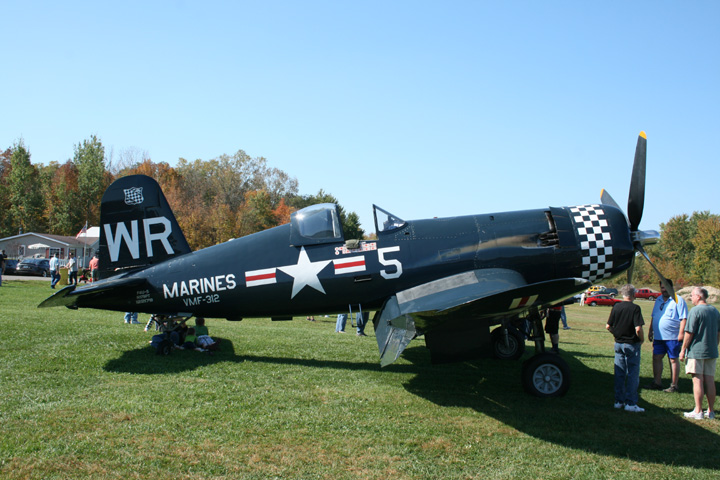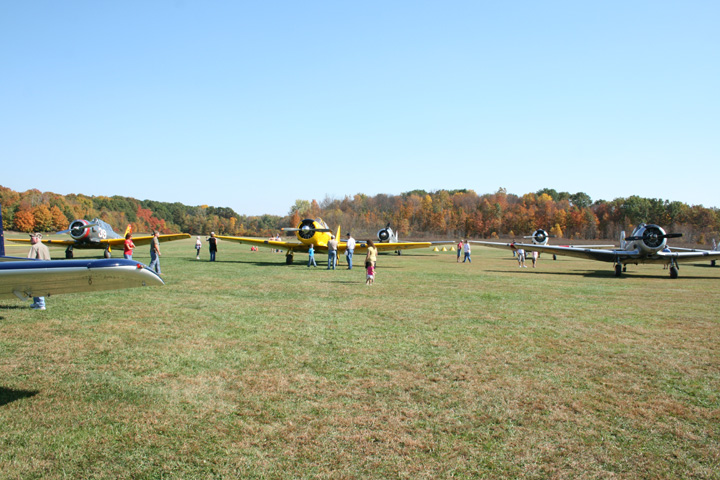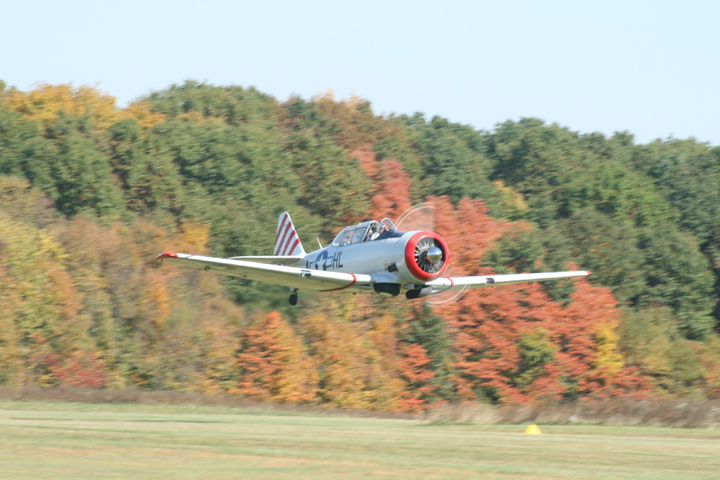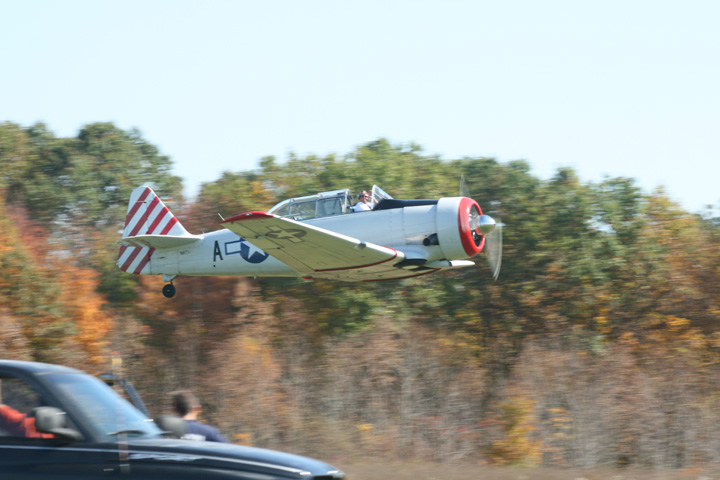 Todd waving goodbye!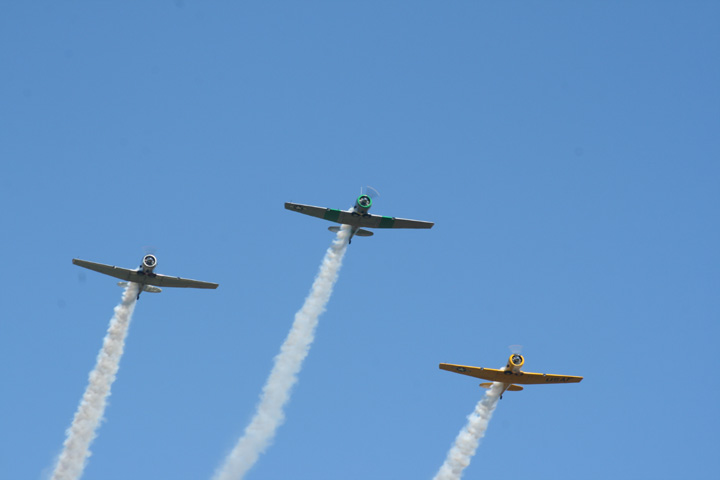 A departure formation of T-6s.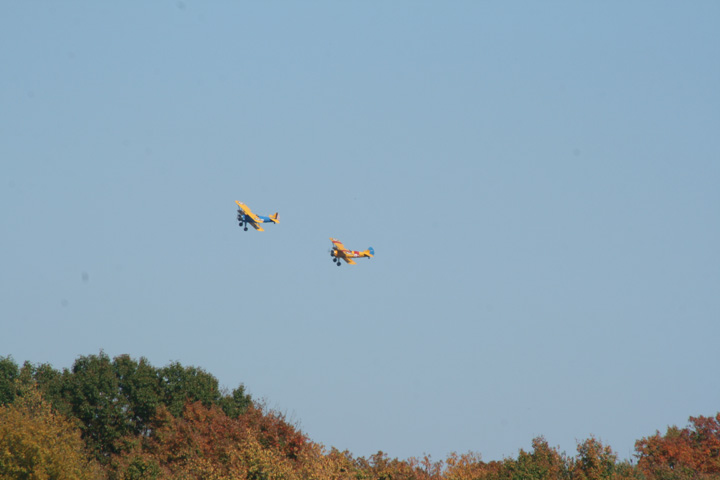 After take-off two of the PT-17s came back around for a formation pass. What a picture perfect day to be taking rare formation photos of the Stearman!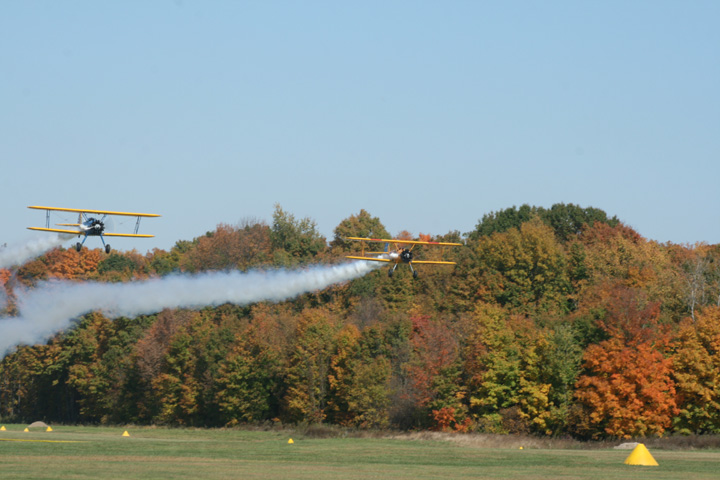 Smoke on!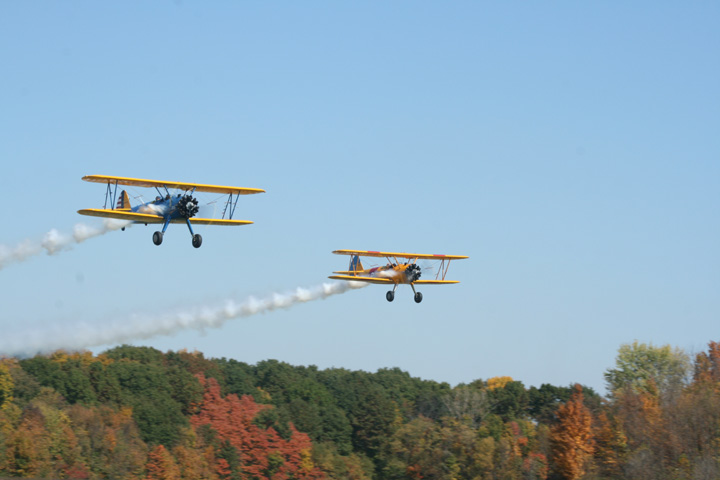 This is great! Another very rare Stearman formation fly-by.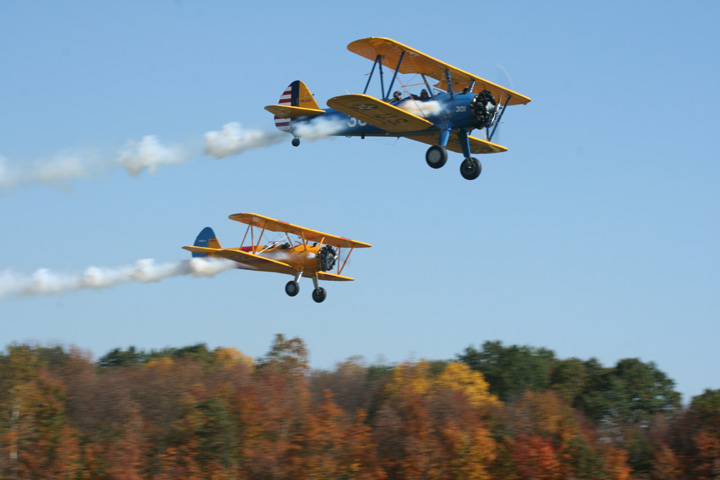 One can make out each individual puff from the exhaust generated smoke.

The Corsair taxiing out for take off. He took off in the opposite direction from what the T-6s and PT-17s did. I did not photograph the takeoff and departure pass as sometimes one needs to get out from behind the camera and enjoy the moment. But imagine the sound of the R-2800 as the pilot applies full power and the starts his take-off roll a few hundred feet away as the departs down the 2,600 foot grass runway. There is no other experience like it. What a great day and event! What a great way to end the year!!
Tyndall AFB, FL NAS Fort Worth JRB, TX Indianapolis Regional, IN Terre Haute, IN Open House Monticello, IN Open House Reading, PA WWII Weekend Cincinnati, OH B-29 Appearance Hamilton, ONT Kokomo, IN Indianapolis Metropolitan, IN Polk City, FL Willow Run, MI Indianapolis Regional, IN Indianapolis Executive, IN Grissom Aeroplex Huey Homecoming, IN Selfridge ANGB, MI Mattoon, IL Marion, IN Waukegan, IL Janesville, WI NAS Oceana, VA Watervliet, MI