2011 Airshows
Tyndall AFB, FL NAS Fort Worth JRB, TX Indianapolis Regional, IN Terre Haute, IN Open House Monticello, IN Open House Reading, PA WWII Weekend Cincinnati, OH B-29 Appearance Hamilton, ONT Kokomo, IN Indianapolis Metropolitan, IN Polk City, FL Willow Run, MI Indianapolis Regional, IN Indianapolis Executive, IN Grissom Aeroplex Huey Homecoming, IN Selfridge ANGB, MI Mattoon, IL Marion, IN Waukegan, IL Janesville, WI NAS Oceana, VA Watervliet, MI

Reading 2011 Air Show Photo Review
Warbirds at World War II Weekend - June 3-5, 2011 (Photos taken Fri-Sat June 3-4)
For the WWII and Warbird enthusiast the Mid Atlantic Air Museum's WWII Weekend is always a great place to visit to soak up the aircraft, re-enactor displays, vendors and just meet with your friends. This year featured the Commemorative Air Force's B-29 "Fifi" that was in attendance for the first time in many years. There was constant action by the B-29 as it had 15 take off and landings to watch over the three days of the event as it was giving rides besides the two it did for the air show flying and Saturday and Sunday. Also joining "Fifi" in giving rides were the CAF's SBD, P-51 and Helldiver, along with Larry Kelly's B-25 Panchito and The Yankee Air Force's B-17 "Yankee Lady" What this met for the Warbird enthusiast is that during the day there was always warbirds starting up, taxiing out, taking off, landing and then returning to the ramp. So there was plenty of warbird action outside of the actual afternoon airshow. On Friday there was a short show that included several aerobatic routines that included the Corsair, Spitfire and Mustang. The Saturday and Sunday shows included trainers and bombers along with the fighters. And making what was probably its first public appearance at WWII Weekend was the C-46 Commando "The Tinker Belle" which was formerly operated by the CAF in Oklahoma and Southern California and is now owned and operated by Warriors and Warbirds from Monroe, NC. We hope to see more of this rare aircraft again at WWII Weekend other shows on the east coast. Below is a small sampling of the warbird flying for the weekend.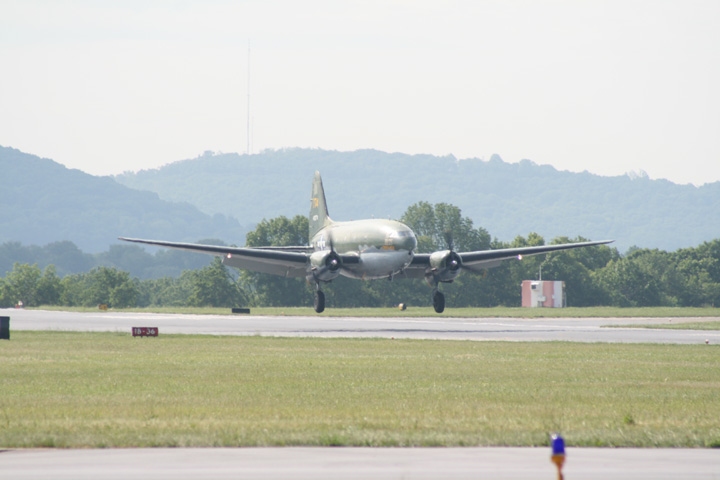 The very rare Curtiss C-46 Commando "Tinker Belle" getting ready to touch down Saturday morning at WWII Weekend.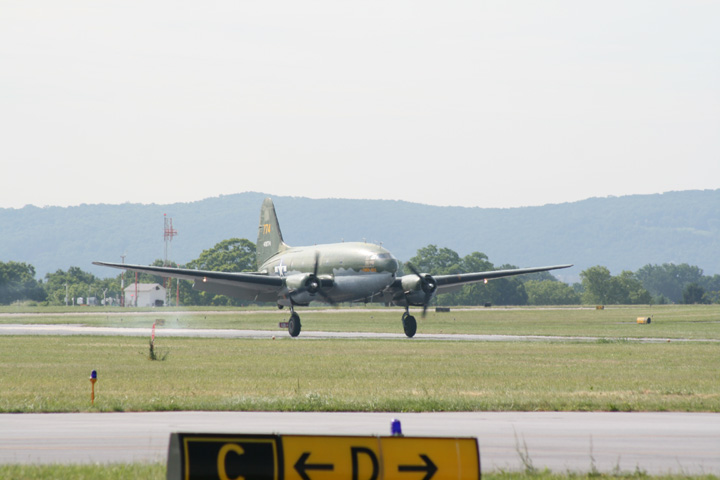 Touching down for what may be this aircraft's first landing at Reading. Hopefully it will be back again!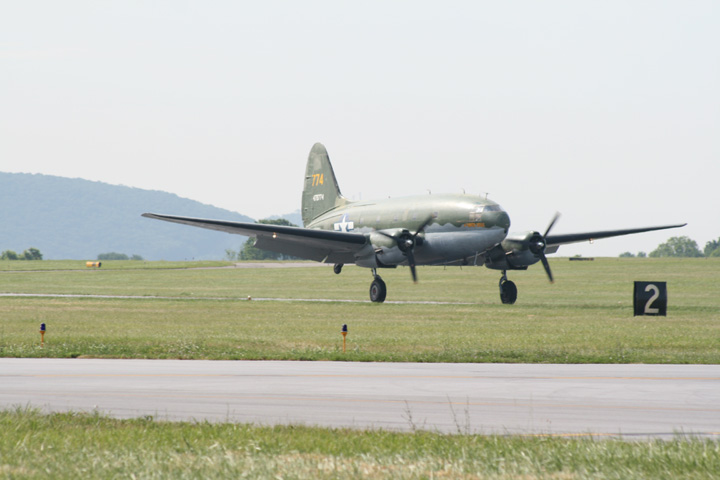 For many years "The Tinker Belle was operated by a CAF Wing in Oklahoma and then by another in California until being sold to the Warriors and Warbirds in Monroe, NC in 2010.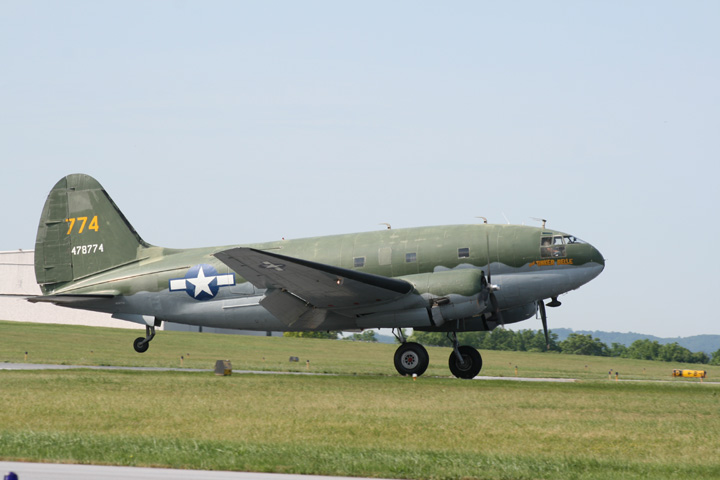 Rolling out.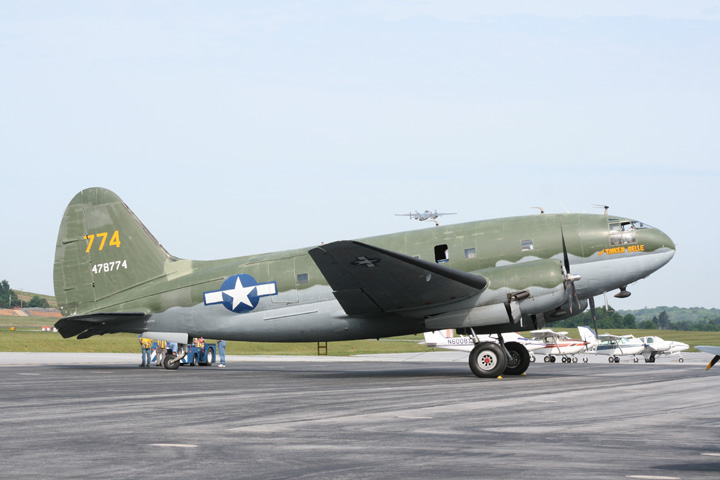 On the hot ramp as it is prepared to be moved onto the static ramp. Note B-25 "Panchito" taking off in the background.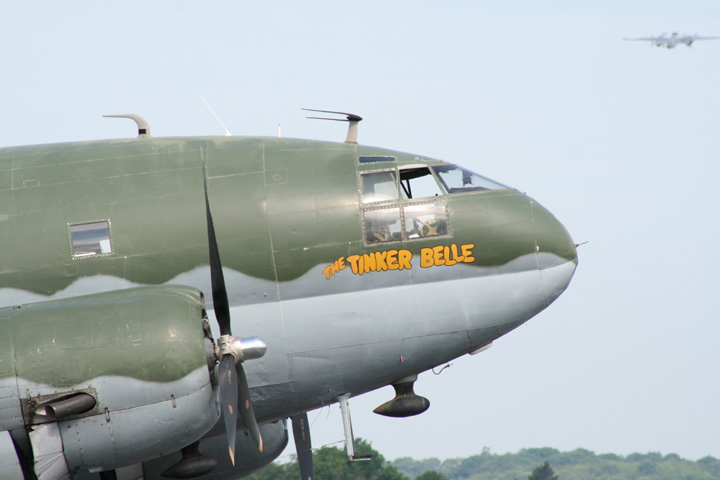 "The Tinker Belle" is a great addition to the east coast warbird community and is one of only two still flying on the air show circuit.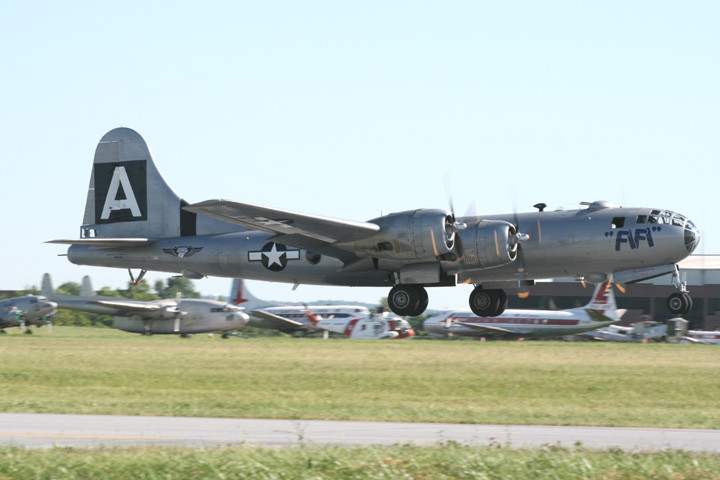 One of many take-offs for the B-29 as it was busy all weekend doing rides.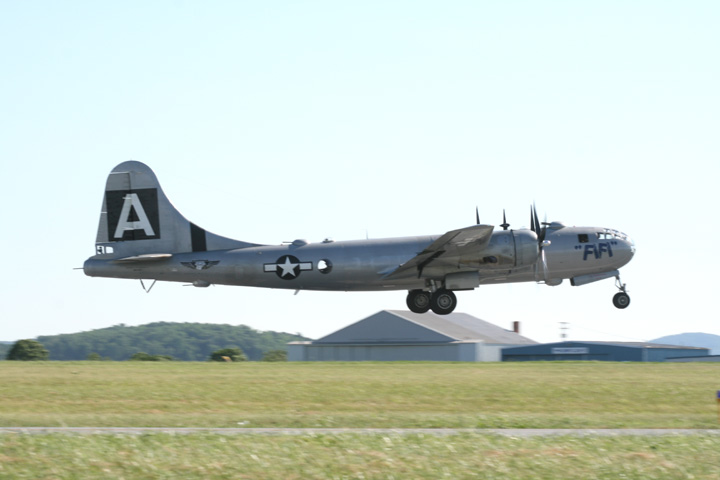 "Fifi" was taking off about every hour and usually made its last landing after 7 PM.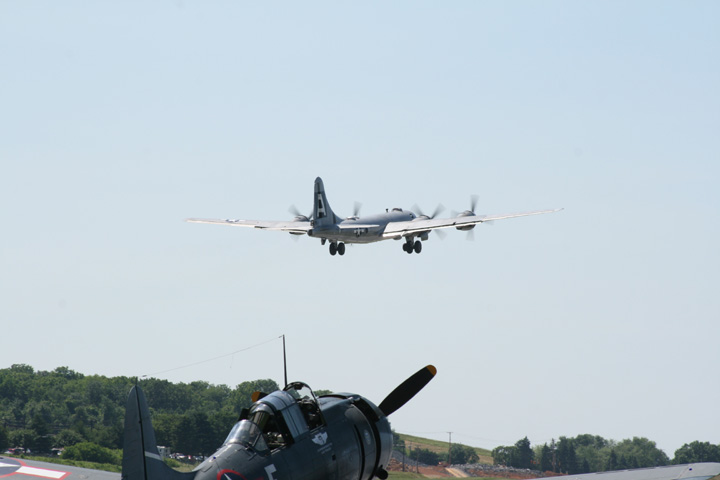 The CAF SBD is in the foreground where it was placed to give rides also.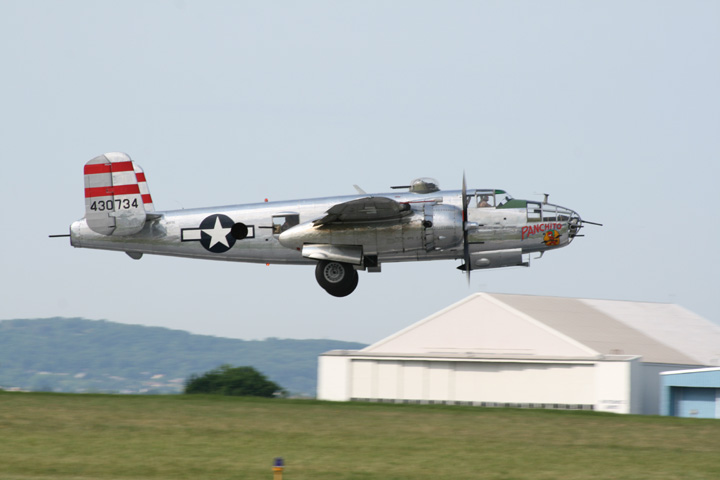 Larry Kelly's B-25 "Panchito" arrived Friday evening and started giving rides the first thing on Saturday.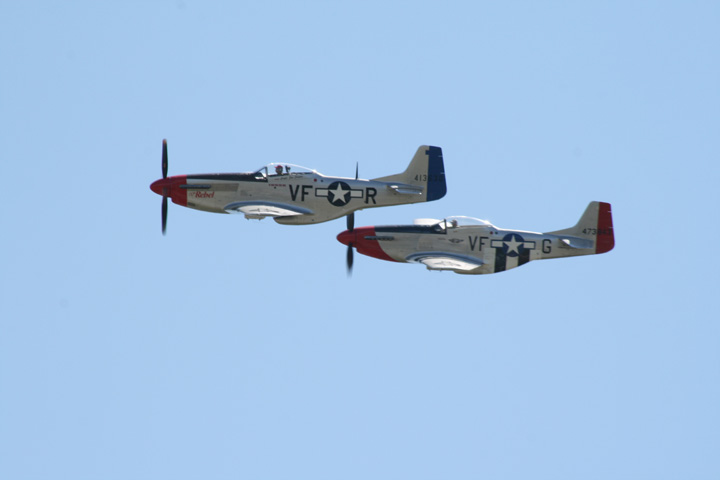 This two ship P-51 pass only happened at the Friday afternoon show. Both were "Red Nose" Mustangs.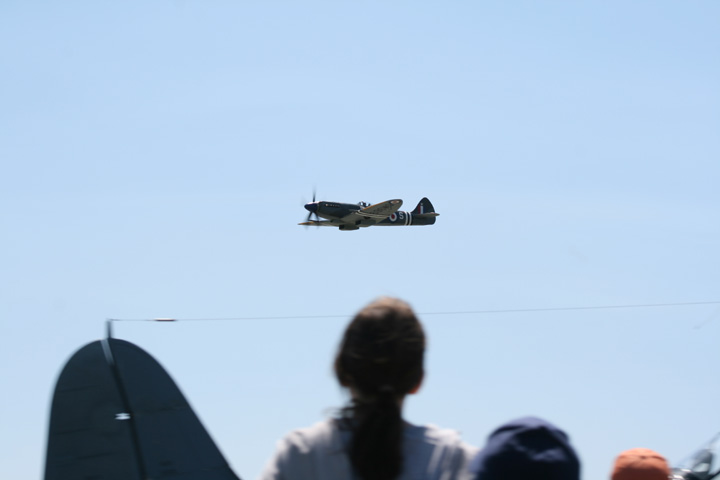 Jim Beasley making a photo pass for the crowd in his Spitfire.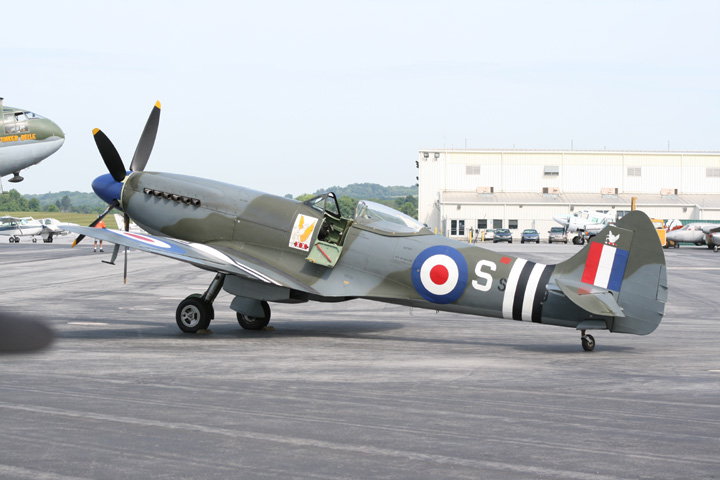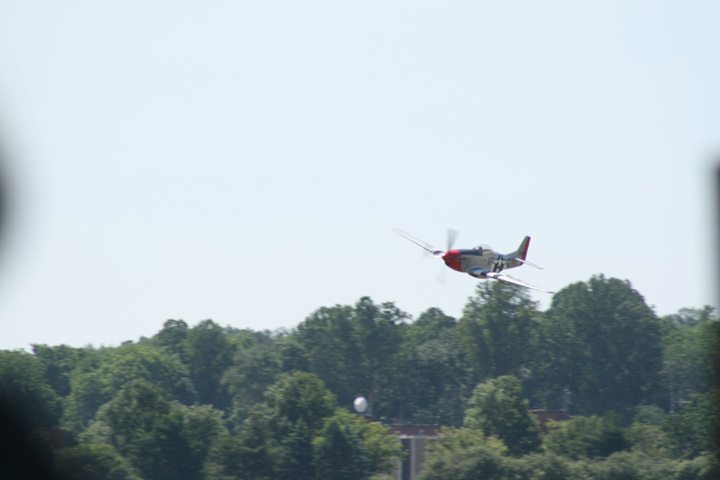 Setting up for the photo pass!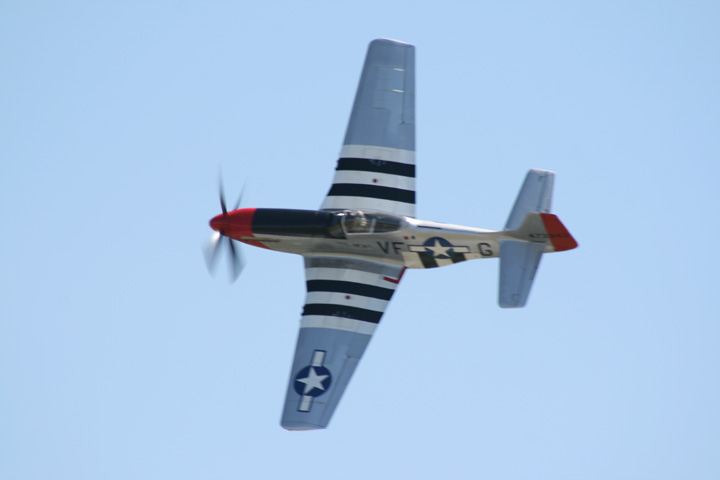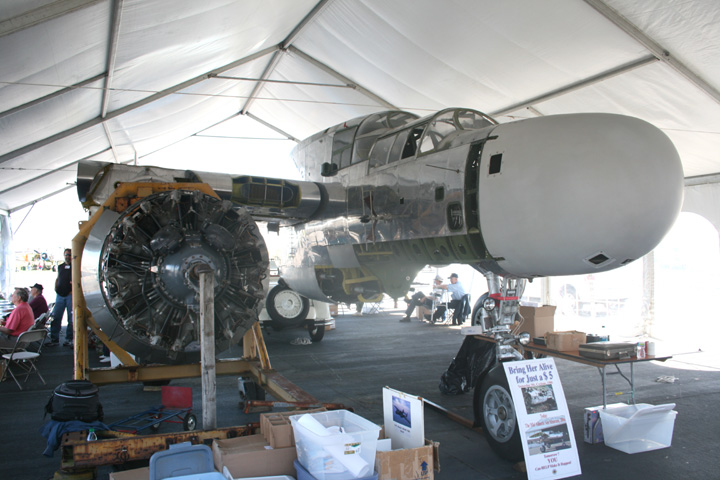 The Northrop P-61 Black Widow in its protective tent for the weekend displays the progress being made to put it back in the air.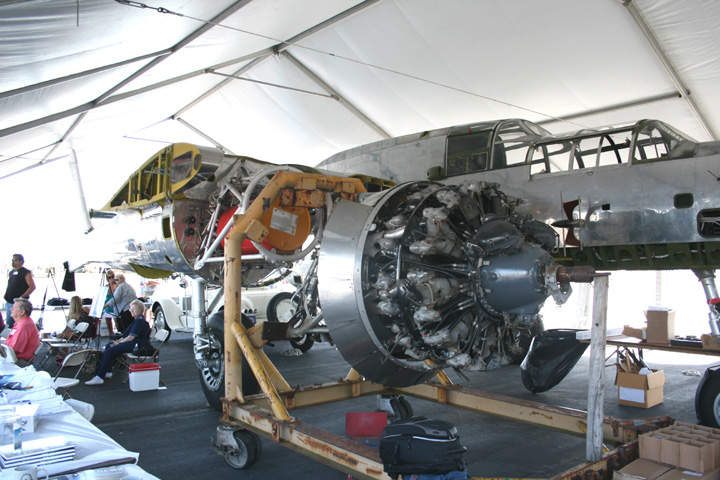 The one good R-2800 engine ready to be installed.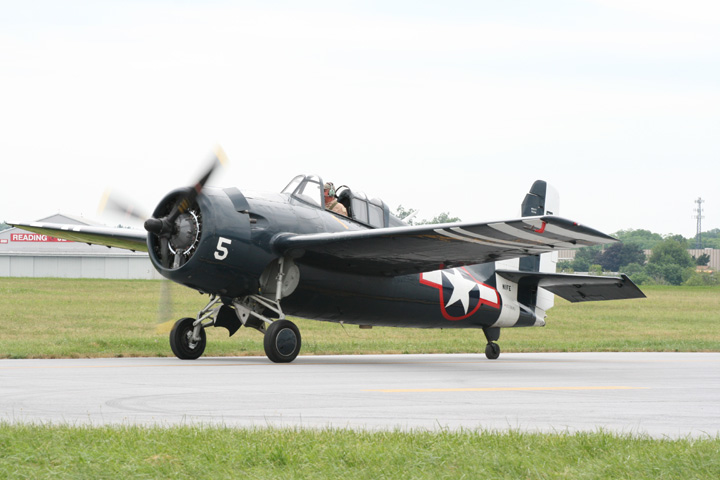 This was the first appearance for this Eastern Aircraft FM-2 owned by Mustang Aviation Partners.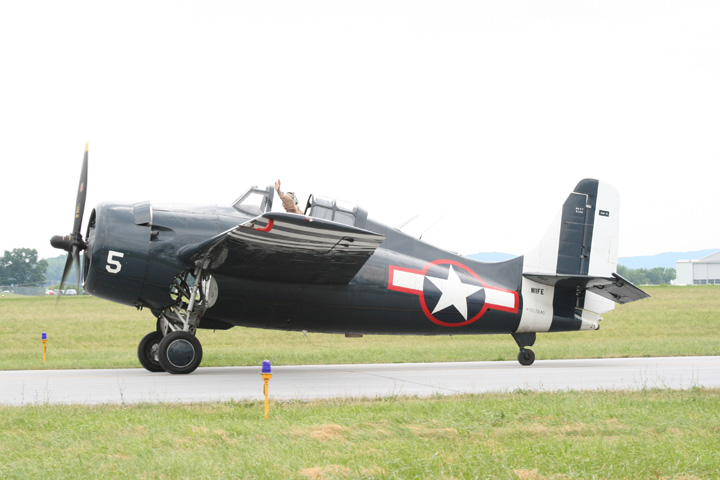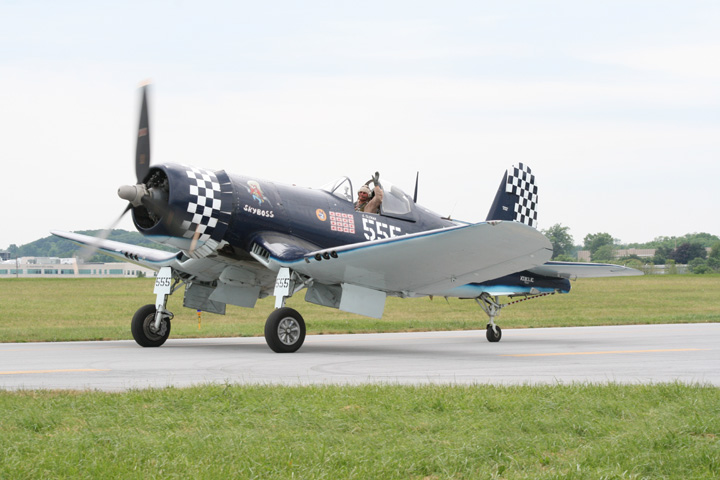 FG-1d Corsair owned by the American Airpower Museum.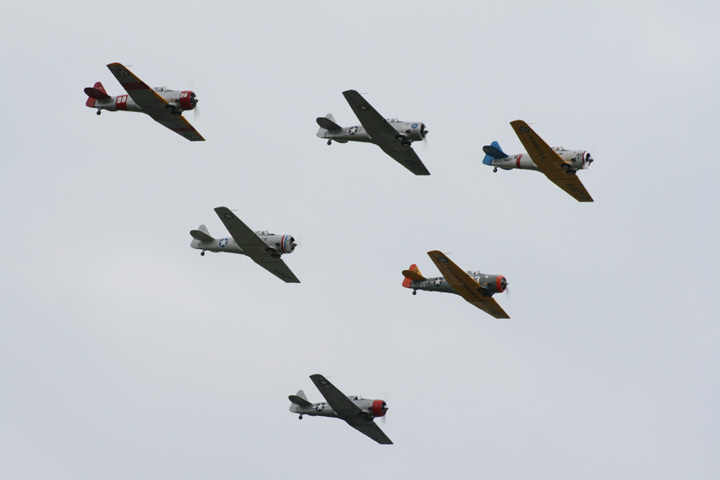 T-6 formation. This group made several passes in different formations and did a great job.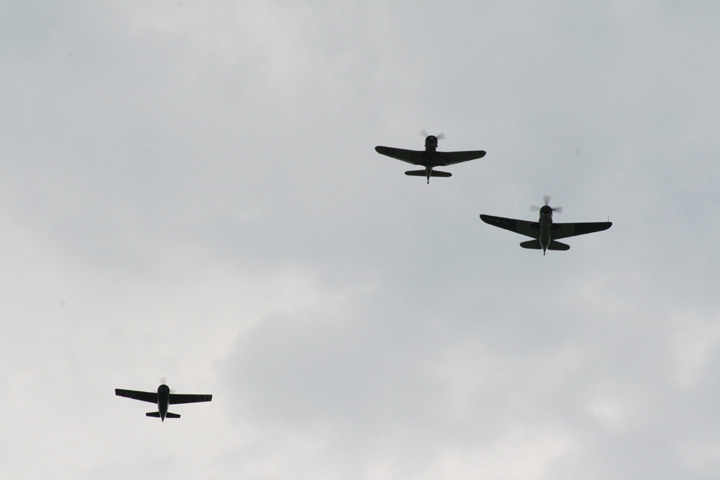 Missing Man on Saturday against the gray sky. This was a three ship with an empty spot with the FM-2, SBD and SB2C being the participating aircraft.
Tyndall AFB, FL NAS Fort Worth JRB, TX Indianapolis Regional, IN Terre Haute, IN Open House Monticello, IN Open House Reading, PA WWII Weekend Cincinnati, OH B-29 Appearance Hamilton, ONT Kokomo, IN Indianapolis Metropolitan, IN Polk City, FL Willow Run, MI Indianapolis Regional, IN Indianapolis Executive, IN Grissom Aeroplex Huey Homecoming, IN Selfridge ANGB, MI Mattoon, IL Marion, IN Waukegan, IL Janesville, WI NAS Oceana, VA Watervliet, MI