2011 Airshows
Tyndall AFB, FL NAS Fort Worth JRB, TX Indianapolis Regional, IN Terre Haute, IN Open House Monticello, IN Open House Reading, PA WWII Weekend Cincinnati, OH B-29 Appearance Hamilton, ONT Kokomo, IN Indianapolis Metropolitan, IN Polk City, FL Willow Run, MI Indianapolis Regional, IN Indianapolis Executive, IN Grissom Aeroplex Huey Homecoming, IN Selfridge ANGB, MI Mattoon, IL Marion, IN Waukegan, IL Janesville, WI NAS Oceana, VA Watervliet, MI

Cincinnati, OH 2011 B-29 Weekend Photo Review
B-29 at Lunken Airport, Cincinnati, OH - June 10-12, 2011 (Photos taken June 12)
The EAA Cincinnati Warbird Squadron 18 and the Commemorative Air Force B-29/B-24 Squadron worked together to bring the world's only flying Boeing B-29 Superfortress, "Fifi", into Lunken Airport for both rides and static tours. The B-29 was able to take up eight paying riders a total of eight times over the weekend. When not giving the rides "Fifi' was surrounded by many interested enthusiasts that came out to see this one of a kind warbird, which was supported by several local static warbirds also on display. This was a great opportunity for the Greater Cincinnati populace to see this excellent selection of historic warbirds.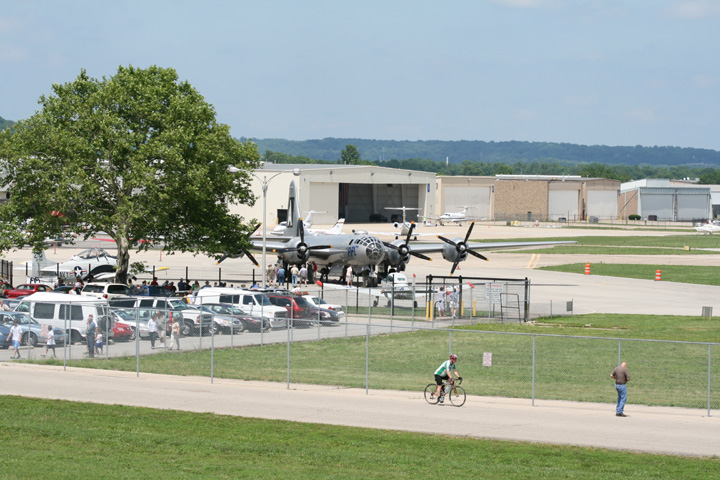 The B-29 on the ramp at the terminal building at Lunken Airport. The photo was taken from the dike that protects the airport from Ohio River flooding which has occurred in the past. Hence the moniker "Sunken Lunken".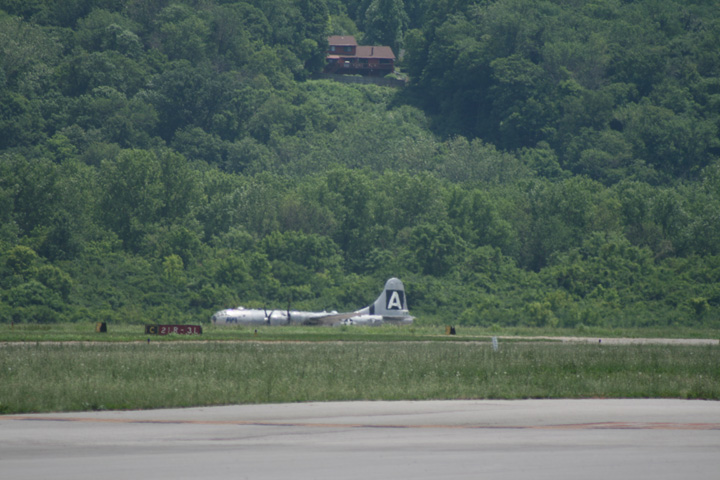 "Fifi" on the take off roll for the last flight of the day.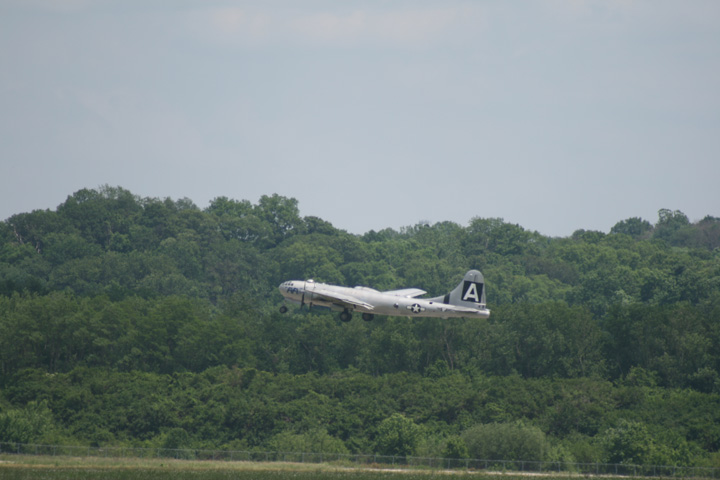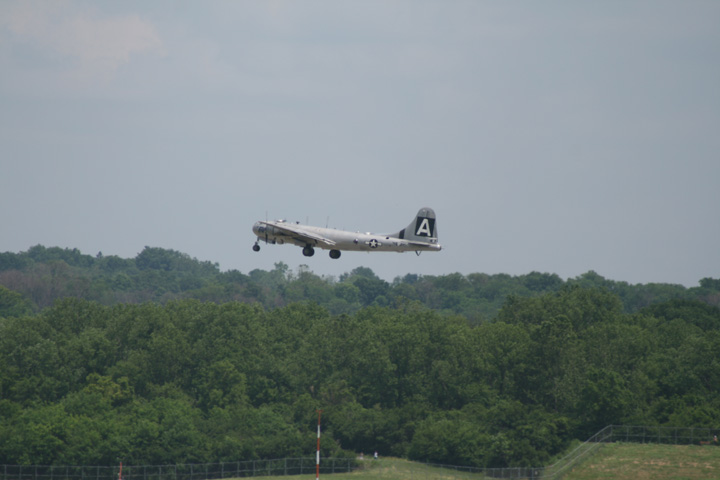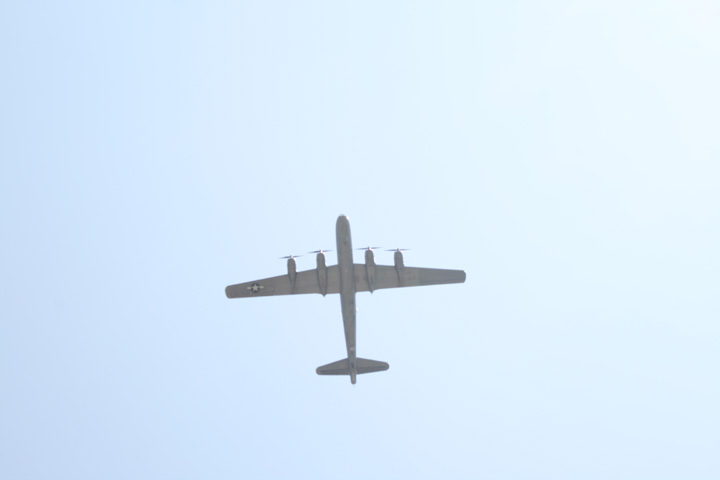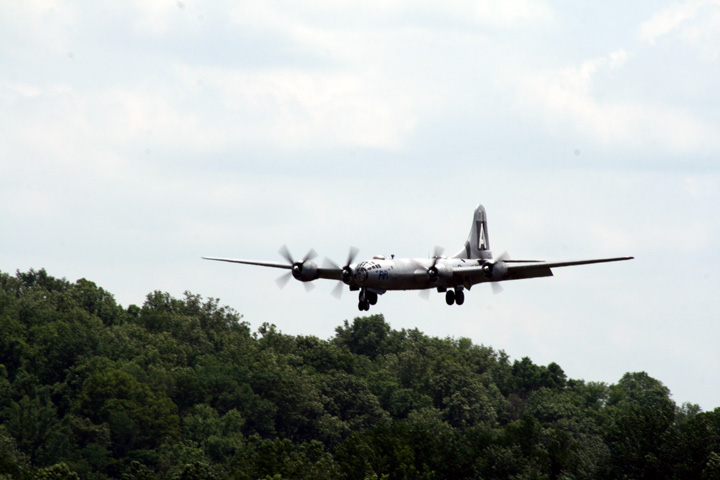 On final!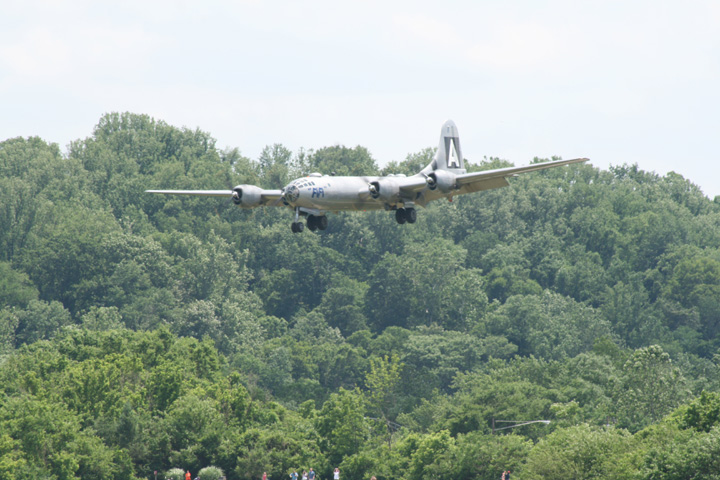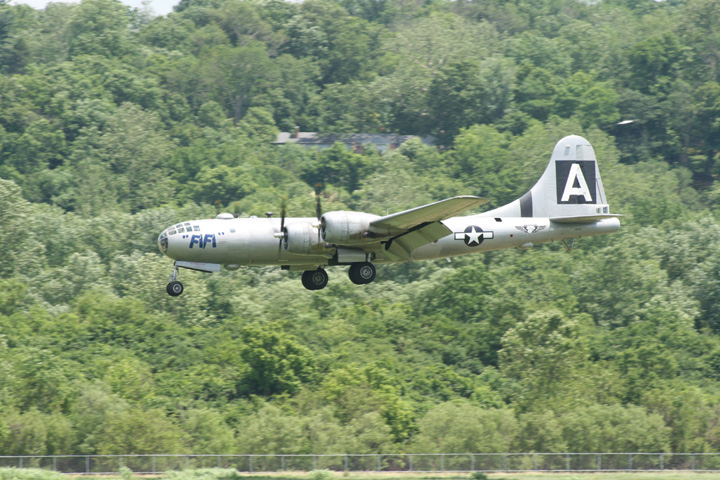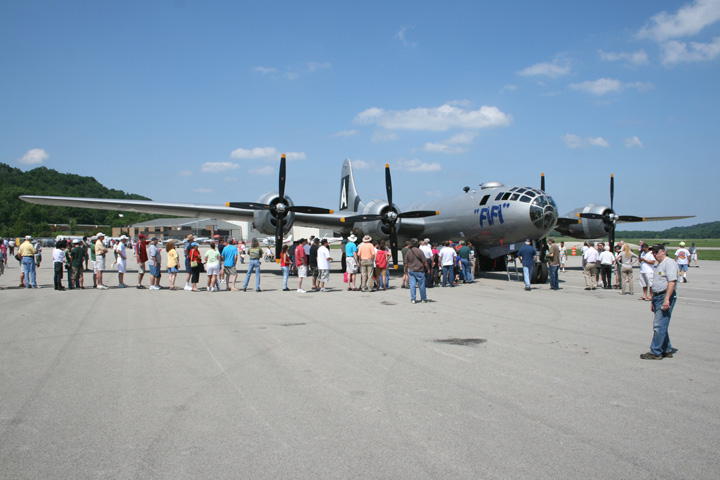 A long line of enthusiasts waits in in line to get a closer look at "Fifi".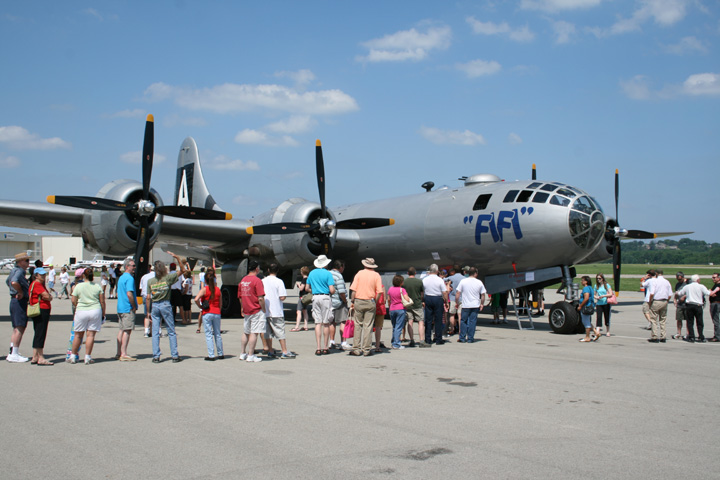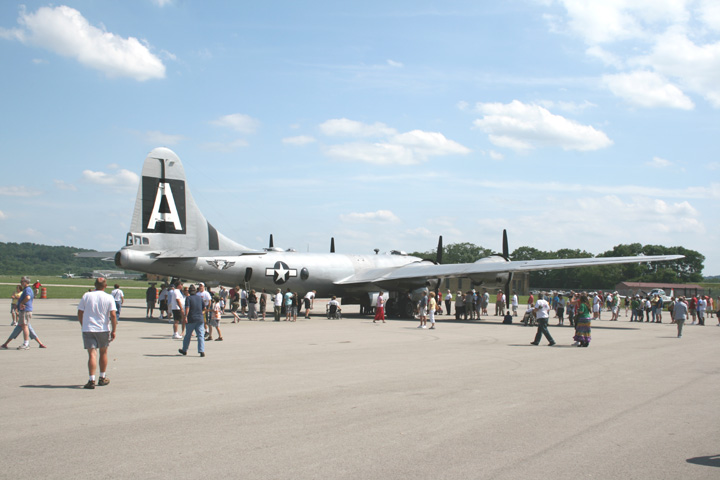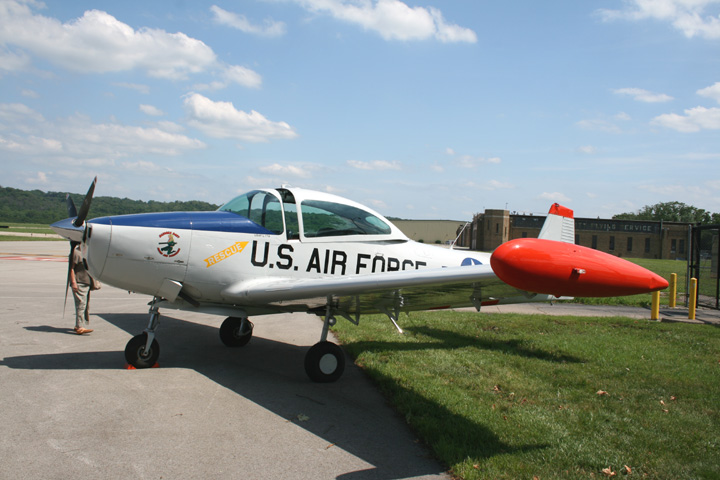 Lynda Kilbourne had her great looking L-17 on display at the event.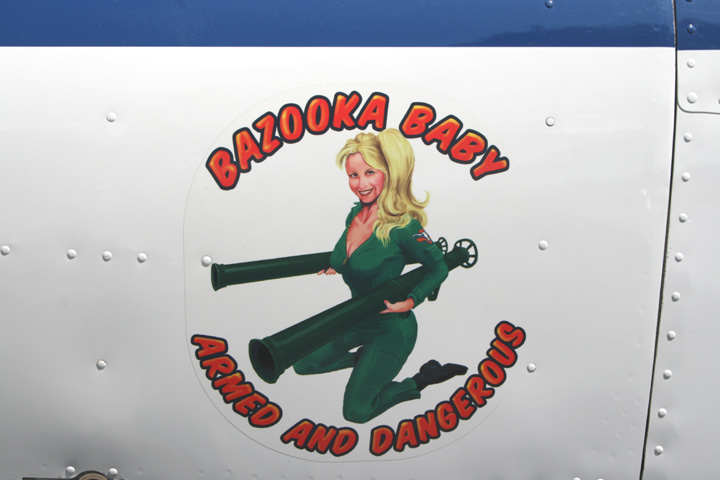 Lynda's portrait as the "Bazooka Baby" as the nose art on her Navion.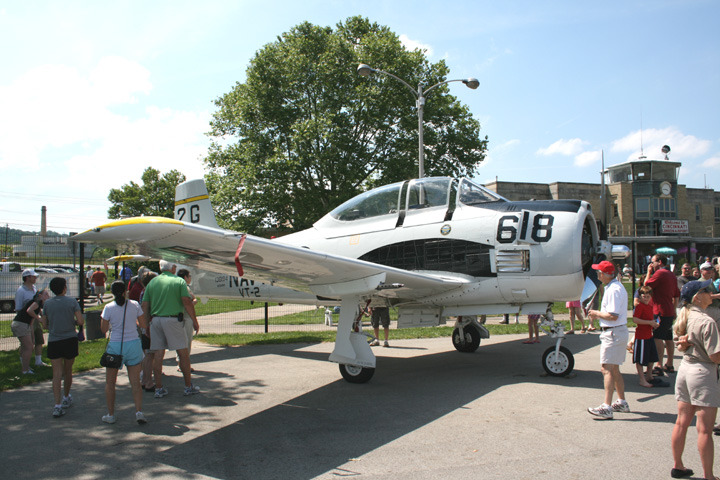 Jim Stitt of the Trojan Horsemen had his T-28 on display.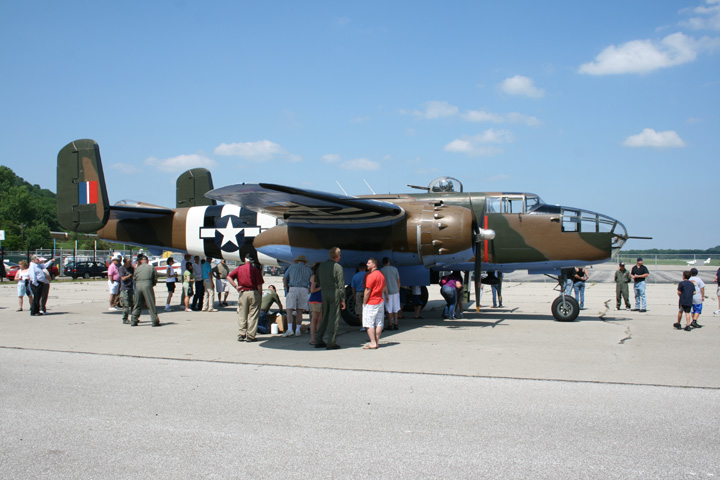 Tri-State Warbirds from Batavia, OH had its B-25 also on display.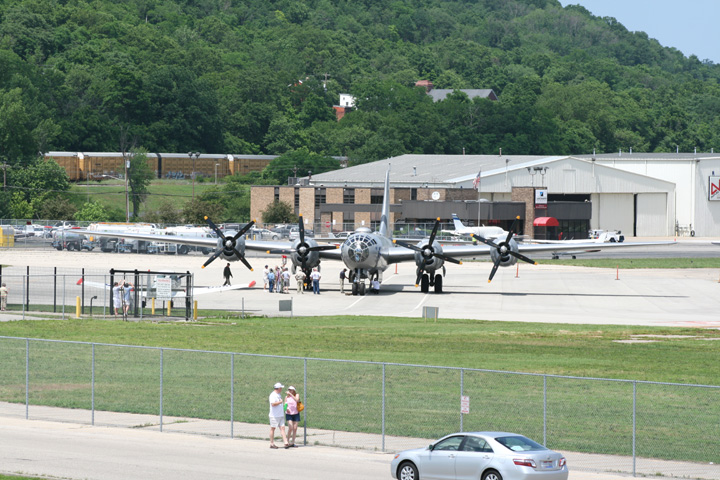 Tyndall AFB, FL NAS Fort Worth JRB, TX Indianapolis Regional, IN Terre Haute, IN Open House Monticello, IN Open House Reading, PA WWII Weekend Cincinnati, OH B-29 Appearance Hamilton, ONT Kokomo, IN Indianapolis Metropolitan, IN Polk City, FL Willow Run, MI Indianapolis Regional, IN Indianapolis Executive, IN Grissom Aeroplex Huey Homecoming, IN Selfridge ANGB, MI Mattoon, IL Marion, IN Waukegan, IL Janesville, WI NAS Oceana, VA Watervliet, MI