2011 Airshows
Tyndall AFB, FL NAS Fort Worth JRB, TX Indianapolis Regional, IN Terre Haute, IN Open House Monticello, IN Open House Reading, PA WWII Weekend Cincinnati, OH B-29 Appearance Hamilton, ONT Kokomo, IN Indianapolis Metropolitan, IN Polk City, FL Willow Run, MI Indianapolis Regional, IN Indianapolis Executive, IN Grissom Aeroplex Huey Homecoming, IN Selfridge ANGB, MI Mattoon, IL Marion, IN Waukegan, IL Janesville, WI NAS Oceana, VA Watervliet, MI

Indianapolis Executive Airport Fund Raiser to Benefit Downs Syndrome 2011 Photo Review
Warbirds at Indianapolis Executive Airport, Zionsville, IN - August 13, 2011
An Indiana Warbird Event
This was the 6th annual benefit at Montgomery Aviation which Rolls-Royce Indianapolis Facility Sponsored. While there were lots of non aviation activities for the kids, there were also five warbirds on display with the UH-1 from the Huey 369 Organization giving also giving at least one ride for some of the participants and sponsors. The Indiana Wing of the CAF, American Huey 369, Montgomery Aviation and Greg Mahler have all participated in past years to help this event raise funds and build awareness.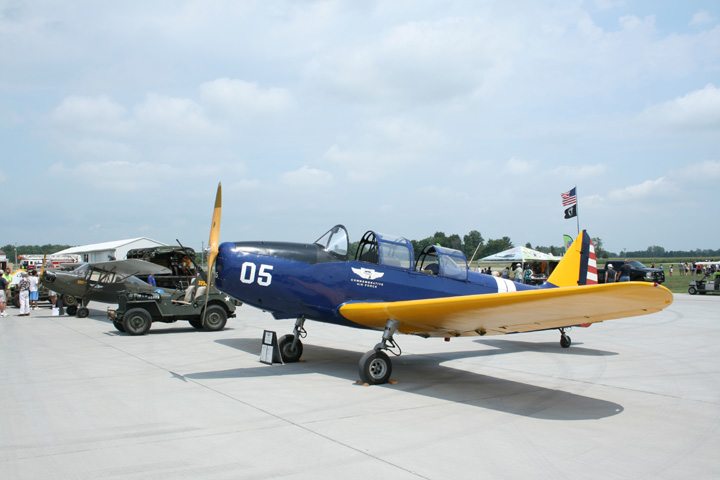 The aircraft and jeep belong to the Indiana Wing of the CAF.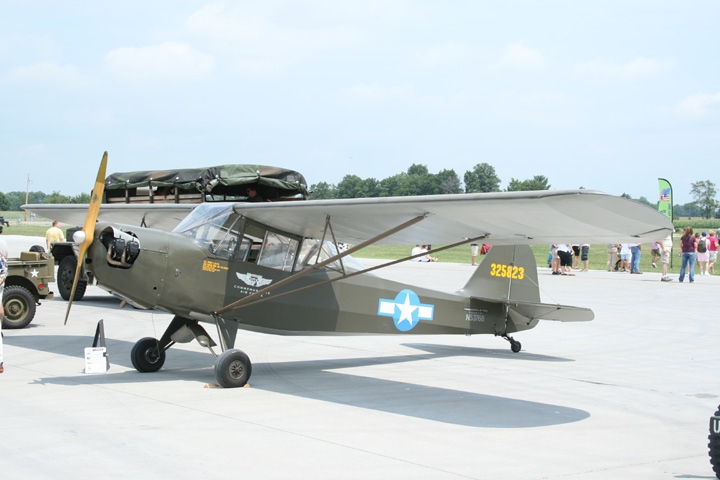 The L-2 operated by the Indiana Wing was obtained around 3-4 years ago.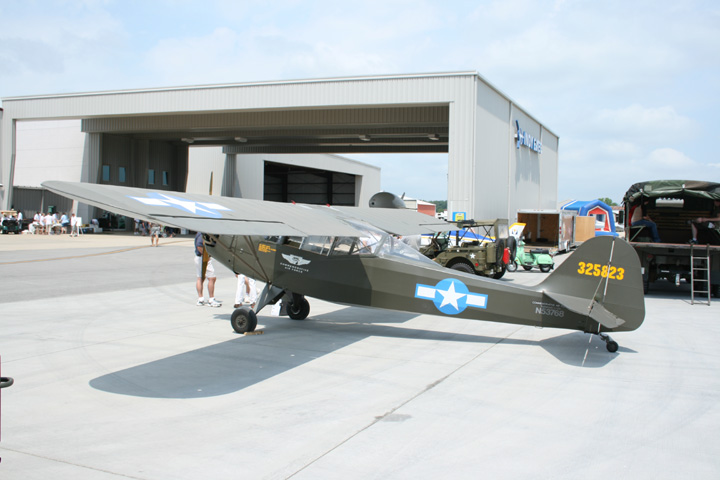 The structure back ground is an inclement weather covering for business jets as they depart and land. If it is raining or snowing the pilots can taxi into the covered area, the passengers board or exit the aircraft, and then the aircraft moves out and parks on the ramp. The problem is the air crew still get wet. I have been to a lot of airports and this one that Montgomery Aviation has is the only one I have ever seen. They cater to the business jet traffic.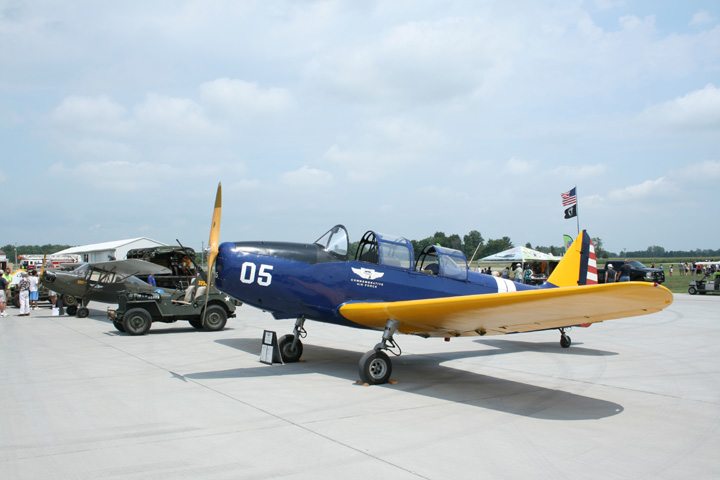 This PT-26 has been with the Indiana Wing since the early 1980s.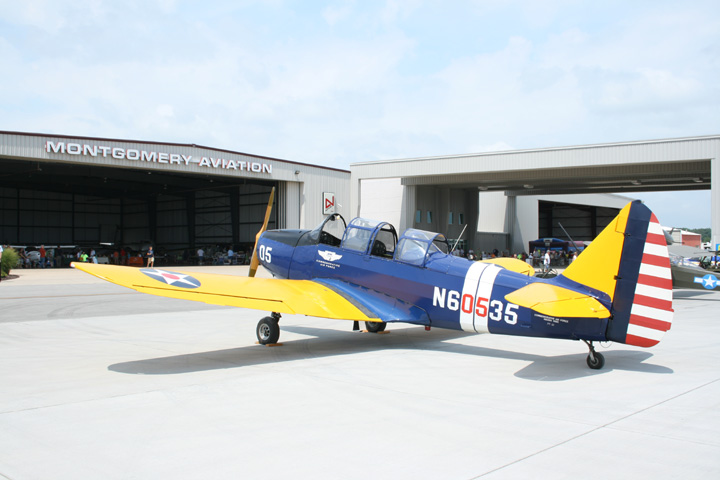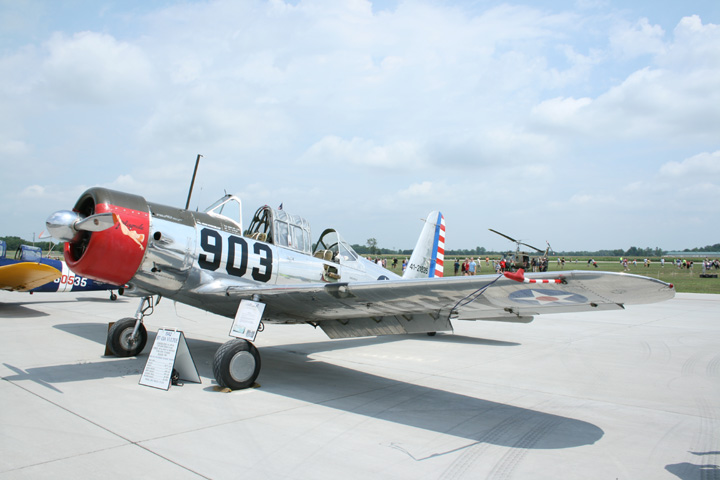 Greg Mahler had his BT-16 on display. The nose art is always fun to look at.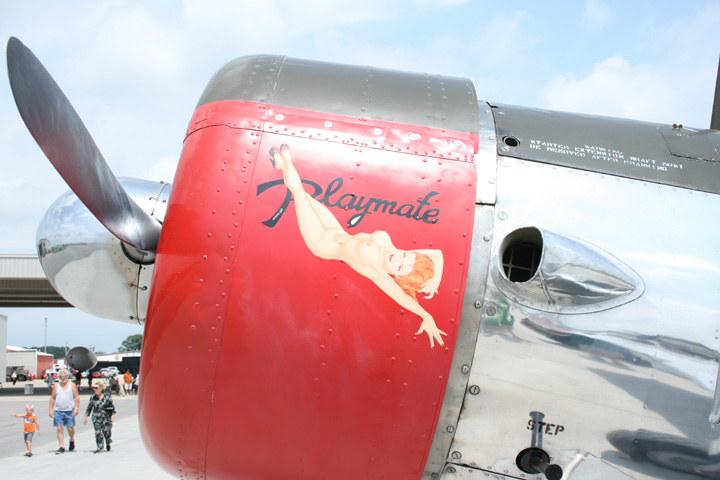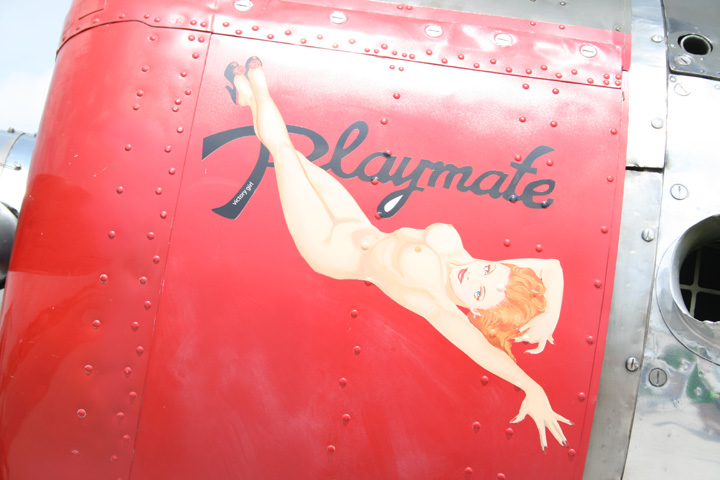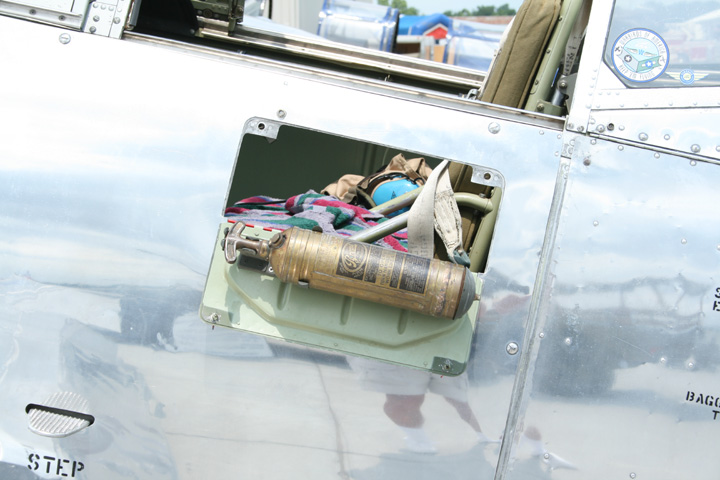 Greg had this panel open showing the WWII era fire extinguisher. With this set up it could be used by either the aircrew inside the aircraft or someone on the outside.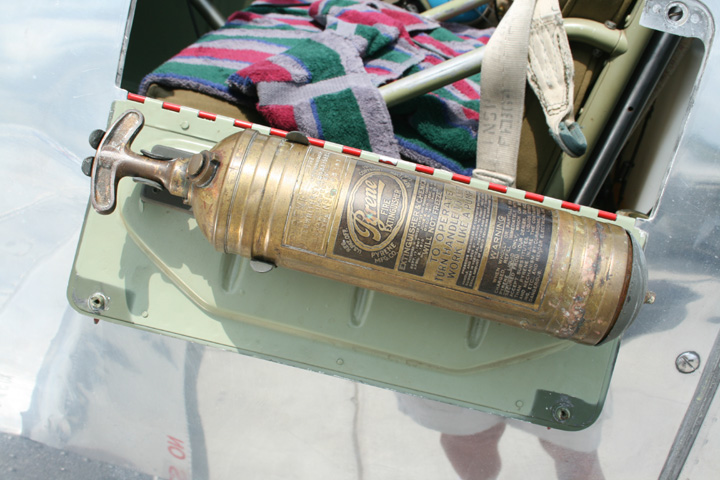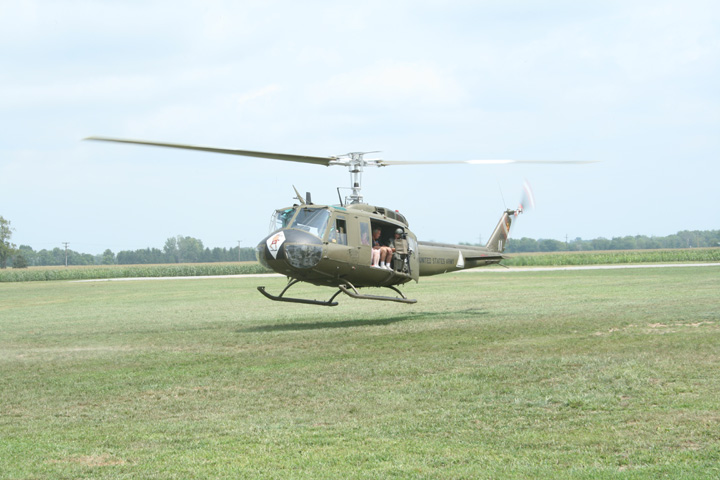 Warrior 803 from American Huey 369 lifts for to take six persons for a ride around the local area.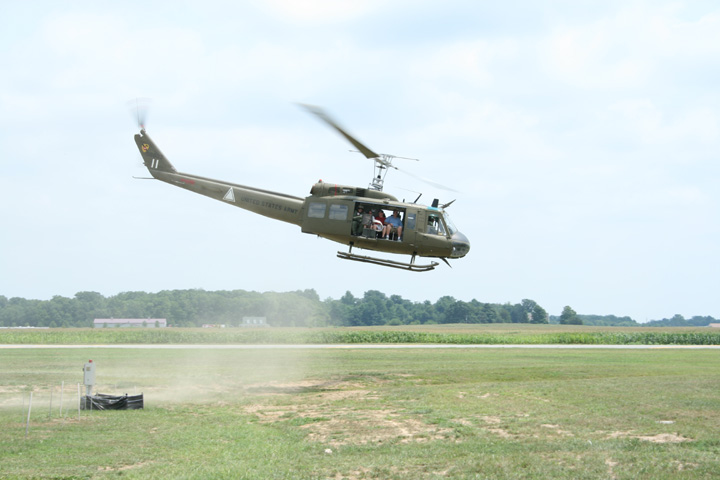 There has not been a lot of rain in Central Indiana since June. Here the Huey kicks up some dust.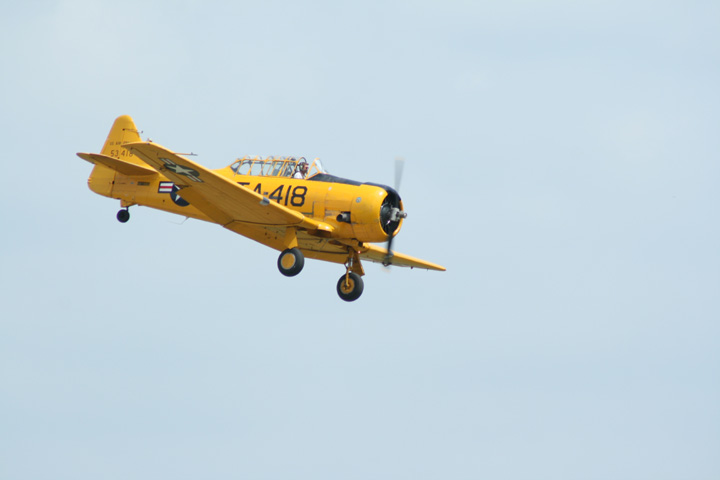 As the Huey was making its flight this T-6 came in and landed.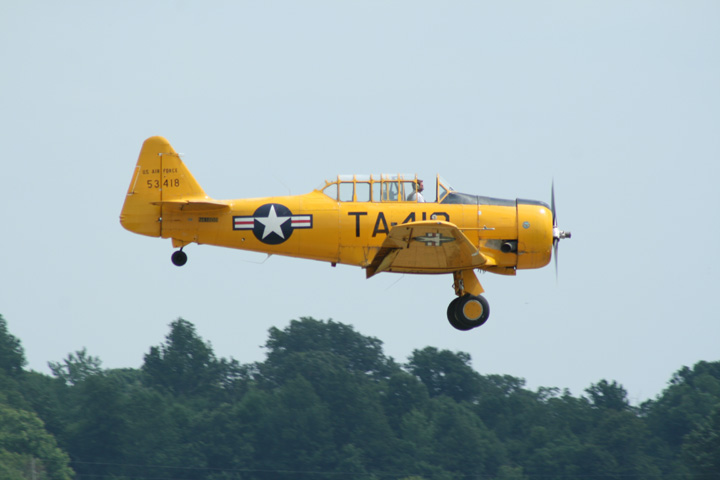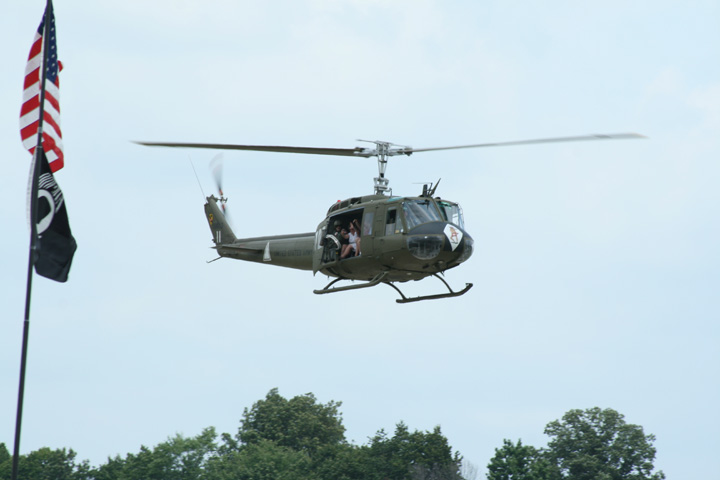 Warrior 803 returning.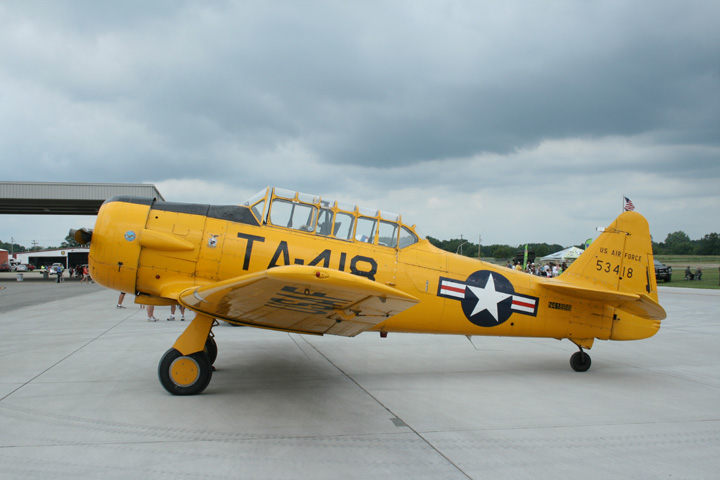 This Texan is one of two that at this time were located at the Johnson County airport and are for sale. They in past years were part of a company that gave rides for hire in Florida.
Tyndall AFB, FL NAS Fort Worth JRB, TX Indianapolis Regional, IN Terre Haute, IN Open House Monticello, IN Open House Reading, PA WWII Weekend Cincinnati, OH B-29 Appearance Hamilton, ONT Kokomo, IN Indianapolis Metropolitan, IN Polk City, FL Willow Run, MI Indianapolis Regional, IN Indianapolis Executive, IN Grissom Aeroplex Huey Homecoming, IN Selfridge ANGB, MI Mattoon, IL Marion, IN Waukegan, IL Janesville, WI NAS Oceana, VA Watervliet, MI