2011 Airshows
Tyndall AFB, FL NAS Fort Worth JRB, TX Indianapolis Regional, IN Terre Haute, IN Open House Monticello, IN Open House Reading, PA WWII Weekend Cincinnati, OH B-29 Appearance Hamilton, ONT Kokomo, IN Indianapolis Metropolitan, IN Polk City, FL Willow Run, MI Indianapolis Regional, IN Indianapolis Executive, IN Grissom Aeroplex Huey Homecoming, IN Selfridge ANGB, MI Mattoon, IL Marion, IN Waukegan, IL Janesville, WI NAS Oceana, VA Watervliet, MI

Terre Haute, IN 2011 Airport Open House Photo Review
Warbirds at Terre Haute International Airport - May 21, 2011
An Indiana Warbird Event
This Airport Open House was held on another overcast and rainy day that has been the norm for the state of Indiana in the months of April and May. Despite this there was an excellent turnout for the event by the local citizens to visit their airport and view not only the warbirds below but see the local aircraft that were put on display by their owners to assist the effort. The Missouri Wing of the CAF was giving rides in "Show Me" which provided the heavy metal flying that was complemented by several local Cessna trainers that were giving rides and taking passengers up to drop "Flour Bombs" on the marked target. It was a great way to spend part of or an entire day at the Terre Haute Airport.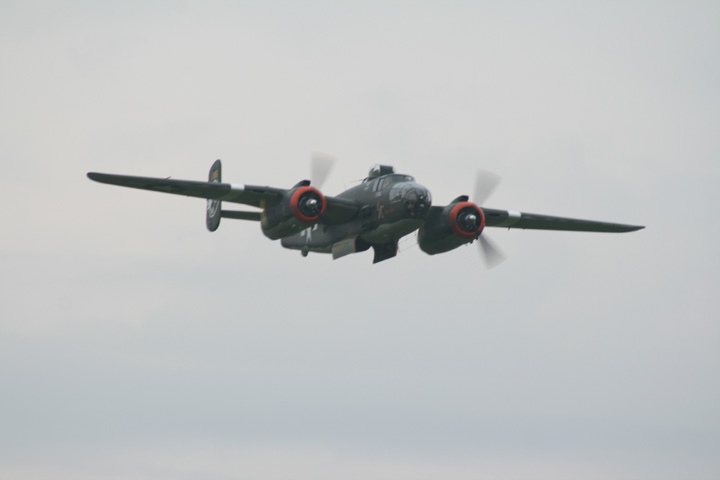 Even though the weather was overcast with some rain showers in the afternoon, "Show Me" still did four passenger rides and two flour bombing runs during the event. So there was lots of B-25 action at Terre Haute.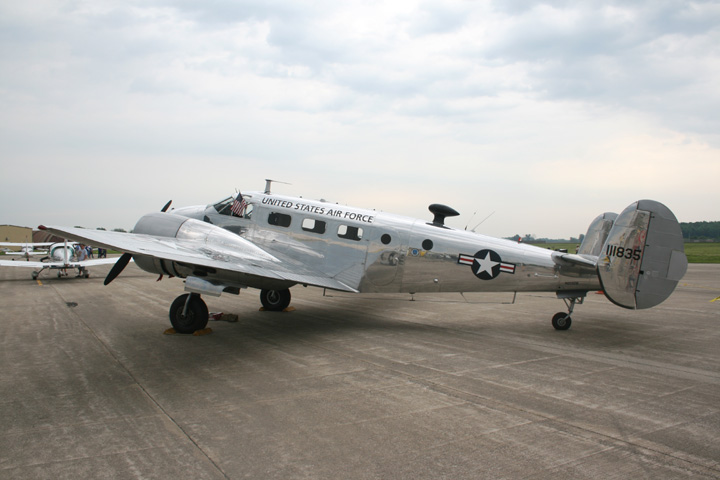 Jordan and Nicole Brown's C-45. This warbird actually started life as an AT-11 with the USAAF at the Bombardier Training School in Albuquerque, NM in January 1942 as Serial Number 41-9442. After WWII it was converted to the C-45H configuration it is in now. A true WWII veteran located in Indiana.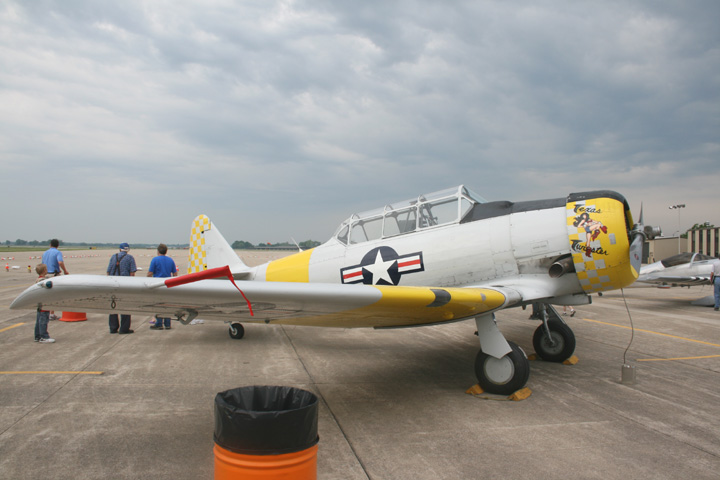 This T-6D is owned by BFT Warbirds, LLC which stands for Jordan and Nicole Brown, Bill Foraker and Matt Thorkmorton who are the owners of the newest Warbird in the State of Indiana.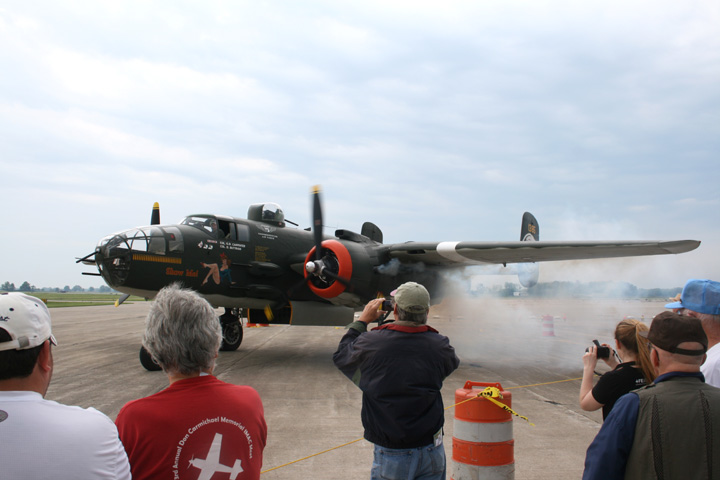 Engine Start!!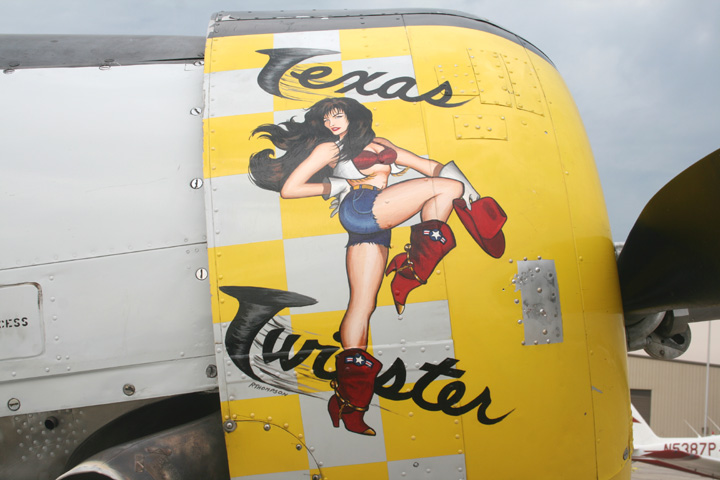 The nose art on the engine cowl of the T-6D depicts 1990 January Playmate of the Month Joan Severance. Her spread in the magazine was titled "Texas Twister"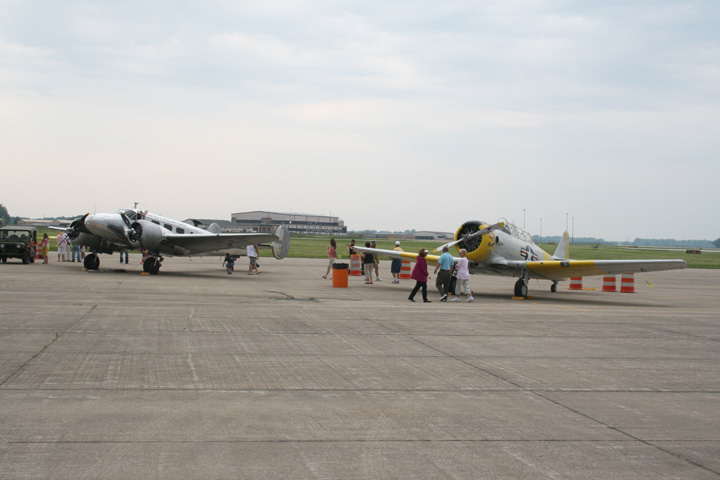 The T-6D and C-45 on the ramp.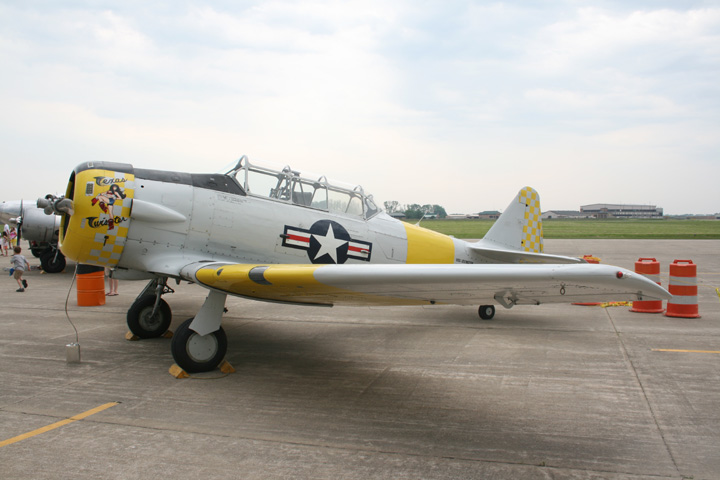 Although the "Texas Twister" is a T-6D it is painted up like an SNJ in USS Lexington colors.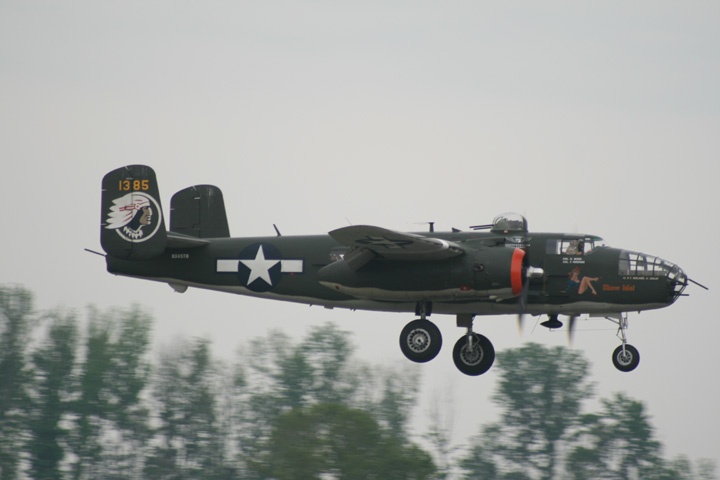 "Show Me" getting ready to touch down.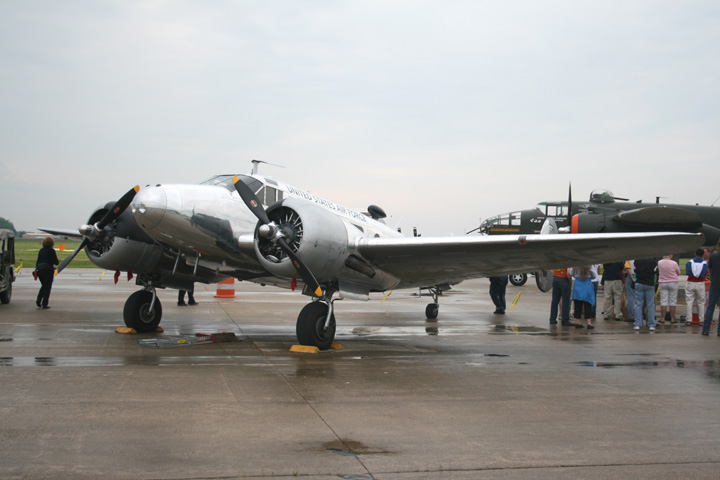 The C-45 and B-25 after the rain showers.

Tyndall AFB, FL NAS Fort Worth JRB, TX Indianapolis Regional, IN Terre Haute, IN Open House Monticello, IN Open House Reading, PA WWII Weekend Cincinnati, OH B-29 Appearance Hamilton, ONT Kokomo, IN Indianapolis Metropolitan, IN Polk City, FL Willow Run, MI Indianapolis Regional, IN Indianapolis Executive, IN Grissom Aeroplex Huey Homecoming, IN Selfridge ANGB, MI Mattoon, IL Marion, IN Waukegan, IL Janesville, WI NAS Oceana, VA Watervliet, MI