2010 Airshows
Indianapolis, IN Metro Airport Eglin AFB, Fl Urbana, OH B-25 Gathering B-25 Fly-Over at Doolittle Reunion, Dayton, OH Chino, CA Columbia, MO Reading, PA Indianapolis, IN Kokomo, IN Anderson, IN Rockford, IL Ypsilanti, MI Windsor, Ont Marion, IN Waynesville, OH Waukegan, IL Scott AFB, IL Midland, TX
Red Stewart Airfield Airshow, Waynesville, OH
September 4, 2010
This was my second warbird event for the day having been at Marion, IN in the morning. A true double header.
Discovery is good when one finds an air show in the local area that has been going on for 12 years previous and one didn't know about it. The 13th Annual Red Stewart Airfield Airshow south-west of Dayton, OH was a great family event with lots of homegrown aerobatics for everyone and the first one I have been to. I only discovered it earlier in the week of the event in searching for a show relatively close to home that would have some warbirds flying. This event fit the requirements with WWII era Boeing Stearman and North American T-6 trainers flying aerobatic and wing walking routines. The show was free to the public and had an excellent old time airshow feel will a grass field and lots of varied aerobatics routines.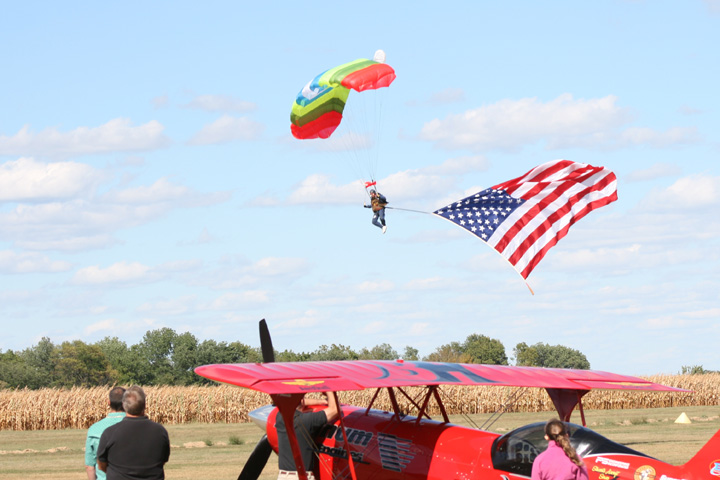 Flag Jump.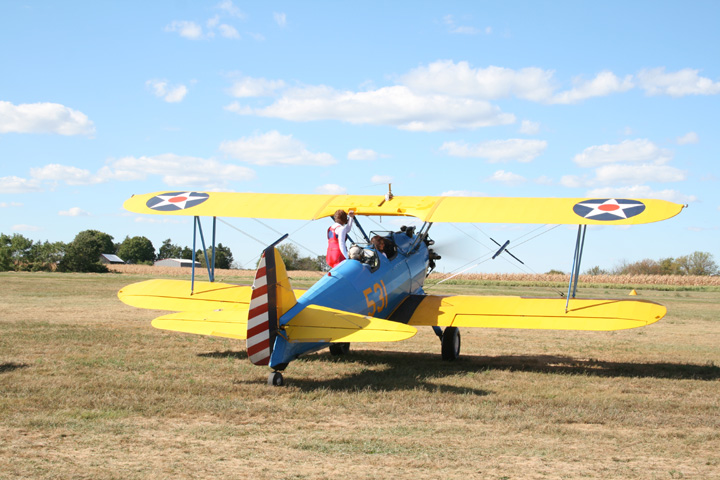 Taxiing out. One of the Wing Walkers is in the front cockpit while the other rides the wing out to the takeoff point. On takeoff they will all be in a cockpit. The girls shared the front seat.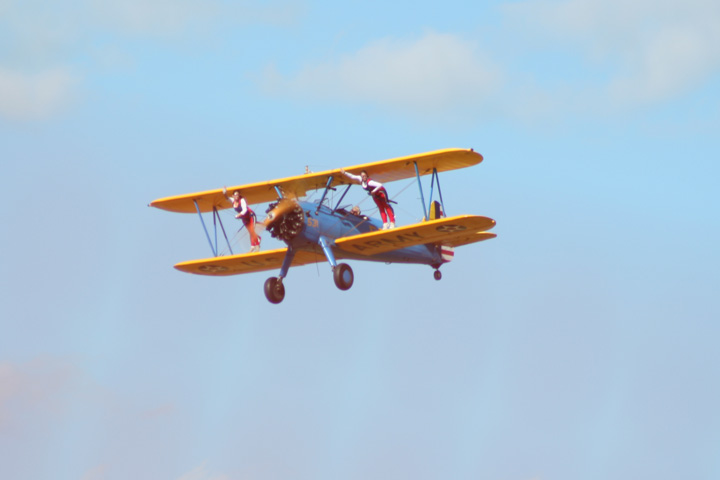 Cub Stewart in a stock Boeing Stearman with Wing Walkers Ashley Ryerson and Kimmy Stewart.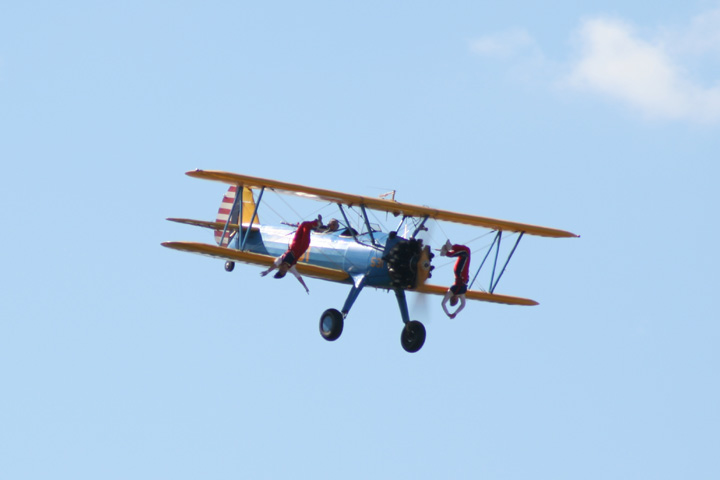 With a young lady hanging out on each wing and creating all sorts of drag, the stock Stearman was restricted to level fly-bys. Not enough power to go into the aerobatic mode. Later in the day the Stearman did an aerobatic routine without the wing walkers.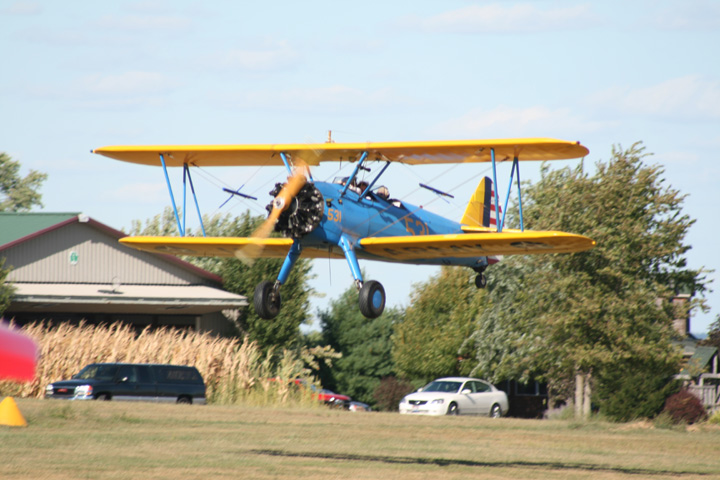 Everyone is in a cockpit for landing.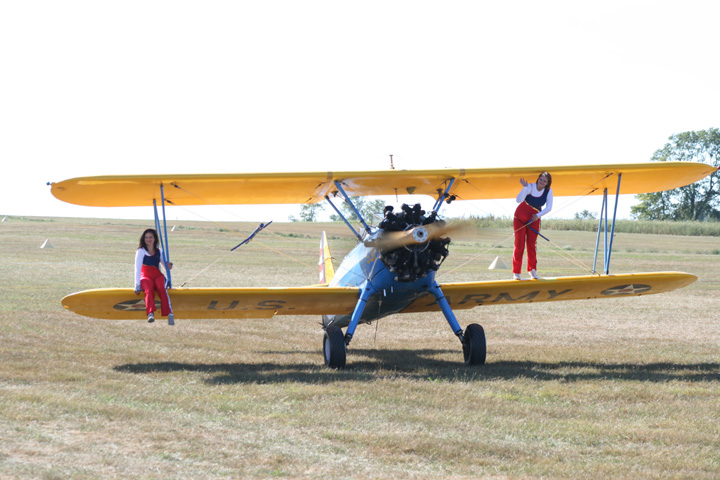 Both Ashley and Kimmy are on the wing for the taxi back in.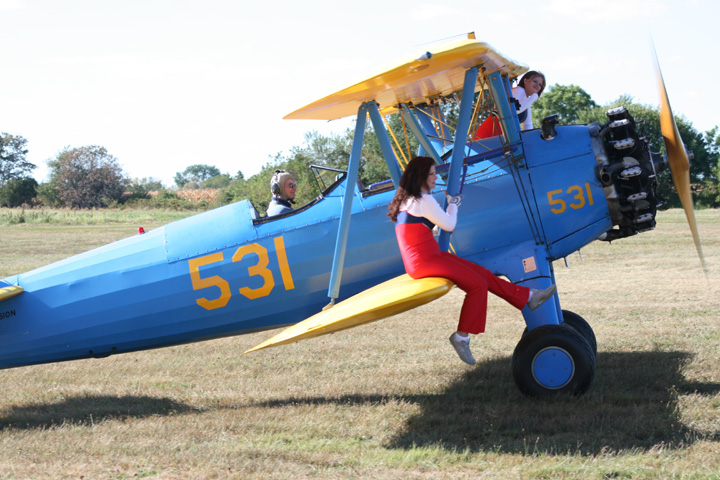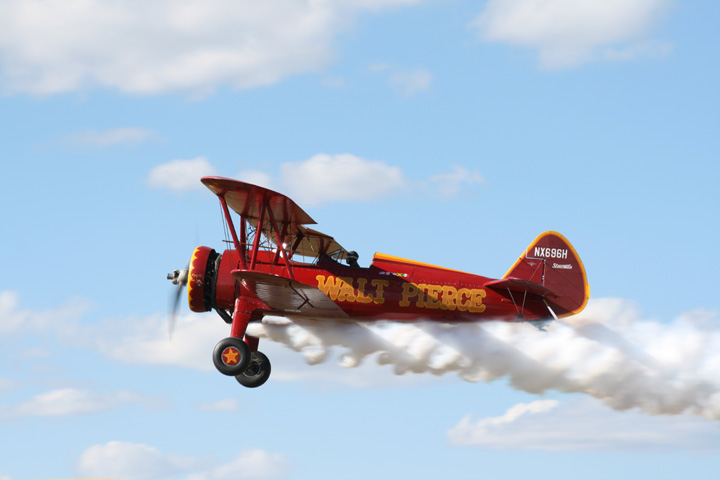 Walt Pierce taking of with smoke on for his solo aerobatic routine.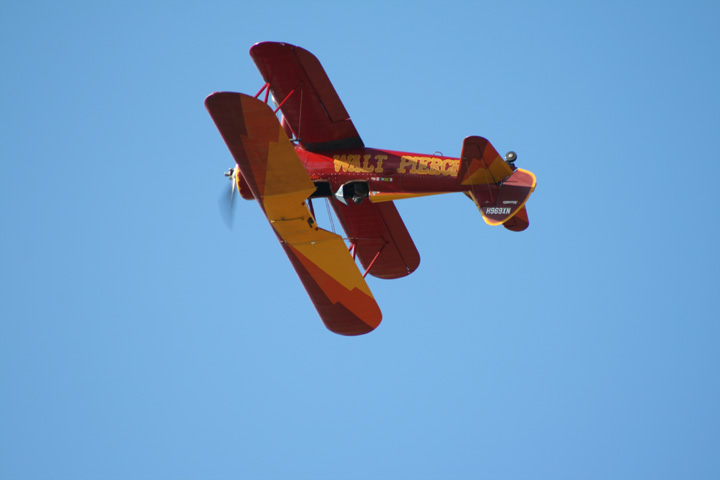 Walt has been in the airshow business for 47 years.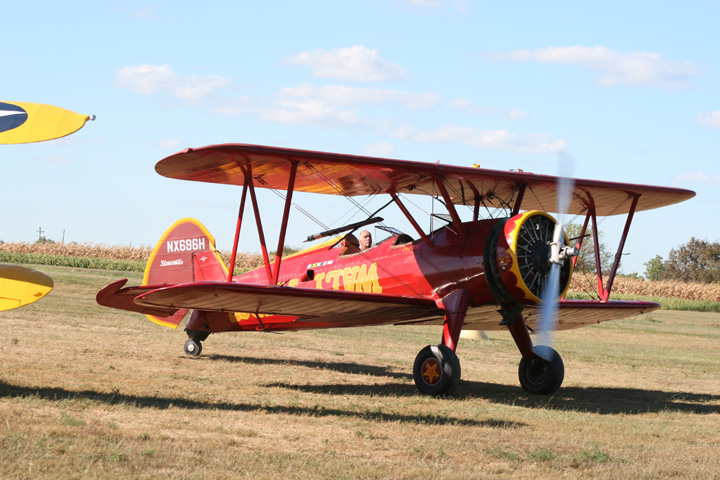 Walt has modified this Boeing Stearman with the a 450 HP engine.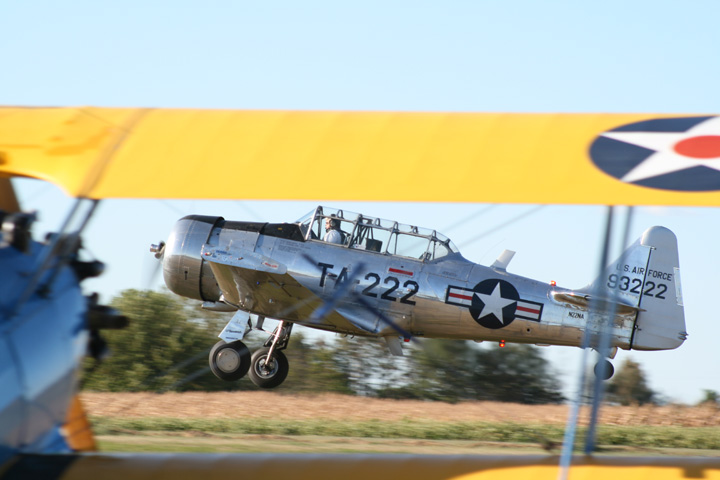 Bill Leff taking off.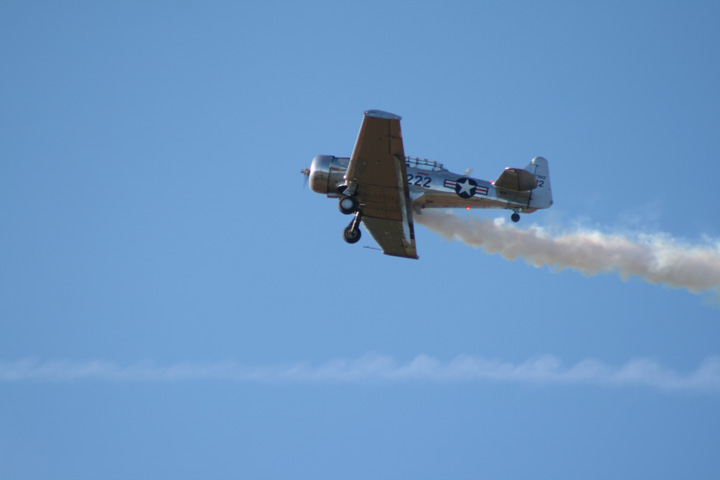 Gear Down Pass.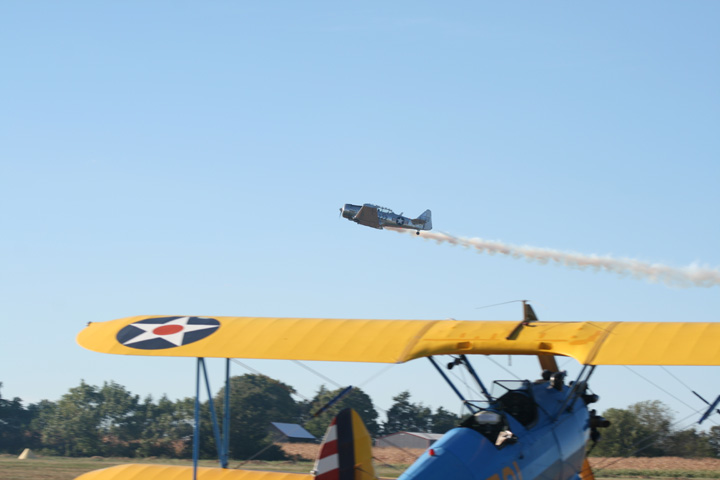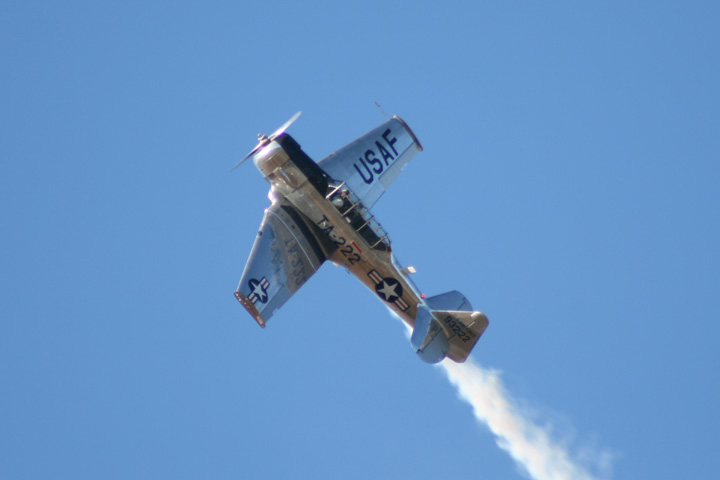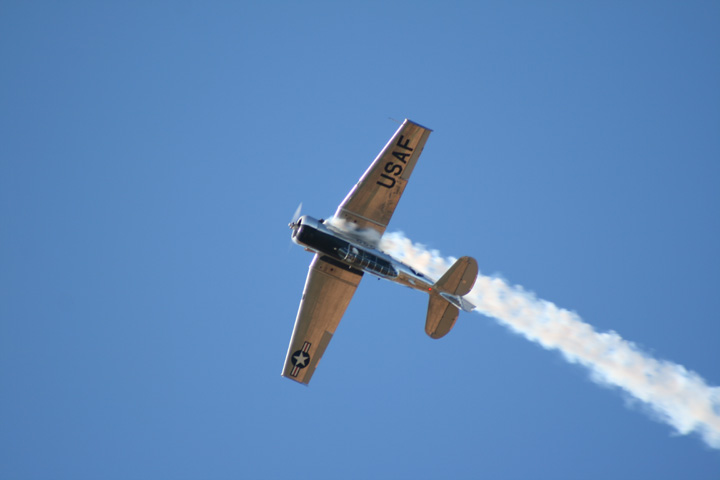 The clipped wings of the T-6 are shown off well in this photo.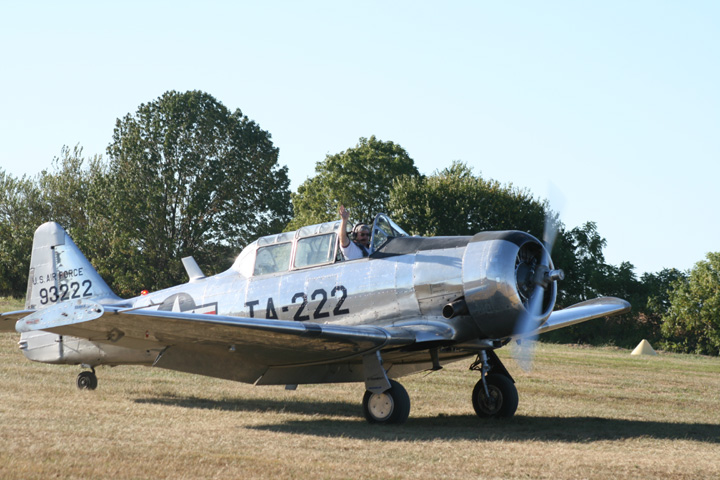 Bill waving at the crowd as he comes back in.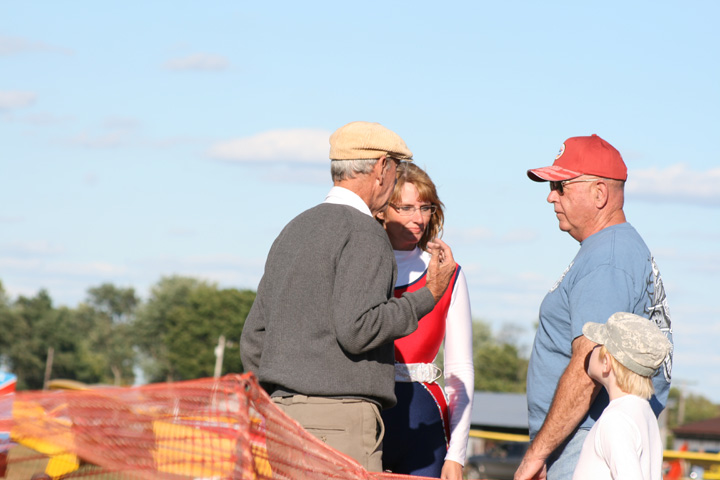 Walt and Jenny talking with members of the crowd before doing their wing walking routine.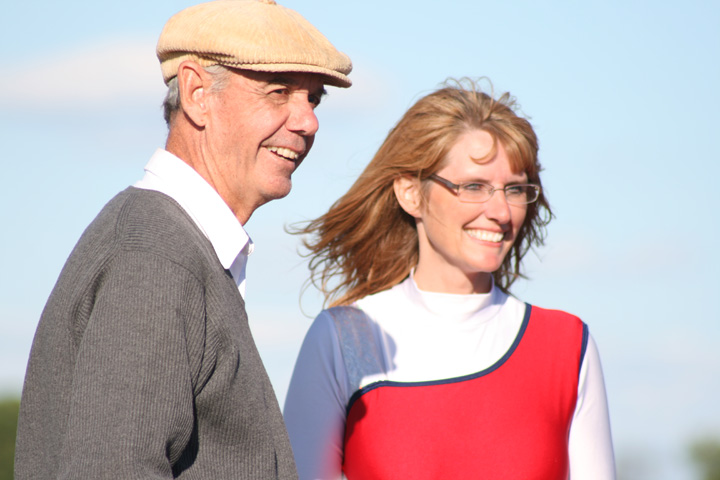 Who would ever think in looking at these two that in a few minutes she would be standing on top of his Super Stearman as it goes through an aerobatic routine. Looks are deceiving!!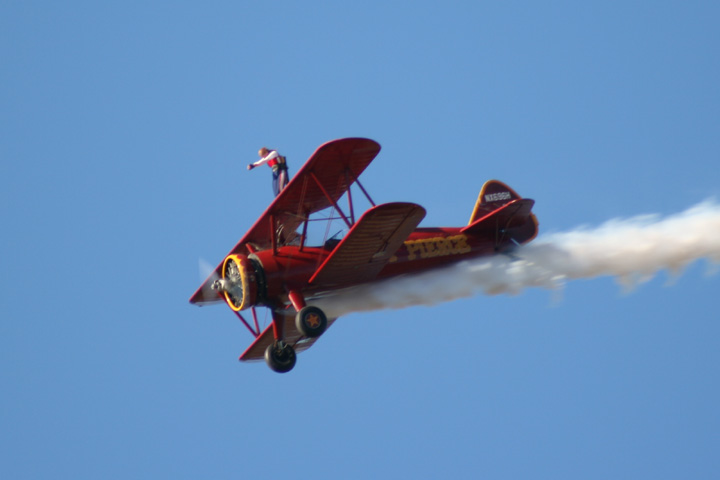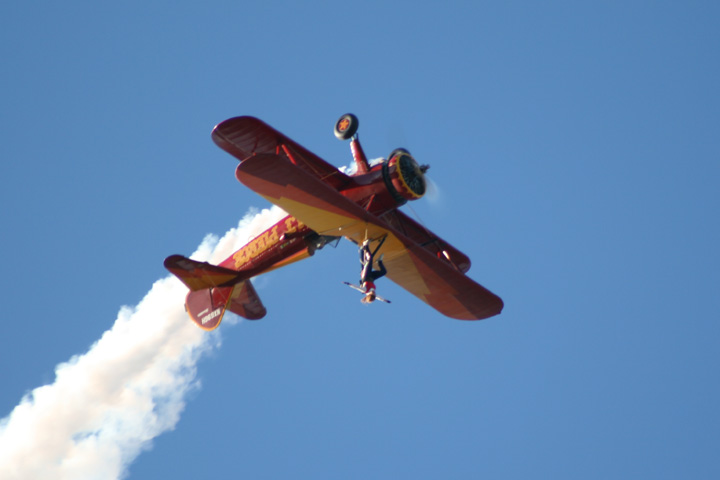 Over the top!!!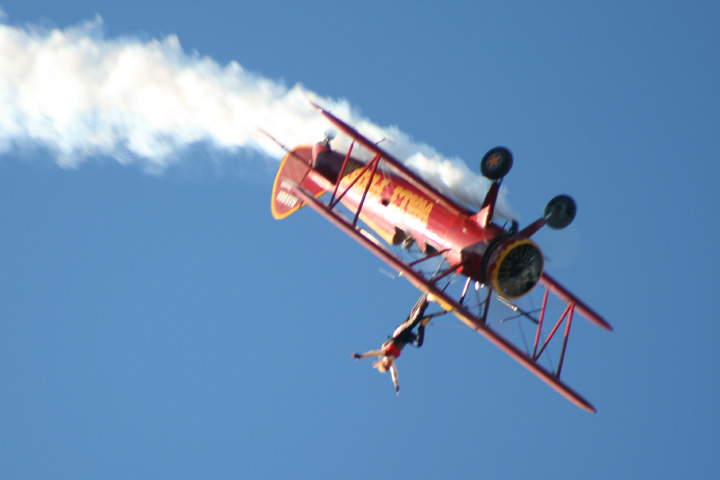 Looks like Jenny is having too much fun!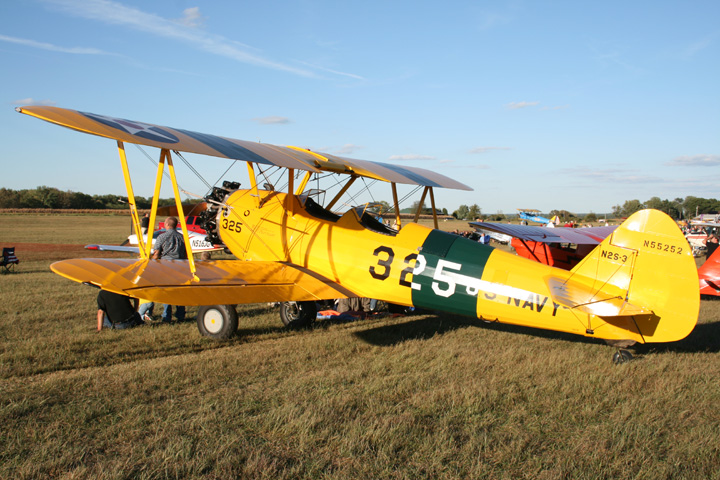 Kevin Carroll from Cincinnati brought in this great looking Boeing Stearman in for static display.
Indianapolis, IN Metro Airport Eglin AFB, Fl Urbana, OH B-25 Gathering B-25 Fly-Over at Doolittle Reunion, Dayton, OH Chino, CA Columbia, MO Reading, PA Indianapolis, IN Kokomo, IN Anderson, IN Rockford, IL Ypsilanti, MI Windsor, Ont Marion, IN Waynesville, OH Waukegan, IL Scott AFB, IL Midland, TX