While this is not a museum of one is at Paine Field the Boeing Future of Flight center located in the NW corner of the airport. From here you can take a 90 minute tour of the largest building by volume in the world and watch the assembly of Boeing airliners.
No cameras or electronic devices of any kind are allowed inside as Boeing does not want a lot of Air Bus people coming in and documenting the assembly process. Not that Air Bus hasnít probably already been in and looked at it anyway. It was sort of funny as we had a nice young lady who was the tour guide and lead us around and did the talks. However, other Boeing employees were assigned to the tour and were ostensibly there to answer questions, but they were really there to make sure we did not sneak off the walking path or take photos with hidden cameras when in the balconies over looking the assembly floors. They always walked behind us and then stood behind us when we were looking down at what was going on. I was somewhat amused by this.
We did 747, 777 and 787 assembly. Actually I picked a Tuesday to do this as I thought I would see more, but as most of the work is inside the aircraft and the assembly of an aircraft takes so long a weekend visit would probably work just as well if I fits better in the schedule.
A 747 takes 4.5 months to build and has 4-5 discrete stations, the first being the assembly of the wings to the fuselage section. When that is complete it is moved forward to the next station and hydraulically lifted 12 feet to move it to the next station. If one were able to catch a glimpse of this when he was there this would probably be about the most exciting thing to see inside.
The 777 line is a continuous process that moves a 2 inches per hour. I can not remember whether the 787 line was continuous or discrete.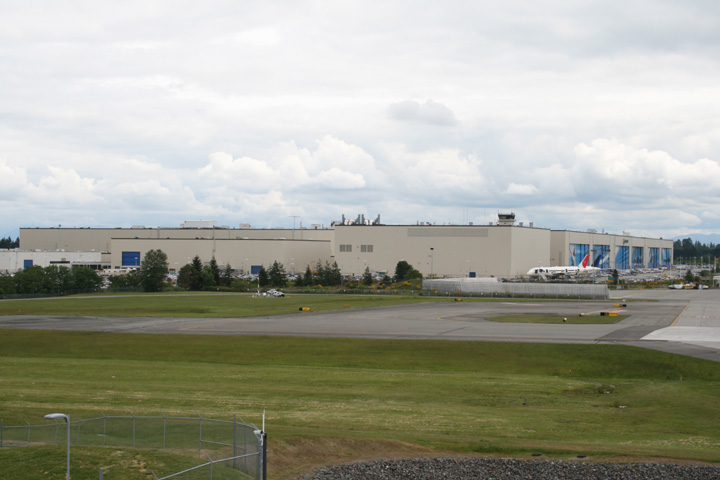 This is the main assembly plant that one tours, which is 29 million cubic feet, which does not mean anything to anyone. However, one can take all of Disneyland from Anaheim, CA and put it inside the building and still have 10 acres of inside parking for cars. Or there is room to play something like 75 football games inside all at the same time. In other words, it is big. We are looking east from the Boeing Future Flight Center.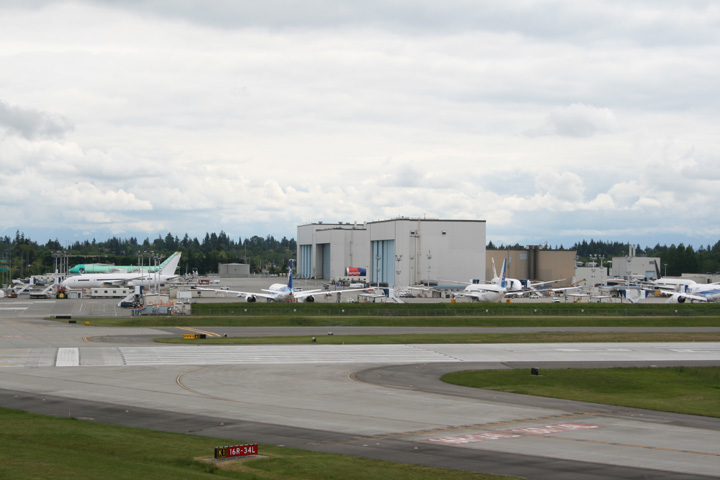 We are still looking east across runway 16-34 at the paint hangars which are south of the previous photo. When complete the aircraft are moved on a taxiway that crosses the main east west road in front of the plants. They do this at night so as not to cause traffic problems as no doubt persons like me would stop to take photos if done during the day. An interesting thing I learned is that all control surfaces are pre-painted prior to assembly with the paint scheme of the airline it is going to. This is because there is a weight to the paint and it has to be factored in when rigging the aircraft. The remainder of the aircraft is in a green protective coating until it is painted. Two miles or so to the right and to the south of this photo on the west side of the runway as from where I took this photo is John Sessionís Historic Flight Warbird Museum. Again, about 5-10 minutes away and our next stop. Across from that museum on the east side is Paul Allenís Flying Heritage Museum.


There are airliners everywhere awaiting test flying and delivery.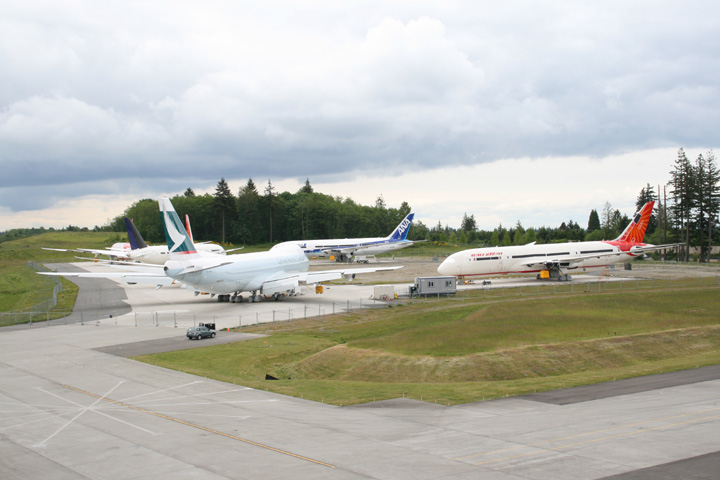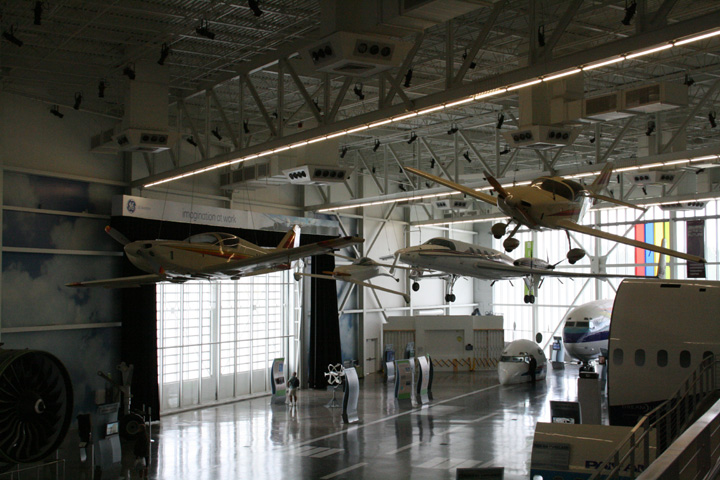 Inside the Future of Flight.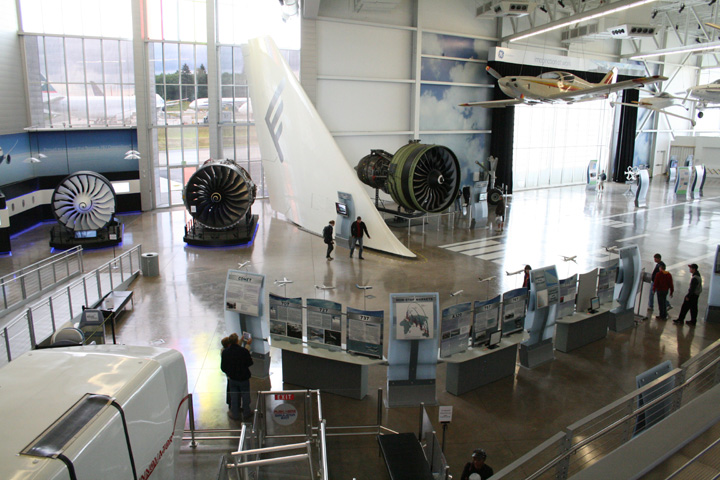 Arlington Naval Air Museum Boeing Future of Flight Center Canadian Museum of Flight Evergreen Aviation and Space Museum Flying Heritage Museum Fort Lewis Museum Historic Flight Museum Heritage Flight Museum McChord AFB Museum Museum of Flight Museum of Flight Restoration Center Tillamook Air Museum