2013 Airshows
Titusville (Tico), FL NAS Key West, FL Chino, CA Indy 500 Fly-Over Reading, PA WWII Weekend CWH Show, Hamilton, ONT Dayton, OH Muncie, IN Topeka, KS Purdue University, IN Thunder over Michigan, Belleville, MI Hillsdale, MI Marion, IN Waukegan, IL Glendale Airport, Kokomo, IN Rome, GA Peachtree City, GA Houston, TX Urbana, OH B-25 Gathering B-25 Doolittle Memorial Fly-over at Dayton, OH

Final Doolittle Raid Memorial Tribute and B-25 Fly-Over at the US Air Force Museum in Dayton, OH
November 9, 2013
On April 18, 1942, 64 Doolittle Raiders took off from the USS Hornet in 16 B-25s for the first American air attack on Japan in WWII. The B-25 had not yet seen combat, the take-off run was one third the recommended take-off distance of the B-25, The Raiders had never taken off from an aircraft carrier, they were to land at airfields in China they had never landed at before and landing fields were inside occupied enemy territory. Seventy one years later four of the Raiders are still alive, and three were able to make it to the Museum of the United States Air Force for their last reunion, their last public appearance and The Final Toast. I was lucky enough to be there and witness parts of this historic event.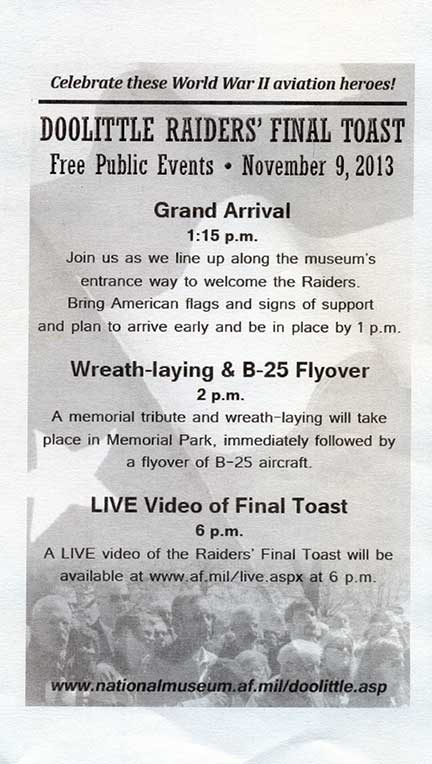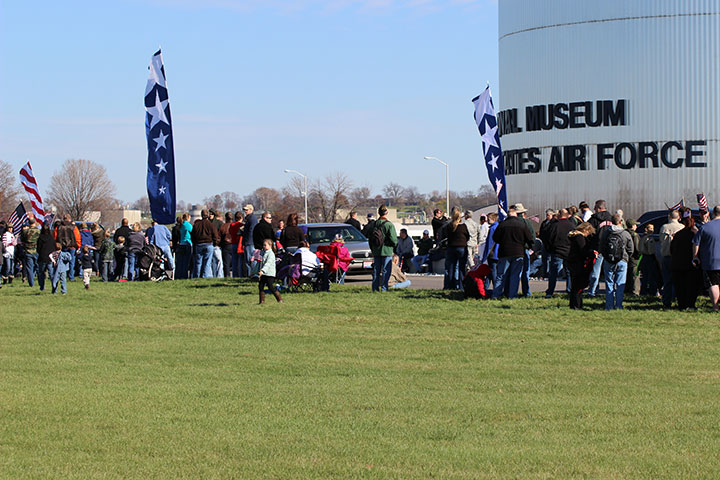 As suggested in the flyer above persons have lined the driveway into the museum to cheer The Raiders when they arrive.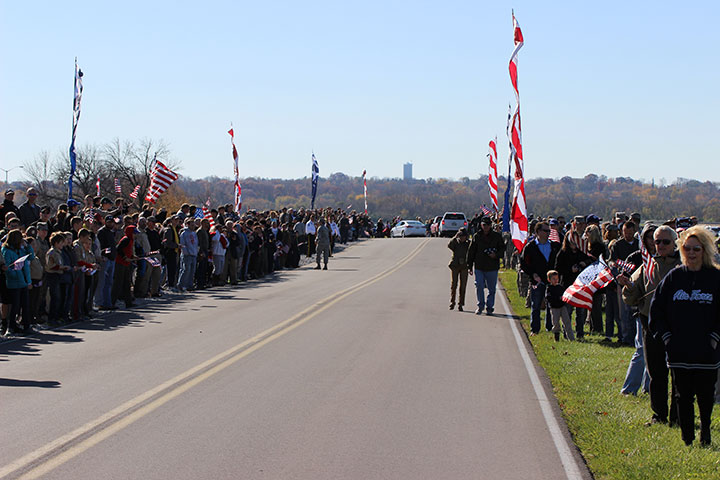 The SPs shut off the flow of traffic into the museum grounds at 1PM, making the road clear for the The Raider's arrival. The last cars to get in can be seen here as they turn into the parking area.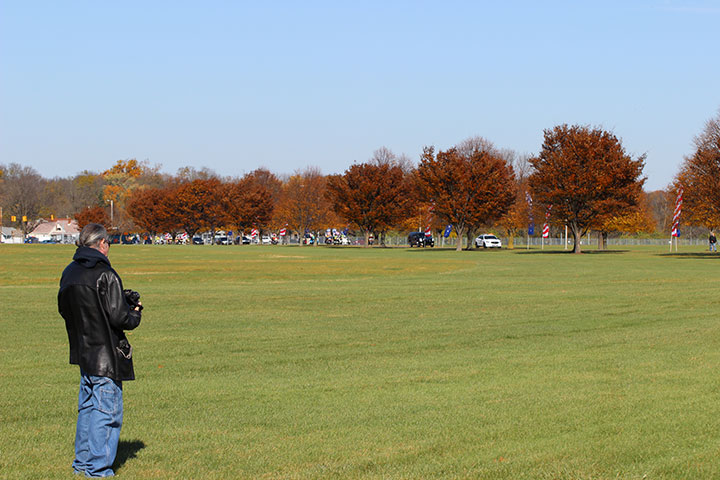 The Raiders arrive.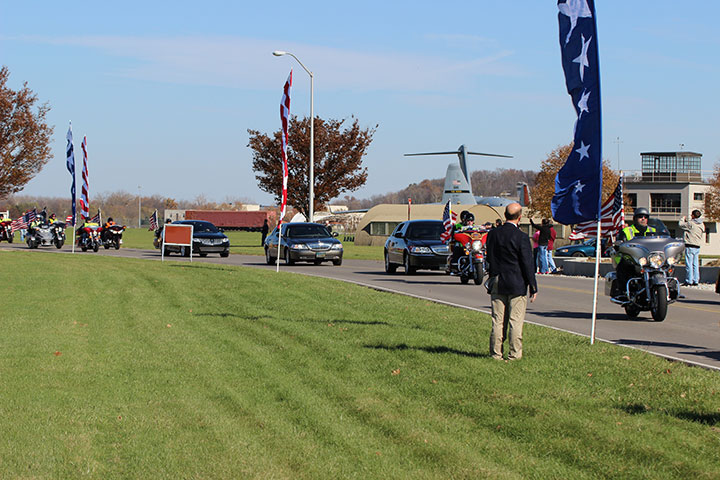 Each Raider had his own limo.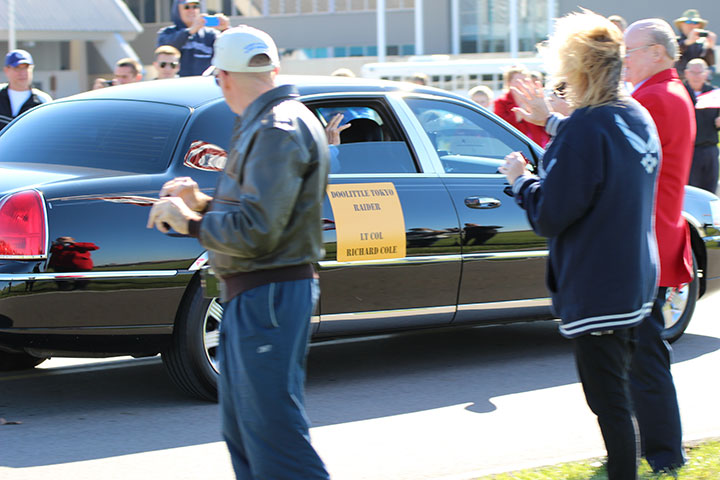 Lt. Col. Richard Cole.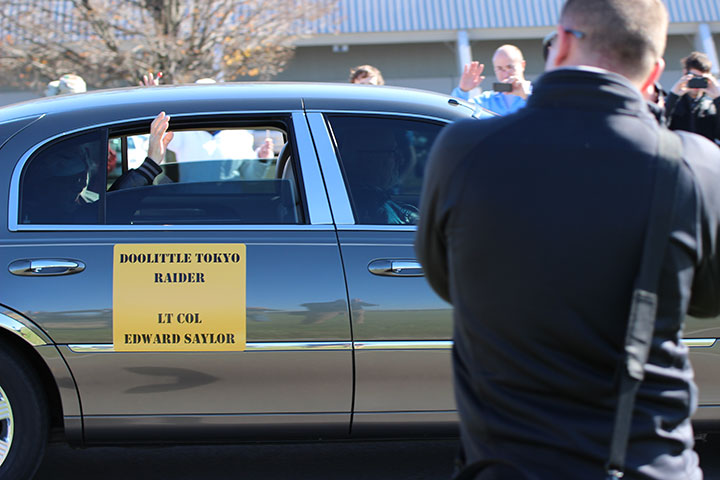 Lt. Col. Edward Saylor.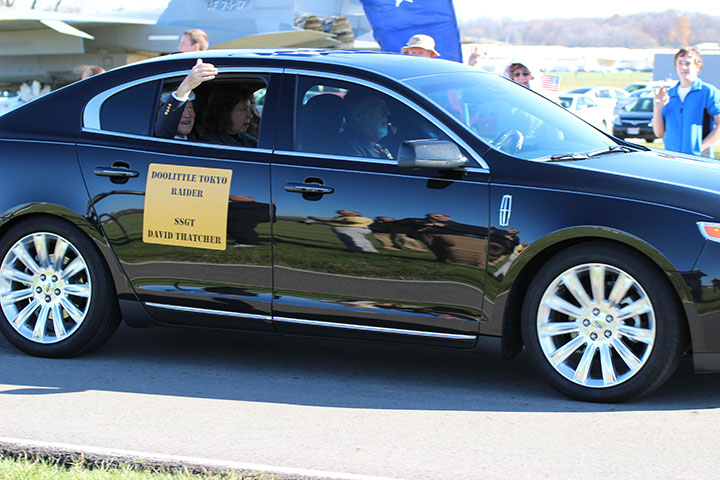 SSgt. David Thatcher.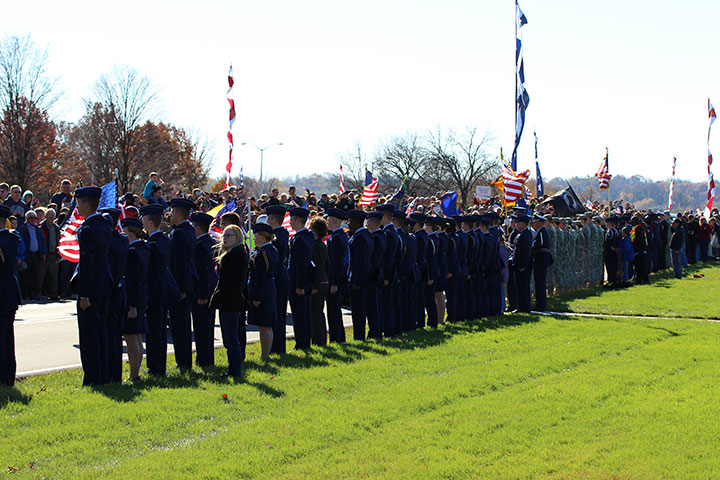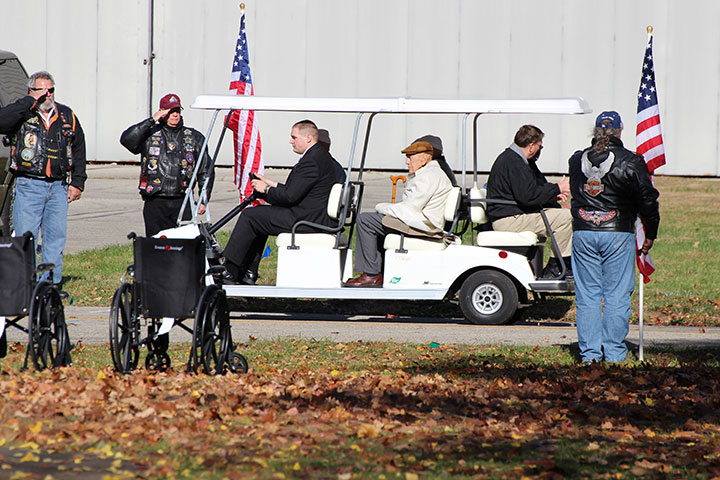 The Raiders; Lt. Col. Richard Cole, Lt. Col. Edward Saylor and SSgt. David Thatcherstayed in the Museum until it was time for the ceremony. Here they arrive by golf cart.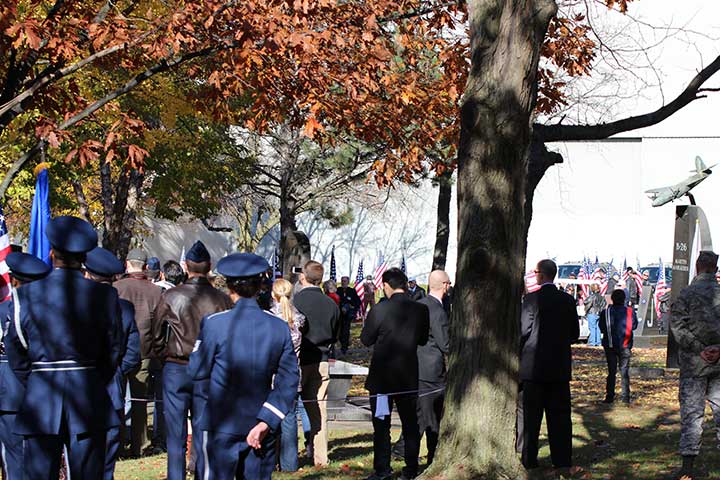 My position did not allow seeing them proceed to ceremony.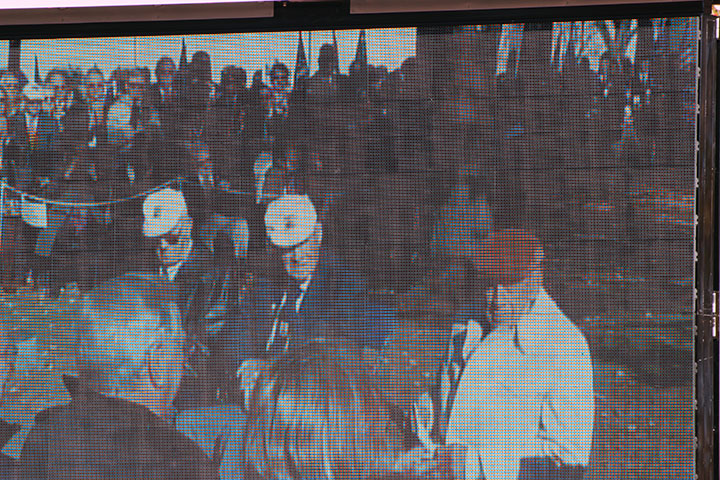 Because The Raiders were sitting and the rest of us were standing, the best way to see them was by the big screen that was set up.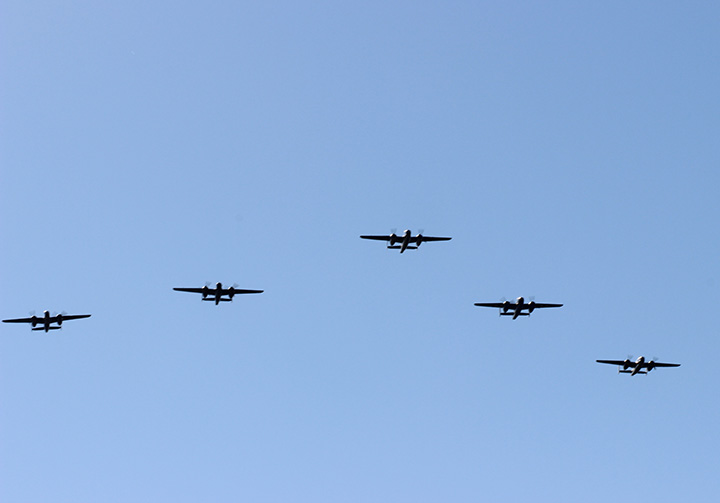 The Missing Man fly-over with five B-25s.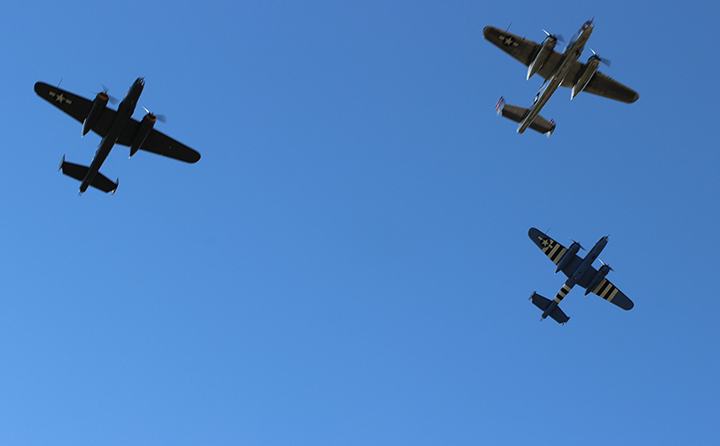 B-25 "Axis Nightmare", the B-25 with the invasion stripes, did the pull-up.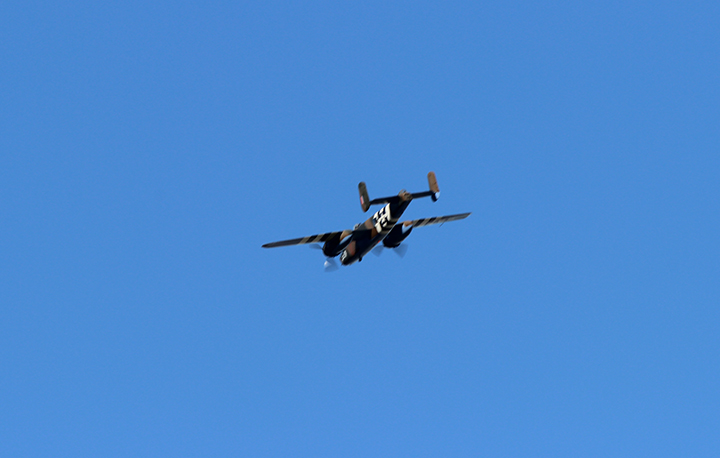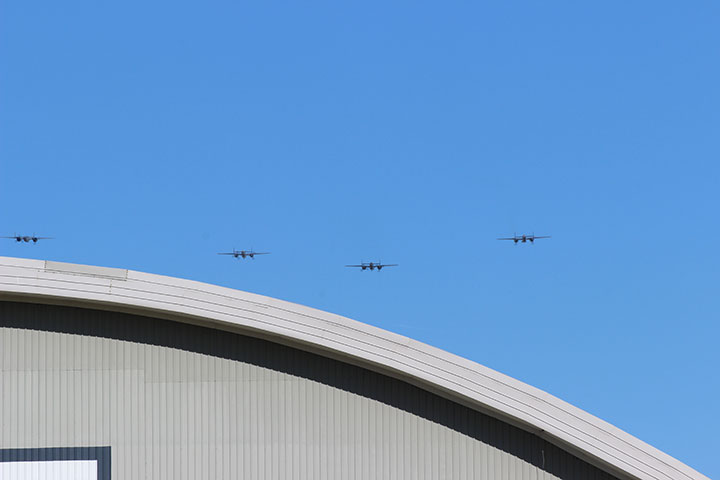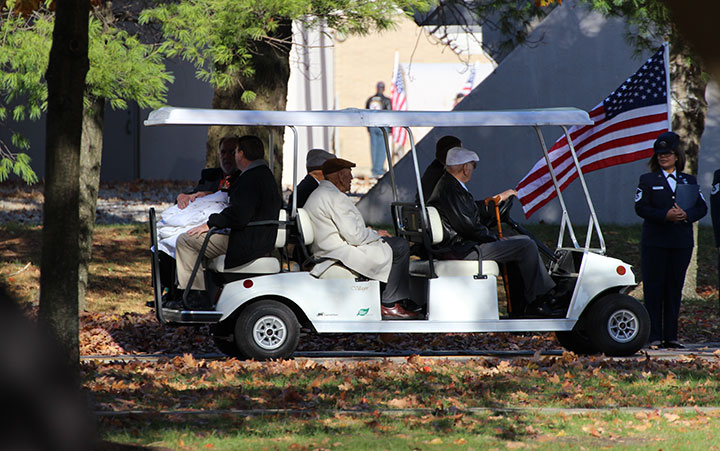 After the ceremony The Raiders returned to the museum building on this golf cart. As they will not be seen in public again, this is one of the last photos of them seen in public, if not the last. The final toast that was held in the evening and broadcast live was not open to the public.
Titusville (Tico), FL NAS Key West, FL Chino, CA Indy 500 Fly-Over Reading, PA WWII Weekend CWH Show, Hamilton, ONT Dayton, OH Muncie, IN Topeka, KS Purdue University, IN Thunder over Michigan, Belleville, MI Hillsdale, MI Marion, IN Waukegan, IL Glendale Airport, Kokomo, IN Rome, GA Peachtree City, GA Houston, TX Urbana, OH B-25 Gathering B-25 Doolittle Memorial Fly-over at Dayton, OH