2014 Airshows
Titusville (Tico), FL Spirit of St. Louis, MO Youngstown Air Reserve Station, OH Central Indiana Warbird Event Trilogy Evansville Normandy Re-Enactment, IN Dayton Airshow, OH Warsaw, IN Richmond, IN WWI Dawn Patrol Rendezvous, Dayton, OH
B-17 "Aluminum Overcast" at Richmond, IN Warbird Photo Review
Richmond Municipal Airport, Richmond, IN - September 10, 2014
On Wednesday, September 10, 2014, I visited the Richmond Municipal Airport on the east side of Indiana to witness the second time in 2014 that the B-17 "Aluminum Overcast" from the EAA had visited the state. The first visit was the last weekend in May at Indianapolis Regional Airport. And this is the third time in two years it as been in the state with a visit to Purdue University in August of 2013. And fitting its name, the weather was overcast, gray, windy and unsettled as a front was moving through the area.
I arrived just a couple of minutes after 10:00 AM and found the B-17 on the ramp with the engines running. Luckily for me it took a while to warm up the engines and I had the opportunity to listen to the R-1820s run and then be taken through the engine checks.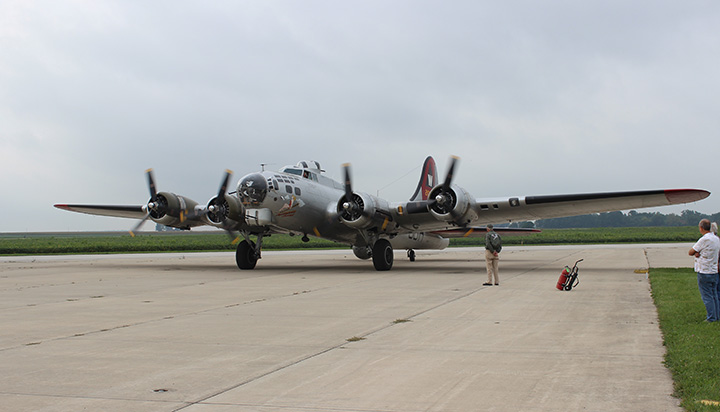 Warming up the engines as I arrived.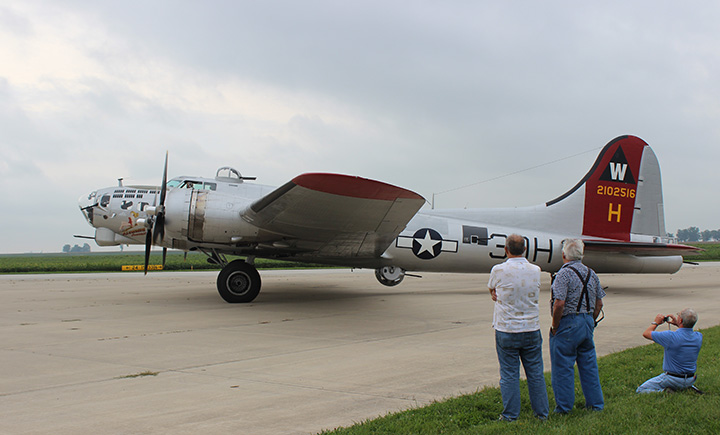 Five minutes later she taxied out for the first ride of the day.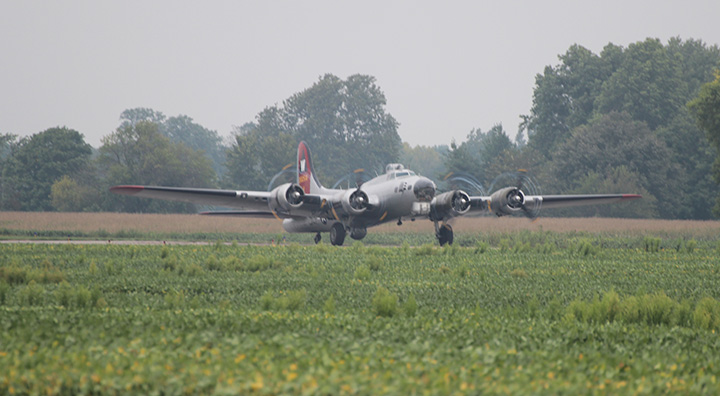 Lining up on runway 15 for the take-off.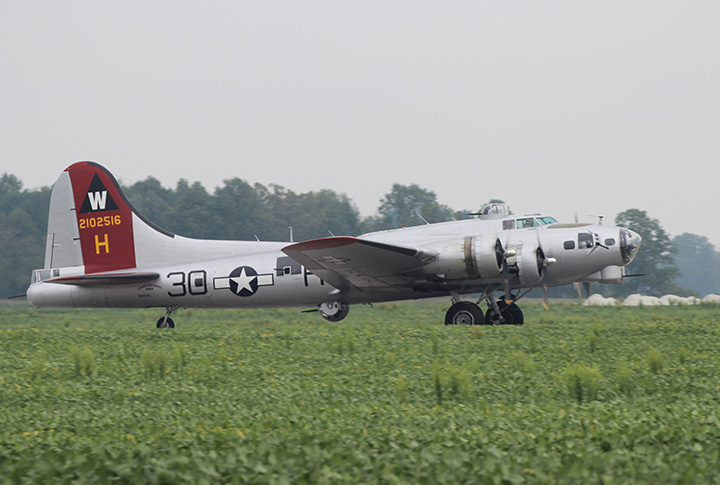 The airport is growing some soybeans among the weeds.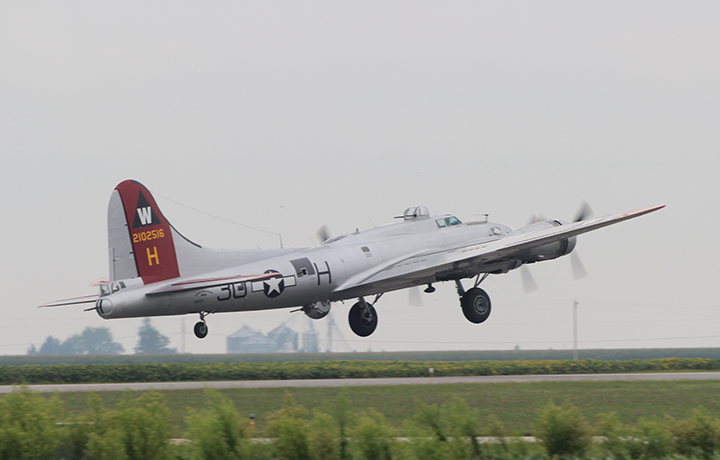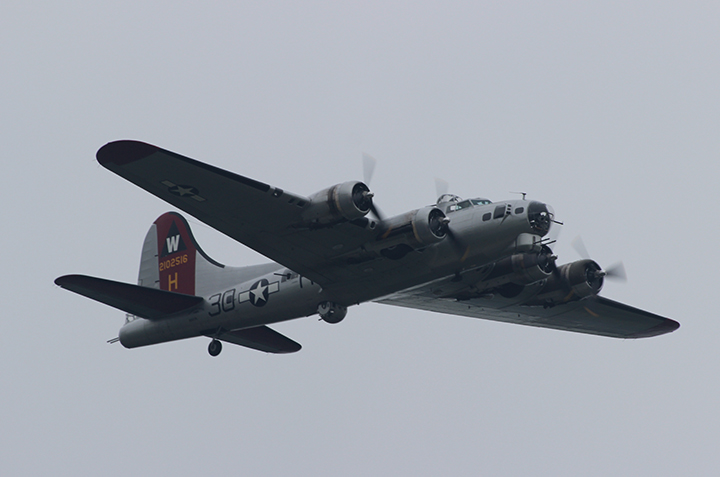 Twenty five minutes later "Aluminum Overcast" returned and gave us a fly-by.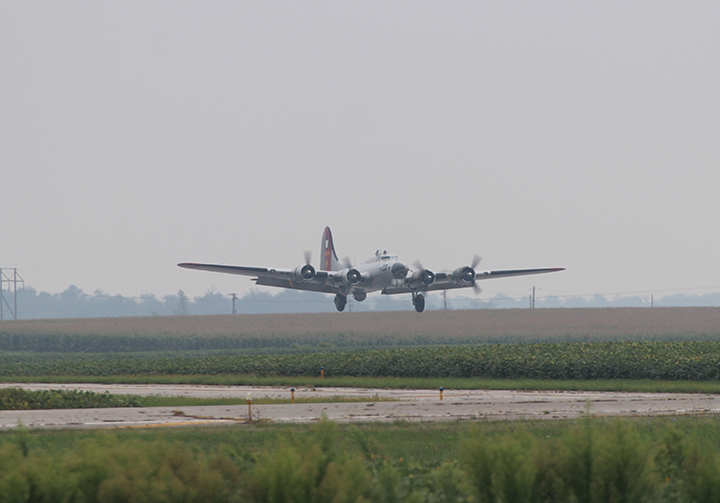 Landings for the day were on runway 24.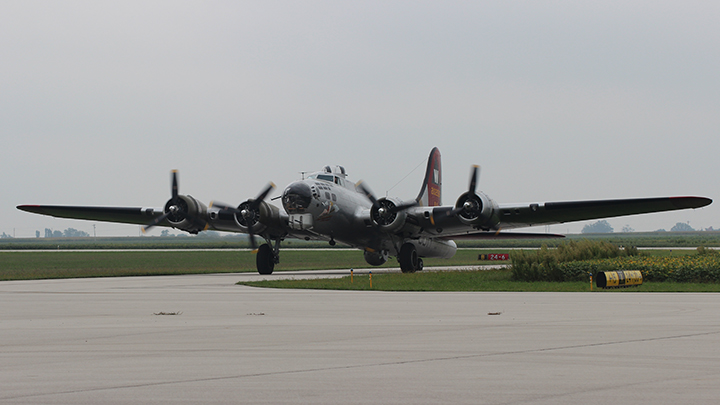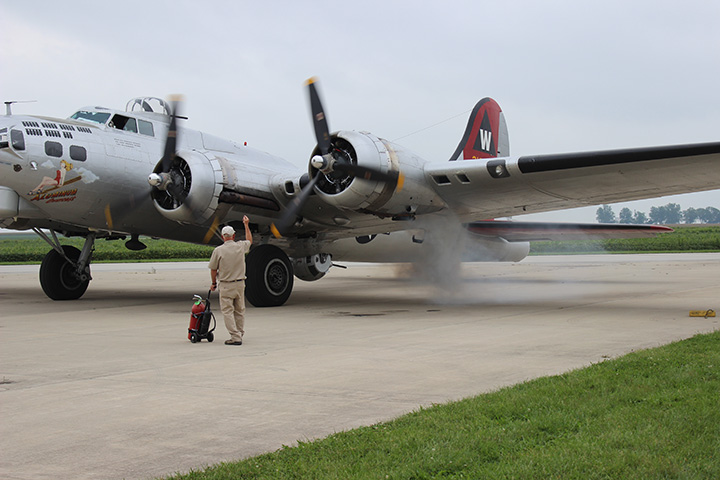 The ground crew did as quick a turnaround as I have seen them make in the last two years and got the next load of passengers on and fired up at 11:00AM.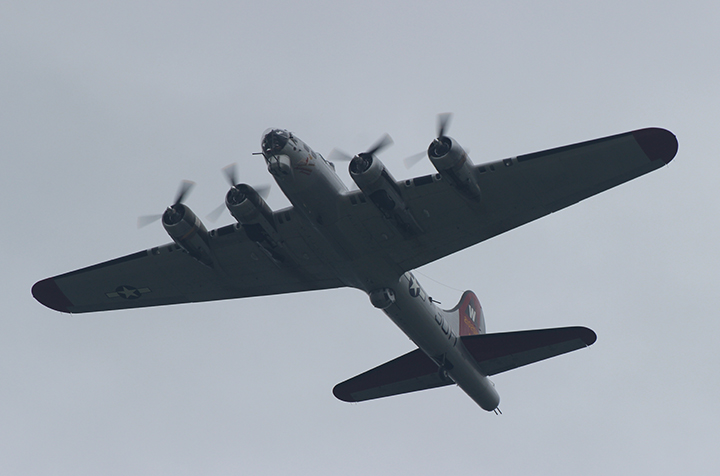 After the second take-off she came back around and flew directly overhead. I stayed for the landing and the third take-off at noon and then went about some other activities I had in the area. From what I understood, the passenger flight business was good as they were looking at putting on another flight at 1:00PM.
Titusville (Tico), FL Spirit of St. Louis, MO Youngstown Air Reserve Station, OH Central Indiana Warbird Event Trilogy Evansville Normandy Re-Enactment, IN Dayton Airshow, OH Warsaw, IN Richmond, IN WWI Dawn Patrol Rendezvous, Dayton, OH