2014 Airshows
Titusville (Tico), FL Spirit of St. Louis, MO Youngstown Air Reserve Station, OH Central Indiana Warbird Event Trilogy Evansville Normandy Re-Enactment, IN Dayton Airshow, OH Warsaw, IN Richmond, IN WWI Dawn Patrol Rendezvous, Dayton, OH


2014 WWI Dawn Patrol Rendezvous Warbird Photo Review
WWI Replicas at the Museum of the US Air Force, Dayton, OH - September 27-28, 2014 - Photos taken Sunday, September 28.
This WWI Rendezvous at the Museum of the US Air Force is hosted every couple of years by the museum and 2014 was the 11th time the event was held, and also the first time I have attended. It won't be the last. As I am not very knowledgeable on WWI aircraft, I found the event to be filled with new information and aircraft types I was unaware of. I will need to return to continue my education process.
All of the aircraft are home built replicas with various engines, with two having original rotary engines installed. One kit manufacturer that was present offers Allied replicas that are full scale with most of the German aircraft are 3/4 scale. All the kits from this manufacturer fit into sport aviation category.
I spent part of the day sitting and just enjoying the aircraft flying, of which during the flying sessions, usually two to three would be in the air. When not watching I was walking around looking at the displays, visiting the vendor tents, which were very good, or listening to the various speakers that were present. The narration team did an excellent job of providing information on the aircraft flying and other WWI information that added to my limited knowledge on the subject.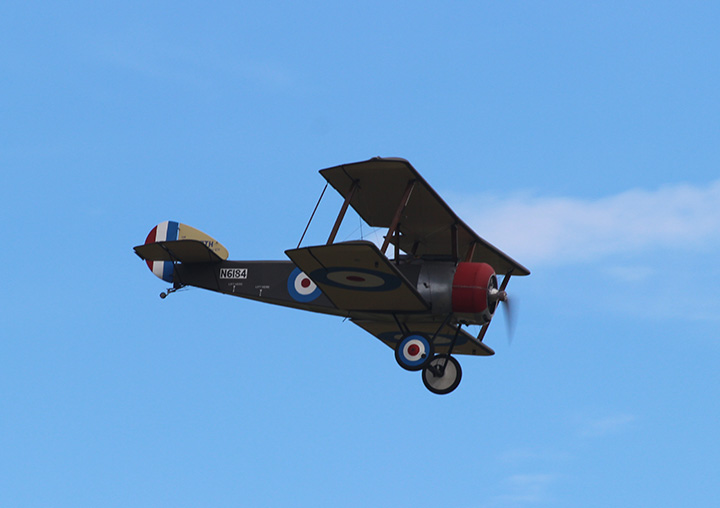 A Sopwith Pup kit by Airdrome Aeroplanes that is owned by Glenn Burt from Merrill, WI.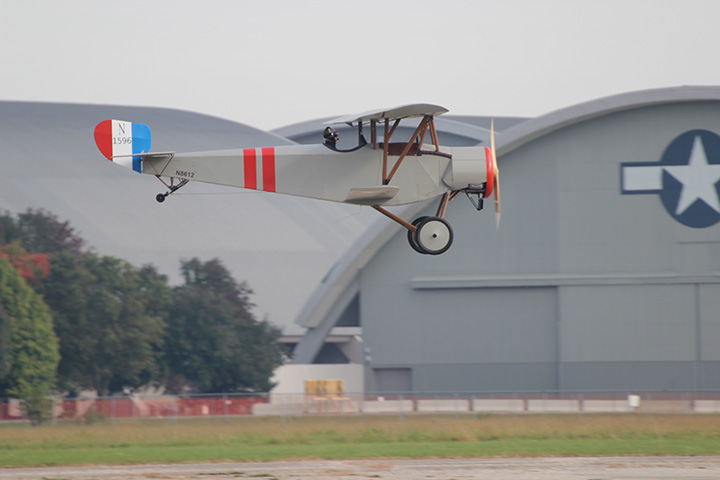 A Nieuport 12 built and flown by Rockey Cook of nearby Englewood, OH.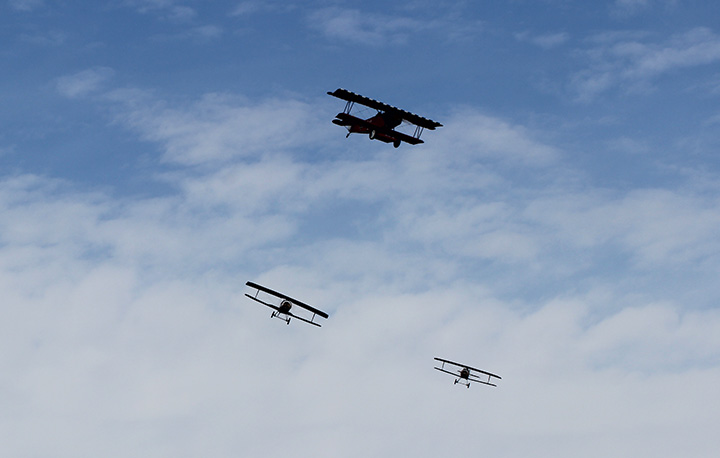 Here we have a tail chase as two Nieuport 2's are attempting to "shot down" a Fokker DVII.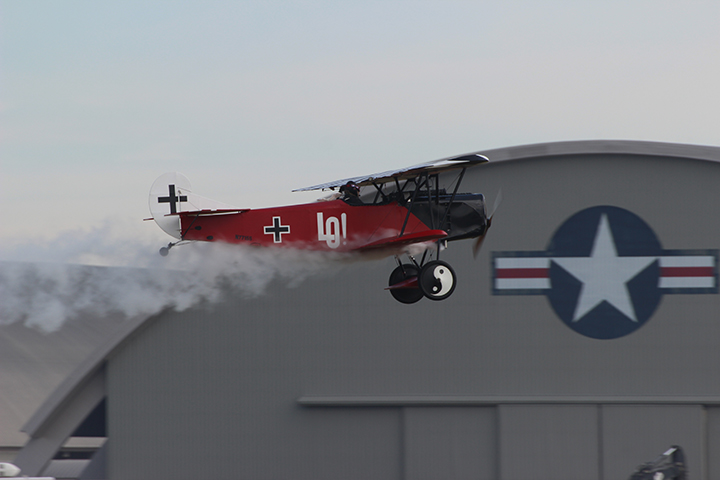 Airdrome Aeroplanes Fokker DVII kit built and flown by Mark Hymer of Broken Arrow, OK.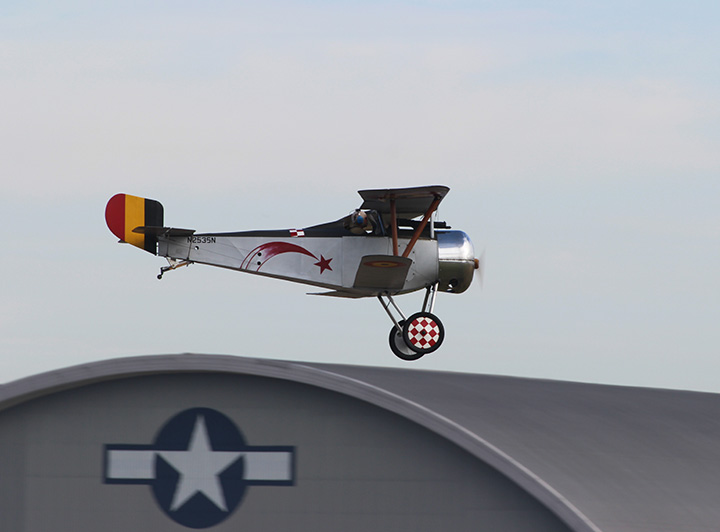 One of two identical Nieuport 2's that were tail chasing the Fokker D VII. This one is owned and flown by Thomas Martin of Burlington, KY.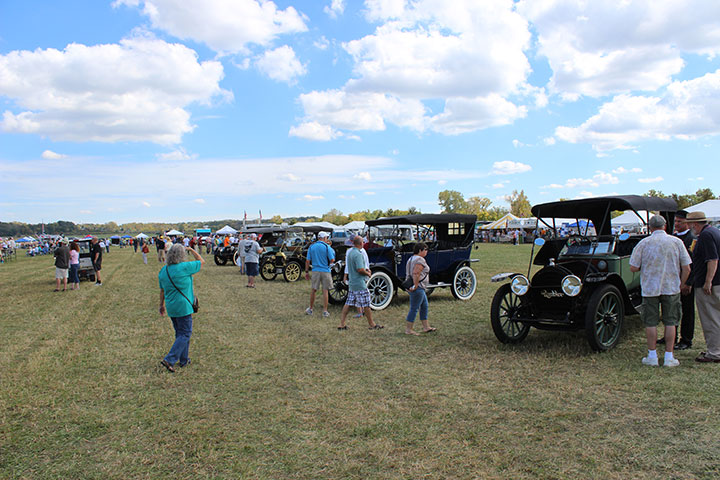 There was a fine collection of "brass era" automobiles that would have been driven during WWI. "Brass era" is defined as vehicles built before 1920 when steel became the prominent metal used in vehicles. Included were two Buicks and Overlands, a Davis, an Abbott, a Maxwell, a Ford Model T, and a Renault.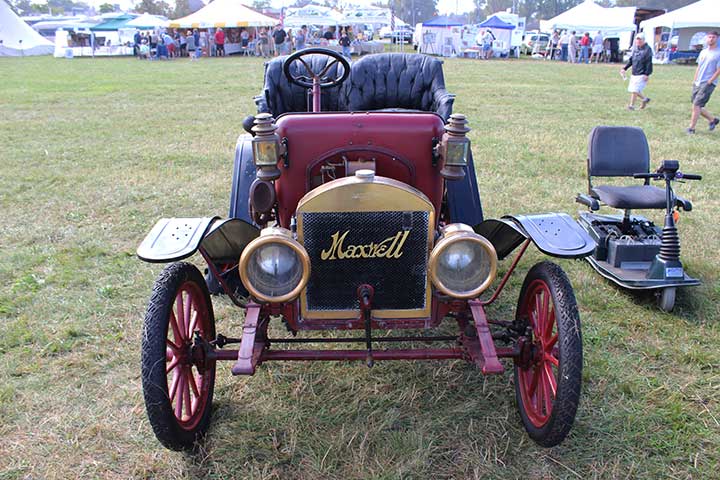 This 1909 Maxwell owned by Tom Muth of Cincinnati, OH is an excellent example of the brass era vehicles.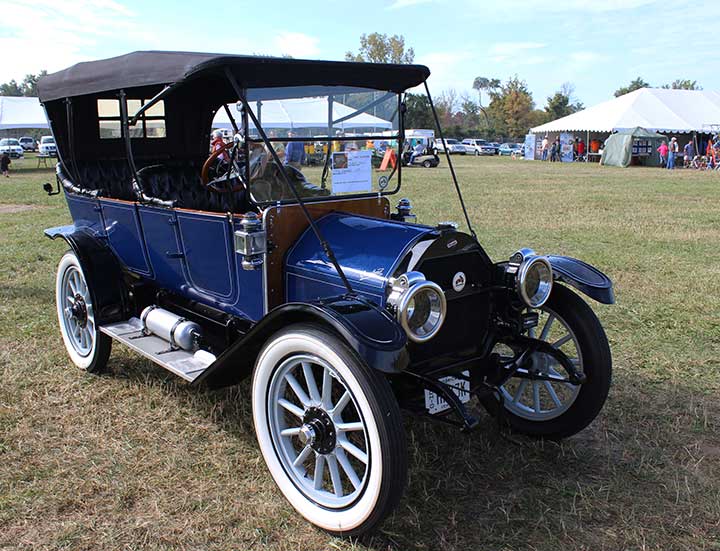 When this 1912 Overland 69T was built, Overland was the second most popular car built in the US after the Ford Model T. Overland later became Willys-Overland, then Kaiser-Jeep, then part of American Motors and today the Jeep product line of Chrysler. This pristine restoration is owned by Glen and Margie Jugenheimer of Hubbard, OH.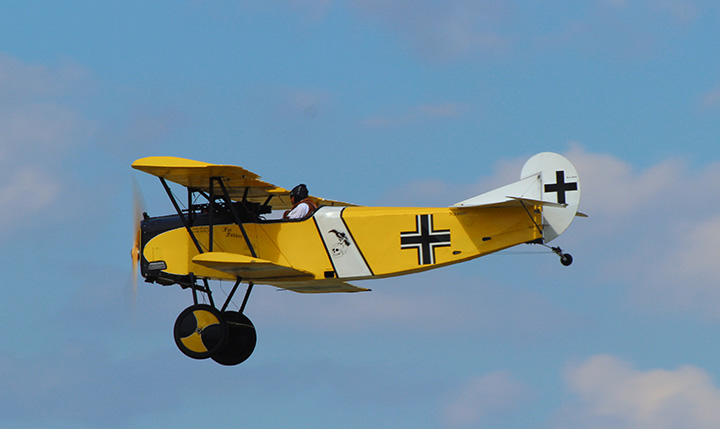 In the afternoon the winds shifted back to the west and here another Airdrome Aeroplanes Fokker D VII kit takes to the air. This yellow version was built and flown by Darrell Porter of of Harrisonville, MO.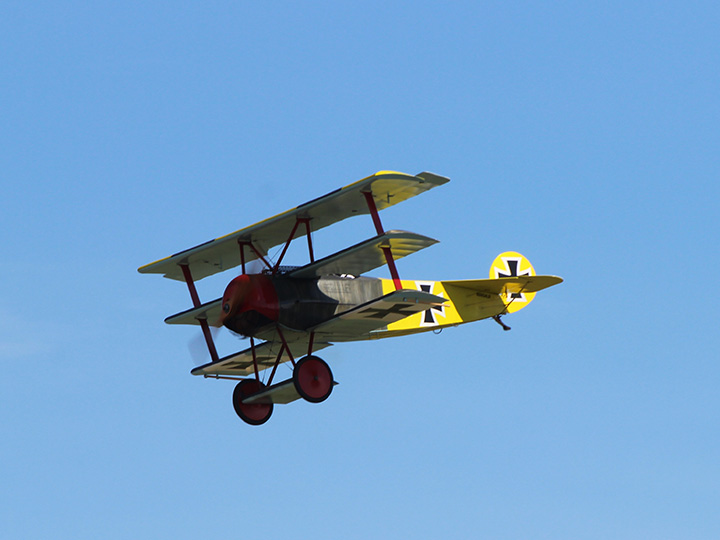 And no WWI event would be complete without a Fokker Dr.1. What I learned in one of the seminars given at the event is that by the end of the war the Germans had moved beyond triplanes and were designing and building monoplanes for combat.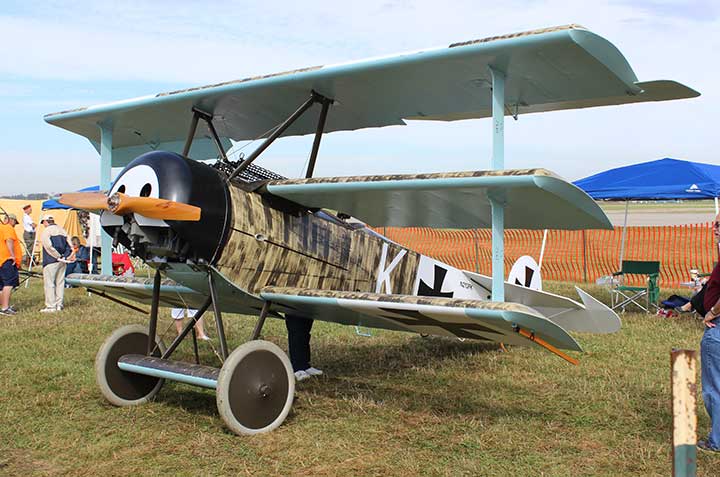 Not all Dr.1s were red. This one, owned and built by Edmund Borkoski, of of Avon, CT, is in camouflage.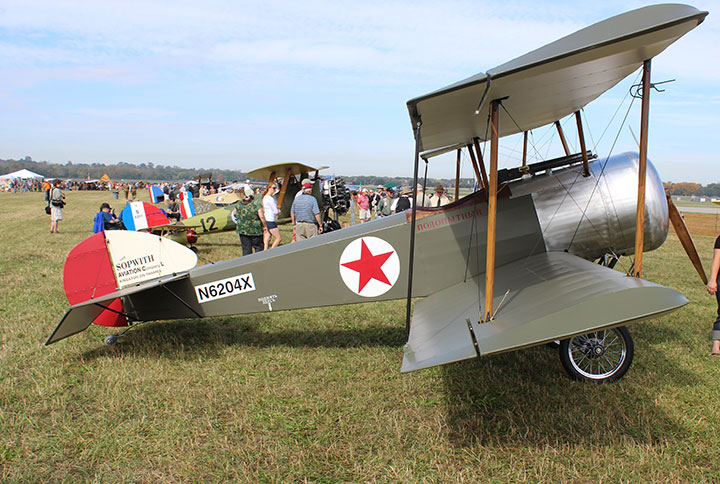 This Sopwith Pup replica project has an interesting story. Sopwith Pup N6204X ended up with the Tsarist Government during the great war and was then captured by the Red Army during the Russian Revolution. N6204X was the only Sopwith Pup to serve with Russian Forces. What is a mystery and I will need to clarify on my next visit to the event, is the significance of the number N6204X. As the Pup was a British aircraft, why is there ID on it that looks like an American registration number. I am not even sure there were N numbers yet as civil aviation in the US was extremely limited until after WWI.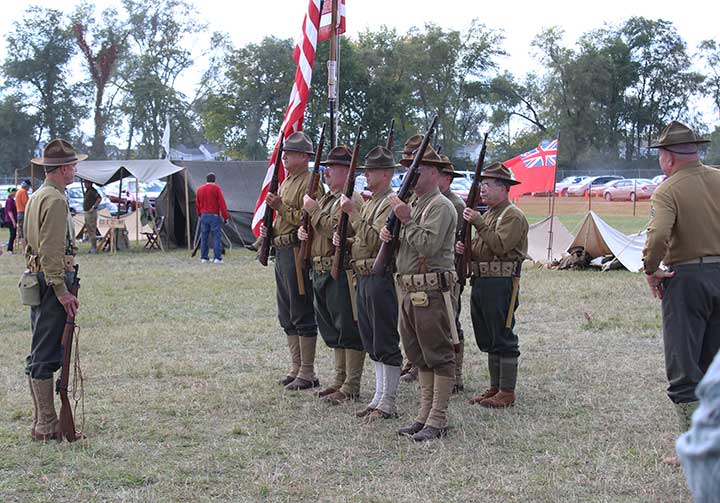 There were some WWI re-enactors at the event.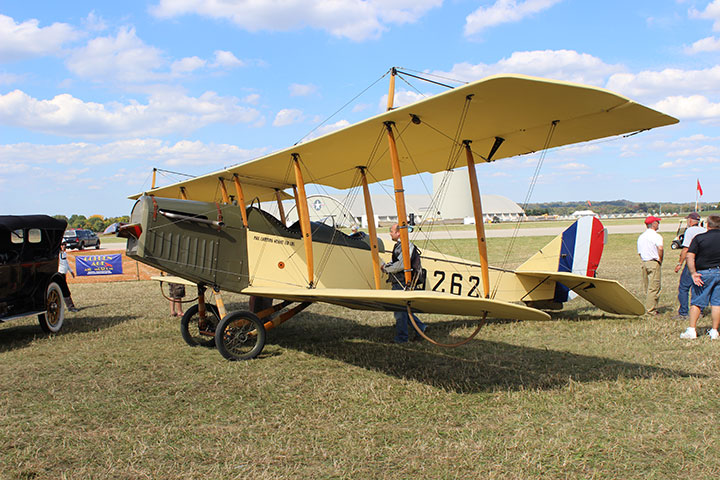 This full size Curtiss JN4D "Jenny" is owned and built by Charles Walker of Bowling Green, KY. While many of the other aircraft on site were powered by Volkswagen or motorcycle engines, the "Jenny" is powered by a GM 2.4L Ecotec engine.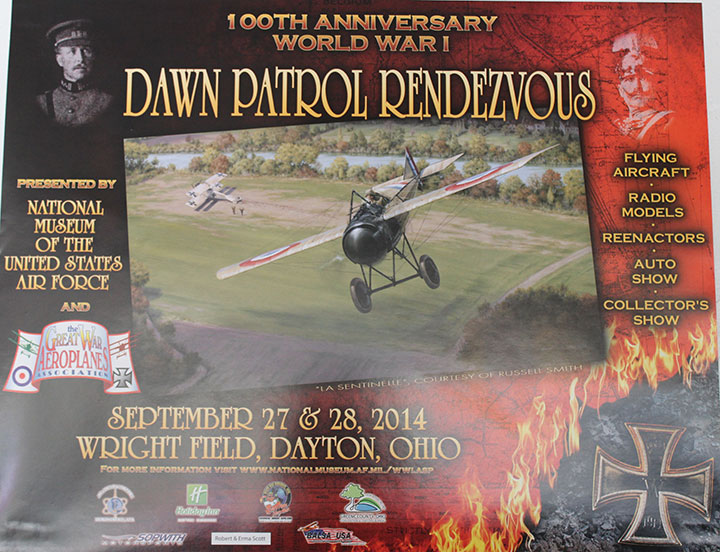 Titusville (Tico), FL Spirit of St. Louis, MO Youngstown Air Reserve Station, OH Central Indiana Warbird Event Trilogy Evansville Normandy Re-Enactment, IN Dayton Airshow, OH Warsaw, IN Richmond, IN WWI Dawn Patrol Rendezvous, Dayton, OH