Knoxville, TN MCAS Cherry Point, NC Saint Louis, MO CFB Trenton, ONT Thunder Over Michigan, Bellevue, MI Marion, IN Waukegan, IL NAS Patuxent River, MD
Marion, IN Fly/In-Cruise-In 2016 Warbird Photo Review
Warbirds at Marion, IN Airport - September 3, 2016

What a wonderful morning at the Marion, IN Fly/IN-Cruise/In and Pancake Breakfast on its 26th anniversary! The typical August hot and humid Indiana weather had been broken by a late summer cold front. The Labor Day Saturday dawned with clear blue skies and cool temperatures hinting that autumn was just around the corner. When I arrived at the Marion airport and walked to the main hangar, there it was as advertised; as promised, the Fagen Fighters WWII Museum P-38J "Scat III." It was already a great morning. And it was only 9:40AM! The day would only get better as there was a constant stream of aircraft landing and taking off. Also, two aircraft, a DC-3 and a T-6, were giving rides. This meant there periodic take-offs and landings during the morning. In between there were plenty of other warbirds to view, along with a great car and tractor show. The Marion Fire Dept. also brought out its 1930's fire truck for display. All of this at what has become one of the largest pancake breakfasts in the country to support charitable projects.
I will review just the above named aircraft for brevity in this review. But there were also three Stearman aircraft on the field, a T-28, and a T-34. An L-19 owned by Bill and Debbie Finney was present once again, as it is every year to support this event.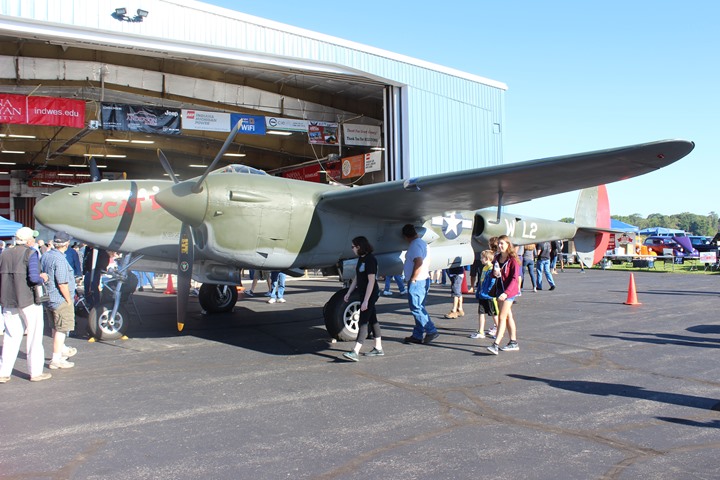 Now this is a pancake breakfast! P-38J "Scat III" from the Fagen Fighters Museum in Granite Falls, MN was on display at the main airport hangar. The last time I saw a P-38, which was this particular one, it was at an airshow in 2014. In 2014 this P-38 was known as "Ruff Stuff." The aircraft was repainted in 2015 to honor General Robin Olds. I did not even need to do any long cross country trip to see "Scat III." It was just a 35 mile drive from my house to the airport.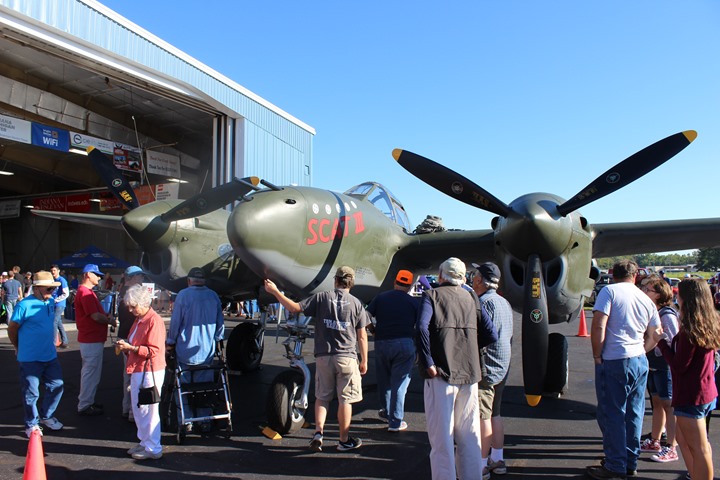 "Scat III" got lots of attention all morning from interested spectators.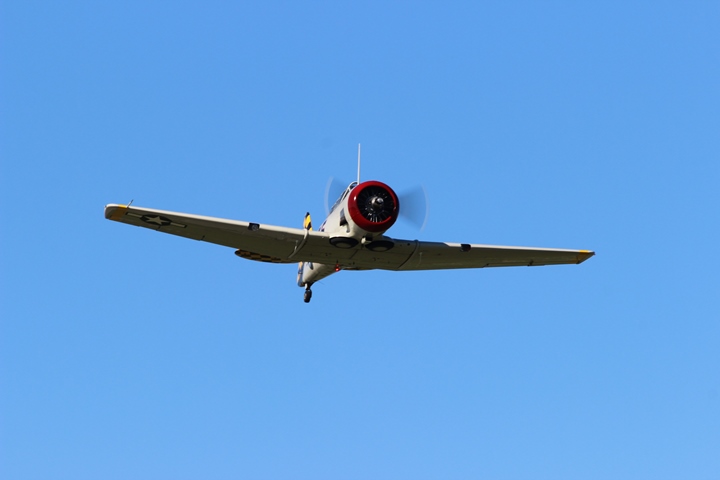 Laura Stants takes off with another passenger in Nathan Davis' T-6; on one of many take-offs during the morning. The distinctive sound of the T-6 makes for a small airshow itself on each take-off.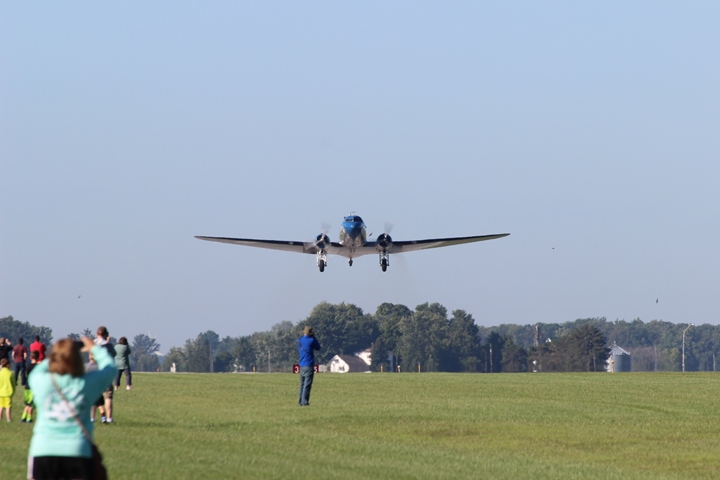 Taking off right after Laura was the DC-3 from the Chandler Field Museum at Peach State Aerodrome in Williamson, GA. This is the first time I became aware of this museum in the Atlanta, GA area. Chandler Field was the Atlanta airport in the 1920's and 1930's.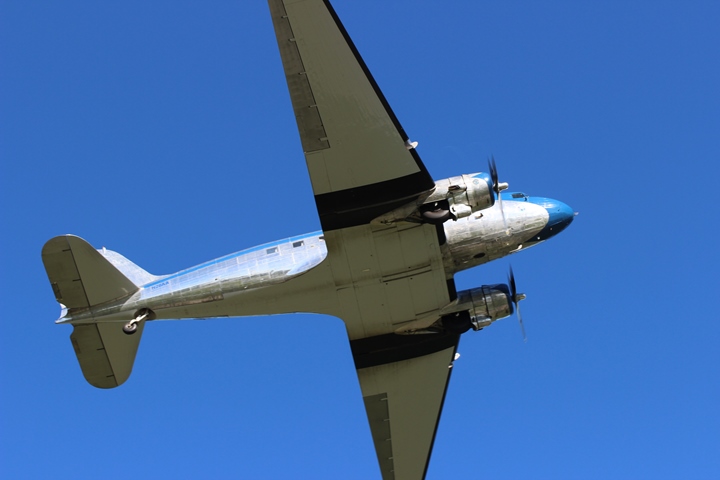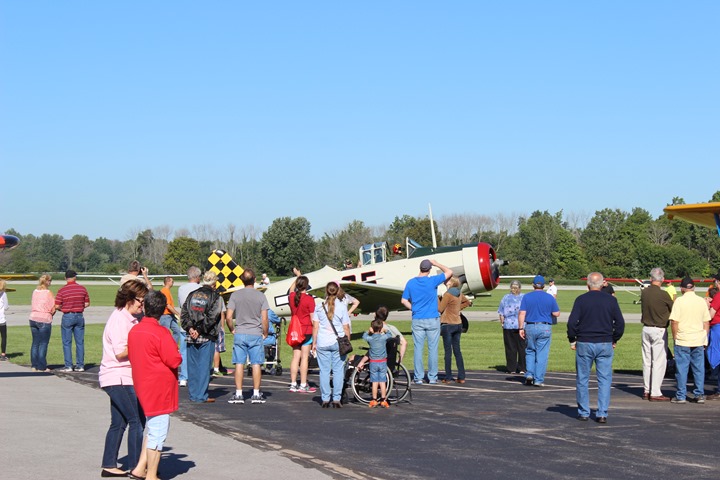 Here Laura taxies back in with another happy customer.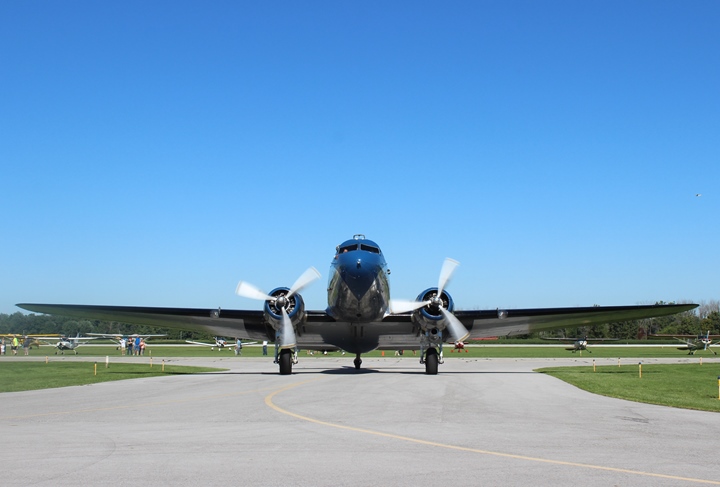 My grandson and I watched the DC-3 taxi back in after completion of a 20 minute ride. This is the first time he has seen a DC-3.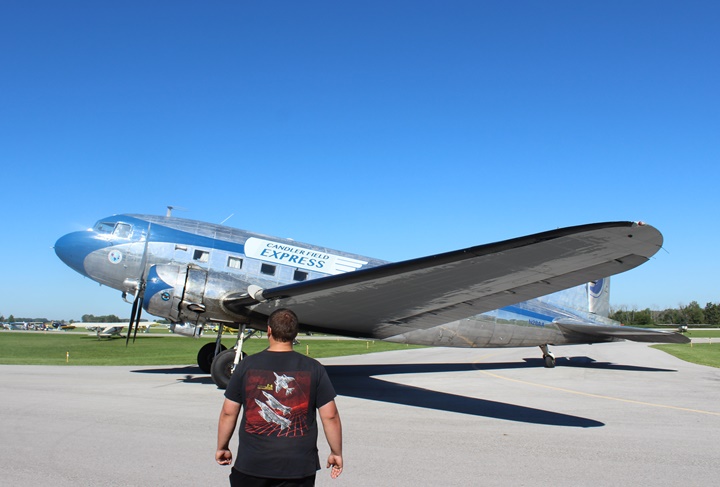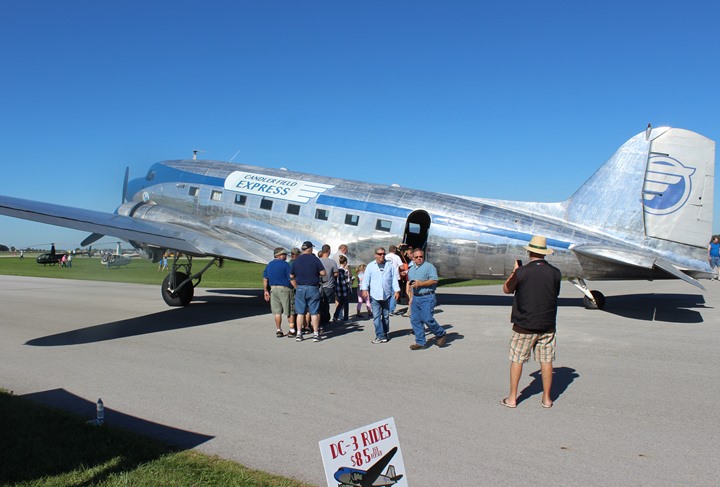 Turn-around time was about ten minutes. The new group of passengers is loading while these two who just got off have their picture taken.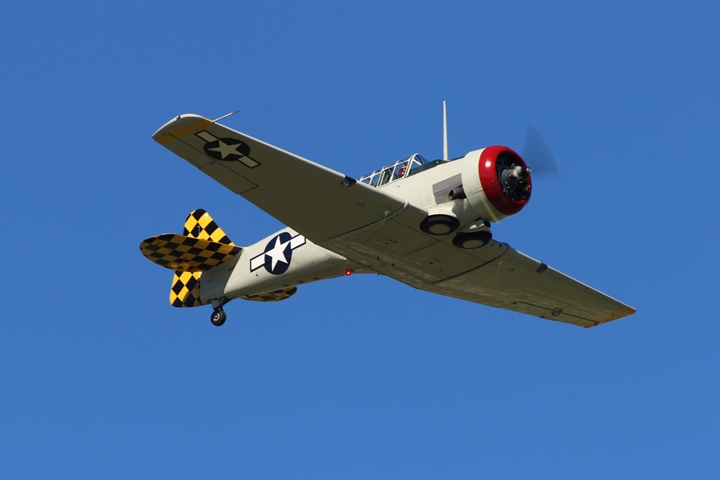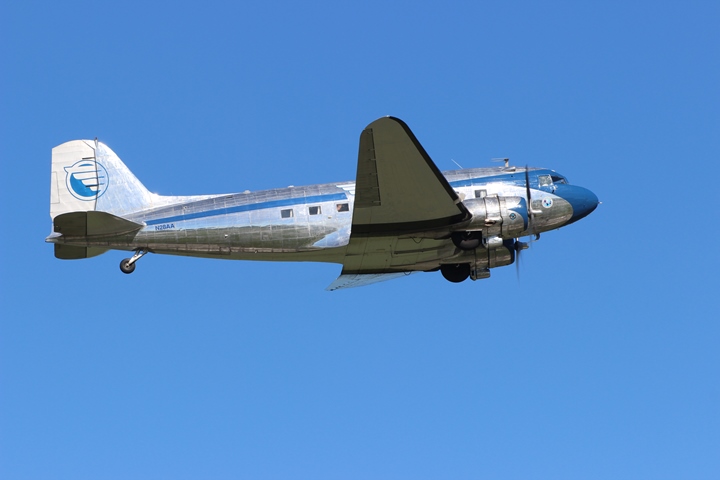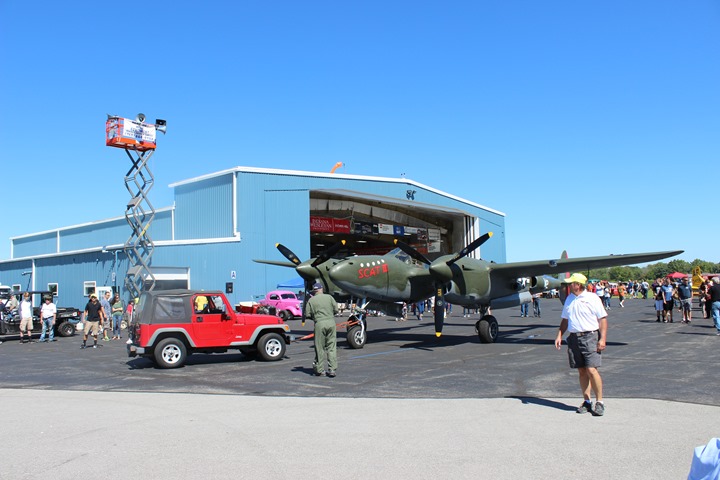 About 12:00PM the airport started clearing out the aircraft around "Scat III" out of the way, so it could be moved into its start-up position. I keep forgetting how big the P-38 is. Its size becomes obvious compared to the jeep pulling it.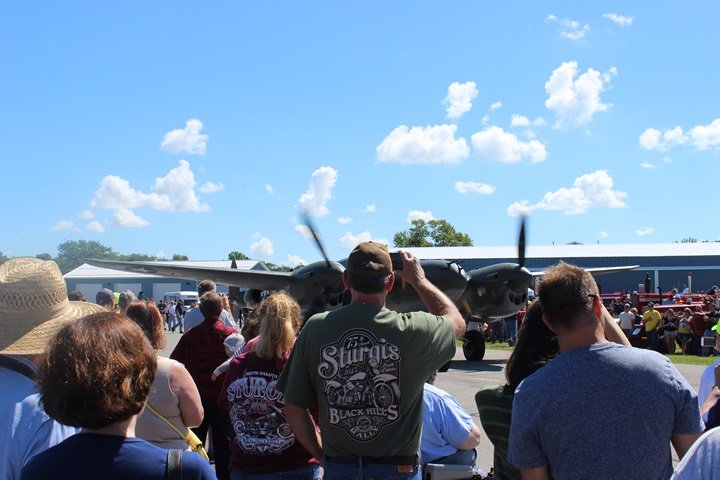 This is just after engine start while still on the ramp before it taxied out. Indiana has several connections with the P-38. The Allison V-1710 engines in the P-38 were built on the west side of Indianapolis, about 75 miles southwest from this location. Twenty eight miles due south of the Marion Airport on Indiana State Road 9 is the location of the former Delco-Remy plant 7 in Anderson. The plant was built in just 71 days, with the aid of 300 floodlights set up so contractors could work through the night. On December 28, 1940 the plant started producing aluminum die cast parts for the Allison V-1710. Components cast in Plant 7 for the Allison engine included valve covers, intake manifolds, engine blocks, and oil pans. Thirty seven years after it opened, I was assigned to Plant 7 for a year. At that time it was making Al die cast parts and automotive switches.

As it taxied out and did its run-ups, spectators got up close to listen to the distinctive sound of the P-38. For those who have never heard the sound of the P-38, once they have heard it, they will never forget it. Its sound is distinctive and unique. The Allison V-1710 in a P-40 with its short exhaust stacks "cackles." In the P-38, with its GE super turbo chargers, the exhaust is smoothed out to what I consider to be a low pitched hum. It sounds very much like an automotive engine at idle and taxi. During fly-bys the engines produce what I call a low pitched rumble. Very unique.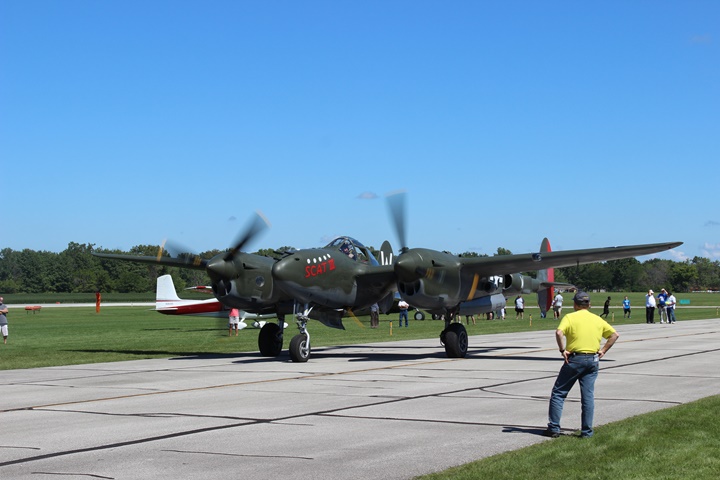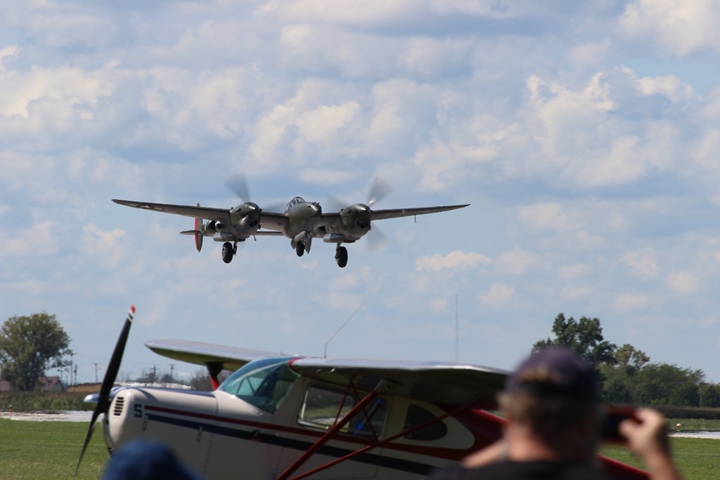 At 12:53 PM "Scat III" took off and then gave us four fly-bys.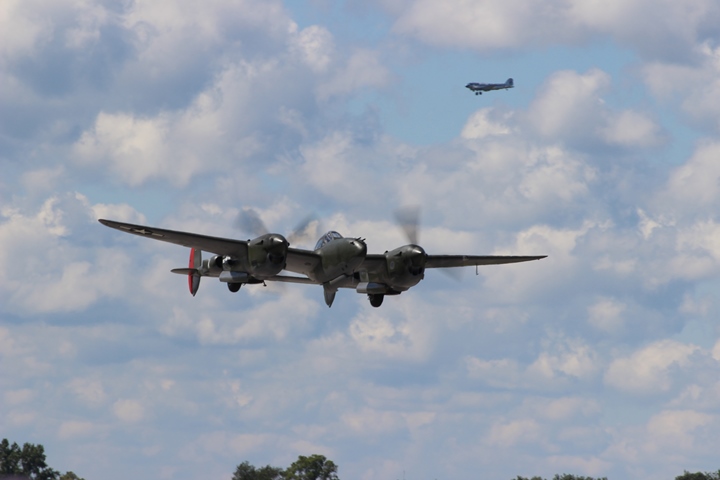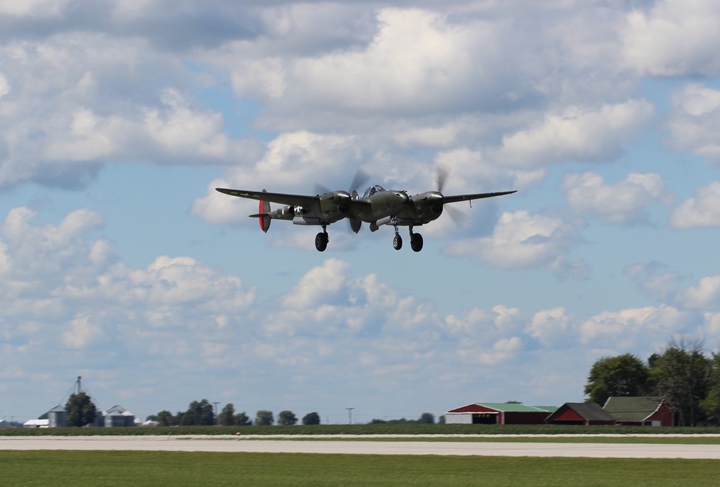 The first pass was with the gear down. All of the passes were at this altitude. Nice and low!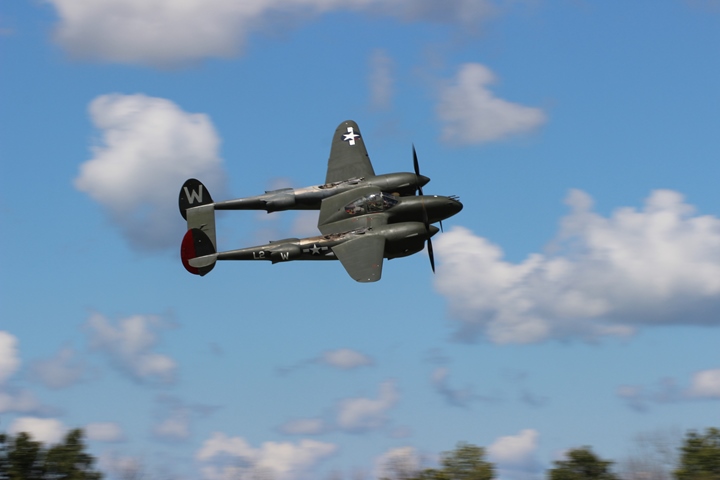 WOW!!! What a way to end a wonderful day at the great Marion Fly/In-Cruise/In!
Knoxville, TN MCAS Cherry Point, NC Saint Louis, MO CFB Trenton, ONT Thunder Over Michigan, Bellevue, MI Marion, IN Waukegan, IL NAS Patuxent River, MD