Introduction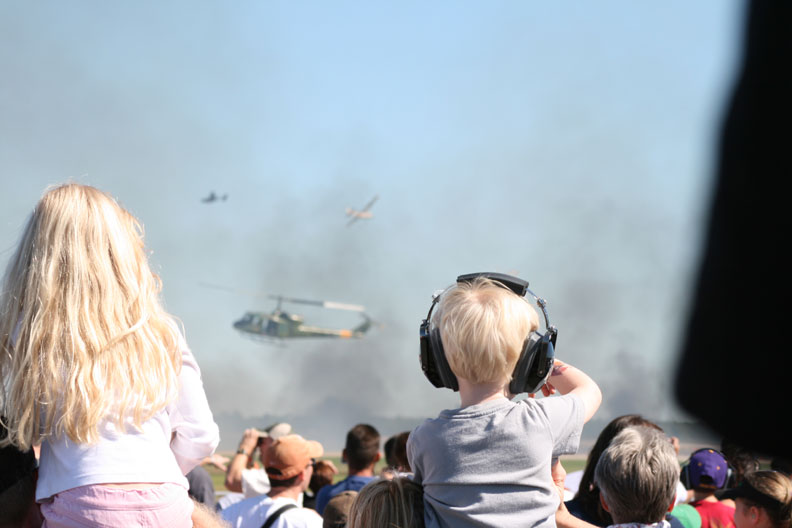 It doesn't get much better than this!!! Vietnam pilot rescue with O-1, O-2, and UH-1 among other warbirds plus smoke from the pyro all in front of the crowd. Everyone stood or sat on their parent's shoulders for this exciting part of the 25th Wings over Houston Air Show in 2009.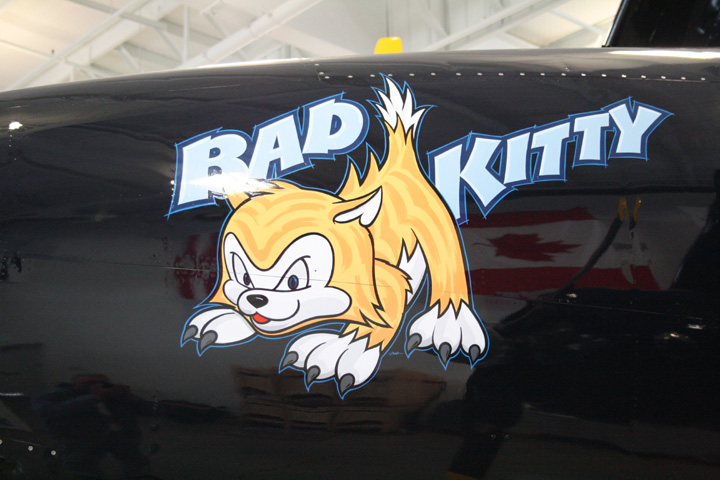 F7F "Bad Kitty" from the Historic Flight Museum at Paine Field, Everett, WA.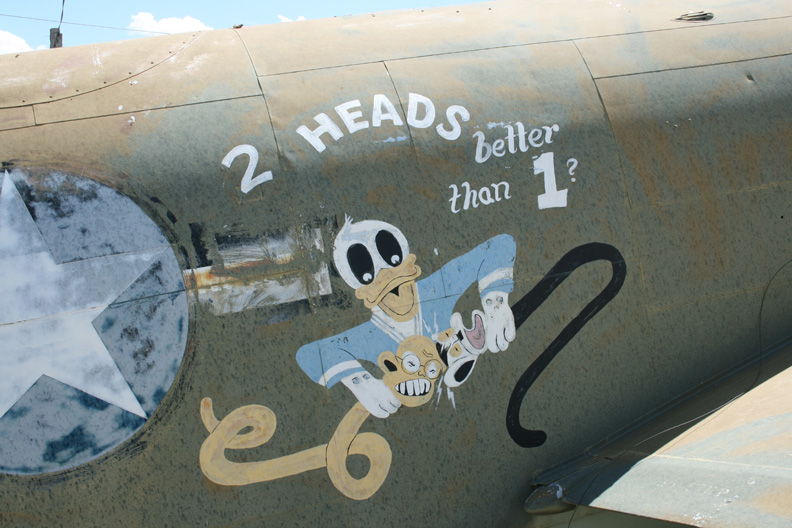 This fuselage art is on a Ventura II / Model 37 Restricted that was photographed at the Pueblo Aircraft Museum in May of 2010. Originally ordered by the RAF, it was transferred to the USAAF as a Model 37, not B-37 as some sources indicate, on July 9, 1942. One source states the artwork was recreated but the rest of the paint and aircraft may be original. This is the only Ventura in the US in the original configuration. Go to our PV-2 Harpoon page for more information and photos.
See our Revisions Page for the latest additions and updates to Warbirds and Airshows since your last visit:

What this website is all about:
Photo-documentation of warbirds at airshows and other aviation events - This will include not only the fighters and bombers that are so often photographed, but also the often overlooked trainers, transports and liaisons. There are photos from the different aviation events I have been to in 2007, 2008, 2009, 2010, 2011, 2012 and 2013. There will be an attempt to have at least one photograph of every warbird at an event featured on the respective airshow page. Other websites that photograph airshows usually feature aerobatic, modern military and the jet teams with some warbirds. We do warbirds only. That's what we are all about.

Photo-documentation of outside aviation displays to include gate guards, outside museum displays and air parks - Many of these are located at VFW's and American Legions, but they can be found in parks, athletic stadiums, businesses, airports and just about anywhere someone wants to put an aircraft on display. To date we have photographed aircraft in 28 states and three foreign countries.

WWII Manufacturing Sites - This is to my knowledge the most extensive and well documented data on where and how many aircraft were built in the US during WWII. It not only includes fixed wing aircraft but gliders, helicopters, airships, engines and propellers. There is also a page on Canadian aircraft as many US designs were license built in Canada along with their own designs. As I travel about the country I have also been taking photos of the plants that still exist. Many of these were built expressly for the aircraft companies in the early forties to meet the demand for warplanes and several still exist and are in use today.

CAL FIRE - Photos of the OV-10As, S-2Ts, and UH-1Hs that CAL FIRE (formerly CDF) use to fight wildland fires in California. From May 2009 /2010 trips.

USS Theodore Roosevelt - In July of 2008 I was able to spend 24 hours on the Roosevelt. This included one trap and one cat launch as I was transported to the carrier in a Grumman C-2A Greyhound.

Historic Sites - This is an outgrowth of a business trip to Europe in 2008 where I was able to visit Normandy, Bastogne, and the US Cemetery in Luxembourg. Since then as I travel and visit what I consider to be a historically significant location or museum I add those to this website. It does not necessarily have to be aviation or warbird related.

WWII US Air to Air Victories - This is a compilation of the number that each type of US aircraft shot down in WWII. This came about due to my frustration with many books and magazines stating that the Lockheed P-38 Lightning shot down more Japanese aircraft than any other US fighter, which is totally untrue. It is third behind the F6F and F4U. The Grumman Hellcat had 2.5 times the victories over Japanese warplanes that the P-38 had.

Featured Photos - Photos that I previously featured on this or the Gate Guard page. These are photos I thought were some of my better efforts.

Warbird Sightings - These are aircraft that are for the most part still operational aircraft that I have come across in my travels.

PV-2 Harpoon Photos - A special photo section for this rare warbird. Also included are photos of one Ventura II.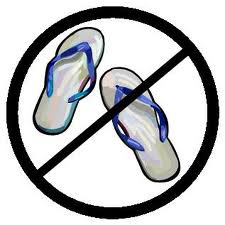 This is a no Flip-Flop / Whippy-Dip Air Show Website!!
Remember:
Support your local Warbirds, Warbird Museums, and Warbird Air Shows!

Website last updated 7-8-2023.